I love trekking.
From Pakistan to Tajikistan, trekking is always a big part of my journeys. For me, this is the only way to do real exercise during my long-term travels, besides disconnecting from blogging, social media and the world in general.
That's why during my 2-month journey through Kyrgyzstan, a country with 90% of its land above 1,500 meters, trekking in the mountains was no exception.
From endless high altitude alpine lakes to dreamy meadows filled with hundreds of wildflowers, breathtaking 7,000-meter peaks, and huge landscape contrasts, Kyrgyzstan is home to some of the most beautiful scenery I've ever seen.
Moreover, the Kyrgyzstan mountains are very accessible and, thanks to the very visible nomadic life, you can get a warm meal above 3,000 meters, at the most unexpected times. Kyrgyzstan is the ultimate trekking destination.
The following Kyrgyzstan trekking guide aims to provide you with useful and insightful tips which, hopefully, will help you plan and choose the best treks in Kyrgyzstan.
For all the practical information about the country, read: 75 Tips for traveling to Kyrgyzstan

Trekking in Kyrgyzstan – A beginner's guide
What will you find in this guide:
Which trek should you do?
Travel insurance for trekking in Kyrgyzstan
Do you need a guide or not?
Permits
How much does it cost?
Horse trekking
Additional things you need to know
The ultimate packing list
For places to visit, read: Backpacking in Kyrgyzstan – 1 to 4-week itinerary
Which Kyrgyzstan trek is for you?
Kyrgyzstan is a very mountainous region, which means that there are endless trekking opportunities for any kind of trekking experience. I consider myself an intermediate-beginner, so all my suggestions fit within this experience range. They are all challenging, multi-day, go over 4,900 meters (maximum) and some of them require you to be self-sufficient, meaning that you should be well-equipped.
The following list contains some of the best treks in Kyrgyzstan which I personally did (except for the popular Ala Kul trek). I wish I had time to do more but I travel very slowly and spent so many days resting between each trek.
Archa Tör Pass (3-5 days) – Absolutely stunning. It goes over a 3,800-meter mountain pass, from where you get clear views of Mount Karakol. This trek belongs to the Tien Shan range, taking Karakol town as a base. If you don't have many days to spend in Kyrgyzstan, this is the one I strongly recommend. It's gorgeous, very challenging and, most important, not many people do it, so you'll have these mountains just to yourself. For more information, read my full review: Trekking in Karakol – Archa Tör Pass trek.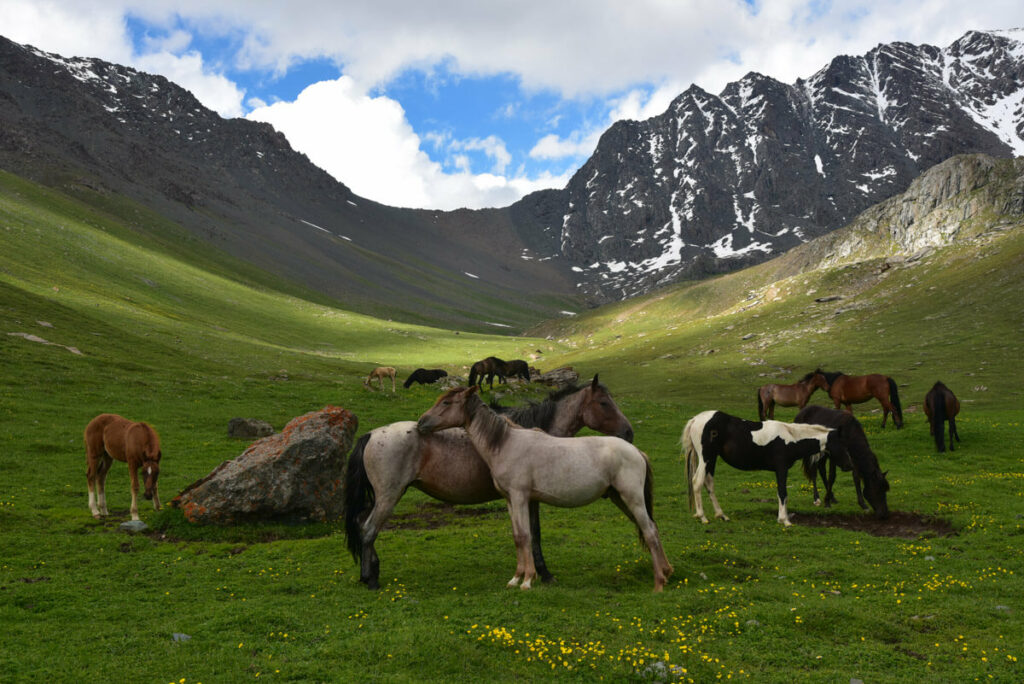 Ala Kul Lake (3-5 days) – This is the most popular trek for anyone going to the Tien Shan mountains around Karakol. Basically, the trek ends at an alpine lake called Ala Kul, located above 4,000 meters. It's also absolutely stunning but, if you only have time for one trek, I recommend Archa Tör because fewer people do it. By the way, if you wanted, you could do both treks at once, as the end of one is the beginning of the other. Read the full review here: Trekking to Ala Kul.
Kyzart to Song Kol (2-4 days) – An easy trek but very beautiful at the same time. Most people come to Song Kul by car from Kochkor. However, I recommend coming from Kyzart (located on the other side of the lake) by foot. It's a perfect hike for beginners, as there are plenty of nomad camps on the way and the only ascent is a not very challenging mountain pass. Read the full review I wrote for The Planet D: Trekking independently from Kyzart to Song Kul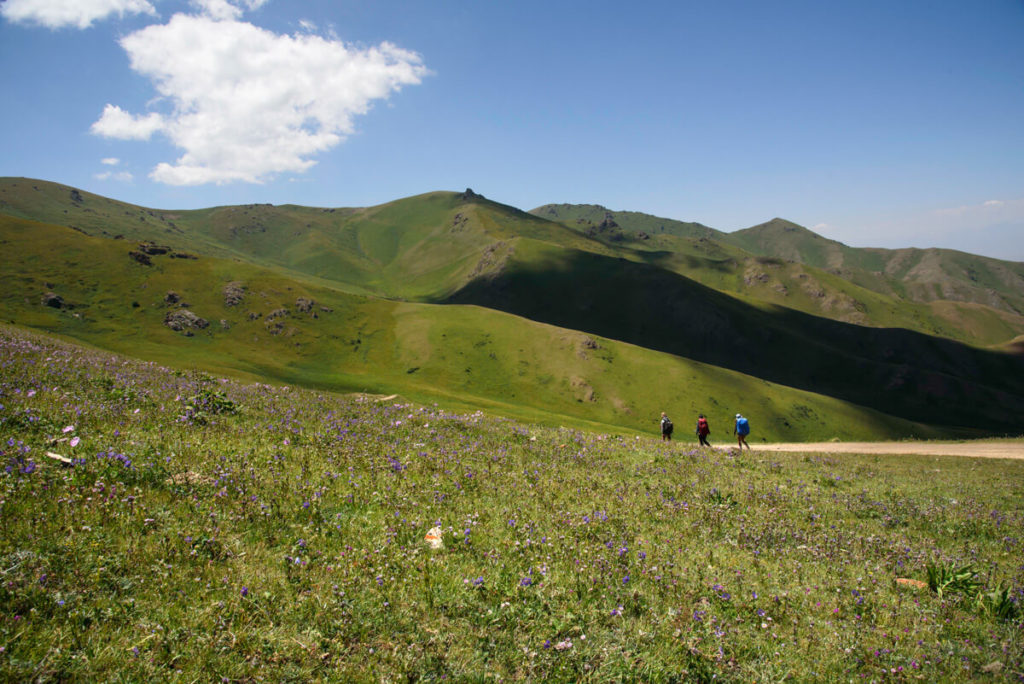 Lenin Peak (2-4 days) – Standing more than 7,000 meters above sea level, Lenin Peak is one of the most iconic mountains in Kyrgyzstan. Climbing it requires quite a lot of experience but any person can reach the base camp. However, if you are seeking a real challenge, you can also trek to the advanced base camp (4,900 meters). That's what I did and it was a freaking real adventure, as the advanced base camp is located right at the bottom of a 2,300-meter ice wall, which is where you start climbing towards the peak. Read the full review I wrote for Nomadasaurus: How to trek the Lenin Peak base camp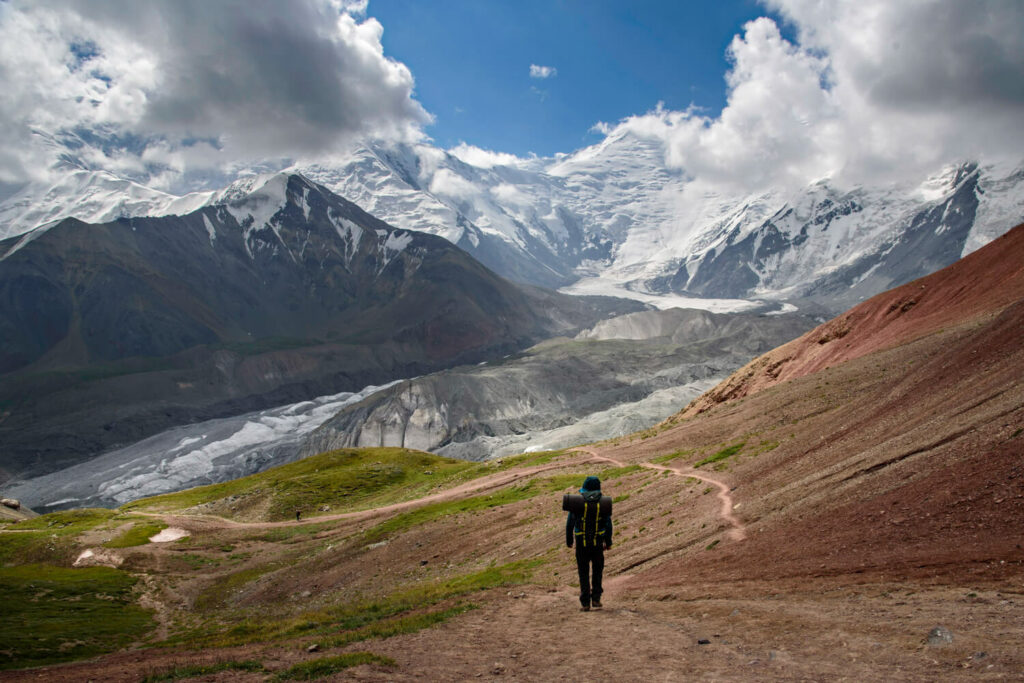 Tash Rabat to Chatyr Kol (2 days) – This trail is an ancient and very important Silk Road route. Here you will find a pretty high mountain pass (4,000 meters) but, since the trail starts at 3,500 meters, it doesn't look that high. It's a relatively easy trek but very beautiful as well. Just for a change, I decided to do it on a horse. Read my full review: Horse riding along the ancient Silk Road route of Tash Rabat.
Kyol Ukyok Lake (2-3 days) – This easy trek follows a trail that leads to two dreamy, cute, tiny lakes. It's located east of Song Kul and you start from Kochkor. Normally, only people who have plenty of time tend to do this trek. It's the perfect hike for beginners, as there's a nomad camp at the lake.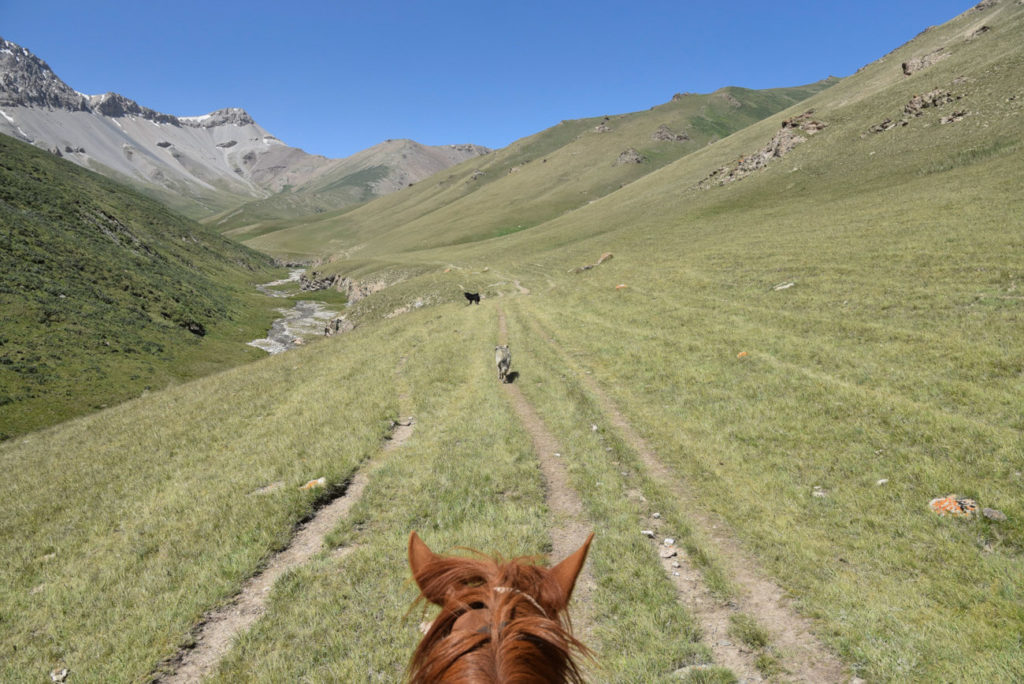 Travel insurance for trekking in Kyrgyzstan
You should know that anything can happen in the mountains, so having proper travel insurance is a must.
World Nomads is the one I recommend for Kyrgyzstan, as it is the only company that provides unlimited medical coverage, besides covering a large number of adventure activities, including trekking up to 6,000 meters, something quite useful in Kyrgyzstan. Moreover, it offers a huge budget for rescue and medical evacuation.
Click here to get your free quote from World Nomads
Do you need a guide for hiking in Kyrgyzstan?
That's a good question but, instead of wondering whether you need a guide or not, just ask yourself:
Do I have camping experience?
Do I know how to cook and use a camping stove?
Do I know how to follow a trail?
Do I have the adequate camping equipment?
If you've never done any of the above, perhaps you should hire a guide for hiking in Kyrgyzstan. Bear in mind that the mountains here are no joke, as the weather is highly unpredictable, nights are freezing and you'll be hiking at very high altitudes. Furthermore, here you won't find the crowds that you may find in the mountains of Nepal but you might be trekking alone for days.
However, you don't really need to be a professional at all. Before trekking in Kyrgyzstan, I did some treks in Nepal, Ladakh, and Pakistan. Not extreme hikes but just base camps and going over mountain passes. I consider myself an intermediate with a beginner tendency. I own a good tent and sleeping bag, know how to cook basic meals on a camping stove and can walk for hours. I know that the amount of experience is very relative but, in the end, it will all depend on how confident you feel.
Nomadic camps
However, the good news is that Kyrgyzstan has a very accessible nomadic life, visible everywhere, in the most unexpected places. For just a couple of dollars, you can stay at their yurts, have a hearty soup and a filling breakfast. In treks such as Kyzyl Art to Song Kul or Kyol Ukyok Lake, you don't even need to bring camping equipment because you can always stay in yurts. In the other treks, you will find nomadic camps at the beginning of the hike, at the lower altitudes. The further you go, the more you will have to depend on yourself alone.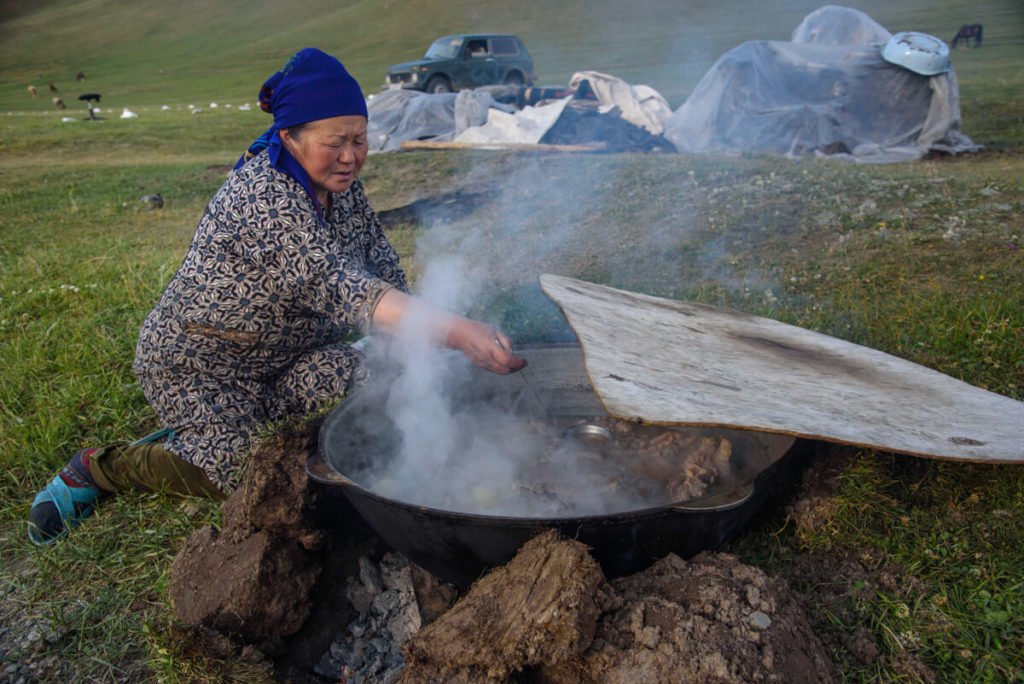 Permits for hiking in the Kyrgyzstan mountains
Trekking in some areas close to the Chinese and Tajik borders may require a special permit. These areas include Chatyr Lake, Lenin Peak, Kelsuu Lake and the most eastern part of the Tien Shan range, among others. Typically, it should be easy to obtain a permit but it may take a couple of days.
CBT (Community Based Tourism) got my permit for Chatyr Kul Lake and I am sure they can help you get other permits. Here's their website. For Lenin Peak, to be very honest, I didn't get the required permit but nobody asked me for it.
Permit fees vary, depending on where you go. I paid $15 (non-urgent) for trekking to Chatyr Kul.
Just email CBT or go to any of their offices a week before you plan to go trekking.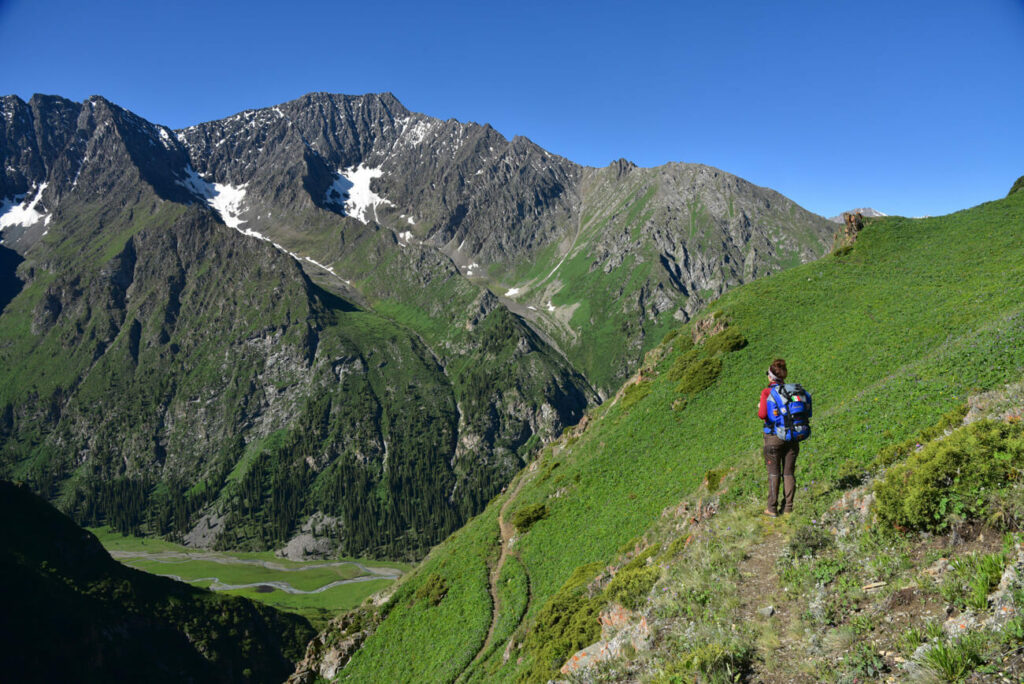 How much does trekking in Kyrgyzstan cost?
Except for the few areas where you actually need a border permit, hiking in Kyrgyzstan is free, as the mountains are always free, unlike Nepal or Patagonia where you need to always pay an entry fee.
Therefore, if you are doing independent trekking in Kyrgyzstan and have your own camping equipment, you will only have to pay for your food.
However, if you decide to hire a guide and rent some camping equipment, here are the costs:
(Note that these are the average costs) 
Camping equipment
Tent: 250KGS ($3.60) per day
Sleeping bag: 250KGS ($3.60) per day
Cooking stove: Buy new from 1,400KGS ($20) to 5,000KGS ($70), depending on the quality
Gas: 350KGS ($5). It lasts for 5 days, approximately
Important: Please note that the quality of the trekking gear is not as good as back home. Tents and sleeping bags tend to be pretty heavy and bulky and the cooking stoves are low quality. I always recommend bringing camping equipment from home. More information below, in the packing list section. 
By the way, note that you can buy camping equipment in both Bishkek and Karakol. 
Local Guides and porters
Local English-speaking guide: 2500KGS ($35) per day
Horse: 900KGS ($13) per day
Porter: 1600KGS ($23) per day
Cook: 2300KGS ($33) per day
Nomad camps
Staying in a yurt costs $10, including breakfast and dinner.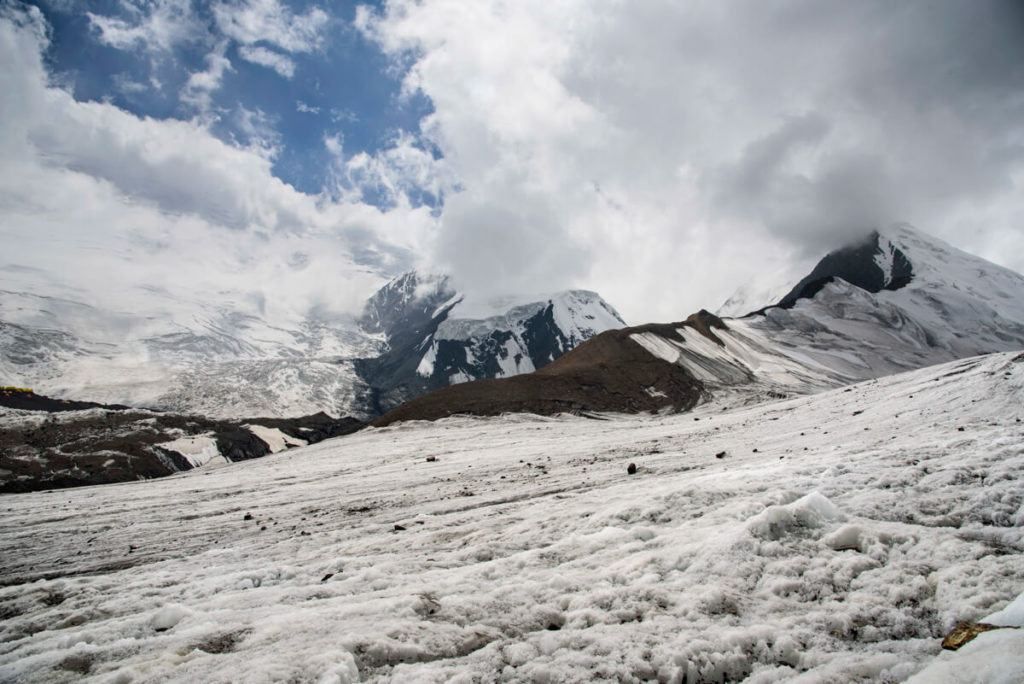 Horse trekking in Kyrgyzstan
As you may know, Kyrgyzstan is the land of horses, a key element for the survival and development of the nomadic culture. Kyrgyz people learn how to ride a horse from the moment they start to walk and it's actually very shocking to see 3-year old kids riding those big horses so well.
Outside of the big cities, everybody ride horses and that's why you can't say you have fully experienced this Central Asian country until you do some horse trekking through some of the most beautiful mountains on Earth.
You can go horse trekking anywhere in Kyrgyzstan, for as many days you want. Actually, we met a couple who did a 7-day horse trek around the Tien Shan mountains. That's a lot of days on a horse! However, after the second day, they were so tired of being on a horse that they actually walked and led the animals. Just take this into consideration before deciding to go on such a long trek.
For more practical information, read: Horse trekking in Tash Rabat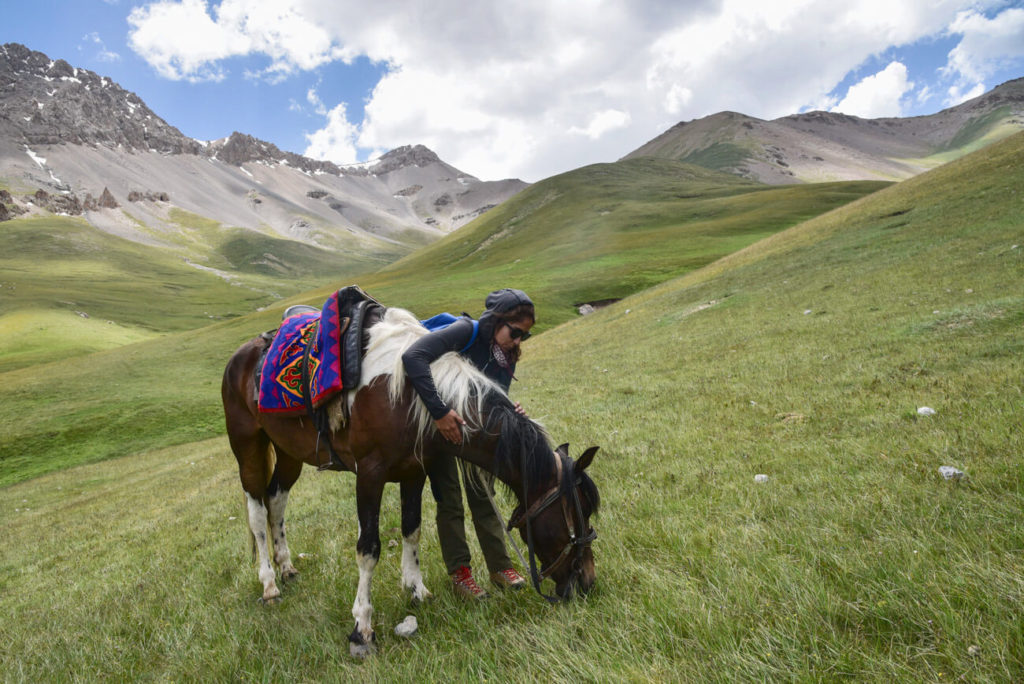 More practical information for hiking in Kyrgyzstan
When to go trekking in Kyrgyzstan – Kyrgyzstan is a very seasonal destination. In winter, the whole country is covered in snow, which makes it practically impossible for trekking. The season lasts from mid-June to September. The first trek I did was during the last week of June and, at high altitudes, it was still pretty cold and one day we even got heavy snow.
The unpredictable weather – Just to let you know: summer isn't always sunshine, birds singing and happiness. In Kyrgyzstan, the weather can go from a beautiful sunny day to a fierce storm in a matter of seconds. In the Tien Shan range, from 3,000 meters upwards, the weather can get extremely cold, sometimes to freezing temperatures. Even when we were there in July, occasionally, we found our bottles frozen in the morning. One day, it started to snow so hard that we passed from walking over a green plain to trekking in the snow. By this, I don't want to scare you but just say that you should be prepared. We had very good equipment with us, including a good tent, a warm sleeping bag and everything we actually needed.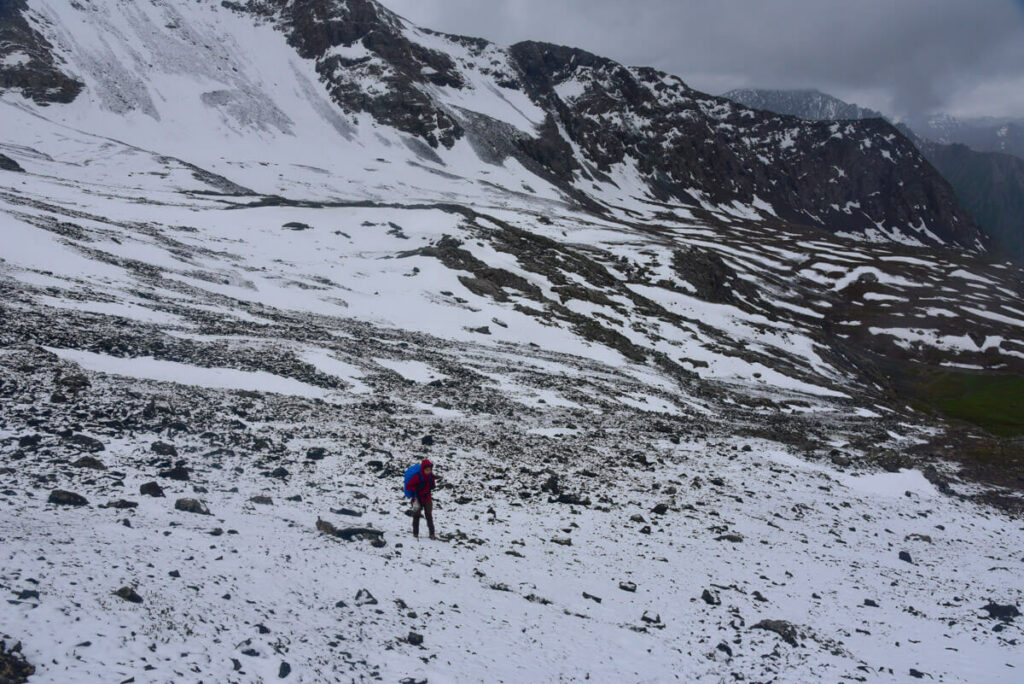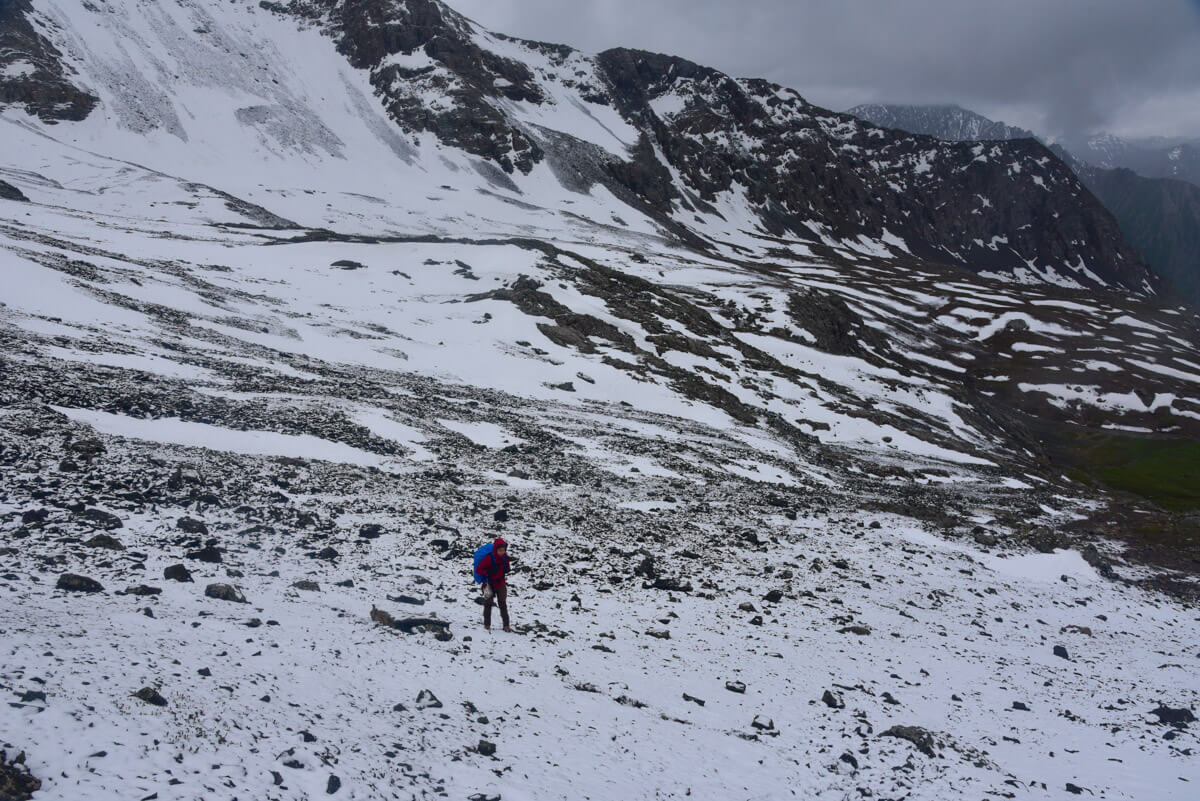 River crossing – I hated this. In almost all the treks we did, we had to cross countless rivers. In the Archa Tör trek, we probably crossed 20 rivers, no kidding. Some of them were easy, while in others you had to remove your shoes or even cross it on a horse. Just keep this in mind and bring sandals and waterproof hiking boots.
Take water from the small side rivers – You should never drink water from the main river but the tributaries, as animals drink, poo and pee in it.
Maps.me – Most trails I showed you before appear on Maps.me, so if you don't have the app downloaded on your mobile, do it now.
Trekking companies – I always recommend CBT, which is a very popular tour agency in Kyrgyzstan that can arrange any kind of trek and activity. They have offices in each and every town and offer the most competitive prices in the country.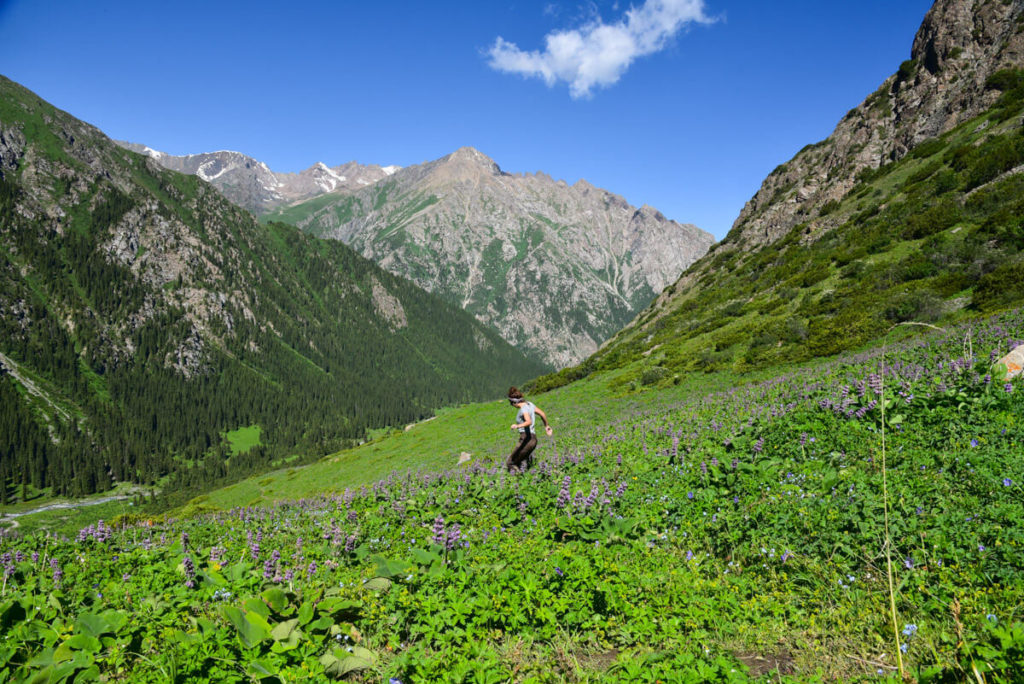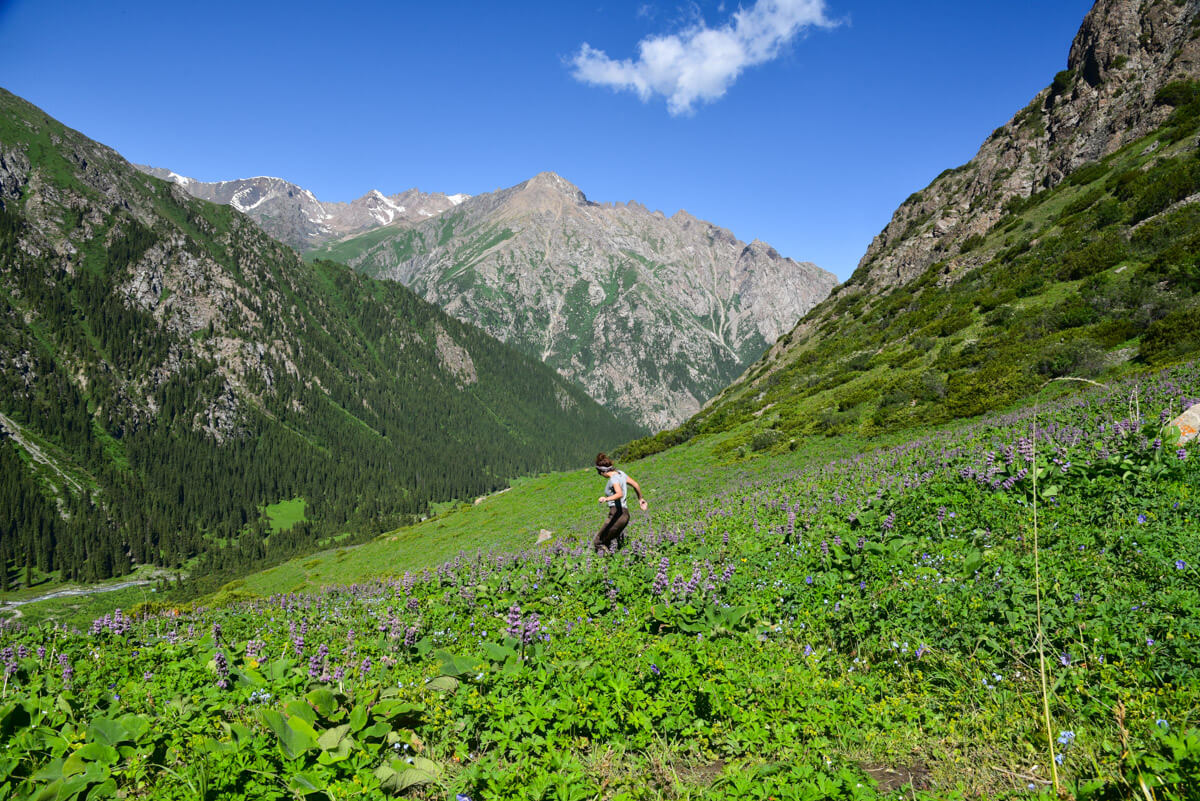 The ultimate packing list for hiking in Kyrgyzstan
The following list contains, mainly, all my personal trekking gear, as well as a few extra recommendations.
A lightweight and resistant tent – MSR Freelite 2 – A tent will be one of your most important trekking elements. Like I said before, rain and strong wind can happen at any time. This means that you should get a resistant and adequate tent for high altitude mountains. Moreover, you also want to get a light-weight one which fits in your backpack, so you can climb 4,000-meter mountain passes without any problem. I bought the MSR Freelite 2, a tent that combines the two elements perfectly. MSR is one of the most trustworthy trekking brands.
Click
here to see the latest prices on Amazon
Lightweight but warm sleeping bag – Kelty Cosmic 5ºC – Another very important element, perhaps even more than a tent. At night, temperatures may reach below zero and you don't want to freeze, right? Furthermore, like with the tent, you don't want to buy a 3-kilo bulky sleeping bag that takes half of your backpack. I have a Kelty Cosmic 5ºC and, with a thermal t-shirt and some leggings, I could always sleep like a baby. Most important, it doesn't weight much more than a kilo. Kelty Cosmic 5ºC is the most budget down sleeping bag. If you want a warmer (but same weight) sleeping bag, the price doubles. Honestly, I don't think you need a better one for trekking in Kyrgyzstan during the summer months.
Click
here to see the latest prices on Amazon 
A sleeping mat – Therm-a-Rest Neoair Trekker – Kyrgyzstan is home to lush, green meadows that are relatively comfortable to sleep on. But it won't be always like that. Occasionally, we actually had to sleep on really hard surfaces and all I had was a shitty yoga mat, which made me wake up with back pain every day. This is one lesson I learnt in Kyrgyzstan and that's why, for my next adventure, I am buying an inflatable, lightweight mat. I like the Therm-a-Rest Neoair Trekker, as it's comfortable, durable, very lightweight and at a pretty good price, compared to other mats offering the same benefits.
Click
here to see the latest prices on Amazon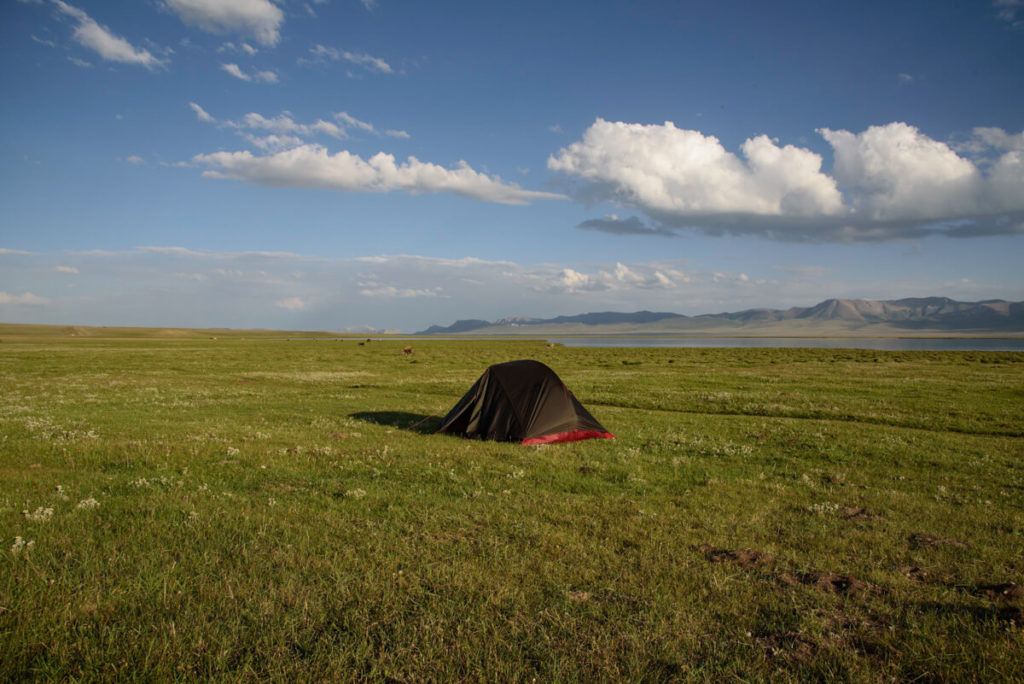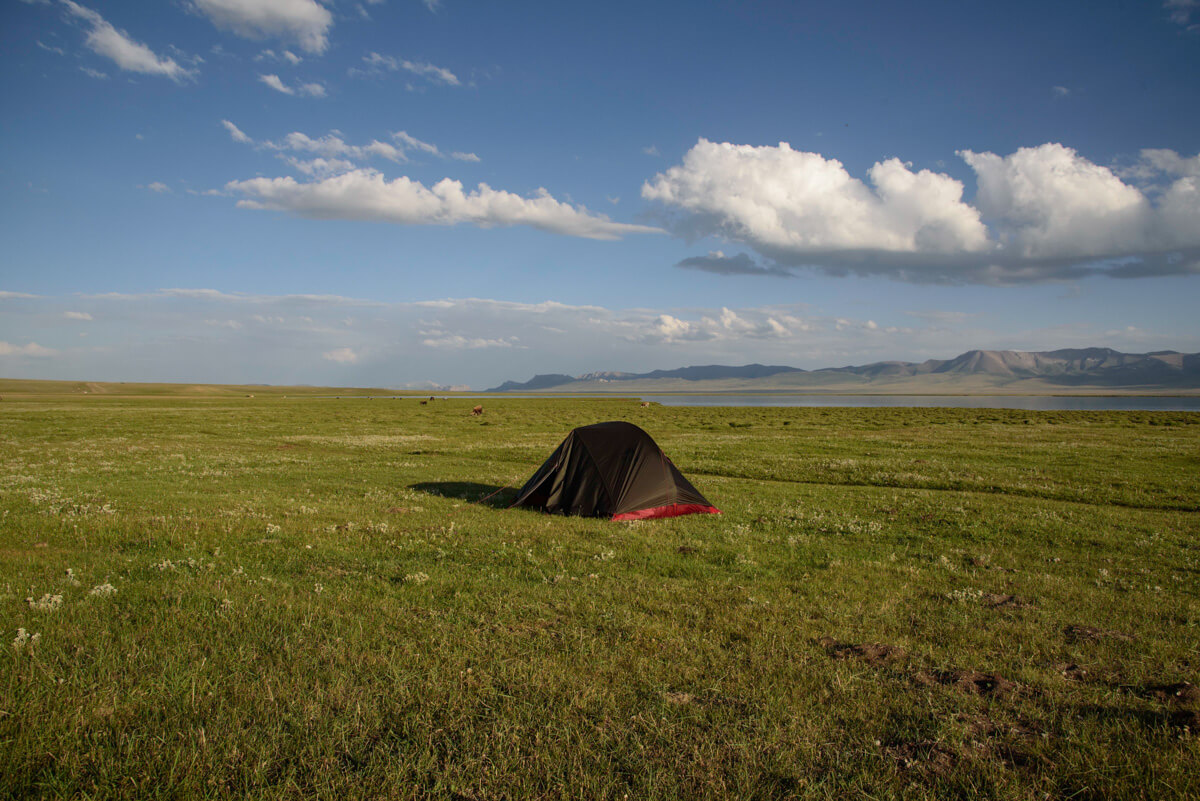 Camping stove multi-fuel – MSR Camping gas Multi-Fuel – If you go trekking by yourself, you'll know that camping gas is a must. There are two kinds of camping gas: one which works with a separate gas bottle and multi-fuel. The multi-fuel has the great advantage that it can be re-filled with any type of gas, including gasoline, white gas, or diesel. That's why this one is the best because you don't have to rely on finding and buying gas bottles. I strongly recommend MSR Camping gas Multi-Fuel.
 Click here to see the latest prices on Amazon .
Backpacking cooking set – Kemp – If you are planning to cook, you may also want to bring dishes and pots. Sure, you could just buy cheap stuff from any shop, there's no problem with that and that's what I actually did. However, the stuff was bulky and I could not join all the pieces together, so they were just randomly placed in my backpack. If you want to be more comfortable, buy a branded cooking set. Kemp has a pretty decent and budget camping cookware set.
Click
here to see the latest prices on Amazon 
A CamelBak – To be honest, I don't have one of these but, definitely, this is going to be my next trekking gear investment. I am actually tired of having to drink from my bottle, as I always have to stop and take it out of my bag. CamelBak has some really cool water bags which allow you to drink water without having to stop. This way you avoid dehydration and a potential headache.
Click
here to see the latest prices on Amazon
Steripen – Another extremely useful item. In the mountains, you won't have bottled water and, if you don't want to get sick in your stomach, you should always sterilize your water. Purifying water tablets work fine also but they taste horrible and, actually, they are not that cheap. Steripen does the exact same thing with the added benefit that it doesn't leave the horrible taste and it lasts forever.
Click
here to see the latest prices on Amazon
Down Jacket – North Face – Down jackets are extremely warm but, at the same time, they also pack very small. You'll need one for the freezing nights. You could buy any brand but I like North Face, as they are very durable.
 Click here to see the latest prices on Amazon .
Windbreaker / Waterproof Jacket – North Face – Rain and strong wind can occur at any time in the Kyrgyz mountains. That's why on top of my down jacket, I have a North Face windbreaker, blue color, which is also waterproof. It's not cheap but it's of a very high quality.
Click
here to see the latest prices on Amazon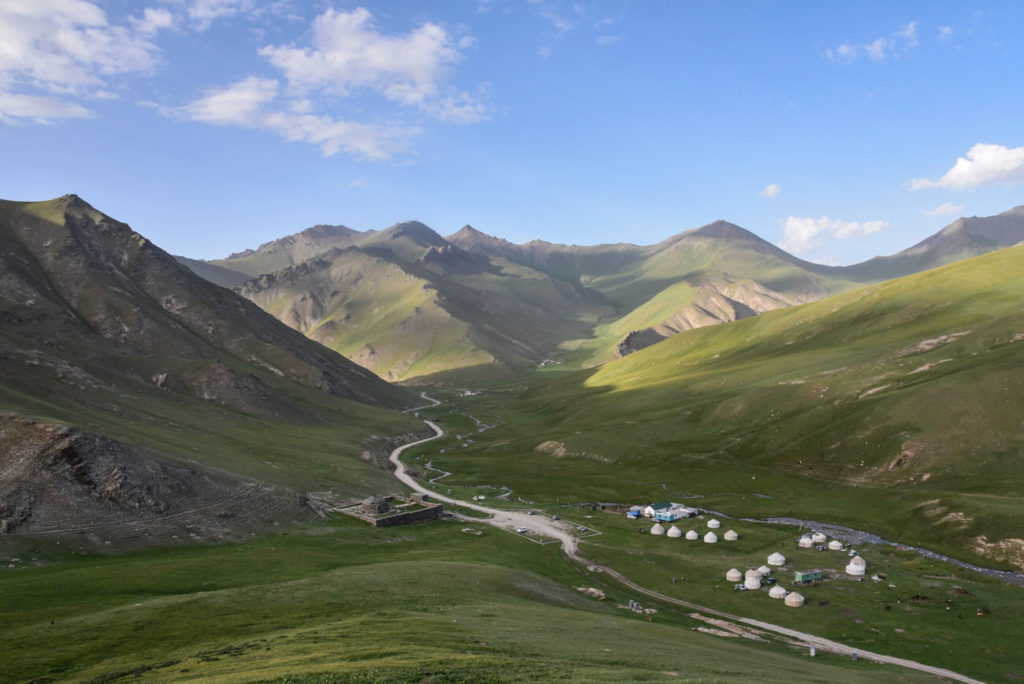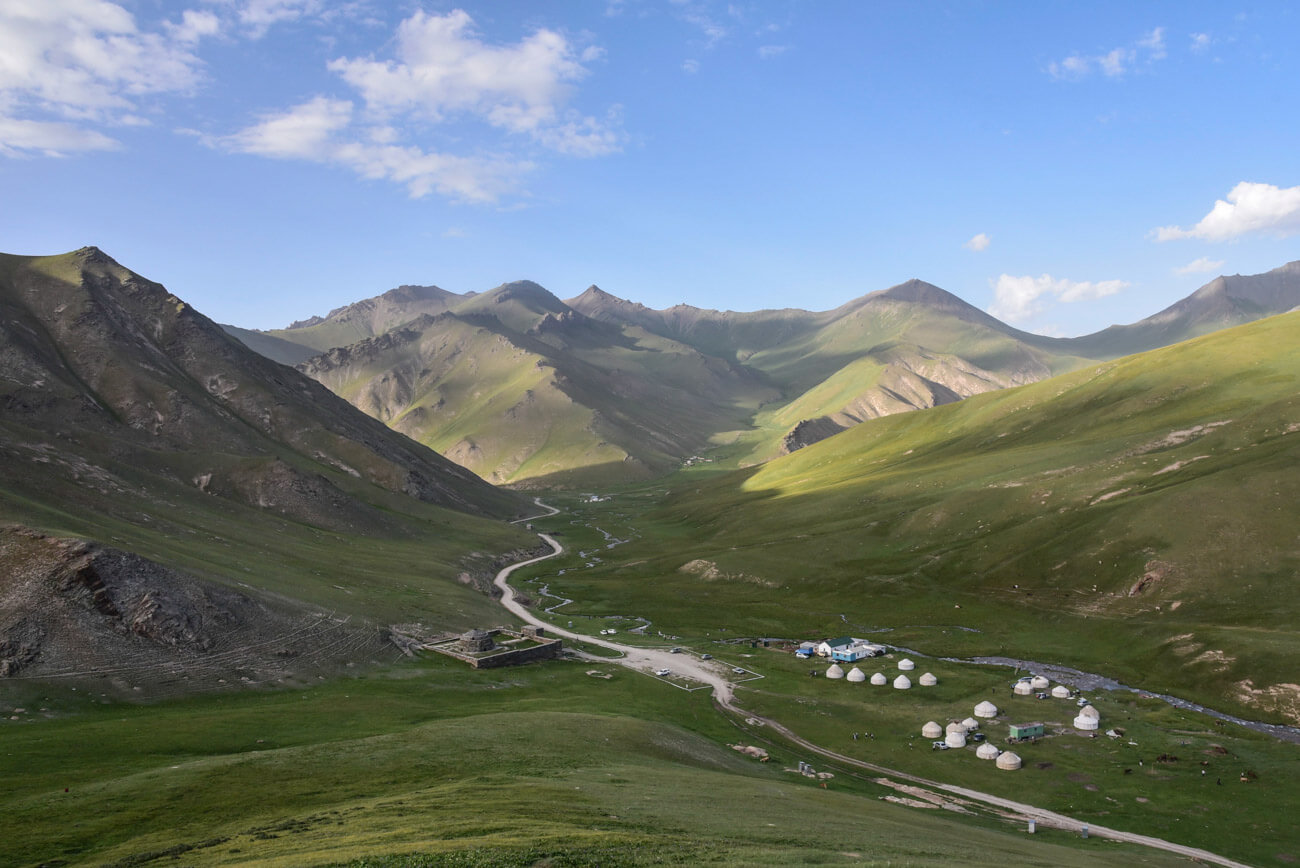 Thermal T-shirt – Icebreaker – A thermal t-shirt is super useful as, besides warming you up, they are very lightweight so you don't need to bring a heavy sweater that takes half of your backpack. I strongly recommend the Icebreaker thermal t-shirts as they are also anti-bacterial, so you can wear it for days without stinking.
Click
here to see the latest prices on Amazon 
Sandals – Crocs – Like I said before, you will have to cross plenty of rivers continuously, so you should bring a good pair of sandals. I think the brand Crocs makes the most comfortable sandals, which are suitable for both outdoors and indoors.
Click
here to see the latest prices on Amazon 
Headlamp – No need to say why a headlamp is a must for any trekking.
 Click here to see the latest prices on Amazon .
Kindle – At night, there's nothing else to do besides reading a book and, if you don't want to carry them in your backpack, just bring a Kindle.
Click
here to see the latest prices on Amazon 
Homegeek Coffee-maker – For a bit of extra luxury, being able to have a good espresso at 3,500 meters, while admiring the views after waking up, is priceless. Homegeek Coffee-maker allows you to have an espresso by just pressing with your hands. It works with ground coffee.
Click
here to see the latest prices on Amazon 
Some of these links are affiliate links, which means I get a small commission every time you make a purchase by clicking on them (at no extra cost to you). Thanks