Before traveling to Iraq and going through all my guides, you should know that Iraq is split into 2 regions:
The Arab Iraq, with Baghdad as its capital, and Iraqi Kurdistan, an autonomous region within Iraq, with Erbil as its capital.
Both regions – or countries – are extremely different from each other, not only in terms of culture, but also when it comes to visas and entry rules.
Check:
need to know for traveling in Iraq
Quick facts
Capitals: Erbil in Kurdistan, and Baghdad in Iraq
Population: 8.35 million in Kurdistan and 31 million in all Iraq, 36th
Languages: Kurdish in Kurdistan and Arabic in Iraq
Area: 438,317km² (58th largest country)
Visa
Kurdistan – Most Western nationalities, including EU citizens, the USA, Canada, and Australia, can obtain visa on arrival. It costs $75.
Iraq – Since March 2021 and, for the first time in history, travelers can also obtain a visa on arrival when flying into Baghdad or Basra.
Money
The official currency is Iraqi Dinar
1 USD = 1450 IQD
Debit cards are accepted in certain fancy hotels but it's mostly a cash economy. You can find a few working ATMs in Erbil and Baghdad.
Budget: starting at $35 a day for budget backpackers, and $60 a day if you opt for mid-range accommodation.
Travel Insurance
For obvious reasons, regular insurance companies don't cover travel in Iraq.
One of the very few companies which does provide cover, however, is IATI Insurance, a travel company based in Europe
Best time to visit
Avoid coming during the summer months, from June to September.
In winter, Kurdistan is covered by snow, but it's the best time to visit Iraq proper.
Both spring and autumn are the best time to go to Kurdistan, when the country is fully blossoming.
Tours for Iraq
Against the Compass has several scheduled expeditions to Iraq every year.
Oct 29 to Nov 5 (2023)
November 7 to 14 (2023)
---
Is Iraq safe?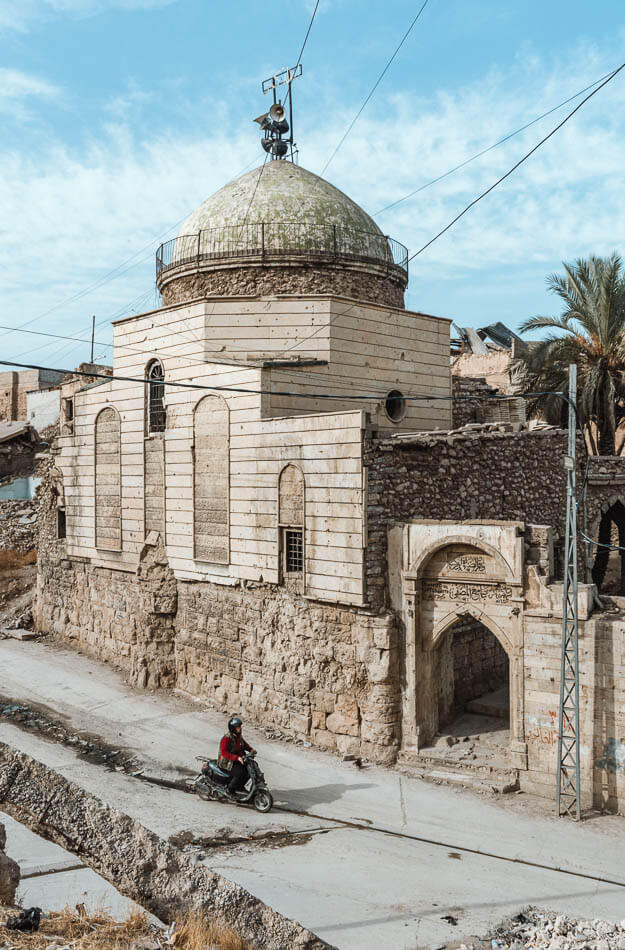 Iraq Kurdistan has been safe and relatively stable for many years now, and that's why it's always been open to international visitors.
On the other hand, due to the American invasion and subsequent ISIS rule, Iraq had always presented several security issues. Nevertheless, the country is finally gaining stability, the reason why they started issuing visas in 2021.
Read our safety guide to Iraq.
---
Top experiences in Iraq
Erbil
The capital of Kurdistan has been inhabited since the 28th century B.C.E. Check my Travel Guide to Erbil.
Historical villages
From Lalish to Amedi, the region is filled with loads of historically-rich tiny villages.
Epic mountains
The dramatic landscape around Soran and Rawandiz is the most stunning mountain scenery I have seen in the Middle East.
Saddam Hussein's Heritage
From abandoned palaces to museums portraying his atrocities against the Kurds, Saddam's legacy won't leave you indifferent.
Check our 2-week Kurdistan itinerary
tips for Iraq
Accommodation
There are no backpacker hostels in Iraq and basic hotels start at $15 in Kurdistan.
Note that budget hotels are not listed online.
Getting in
Both Erbil and Baghdad have international airports with many connections to Istanbul and Dubai.
You may also cross from Turkey, Iran, Saudi, Kuwait, and Jordan, but not from Syria.
Transportation
Moving around the country by public transportation is easy.
Typically, locals travel in shared taxis but you can also find mini-buses between major cities.
Hitchhiking is possible too.
---
ALL MY ARTICLES ON IRAQ