We pitched our tent on a massive, green plain, where we were surrounded by a blanket of wild flowers and 7,000-meter-high snow-covered peaks. It was a pretty tough and exhausting day, so we opened our bottle of wine and started to cook when tens of curious cows and beautiful horses approached our tent, attracted by the smell.
We were at 3,500 meters, right at the bottom of Archa-Tör, a stunning 3,900m mountain pass which we expected to cross the next day.
We had not seen a single soul since two days before, when a group of local Kyrgyz nomads fed us with delicious home-made jam, bread and kumis, (fermented horse milk).
All we could hear was the flow of the river and occasional animal sounds. It was awesome and we couldn't believe we had all those mountains to ourselves but the truth is that we were in a barely visited part of the Tian Shan range, which is home to some of the most striking and beautiful scenary I have ever seen.
Welcome to the Kyzyl Suu-Jeti Oguz trek. An excellent way to get off the beaten track when trekking in Karakol.

Trekking in Karakol: Kyzyl Suu to Jeti Oguz trek
For ages, travelers with a slight sense of adventure, who wanted to savor some first-class hikes, used to head to Nepal, Argentina and Switzerland. A country named Kyrgyzstan remained unknown to most of the Western World.
However, just a couple of years ago, after the liberalization of its visa regime, Kyrgyzstan was suddenly discovered by intrepid travelers who wanted to experience more authentic and remote mountain adventures. Those travelers quickly realized that trekking in Kyrgyzstan could easily rival the Patagonia and the Himalayas.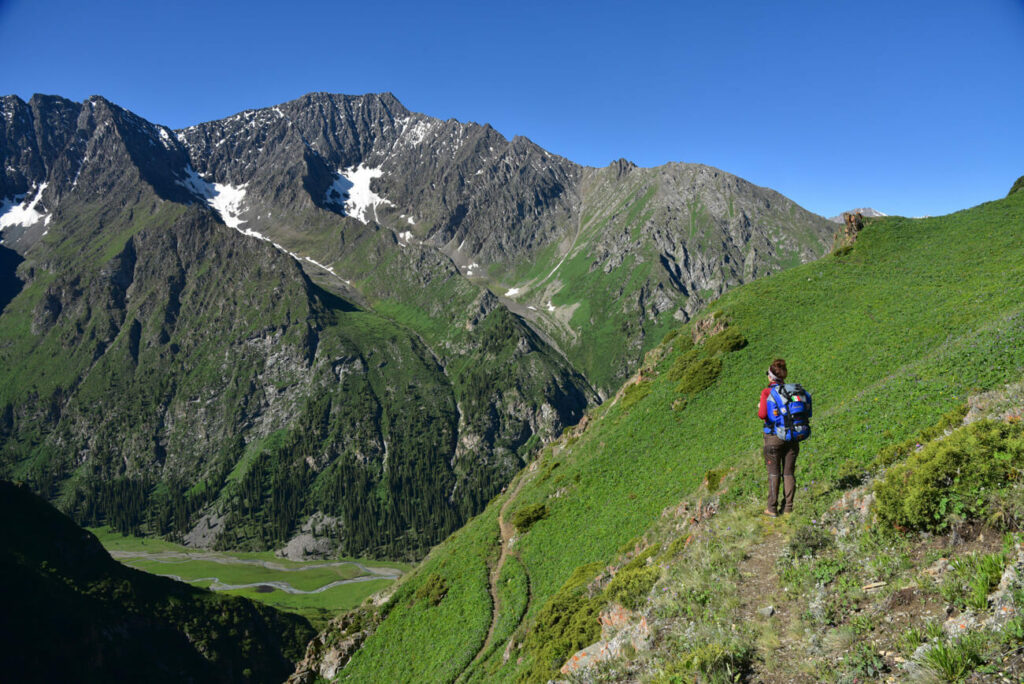 Hence, little by little, the mountains of Kyrgyzstan and, especially, the ones around Karakol, started to be filled with foreign trekkers to the extent that, today, some of their trails have become famous worldwide, which means that, during high season, you might meet with plenty of other travelers like you.
Nevertheless, since this country was opened to tourism just recently, most trekking trails are still undiscovered, meaning that there are endless opportunities to get off the beaten track and be one of the very few foreigners who have ever done that trek.
If you ever come trekking in Karakol, the trail that goes from Kyzyl Suu to Jeti Oguz is an excellent alternative to the route popularly known as the Ala-Kul trek, where you'll be likely to meet with some other trekking groups. 
Going over Archa Tör, a 3,900 meters pass, the Kyzyl Suu – Jeti Oguz is the perfect choice for those looking for an adventure which very few foreigners have ever experienced, remoteness, striking and beautiful scenery, challenges and local nomadic culture.
Jump to any content you want:
Itinerary day by day
How much does it cost?
Do you need a guide?
Accommodation, food and water
What to bring and pack
Where to stay in Karakol
Itinerary day by day
Trekking duration: 3 to 4 days
When to go: From June to mid-September
Length: around 50km
Lowest-Highest point: 1,500-3,800m
How many days are needed to complete the trek? The truth is that it not only depends on how fit you are but, also, on where you start from.
For example, the actual starting point is in Kyzyl-Suu (Point 1) but, to be honest, until Point 3, there's nothing but a 10km dusty road that goes through uninteresting villages and landscape. The real nature starts right after Point 3, which is a checkpoint without any surveillance. If I had known that in advance, I would have taken a shared taxi from Point 1 to Point 3. Furthermore, after the checkpoint, the road still continues for 10 more kilometers, which means that you could save a total of 20km, thus do the trek in only 3 days.
1 – Starting Point – Kyzyl Suu
2 – Chong Kyzyl – Suu Road
3 – Checkpoint
4 – Water springs – End of the road
5 – Nice camping spot
6 – Cable car river crossing – Yurt camp
7 – Start ascending – Stop following the river
8 – Leave trail to the left and start ascending again (2,800m)
9 – Continue ascending
10 – Epic camping spot at 3,400m
11 – Archa-Tör mountain pass (3,900m)
12 – Descending through a very dense and steep forest (3,000m)
13 – Cool camping spot
14 – River crossing with horses
15 – Touristic yurt camps
16 – Ending Point – Jeti Oguz Kurort
Day 1 – From Point 1 to Point 5 – 25km – 1,700m
The first day is particularly long but particularly easy as well, as it is practically flat for the whole 25km.
Please note: To get to Kyzyl-Suu, the starting point, you can catch a marshrutka from Karakol for just 40KGS (60¢). If you want to skip the first 10 or 20km of road, there are taxis leaving from Kyzyl-Suu, which shouldn't cost you more than 200KGS ($2.90) or 400KGS ($5.70), respectively.
The real nature begins right after the checkpoint (Point 3), where you will see herds of horses grazing in a green meadow with some peculiar, reddish mountains in the background, which make an awesome lunch break stop.
As you keep on following the road, you'll be likely to see yurt camps every few kilometers, where nomadic Kyrgyz live during the summer months. The road continues until the water springs, from where only a 4×4 can continue. Keep walking for 10 more kilometers, approximately, until Point 5, where the valley finally opens and you will find another green meadow full of grazing horses. I suggest you camp here.
Day 2 – From Point 5 to Point 10 – 8km – 3,400m
This is, by far, the most challenging day but the most rewarding as well, as you ascend 1,700m through a spectacular valley, in only 8km.
A few kilometers away from your camping spot, you'll see that you can't continue because of the river. However, there is a hand-made cable car (Point 6) which can be pulled by some nomadic kids, who will ask you for 100KGS ($1.40) per person.
Across the river, there is a yurt camp, which is the place where we were invited for breakfast. If you continue, after one kilometer or so, you'll start ascending until Point 8, where you need to get off the trail to the left and begin the real climbing towards a side valley and Archa-Tör mountain pass.
The actual beauty just begins.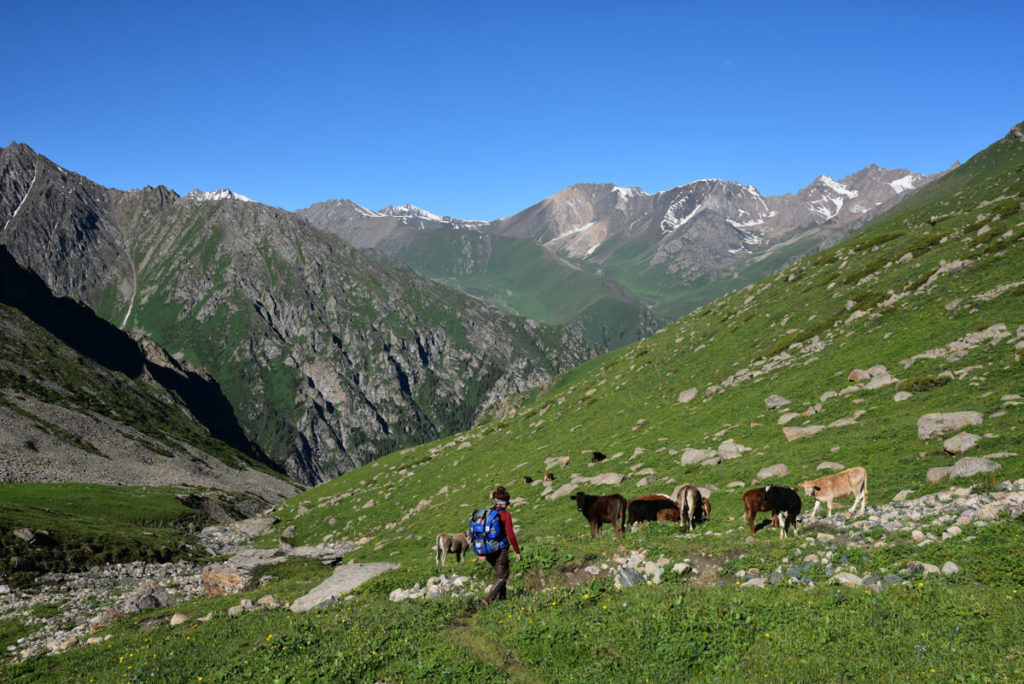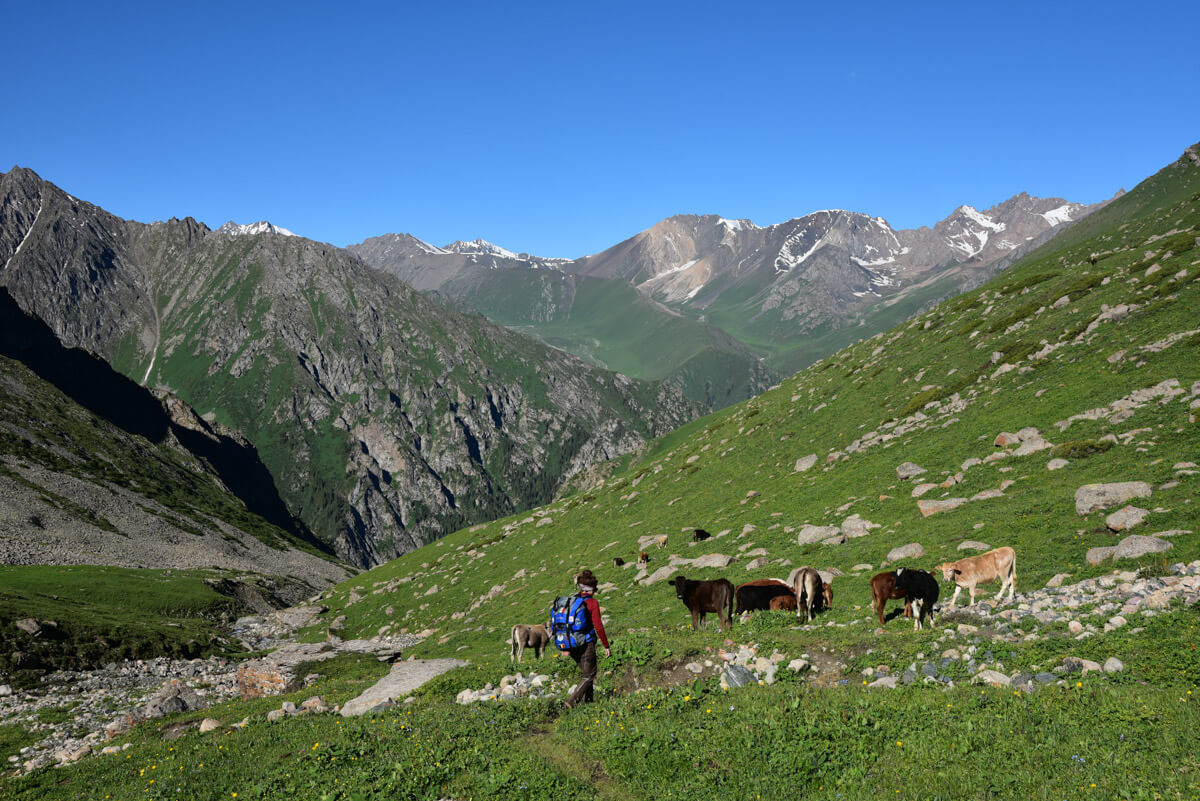 You will see yourself surrounded by tens of different, colorful flowers growing in a thick, massive meadow, from where striking 7,000 meters peaks pop-up. You just need to keep ascending gradually, following the valley and the river, until you reach Point 10, which is an awesome and epic camping spot and from where you get clear views of the Archa-Tör, the mountain pass which you'll need to cross on the next day.
Day 3 – From Point 10 to Point 13 – 5km – 3,900m
Despite being a short trekking day, these 5km are harder than you may think. The ascent towards Archa-Tör is a very steep and sandy trail, which might be washed out due to the snow and rain, hence it can be quite difficult to climb. However, once you are the top, your eyes will be blessed with the best views of the valley.
Please note: On our first try, due to the heavy snow, we were not able to go over the pass. The trail was gone and once we finally made it to the top, it was so foggy, that we couldn't see absolutely anything on the other side. Only tons of snow. We waited for a few hours but the sky didn't clear and it was freaking freezing, so we came down and crossed it on the next day. Be aware that this might also happen to you.
After the pass, get ready for your knees' worst nightmare: Descending 1,000 meters in, perhaps, less than 2 kilometers.
After descending, the way remains pretty flat until you reach Point 12, which is another steep descent through a dense forest with no signs of a trail, in which endless fallen trees are blocking your way. For me, this was the worst part of the whole trekking but, once you reach the end, your eyes will be blessed once again by the views of the mind-blowing Mount Karakol.
You can either camp there or continue for 15 more minutes until you reach a yurt camp (Point 13). We decided to pitch our tent next to the camp, as we felt like staying close to a nomadic family. The next day, we spent the whole morning there, playing with their kids, looking at how they produced local butter and changed the horseshoes on their shoes.
Day 4 – From Point 13 to Point 16 – 12km – 2,500m
At some point, you will have to cross the river that goes through this valley but it's so wide, that the only way to cross it is by horse. This section continues for 5 more kilometers, so you can do it wherever you find a yurt camp. We did it at Point 14 and they charged us 100KGS ($1.40) per person.
Once on the other side of the river, the way until Jeti Oguz is pretty flat and straightforward. In the last section of the trail, you are likely to find both local tourists and foreigners, as the area is filled with touristic yurts. At the ending point, you can refresh your throat with some good ale and fill your empty stomach at any of the restaurants.
How much does it cost trekking in Karakol?
Regardless of where you go trekking around Karakol, the price will always be the same, as permits are not required and there are not entry fees. If you bring your own camping equipment, including a tent, sleeping bag, cooking stove, etc. you will only have to pay for your food. However, if you wish to rent or buy some equipment and hire a local guide, these are the approximate costs:
Camping equipment
Tent: 250KGS ($3.60) per day
Sleeping bag: 250KGS ($3.60) per day
Cooking stove: Buy new from 1,400KGS ($20) to 5,000KGS ($70), depending on the quality
Gas: 350KGS ($5). It lasts for 5 days, approximately
Local Guides and porters
Local English-speaking guide: 2500KGS ($35) per day
Horse: 900KGS ($13) per day
Porter: 1600KGS ($23) per day
Cook: 2300KGS ($33) per day
Please note: These prices are approximate and they might vary depending on each tour operator. These were provided by the owner of Riverside, the guest house I stayed at in Karakol, whose owner also runs a tour trekking company. You can also compare prices with other tour companies such as CBT Karakol but, generally, prices are pretty standard. By the way, in Karakol, there a sports shop where they sell all sorts of hiking items.
Do you need a guide?
If you are a complete beginner or you have very little experience, perhaps, you should hire a local guide, at least. Even though I have already shared a very detailed itinerary with coordinates, once you start ascending, in some sections, the trail is not clear at all, as very few people hike it. Furthermore, the weather is quite unpredictable, meaning that it could suddenly snow heavily, as it happened to us.
I am not a mountain expert but I've done quite a few long treks in Ladakh, Pakistan, and Nepal. I have good quality camping equipment, know how to use a cooking stove and follow coordinates. If you are an advanced beginner, like me, then you don't need a guide.
Accommodation, food and water
Food and accommodation – Along the trek, you will find several yurt camps where local nomads are settled during the summer months. We didn't try but I am sure that, if you pay them, they can feed you and offer shelter. However, between Point 6 and Point 13, there's absolutely nothing but wilderness and you need to spend at least one night between these two points, so you better bring a tent, a sleeping bag and stock up on food.
Water – When hiking in Kyrgyzstan, water is not an issue, as the Tian Shan range is home to countless fast-flowing rivers and tributaries. However, you should always bring purifying tablets or even better, a Steripen with you. By the way, you should never drink water from the main river but the tributaries, as animals drink, poo and pee in it.
What to bring and pack
Regardless of the weather, even if you had a very sunny and warm day, at night, temperatures might drop below zero. I remember that one day, I left my bottle of water outside and, on the next day, I found it completely frozen. Furthermore, in high altitudes, the weather can suddenly change, as happened to us when we tried to cross the pass.
This means that, when trekking in Kyrgyzstan, you need to be well-prepared and fully equipped. Below is a list of all the essentials:
Travel Insurance. In the mountains, accidents can happen anywhere, at any time. Make sure your travel insurance fully covers any accident and repatriation. In Kyrgyzstan, I used World Nomads.
A backpacking tent for high altitude mountains. Make sure you have a resistant and light packing tent. I have an

MSR Free Lite 2

, which packs incredibly small and can resist the most furious storms. 

A warm sleeping bag. You might want to be warm during the freezing nights. I have a

Kelty Cosmic 20 Degree

, which is the most affordable down sleeping back on the market. It's slightly bulky but I am very happy with it.

A rain and windbreaker jacket. For unexpected rain, I have a

North Face Point Five NG

, Turquoise color.

A pair of waterproof hiking boots. No kidding, you will have to cross around 15 rivers at least. Some of them are pretty easy but with others, if you don't want to wet your feet, you will need to be very skilled when jumping from one rock to another. I bought my

Timberland Men's Earthkeepers

 6 years ago and still going.

2 pairs of warm socks per trekking day. They might get wet when crossing a river.
A pair of sandals. There are a couple of rivers where you'll definitely need to remove your boots.
An empty bottle. To refill it with river water. I just brought a normal 1.5L plastic bottle
Purifying water tablets or a

Steripen

, which is much more convenient as it lasts for ages
A torch. You might want some light at night but with a phone, you should also be fine.
A fully charged phone with maps.me downloaded
Where to stay in Karakol
If you go trekking in Karakol, Riverside Guesthouse is an excellent base from where to start and end the trek. This lovely guest house, which is run by a Dutch/Kyrgyz couple, has super comfy beds, serves an awesome breakfast (and dinner), is beautifully decorated and the owner is a very kind man who really knows what travelers need.
Book Riverside now on Booking.com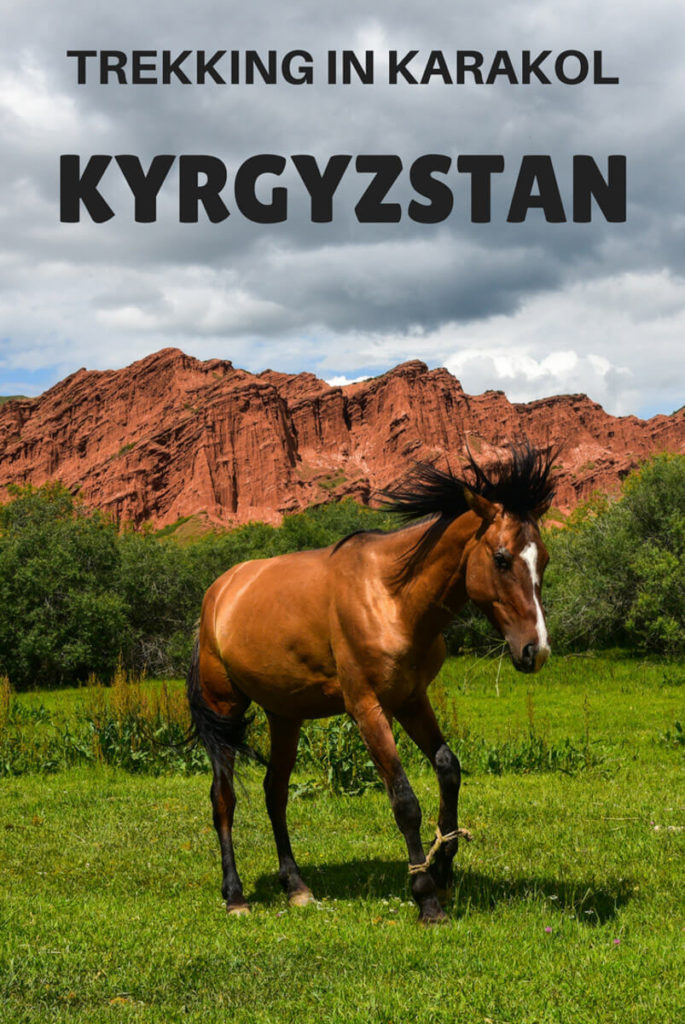 WANT TO TRAVEL OFF THE BEATEN TRACK?
 JOIN MY NEWSLETTER
and, ONLY THIS MONTH OF DECEMBER, get one TripScout City Guide, of your choice, for FREE!