From an awesome Eastern European capital to the most mind-blowing mountains in Europe, a great coastline, a wine region with lovely towns and a very strong culture and national character, Georgia is the ultimate emerging destination.
Read my Georgia travel guide.
need to know for traveling in Georgia
Quick facts
Capital: Tbilisi
Population: 3.7 million (130th)
Language: Georgian
Area: 69,700km² (119th largest country)
Visa
94 nationalities can get a 365-day free visa upon arrival.
Getting in
Tbilisi has the main international airport with most connections, but budget airlines usually fly through Kutaisi.
You can easily travel overland from Turkey, Armenia and Azerbaijan but Russia
Travel Insurance
Georgia is a trekking destination, so get travel insurance that covers trekking in high altitudes, like IATI Insurance
5% discount if booking here:
Best time to visit
Summer is best for trekking.
Spring and autumn are the best time to enjoy cities and lower-altitude mountains.
Money
The official currency is Georgian Lari
1 USD = 2,50 GEL
You can pay by card in most places in Tbilisi and larger cities but not in the countryside. It's easy to find working ATMs in most towns.
Budget: starts at $25 a day for budget backpackers.
---
Trekking in Georgia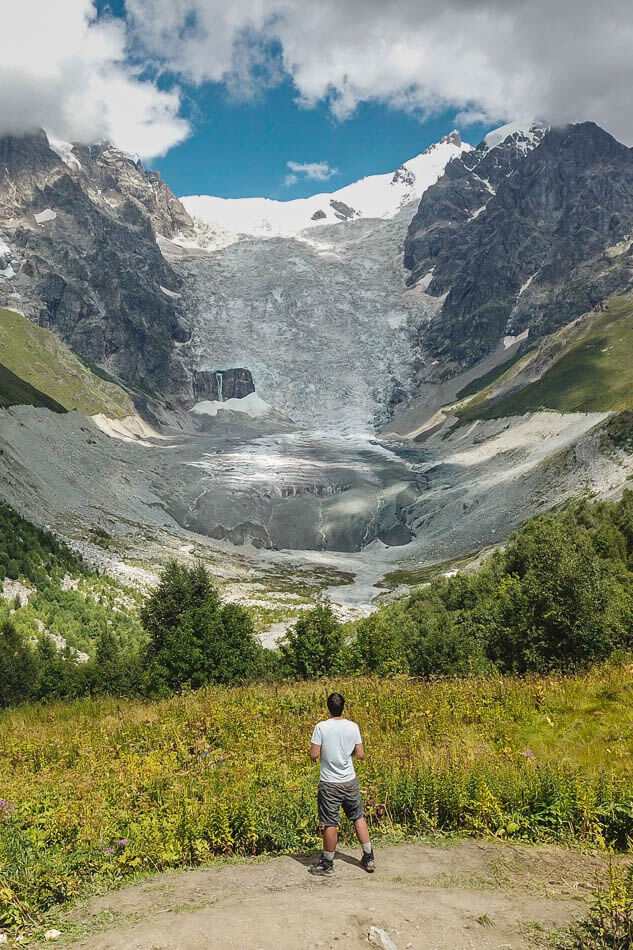 Located in the heart of the Caucasus, Georgia is the best trekking destination in Europe.
Basically, you have mountains which are as gorgeous as in Switzerland but much higher and the country is way more affordable.
Check my beginner's guide to trekking in Georgia.
---
Top experiences in Georgia
Trekking in the Caucasian mountains
Jaw-dropping mountain scenery.
Visit the unrecognized republics
Abkhazia is an independent country within Georgia, yet not recognized by the UN. Read my travel guide to Abkhazia.
Visit the wine region during harvest season
Kakheti is home to fairy-tale-like villages and there's no better time to go there than during harvest.
Check our 3-week Georgia itinerary
tips for Georgia
Accommodation
There is a wide range of accommodation all over the country, from hostels to guesthouses, homestays and hotels.
They can be easily booked online.
Excursions and day trips from Tbilisi
If you are short on time, there are many excursions, day trips, and activities that you can do from Tbilisi.
Transportation
Moving by public transportation is very easy, as you can find trains and marshrutkas going to pretty much each and every spot in the country
---
ALL MY ARTICLES ON GEORGIA