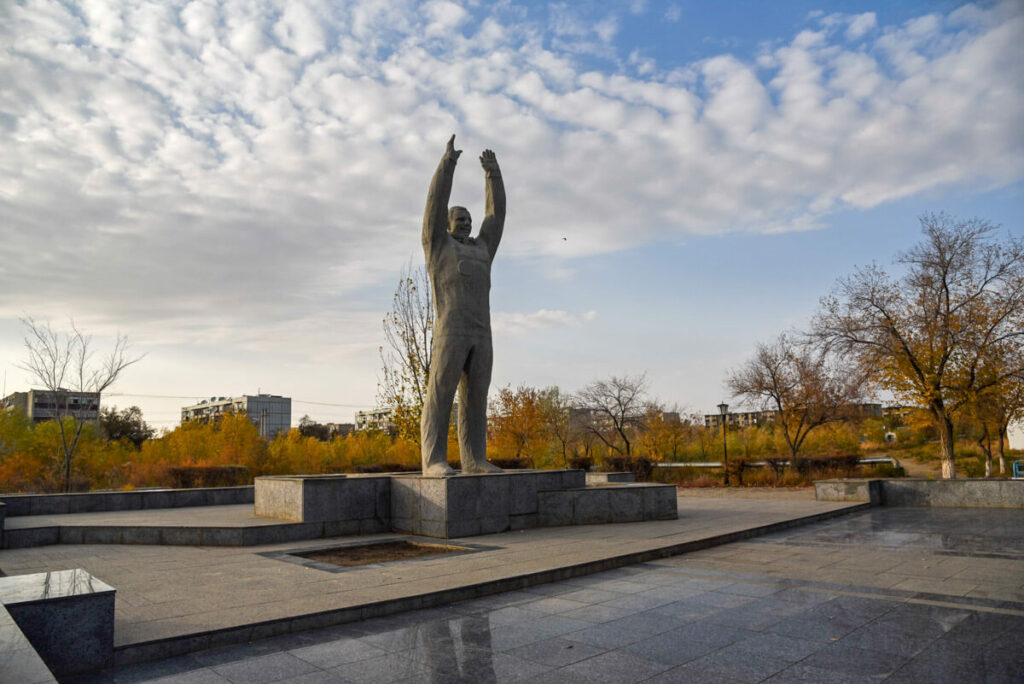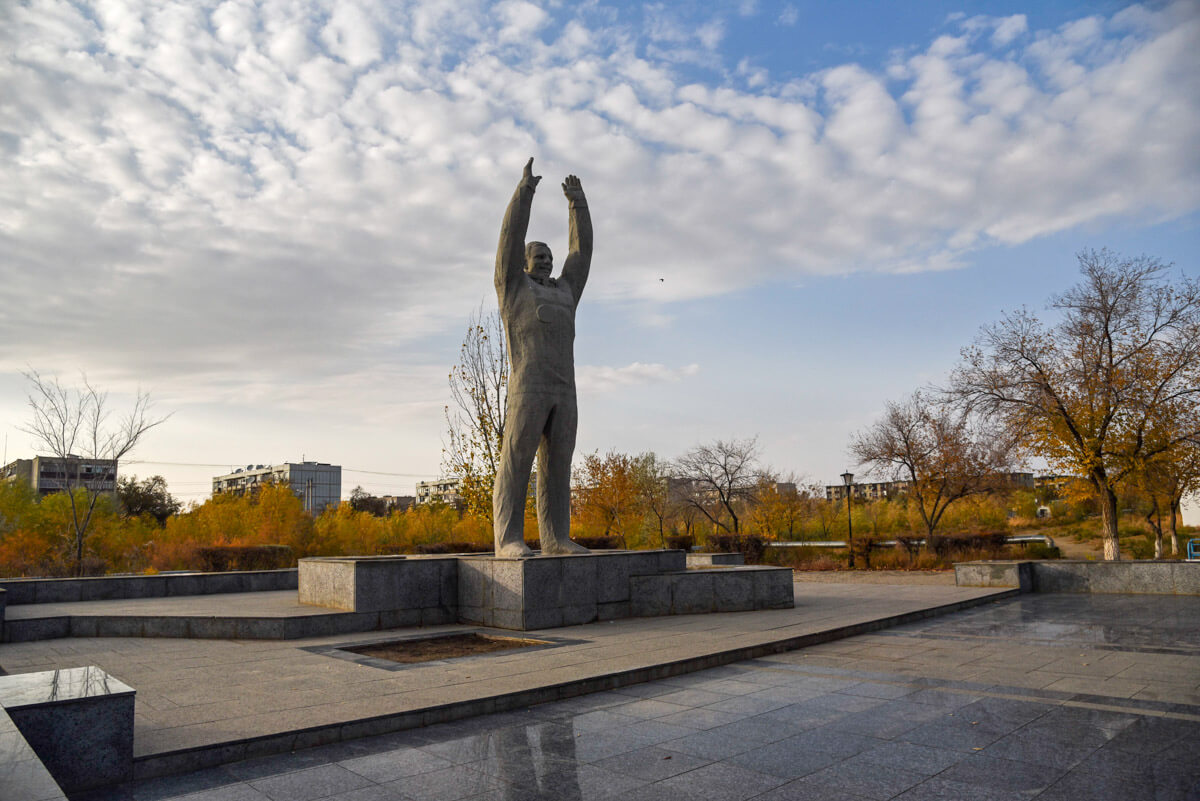 In central south Kazakhstan, rising from the endless Kazakh steppe, right in the middle of nowhere, you find Baikonur, a real ex-Soviet town made of concrete and Soviet buildings.
However, despite being such a desolated, ugly town, so far away from civilization, Baikonur is one of those places that will remain forever in our history because, even if you have never heard of its name, I am sure that you know a tiny bit of its history.
And why is that?
Well, the reason is that, Baikonur, is where you find the Baikonur Cosmodrome, which is the Russian equivalent of NASA's Kennedy Space Center.
Baikonur is nothing else than the place where both the dog Laika and the first human in space (Yuri Gagarin) were launched, as well as many other space-related events.
Yes, all of this happened in a town in the middle of the steppe in Kazakhstan, a region which, for centuries, had been a real nomadic land.
Visiting the Cosmodrome is very feasible and, if you are lucky, you could even see a rocket launch as part of the same visit, no kidding. Nevertheless, despite sounding like a good plan, this would require a special permit that takes several weeks to process, as well as a lot of money. You can only visit it on a guided tour, with prices starting at 700USD.
This tour would also include a visit to Baikonur town which, despite being located 40 kilometers from the actual Cosmodrome, it is off-limits to tourists as well, which doesn't make a lot of sense.
On the other hand, sneaking into the town without getting this permit is quite possible, if you know where to go, of course. This article will show you how.
For all the places to visit in the country read my 1-month itinerary to Kazakhstan

How did we visit Baikonur town without a permit
Be aware – Visiting Baikonur without a permit is illegal and you might get into trouble for doing that. In no way is the article encouraging you to do it, but it just aims at providing the curious traveler with useful traveling information. You, and only you, are the only person responsible for assessing what are the risks and consequences of such an act
In 1991, after the Soviet Union's dissolution, when Kazakhstan became an independent Republic, as part of an agreement, both Kazakhstan and Russia decided that Baikonur would be administered by Russia, in exchange of a rental fee which, at that time, was around 100,000,000USD a year.
As a consequence, despite being at the heart of Kazakhstan, Baikonur really feels like being in Russia: they use the Russian ruble, cars have Russian license plates and most people living there are ethnically Russian.
Baikonur is a different world from the rest of Kazakhstan and this is what makes it so interesting and the main reason why the most voracious travelers want to go there.
But this is not all.
The town is also filled with plenty of monuments and other space-related things, like statues of famous cosmonauts and even an old rocket, which I am not sure whether it is a mock-up or not but it looks very real, indeed!
Having said that and the fact that you can't be more off the beaten track, I couldn't wait to go.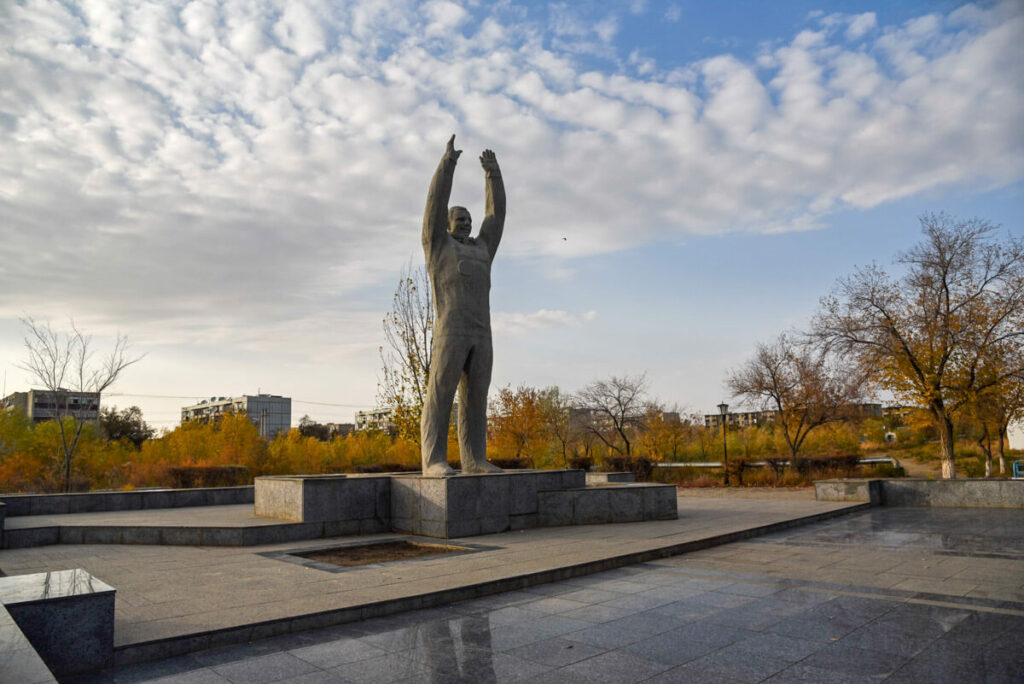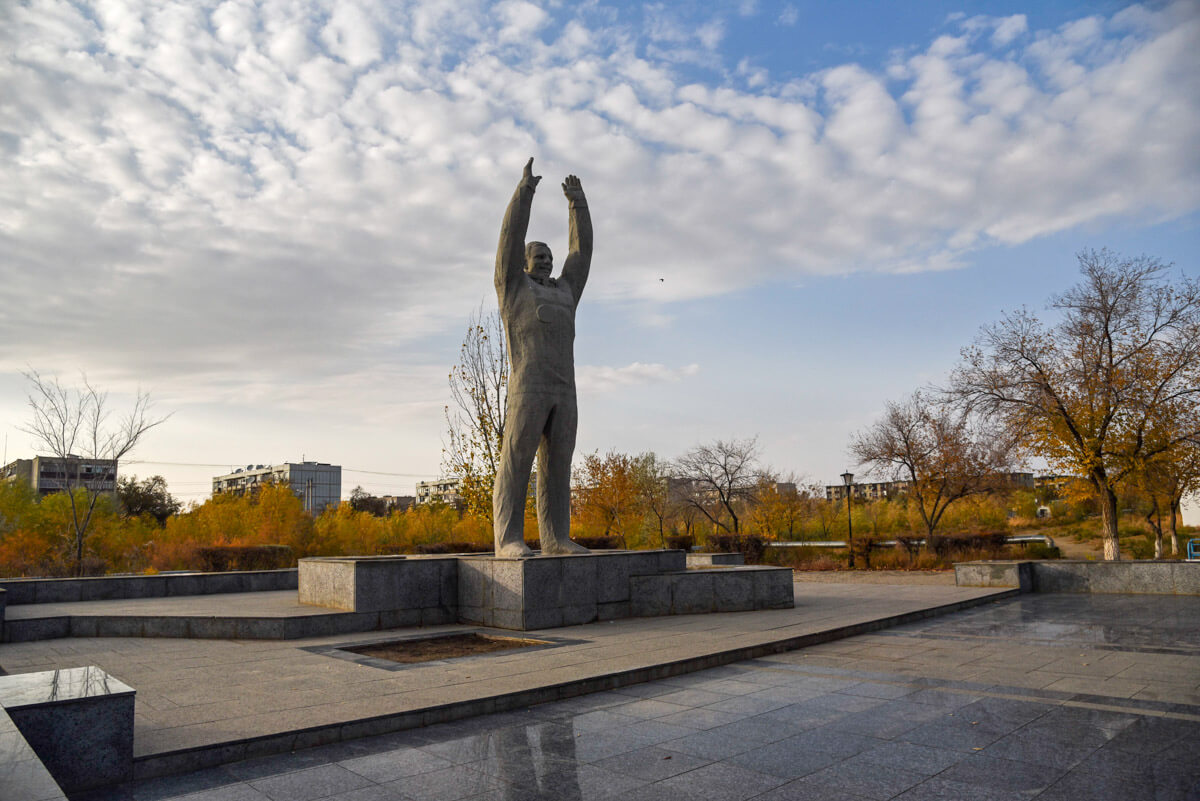 Tales of Kazakhstan – How did we sneak into Baikonur
(scroll down to the end of the article to see all the practical information, including maps)
And there I was.
After traveling for several hours over the Kazakh steppe, I finally arrived at the train station of Tyuratam, a very random village with absolutely nothing of interest, but it is the main access to Baikonur town, as it is only a few kilometers away.
After showing my passport to an unfriendly, random police officer, when I left the station, I bumped into two Dutch guys who I had met a couple of weeks back, somewhere in Kazakhstan. They were self-driving and already knew where all the checkpoints were, so we left our stuff in their car and started our small trip towards Baikonur on foot.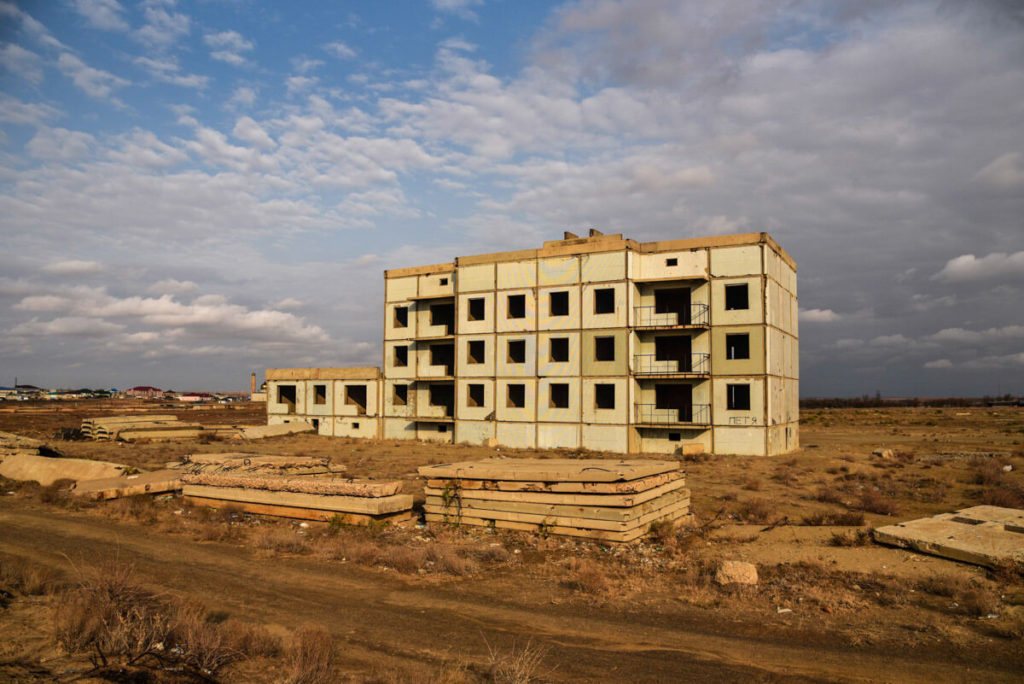 Skipping the checkpoints was easy, so the journey went quite smoothly. We bought a few beers at the supermarket, took pictures of the many concrete buildings, visited an old rocket and some pretty epic cosmonaut statues. We also went to the main bazaar, where I bought one Cosmodrome-related souvenir, and hung out with a few locals.
Nothing fancy, nothing extreme but it was pretty cool.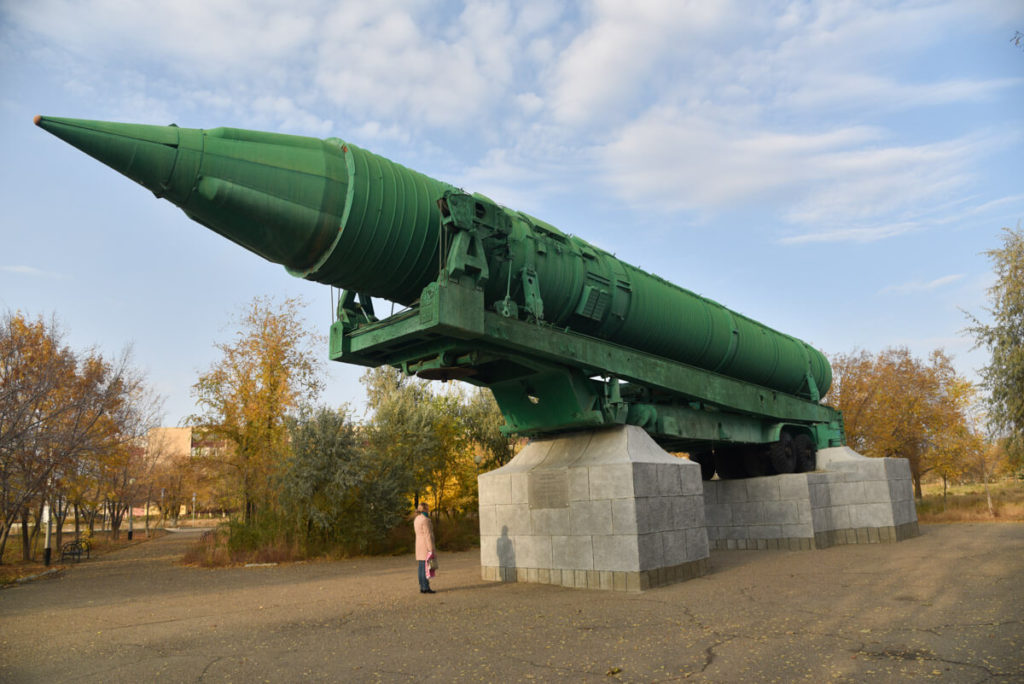 When it was getting dark, we decided to go to a bar, where we met a local Kazakh Russian who we shared some beers with. He claimed to be a professional chess player and said that, in a few weeks, he was traveling to Israel to play a world championship. We believed him, especially after he showed us his visa and Letter of Invitation more than 5 times.
We had a couple of rounds and, when we started getting tipsy, he suggested going to another bar.
He was actually a funny guy, so we decided to pay for his drinks and, to thank us for this, he said that we could stay at his house, no problem.
It sounded like a plan.
At the second bar, after a few beers, we directly passed to the vodka. Our night was getting pretty interesting and, when we finished the bottle, we went to a very local, third bar, where we kept with the drinking routine.
That chess player was our best friend in Kazakhstan already but guess what.
After even more shots, when we were all completely smashed, he suddenly disappeared. That damn dude got drank for free and then he fooled us… What a bastard…
It was 2am and we were in the middle of Baikonur not knowing where to go. Sure, we could have gone back to the car, which was 5 or 6 kilometers away but we were really wasted, so we didn't think about it.
Instead, we went to a hotel and, when tried to check in, the women told us to wait at the reception.
Sure, why not. When I sat down, I completely passed out and the only thing I remember after this was a policeman poking me…
I woke up with a drunk shit face and two policemen yelling at me in Russian. I didn't know what was going on…
They took us to the police station, where they took our fingerprints and even mug shots of us, like they do to criminals.
After a while, a policeman who spoke decent English came to interrogate us:
Policeman: Why did you come here? How did you come?
We said that we were tourists who came by taxi from Tyuratam but didn't know it was illegal to be there, so we were really sorry about that…
Policeman: By taxi? And who was the taxi driver, do you remember?
I suddenly remembered that I had a picture of that damn chess player and, since we were extremely pissed at him, we said that he was the guy who sneaked us into Baikonur.
Me: This guy, it was him!
And then, the police said:
Policeman: Oh, really? Yes, I know this guy. He is a clown…
His reaction just made our night.
They said that the fine for sneaking into Baikonur was 2,000€ but, in our opinion, he was just bluffing, as he just mentioned it once and didn't insist anymore…
When we finished, around 6am in the morning, they took us back to the train station, where I took a direct train to Turkestan.
It was so much fun.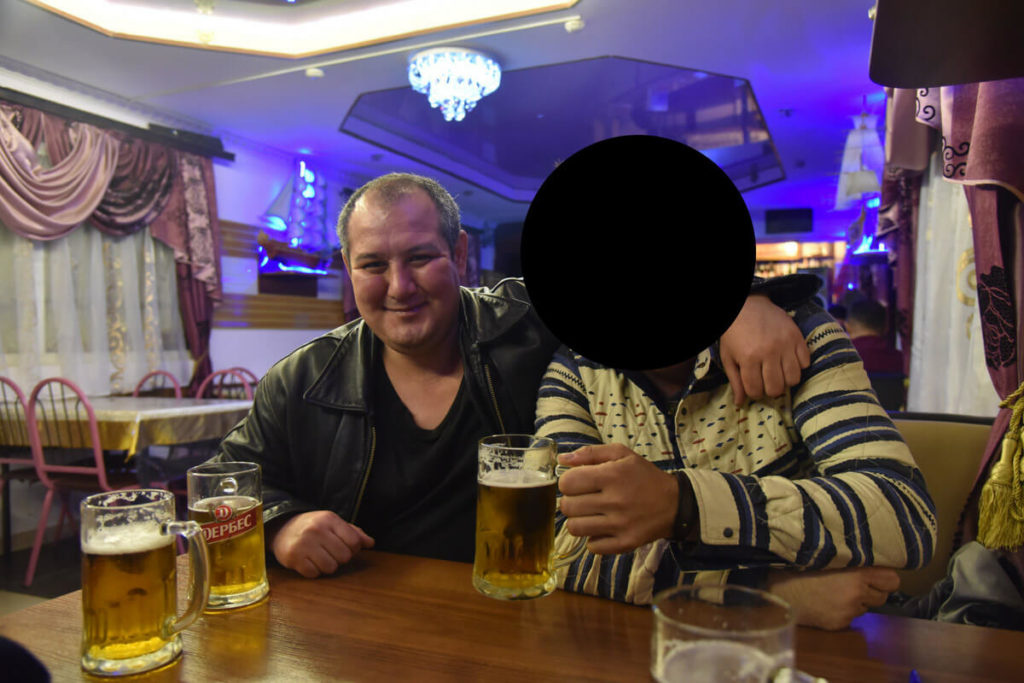 Practical information for visiting Baikonur
How to get to Baikonur town
Baikonur is a few kilometers away from a tiny village named Tyuratam (Тюратам).
Tyuratam has a train station that belongs to the main Kazakhstan railway line, so it is easy to get in from pretty much anywhere in the country. From Almaty, which is 1,400 kilometers away, is a 27-hour train journey. I personally came from Aralsk, only 250 kilometers away.
Once you get to Tyuratam, you will have to go to Baikonur on foot. If you come by car, you must leave your car in Tyuratam because, by road, it is impossible to skip the checkpoints.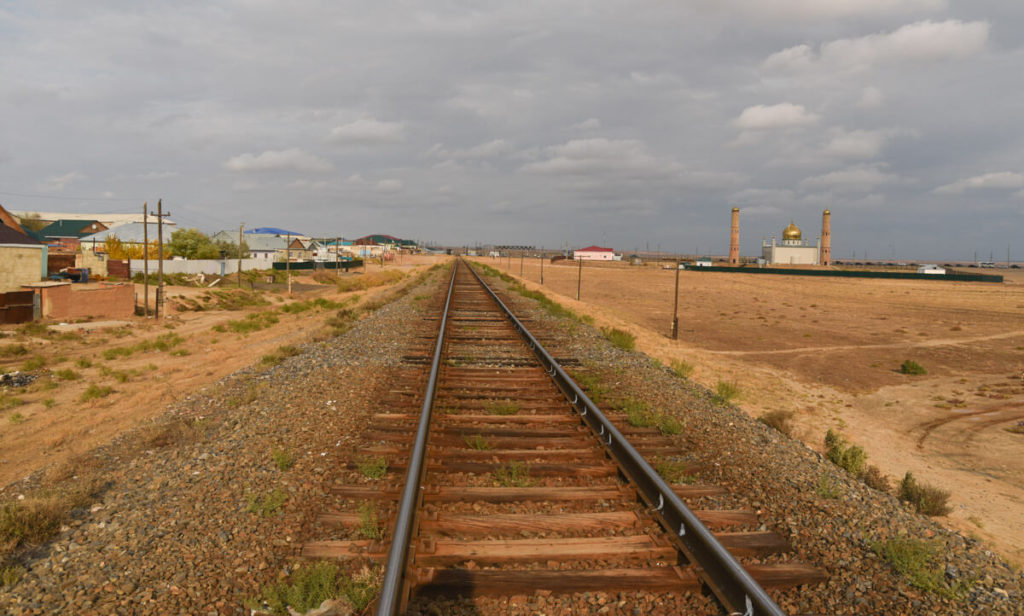 How to skip the main checkpoint
All road entrances to Baikonur are well kept by the Russian police, who absolutely check each and every car that tries to go through. If you are self-driving, you will never make it. If you go by taxi, it is unlikely that you make it, unless you bribe the taxi driver and hide inside the trunk.
Walking would be the easiest and safest way. Basically, when you leave the train station, you just need to continue straight for 15 minutes until you see a train track. Go over it, continue straight and you will already be in Baikonur. Here, you can see the walking-route and where the 2 checkpoints are:
Tip – Download Maps.me to find out where all the attractions are.
How to move around town
During all day, we just saw one police car passing nearby us. Just apply common sense and try not to attract too much attention. This implies not showing your camera and be careful who you talk to.
However, locals didn't seem to care much about our presence or be surprised to see us. It was like it was completely cool to be hanging out there.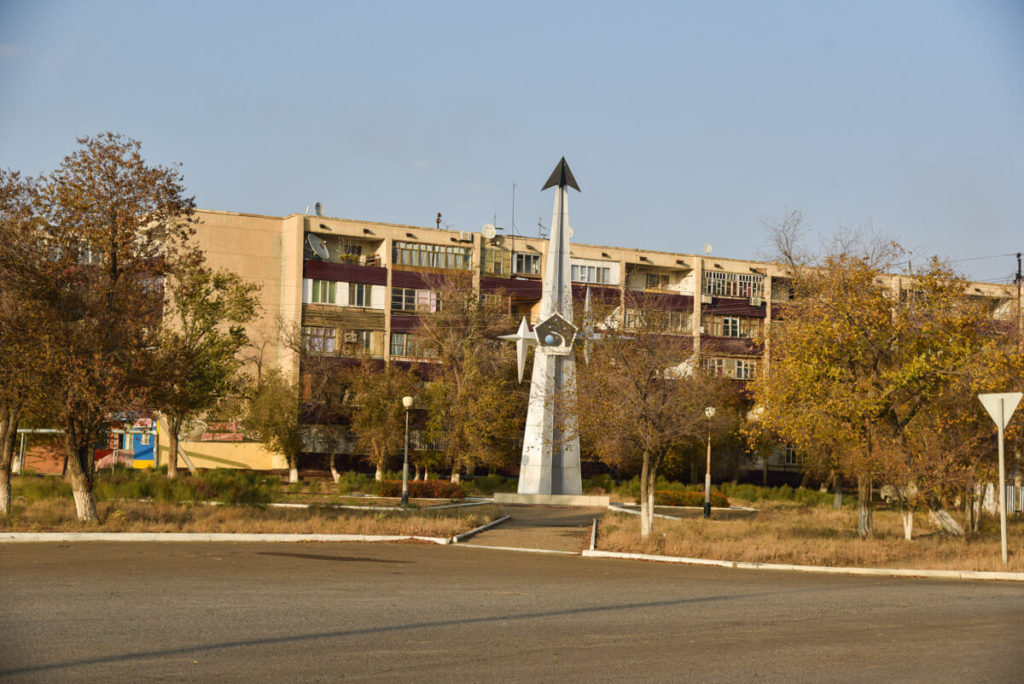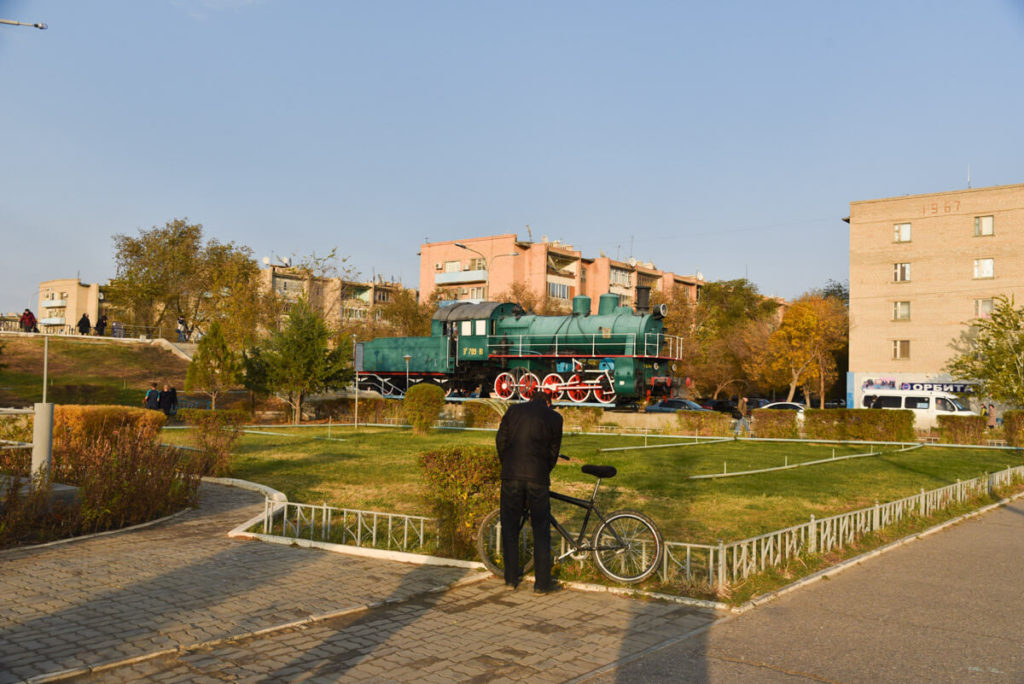 Conclusion
As you saw, we got caught by the police but, luckily, in the end, it just turned into a funny story. If you don't want to commit the same mistake, just don't stay until the late hours. This way, it shouldn't be difficult for you to explore the town in just a couple of hours without being noticed. Just be careful!
More travel stories
Visiting a Syrian refugee camp in Iraq
Sneaking into an Afghan village in Pakistan
Is it ethical to visit Saudi Arabia?
Tales of the Nubian people in Sudan
Chronicles of backpacking in Iraqi Kurdistan
The day I was accused of being an Islamic State spy
Airbnb in a Palestinian refugee camp
And here you can find all my guides to Central Asia