Skip Content – Quick links 
Today, Iran is in fashion. Yet, just a few years back, nobody was talking about it and only a small bunch of adventurous people decided to make the step into this country. Unfortunately, Iran had too many misconceptions and most of the people were kind of scared.
However, all these travelers who had been to Iran, came back and told wonderful things about the country, its people and the ancient Persian culture. Iran surprises you. That's what they said. The word has been spread, and together with the nuclear agreement with the USA and the end of the sanctions, Iran is slowly opening its borders and everyday, more and more people are looking forward to discover one of the most ancient civilizations in the world.
Iran is a peaceful country, it's safe and full of history. Don't be afraid. Come to visit us.
That's what Iran has been trying to sell recently. And in just a few years, tourism has grown so drastically that Iran Lonely Planet has been translated into several languages. Did you know about the Lonely Planet index? Maybe not. I just made it up.
That being said and based on my own experience, the following Ultimate guide to travel to Iran aims to provide you with detailed travel tips such as prices, accommodation and transportation, as well as an overview of the main things to do and see, so you know what to expect upon your arrival in Iran.
On the other hand, if you are seeking for more in-depth and detailed information, I recommend you to find inspiration on any of the following posts:
– Darband: Escaping from Tehran traffic and pollution
– Qashqai people: Authentic Iranian nomads
– Masouleh village:  Shepherds and awesome hikes
– Off the beaten track things to do in Shiraz
Travel to Iran: A survival travel guide
Iran, or officially called the Islamic Republic of Iran, is a country located in the most western part of Asia, in the Middle East. Iran is a country full of history where ancient civilizations (Elam) and powerful empires have taken part of (Persian Empire).
Top things to do in Iran
Please note that this is a huge country with numerous interesting sites to visit. Here I am just giving an overview of what are the best places to visit in Iran:
The capital: Tehran
Tehran is a chaotic city which most tourists skip due to the lack of historical sites. While it´s true that Tehran is a relatively new city and lacks of the historical glamour of other cities, I think that stopping in the capital is a must. Here is where you´ll be able to experience the modern and open-minded Iranian society like nowhere else in Iran. If you get tired of city chaos and noise, I have written a detailed post about How to escape from the traffic and pollution in Tehran.
Shiraz
One of the most westernized cities in the whole of Iran. Shiraz is where the famous Iranian poets come from. There are plenty of interesting sites such as Hafez Tomb and Nasir al-Molk mosque. A prestigious University makes Shiraz a young and lively city. Unfortunately, since it's one of the most popular destinations, you'll be finding tourists everywhere. But don't worry. I have written a post about How to get off the beaten track in Shiraz.
Persepolis
It was the ceremonial religious hub (or ceremonial capital) of the First Persian Empire in the 7th century B.C. By that time, the Persian Empire was the greatest of the greatest, therefore Persepolis could have been called the center of the world. Today, it's an impressive ruined complex and one of the top touristic attraction in Iran.
Esfahan
Together with Shiraz, this is the number one destination as this is the real center of the Persian culture and home to the famous Persian gardens and the most iconic Islamic buildings. Furthermore, each street corner has its own story as artisans representing the traditional Iranian culture are found all along the way. There are many historical sites to visit in Esfahan, but perhaps the most popular ones are Masjed-e Shah (a mosque with blue-tiled mosaic design), Kakh-e Chehel Sotun (the only surviving Royal Palace) and Bazar-e Bozorg (one of the most historical bazaars in the country.
Yadz
This is a historical and peculiar village whose houses are made of mud-brick. Yadz doesn't have as many stunning Persian sites as Esfahan or Shiraz, but for me, the highlights of Yadz are to get lost in the maze of historical streets and relax in one of the best and cheapest accommodation in Iran.
Masouleh
Located in the northwestern part of the country, Masouleh is a beautiful village situated on a hill in a valley and surrounded by stunning green mountains waiting to be hiked. For more details, read this post: Masouleh village:  Shepherds and awesome hikes
Tabriz
A city, home to the finest bazaar in Iran, where the original and worldwide famous Persian carpets come from. Tabriz is also a place full of history and where you will meet some of the warmest people in Iran. There is a huge Azari community.
Howraman Valley
In the central western part of Iran, bordering Iraq you will find the Howraman valley. If you want to get a glimpse of traditional Iranian Kurdish life, go and visit the villages of Howraman Valley.
Queshm Is
Qeshm is an island located in the Persian Gulf. You can reach it by ferry from the south of Iran (or by plane from Dubai). This an off the beaten track destination and it's a unique from the rest of Iran. A strong fisherman tradition, travelers come to this island to hike among weird rock formations and sleep at local homes, which are almost tents.
Kalut desert
A beautiful desert with solid sand dune formations. If you've never seen them it's definitely worth a visit. Don't go in summer as here has been registered the world's highest temperature ever: 70ºC. Impressive, right?
Visit the Iranian nomads
Iran counts with one of the biggest nomad population around the globe. And not only this but these nomads are also classified into different sub-groups according to their ethnicity, origin and even language. Around Shiraz there's one group of nomads called Qashqai. For more details, read this post: Qashqai people: Meeting authentic Iranian nomads
Mashaad
One of the remotest and least visited cities in Iran. Located in the northeastern part of the country, Mashaad is the most religious and holiest city of Iran. If you want to fully experience the Shia branch of Islam, this is its heart.
The castle of the assassins
Almost one thousand years ago, the Alamut Valley was home to a bunch of bloody assassins who were kidnapping and murdering people from the below towns and villages. Why is that so? Because their leader, Hassan e-Sabah, promised them the future paradise. Today, only a few ruins remain, but the mountains surrounding these ruins have the most stunning landscape in Iran. For more information and epic pictures, read the full review of my fellow blogger Lost with Purpose: A voyage to the Castles of the Assassins
Getting off the beaten track
In just a few years, tourism in Iran has boomed, which means that some of its areas are not off the path anymore. Places like Shiraz, Esfahan or Yadz (which comprise the classical Persian route) are among the most popular destinations and you will definitely meet up with loads of other tourists. Outside of this route, tourist presence is practically non-existing.
Nevertheless, if you wish to get off beaten path but you don't have enough time to divert from the Persian route, I have written a post about Off the beaten track things to do in Shiraz.
The people: the Iranians
After spending some time traveling in Iran, people always get to the same conclusion. Just 2 words: Iran surprises. But why? Because of its people.
Media has made Westerners believe that Iranians are scary, that they like to make nuclear bombs and threaten the West. Even today, naive people believe that Iranians have some sort of link with ISIS and they are terrorists. When travelers step into Iran they realize how far that is from the truth. Instead of scary people they meet some of the most hospitable people you can ever encounter. In addition to this, Iranians are aware of this common stereotype. Therefore, they will strive to make you change this misconception.
Arabs or Persians?
"Really, you guys are not Arabs?"
Iranians are literally sick of hearing this stupid question. Yes. Iran is a country located in the heart of the Middle East and occupies most part of the well known Arabian Gulf. But you know what? Iranians don't call it Arabian Gulf, but Persian Gulf.
Please, remember that Iranians are not Arabs, but Persians.
Language
We just said that Iranians are not Arabs, right? True. Therefore they also don't speak Arabic but Persian (or Farsi in their language). Persian has nothing to do with Arabic (except for a few words) and it sounds completely different. You also need to know that Persian is the main language but it's only spoken by 70% of the population approximately. Yes… Iran has loads of ethnic diversity. The second most spoken language is Azerbaijani, which is basically a Turkish dialect and around 18% of the population speak it. The third most spoken language is Kurdish and it's used by 10% of the people obviously from Iranian Kurdistan.
Some useful words are:
Hello: Salam
How are you?: Haletoon khoobeh?
Thank you: Mamnoon
Thank you very much: Kheilly mamnoon
You're welcome: Khahyesh mikonam
I am sorry: Ohz mikham
Excuse me: Bebaksheed
English in Iran
Only educated people that have gone to University and live in the main cities speak English. In the country side, it will be very difficult to communicate with the locals. Many of them don't even know the numbers.
Religion
Around 90% of the population are Shia Muslims and Iran is the only country in the world where Shia Muslims (including the government) are majority. Iran is a Islamic Republic where Sharia law is strictly applied. Nevertheless, for Iranians, religion is not as important as you may think. I have written an informative story about the role that religion plays in Iran and why I think that it´s the most secular country in the Middle East.
Iran clothing rules
Like I mentioned before, Sharia law is strictly applied across all the country. Some of these Sharia rules include that women need to be completely covered in any public space with no exception. And not only their head, but also they have to wear some sort of long jacket or sweater which hides their butt. This law applies to absolutely all women, either if they are local, foreigners or tourists. The religious police take care that this is inforced.
Men wearing short pants in Iran
It's pretty funny to say that even for men, wearing short pants is illegal across all Iran. Can you believe it? It's not a joke. I didn't know it. How did I find out? I was in Shiraz and it was pretty hot. Obviously I decided to put my short pants on. When I stepped into the street everybody started to laugh and stare at my legs. All right. I know that when you wear short pants in a Muslim country you may catch people's attention but that was exaggerated.
After a couple of hours I met my Couchsurfing host and asked him:
Me: Dude, why is it such a big deal to wear shorts?
My host: Because it's illegal
Me: No way! Are you serious?
My host: Yes, and it's around a $100 fine. But normally police won't fine tourists
Wearing them or not is your choice. They may not fine you but when you travel you must be respectful with other cultures.
How is the food?
There's a popular saying: Iranian food is basically kebaps. That's not true. Whereas kebaps are the most available choice, Iranian cuisine has a bunch of must try dishes which I am going to explain to you in detail:
Classical Iranian breakfast: Feta cheese and walnuts
During University, we shared the apartment with an Iranian from Mashaad for a year. He was not like all the other Iranians I have met but was extremely anti-social and weird. On absolutely every day of the week, he ate for breakfast and dinner, walnuts and feta cheese. When I went to Iran and saw that this was actually the typical Iranian breakfast, a lot of good memories came back to my mind.
Mirza ghasemi
If you travel to Iran, you must try Mirza Ghasemi. It's one of my favorite dishes. Iranians eat it for breakfast. They also call it omelette. It´s basically eggs, tomato, garlic and eggplant, all mixed and scrambled. You eat it along with a slice of Iranian bread.
Ghorme sabzi
One of the most popular dishes among Iranians from all the social classes. It´s a mix of meat and green vegetables and beans. Its texture and color may seem sort of disgusting but it´s just vegetables and meat and it´s very healthy!
Khoresht
There are a lot of different kinds of Khoresht but typically it´s a meaty stew with vegetables. The one from the picture below has a tomato and lentils base. There's nothing very different or especial, but it gives you a good shot of energy.
Mashed roasted aubergine
One of the few traditional vegetarian Iranian dishes consists of mashed roasted eggplant. You eat it while still hot.
Sweets
Iran is a Middle Eastern country, therefore they love sweets! Besides the classic Middle Eastern sweets, you also may find ginger sweets, which consist of a soft brown paste and dried yogurt, which is mainly eaten by Iranian nomads. Moreover, whenever you order tea (chai), instead of regular sugar they give you a candy on a stick which you let melt inside the cup.
Alcohol in Iran
Dear friendsm I am sorry to announce that in Iran alcohol is forbidden. You only get 2 options. Either begin desintoxification, or meet a nice local who buys it for you in the black market. The black market is controlled by the Armenians and Christian Kurds. Most of the alcohol comes from Iraqi Kurdistan, and since the border is controlled by the Kurds and not the Iranian government, smuggling alcohol is pretty easy.
The closest thing to alcohol is the legally sold ISTAK, which is basically beer without alcohol. That's what they try to sell. But you know what? It's f*** disgusting. I got so pissed when I bought it. I like beer without alcohol. I used to drink it back home during office hours for lunch. The available brands in Spain taste close to beer. But ISTAK, is just a disgusting unhealthy sweet beverage made from apple syrup. They call it beer because it has a malt base. Please, don't buy it.
How much traveling to Iran will cost you?
Whereas Iran is not the cheapest destination to travel within the Middle East or Asia, it's still quite an affordable destination. Let me  show you guys what are the typical prices.
Accommodation
Tehran
Accommodation in Tehran is ridiculously expensive. According to Iranians, real state price in Tehran are similar to Dubai. If you check at Booking.com, hotel rates in Tehran start at $100 and there are not so many options. Neverteless, one hostel named Denj Hostel has been opened recently. Dorms cost $15 and private rooms $35.
The rest of the country: 
– Budget option: Outside of Tehran, accommodations are way more affordable. For example, in Shiraz you can easily find single rooms for just $10. But be aware that these rooms are rather sad and they stink of humidity. I stayed in one of these hotels and there was only one bathroom for all guests, there was no internet and it was dirty. In addition, the day I checked out they wanted to charge me extra for leaving my backpack at the reception. Can you imagine?
– More comfortable option: If you are looking for something more comfortable, you can also find nicer rooms (either hotels or guest houses) for $20 or $30. Most of these rooms are double and should have their own bathroom.
Food
In Iran, food is cheap. In local restaurants, simple meals cost around $2-$4, whereas an average kebap costs $8. If you feel like something more fancy, at higher quality restaurants you will pay around $15 for a good quality meat kebap.
Alcohol
Like I previously said, alcohol in Iran is forbidden. Prices in the back market vary, but you may find a bottle of Absolute vodka for $22.
Transportation
– Bus: Between cities, traveling by bus is the cheapest option. For example, going from Tehran to Esfahan (450 kms, 6-7h) costs less than $10 for a VIP bus. You can even find it cheaper if you travel by lower range buses, but I wouldn't recommend them, since they just cost a few dollars less.
– Shared taxi: within cities, shared taxi service is very common and for short distances you shouldn't be paying more than 50¢.
– Taxi: If you decide to take a taxi on you own, short taxi rides cost $3-$4.
– Metro: In Tehran, the metro is very convenient and rides cost nearly nothing: only 20¢
Entrance fees
Many of the entrance fees cost nothing, and the maximum you'll pay for the most popular ones will be $10. Persepolis is within the ones with this price.
Do you need to tip?
In Iran, tipping is common, especially to taxi drivers and in restaurants. It's not a big deal. I just use to leave the small change they were supposed to give me back. At the end of the day that's just less than a few $.
MINIMUM AVERAGE PRICE PER DAY
Accommodation: Most budget single room: $10
Food: Local breakfast + Lunch in a local restaurant + Kebap for dinner: $2 + $4 + $8
Transportation: Bus ticket from Tehran to Esfahan: $8
Entrance fee: Since this day you travel from Tehran to Esfahan, you won't enter any historical site
Tips: $2
Miscellaneous: Water + snacks + personal care products = $6
Total price = $10 + $2 +$4 +$8 + $8 + $2 + $6 = $40 a day
Where to sleep: Accommodation
Since Booking.com and other popular sites are companies based in the USA, you won't see there a lot of available options, and the ones that show up are pretty expensive. Nevertheless, it's quite easy to find available rooms once you arrive in each city. If you want to go for the safe option, Lonely Planet recommends the following places:
– Tehran: Firouzeh Hotel ($24-$35) or Denj Hostel ($15-$35)
– Shiraz: Niayesh Boutique ($11-$70)
– Esfahan: Naghshe Jahan Hotel ($22-$28)
– Yadz: Silk Road Hotel ($11-$60)
Couchsurfing
Couchsurfing in Iran is great and is one of the best ways to experience the Iranian culture. There are plenty of couches to surf and remember that Iranians are very hospitable.
How to move around: Transportation
Within cities
In Tehran, metro is the easiest, cheapest and most comfortable way to move around the capital. The only down-side of it is that during peak hours, the metro is completely packed. There's a train car for women. You can buy single tickets, or you can also buy a card which you top-up and has a similar functionality as the Oyster Card in London. The bus system is also pretty effective and it goes to places that the metro can't reach. You can use the same card as in the metro.
In Tehran and the rest of the cities, sharing taxi is pretty common. The biggest disadvantage is that you need the taxi to be completely full before departing. If you are not in a hurry, it's the best option.
You can go by taxi on your own as well. There are no taximeters. You need to negotiate. Remember that you are a tourist, therefore the starting price will be higher
Inter-cities
In Iran there's a ralroad but definitely, the most effective, efficient, easy and cheapest way to travel is by bus. The Iranian bus system is of a very good quality, with loads of frequent buses to all parts of Iran. There are also multiple choices, from VIP buses with Wifi  and comfortable seats to old cheap buses used by the labor class.
Renting a vehicle
It's possible to rent a vehicle in Iran. There are several desks at the airport. About the driving? Like in the rest of Middle East, drivers in Iran are fast and are reckless. Watch out and drive safe.
Is it safe to travel to Iran?
Iran is safe country. Terrorism barely exists and crime rate is very low. Pick pocketing is unlikely. I felt super safe.  You don't need to worry about anything. The biggest danger you may encounter is having an overdose of protein ingestion, since vegetarian dished are hard to find.
How do you get a visa?
Citizens of the following countries don't require a visa to enter Iran:
Lebanon, Turkey, Malaysia, UAE, Russia, Armenia, Georgia, Venezuela, Tanzania, Nicaragua, Bolivia and Ecuador
Only recently, citizens of the following countries may get a 3 months visa on arrival. Prices vary per country and usually they make you pay for the visa plus the insurance. I have a Schengen passport and I paid $75 for the visa + $25 for the insurance. That's $100 in total. It's quite painful, I know.
Important to know: if you have your own insurance, you just show it to them and you don't need to pay for it.
Albania, Armenia, Austria, Australia, Bahrain, Belarus, Belgium, Bolivia, Bosnia and Herzegovina, Brazil, Brunei, Bulgaria, China, Chile, Colombia, Croatia, Cuba, Cyprus, Czech Republic, Denmark, Egypt, Finland, France, Georgia, Germany, Greece, Hong Kong, Hungary, Indonesia, Ireland, Italy, Japan, Kazakhstan, Democratic People's Republic of Korea, Republic of Korea, Kuwait, Kyrgyzstan, Lebanon, Luxembourg, Macau, Malaysia, Mexico, Moldova, Mongolia, Netherlands, New Zealand, Nicaragua, Norway, Oman, Palestine, Peru, Philippines, Poland, Portugal, Qatar, Romania, Russian Federation, Saudi Arabia, Serbia, Singapore (2 weeks), Slovakia, Slovenia, Spain, Sweden, Switzerland, Syria, Tajikistan, Thailand, Turkmenistan, Ukraine, United Arab Emirates, Uzbekistan, Venezuela, Vietnam.
Citizens of USA, Canada and the UK can't travel in Iran independently and visa conditions apply differently to them.
How to get in
By air
If you come from the West, the easiest and cheapest option is flying to Shiraz from Dubai ($50 as an average). Other cheap options are from Istanbul to Tehran with Pegasus Airlines. Moreover, other cities with direct flight are Kuwait, Berlin, Hamburg, Dusseldorf, Bangkok and Kuala Lumpur.
By land
Since Iran shares border with a big number of countries, entering by land is pretty feasible. Here's is an overview on how to enter by country:
Syria: Are you sure?
Armenia: The easiest option if coming from Armenia is by bus from Yerevan to Tabriz. Buses are daily and frequent.
Turkey: One of the easiest options. You just need to go the Turkish city called Dogubeyazit and then take a mini-bus to the border. After this you cross the border by foot and then take a taxi to Bazergan ($4).
Pakistan: apparently, this border is quite unpredictable as it depends on the political situation and you can't get a visa on arrival but you need to get it in advance. You can enter via Taftan (Pakistani side) to Zahedan (Iranian side). According to Wikitravel, you can go from Taftan to the border by foot and cross it by foot as well. Once you've crossed, you need to find a taxi to Zahedan.
Iraq: There are frequent daily buses to several cities in Iran from Erbil and Sulaymaniyah.
Afghanistan: There are daily buses from Herat to Mashaad. According to a Forum on the internet, the road in Afganistan has been built by Iran and it's safe.
Turkmenistan: From the capital of Turkmenistan (Ashgabat) you can take a bus to Maashad.
Money $
Iranian currency is sort of funny. Why? Because of 2 reasons.
First of all, because it has the lowest value I have ever seen:
1 USD $ = 31,000 IR (Iranian Rial)
Second of all because the Iranians don't use Iranian Rials but Tomans. What does this mean? Since the currency value is so low, they made up a non official currency called Tomans, which is basically the same dividing it by 100. You will still pay in Iranian Rials, but prices are in Tomans.
Once you know it, it's very easy but the first time is very confusing. I remember the first cafe I went in Tehran to have breakfast. They gave me the menu and I thought: "WOW, that's extremely cheap". With a big smile, I paid in Iranian Rials the amount that was specified in the menu.
Me: You can keep the change'
Waiter: Sure, but first multiply what you gave me by 100
How ignorant I felt…
Cash, credit cards and ATM
Iran is a cash economy, and you can only pay by credit card in some hotels. In addition, most of the ATMs won't accept foreign cards, therefore the smartest thing to do it to bring all your money in cash.
Currency exchanging
There are some exchange offices in the main cities where you can change several currencies, especially USD & €. Outside of the city or when the offices are closed, it's possible to exchange currency in the black market. I don't know why but street currency exchange is a big deal. In fact you see people with loads of notes on their hands everywhere. The rate is negotiable but normally you get a fair one. But be careful! They think we tourists are sort of stupid and we don't know how to multiply or divide. They tell you a fair rate but then they give you less amount of money:
– Me: Dude, this is not the rate we agreed on. I am missing some more money
– Iranian: tip, tip, tip
– Me: what tip? Give me the total amount we agreed on. You are already getting a comission
The man gives you some more money but again it's not enough
– Me: Man are you kidding me? I said give me the total amount we agreed on
Finally he gave me all the money. I exchanged my money in the black market twice and the same thing happened me twice. Just watch out and keep on pushing!
Electricity / Plug
220V – 50Gz
Meeting other fellow travelers when you travel to Iran
If you are an independent traveler, meeting others like you can be a bit tricky. Most of the tourists you will see are big groups that travel on an organized tour. You may meet other independent travelers, but you need to look for them.
The good part of it, is that most of the independent travelers you will encounter are cool and interesting people with a lot of culture. That's the profile of the Iranian traveler.
More articles from awesome travel bloggers
Travel Guide to Iran from my fellow Gilles – Gran Escapades
Photo itinerary: 2 weeks in Iran from my fellow Alex – Lost with purpose
PIN IT!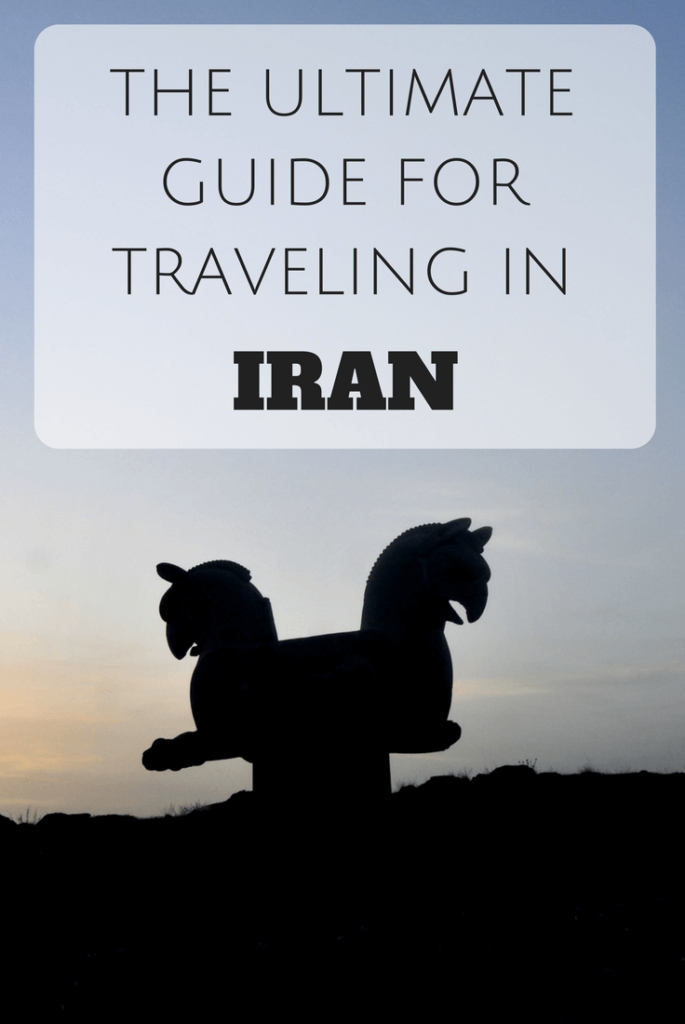 WANT TO TRAVEL OFF THE BEATEN TRACK?
 JOIN MY NEWSLETTER
and get one TripScout City Guide, of your choice, for FREE!