10 Reasons why you should visit Azerbaijan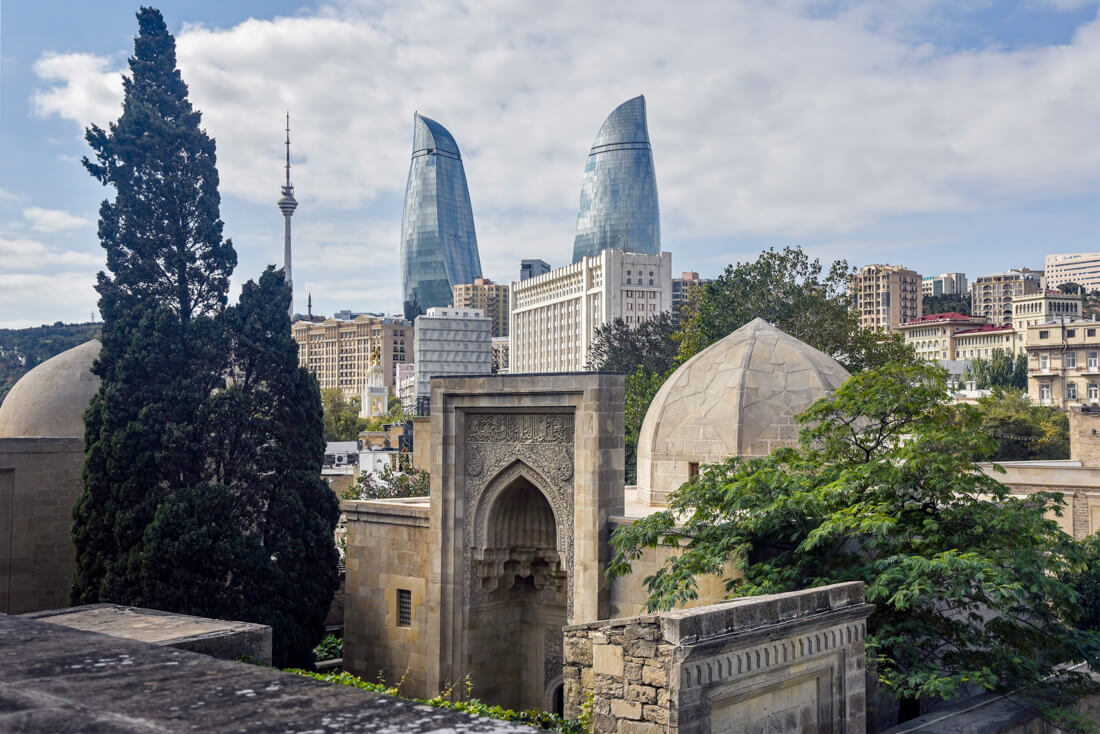 Hello, Azerbaijan…
Have you ever heard of it?
Do you know where is it exactly?
Azerbaijan is a country located in the southern part of the Caucasus, at the crossroads of Southwest Asia and Southeastern Europe. It shares a border with Russia, Georgia, Armenia, Iran and its exclave with Turkey.
Due to its particular geographic location, Azerbaijan is a real blend of East and West, with a deep and intriguing history. For this reason, in my opinion, this is a particularly interesting Caucasian country.
Yet, despite this huge potential, Azerbaijan is not found on tourist maps.
In this article, I will tell you the several reasons why you should visit Azerbaijan.
For all the places to visit in the country, don't forget to read my Azerbaijan 3-week itinerary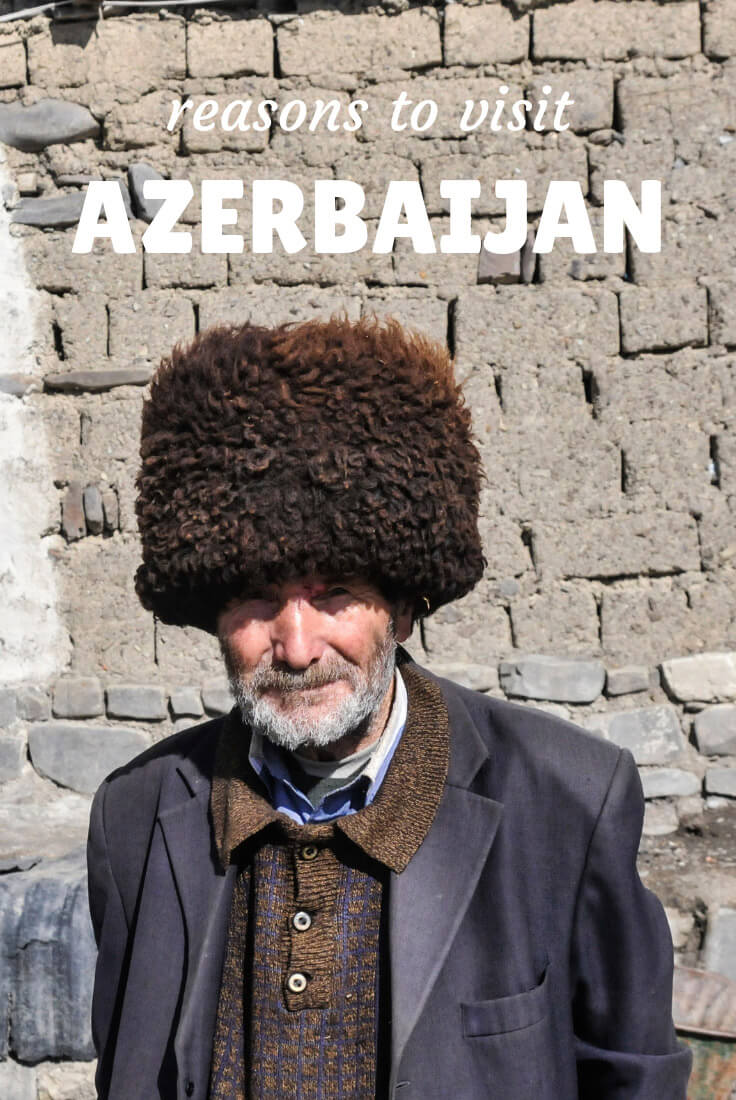 10 Reasons to visit Azerbaijan
Remember to get travel insurance for Azerbaijan
I strongly recommend IATI Insurance: COVID-19 coverage + 5% discount
5% discount if purchasing via this link
Sovietism and the Middle East are mixed up in the most chaotic way possible
Azerbaijan is an ex-Soviet Muslim country.
Physically, Azerbaijanis are a mixture between Iranians and Turks, but they wear a Russian cap. They speak both Azerbaijani (a Turkish dialect) and Russian.
They drink tea in the same way as Iranians, using the same cups, pots and add the same extravagant amount of sugar.
They enjoy drinking it in Arab cafés, but do you know what the difference is? They drink it alongside vodka!
When you enter a café, they greet you with "Salam". But when you have a vodka shot with them, they will exclaim "Nasdrovia!".
They possess Middle Eastern cordiality but, at first, they may seem to have the seriousness of a Russian.
It's hard to tell where you actually are. Soviet buildings and Arabic food are what defines Azerbaijan.
The blend is too chaotic and, for me, this is the top reason why you should visit Azerbaijan.
Read: a guide for visiting Tbilisi (includes offbeat stuff)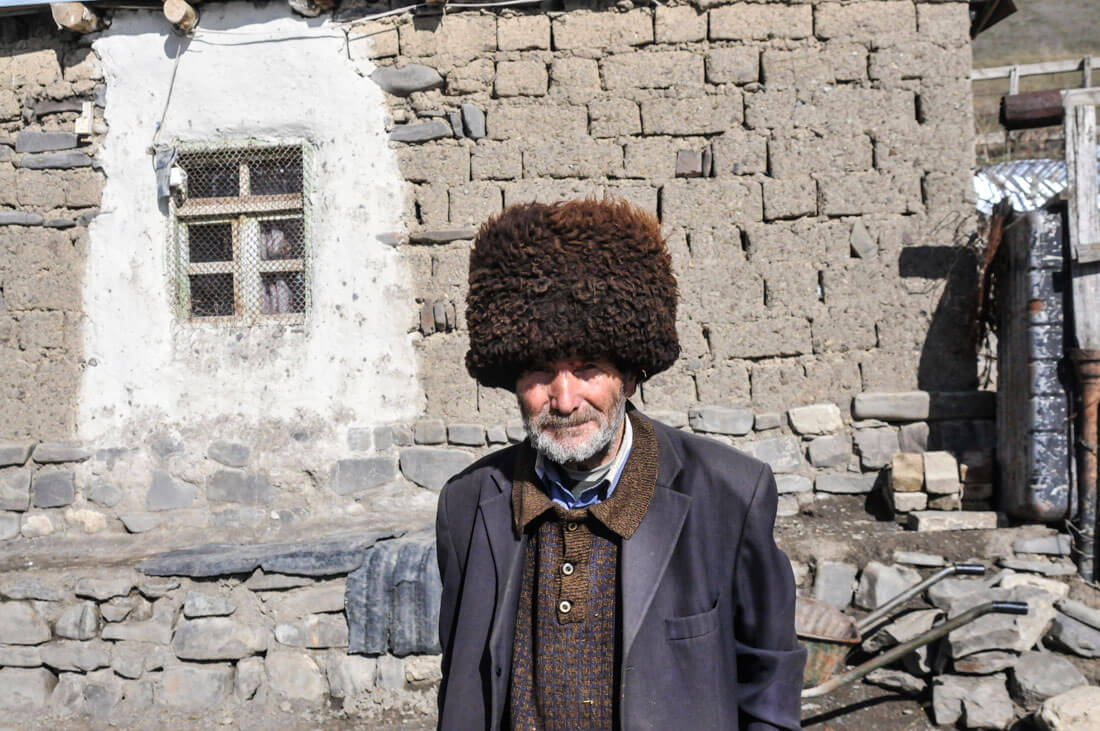 The most secular Caucasian country
Azerbaijan was the first Islamic country ever to declare itself a democratic and secular Republic ( in 1918).
It was also the first Muslim country to open a theater. Perhaps, you think that this last statement is sort of stupid but, believe it or not, in conservative Muslim countries, such as Saudi Arabia, theaters and cinemas have been allowed since very recently.
Today, Azerbaijan still calls itself a secular Republic.
Around 95% of the population are Muslims (85% Shia and the rest Sunni). Nevertheless, I invite you to take the smallest district in Cairo, Dubai or Amman and you'll find a larger number of mosques there than in the entire city of Baku.
Atheism is common among young people, women barely cover their heads and alcohol is widely available everywhere.
From a religious point of view, Azerbaijanis are way more secular than their Christian neighbors from Armenia and Georgia.
Read: Top travel tips for traveling to Azerbaijan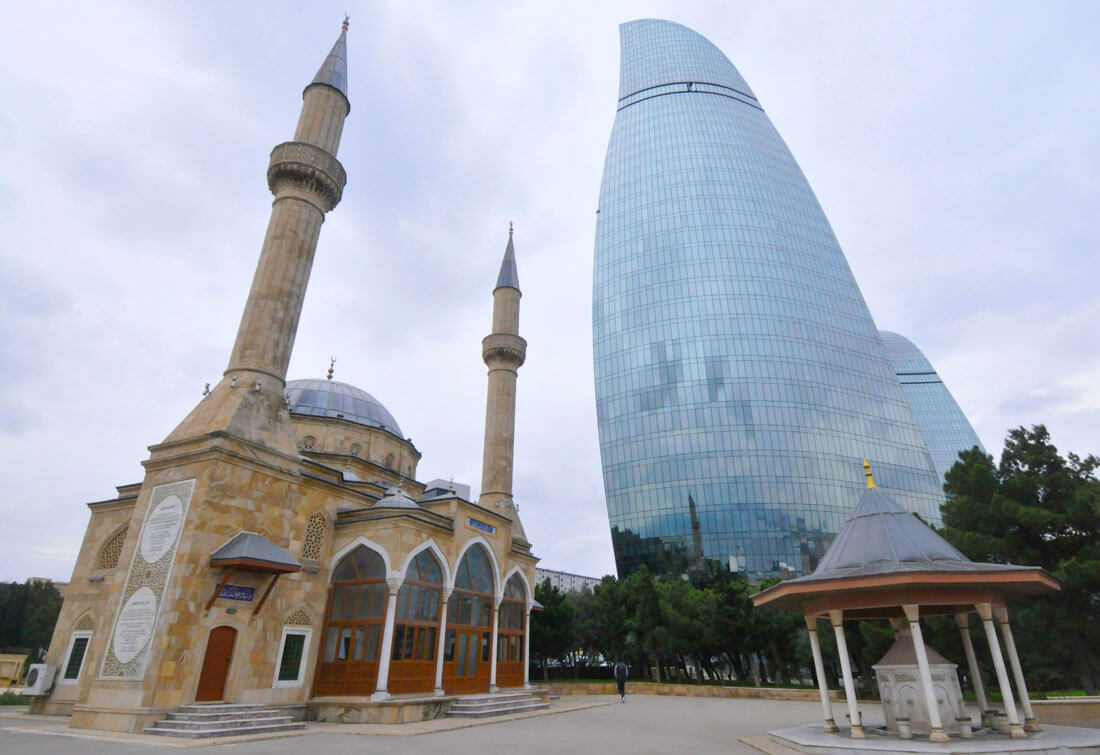 Baku is an almost futuristic city that combines both tradition and modernity
Why should the capital be among the reasons why visiting Azerbaijan?
Because Baku is a city that shocks and surprises anyone.
From a very ancient and perfectly restored Old City to some of the most extravagant buildings built thanks to petrol, Baku is a luxurious capital that managed to keep all their ancient sites.
For more information, don't forget to check my Baku city guide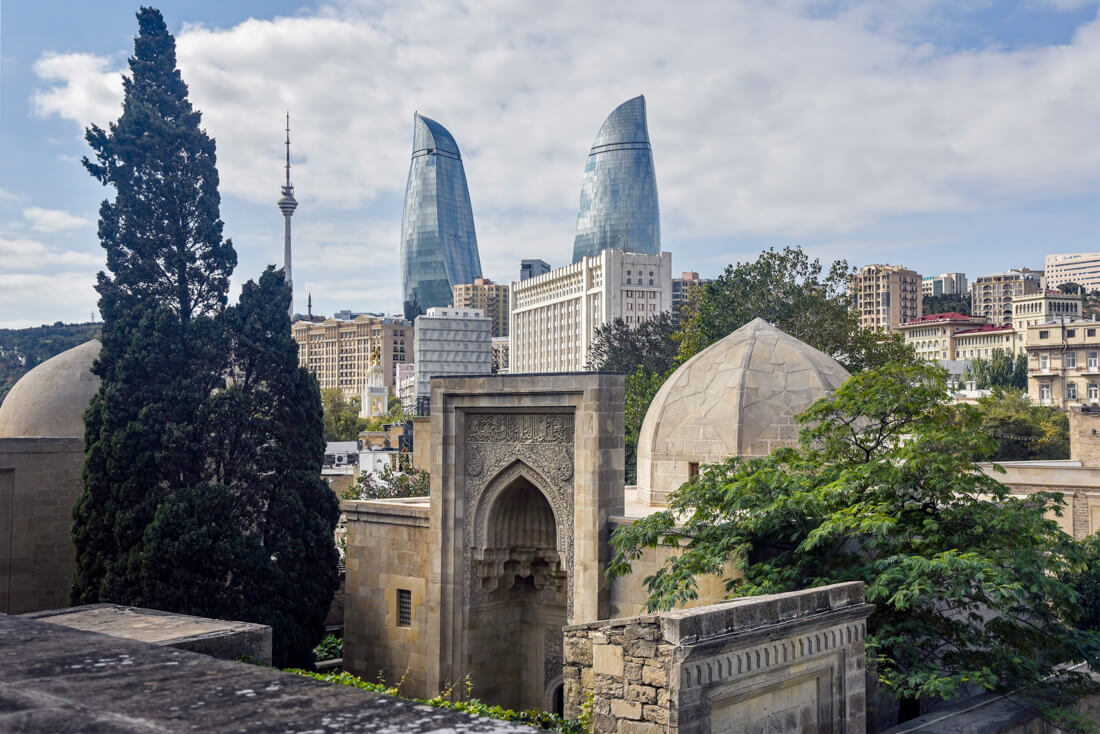 One of the cheapest countries in the world
If you find a cheaper country than Azerbaijan, please let me know.
Seriously, this country is too cheap for what you get.
It's definitely cheaper than Armenia, Georgia, and perhaps Iran (well, maybe not because the Iranian Rial has dropped drastically).
Outside of the fancy places in Baku, at local eateries, you'll pay a maximum of 4AZN (2USD) for a filling meal. Since the country is rich in gas and petrol, the price of transportation is just ridiculous.
A single ride by metro costs 0.30AZN (18¢) and you can easily find a pint of beer for as little as 1AZN (50¢). Azerbaijan is the backpacker's dream.
Read: 80 Useful tips for traveling to Iran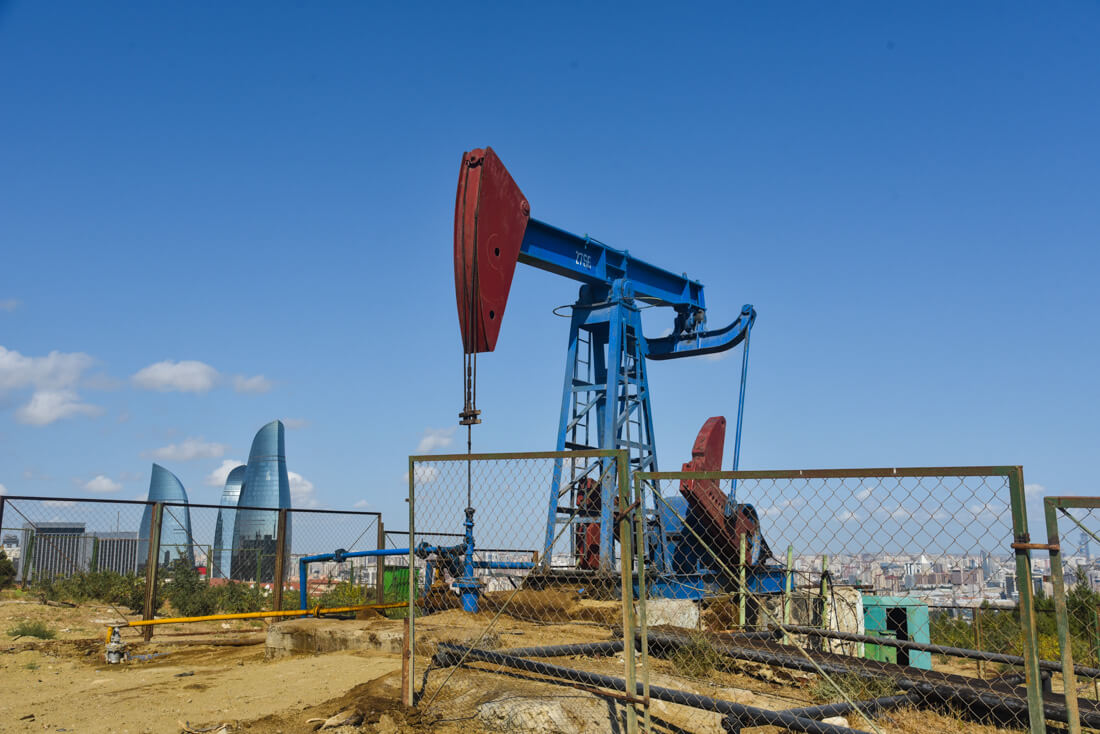 Visiting the remotest and most epic sites and fortresses
Seriously, check this castle out.
It is called Alinja castle and it is, by far, the most off the beaten track – and stunning at the same time – castle I have ever been to.
During the few hours I spent wandering around its walls and climbing its surrounding hills, I didn't see a single soul and, probably, nobody had come here during the whole day.
Outside of the main touristic trail that follows the road from Baku to Sheki, Azerbaijan is filled with many off the beaten track places which are yet to be discovered.
Read: Georgia travel tips – Everything you need to know
Huge landscape contrasts
Our beloved Azerbaijan is a tiny country, but it turns out that 9 out of the 11 climate zones can be found there: From high altitude Caucasian mountains to vast hot deserts, green meadows and coastal areas.
Besides, did you know that 50% of the mud volcanoes in the world are found in Azerbaijan? They are located around Qobustan, 50 kilometers from Baku.
Weird exclaves for those interested in geopolitics
From the Republic of Abkhazia to Nagorno-Karabakh, in the Caucasus you find several unrecognized states, disputed territories and autonomous republics, more than any other region you have been to.
In Azerbaijan, there is a province named the Autonomous Republic of Nakhchivan, an autonomous region of Azerbaijan which is geographically separated from the country, nestled between Armenia, Turkey, and Iran.
What makes Nakhchivan a particularly interesting exclave versus other exclaves around the world is that you can't enter overland from Azerbaijan because this would mean going through Armenia first, Azerbaijan's worst enemy, so local always fly in.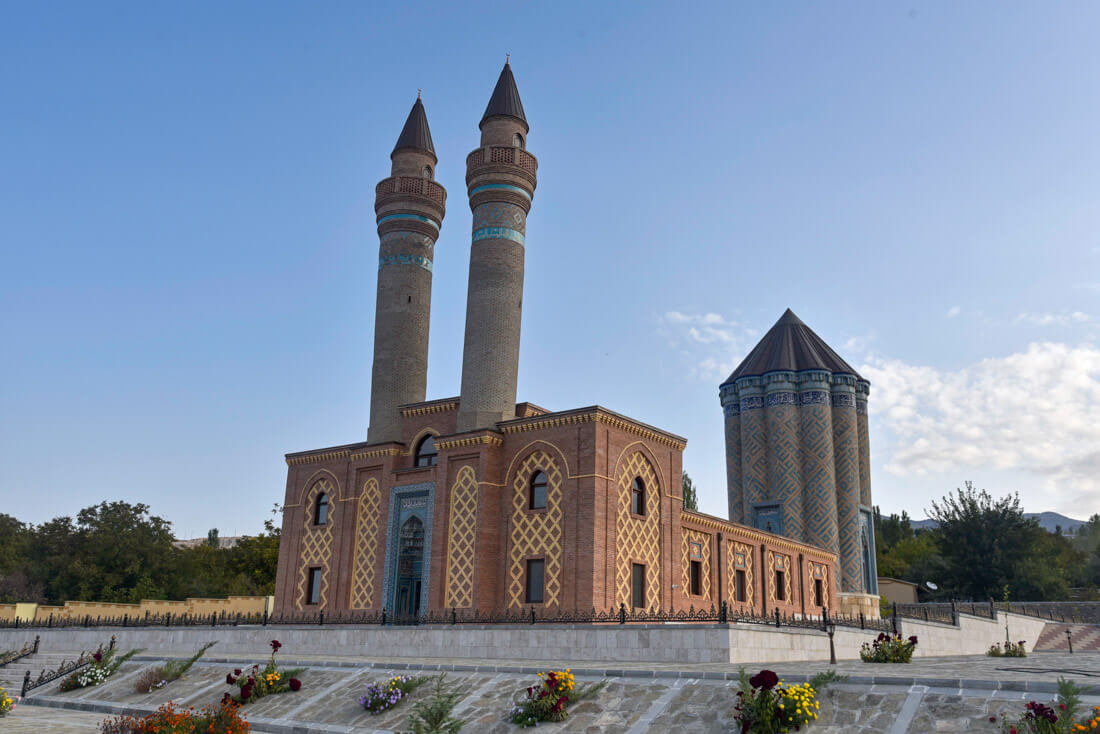 Soviet relics are still found
From abandoned factories to collective farms, like in any good former Soviet Republic, in Azerbaijan you still find a large Communist heritage.
My favorites were Dashkashan, a Soviet mining town full of abandoned mines, and Ivanovka, the only place in the world where Soviet collective farms are stll functional.
For more information about these places, don't forget to check my 3-week Azerbaijan itinerary.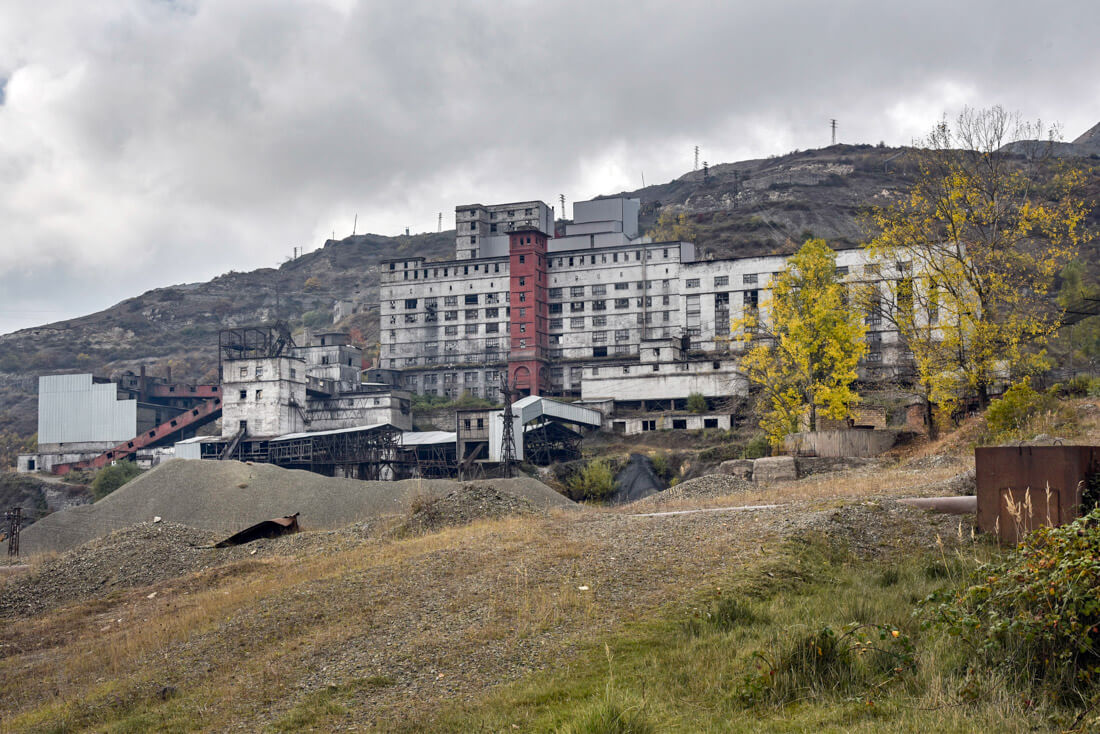 The food is also a real blend of east and west
Sitting at the crossroads of Southwest Asia and Southeastern Europe doesn't only influence the cultural behavior and the way they look but, over the centuries, it has also shaped the extremely varied Azerbaijani food.
Basically, the local food in Azerbaijan is loads of different food coming from Turkey, Iran, Georgia, Ukraine, Russia, Central Asia, etc., all cooked and served with a local twist.
Whereas in other countries from the region, the food may be a bit monotonous, in Azerbaijan is extremely varied.
My favorite dish is dushbara, a dumpling soup typical of the northern part of the country.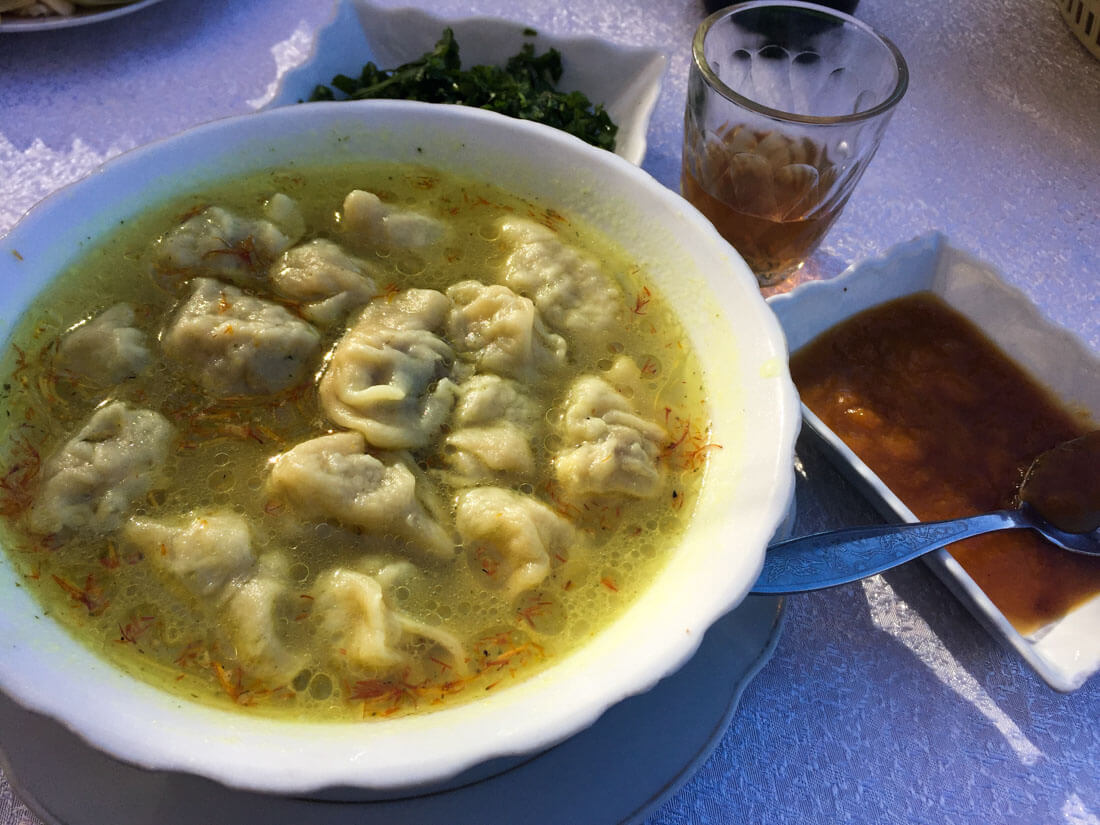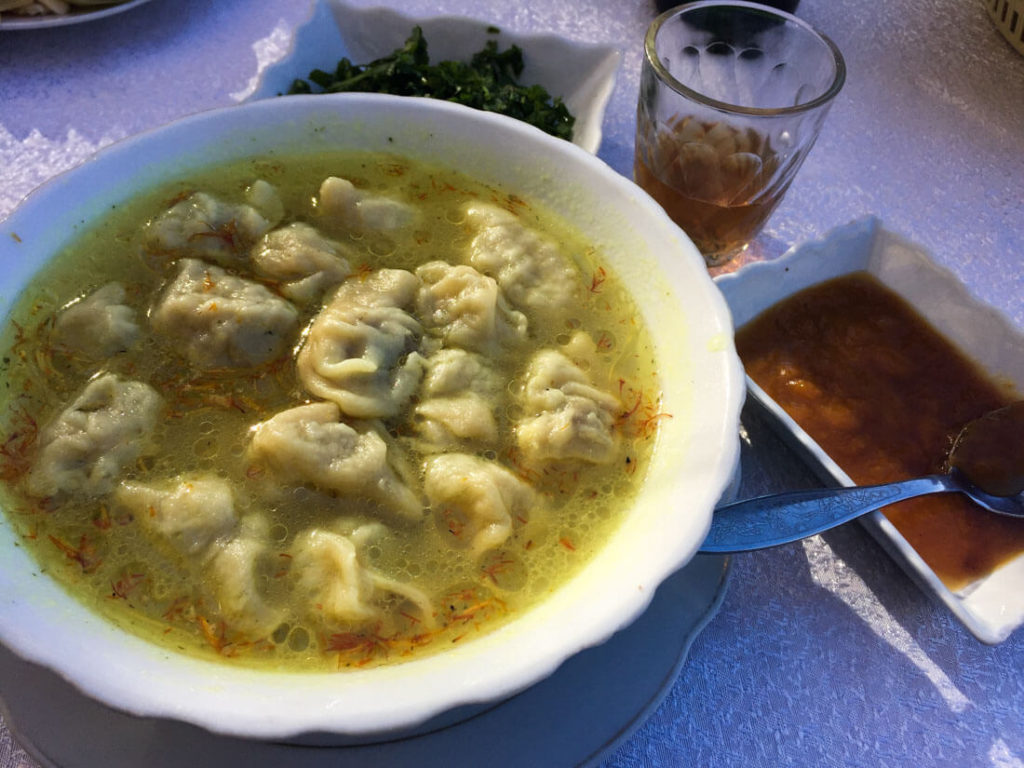 And people are really nice, perhaps the nicest in the Caucasus
Well, let's not say this very loud because some people might get slightly offended (especially the Armenians ; ).
Jokes aside.
It is not right to say that Azerbaijanis are the nicest people in the Caucasus because you find awesome people in both Georgia and Armenia but Azerbaijanis are, definitely, very hospitable and, maybe because they are Muslims, I always felt an extra bit of hospitality versus other countries.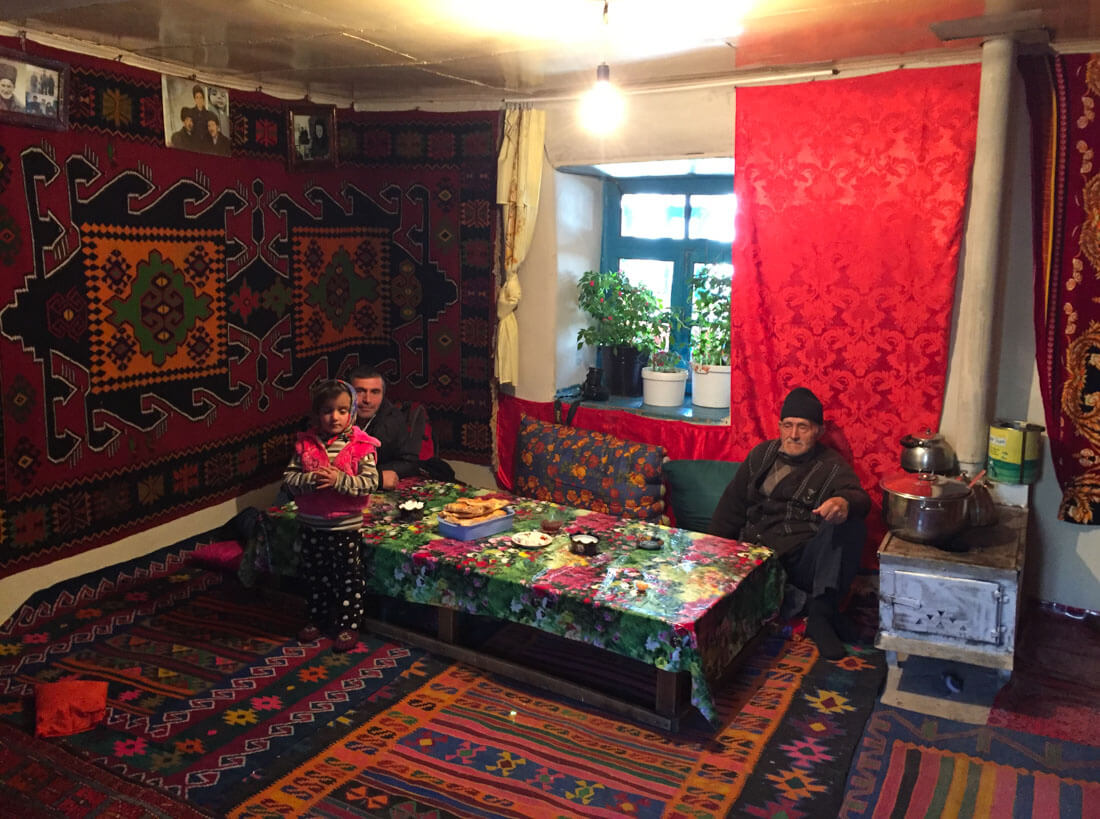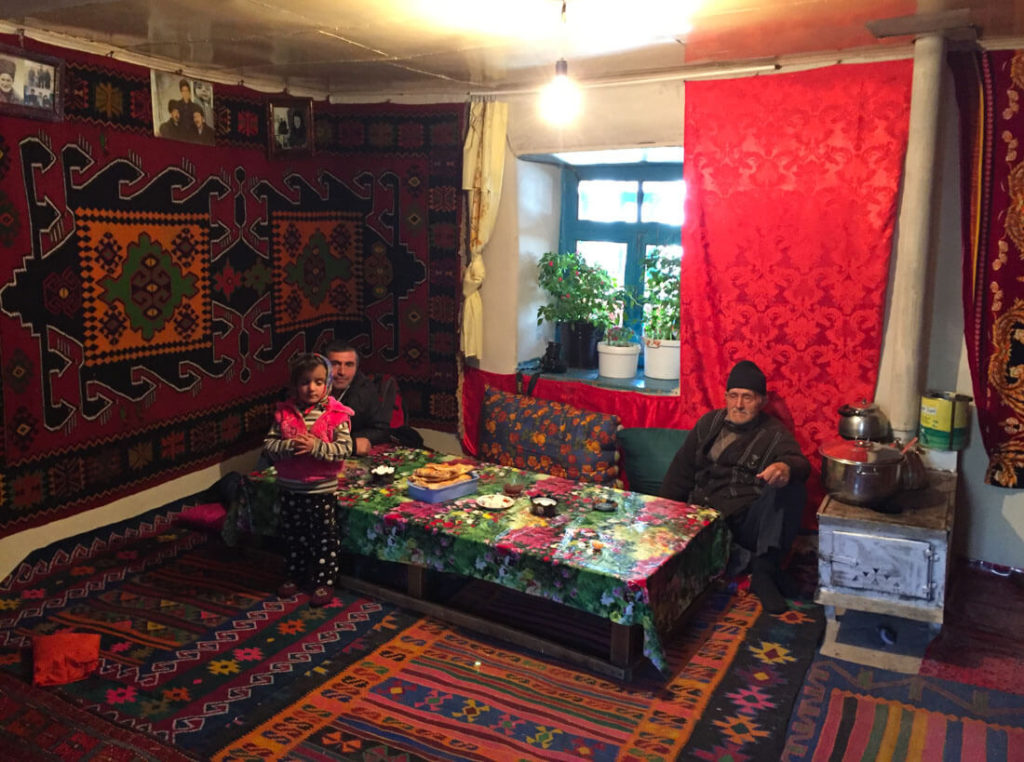 More information for visiting Azerbaijan
📢 In my Travel Resources Page you can find the list of all the sites and services I use to book hotels, tours, travel insurance and more.
Don't forget to check our travel guide to Azerbaijan.
As well as all our Azerbaijan articles: