The following article is a guide to applying for an Uzbekistan tourist visa. To be very honest, getting a visa for Uzbekistan is pretty easy these days, as little paperwork is required. However, there are so many rules depending on your specific case and nationality and things change very fast. 
This guides contains the latest information from 2018. 
For more practical information, including transportation, bureauracy rules, etc. read:70 Useful tips for traveling to Uzbekistan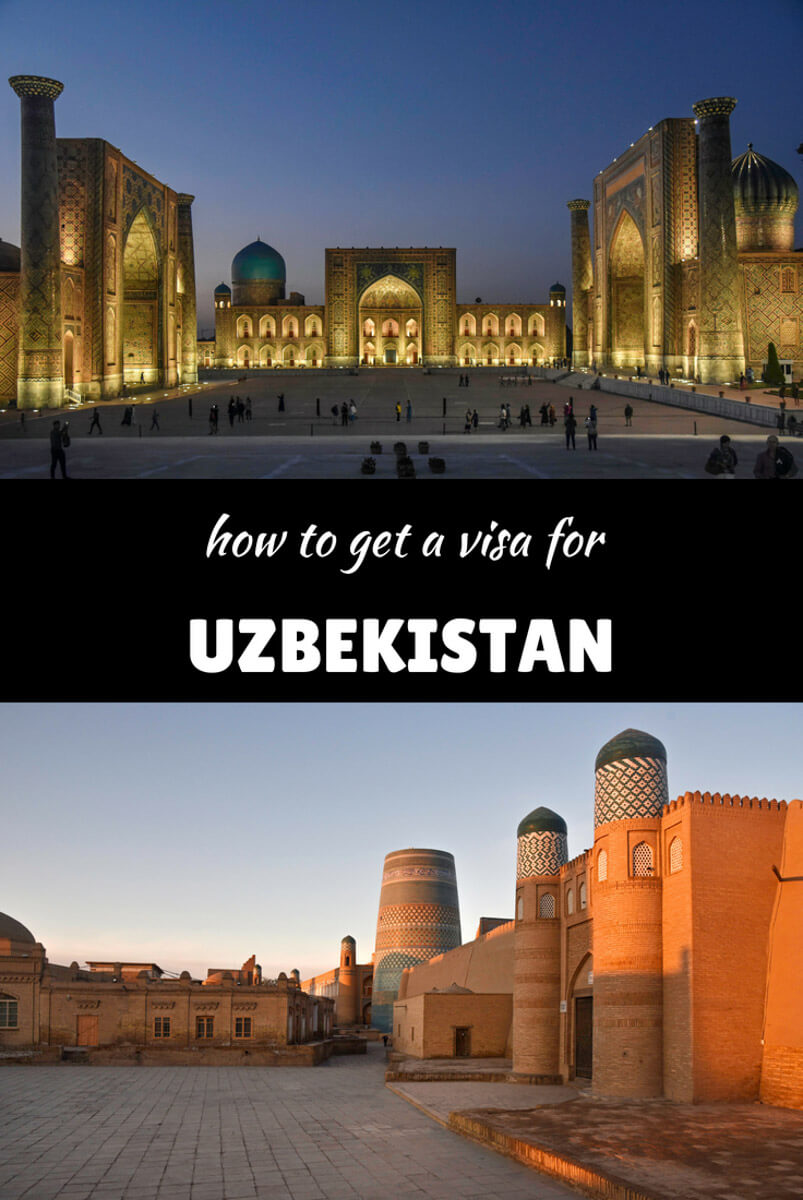 How to get a visa for Uzbekistan in 2018
Here you will find:
Who gets a free visa
What you need to know about e-visa
Getting your visa at the embassy
How to get an LOI
Remember to have a proper travel insurance for Uzbekistan. I strongly recommend World Nomads, as it is the only company which gives unlimited medical coverage, so you never need to worry about anything. Click here to get your free quote from World Nomads

Who can get a free Uzbek visa?
In 2018, citizens from the following countries can get a 30-day visa on arrival:
Japan, South Korea, Singapore, Israel, Indonesia, and Malaysia
Other ex-Soviet countries can get up to 3 months.
What you need to know about the e-visa
Since July 2018, up to 51 countries can apply for an e-visa:
EU passport holders, Australia, Albania, Andorra, Bosnia, Canada, China, Hong Kong, Iceland, India, Kuwait, Liechtenstein, Macedonia, Monaco, Montenegro, New Zealand, Norway, Oman, San Marino, Saudi Arabia, Serbia, Switzerland, Thailand, UAE, USA. 
Find here the official website where you can apply from.
e-visa rules:
Total cost is 20USD
It takes 2-3 working days
It is valid for 30 days within a period of 90 days from the day you applied
e-visa problems – Since the system is quite new, some people haven't succeeded when trying to apply, as the system still has a few bugs. You should give it a try and, if you don't succeed, send them an email or, worst case scenario, you will have to apply through the embassy. I would really appreciate if you could tell about your experience in the comments section!

How to get an Uzbekistan visa through the embassy
If you are not one of the lucky countries or you just couldn't apply for an e-visa, you will need to go through the traditional way. Don't worry, it is very easy.
Uzbekistan tourist visa requirements
When you go to the embassy, you need to bring the following documents:
A passport valid for 6 months
A copy of your passport
2 passport photos

Uzbekistan visa application form

, which needs to be filled in online and printed. You can find it here
Hotel booking confirmation, as mentioned above
Your Letter of Invitation (LOI) – if applicable
I applied for at the Uzbek Embassy in Tajikistan and had to wait for 5 working days but they claim that you can wait for up to 8. By the way, you should be able to keep your passport.
I paid 75USD for a single entry 30-day visa but fees may vary depending on your nationality and the embassy.
Officially, the hotel reservation is not mandatory but, at the embassy, they did ask me for it. I didn't have one but, after a long discussion, they accepted my application. If you want to avoid any trouble, I recommend bringing your hotel booking. Click here to book a room in Top Chan Hostel.
Note – Unlike the e-visa, if you apply through the embassy, need to state the specific days you will be traveling in Uzbekistan and you can't modify them. This means that you can't enter before the entry date or leave after the exit date you specified
How to get your LOI for the Uzbek visa
If you are allowed to apply for an e-visa you don't need an LOI, even if you apply through the embassy.
However, for the rest of the nationalities, before going to the embassy, you must be in possession of a valid LOI from an agency and tour operator.
For this, I recommend Tashkent Top chan Hostel. Why? Basically, because they are the cheapest and very effective. They charge 42USD for the service and it takes 8 working days, or 4 working days if you pay an additional fee.
Just email them at [email protected] and follow their instructions. They are very responsive.
For travelers who have an LOI, they can get their visa on the same day they applied.
Pro-tip! For those nationalities who don't need an LOI, you should know that, if you do get one, you can collect your visa on the same day you apply for it at the embassy. Otherwise, the visa processing takes between 5 and 8 working days. If you are short on time, do get a LOI in advance.
More articles about Uzbekistan
Uzbekistan travel guide – 65 things you should know
Backpacking in Uzbekistan – 1 to 3-week itinerary
10 Places to visit in Tashkent
A guide to Moynaq and the Aral Sea in Uzbekistan
A guide to the Fergana Valley
If you like my website and found this post useful, remember that, if you book any service through any of my links, I will get a small commission at no extra cost to you. These earnings help me maintain and keep Against the Compass going! Thanks 🙂