Once a hermetic country with very strict visa policies for foreigners, Uzbekistan is slowly opening its borders to show the world the majesty of what used to be the core and center of the ancient Silk Road, a country filled with impressive shrines, mosques, and perfectly shaped old cities.
Uzbekistan is the ultimate destination for architecture and history lovers, but also for travelers who want to visit a real off-the-beaten-track destination as, outside of the three main touristic cities, there is very little Western exposure and the people are extremely hospitable.
For all the practical information, including bureaucracy rules, transportation tips, accommodation, cultural facts, and many other things, read my Tips for traveling to Uzbekistan
need to know for traveling in Uzbekistan
Quick facts
Capital: Tashkent
Population: 32 million (41st)
Language: Uzbek (a Turkic language) but Russian is widely spoken.
Area: 447,400km² (56th largest country)
Visa
Most nationalities can get a free visa on arrival, except for US citizens, who must apply for an e-visa
Getting in
Tashkent and Samarkand have an international airport. Uzbekistan Airways and Turkish Airlines are common airlines, and also the budget airline Wizzair.
You can also cross from Kyrgyzstan, Kazakhstan, and Tajikistan.
Travel Insurance
For Uzbekistan, I recommend IATI Insurance: budget plans and covers adventure travel.
5% discount if booking here:
Best time to visit
Uzbekistan is a year-round destination. However, bear in mind that summers are utterly hot and winters extremely cold. Spring and autumn would be the ideal months.
Money
The official currency is Uzbek Som
1 USD = 11,000 UZS
You can find ATMs in cities but most of Uzbekistan is a cash economy, so do bring cash with you.
Budget: starting at $35 a day for budget backpackers.
---
You are supposed to register every 3 days in Uzbekistan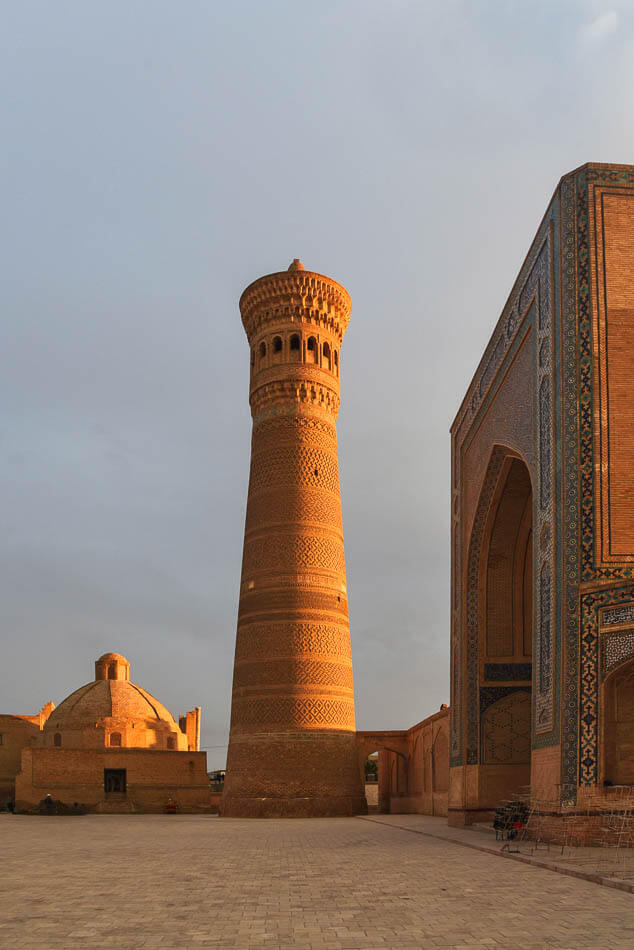 Until recently, you were supposed to keep all your hotel invoices and present them upon exiting the country. Now, registration is done online by your hotel.
Moreover, you don't need to check into a hotel and register every day of your trip but today, you can do an Airbnb stay – as well as camping or Couchsurfing – for 3 nights in a row. On your 4th night, you should check into a hotel for registering.
---
Top experiences in Uzbekistan
Mind-blowing mosques and madrassas
The religious temples found in the different Silk Road cities are absolutely mind-blowing
Walking among Soviet buildings in Tashkent
The capital of Uzbekistan is an old Soviet-planned city.
Visiting the Fergana Valley
A barely visited region in Uzbekistan located in the eastern fertile lands. Read: Fergana travel guide.
Check our 3-week Uzbekistan itinerary
tips for Uzbekistan
Accommodation
Thanks to the exponential increase in the number of tourists, there is all sorts of good accommodation everywhere, from backpacker hostels to guesthouses and fancy hotels.
Border crossings
Up to 2020, border crossings were very strict. The authorities used to check every bag thoroughly, including going through all your camera pictures. Things have changed now, and overlanding into Uzbekistan is faster than ever.
Transportation
The easiest way to travel around is by train. There's a railway connecting Fergana in the east with Tashkent, Samarkand, Bukhara, Khiva, and Nukus. You can take a slow Soviet train or one can also ride a modern high-speed train.
---
ALL MY ARTICLES ON UZBEKISTAN