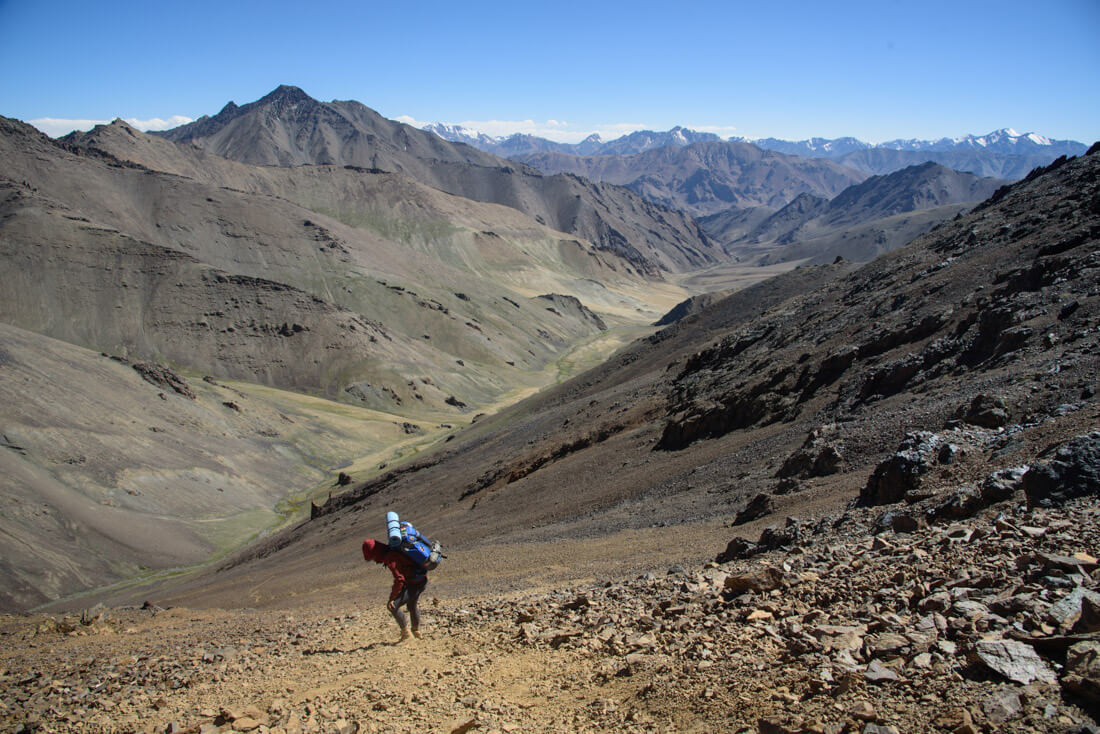 Since 2016, most nationalities can apply for an e-visa.
However, in some specific cases, you will have to go through the embassy.
This post shows you how to get a visa for Tajikistan in Bishkek.
For all the country information, read my guide for traveling to Tajikistan
Why should you apply for your Tajik visa via the embassy?
Since June 2016, most nationalities can apply for a 45-day e-visa.
The process is fairly simple and you get it after 2 days. You can apply for it here.
Therefore, why should you go and get it at the embassy?
You want a double-entry visa. For the e-visa, you can only apply for a single entry.
You want to get the visa on the same day. The e-visa takes 1 or 2 days.
If you are planning to enter Tajikistan from Xinjiang at Qulma Pass, it's highly recommended to have the visa stamped in your passport beforehand.
You have time and you like to go to embassies. I actually do 🙂
If you require any of the above, you will need to apply through the embassy.
It seems that, once again, if you are flying to Dushanbe, you can get a visa on arrival at the airport.
Remember to have proper travel insurance for Tajikistan. I recommend you read: how to find the right insurance for backpackers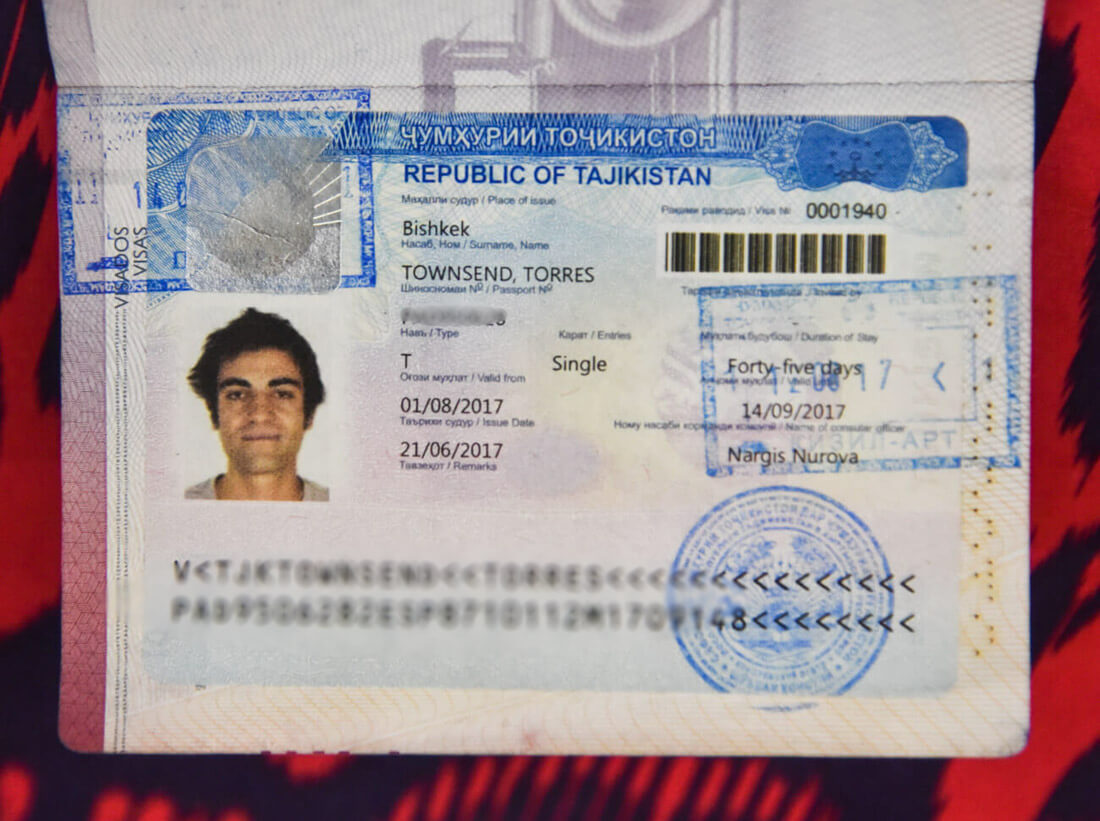 Getting a Tajikistan visa in Bishkek
Tajikistan visa requirements
Before going to the embassy, make sure to bring the following documents:
1 Passport with a minimum of 6 months of validity and two empty pages
Passport copy and Kyrgyzstan visa copy
2 Passport photos
US Dollars
Additionally, if you want to save time, you can bring your Tajikistan visa application form already completed but it is available at the embassy.
For the Tajik visa, entry and exit dates are fixed, which means that you can't enter before the entry date and you can't leave after the exit date, within the 30 or 45-day duration of your visa.
If you apply online, it seems that only the entry date is fixed and the visa is valid for 45 days within a 90-day period from the entry date you fill in.
By the way, remember to tell them whether you want a 30 or 45-day visa.
Tajikistan visa price
The Tajikistan visa fee depends on the following:
Single entry: 55USD
Double entry: +10USD
Administration fees: 100KGS (1.50USD). Not sure what this is but they require you to pay this small fee.
GBAO permit
The Gorno-Badakhshan Autonomous Region (GBAO) is the region located in the east of Tajikistan, where the Pamir Highway and Wakhan Valley are. If you want to visit this region you must get a GBAO permit, which you can easily do at the embassy. You just need to ask for it and they will give you an extra stamp.
GBAO Permit price: +20USD
Read: A guide to the Pamir Highway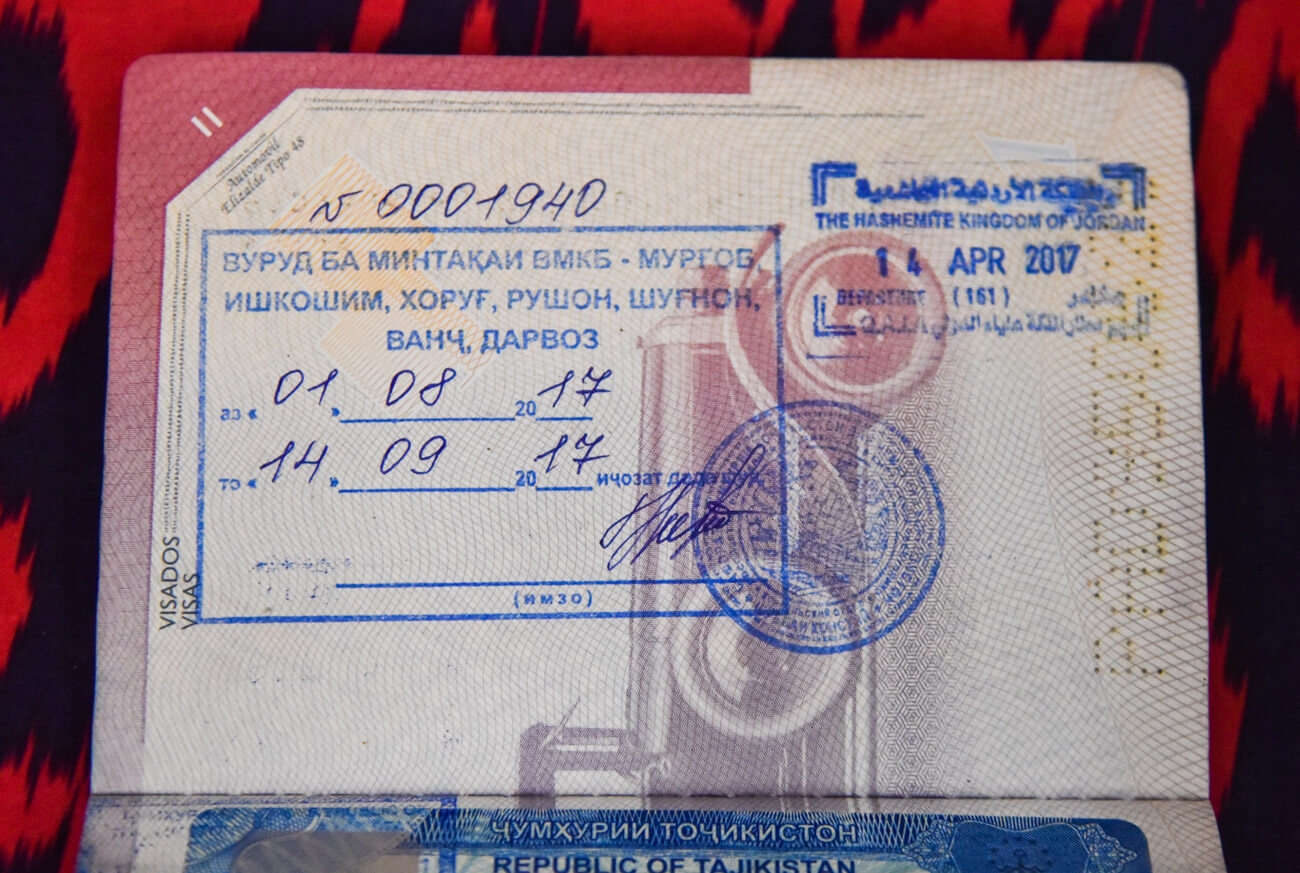 The embassy of Tajikistan in Bishkek
The embassy is relatively close to the city center. Apparently, marshrutkas 132, 196 and 212 pass nearby. Here's the exact location:
Opening Hours of the Tajikistan Embassy in Bishkek
The embassy is open Monday to Friday, from 9am to 5pm, with a lunch break between 1pm and 2pm. However, visas can only be applied for from 9:00am to 12 noon.
We arrived there at 10:00am and we were the only ones on the line. We filled the application form and we were done, in less than 20 minutes.
When you submit your documents, they tell you to come and pick up your visa from 3pm to 5pm.
More content to Tajikistan and Kyrgyzstan
Important, read: Tips & packing list for trekking in Central Asia
Check all my articles and guides to Kyrgyzstan
Check all my articles and guides to Tajikistan