Kazakhstan is a very strange country, really.
On the one hand, it is home to the most Westernized city in Asia, Almaty, whose inhabitants are very European-minded.
Moreover, it also has some of the most striking mountain scenery you will ever see, but it also has thousands and thousands of square miles of absolutely nothing but steppe.
And on the other hand, this oil-rich country is home to some of the weirdest places on Earth, like an old nuclear testing town, a drought sea, the Russian Cosmodrome, and an extremely vast steppe with the occasional 2-humped hairy camel.
Kazakhstan is an amazing off the beaten track destination which you cannot miss.
For all the practical information, read my 35 Travel tips for visiting Kazakhstan
need to know for traveling in Kazakhstan
Quick facts
Capital: Astana
Population: 18.3 million (62nd)
Languages: Kazakh (a Turkic language) but Russian is widely spoken.
Area: 2,724,900km² (9th largest country)
Visa
Most nationalities can get a free 30-day visa on arrival at any entry point.
Getting in
There are three international airports: Almaty, Astana, and Shymkent, but you are likely to land in Almaty.
In terms of traveling overland, the easiest and most common entry points are Uzbekistan and Kyrgyzstan. Russia used to be easy before the war. As long as you have a visa for China or Turkmenistan, crossing there should be easy too.
Travel Insurance
For Kazakhstan, I recommend IATI Insurance: budget plans and covers adventure travel.
5% discount if booking here:
Best time to visit
Most of Kazakhstan has a continental climate with cold winters and hot summers, but the country is big, so the time varies in each region.
May to October should be ideal for the cold north, as well as for trekking in the southeast.
The southern Kazakh steppe is best visited during spring and autumn.
Money
The official currency is Kazakhstani Tenge
1 USD = 450 KZT
You can find ATMs in cities but most of Kazakhstan is a cash economy, so do bring cash outside of Almaty and Astana.
Budget: starting at $25 a day for budget backpackers.
---
Travel on a Soviet train in Kazakhstan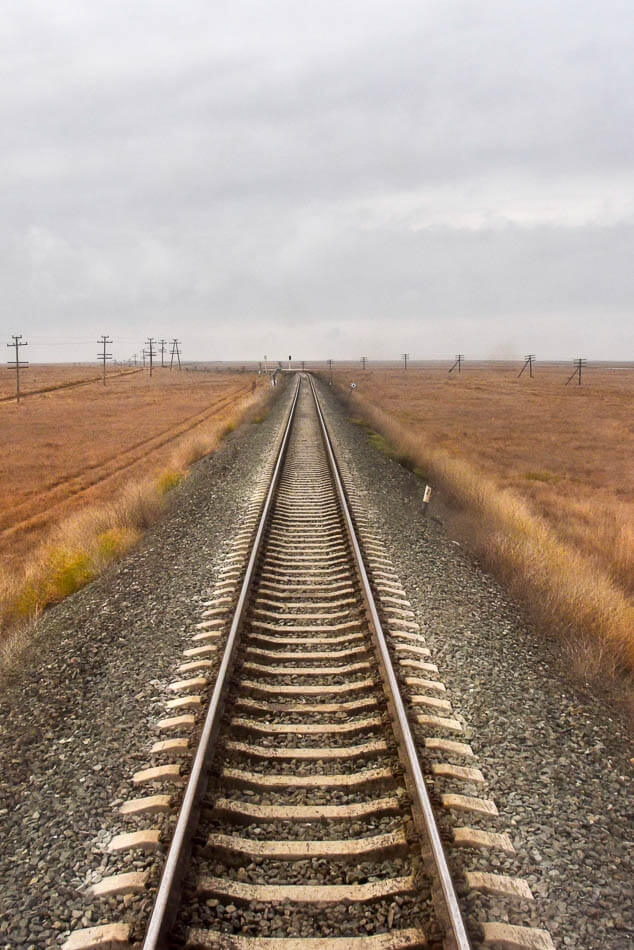 One of the best things to do in Kazakhstan is traveling across the country and through the steppe on a Soviet train.
I personally traveled more than 3,000km, from Beyneu to Almaty.
Check my guide to travel by train in Kazakhstan
---
Top experiences in Kazakhstan
Discover the gorgeous mountains of southeastern Kazakhstan
Unbelievable scenery.
Hang out in Almaty
The most European city in Asia.
Check our 4-week Kazakhstan itinerary
tips for Kazakhstan
Accommodation
There are hotels and hostels all across the country and you can find them on booking.com.
Transportation
You can travel by train pretty much everywhere. In more remote places, a local shared taxi might be a more convenient option.
---
ALL MY ARTICLES ON KAZAKHSTAN