How do I make a money from travel blogging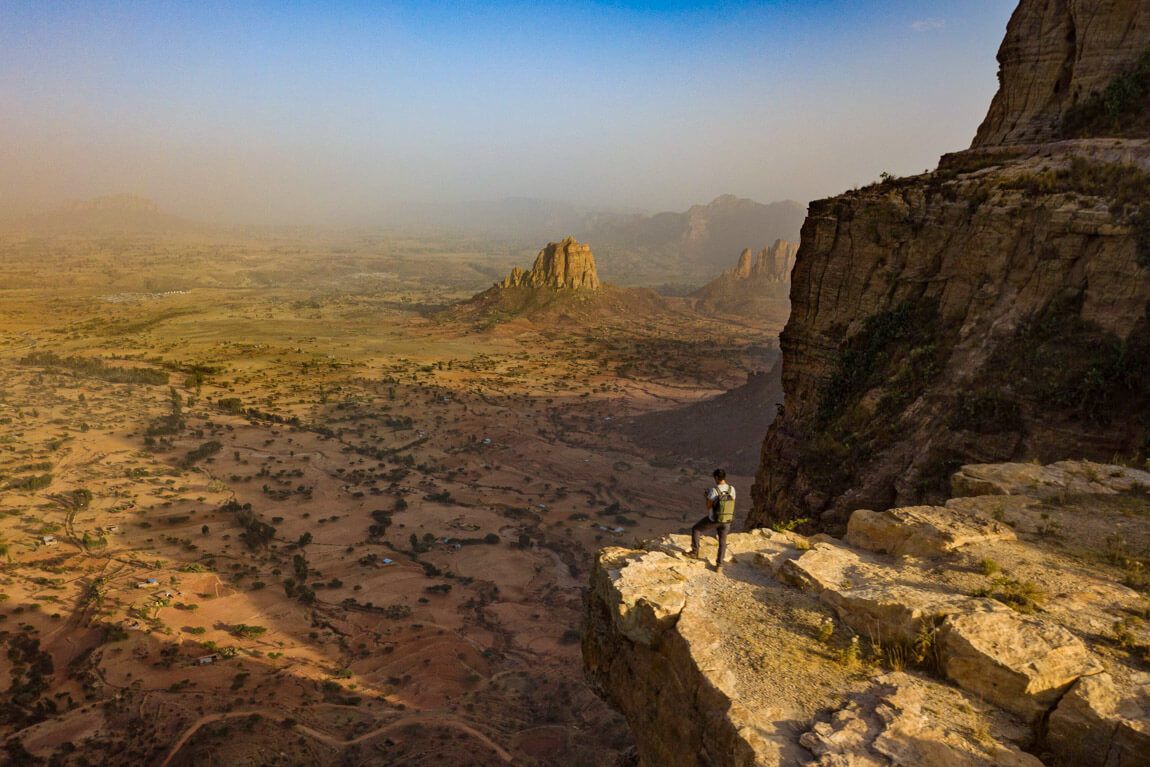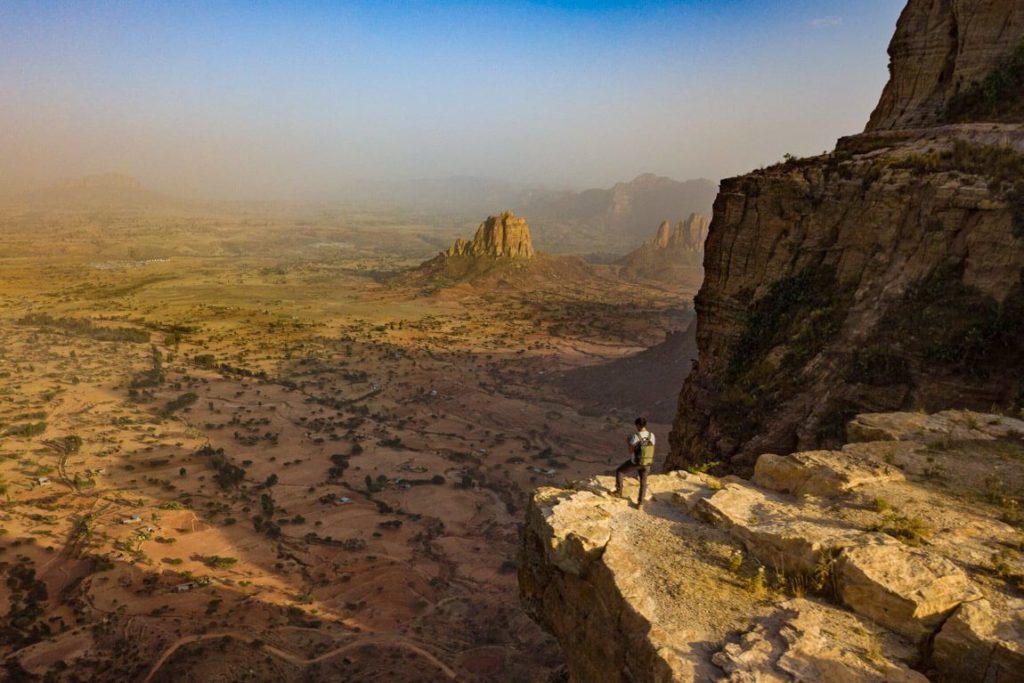 Probably the question I get asked the most, by both readers and travelers I bump into on the road, is:
And how can you even make money from travel blogging?
Most people relate travel blogging to keeping an updated online travel diary, or a website where you just publish your personal crazy adventures, rather than an actual job from which you can make a good living.
As a consequence, when you say you are a travel blogger, most people don't take you seriously, but the truth is that a very simple travel blog can be turned into an actual, profitable business, and there are many, many ways to achieve that, a few hundred at least.
Each blogger will use different techniques and specific ways to monetize their blog and audience, depending on their niche, audience, platforms they use, or just what are they good at.
In this article, I want to show you what my strategy is when it comes to the business of blogging, as well as the 6 ways I monetize Against the Compass.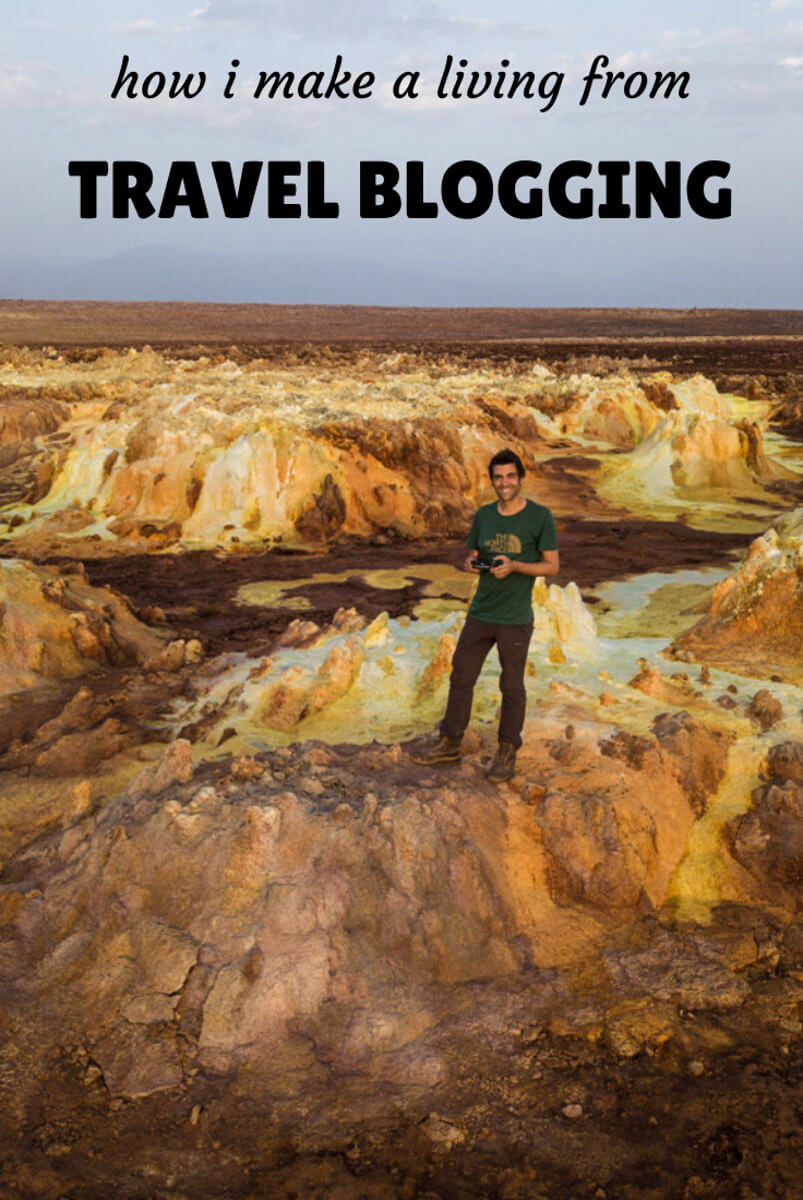 Introduction: my blogging approach/strategy
As I said, the different ways to monetize your audience will depend greatly on your blogging approach, which in my case, is based on the following:
Highly niche-oriented, targeted audience – Adventurous travelers who want to get out of their comfort zones and explore off the beaten track countries. Having the right target market is, perhaps, the most important thing you can to get people to read your blog.
Useful, practical content – The internet is today filled with endless information, so the way I see it is that you should provide your readers with actionable advice and particularly valuable, useful information.
Strong SEO approach – Most of my efforts are focused on optimizing my articles for search engines, so users can easily find me when they type their questions on Google. 90% of my traffic comes from Google.
Active Income vs Passive Income
Moreover, it is also important to highlight that, although there are endless different ways to make money from blogging, generally, all of them can be classified into two big categories:
Active income: Typically refers to the income you make in exchange for doing a specific task or job. It is mostly freelance work. Example: sponsored trips, photography assignments, etc.
Passive income: Income that requires little to no effort to earn and maintain, so you continue to get paid after the work is done. Examples: website or YouTube ads, affiliate marketing, etc.
Personally, I focus 100% on passive income.
Why?
Because passive income is real freedom.
It is real freedom because you can make money either when you are drinking a beer in a bar or during your 2-week vacation, as people will still be visiting your website or watching your videos.
For example, in January 2020, I had the best month ever when it comes to visitors to Against the Compass travel blog:
Page Views: 240,000
Sessions: 165,000
And, income-wise, it was a great month as well, perhaps not the best one ever but that's because January is low-season. However, I made more than twice the money I made in January 2019.
Controversially, in January 2020, I didn't do any work, like not at all.
In fact, I was traveling around Eritrea, Djibouti, and Somalia, where I barely had any internet.
When I finally returned to the online world, I was shocked by all those crazy statistics.
This is the magic of passive income.
On the other hand, if my total income mainly relied on press trips or writing sponsored articles, I would have not made any money.
HOW MUCH MONEY DO I MAKE?
Everybody would like an answer to this, not because people want to know my salary but because they are curious to know how much money one can actually make from travel blogging. I hope you understand that I don't feel like posting my salary online but what I can tell you is that I make a very decent living and, with a bit of hard work, everybody could as well. However, in the article I will give you a few hints and figures which will help you estimate the minimum $ you can make with travel blogging.
My 6 passive ways of making money from travel blogging
Therefore, based on my strategic approach, this is how I make a living from travel blogging, and you can do it as well.
1 – Affiliate marketing
My #1 source of income is affiliate marketing.
Do you know what that is?
Basically, affiliate marketing consists of recommending or promoting other people's products and services, earning a commission if readers end up buying them.
For example, check this travel guide to Iran.
Can you see that, across the article, I recommend a company named 1stQuest?
1stQuest is an Iranian company that provides all types of services for traveling to Iran, from visas to booking hotels. If you click on the link and purchase any of their services, I get a commission, which ranges from 5 to 20% of the total value, depending on what you bought.
There are thousands of companies out there offering affiliate programs for bloggers but you need to promote those products which you actually use or, at the very least, would like to and, most importantly, only recommend those that will meet your audience's needs.
Affiliate marketing is a world in itself and it is not only about choosing the right service and placing links randomly but you need to be constantly testing what works and what does not. For that, many companies will give you access to a platform where you can track your clicks, conversions and statistics in order to make your analyses.
My affiliate marketing strategy takes around 20% of my time.
My most profitable affiliates (by order of earnings)
Please note that the following list changes every couple of months, as new affiliates might be added or current ones might be removed.
IATI Seguros (Insurance) – My #1 affiliate is IATI Seguros, an insurance provider based in Spain. They give me a 15% commission, plus a discount for my readers. In high season, you can sell several insurance policies in one single day.
VPN services – A Virtual Private Network (VPN) is something that allows you to connect to the internet from a different server and location. In some of the countries I write about, including Iran, Saudi Arabia and Oman, the internet is censored, which means that some websites are blocked and, in order to access them, you will need a VPN. The VPNs I promote are ExpressVPN, NordVPN, and PureVPN.
1stQuest – The Iranian company I was talking about. The conversions are great because readers can get a discount through my blog. Iran is my most profitable single destination.
Booking.com – Everybody knows Booking.com and I use it pretty much every day when I travel, so it makes total sense to recommend it to my readers. Booking.com gets 20-40% of the total value of your stay and I personally get 30% of their commission because I make more than 51 conversions. Otherwise, you get 25%.
World Nomads – The travel insurance I recommend in most of my travel guides is World Nomads, for the simple reason that I have used them in the past and they cover most nationalities. Conversions, however, are not very high, especially because it is more expensive than others – but they offer a higher coverage – and I do make good money during the high season. They give me an 11% commission.
GetYourGuide – This is a website where you can book tours online for pretty much anywhere around the world. I only recommend them in my Dubai & Oman posts, so I only make money through them during the winter months.
Civitatis – The same as GetYourGuide but for my Spanish audience.
Amazon – I know bloggers who make thousands of $ on Amazon but I don't, basically, because I don't have many articles based on Amazon products, but this is something that has been on my to-do-list for a while now.
True Traveller – Another travel insurance company.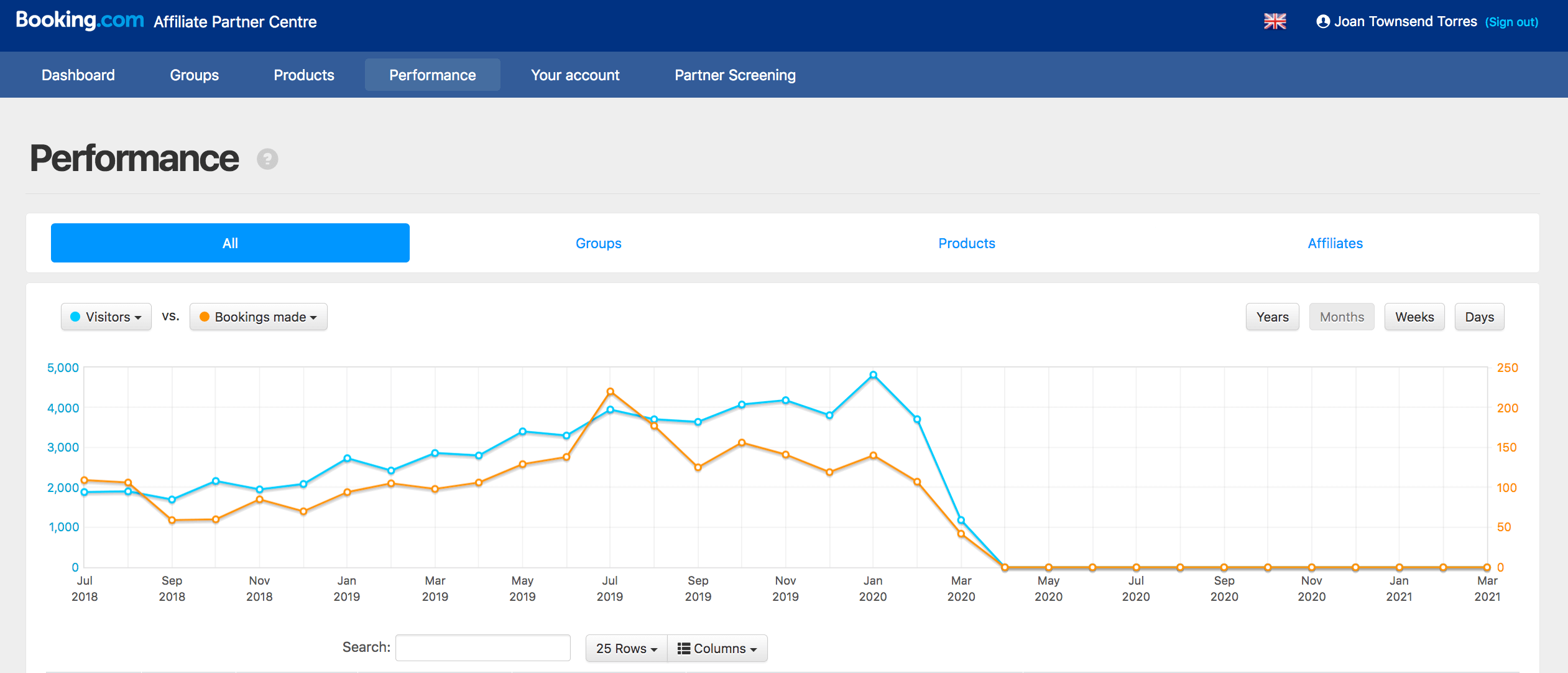 2 – Mediavine Ads
Ads are annoying but are a necessary evil.
Occasionally, I receive complaints from readers saying that my website sucks because it has a lot of ads.
True, but creating all that content takes an eternity and anyone can access it for free, and watching ads is a small price you have to pay.
Anyways, there are many ad networks to choose from, the most commonly used being Google Adsense, especially because pretty much anybody with a website can sign up for it.
However, I don't recommend Google Adsense, for the simple reason that they pay very little.
Instead, use an alternative premium ad network like Mediavine for example.
With Mediavine, bloggers literally make 10x more money than with Google Adsense.
I personally earn 45-75€ a day with these ads – averaging 200k page views a month – and my RPM (Revenue per Thousand Sessions) is actually low because I have a large audience coming from developing countries.
Moreover, the best part of Mediavine is that, once you have signed up, they take care of absolutely everything and, when I say everything, I really mean everything, because they place & optimize the ads for you, so you just need to worry about getting paid at the end of every month.
This is real passive income and freedom.
The only downside is that these premium ad networks are selective and have several conditions.
For example, Mediavine requires a minimum % of your audience to come from the USA and other Western countries. They also require a minimum level of traffic besides other conditions.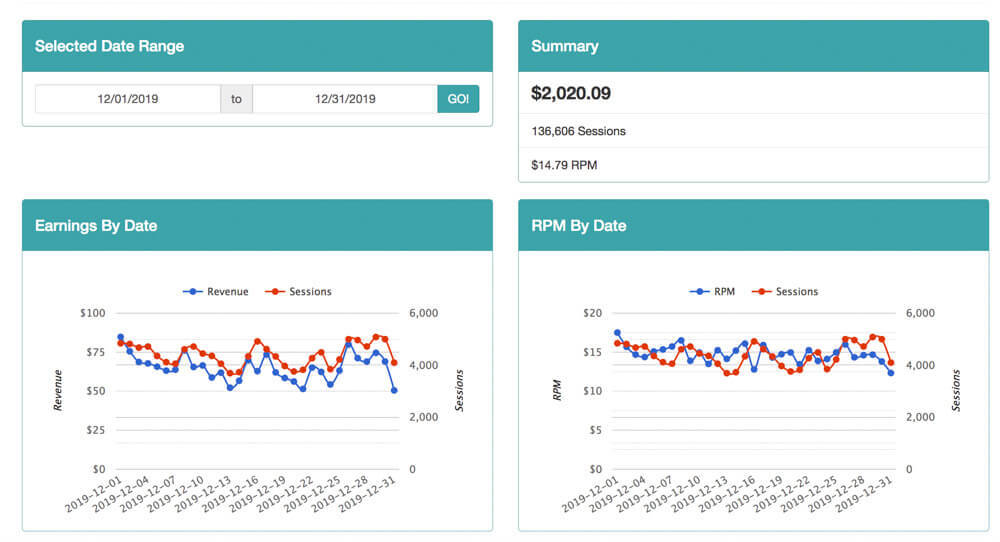 3 – Advertising travel companies
If you have an article that does well on Google, meaning that it ranks in the top positions for very strategic keywords, some companies will want you to mention them in the article in order to get visibility and potential conversions.
When a company contacts me, after doing some research, I agree to advertise them in exchange for a monthly fee, as long as they can be good and useful for my audience.
For example, in my travel guide to Syria, I recommend one travel agency named Maroota.
The reason they want to be there is that my travel guide ranks in the first positions on Google for pretty much any relevant keyword including travel to syria, visit syria, how to travel to syria, etc., so they get a lot of exposure.
And how much should you charge for this?
Well, this is very difficult to estimate, as it depends on a large variety of factors, but I charge them 375€ a month.
4 – Working on a commission basis with travel agencies
This is a mix of affiliate marketing and advertising travel companies.
On the one hand, it is affiliate marketing because you invest your efforts in promoting a company in exchange for a commission.
Nevertheless, unlike regular affiliate programs, travel agencies usually don't provide you with a platform where you can track your clicks, conversions and other statistics, so the only way to know what you actually sold is by trusting their word.
I get a lot of inquiries from endless random travel agencies who want to work with me following this model, but I only work with those I know and can trust.
In fact, I only work on a commission basis with one independent guide in Iraqi Kurdistan.
5 – Selling links
This is a very dodgy way of earning money and to be honest, it is not even real passive income.
During my early blogging stages, I used to sell many links – a few per month at least – but now I rarely do it because I can rely on other income sources.
Let me tell you what selling links consist of.
In order to rank in the top positions on Google, Google takes thousands of factors into account, the most important one being the external links pointing to your site.
However, it is not about the number of links but the quality. For example, if you have a link from a very authoritative site such as the New York Times, in the eyes of Google, it will be much more valuable than a link from a local newspaper.
Therefore, in order to improve their rankings, some companies invest their efforts in buying links, by contacting website owners who could place their URLs in exchange for a fee.
How much money should you charge for this?
Price usually depends on your Domain Authority, an index from 1 to 100 which estimates the authority of a site. The higher your DA is, the more valuable is to get a link from your site, so the more you can charge.
In my case, with a 45DA, I charge from 210 to 400€ a year for a single link.
In 2018, I sold 20-30 links. In 2019, no more than 10 links and, in 2020, so far, I haven't wanted to sell anymore links. Why?
The problem with this is that selling links goes against Google guidelines and if you get caught by them – and they have ways to find out – your site will be removed from Google Search.
I personally know one blogger who makes more than $6,000 a month only from selling links, and has been doing this for more than 3 years.
While it might sound attractive, I am pretty sure that their business model won't be sustainable for a very long time, especially because they invest so many hours every day in pitching companies, time which could be invested in growing their blog's traffic.
6 – Selling eBooks
This is the most beautiful way of making a living from blogging.
Writing and designing a beautiful book which your readers are then willing to buy is extremely rewarding.
But this 2020 I plan to focus my efforts on launching 2 more guides.
It is very difficult to give you estimated figures. When I launched the guide to Georgia (summer 2019), I sold nearly 100 copies but that's because it was high season and the book was highly discounted.
At the end of the season, I am not selling more than 2 copies a week but that's because I haven't focused on any sort of promo.
I will resume it soon.
Read more blogging articles