Looking for and getting the right travel insurance is one of the biggest headaches for any traveler but as essential for your adventure as your backpack.
From backpacking in Sudan, Iraq and pretty much everywhere in the Middle East to trekking over 5,000m in the mountains of Pakistan, Kyrgyzstan and Tajikistan and also traveling across Southeast Asia and Africa, for the last few years, I have experienced quite a few different adventures across a large number of different destinations.
Therefore, after gathering some hard-backpacking experience and having tried many different travel insurance companies, I realized about the following:
Finding the right travel insurance is not about finding the cheapest or the one with the highest coverage, but the one which will fully cover your needs as a traveler and the purpose of your trip
That being said, if you are reading this article it is because you are an independent traveler who mostly travels with a backpack, which means that you are looking for a backpacking travel insurance.
Well, in this article I will help you find the right travel insurance for backpackers according to your kind of trip and the type of traveler you are.

In this tutorial you will find:
Overview – Best travel insurance
What you need to look for when choosing backpacking insurance
Best travel insurance for backpackers
Total transparency! – If you like my website and found this post useful, remember that, if you buy any service through one of my links, I will get a small commission at no extra cost to you. These earnings help me keep Against the Compass going! Thanks 🙂
Best backpacker insurance comparison – QUICK OVERVIEW
Premium insurance
Adventure activities
Highest coverage
Most versatile
Electronics
Long-term
Cheapest
Versatile
5% discount

High-Risk countries
Terrorism
Natural disasters

What do you need to look for when you purchase travel insurance for backpacking?
What do backpackers have in common?
They may do adventurous activities, such as trekking, horse riding, etc.
They move around on cheap, local transportation, so the risk of an accident is higher
The likelihood of being robbed is higher, as they stay in budget dorms, go out at night and travel on local transportation
They usually travel to several countries in one single trip
We tend to travel with plenty of travel gear (drones, cameras, laptops, etc.)
Proper travel insurance for backpacking should cover the above criteria, so when looking for the right one, you need to make sure about the following:
It offers high medical coverage
If you are planning to do some adventurous activities (so the risk of an accident is higher), or you are traveling to a country where the health care system is very expensive (like the USA for example), you should know that hospitalizations costs could rise to several and several thousand USD.
There are many cheap backpacker insurances that will offer you a cheap quote but, if you read the small print, you will see that they will just give you 10,000 or 20,000USD of medical coverage, which can be very little depending on your type of trip.
It covers adventure activities
If you are planning to do some trekking or any other related activity, you need to make sure that your policy covers that.
For example, if you are traveling to Nepal, you need to make sure that your policy covers for trekking up to 4,000-5,000 meters at least and you should know that not all insurance providers will cover it.
Most backpacking insurance will have a specific plan for this type of adventure activities.
High coverage for medical evacuation
Medical evacuation is the process of moving you from the place you had an accident to the hospital and, eventually, to your house.
If you break your leg while trekking in Kyrgyzstan, for example, the cost of being rescued by a helicopter, sent to a hospital and put on a plane back home can rise to a couple hundred thousand USD.
Too cheap travel insurance for backpackers will barely cover you for that.
It has worldwide coverage
Many backpackers will travel to several countries in one single trip, so when you buy the insurance, you want a provider that allows you to select a couple of countries or a worldwide option.
On the other hand, when you choose the option "WORLD" you should know that some insurance providers don't include sanctioned countries such as Iran, Sudan or Iraq – countries widely covered in this blog – so you need to make sure that your insurance covers them.
You can buy it while you are on the road
Very important. Some companies may not cover you if you have already started your trip.
For long-term backpackers, this option should be a must.
It covers for theft and robbery
Seriously, how many backpackers have you ever heard of who had things stolen?
Depending on where you travel to, I honestly think that getting robbed is the most likely unfortunate event that can happen to you.
Moreover, many backpackers have their backpacks filled with many electronic gadgets, so depending on their value, you want to make sure they are covered.
Fight cancellations, baggage delay, and loss
This is also very likely to happen.
One day, they canceled my flight from Berlin to Tehran and, on another occasion, when I flew from Barcelona to Tbilisi, my baggage remained lost for almost 4 weeks.
Of course, you will get the airline compensation benefit but, if you have good travel insurance, you may get paid twice.
And, very important, make sure it is easy to claim
All the companies I have listed are very professional, which means that, when you need to make a claim, they have a fast response.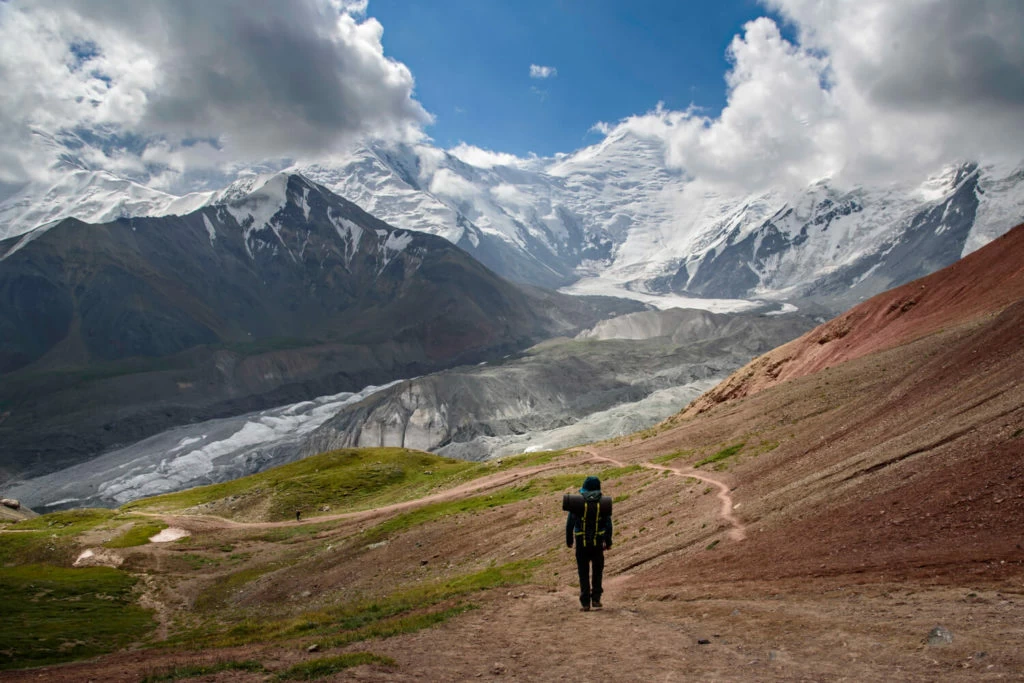 Comparison: The best travel insurance for backpackers
PREMIUM travel insurance for backpacking –

World Nomads
World Nomads is one of the most popular travel insurance companies worldwide.
And they are famous for offering the most in-depth coverage on the market, not only medical but they also cover the largest number of adventurous activities.
World Nomads is good for any type of trip, whether you travel to Ukraine to visit cities or go to Nepal to trek over 6000 meters.
| | |
| --- | --- |
| PROS | CONS |
| Most in-depth coverage when it comes to medical expenses, adventurous activities, theft, etc (their most premium plan has unlimited medical coverage) | You get what you pay for, so World Nomads is the most expensive backpacking insurance |
| High focus on adventure activities, including trekking over 6000 meters and other high-risk activities | Doesn't cover many Against the Compass destinations such as Iran, Sudan, Iraq or Syria |
| Simplicity, just 2 plans: one with wide coverage, and another one with even wider coverage and more adventure activities | |
Price assuming you are traveling to Nepal for 1 month:
From 121$

CLICK HERE YO GET YOUR FREE QUOTE
Best backpacking travel insurance for Europeans –

True Traveller

True Traveller is the one I am currently using and the ultimate travel insurance for backpackers.
The best things about True Traveller are that, first, they provide coverage for all countries (including Iran, Pakistan, etc.), and second, their coverage is very versatile: it covers an endless number of adventure activities, you can insure your electronics and they even have a special anti-theft plan.
Also, their budget plan includes an astronomical amount of medical expenses, as you can see below.
And last, their website is amazingly intuitive compared to others, making their policies much more transparent. For example, once you have calculated your basic quote, you can easily add all needed extras and, by clicking the "i", you get to see exactly what activities it covers, while, with other companies, you need to download and read a 30-page PDF in order to figure it out.

| | |
| --- | --- |
| PROS | CONS |
| Their basic plans have amazing medical coverage at a very good price | If you add up all extras, it gets expensive |
| You can insure your electronic gadgets | They only cover Europeans |
| Very intuitive page with the most transparent policies | |
| Ideal for long trips: Best annual insurance for backpackers | |
Price assuming you are traveling to Nepal for 1 month:

From
£
74 (84€)

Cheapest travel insurance for backpackers –

IATI Insurance

I have used IATI in the past and, in my opinion, it's the ideal insurance for any type of traveler, from budget backpackers to couples who are going on their honeymoon.
First of all, because it is one of the very few insurance companies that covers travel in any country, including many conflict destinations mentioned in this blog (Iran, Eritrea or Syria); and secondly of all, because it has a plan for any type of trip, from adventurous destinations to sightseeing trips.
Also, if you are traveling with a tight budget, their basic plan is the cheapest available in the market, plus readers of this blog get an exclusive 5% discount.
BUY IT HERE TO GET YOUR DISCOUNT
| | |
| --- | --- |
| PROS | CONS |
| Super versatile, for all types of trip, wallet, and traveler. | They offer so many plans that sometimes it can be confusing to figure out which plan is best for your trip |
| The cheapest backpacking travel insurance: their basic plan is the cheapest in the market, ideal for low budget backpackers | Non-Spanish people can't buy it for trips that last more than 4 months. |
| They have plans that cover adventure travel, including trekking in high altitudes | Premium plans are expensive |
| Worldwide coverage, including conflict areas | |
| The readers of this blog get a 5% discount | |
Prices, assuming you are traveling to Nepal for 1 month:
From
65€
CLICK HERE TO GET YOUR FREE QUOTE

Best backpacking travel insurance for high-risk areas –

BattleFace

Lebanon, Pakistan, and Somalia are destinations widely covered in this blog and, even though some insurance companies do cover them, their coverage is limited to just medical emergencies, excluding any act of terrorism.
This means that, if you are injured due to a bomb, you had to cancel your trip because of a terrorist attack, or you had to be evacuated due to conflict, your policy won't cover you.
So, when you travel in this kind of country, you are recommended to buy specialized travel insurance, such as BattleFace, an insurance provider that takes into account any kind of terrorism event, and will give you full assistance in the unlikely case you ever get caught in the middle of one.
Unfortunately, BattleFace is currently only giving coverage to very few nationalities (like the UK and German passport holders) but they will be adding other countries soon. Meanwhile, if you are worried about terrorism, I recommend you get World Nomads, as they have the most transparent policy when it comes to this topic. CLICK HERE TO LEARN MORE