The first thing you need to know is that there are 2 Somalias:
On the one hand, there is the Somalia you already know, the one related to Al Shabab, bombs, and pirates.
And, on the other hand, you have Somaliland, an unrecognized country that belongs to Somalia.
I have only visited the region of Somaliland.
The information below refers to Somaliland. Read here my Somaliland travel guide.
need to know for traveling in Somaliland
Quick facts
Capital: Hargeisa (Mogadishu in Somalia)
Population: 3.5 million (11 million in all Somalia)
Language: Somali, a language from the same family as many northeastern African languages
Area: 637,657km² (43rd largest country)
Visa
The Somaliland visa is different from Somalia's.
If you are flying in, you can get a visa on arrival for $60.
If you are traveling overland, you will have to get your visa in the Somaliland Mission of Addis Ababa or Djibouti.
Read the visa section of this guide for more tips.
Getting in
Hargeisa has an international airport with most flights coming from Addis.
You can also enter overland from Djibouti into Zeyla, or from Ethiopia into Wajaale.
Travel Insurance
Since any government will consider it a conflict zone most travel insurance companies won't cover you for this trip.
The only one which does, however, is IATI Insurance
5% discount if booking here:
Best time to visit
November to March is the best season. The rest of the year can be too hot.
Money in Somaliland
The official currency is Somaliland Shilling
1 USD = 8500 Sh
Budget: starting at $25 a day for budget backpackers, and $45 a day if you opt for mid-range accommodation.
---
Is Somaliland safer than Somalia?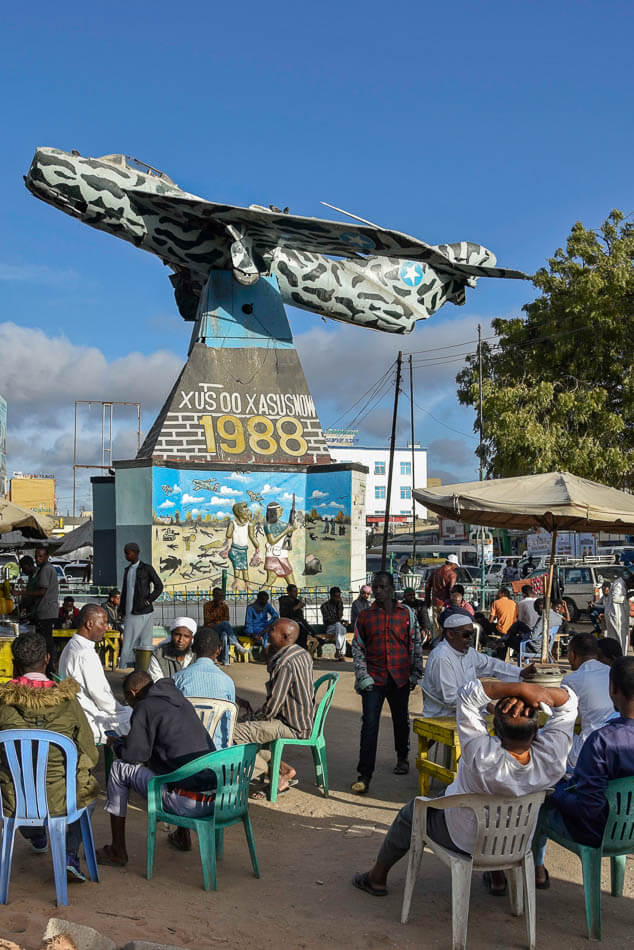 Nobody has ever recognized Somaliland as a nation so, since their independence, the country has been immersed into a financial crisis from which there's no escape.
Nevertheless, Somaliland has always kept out of the conflict happening in the rest of Somalia, so people in Somaliland don't regret being a breakaway territory because safety is the most important thing.
---
Top experiences in Somalia
Getting high on khat
Khat is a drug, literally, a plant with amphetaminic effects typically consumed in the Horn of Africa and Yemen, and extremely popular across all Somalia.
Feeding gazelles
I won't enter into the ethical issue of having wild animals in your garden, but several cafés have gazelles roaming around freely in their garden and, if you get some leaves from a tree, they won't hesitate to approach you.
Visiting livestock markets
Somaliland is a very traditional country where livestock markets abound, and I strongly recommend you visit the one in Hargeisa
Checking epic rock art sites
The only proper touristic thing as such to do is check out a few caves containing some 5,000-old rock art paintings, the best preserved of this particular kind in Africa
Check our 1-week Somalia itinerary
tips for Somalia
Accommodation
There aren't a lot of hotels in Somaliland, but you can always find something, especially in Hargeisa.
Check my Somaliland itinerary for all the options.
A useful book
Bradt has the only ever written guidebook on Somaliland
Transportation
You can easily move around by public transportation to go anywhere in the country.
For going down to Zeyla, you can take a local shared Jeep.
---
ALL MY ARTICLES ON SOMALIA