A guide for traveling to Sudan: Itinerary + Travel tips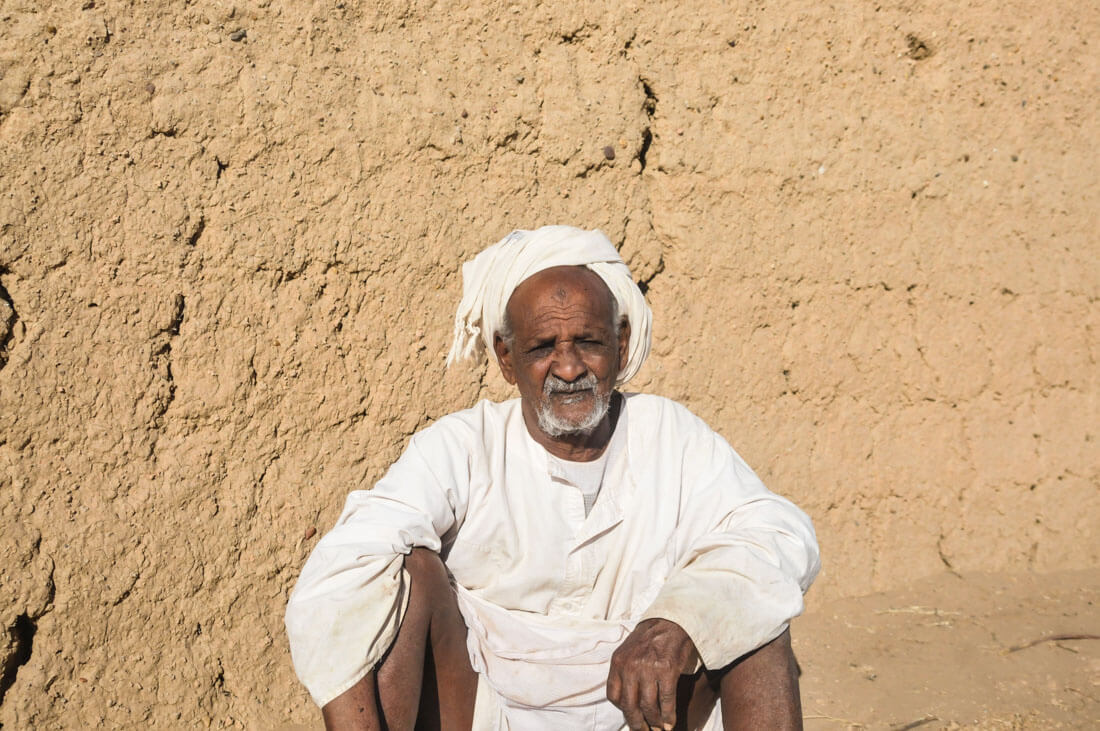 The streets were dusty and unpaved but it was the month of December, so a slight winter breeze produced a pleasant feeling. I felt like wandering around some villages settled along the Nile River, the shore of which is so fertile that, for a moment, I forgot that I was in the middle of the desert.
I desperately wanted to continue my journey to some villages located a few kilometers away, but the modest smiles, kindness, and hospitality of the Sudanese were blocking my way, as I was forced to have some tea every couple of meters.
The different smells and the women's colorful dresses made me think that I was at the heart of the African continent but the sweets, sand dunes, camels and Arabic language, which is the official language in the country, invited me to believe that, perhaps, I was in the Middle East instead.
I went up to the top of a dune, from where, very thoughtful, I observed those incredible, off the beaten track pyramid ruins.
Welcome to Sudan, the land where, finally, the Middle East meets beautiful Africa
This guide for traveling to Sudan contains everything you need to know, including a complete 2-week itinerary, and tips regarding transportation, accommodation, visas and much more!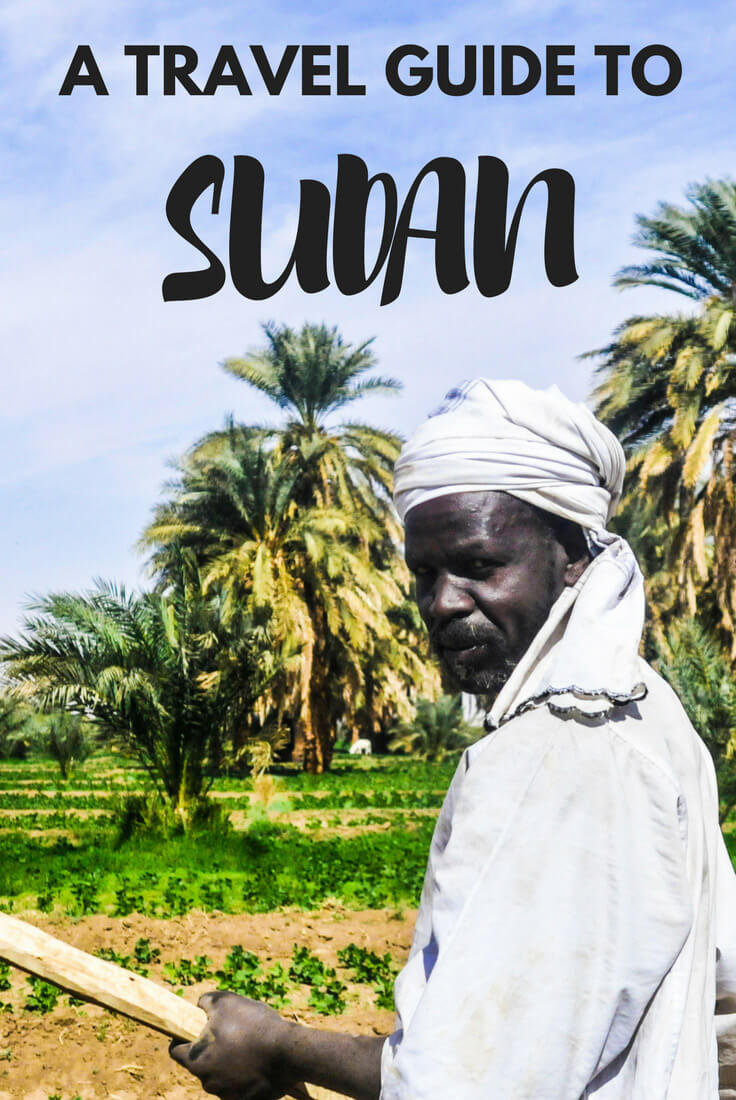 In this Sudan travel guide you will find:
eSIM card for browsing when traveling in Sudan
With Holafly, you can now get an electronic SIM card for Sudan from home with just 2 clicks.
5% discount with the following code:
AGAINSTTHECOMPASS
😷 COVID-19 Travel restrictions for Sudan
On August 2nd, Sudan liften all COVID-related requirements but just in case, it's recommended to have a vaccine certificate, in case the airline asks for it.
Travel Insurance for Sudan with COVID-19 coverage
IATI Insurance is one of the few providers that offers full Coronavirus coverage, not only when it comes to treatment, but also cancellations costs in case you tested positive before departure.
And not only this, but it's one of the few insurance providers that gives coverage for traveling to Sudan.
Readers of Against the Compass can get an exclusive 5% discount.
💡 Sudan travel guide – Quick useful tips for traveling to Sudan
Best time to travel to Sudan – Sudan is one of the hottest countries in the world. If you really want to enjoy your trip to Sudan, you must go in winter, from November to February. The rest of the year, the heat is just unbearable, especially in summer. I went there in December and, at noon, the temperature reached over 34ºC.
Is it safe to travel to Sudan? – With one of the lowest crime rates in the world today, the tourist part of Sudan is one of the safest areas in Africa. However, there are tribal conflicts in Darfur province (west) and near the border with South Sudan. This violence is quite far from the touristic routes and, in the unlikely event that you managed to get close to there, the violence would never target foreigners. For further details, check out my article: Is it safe to travel to Sudan?
Language – Arabic is the official language. Nevertheless, like in any African country, Sudan is also home to several different ethnicities who speak their own local language, as well. Basic English is spoken by a significant part of the population, especially those with a higher level of education. Communicating with people, as well as asking for directions, doesn't impose any real problems when traveling in Sudan.
How to get there – Most people travel to Sudan overland, either from Egypt or Ethiopia. By plane, people tend to come from Cairo, Doha, Dubai or Addis Ababa. I entered Sudan from Egypt. For further information, check out my post: How to cross from Egypt to Sudan overland
🪪 Visa for traveling to Sudan
You can get a visa in your home country, in Addis Ababa (capital of Ethiopia) and in Cairo and Aswan, Egypt. I got my visa in Aswan, a city located very close to the Sudanese border.
Once you are in Sudan, you also need to register and complete a few bureaucratic steps.
For further details, check out my article: How to get a visa for Sudan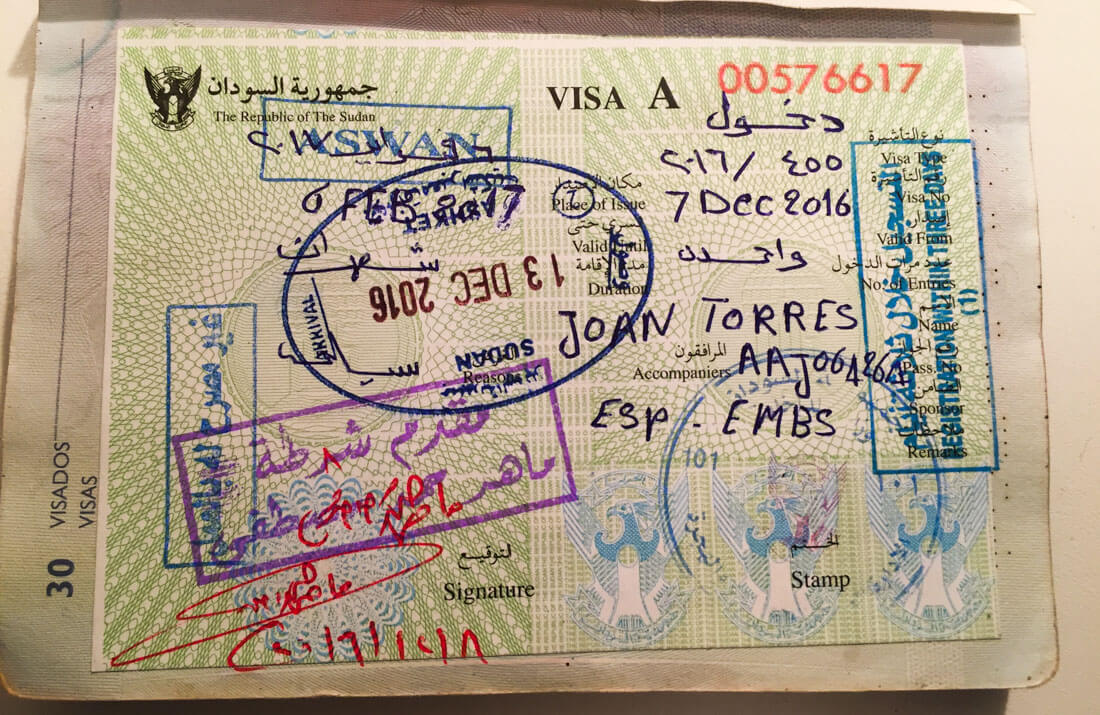 🚑 Travel Insurance for Sudan
Because of the sanctions, few insurance providers cover travel in Sudan. The one which does, however, is IATI Insurance, and I also recommend it for these reasons:
They have loads of different plans for all travelers: from families to budget backpackers
Full COVID-19 coverage
Covers for up to 1 year trips, good for overlanding around Africa
Readers of Against the Compass readers can get an exclusive 5% discount
📚 Recommended books for traveling in Sudan
Sudan Travel Guide by Bradt – I highly recommend buying the guide from Bradt, the best book guide about Sudan out there. Bradt Guides has the most insightful guides about the most off the beaten track destinations.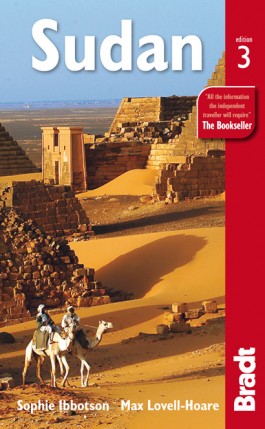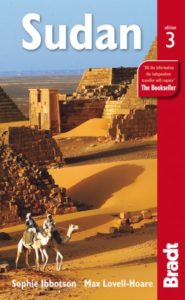 The Sudanese people
Traveling in Sudan is such an enriching experience, due to the multiple, endless interactions with people, whose kindness and hospitality are part of their culture, as much as their language is. Besides a couple of archaeological sites, Sudan lacks actual tourist sites. Sudan is about all the people with whom you'll share uncountable cups of tea, coffee, meals and, occasionally, especially in small villages, you'll be invited to stay at their houses.
By the way, be aware that, from a religious point of view, Sudan is a very conservative society, Sunni Islam being the main religion. If you really want to enjoy and experience people's hospitality at its best, you should respect their habits and rules. Outside of Khartoum, you should always wear long pants. Never talk to women, unless spoken to first and, even if they talk to you, don't dare take a picture of them, without asking for their permission, first. If you are a couple, say that you are married, even if you are not. Otherwise, they wouldn't understand it, as in their society that would be unacceptable.
Read: A guide for traveling to Egypt (itinerary + tips)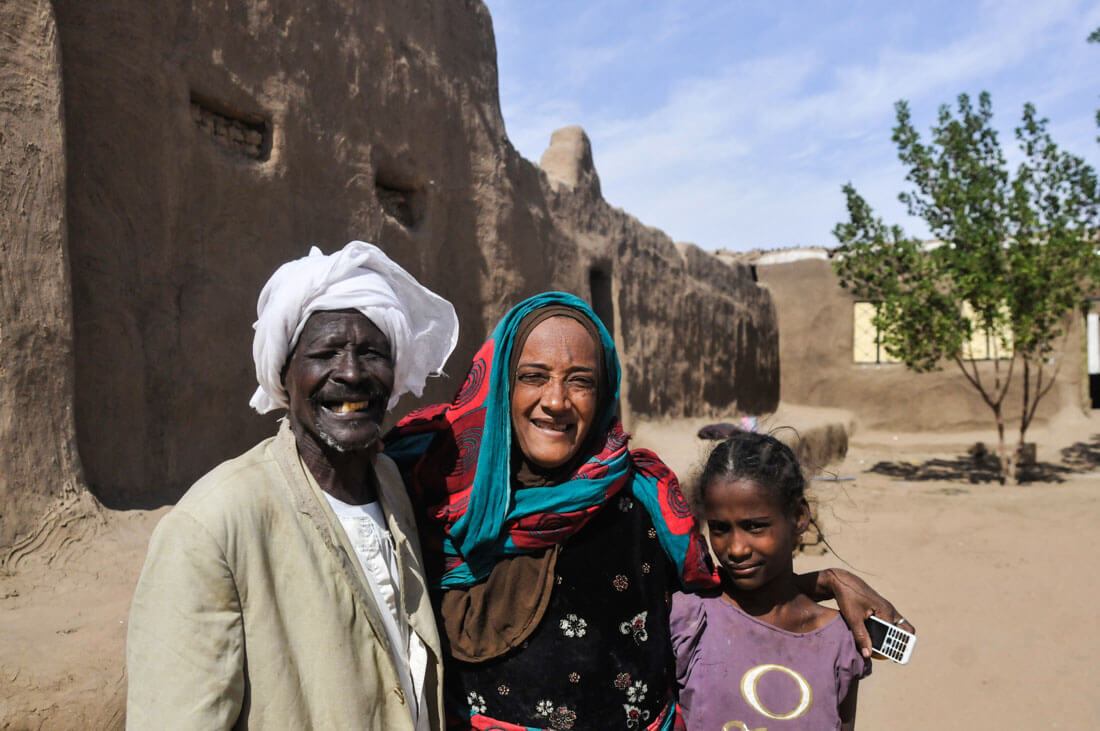 🛫 Transportation when traveling to Sudan
Remember to get travel insurance for Sudan
IATI Insurance is one of the very few that covers travel in Sudan + COVID-19
5% discount if purchasing via this link
Public transportation – Traveling around Sudan by public transport is pretty straightforward. Every day, throughout the day, from all cities, there are local minivans going in all directions. Prices are quite low and they leave once they are full. By the way, roads are in very good condition.
Private Jeep – Many travelers prefer to hire a driver with a private jeep. I met a few foreigners who were traveling this way and, if you can afford it, you should know that it is very convenient, as you can visit many ruins which are very deep into the desert.
Hitchhiking – Very easy to hitch a ride. Furthermore, since there's practically only one road going in each direction, finding a vehicle going in the same direction as you is quite simple.
Read: How to visit the Nubian pyramids of Sudan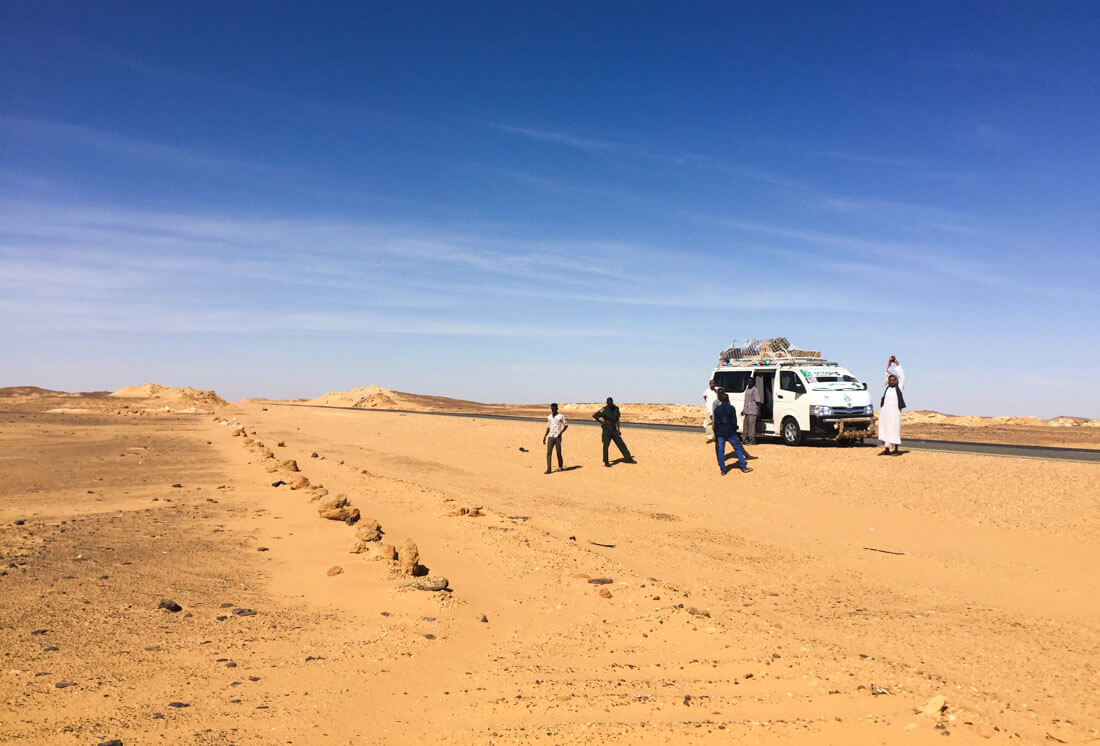 💻 Internet and connectivity in Sudan
Internet – Since internet connection is practically non-existent, in Sudan, it's advisable to plan your trip ahead. On several occasions, I wasn't able to connect and had some trouble finding a place or trying to remember the name of a hotel. Outside the capital, especially in the north, Wi-Fi doesn't exist and the only way to connect is through a SIM card, which works terribly slowly, meaning that you'll barely be able to browse anything.
Khartoum is the only place where 3G works OK. Update February 2018: According to Patrick from German Backpacker, 3G has improved, at least if you get an MTN Sim Card.
SIM Cards – They are sold everywhere. If you say you want a SIM Card, they might not understand you, so you should say: Shariha Sudani. A card should cost 5SDG, with a few calls. You need pay extra for having internet. There are several phone companies like (Zain, MTN, and Sudantel), all of them offering different packages, always pretty cheap. MTN seems to be the most reliable one. Registration with your passport is always necessary.
eSIM for browsing, calling and traveling in Sudan
Basically, an eSIM is a regular SIM card with a digital format that works like a normal physical SIM card, with the added benefit that you can buy it from home before the beginning of your trip, hence avoiding the hassle of buying it at your destination.
With Holafly, you can get a SIM Card for a wide range of destinations, including Sudan.
Moreover, you can benefit from a 5% discount with the following code: AGAINSTTHECOMPASS
Get a VPN for traveling in Sudan
You should always use a VPN when you travel, especially when you connect to public Wi-Fi networks.
Your connection will be much safer.
Moreover, you will be able to access content which is typically censored in Sudan.
I recommend ExpressVPN – Extremely easy to use, fast and cheap.
If you want to learn more about VPN, check: Why you need a VPN for traveling.
💰 Money – How much does backpacking in Sudan cost?
Don't exchange money at banks or official exchange offices.
Officially, the exchange rate is approximately:
1USD = 587 SDG
However, on the black market, in February 2018, the exchange rate was 1USD = 30SDG. You should always change on the black market. It's better you change your money in Wadi Halfa, Khartoum or Sawakin, as you may have some troubles in exchanging money in the rest of the towns.
Please note that the exchange rate in Sudan is crazy and it keeps devaluating constantly. Prices provided in the following guide are correct in local currency but the USD exchange rate I provide may not be accurate.
Typical costs of backpacking in Sudan
In Sudan, one could easily travel for less than $20 a day. These are some of the most typical costs.
Note – I am using the USD/SDG exchange rate used on the black market.
Accommodation
Hostels – Dorms cost around 25SDG. Be aware that these aren't hostels aimed at foreigners or backpackers but local Sudanese. They are extremely cheap but not very clean, unfortunately.
Hotels – Mid-range hotels, where the Sudanese middle class stays, cost something between 100SDG and 175SDG.
Food
A meal of foul costs 25SDG. If you order chicken, your bill would increase to 40-50SDG. A one-liter bottle of water costs 3SDG, whereas a cup of coffee costs 5SDG.
Transportation
These are the prices of some of the bus journeys I took:
Wadi Halfa to Abri (180km): 60SDG
Abri to Dongola (230km): 80SDG
Abri to Karima (200km): 60SDG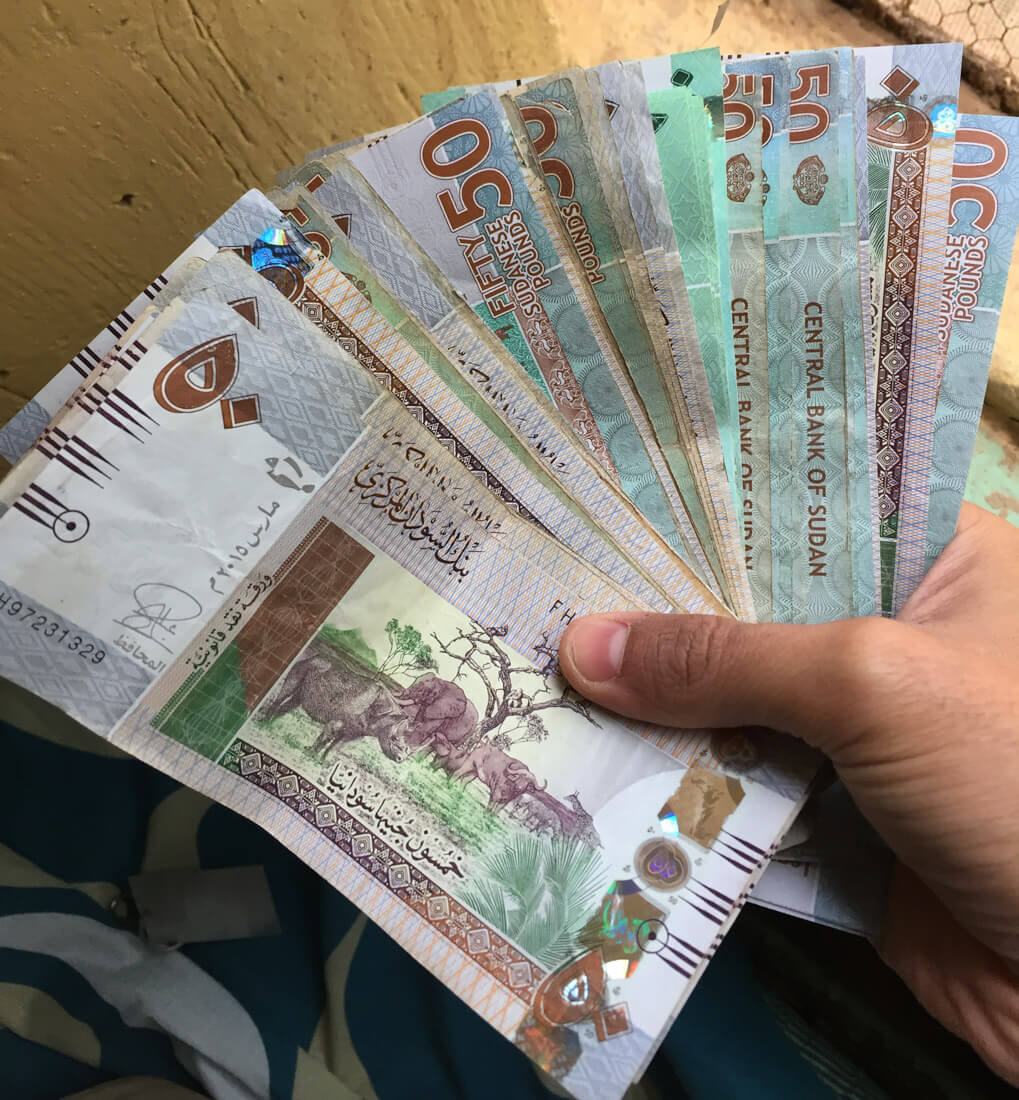 🍲 Sudanese food
Unfortunately, the food is not the highlight of backpacking in Sudan. Foul, which is a sort of black bean soup with plenty of peanut oil, is the national dish and what you are going to eat every day, to the extent that you will really get sick of it! If you are lucky, surprisingly, in some places, they add some sort of local cheese on top of it. One piece of advice. When your order foul, tell the waiter: "Mafi Zed", which means "without oil".
Furthermore, in some places, grilled barbecue chicken can be found. Additionally, some restaurants in villages close to the Nile, also serve fried fish but, the day I ordered it, I saw that they had all the fish piled up in a dirty cupboard, without any sort of protection. For breakfast, it is relatively easy to find boiled eggs, accompanied by the delicious and strong Arabic coffee.
In Khartoum and Port Sudan, you can find a greater variety of food, including Western meals.
Read: Egypt off the beaten track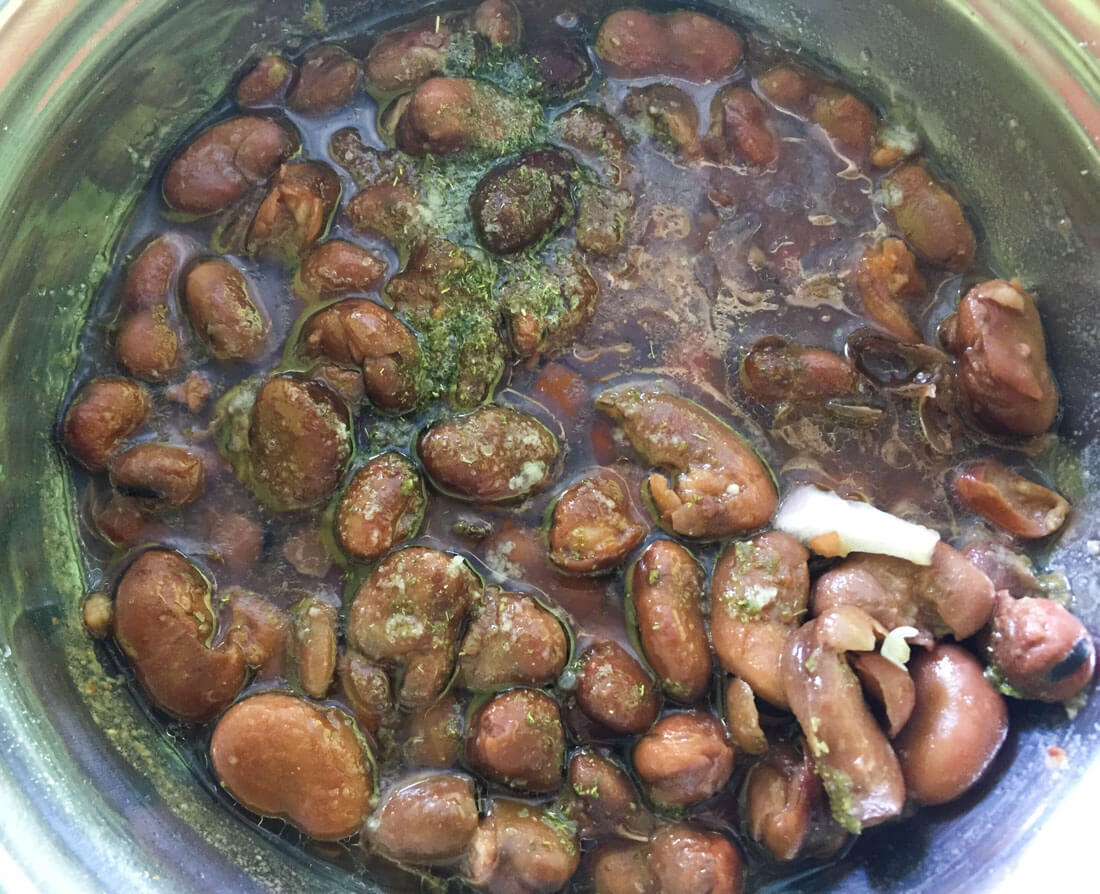 🤔 Should you travel to Sudan? A real off the beaten track destination
Remember to get travel insurance for Sudan
IATI Insurance is one of the very few that covers travel in Sudan + COVID-19
5% discount if purchasing via this link
Before backpacking in Sudan, you should know that this a real off the beaten track destination where tourism infrastructure is not even in an embryonic stage. Most of the country lacks tourist hotels and most restaurants are just simple shacks with very poor hygiene conditions. Internet connection is practically non-existent and you'll barely meet other travelers or backpackers. My point is that, whereas Sudan is an unforgettable experience, this is not a country for beginner backpackers.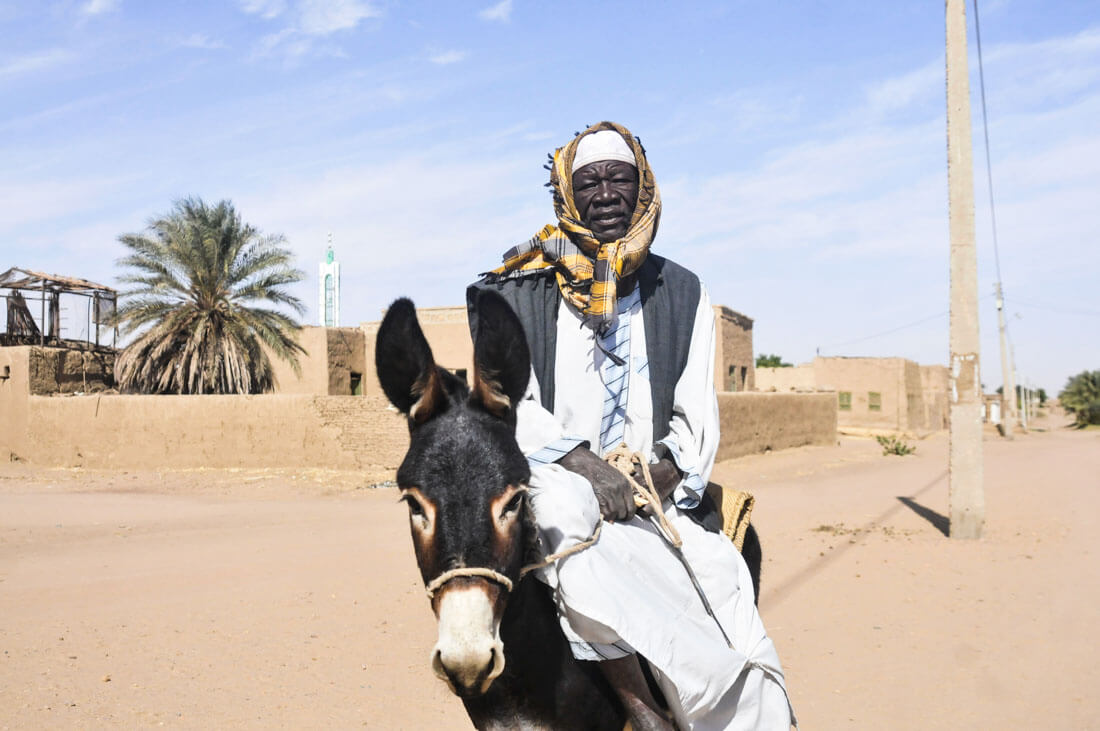 📍

Sudan Travel Guide – Ultimate Sudan itinerary
This Sudan itinerary goes from the north (Wadi Halfa, Egyptian border) to the south (Sawakin, Ethiopian border), with a few detours to the Red Sea (Port Sudan) and the border with Eritrea (Kassala).
I was in Sudan a little longer than two weeks, entering from Egypt and ending my trip in Khartoum. I would say that 85% of the most interesting sites in the country are located between these two points and, if you manage your time well, you can easily visit these places in just two weeks. Unfortunately, I didn't have time to visit Kassala and Port Sudan. If you want to visit them, you should add at least one extra week or ten days to your itinerary.
2 weeks Sudan itinerary
Wadi Halfa
Abri and the Nubian villages

Soleb Temple

Dongola
Karima
Meroë / Shendi
Naqa and Musawwarat es-Sufra
Omdurman (Sufi dancing and the camel market)
Khartoum
Extending your Sudan itinerary
Kassala
Port Sudan
Suakin
Map of the things to do in Sudan
Wadi Halfa
If you come from Egypt, Wadi Halfa will be your first point of contact with Sudanese society. This small town doesn't have anything interesting to offer travelers but you will have to spend your first night here, exchange some money and, basically, chill out for a bit after your hectic journey from Egypt. By the way, bear in mind that, unless you come from Egypt, it doesn't make a lot of sense to visit Wadi Halfa, as this is a mere border city.
Where to stay in Wadi Halfa – There are an endless number of basic hotels targeting local people coming from Egypt. Usually, these hotels offer rooms with five beds at 20-25SDG ($0.80 – $1.04). I stayed in Aleen Halfa. Be aware that these hotels are not very clean. Welcome to Sudan.
Read: How to cross from Egypt to Sudan overland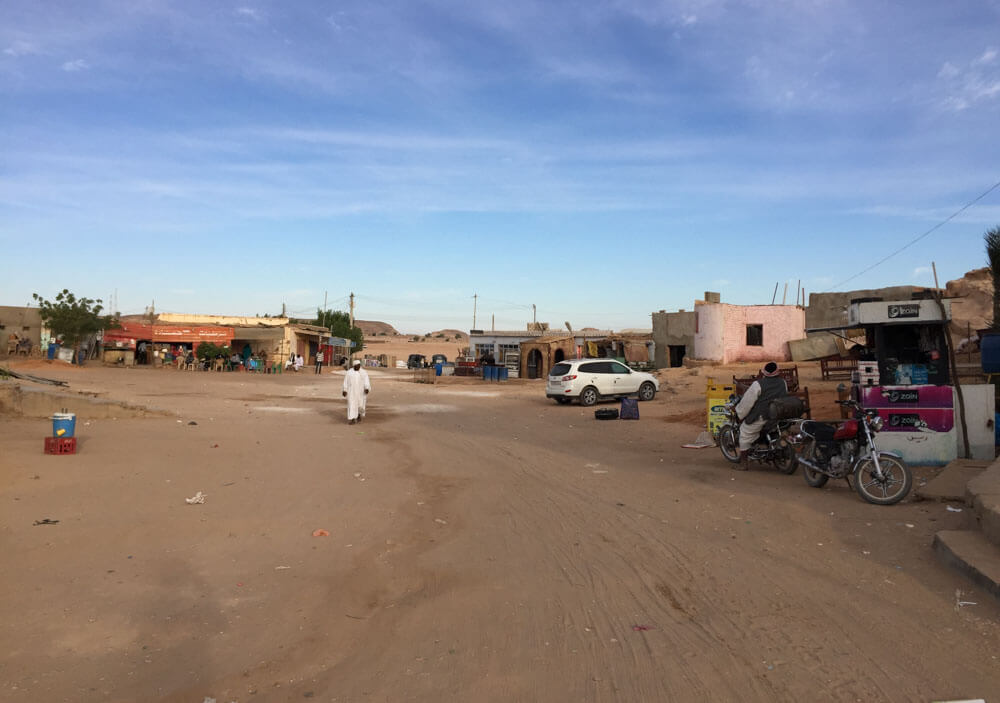 Abri and the Nubian villages
The Nubians, one of the most ancient civilizations in Africa, are an ethnic group which originated in present-day Egypt and Sudan. The Nubians have a long history that dates back to the Egyptian pharaohs and they ruled Egypt during the 8th century B.C. The Nubians have strong cultural differences, identified in their literature, music and poetry, and they speak their own language, which, even though it's hard to imagine, is a non-written language. Today, Nubian people live spread across southern Egypt and northern Sudan, established on the shores of the Nile river.
Abri is the main town and the perfect base from where to explore the villages around the area. You should just follow the river, hopping from village to village, through the foul and palm plantations. In my experience, Nubians are the most hospitable people in the country. Visiting those villages was the highlight of my trip to Sudan, not only because of people's kindness but also, because of the landscape, as you see beautiful, large green fields flourishing in the middle of the desert, thanks to the fast-flowing river.
For more information, read: Tales of the Nubian people in Sudan
Where to stay in Abri – Megzoub Guest House – Definitely, this is the best guest house in Sudan. Megzoub is a great, wise man who offers double and single rooms with pretty clean toilets. However, his prices are quite high, compared to the country average. His rate may start at 250SDG ($10) but you could easily bring it down 100SDG ($4.10), at least for me and a friend who was there recently. You can contact Megzoub by calling any of his phone numbers: +249122886586 and +249911220984.
How to get to Abri from Wadi Halfa – There are minivans which leave at every hour, starting from quite early in the morning. Price: 60SDG ($2.50)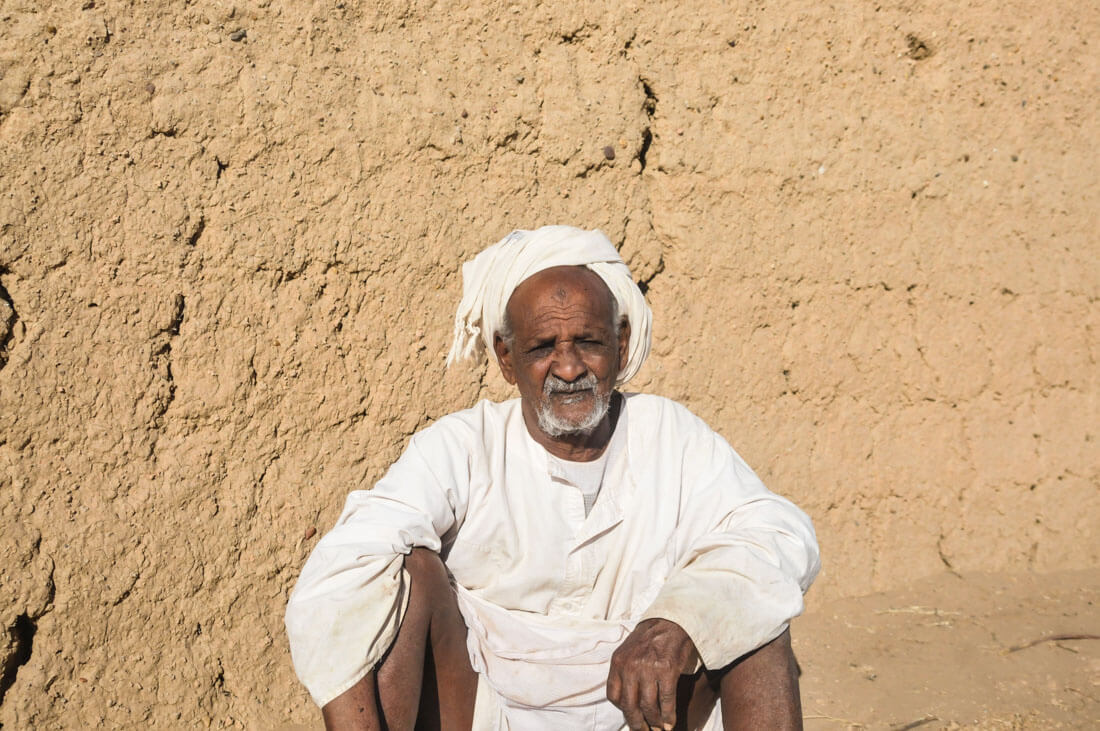 Soleb Temple
One of the most well-preserved ruins in the country and, founded by Amenhotep II, Soleb temple was built to worship Amun-Ra. It is claimed that the architect might have been Amenhotep, son of Apu, whose mortuary temple can be found in Luxor. Soleb is located halfway to Dongola (the next destination after Abri). You could visit it on a day trip from Abri or on your way to Dongola
How to get from Soleb to Abri – Soleb is 50km from Abri. Megzoub, the owner of the guest house in Abri, can take you there in his car for 400SDG ($17, round trip). On the other hand, if you want to go by yourself, you should take a mini-van to Wawa. The temple is located on an island in the middle of the river. You can only get there by boat but there are local fishermen who can take you there cheaply. One-way bus ticket to Wawa is 20SDG costs ($0.80) and entering the temple 60SDG ($2.50).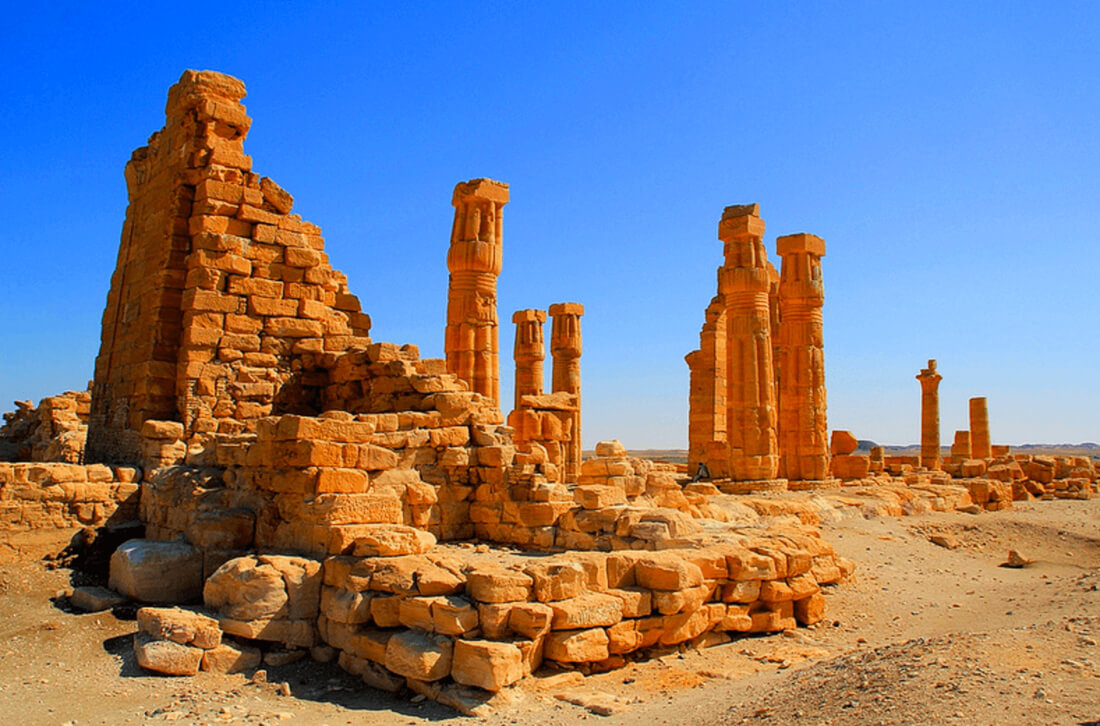 Dongola
Dongola is a city which does not have much to offer the traveler. However, if you are heading from Abri to Karima, probably, you will probably have to spend one night here, as there is no direct transport and the minivan service that runs from Dongola to Karima doesn't run until very late. In this city, there's not much to do besides wandering around the main bazaar, eating grilled chicken and socializing with the locals.
Note that there is no direct transportation from Abri to Karima but you can get a direct bus from Wadi Halfa to Karima, without stopping in Dongola.
Where to stay in Dongola – Alnuallem is the only good hotel in the city. It offers double rooms at 175SDG ($7.30). These are the coordinates: 19.172898 30.468067.
How to get to Dongola from Abri – There are frequent minivans, being the last one leaves at around 5 or 6 pm, but you should double check with Megzoub. Price: 80SDG ($3.30).
Karima
Welcome to one of the most touristic spots in Sudan and where, probably, you'll meet the first bunch of travelers (if you are coming from Egypt). Karima is a lovely area which is famous for being home to three of the most important archaeological sites in Sudan, containing a large number of Nubian pyramids, some of them in very good condition. The best about it is that you might have the pyramids just to yourself.
Jebel Barkal: The best-preserved group of pyramids and the site surrounded by the prettiest nature.
Nuri: The pyramids from this site are in a deplorable state but that's the beauty of them.
Al-Kurru: Almost completely destroyed, as the locals took the stones to build their houses
For more information about the pyramids, read: How to visit the Nubian pyramids in Sudan
Where to stay in Karima – I stayed in Al-Nassr, a very simple hotel frequented by Sudanese. Price can be negotiated but I paid 100SDG ($4.10) for a double room with private bathroom. Update: In 2018, travelers are already paying 150SDG. Another alternative would be a fancy guest house called Nubian Rest House, which has double semi-luxury rooms. However, I heard that they are now charging $220 for just one night. They are crazy and target people who travel on a tour. In the Nubian pyramids article I wrote, I provide further details about the location.
How to get to Karima from Dongola – The minivans leave from the morning, but as very few locals use that route, you might have to wait for a while until the bus is full. Price: 60SDG ($2.50).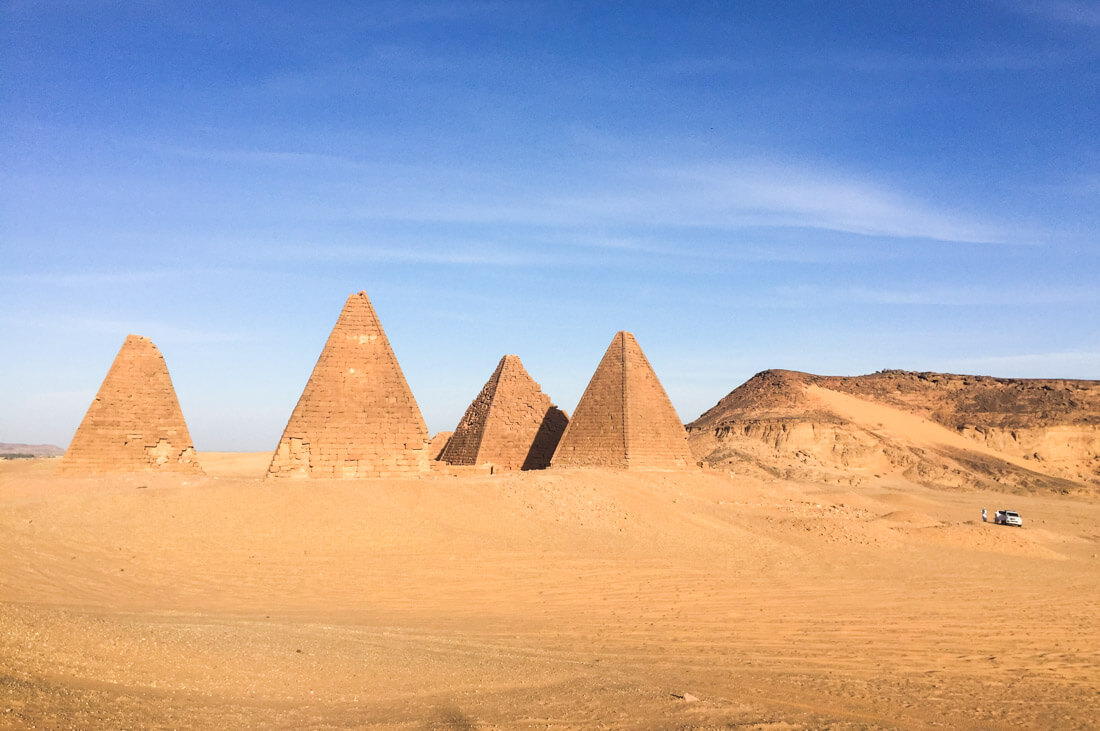 Shendi
Shendi is just a small, unattractive town which you can use as a base to visit the pyramids of Meroë. The most interesting part of Shendi is its lively bazaar.
How to get from Karima to Shendi – To get there from Karima, you should first take a minivan to Atbara. They leave early in the morning and cost 130SDG ($5.40) for a 3-hour journey. From there, you can catch a 2-hour big bus to Shendi for 50SDG ($2.10). Alternatively, you could get off on the road, before getting to Atbara and hitchhike from there. That's what I did.
Where to stay in Shendi – I didn't stay but there's a local hotel called El Kawther (16.696079, 33.424961), which is supposed to be good. Alternatively, you can also stay in a kind of apartment, which is close to where the bus dropped you, 50 meters from the green mosque. There's no sign but it's a pink building with many water tanks on top. It has fully furnished, 2-room apartments with fridge, TV, stove and pots. It costs around $10 per night, which can be split by several people.
Meroë
The only proper touristy place, meaning that here you'll find an archaeological site surrounded by a fence where they charge an entrance fee and there are locals selling souvenirs. The royal cemetery of Meroë is composed of 100 narrow pyramids spread across a vast desert of orange sand dunes. Most of them are quite well-preserved and, at the end of 2016, the site was still under restoration. Ticket price varies and it will depend on your negotiation skills. For more information, read: How to visit the Nubian pyramids of Sudan
How to get to Meroë from Karima – The ruins of Meroë are located right next to the road, meaning that there is no direct bus going there. If you come straight from Karima, follow the same route as going to Shendi but get off 50km before. If you want to go from Shendi, take a bus to Kabushiya and then, you can easily hitchhike the remaining few kilometers.
Where to stay in Meroë -You have 5 options. First, you could stay in Khartoum and come to Meroë on a day trip, which is what most travelers do. Second, as I mentioned previously, you could stay in Shendi. Third, there are several resting places along the road between Atbara and Shendi, where the truck drivers spend the night for as little as 5SDG ($0.30). Basically, they have a bunch of deck chairs placed outside. I stayed here 🙂 Fourth, you may stay at the Meroe Tented Camp, which is a desert camp with relatively luxurious tents. They used to ask $42 for one night but, according to Patrick from German Backpacker, they now ask for $190. They are just crazy and, clearly, not targeting backpackers. And fifth, you could just set up your own tent among the dunes!
Naqa and Musawwarat es-Sufra
The most off the beaten track Nubian temples in the world, Naqa and Musawwarat es-Sufra are located in the middle of the desert, several kilometers away from the road. Getting there is a bit tricky as there are no signs and you need to go over sand dunes.
A traveler claimed that he went there on a small, normal car but you need a really good driver and, definitely, it's better to go there on a 4×4.
From Khartoum, the price would oscillate something between $100 and $150. It's quite expensive.
Alternatively, in Shendi, which is the closest town to the temples, you could look for a 4×4 owner and ask this person to take you there. The cost would be significantly lower than from Khartoum. Andy, the same traveler who went there on a small car, said that he got a car for 400SDG ($20). He visited Naqa but, when he arrived in Mussawarat, they wanted to charge him $20 for visiting it and bargaining was not possible. Be aware of this.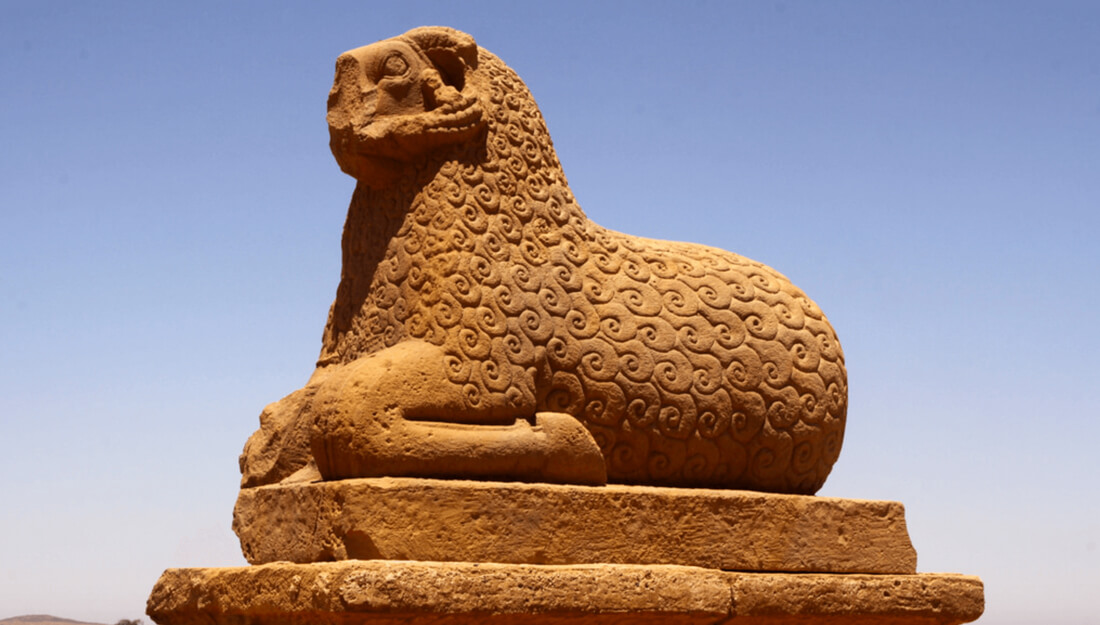 Omdurman
Located very close to the capital, Omdurman is a city that has very little interest but is famous for having some of the most popular events among tourists:
Sufi dancing – Sufism is the mystical or spiritual branch of Islam. Their faith is not based on logic but on revelation. They are those Sunni Muslims who perform a spiritual dance while they get high on drugs. This psychedelic dancing takes place on Friday afternoons. Where? In Hamid El-Nil Mosque. You'll be definitely meeting other tourists. For more information, check out this amazing photo essay from the Candy Trail travel blog.
The camel market – Personally, I didn't go there, as I've seen several camel markets in the Middle East before, but if you've never seen more than 2,000 camels gathered all together, I am sure you are gonna love this one. How to get there? First of all, take a bus to Omdurman (either from Shendi or Khartoum). In Khartoum, buses depart from Al Araby bus station. The bus will drop you off at the main souk. From there, you should take another bus to Souk Libya (7km). Once in Souk Libya, take the last bus to Moelih, the actual camel market. You'll know where it is because everybody else will get off there.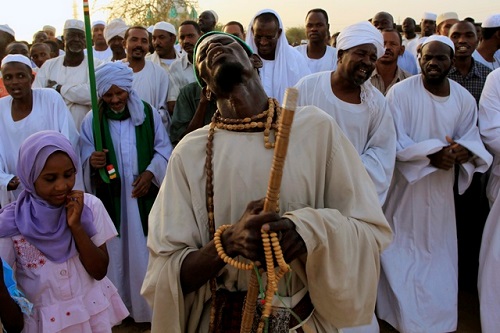 The capital Khartoum
If you come from Egypt, you should arrive in Khartoum in two weeks, approximately. Khartoum is a city in which to rest and eat something different from foul and grilled chicken. Honestly, there's not much to do besides visiting the confluence of both the Blue and White Niles. In Khartoum, one can have fun just wandering around the endless souks and hanging out with the locals. By the way, if you want to hang out in a nice hotel, Corinthia Hotel, the best one in town, has the best internet and you can spend as much time as you want in the reception area.
For more information, read: 24 hours in Khartoum
How to get to Khartoum – Al Araby is one of the main bus stations in Khartoum. From here, buses come and go in all directions. From Shendi, you can take a bus for 20SDG ($0.80). 4 hours, with traffic.
Where to stay in Khartoum – Couchsurfing is easy in Khartoum but also, there's a hostel called Hostelling International Khartoum. These are the coordinates: 15.591484, 32.539680. There's also a camping area next to the river, situated very close to the confluence of the Nile. It's called Blue Nile Sailing Club. These are the coordinates: 15.611694, 32.534409
The following places (Port Said, Suakin and Kassala) are amazing to visit. However, you should add at least one week or 10 extra days to the previous two-week itinerary.
Kassala
Located at the border with Eritrea, Kassala is a city that lies at the foot of a beautiful peak belonging to the Taka Mountains. In Kassala you will find a large number of different ethnicities, including Beja and Rashadia. An interesting spice souk, plenty of colors and meeting different kinds of people are the things that make Kassala become a unique place. By the way, most likely, you'll be the only foreigner wandering around this area.
For more information, check out this awesome photo essay from Candy Trail Travel Blog.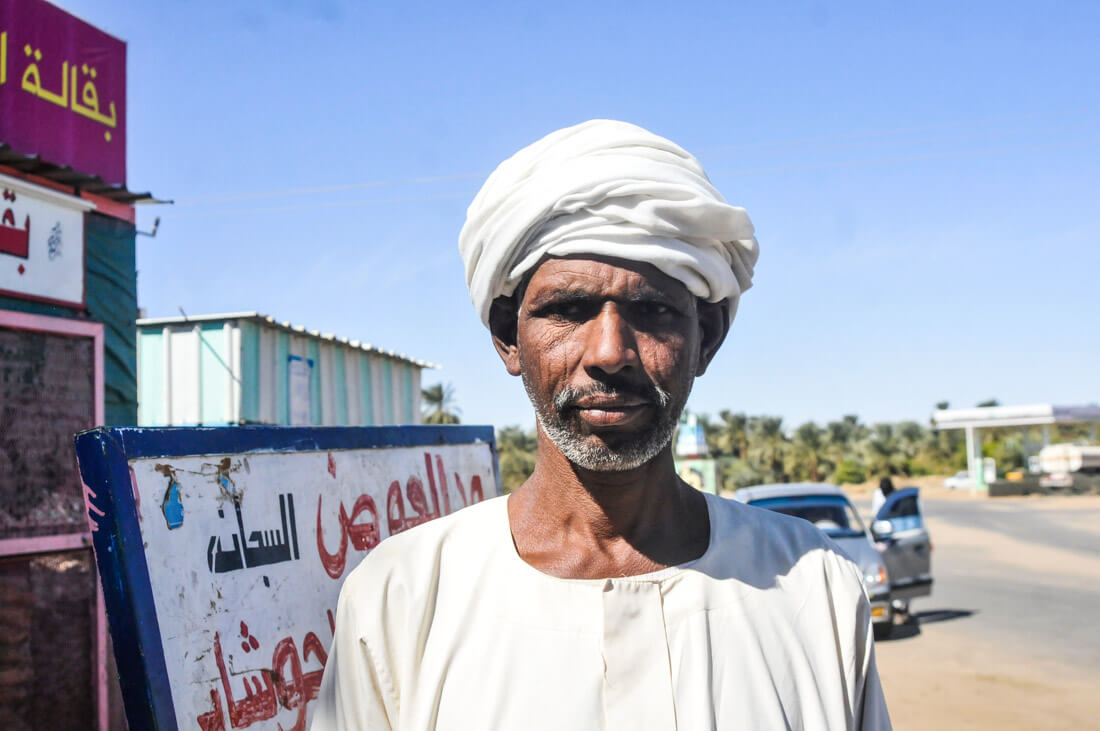 Port Said and Suakin
Located on the Red Sea, almost 800km from Khartoum, these two cities are, geographically, culturally and architecturally, quite different from the rest of Sudan.
Suakin – With a peculiar architecture that dates back to the 19th century, Suakin was an important place during the Ottoman Empire, as it was the center of slavery exportation and where Muslims left from on their pilgrimage to Mecca. Today, the Turkish government is investing some efforts in restoring the buildings. Where to stay? There are a few hotels but, apparently, some of them might tell you that foreigners are not allowed to stay in Suakin. You can try but, if you want to be more comfortable, I suggest you go to Port Sudan, located just 60km away.
Port Sudan – Port Sudan is the place where you want to go if you wish to disconnect from the desert and swim in the bluest water. This is most cosmopolitan city in the country, as well as the cleanest. Where to stay? There is one expensive hotel called Coral on the Corniche. If you want something very cheap and basic, you can stay at Hotel Boheine (19.6118533, 37.2208425), near the sea, or at Hotel Alatoun (19.612733,37.213873), near the souk.
By the way, like its neighbor Egypt, the Red Sea in Sudan is home really impressive corals, so here you can do some of the best snorkeling and diving ever.
How to get to Port Sudan and Suakin? – From Khartoum, there are direct buses but you could also go from Atbara, the city where you took a second bus, on your way from Karima to Meroë.
❗ More information for traveling to Sudan
📢 In my Travel Resources Page you can find the list of all the sites and services I use to book hotels, tours, travel insurance and more.
All guides and articles for traveling in Sudan destination
Travel guides to other countries in Africa