Travel to Tunisia in 2023: Tips + Itinerary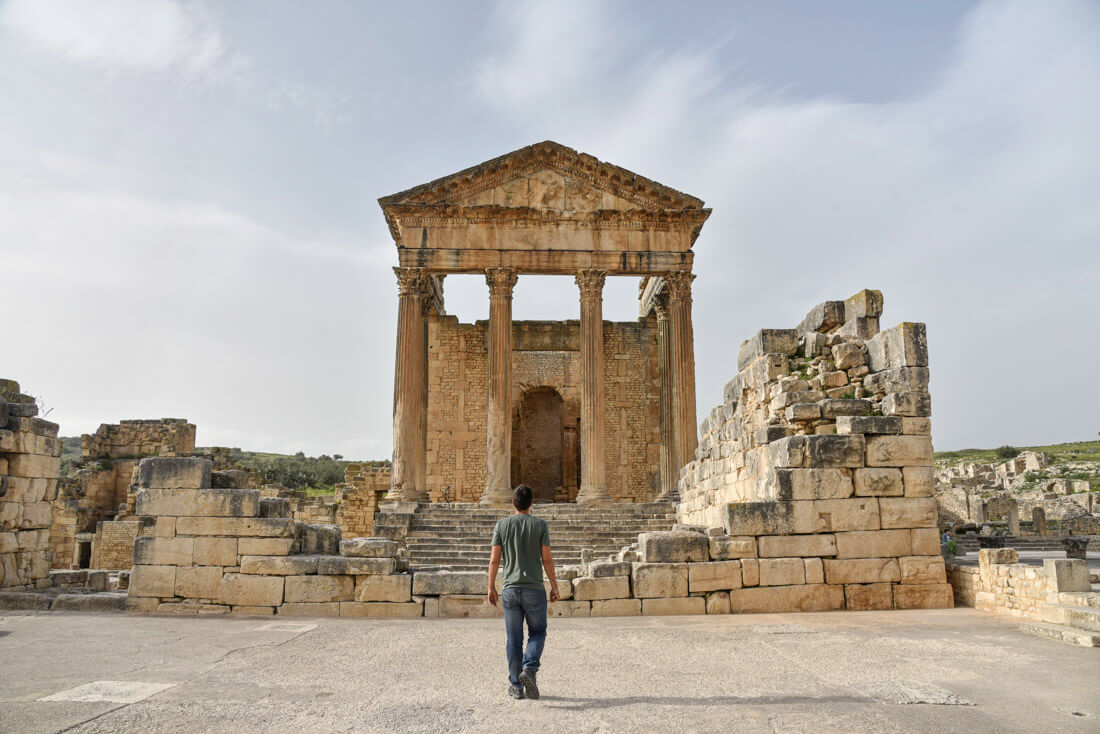 From the most epic Roman ruins in Africa to crystal Mediterranean beaches, the Sahara and a great Berber culture, Tunisia is a small piece of land with a lot to offer and is a great alternative to Morocco as, basically, you get a similar Maghrebi culture with the difference that many parts of Tunisia remain unvisited and the country is mostly free of the classic scams.
The golden era in which Tunisia used to be a prime tourist destination came to an end with the 2015 terrorist attacks – unfortunately – but, even during those times, the vast majority of visitors were resort-like tourists, the most adventurous ones visiting the most typical tourist attractions on an organized tour.
Even my parents visited Tunisia for a few days many years ago, but went there with everything organized.
This means that Tunisia hasn't really witnessed the arrival of independent travelers and I believe this is one of the things that make any trip to Tunisia a great travel experience, as you will be continuously meeting curious, kind-hearted locals everywhere you go.
No more than a few hours from any European city by air, this is perhaps, the closest and easiest exotic, offbeat destination to visit during your 1 or 2-week holiday.
This guide contains everything you need to know to travel to Tunisia, including travel tips and a compelling 2-week itinerary.
I also recommend you read: How to visit Tunis in 3 days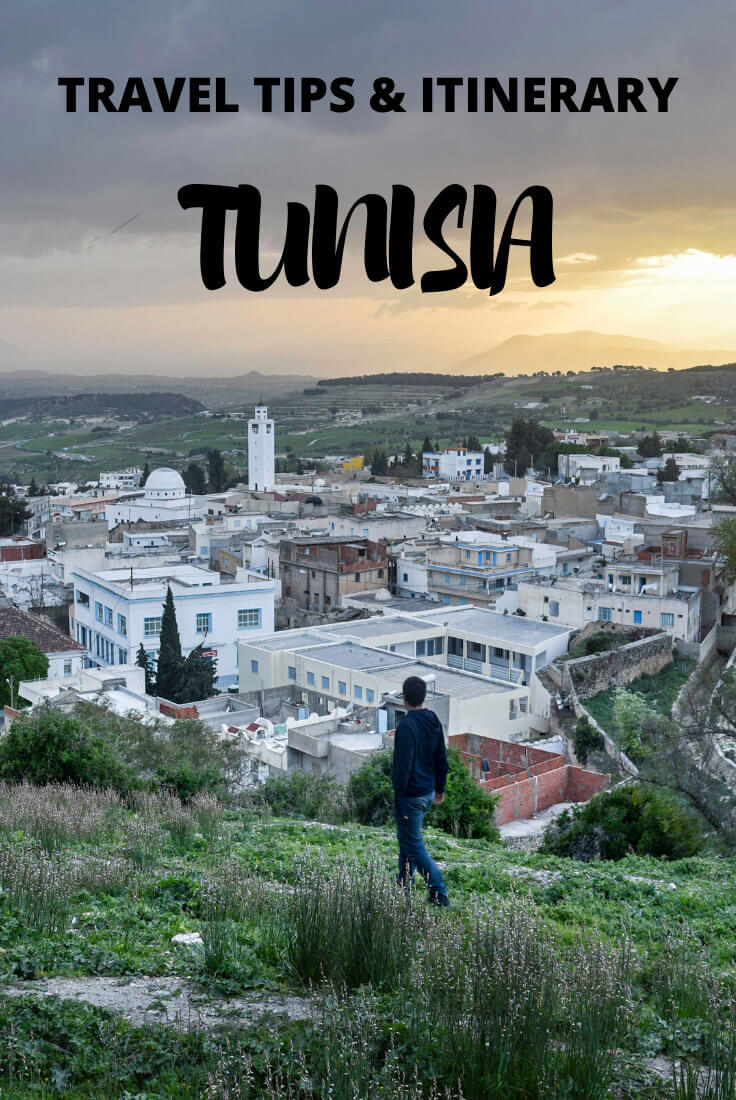 In this Tunisia travel guide you will find:
eSIM for browsing, calling and planning your itinerary in Tunisia
With Holafly, you can now get an electronic SIM card for Tunisia from home with just 2 clicks.
5% discount with the following code:
AGAINSTTHECOMPASS
😷 COVID-19 bans and restrictions for traveling to Tunisia
For traveling to Tunis, you must be present either proof of vaccination or PCR test.
Travel Insurance for Tunis with COVID-19 coverage
IATI Insurance is one of the few providers that offers full Coronavirus coverage, not only when it comes to treatment, but also cancellations costs in case you tested positive before departure.
Remember that you should travel with insurance.
Readers of Against the Compass can get an exclusive 5% discount.
🪪 How to get a tourist visa for Tunisia
Pretty much any nationality can get a 3-month visa-free on arrival.
🛫 How to get to Tunisia
How to travel to Tunisia by air
Tunis International Airport has connections with several European cities and other major cities in Africa. I recommend you check on Tunisair and Skyscanner. I personally flew from Barcelona with Tunisair.
How to travel to Tunisia by land
Tunisia has a border with Algeria and Libya.
Algeria – You can travel to Tunisia from Algeria and use the entry point near Tabarka – not sure if foreigners can use the other borders.
Libya – You can't really cross from Libya, not because the border is closed but because, currently, Libya is not issuing tourist visas and the only way to get in is via an agency who will fake a business visa for you, and they don't recommend you enter or exit via Tunisia, as it would not be credible that you came to Libya for business purposes.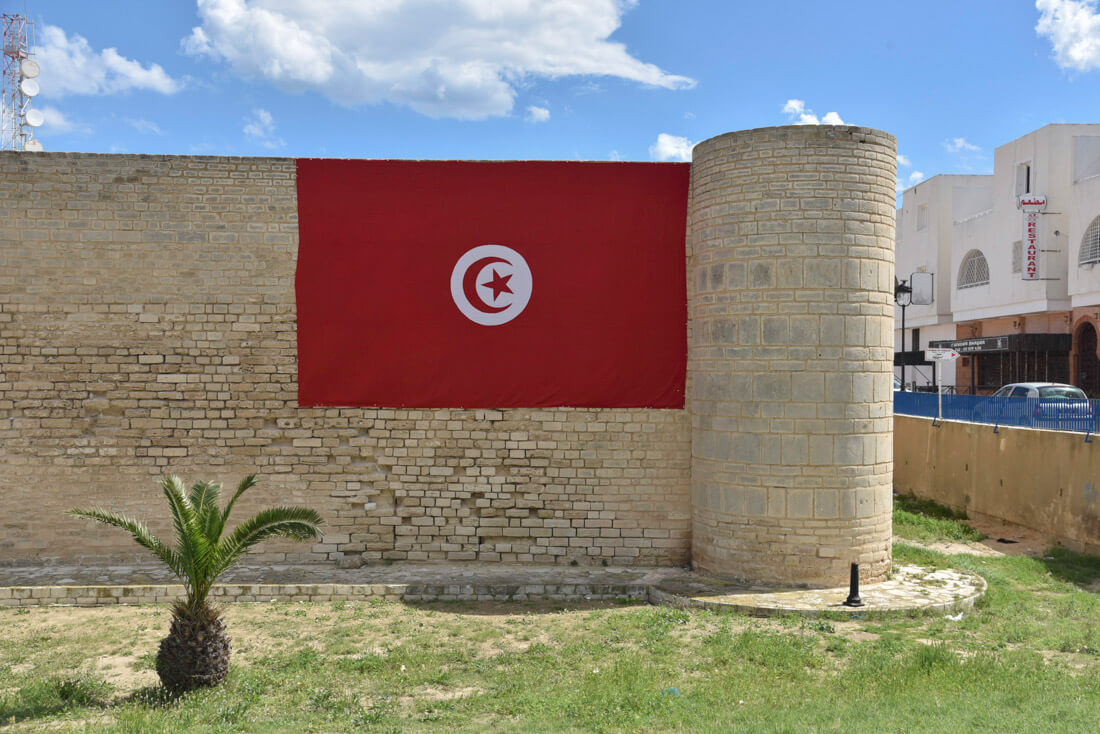 🚑 Travel Insurance for Tunisia
For Tunisia, get IATI Insurance:
All types of plans: from families to budget backpackers
Covers both short-term trips and up to 1-year long trips.
COVID-19 coverage
Covers senior citizens too
Readers of this blog can get a 5% exclusive discount
⛅ Best time to visit Tunisia
The best thing about Tunisia is that this is really a year-round destination.
The northern part of the country is purely Mediterranean, with mild winters and hot summers so, if you fancy the beach, July and August should prove best, and towns and cities are great to visit any time of the year. The arid south, however, is best visited in winter, otherwise, the heat might not let you enjoy it that much.
I visited Tunisia for 3 weeks from mid-April to the beginning of May and it was the perfect time. The weather in the northern part was absolutely pleasant, with a little rain sometimes, and the heat in the southern part was still quite bearable.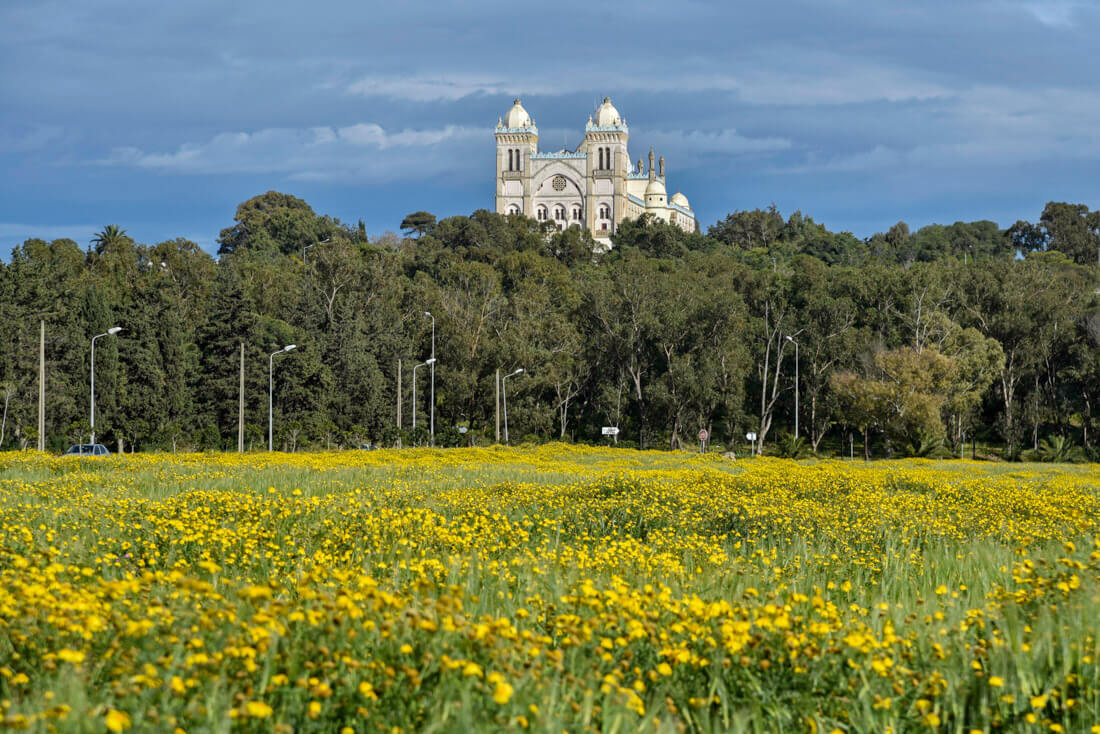 Should you travel in Tunisia independently or on an organized tour?
I visited Tunisia 100% independently, and I recommend you do the same.
However, if you are short of time and want to visit specific places on organized tours, I recommend you use GetYourGuide, a website where you can book any type of tour, from half-day trips to several-day tours with just one click.
🕌 The people and the culture
They are too African to be considered European, but they are too European to be considered African.
These are the words from an expat American woman living in the city of Tunis who I had the chance to meet during my trip to Tunisia.
Along with Beirut, Tunis might be the most secular and open-minded Arab city and you just need to go to the city center and see how people dress.
You find traditional, religious people too, of course, but the beauty of Tunis, and Tunisia in general, is that everybody is free to practice Islam the way they please and, on most occasions, you won't be judged.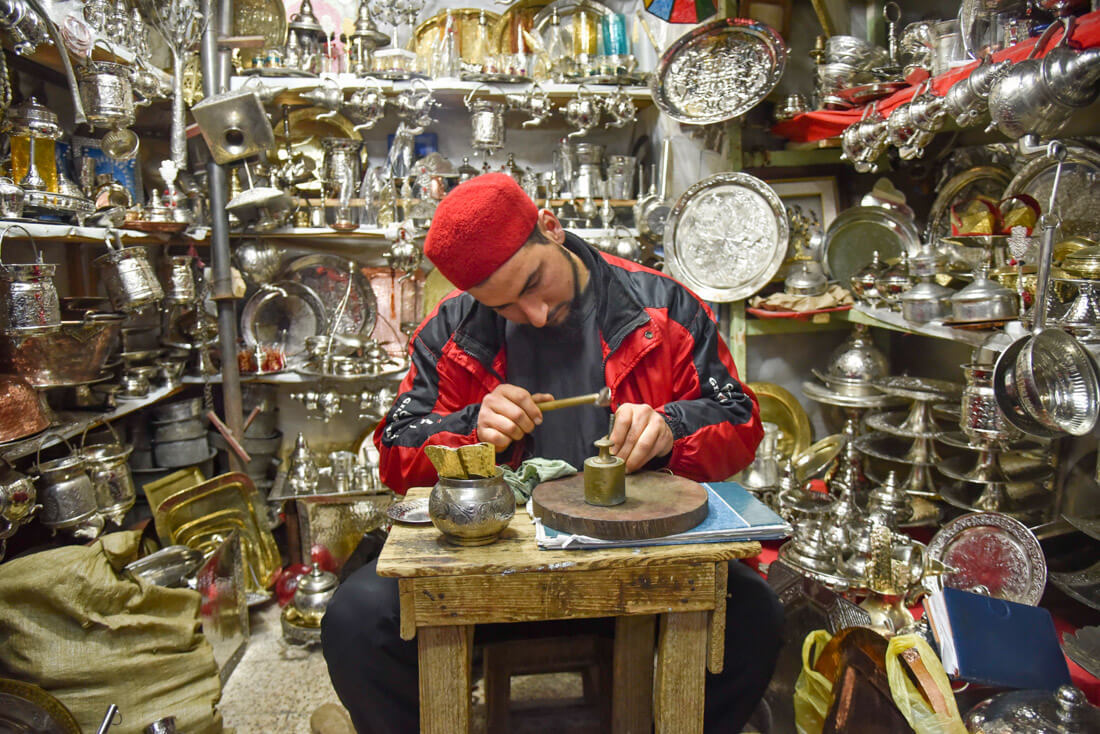 This is why in Tunis you are likely to see a young girl with a short skirt walking in a local market among other women wearing the full hijab, a mix you will rarely see in other Arab countries.
Sousse, Monastir and Sfax are other modern cities with a significant number of liberal people, especially among the young generation.
However, religion still plays an important role in Tunisia's society. Even Tunis has its traditional districts and the rural areas are very conservative.
But what is true is that in Tunisia there isn't much fundamentalism compared to other Arab nations and countries in the Middle East.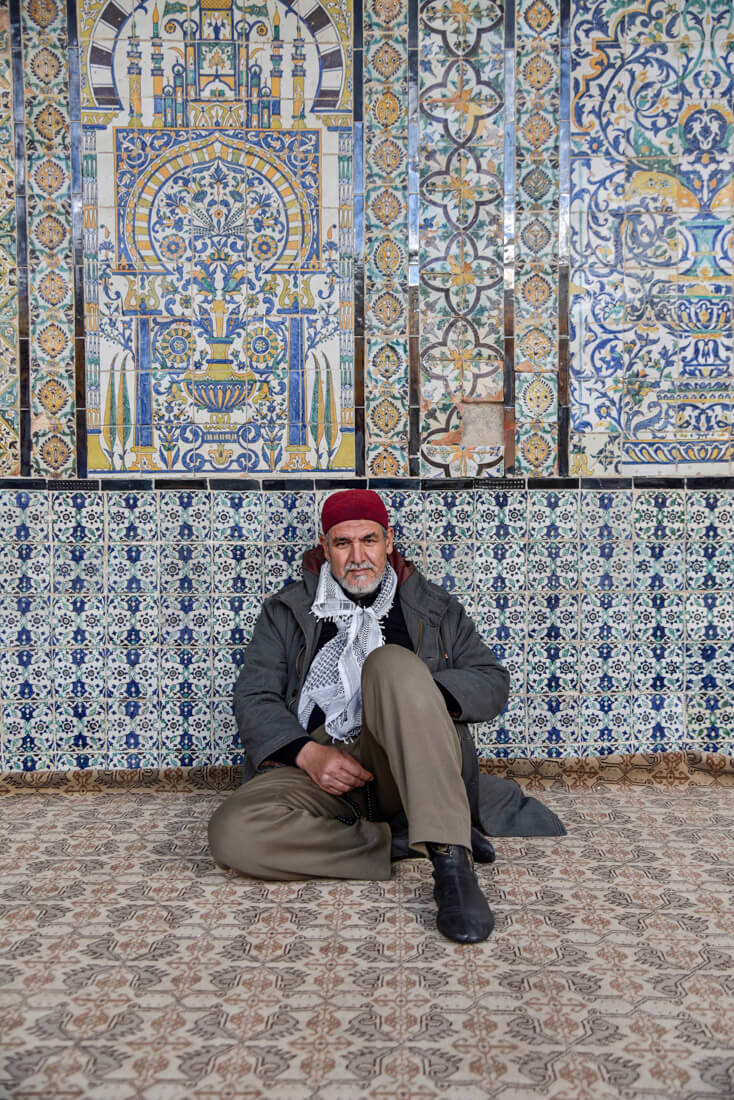 Language
Arabic is the official language in the country, and I believe it is quite similar to the Arabic spoken in Morocco and Algeria.
However, it is very different from other Middle Eastern countries, from Egypt to Oman.
In fact, they don't even understand each other. When I was living in Dubai, in my office there were Arabs from all the Arab countries and Tunisians would always address Middle Easterners in English.
French & English – Given this used to be a French colony, except for uneducated people from rural areas, pretty much everybody in the country speaks impeccable French, and the best educated Tunisians also have good English, so traveling in Tunisia doesn't imply any language barrier.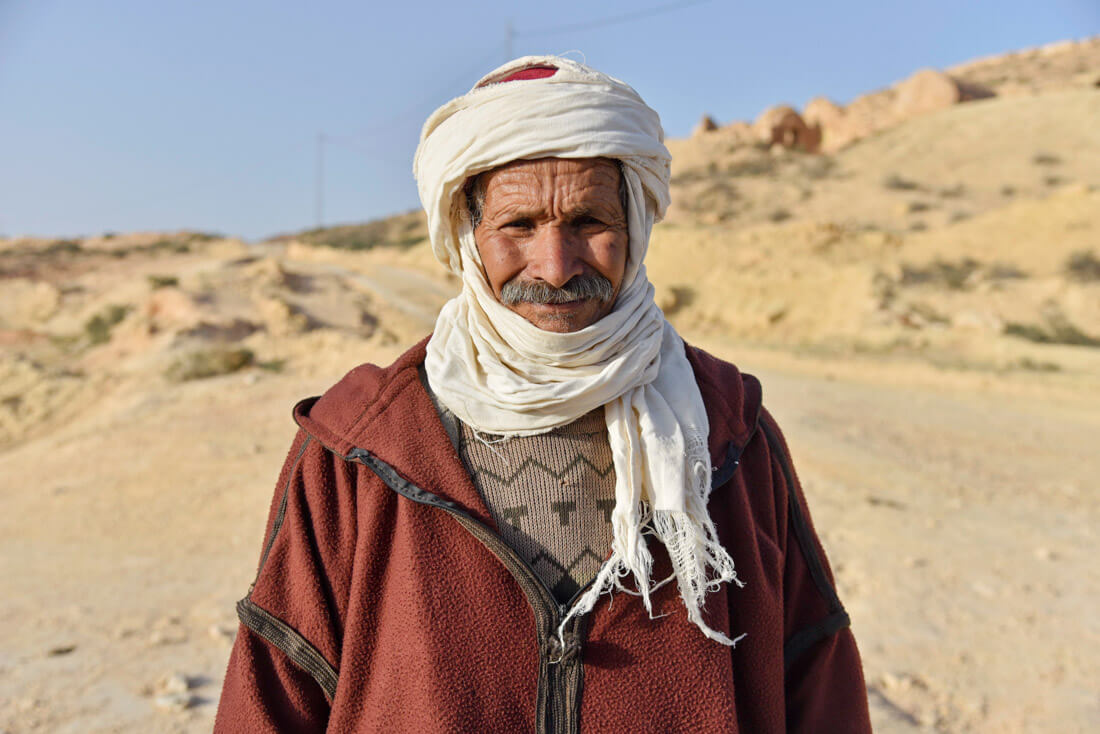 🍲 Food: What can you eat when you visit Tunisia?
Just before my trip to Tunisia, I had spent around 5 weeks in Morocco, so I wasn't really expecting to taste many different flavors, but I was very wrong.
First of all, Tunisian food is extremely spicy. Like a lot spicy, sometimes Indian-level spicy.
I don't know why, but Tunisia must be the only Mediterranean country that uses chilis in their cuisine. They love it and also a chilli sauce named harissa, which they put everywhere.
One Tunisian lady told me that every time she travels to Europe, even if it is just for a few days, she always brings some harissa.
Moreover, due to its proximity to Italy, Italian food is a thing here, and the truth is that spaghetti with tomato sauce is a staple, something you can order in any local eatery for less than $1 sometimes, but it isn't very good pasta to be honest.
Overall, Tunisian food is good, however, whereas in the city of Tunis (and Sousse as well) I had quite a few feasts, in the rest of the country most places would only serve very basic stuff, especially in the south, Tozeur and El Kef.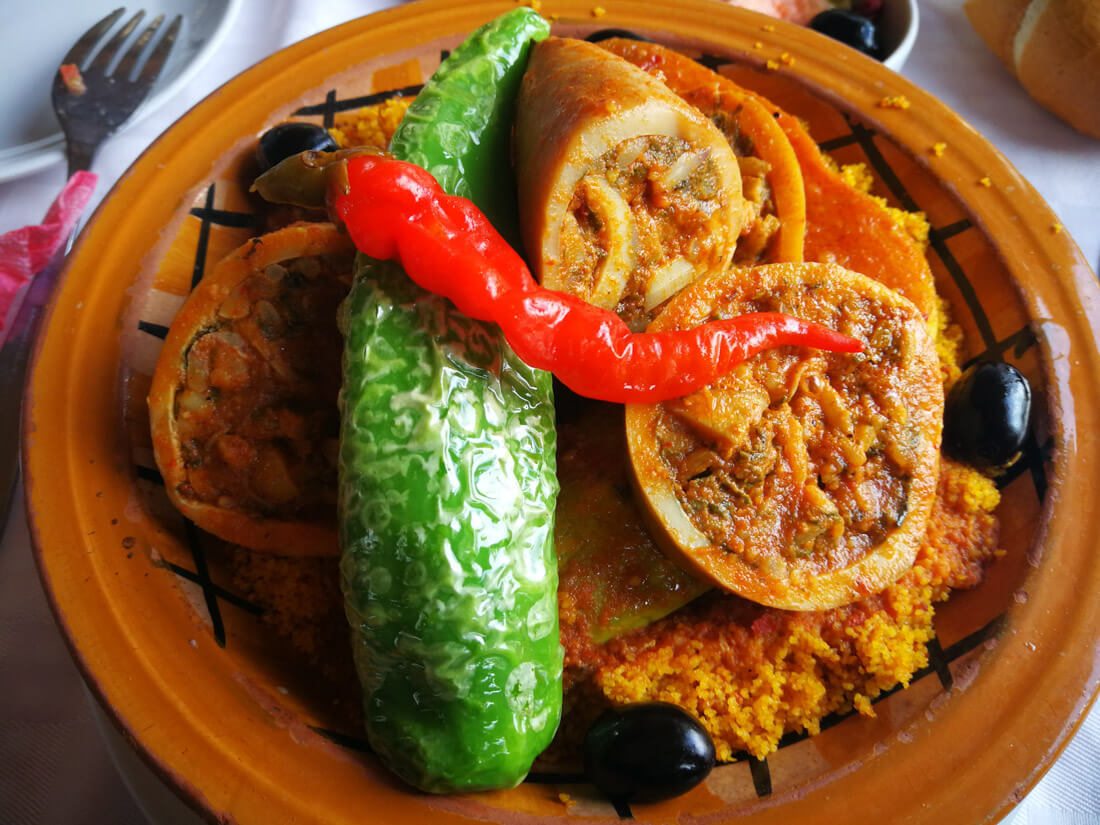 Must-try dishes in during your trip in Tunisia
Brik – The most popular snack in Tunisia consists of a filled fried pastry, usually with egg or tuna. By the way, Tunisians love tuna.
Ojja – Sort of a tomato stew that comes in different versions, from local sausage (mergez) to seafood. Ojja is available in pretty much any local eatery.
Cous-cous – Maghrebi star-dish, and the Tunisian version is very spicy.
Seafood – In the coastal towns of Tunisia you can find some really great seafood, the most remarkable I ate being some stewed octopus in a tomato gravy, absolutely tender and delicious. I ate it in Sousse, in a restaurant called Cafe Bellar.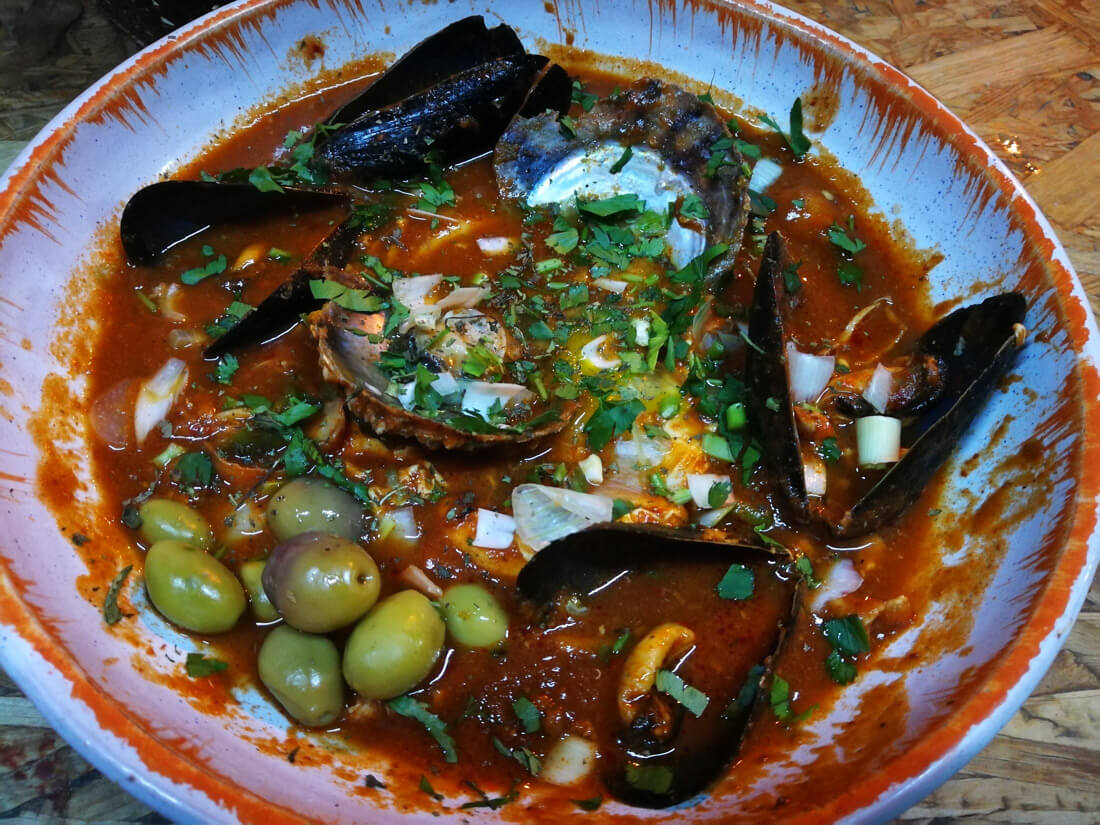 🛺 How to move around: transportation
Remember to get travel insurance for Tunisia
I strongly recommend IATI Insurance as it has COVID-19 coverage + 5% discount
5% discount if purchasing via this link
Typically, there are 2 ways to travel around Tunisia:
Traveling around Tunisia by train
The Tunisian train is great. It is reliable, relatively fast and just soooo good. There is a train line that goes along the coast all the way to Gabés and, as far as I am concerned, the whole line is fully operational.
During my visit, however, the line that connects Tunis with Gabés through Tozeur, in the west of the country, had been closed for several years, but it seems they have already resumed all trains. In any case, you can check timings on the official railway website.
Traveling around Tunisia by louage
Louages are the local mini-vans which basically, you will ride for traveling to places you can't reach by train. I used them to travel to Kairouan, El Kef and Tozeur and some places in the south. They are very cheap.
💰 Money, budget and costs
In Tunisia, they use the Tunisian Dinar (TND) and approximately:
1 USD = 3.15 TND
Most cities will have ATMs and changing either € or USD should be very easy.
How much does it cost to travel to Tunisia?
Tunisia is cheap, much more than Morocco, mainly because of the currency's devaluation after the massive drop in tourism. Cost of the most typical things:
Street sandwich (falafel) – 1-2 dinar
Local meal (1 ojja) – 5 dinars
Meal in a good restaurant – 20 dinars
Entrance fees to places like Dougga ruins, ribats, fortresses, museums – 8 to 12 dinars
Budget hotel – 20-30 dinars
Mid-range hotel – From 40-50 dinars
Transportation – I paid around 4-7 dinars for most train journeys, same for louage.
On a tight budget, I seriously think you can go backpacking in Tunisia for $ a day 20.
Please note that the below table is just an approximation.

⚠️ Is it safe to travel to Tunisia?
Tunisia has had some safety concerns in the past, especially throughout 2015, and that was the main reason why tourism dropped dramatically.
However, the situation has improved drastically and for a better understanding, I recommend you read my analysis:
Is Tunisia a safe country to visit?
Tunisia Itinerary – Places to visit in 2 weeks
How long should you go backpacking in Tunisia for?
I personally spent almost 3 weeks, went a bit slower than the suggested itinerary and visited one or two additional places not included here such as Djerba Island.
Tunisia 2-week travel itinerary map
Day 1, 2 – Visit the capital of Tunis
A third Mediterranean, a third European and a third North African, Tunis is a city with many cultural contrasts and most likely, the starting point of your Tunisia travel itinerary.
On the one hand, the old city is composed of an African, Maghrebi medina, not very different from the ones you would find in Morocco, but without the feeling of being in a tourist trap.
And, on the other hand, you also have the European part of town, which is filled with French-style facades, boulangeries and a relatively Westernized atmosphere.
In addition, think about all the nightlife, nice restaurants, the Roman ruins of Carthage and the Mediterranean-like district of Sidi Bou Said, and I seriously believe that traveling to Tunisia just for visiting Tunis is truly worthwhile.
Things to do in Tunis
I spent whole 5 days in Tunis, and managed to squeeze the things I visited in a 3-day travel guide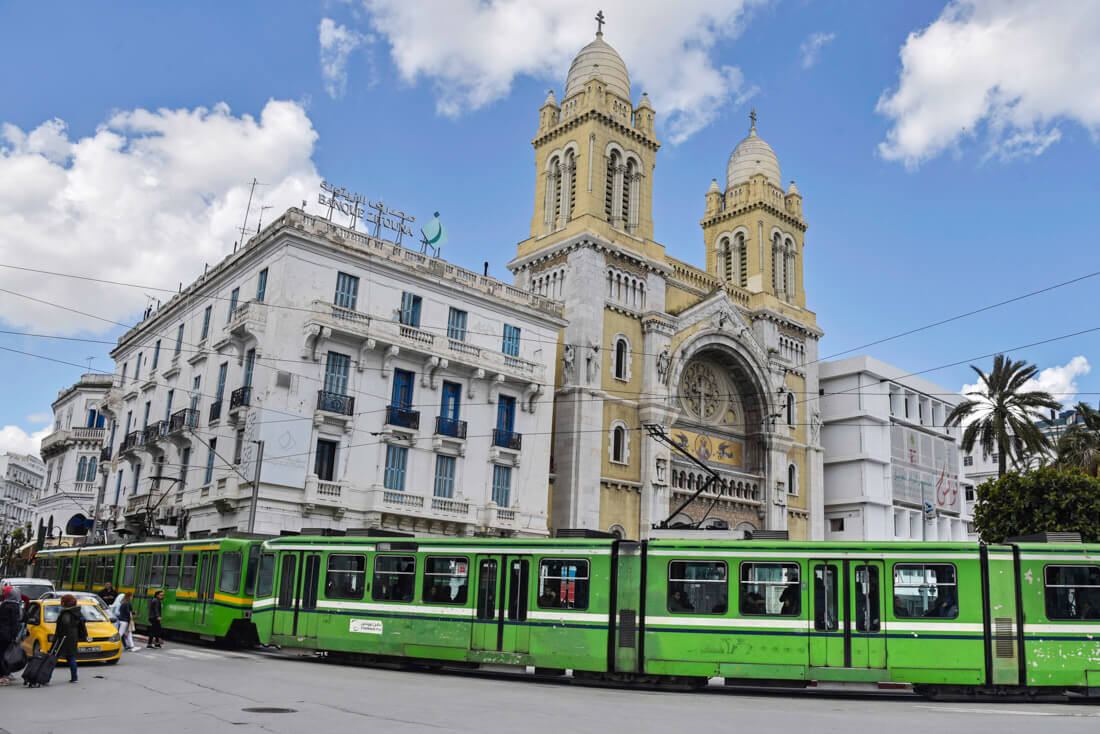 Where to stay in Tunis
Backpacker Hostel – Medina Youth Hostel – Located in the heart of the medina, this is the most backpacking-friendly hostel in Tunis.
Mid-range hotel – Dar La Leila – Super nice, traditionally decorated lovely hotel, the top-rated hotel in Tunis, and super charming staff.
Top-end hotel – Dar El Jeld Hotel and Spa – A 5-star but traditional hotel that offers all the luxuries.
Best tours in Tunis
I recommend you look for tours via GetYourGuide.
Carthage and Sidi Bou Said – Roman ruins of Carthage and the Santorini-like city of Sidi Bou Said.
Bardo Museum & Medina – The classic medina + the museum containing one of the largest collections in the world of Roman mosaics.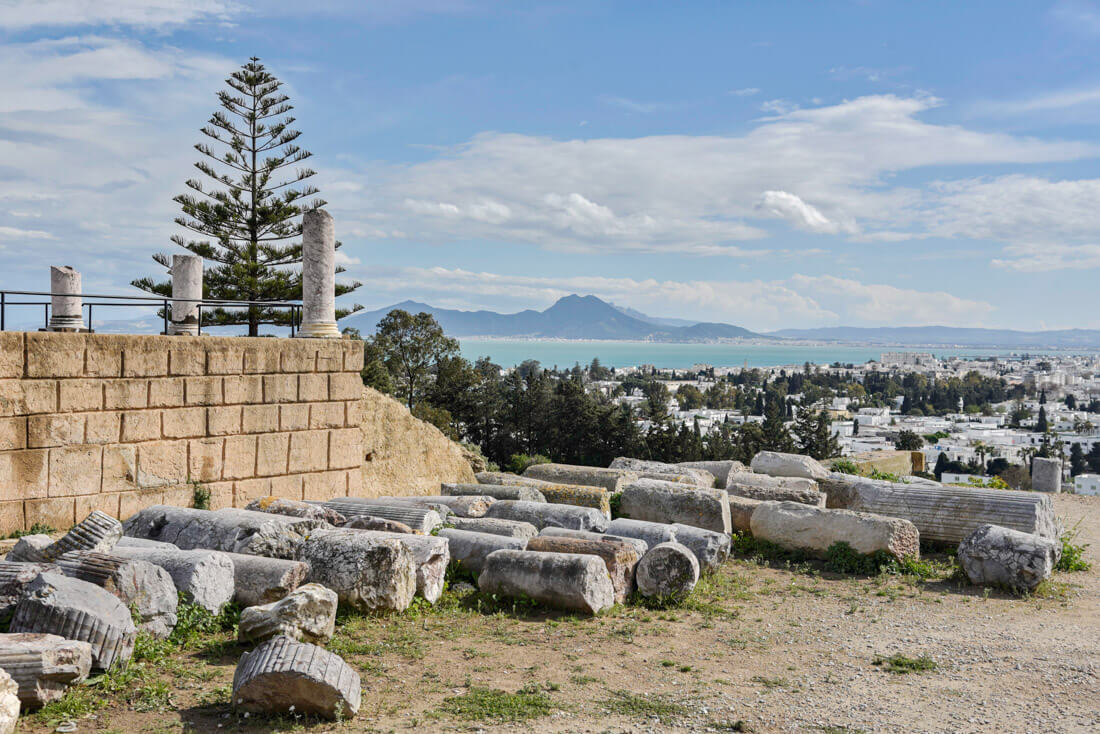 Day 3 – The resort-like town of Sousse
This is the prime tourist destination in the country, for foreigneirs and Tunisians alike, but for independent travelers, it feels a bit odd.
It feels weird because the coastal front line of the new part of town is composed of ugly, mass tourism-like buildings, restaurants with over-priced menus and just the kind of trashy tourism I would try to run away from.
However, Sousse is the city that witnessed all those unfortunate terrorist events from 2015, so during my visit in the month of May, it felt like a real ghost town and, in any case, the old part of Sousse is a great place to get lost in, among its narrow alleys.
Moreover, Sousse is a good base to explore a few places around such as Kairouan, Monastir or El Jem. I mean, you can find accommodation in those cities but Sousse has the largest offer of hotels, restaurants, and cafés so, for me, it made sense to hang out there for a while.
Looking for visiting Sousse on a tour?
CLICK HERE TO CHECK ALL AVAILABLE TOURS IN SOUSSE
Things to do in Sousse
Medina – Like all medinas in Africa, the medina of Sousse is a maze of streets where the highlight is getting lost and escaping from the main souvenir area.
Great Mosque – From the 8th century. They make you pay an entrance fee, a bit unusual for being a regular mosque, but Tunisia is mostly like that.
Ribat – Old Islamic fortress from the 8th century. It contains one of the oldest praying halls in Africa.
Sousse Archaeological Museum – I am the least museum-friendly person but I loved the museum of Sousse because it contains some of the largest collections of Roman mosaics, including a massive one of Medusa. Check the official website for timings.
Ribat – A ribat is a small Arabic fortress typically found along the northern African coast, and built during the first years of the Muslim conquest. Most coastal towns in Tunisia have their own ribat and they tend to be pretty well-preserved. The word "ribat" means "defense of Islam".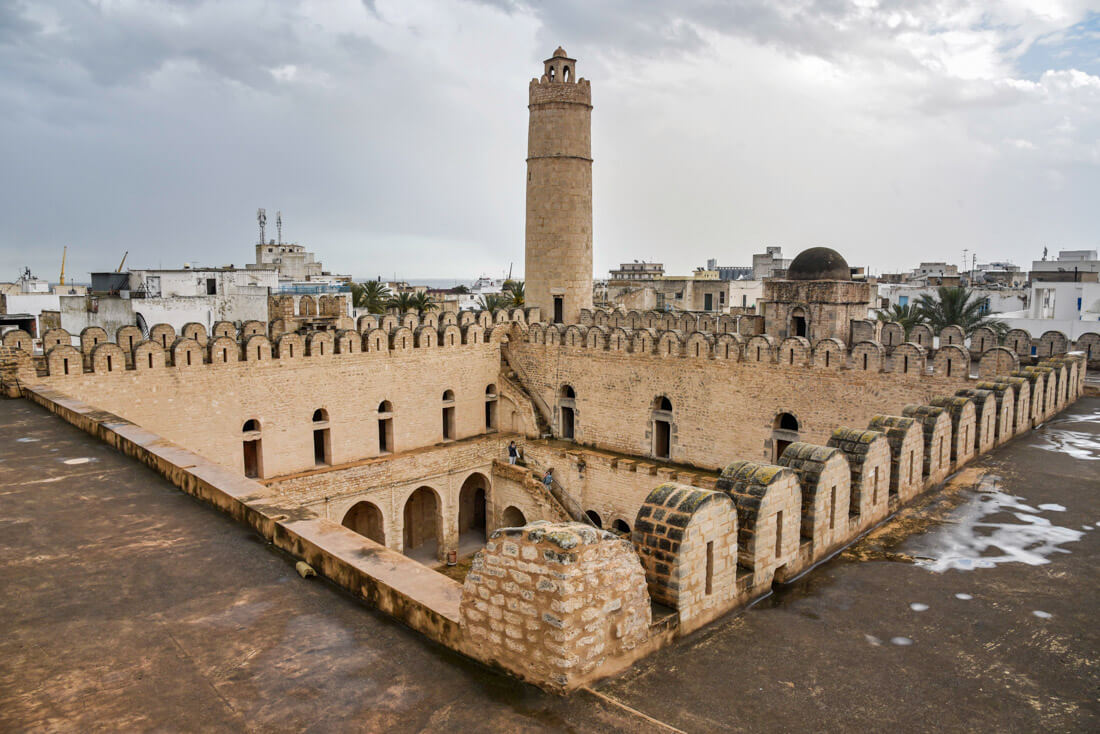 Where to stay in Sousse
Budget/backpacker – Hotel Paris – Basic hotel with relatively good Wi-Fi inside the medina. I stayed here.
Mid-range – Dar Antonia – Traditional, fancy dar in the medina.
How to get to Sousse from Tunis
There are several trains a day running to Sousse from Tunis central station.
A ticket would typically cost 10,000 dinars and it takes a bit more than 2 hours.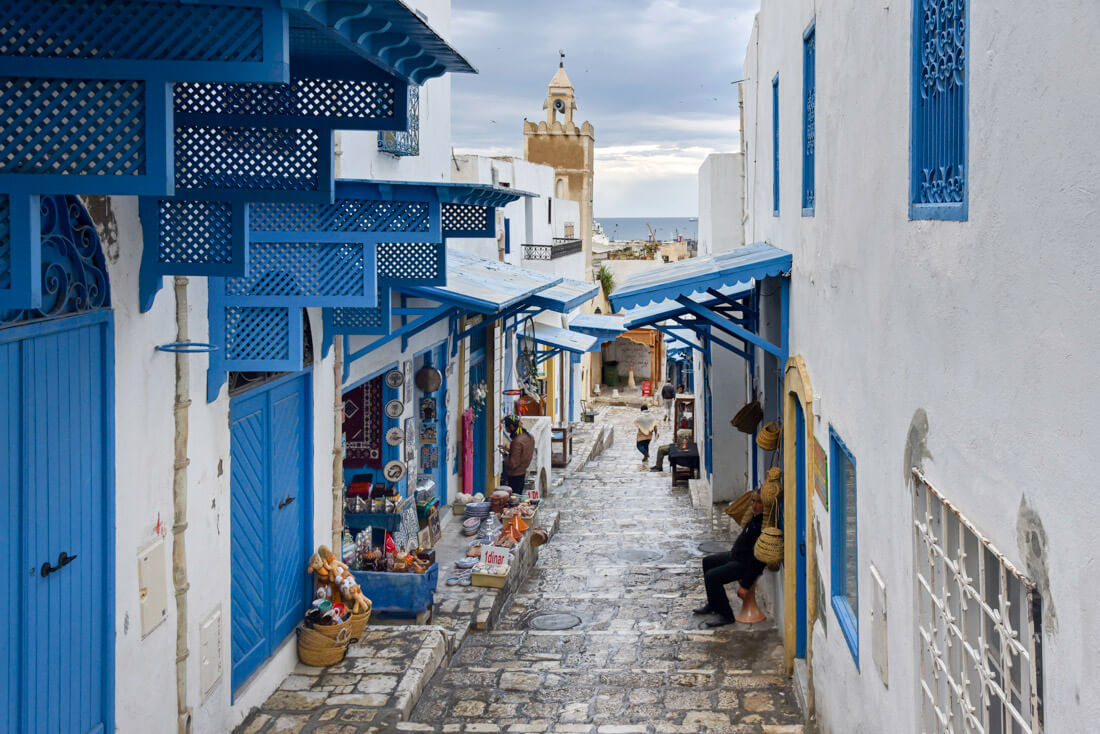 Day 4 – Day trip to Monastir
If you have the time, Monastir is a pleasant town that was founded as a Phoenician trading settlement more than 2,000 years ago.
Monastir is a peaceful, free-of-crowds town, as the touristic area is quite far away from the center, so it has managed to keep a certain charm, plus in my opinion, Monastir has the most well-preserved ribat in the country, a set of labyrinthic passages and stairways that seem taken from a movie.
Moreover, Monastir is the birthplace of Habib Bourguiba, the man who lead the country to independence from France and ruled the country from 1956 to 1987.
Other than that, Monastir is an all-right place to hang around for a while.
My visit here was a peculiar one. After visiting the ribat, I met with one local lady who had contacted me through Instagram and she took me to the local radio station's offices – she was working there – and I kind of kept staring at what they were doing for a while.
Then, we went to Habib Bourguiba's mausoleum.
You can also visit Monastir on an organized tour (along with Sousse) from Tunis.
CLICK HERE TO LEARN MORE
How to get Monastir from Sousse
Monastir is a 20km train ride from Sousse and trains run continuously throughout the day for $1 or less.
The Great Roman Civil War
Do you know about the famous Roman Civil War between Julius Caesar and Pompey? It was the war that led Rome from a Republic to an Empire, and the last stage that guided Julius Caesar to victory occurred on the battlefield between Sousse and Monastir. The coolest thing about it is that today's Monastir was Caesar's base, and Sousse was Pompey's. They even made a TV series on Netflix.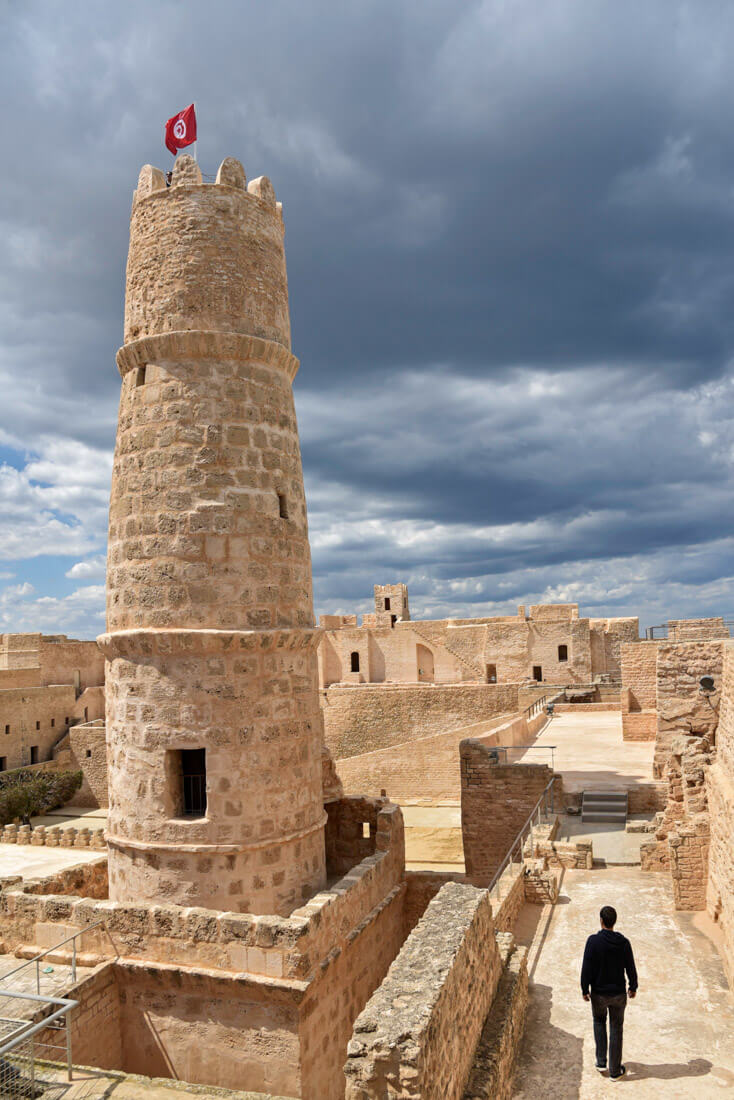 Day 5 – Day trip to Kairouan, the holiest city in Tunisia
Some sources claim Kairouan is the holiest Islamic city in Africa, and the fourth in the world after Mecca, Medina and the Dome of the Rock in Jerusalem.
I am not sure about that, however, because I have been to other places in the Middle East and Africa with the same claim but it is a fact that this is the holiest place to visit in Tunisia and the atmosphere is so different from anywhere along the coast, so low-key, so traditional and overwhelmingly welcoming.
Interested in visiting Kairouan on a guided tour?
CLICK HERE TO SEE ALL AVAILABLE TOURS IN KAIROUAN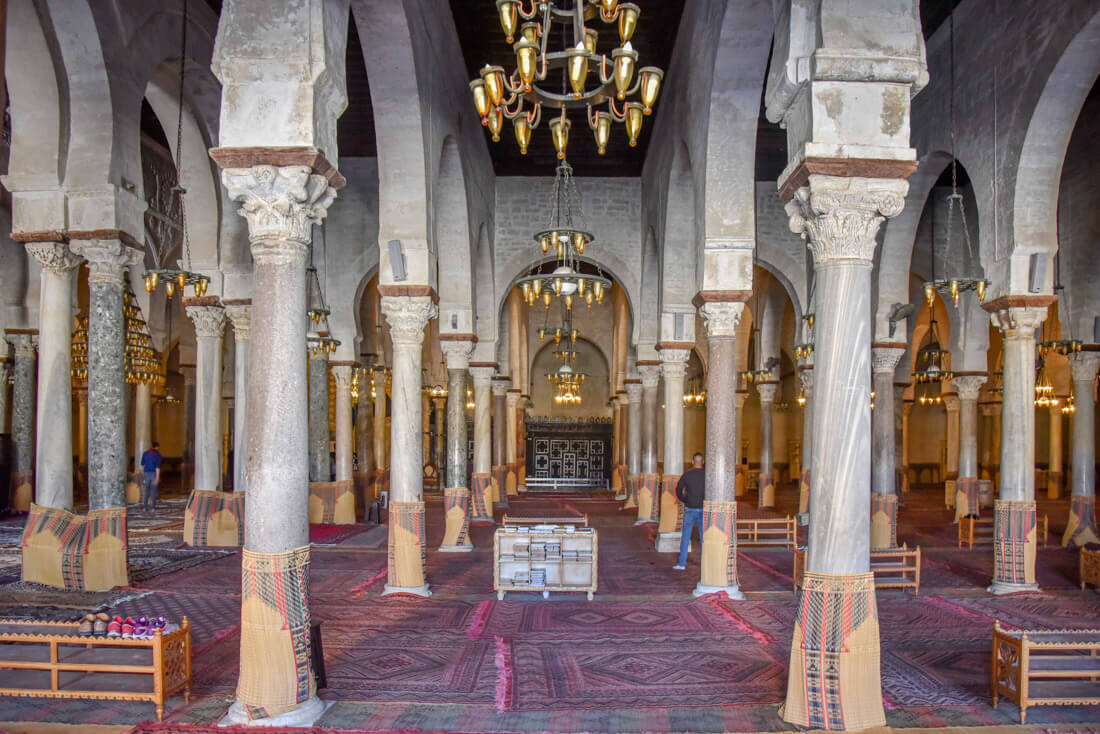 Things to do in Kairouan
At the Great Mosque, you can purchase one ticket that allows you to visit several sites and these are the ones I visited:
Great Mosque – From the 7th century, one of the holiest Islamic places in Africa.
Bir Barouta – An Ottoman-era building that was built around a well which apparently, connects to another well in Mecca. Sadly, they enslaved a poor camel that spends his day turning the well's wheel.
Zaouia of Sidi Sahab – Very beautiful Muslim complex with Andalusian-style tiles.
How to get to Kairouan from Sousse
There isn't a train line passing through Kairouan, so you need to take a louage, which takes a bit more than 1 hour.
Sousse bus station is outside of town, here: 35.809717, 10.636374.
Mullah stories
In Kairouan (in Zaouia of Sidi Sahab) I was approached by a kind Tunisian who gave me a 30-minute Islamic lesson in an attempt to persuade me to consider converting to Islam, and it was only 30 minutes because very kindly, I told him I had to leave. A very intense man, but I have bumped into many of those in my travels, and they always tell you the story of a British or an American who found God, hence inner-peace and happiness, after listening to his words.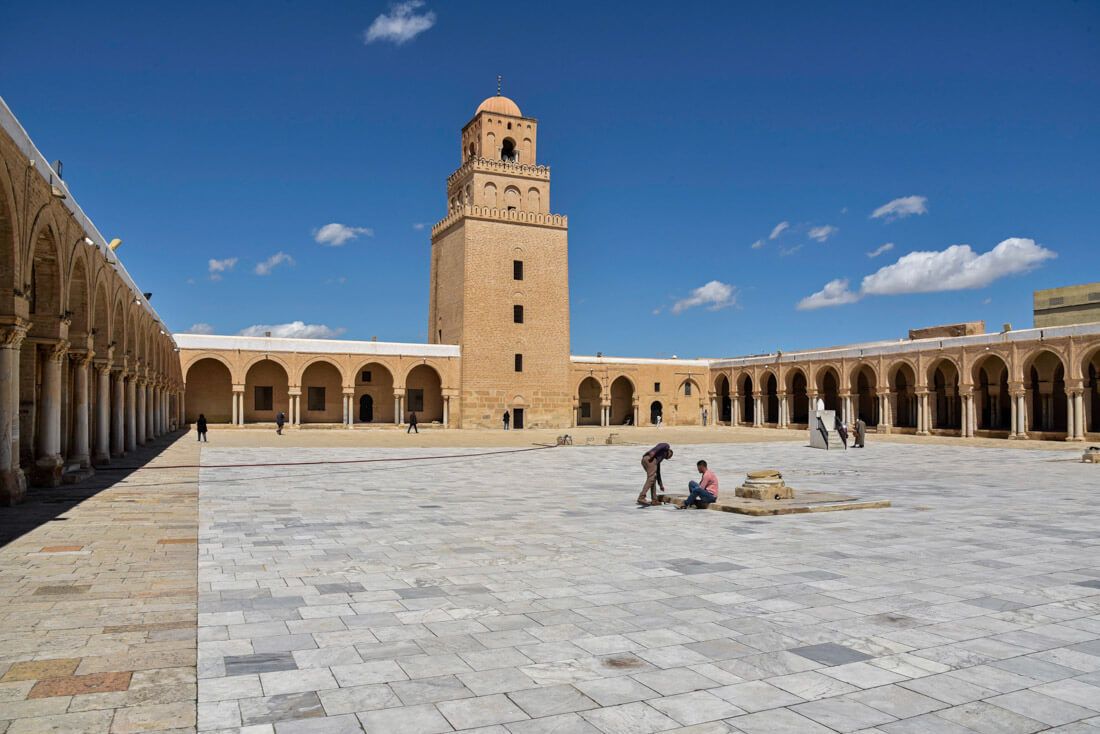 Day 6 – Day trip to El Jem, an impressive Roman amphitheater
El Jem was one of my favorite places in my Tunisia itinerary.
This is home to one of the most epic Roman amphitheaters in the world, in fact, the 3rd largest one, built in the 2nd century, but for obvious reasons, it is much less crowded than the one in Rome.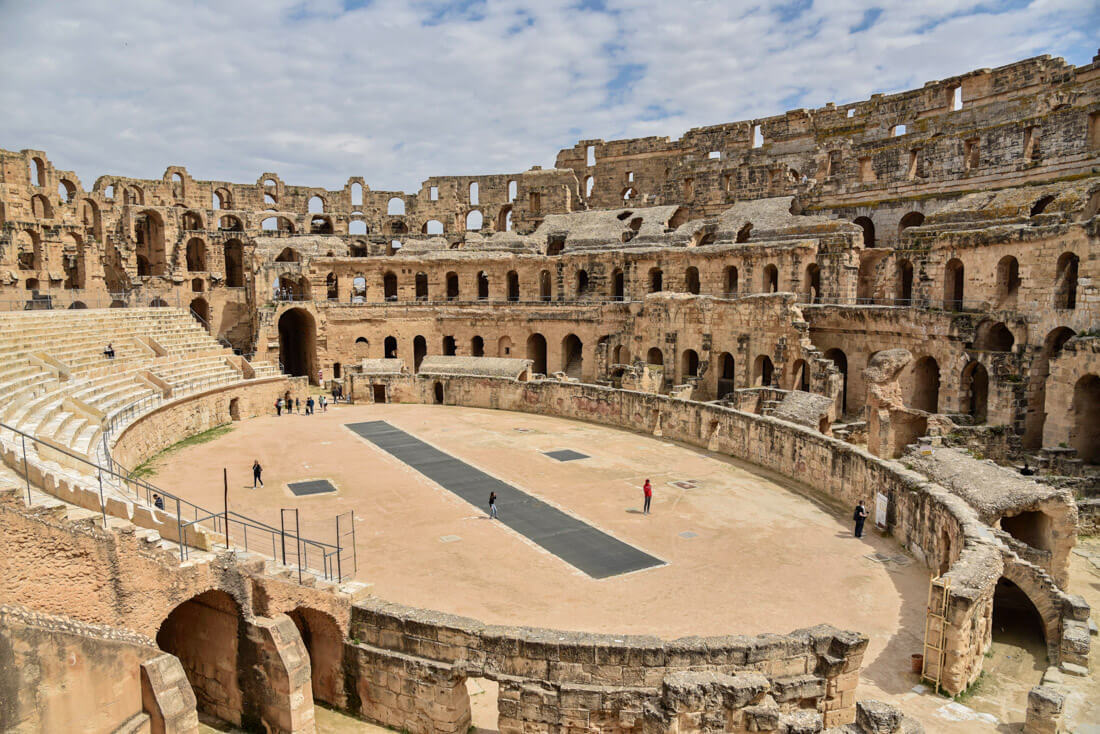 Around 1km from the amphitheater, there is an archaeological museum also containing plenty of Roman mosaics, many of whom feature the scene when wild animals were released into the arena to eat convicts.
You must get the ticket at the amphitheater's office, and it also includes the museum entrance.
Since it is on the way to Sfax, I took a train from Sousse early in the morning, visited El Jem for a few hours, and then I could easily get a train to Sfax.
Next to El Jem's train station, there is a fancy hotel whose staff were kind enough to keep my backpack while I visited the city.
How to get to El Jem from Sousse
It's a 1-hour train journey from Sousse central train station
Looking for guided visits to El Jem?
CLICK HERE TO SEE ALL AVAILABLE TOURS TO EL JEM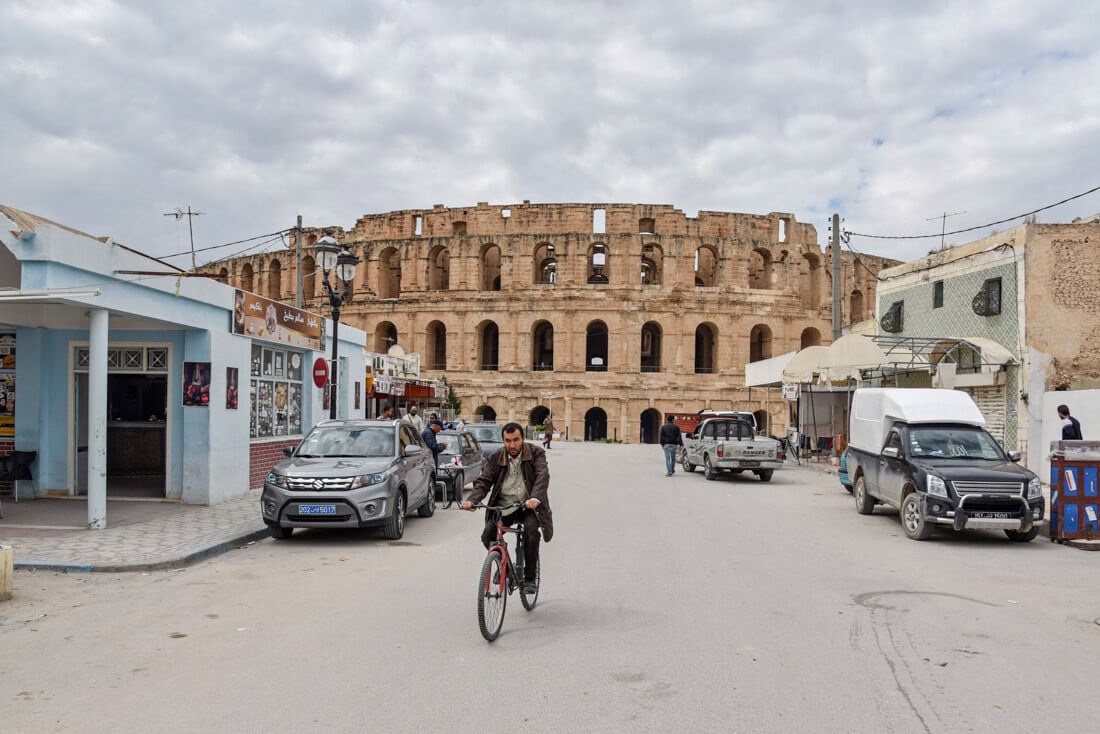 Day 7 – Sfax, the coolest medina in Tunisia
Before traveling to Tunisia, I had read in a guidebook that the locals of Sfax were believed to be very thrifty hard-workers.
In my experience, most guidebooks are always filled with unlikely quotes but upon my arrival in Tunis, I spent some time discussing my Tunisian itinerary with a local guy who told me the exact same thing.
And, perhaps, this is the reason why, despite being untouched by tourism, Sfax has some sort of cosmopolitan feel by African standards, and many people there seem to be very open-minded.
Additionally, Sfax is also home to the best medina in the whole Tunisia, very big and authentic which hasn't been spoiled yet by the arrival of tourists.
Things to do in Sfax
Getting lost in the medina – As I said, this purely African medina is very traditional and authentic.
Abandoned Synagogue – Tunisia used to be home to a large Jewish community and, in Sfax, there is an abandoned synagogue.
Place de la Republique – French-style buildings at the entrance to the medina.
Where to stay in Sfax
There are 2 budget auberges (one next to other) 2km north west outside of the Medina.
For more hotel options in Sfax,
Jews in Tunisia
Tunisia today has one of the largest Jewish communities in the Arab world, mainly living in Tunis city and Djerba Island. Of course, most of them migrated to Israel after the Israel-Palestinian war but many of them remain and a few synagogues are still functional, another fact that proves overall the tolerance in Tunisia.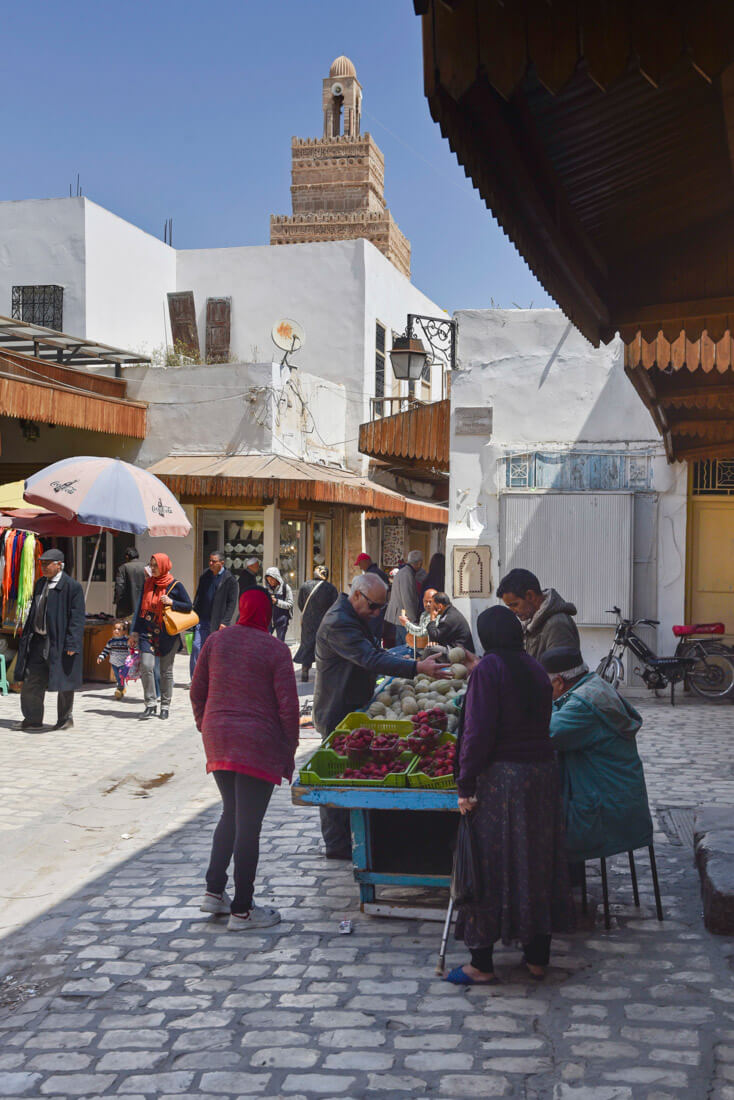 Day 8, 9 – Tataouine & around: southern Berber lands
The lesser-visited southern part of Tunisia is an arid territory that extends all the way to the Libyan border.
Berber villages, camels, ancient ksars (fortified Berber villages), and just remoteness and inhospitality, no wonder why George Lucas decided to shoot Star Wars in these lands.
This is just so different from any place you visited in Tunisia, way more conservative and home to the Berbers, the indigenous people of North Africa before the Arabs came.
How to visit Tataouine
The area is vast, touristic sites are scattered, and there is no public transportation. I mean, there are a few buses but it is not a convenient way to move around, not even for backpackers. The best way to explore this area is by either renting a car or going on a tour. I rented a car for a day in a rental car office in Medenine and paid less than $25.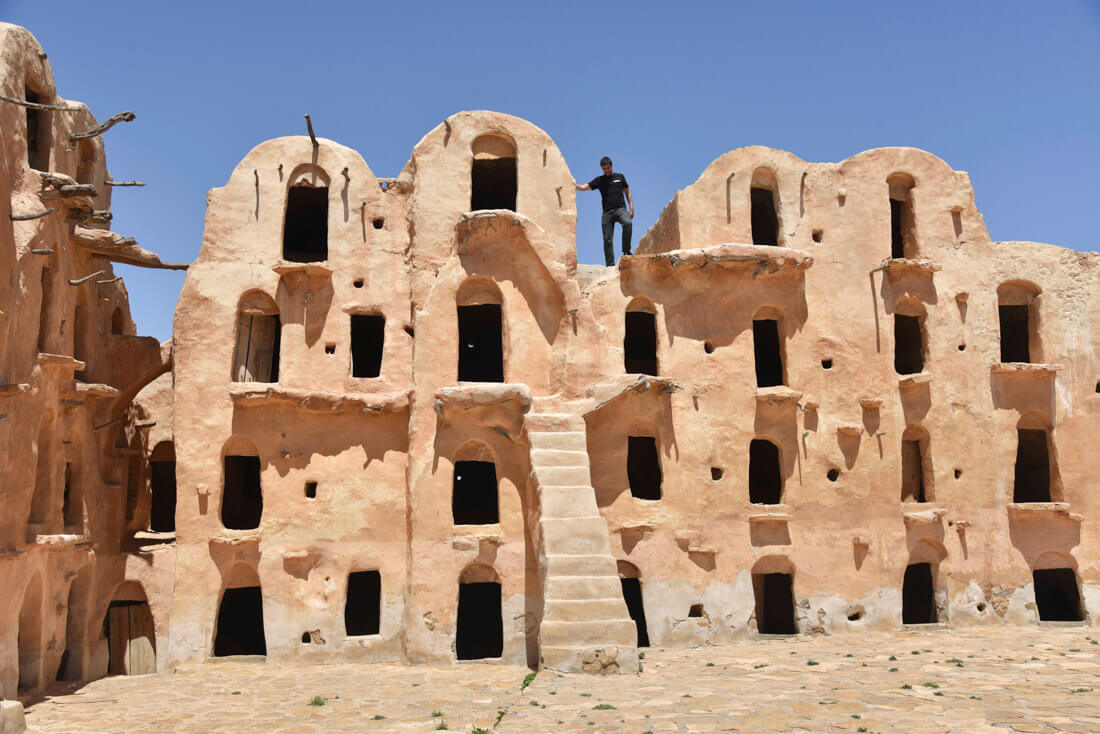 Things to do in Tataouine & around
On a normal path, you will need an entire day to visit these places, and still, you may have to rush a bit. If you want to leave early in the morning, I suggest you rent the car on the day before, as rental car shops didn't open until 9-10am.
The "green pins" from the previous interactive map mark the following places:
Ksar Ouled Soltane – The most well-preserved ghorfas in the area. Ghorfas are ancient 4-story buildings that Berbers used to store the grain.
Chenini – For me, this was the best place to visit in Tataouine. A massive ancient ksar from the 12th century sitting on a hilltop. Gorgeous.
Guermassa – Another great ksar, not as epic as Chenini's but still great. I only saw it from the bottom because it takes almost 1 hour to go up and I didn't have time. The top, however, can be reached by 4WD.
Ghomrassen – Off the beaten track modern town with pretty cool local architecture, and the ideal place to stop for lunch.
Ksar Hadada – This ksar used to be a movie set for Star Wars. I am not a big Star Wars fan, so for me, it was not that interesting, as it was nothing more than some commercial, over-restored ghorfas.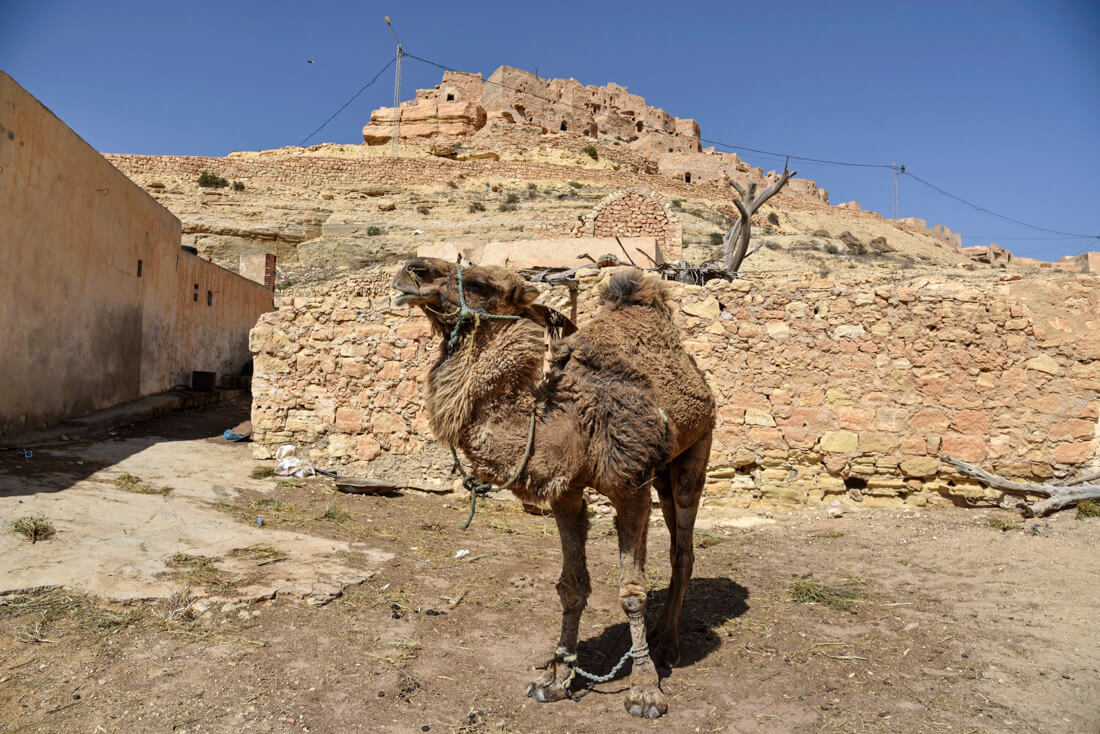 Where to stay in the area
I recommend you stay in Tataouine.
Budget – Auberge Alferdaus – An all right auberge/pension for budget travelers and backpackers.
Apartment – Dar Essadeg – Full traditional apartment.
Mid-range – Sangho Privilege Tataouine – For a comfortable stay, this oasis hotel has great facilities, including a pool, and it is not expensive at all for what you get.
Day 10, 11 – The oasis-town of Tozeur & around
Tozeur is a pleasant oasis town with a very unique old quarter whose buildings are made of bricks (hand-made apparently) and a base from which to explore other mountain oases and check out potential camel caravans.
They claim that those oases have been inhabited for 10,000 years.
If you have been reading my blog for a while, you will know that I like to be honest, and the truth is that this was my least favorite part of my trip to Tunisia.
First of all, because all those landscapes are in my opinion, a small version of the ones you find in north Oman, a country I visited multiple times. And second of all, because this was the only place where the main sites were just packed with tourists, many of them being the irresponsible type. But to be fair, it also didn't help that the weather was awful (loads of wind and sand).
But anyways, traveling is extremely subjective and you might have a different experience.
Like Tataouine, the area around Tozeur is best explored by car or on an organized excursion. Most hotels can arrange it for you. I personally explored all places with a local friend I had met on Instagram.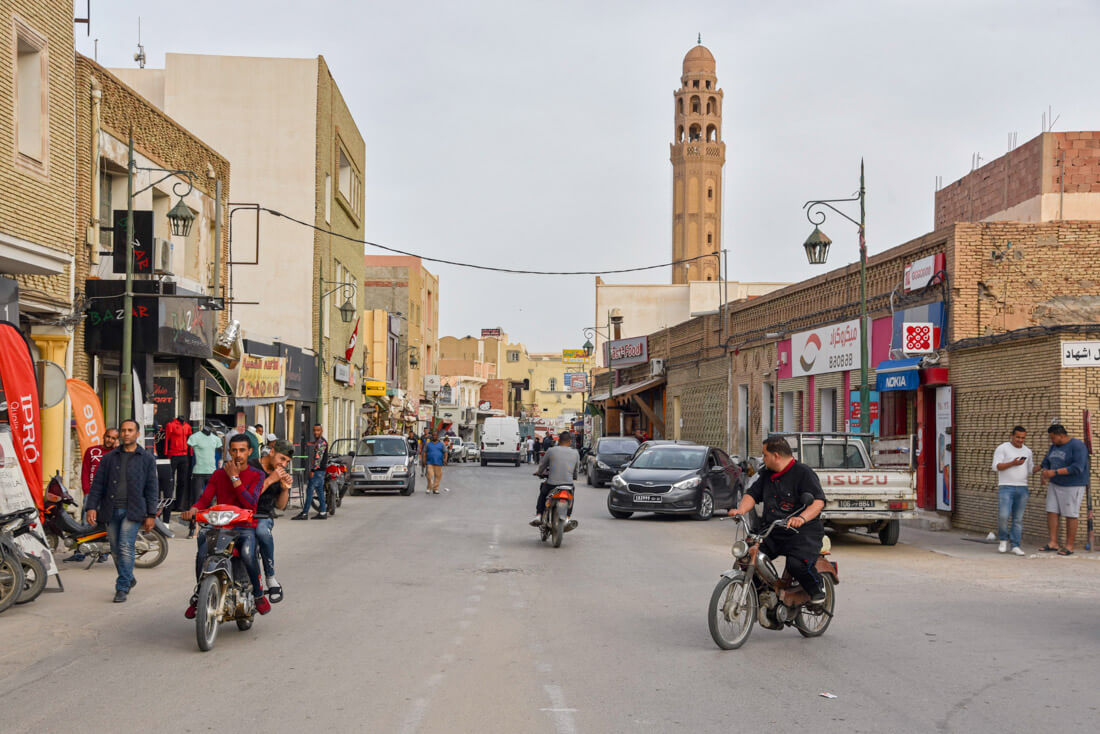 Things to do in Tozeur
Please see the "orange pins" from the previous interactive map.
Chebika – A small village home to a massive palmeraie.
Tamerza – Another small village with a palmeraie, a small canyon, and a waterfall.
Midès – And another small oasis village but the highlight is the stunning views you get to see from the road that leads to it.
Ong Jemal – A desert famous for its sunsets and the location of a Star Wars movie set, where the original decoration still remains. Tour agencies will tell you need a 4×4 to reach the place but it is not true.
Where to stay in Tozeur
Budget – Residence Warda – A budget pension good for backpackers.
Mid-range – Residence Loued – A very pleasant traditional hotel at the heart of the Old City.
How to get to Tozeur from Tataouine
The journey is rather more than 300km.
From Tataouine, you need to take a louage to Medenine and from Medenine, another one to Gabés (not sure if you can find a direct one from Tataouine).
If you are lucky and trains are functional, you should be able to take a train from Gabés to Tozeur. Otherwise, take a louage from Gabés to Gafsa and from Gafsa to Tozeur.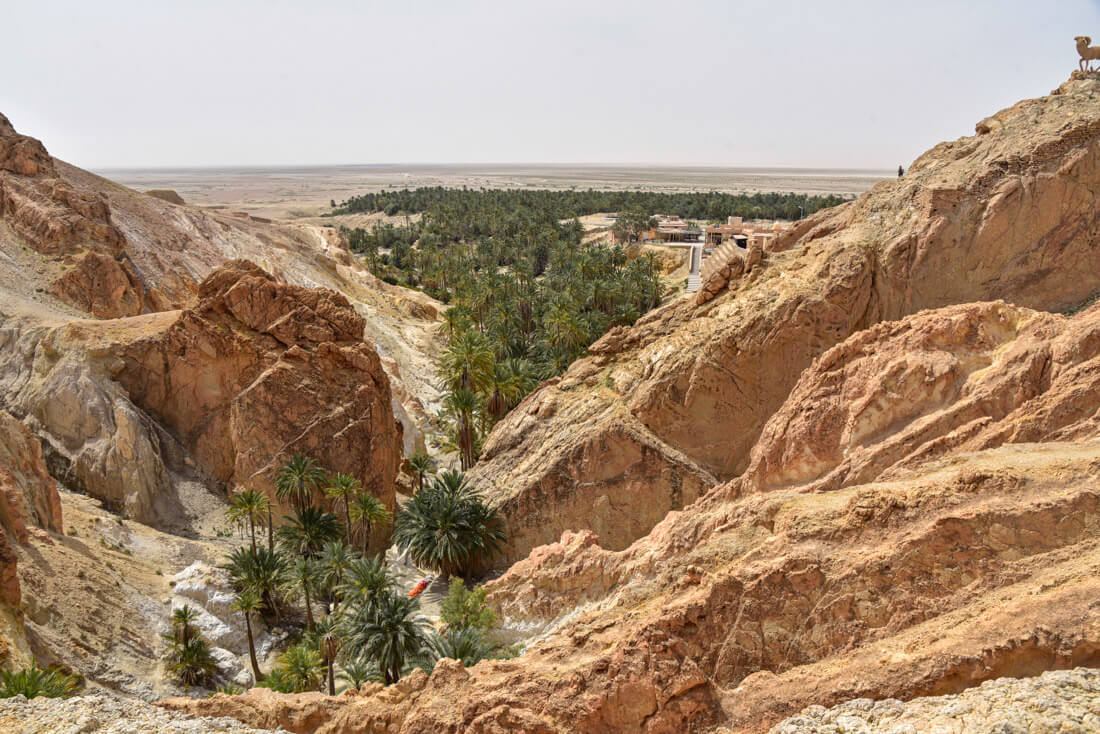 Day 12 – El Kef, traditional off the beaten track town
El Kef and the area around was my favorite part of my Tunisia itinerary.
It is a barely visited town and the top of the medina features a kasbah from where you get stunning views of the city and the green meadows surrounding it.
It has a very authentic, traditional atmosphere as well. I spent 3 nights here – as I used it as a base to explore some places around – and didn't bump into a single tourist.
Where to stay in Le Kef
There aren't many options, but I stayed in a hotel close to the Medina named Hotel Sicca Veneria, where I paid $15 a night. It was good!
How to get to Le Kef from Tozeur
It's a long way, around 330km.
From Tozeur, you need to first get a louage to Gafsa. From Gafsa, a second louage to Kasserine and from Kasserine to Le Kef. It takes the entire day.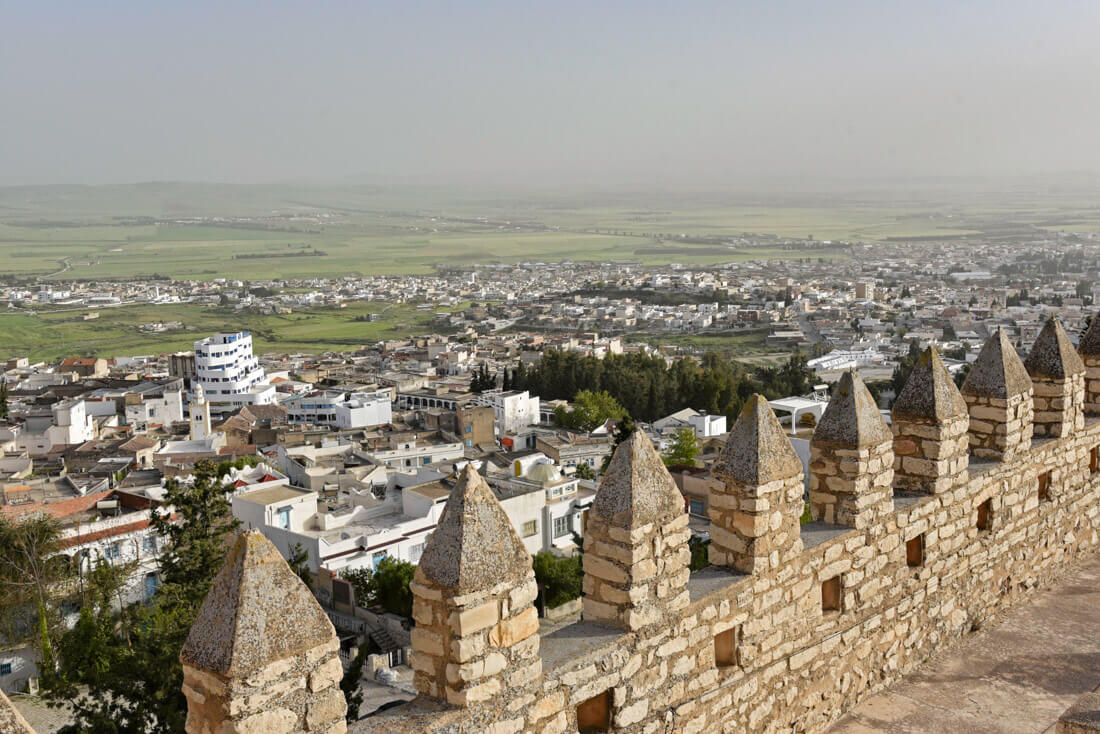 Day 13 – Day trip to Jugurtha Tableland
This off the beaten track gem was the top attraction I visited in Tunisia.
A natural military fortress, Jugurtha Tableland is a massive flat-topped mountain that rises above 1270 meters, and that has been used as a fortress for centuries, from the Romans to today's Tunisian Army.
That's why this is kind of a sensitive place, especially because this is a border area from where you see Algeria – stunning views of Algeria, by the way – so having a guard with you all the time is a must (free of charge).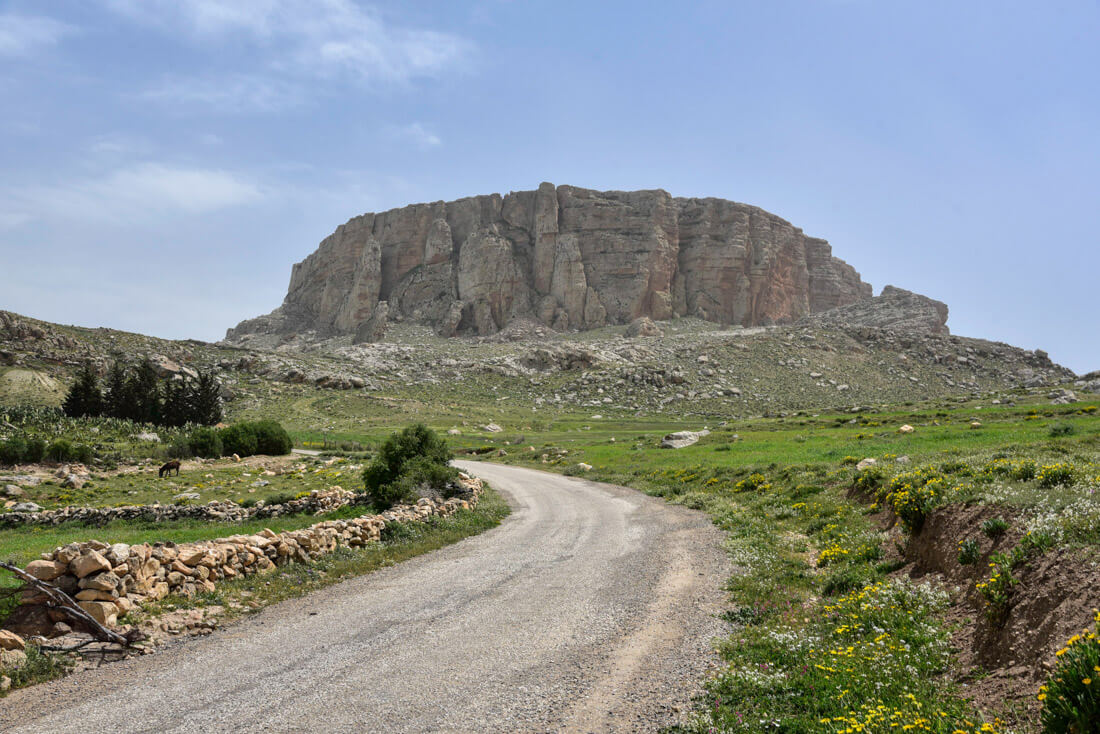 How to get to Jugurtha Tableland from El Kef
From El Kef bus station, you can take a louage to the border town with Algeria named Qalat as Sanan.
Most likely, the driver will already know about your intentions, so he will drop you at the police station, where they will make you answer a few questions and register for visiting Jugurtha.
I was extremely stupid to forget my passport in El Kef but, luckily, my Spanish ID was enough for them.
Then, the police helped me looking for a taxi to take me to the bottom of Jughurta (4km), and I paid the equivalent of around $10.
Once you arrive, an official guide will welcome you and take you to the top.
It also possible to camp at the top, but you will have to get permission at the police office, and a guard will be with you all night – I mean, they have their own huts. However, be aware that it is extremely windy.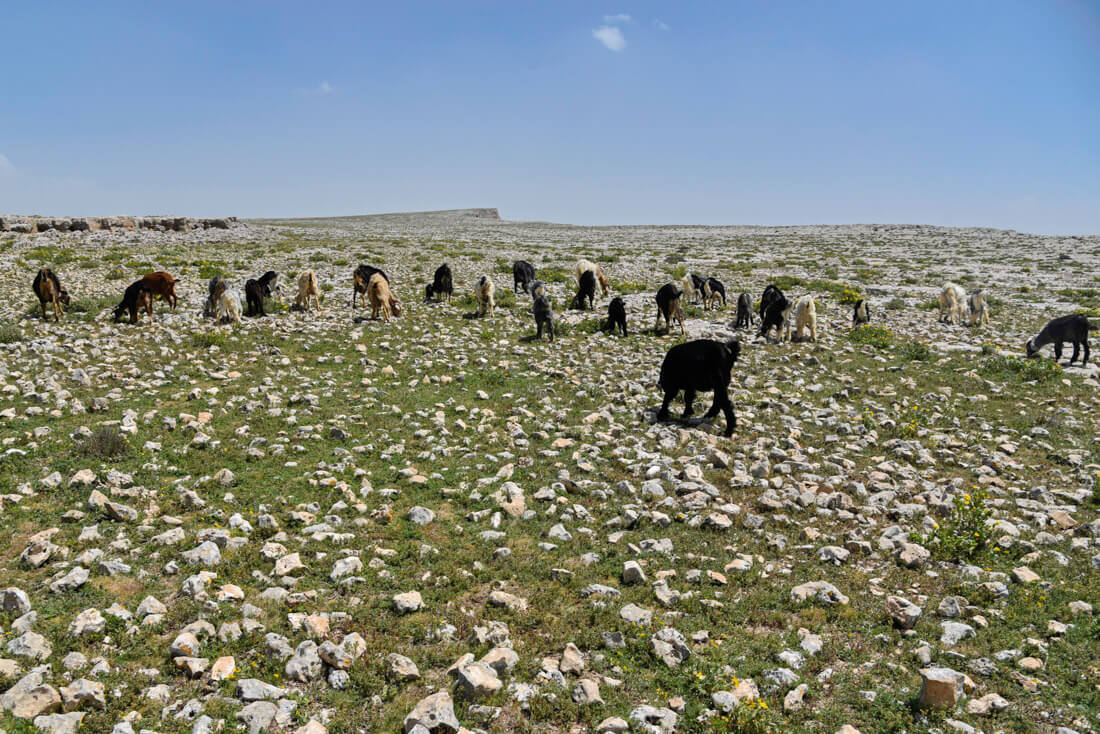 Day 14 – Day trip to Dougga Roman ruins
When I traveled to Tunisia, I also got the chance to check out this amazing place, a UNESCO World Heritage site since 1997 named Dougga,
Dougga has some of the most impressive Roman ruins I have ever seen outside of Rome, probably more stunning than the ruins of Baalbek in Lebanon, or Jerash in Jordan, not only for the ruins themselves, which are in great conditions but also because Dougga was set up in a prime, fertile location, today surrounded by beautiful olive trees and wheat plantations.
Absolutely gorgeous.
Dougga is dominated by the perfectly well-preserved Capitol, dedicated to Jupiter, but you can also find many other temples in good conditions and an amphitheater.
Allow yourself a few hours to visit the area and try to come by the end of the day, when little crowds are gone and, if possible, on a weekday.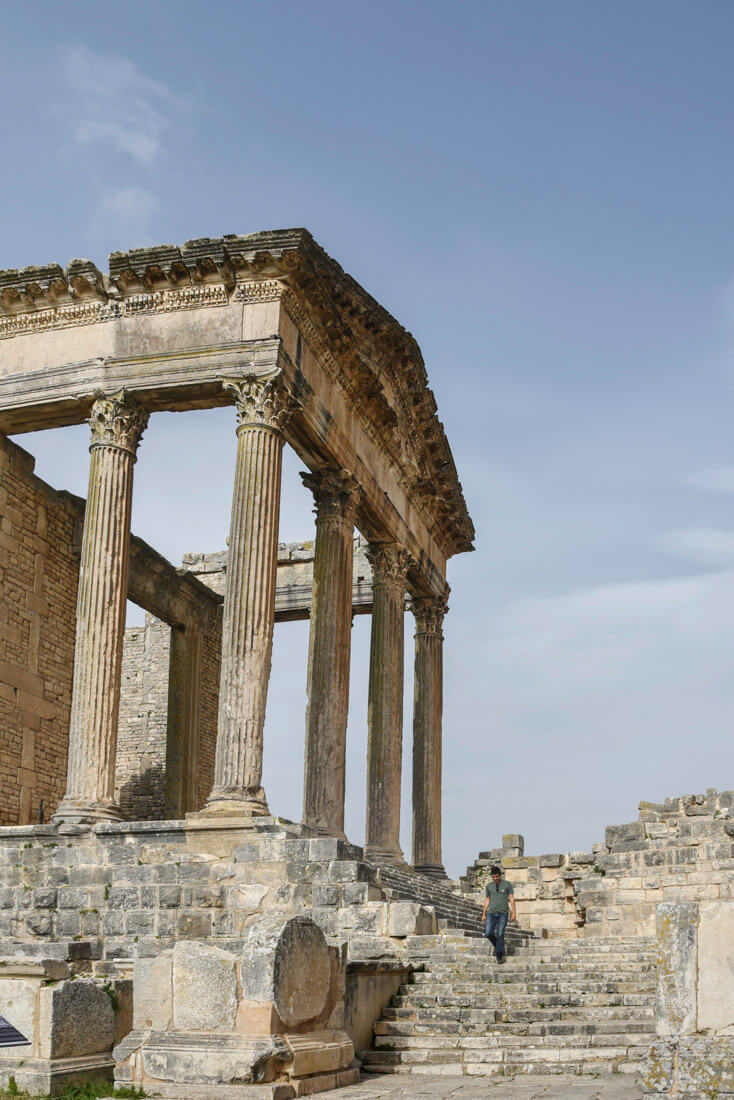 How to get to Dougga from El Keff
It was a bit complicated.
From El Kef, I took a louage to a village named Al Karib. Once in Al Karib, I asked for a louage going to Dougga town, which is 4km from the ruins, but everybody kept me saying there weren't any, so I decided to hitchhike the remaining 20km, but it was a bit hard, as nobody would stop, don't know why.
Then, on my way walking from Dougga town to the ruins, a kind man – a worker – picked me up.
Coming back to El Kef was fairly easy, as I just got in the first louage that passed by. By the way, from Dougga, you could easily go back to Tunis.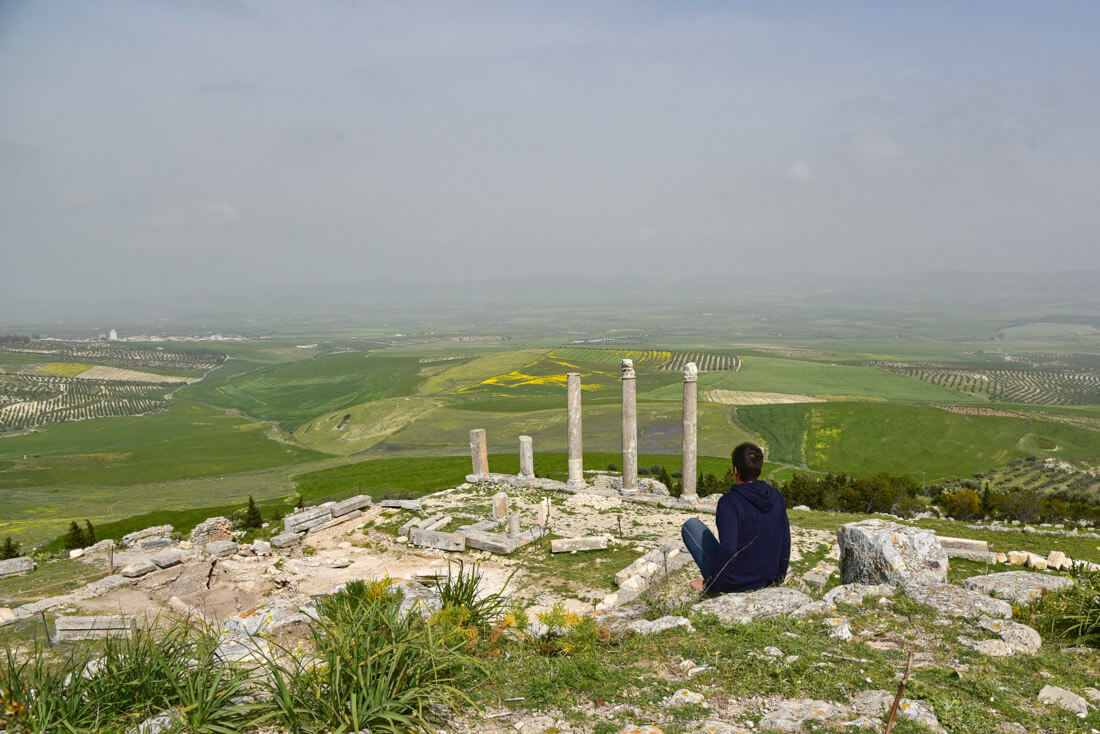 ❗ More information for backpacking in Tunisia
📢 In my Travel Resources Page you can find the list of all the sites and services I use to book hotels, tours, travel insurance and more.
Get the Tunisia Travel Guide by Lonely Planet – A bit outdated but so far, the only one available.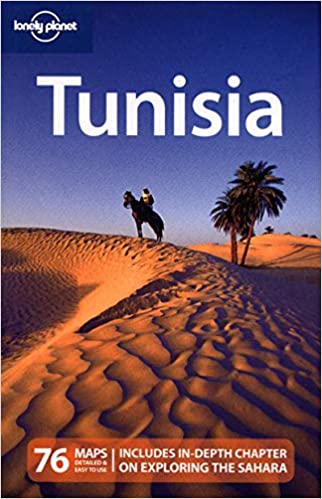 All guides and articles for traveling in Tunisia destination
Travel guides to other countries in Africa
PIN IT FOR LATER