Overlanding from Kabul to Herat via Minaret of Jam by local transportation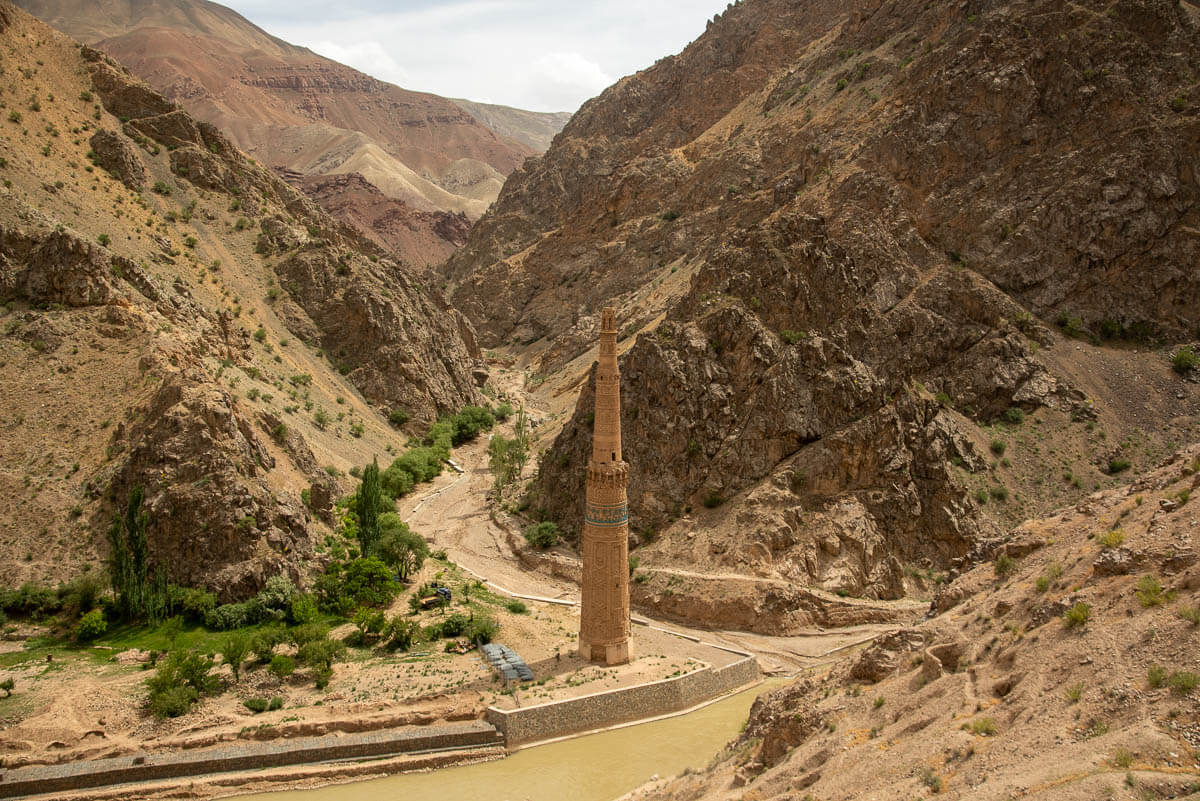 In 2023, I visited Afghanistan for the second time, traveling from the border with Pakistan at Khyber Pass to Kabul, all the way to Herat via the Minaret of Jam.
It was a 1100km journey, 700km of which were through a pretty rough Jeep track, and which I did with a combination of hitchhiking, minibuses, local shared taxis, taxi motorbikes and random taxis when needed as well.
This is one of the best trips I have ever taken.
This post contains all the practical information for you to do the same.
For practical information on the country: Afghanistan travel guide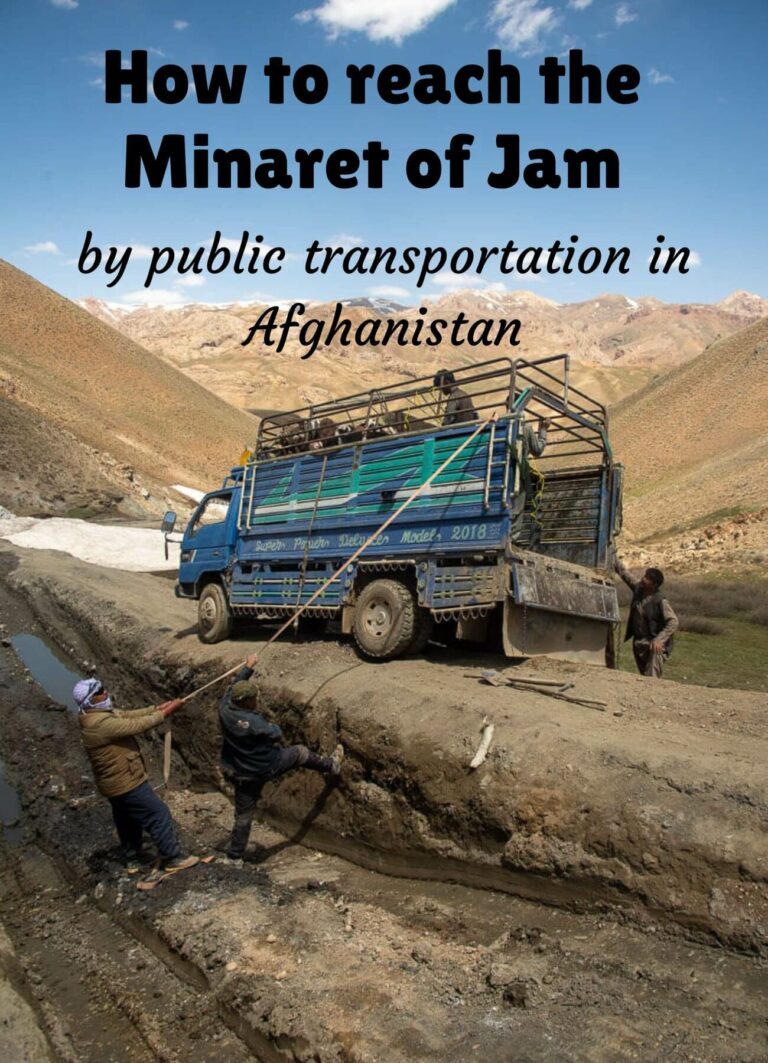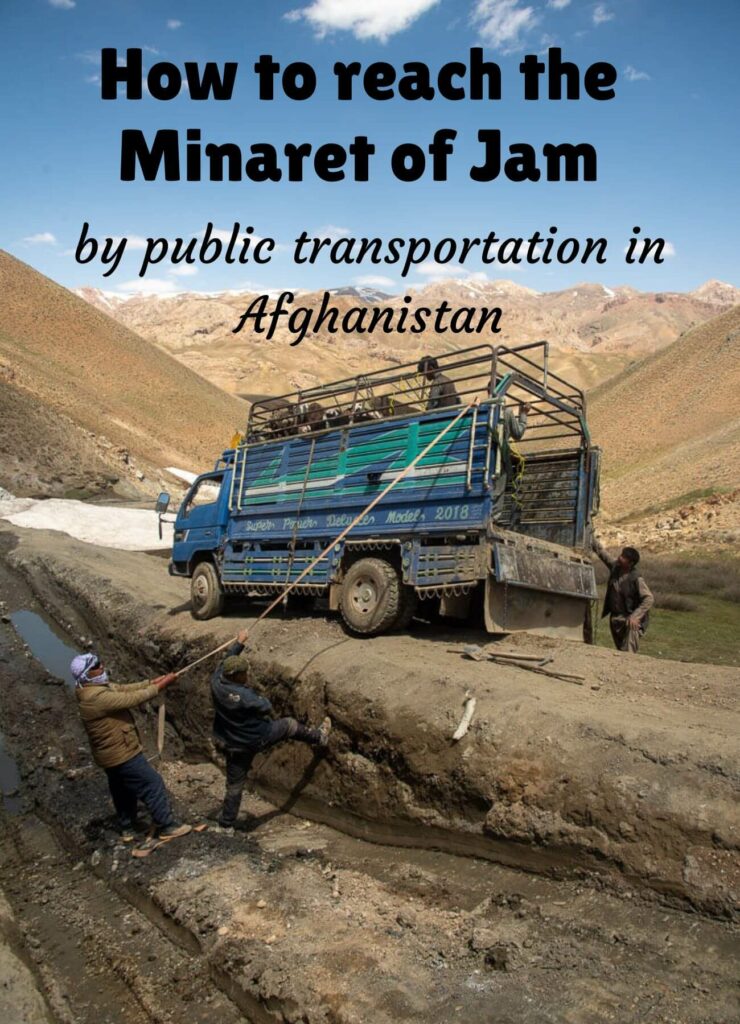 Introduction: why visit the Minaret of Jam independently
The first time I visited Afghanistan was back in 2021, shortly before the Taliban took over the country.
By that time, safety was still a major issue, and traveling by road between cities was extremely discouraged, and dangerous.
I really enjoyed it but I wasn't 100% satisfied with the trip since all those security concerns meant that I had to take 6 domestic flights, missing all the things between the major towns.
I had always wanted to visit the Minaret of Jam, a 1000-year old and imposing 62-meter minaret located in one of the remotest areas of Afghanistan, and a UNESCO World Heritage site as well.
However, by that time, it wasn't possible to visit it, since all the surrounding regions were controlled by the Taliban, so there had never been a way through.
After that trip, I promised myself that I'd never go back to Afghanistan until overlanding became possible again, and that's the reason of my second visit.
The war in Afghanistan is over and whether we like it or not, travelers must acknowledge that now that the Taliban are ruling, safety across the country has dramatically improved, making it possible to travel all around independently, including visiting the Minaret of Jam.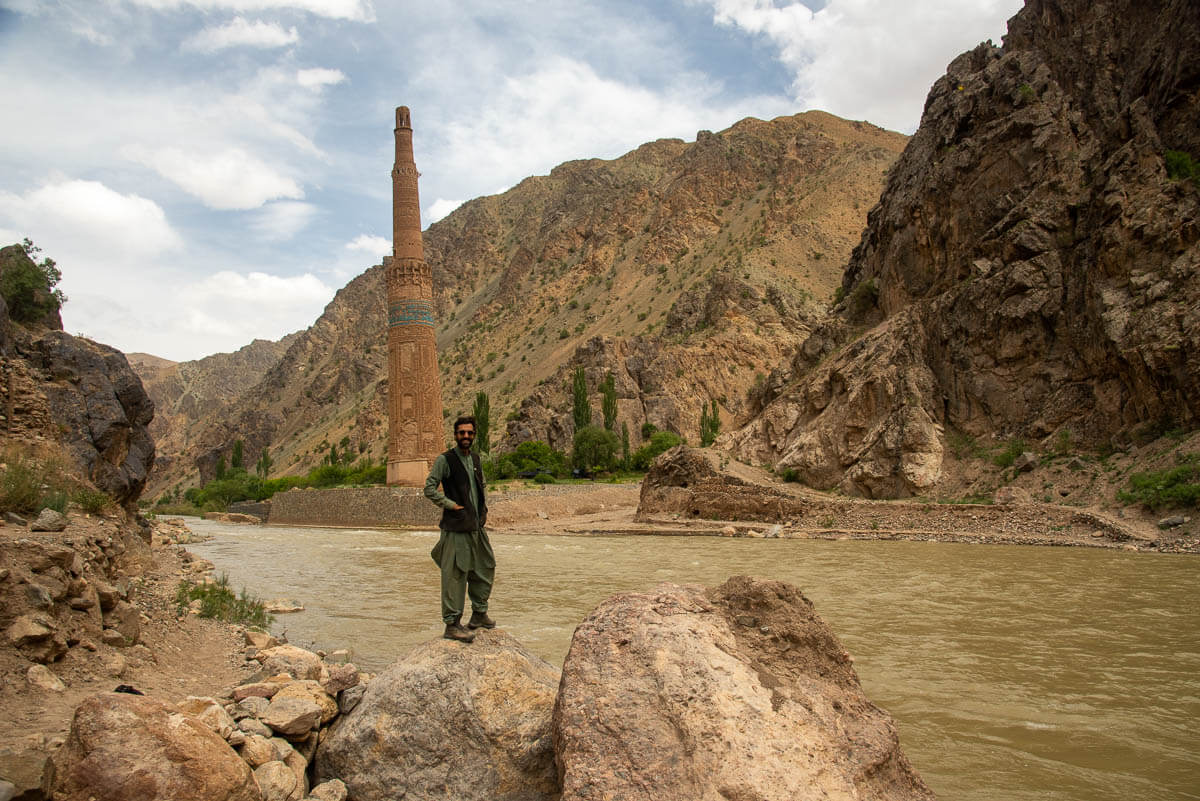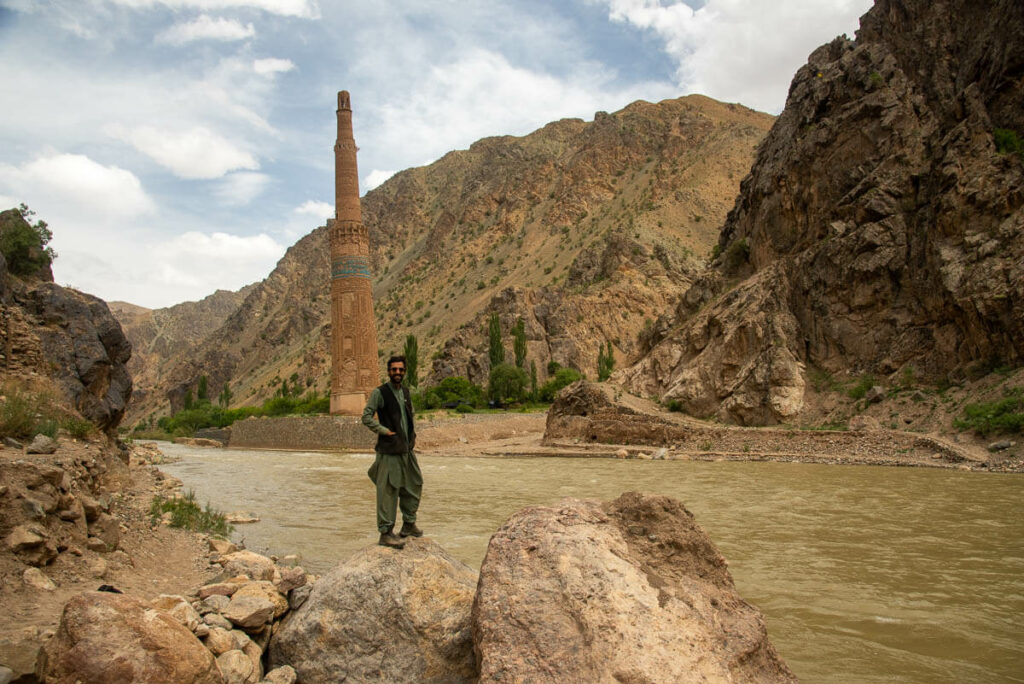 How many days you need to complete this journey?
It depends.
We completed this journey in only 7-9 days but you need to bear in mind that I had already visited Afghanistan for 3 weeks back in 2021 so, on this second trip, I didn't spend time sightseeing in Kabul, Bamyan or Herat.
If you wanted to hit the major touristic sites, you should be adding a minimum of 5 days to the below itinerary.
Note that this itinerary doesn't include Panjshir Valley, Mazar el Sharif or Kandahar, places for which you'd need several more days.
This is how we organized our trip, approximately:
Day 1 – Peshawar -Khyber Pass – Torkham border crossing – Kabul
Day 2 – Full day in Kabul sorting out permits
Day 3 – Still sorting out permits in Kabul – Bamyan
Day 4 – Bamyan – Jakawlang – Lal
Day 5 – Lal – Chagcharan
Day 6 – Chagcharan – Minaret of Jam – Keminj – Derreh-Ye Takht
Day 7 – Derreh-Ye Takht – Herat
Day 8 – Herat – Kabul (by flight)
Day 9 – Departure
Permits needed for visiting the Minaret of Jam
Getting a valid permit for traveling around Afghanistan is a must, something Taliban will ask for at some checkpoints.
For traveling around Afghanistan, a permit must be pre-arranged in Kabul, and you need to get permission for each province you plan to visit.
For that, you just need to state the provinces you want to spend time in, and then pay the respective fee, which is 1000 AFN per province, around 12 USD.
Usually, permits are only required for those provinces where you are planning to stay, but not for those you are just going through.
For example, for going from Kabul to Herat, you'll pass by Wardak, Bamyan, Ghor and Herat provinces.
Wardak is a province squeezed between Kabul and Bamyan so, as per the previously shared itinerary, you'll be going through only, so a permit isn't necessarily needed.
Similarly, permits are only issued in Kabul so, if you are entering Afghanistan at Khyber Pass, a permit won't be be needed for visiting all the provinces between Torkham and Kabul, assuming you are just driving through.
How to get a permit for Afghanistan?
Please check the permit section of my Afghanistan travel guide.
Torkham to Herat via Minaret of Jam: day by day
Overlanding itinerary: map
Day 1 – Peshawar to Kabul
This day splits into different sections.
Peshawar to Khyber Pass (1 hour and 30 minutes)
In Peshawar, you must take a taxi to Karkhano terminal, the station for vehicles going to Torkham, located 10km from the city center.
A taxi should cost no more than 200 PKR, and you may wave at any random taxi in the street.
This is the location of the terminal.
In Karkhano, local shared taxis depart to the border with Afghanistan, and they cost around 1000 PKR per passenger.
Border crossing at Torkham.
Why is it so hard?
Well, with over 6 million of Afghan refugees, this is busiest and most chaotic border I have ever crossed.
I have crossed other borders in Africa which could possibly be as chaotic – Egypt-Sudan – but in Torkham, there was a lot of violence as well, Pakistani authorities treating Afghans like shit, whipping them with leather belts and stuff like that.
We even saw a poor Afghan getting slapped in his face, and another one whose ears were pulled off by the Afghan authorities.
One piece of advice: Do use your passport privilege and try to speak to the Pakistani authorities to see if you can skip the line, otherwise, expect to be there for the whole day. We pretended to be lost and sort of afraid so eventually, we were allowed to jump over the fence after the third try. Later we also learned that Afghans who can afford it also bribe their way in by paying the equivalent of $4 to the Pakistani authorities.
Torkham to Kabul (4 hours)
Once you cross the border, you won't have issues finding a local shared taxi to Kabul, for which you'll pay around 1000 AFN per passenger.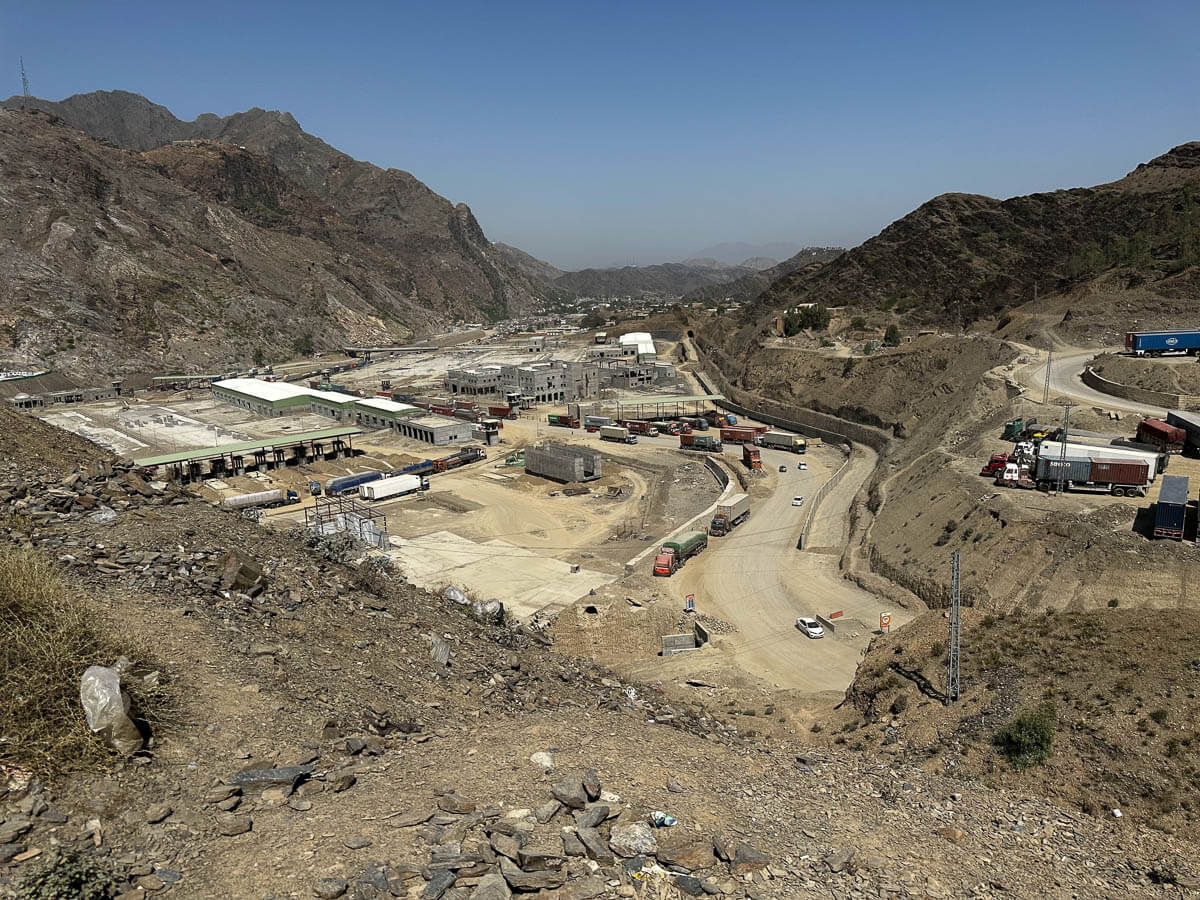 Day 2 – Kabul (sorting out permits)
We spent the entire day – no time for sightseeing – going from office to office trying to get our permits.
As mentioned, check the permit section of my Afghanistan travel guide to know more about how to get the permit.
Where to stayed? Cedar House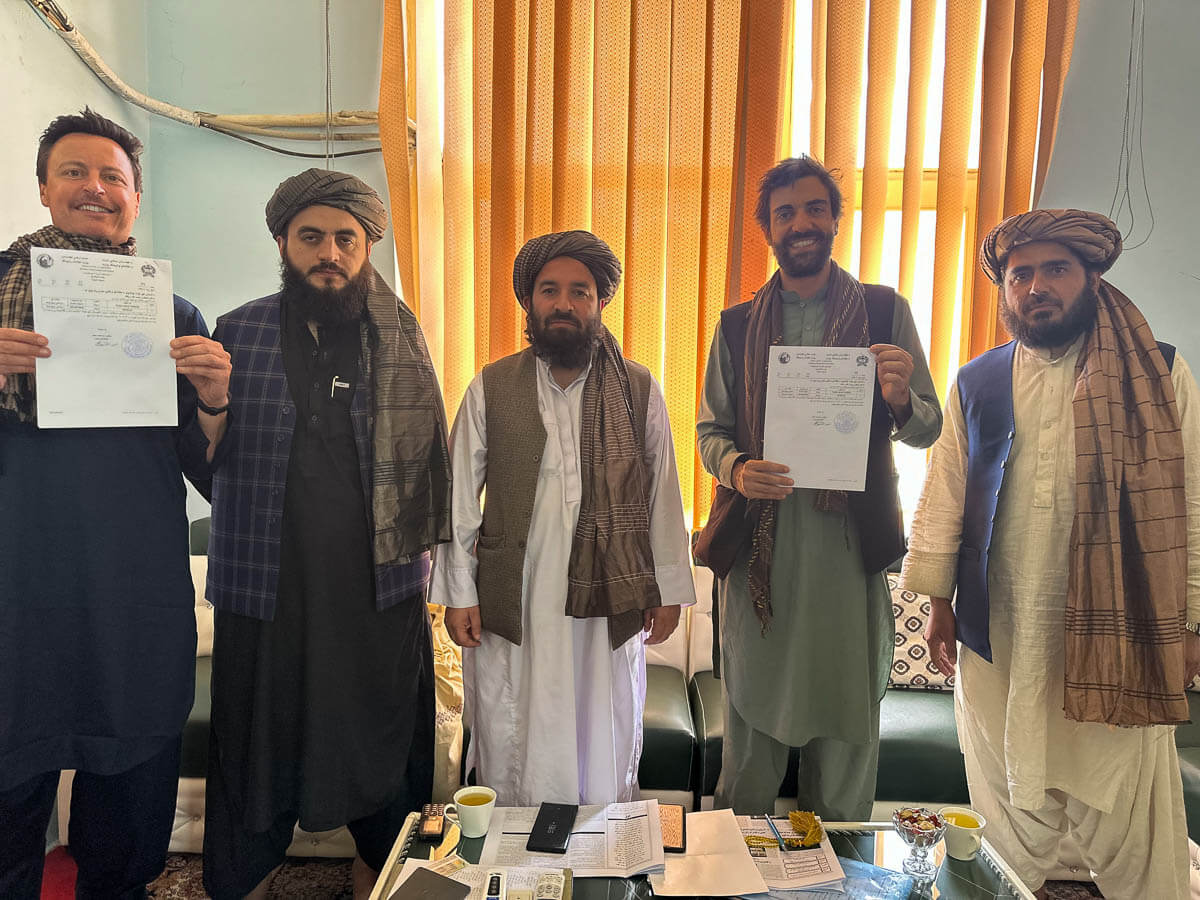 Day 3 – Kabul to Bamyan (3 hours)
We got our permits around 11am, and then we were ready for going to Bamyan.
The station for local shared taxis going to Bamyan is located 10km outside of Kabul, somewhere here. You should first take a random taxi to take you here.
Once there, we didn't have to wait for more than 10 minutes for the car to be full. Interesting to mention is that before the Taliban took over, for going to Bamyan you had to take the longer road through Parwan but now, you can finally go through Wardak, which is much more scenic.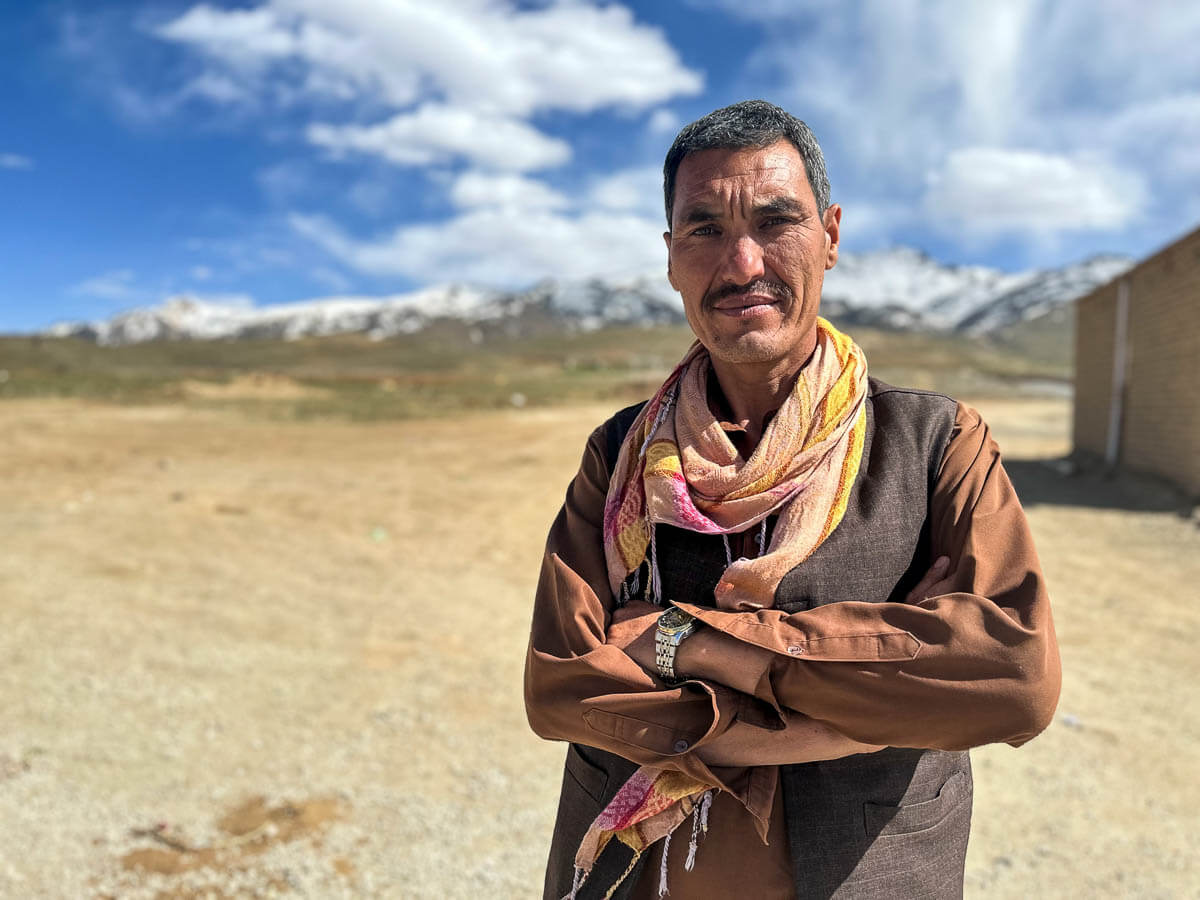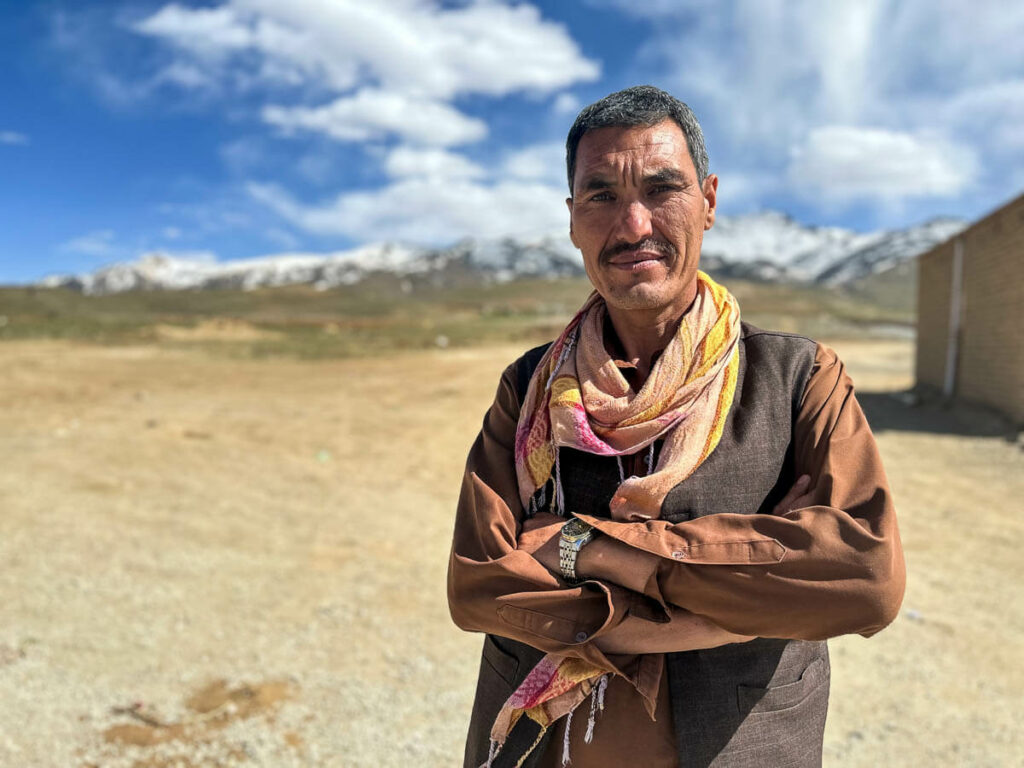 Day 4 – Bamyan to Lal
From an independent traveler perspective, this was the most challenging day of the trip.
Bamyan to Yakawlang (1 hour)
Around 5am, we went to the station in Bamyan to see if there were any cars going in Herat's direction.
To our surprise, local transportation going in that direction departs from Kabul and doesn't go through Bamyan but another road, so all we found was a shared taxi to the town of Yakawlang for 500 AFN per passenger.
Where to stayed? Noor band Qala Hotel
Yakawlang to Lal (9 hours)
After Yakawlang, the road becomes unpaved for pretty much the remaining 700km until Herat.
This specific section was the hardest of the journey.
There wasn't any local transportation. We tried to hitch a ride but there wasn't any car going in that direction.
We didn't feel like going back to the main road, so we hired a random car.
What we didn't know however is that that secondary road would go through several mountain passes above 3500 meters and, to our surprise, the driver didn't know about that either, but then it was too late for him to go back.
It took us the whole day to do 100km, and he only charged the equivalent of $70.
We got stuck countless times, and had to push the car all the time. The car's front bumper fell apart, but the road was extremely beautiful.
Where to stay? In Lal, you may stay in a chai khana. A chai khana is basically a tea house, where you can spend the night but you'll probably stay in the same room and on the same carpet where people have tea.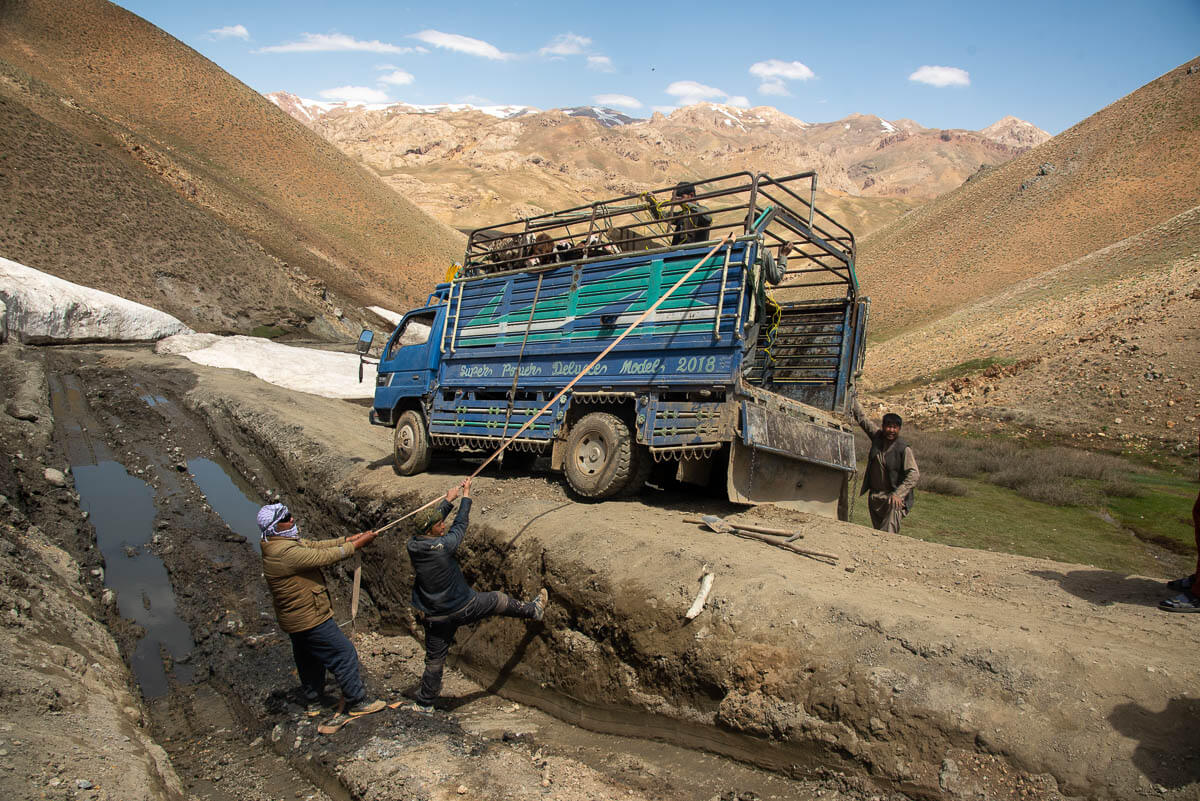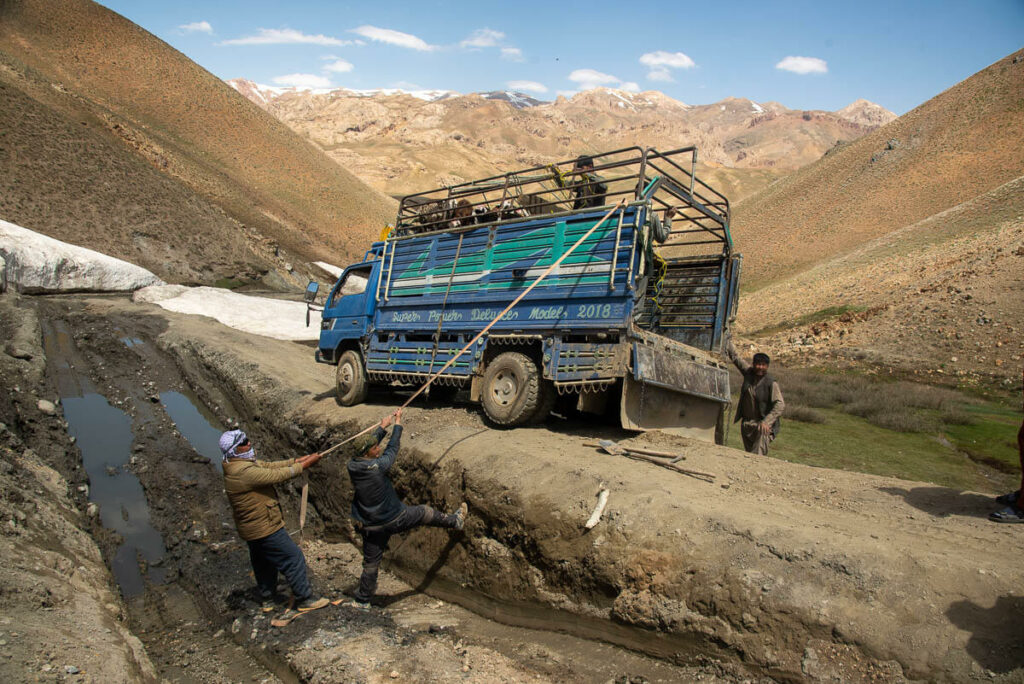 Day 5 – Lal to Chagcharan (4 hours)
Chagcharan is the capital of Ghor province.
The road between Lal and Chagcharan is unpaved but it's mostly flat and finding a car for the whole ride shouldn't be that difficult since there's not much in between.
We hitched a ride with a random guy who was going in that direction.
The problem however was that the guy we hitchhiked with was a serious junkie who was extremely high and would stop every X time minutes for getting stoned on opium. We had to deal with his abrupt mood changes and paranoia but there's nothing we could do about it.
This could be a separate story.
Despite its remote location, Chagcharan is a proper town, quite small, but still, feels like you came back to civilization.
Where to stay? We stayed in a chai khana somewhere here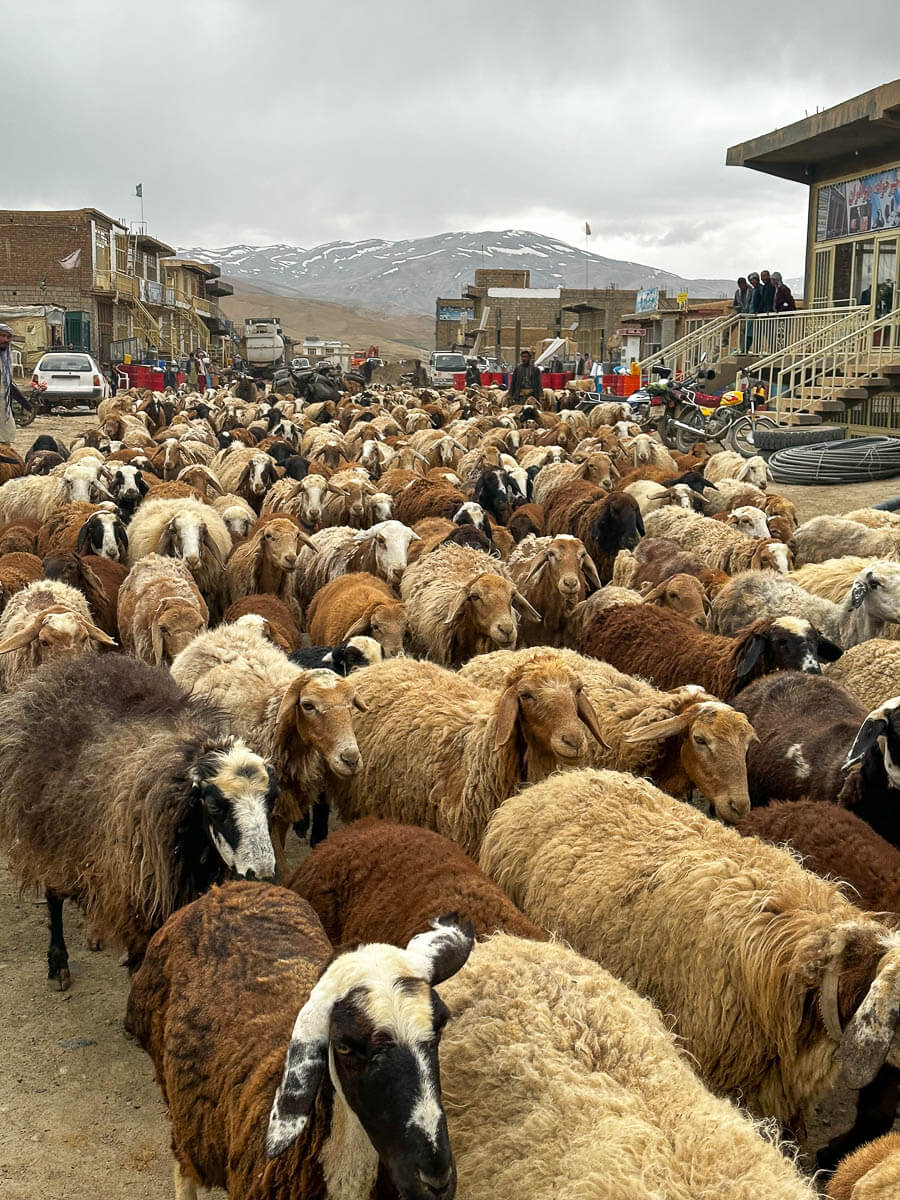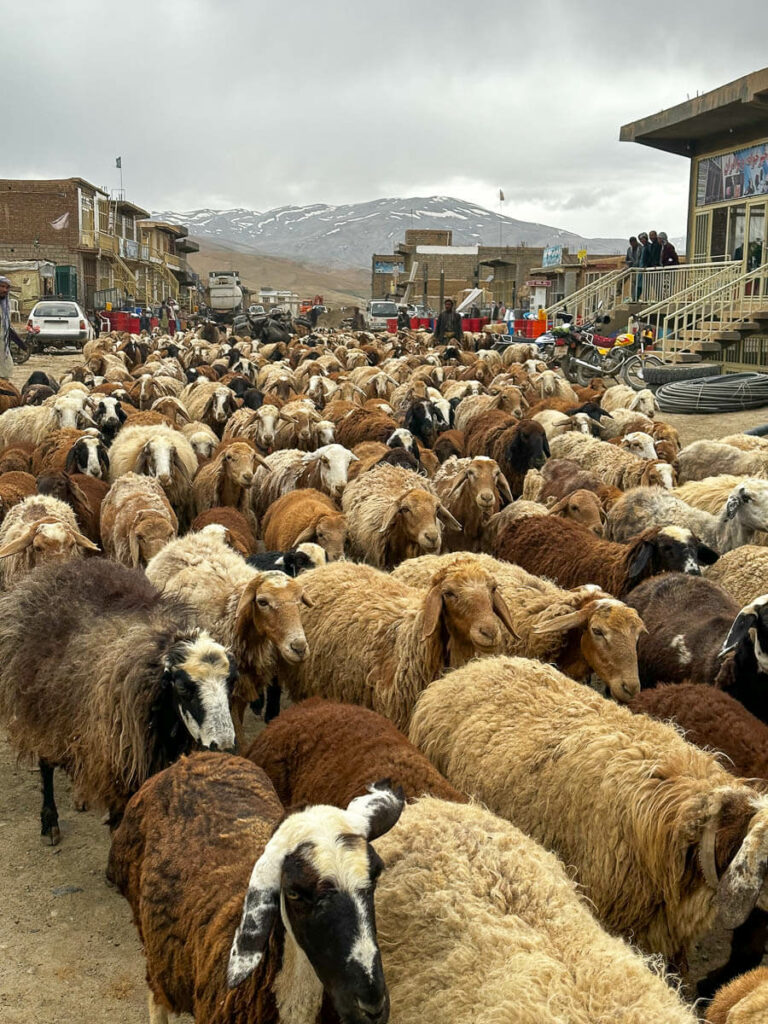 Day 6 – Chakhcharan to Derreh-Ye Takht with the Minaret of Jam
Chagcharan to the Minaret of Jam (5 hours)
This was easy, but the journey was pretty rough.
There isn't any direct transportation to the minaret but there are daily minibuses going to Herat (20 hours), so you'll have to pay for the whole ride to Herat and get off at the Jam intersection.
Very rough road and extremely tiny minibus with no space four heads and legs – we had the back seats.
The Minaret of Jam is a 10-minute walk from the intersection.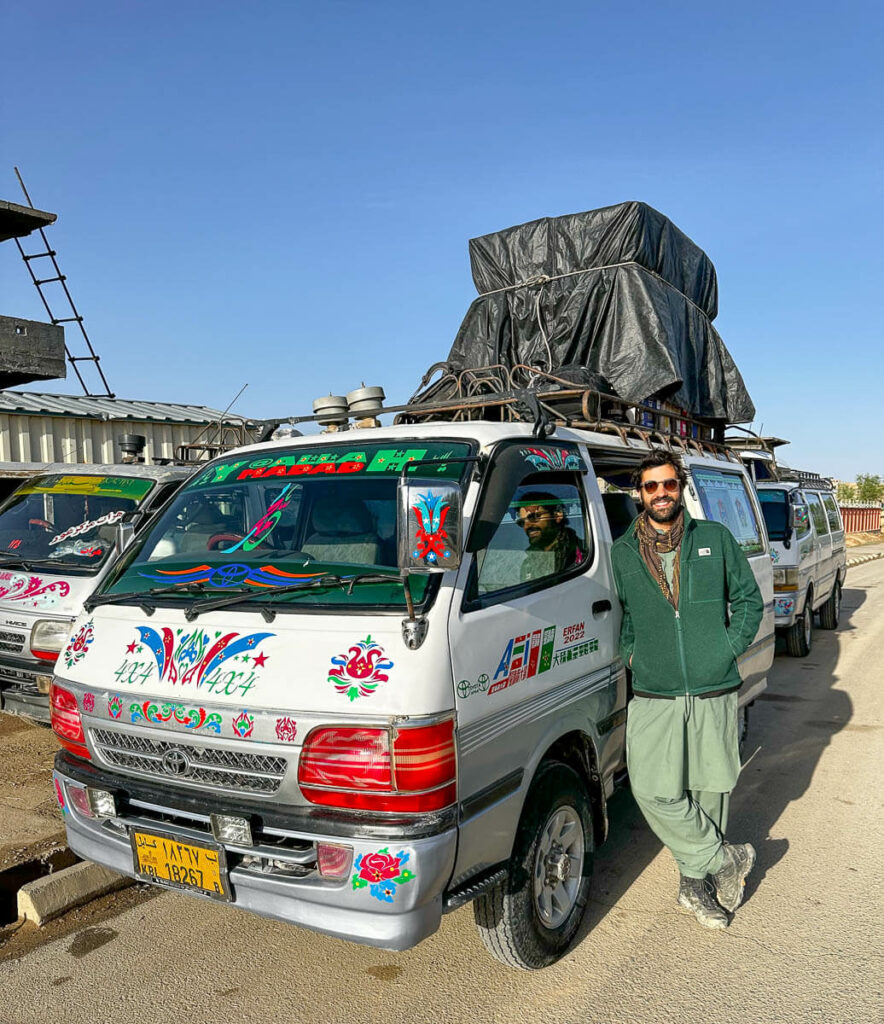 Minaret of Jam
Our final goal!
Reaching this jaw-dropping minaret by our own means was one of the best travel experiences ever and the minaret itself is as spectacular as it sounds.
It is guarded by a bunch of Talibans who live in a shack close by.
Minaret of Jam to Kamenj (45 minutes)
The Taliban guarding the Minaret of Jam helped us find 2 taxi motorbikes to the nearby village of Kamenj, a nearly 1-hour ride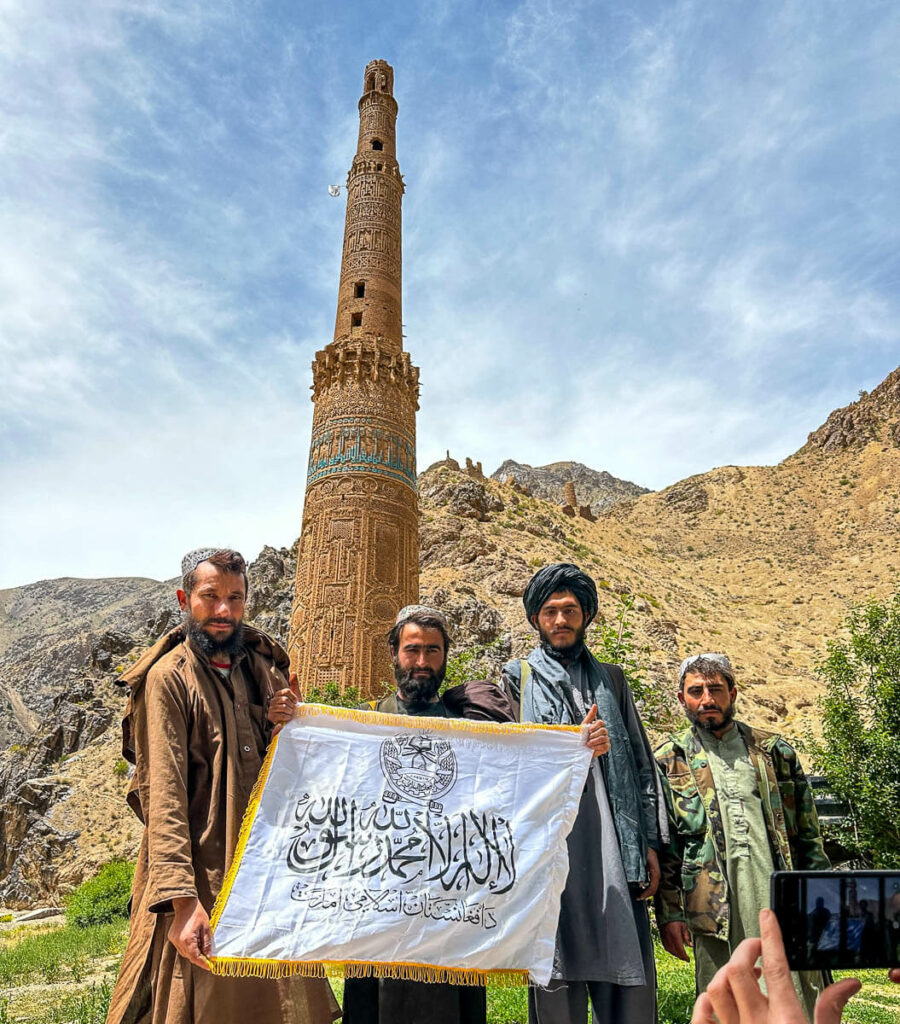 Kamenj to Derreh-Ye Takht (3 hours)
From Kamenj, there are buses going to Herat (14-16 hours).
You pay for the whole ride but I got off after 3 hours in what seemed a larger settlement named Derreh-Ye Takht.
Where to stay? No hotels but only a chai khana full of truck drivers. Not very pleasant. In the end, we stayed in a pharmacy, hosted by a very kind pharmacist. Very random.
Day 7 – Derreh-Ye Takht to Herat (12 hours)
From Derreh-Ye Takht thereare minubuses to Herat.
However, expect to wait there for hours for the minibus to fill up.
At 7am, there weren't any passengers yet and after days of no shower, I decided to pay for the whole minivan, which was pretty cheap anyways, the equivalent of $60 for a nearly 12-hour ride.
From Herat, you may fly back to Kabul or by road via Helmand and Kandahar.
Where to stay? Esteqlal Hotel