Dubai might be known as the glitzy-glamorous Rich-Boy-and-Rich-Girl's shopping capital, but there's so much more to this character-filled city. From hidden alleys to traditional souks, the magnificent desert and super interesting cities such as Abu Dhabi and Sharjah, you will see that even 7 days in Dubai might not be enough to explore this unique Middle Eastern destination. 
The following comprehensive guide to Dubai shows you a complete 7-day itinerary, including 4 days in Dubai and three-day trips to Abu Dhabi and the cultural capital of Sharjah.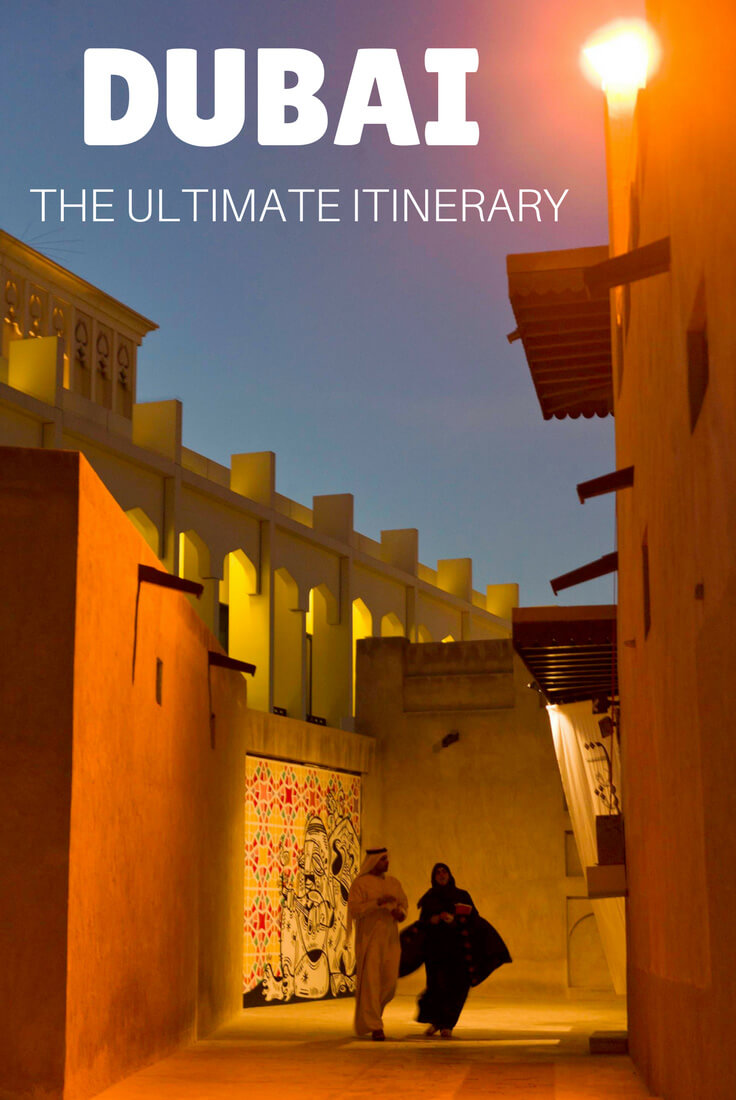 The ultimate Dubai itinerary: 7 days in the UAE
Here you will find:
Quick tips on how to culturally behave in the UAE
Travel insurance for the UAE
How much does traveling to Dubai cost?
Where to stay in Dubai for a week
Transportation: How to get from Dubai to each city
Dubai itinerary: 7 days in the UAE
Bonus: Extending your Dubai itinerary for 3 more days
Dubai in a week: Quick tips on how to culturally behave in the UAE
The UAE is a Muslim country and it follows Muslim and sharia laws. As a result, Western tourists need to be careful not to conduct themselves as they would in their own countries. You don't need to be afraid but just apply common sense. 
Know when to dress modestly – The Western areas of Dubai are quite tolerant regarding the way you dress but, in more conservative areas, Abu Dhabi and Sharjah, always cover both your shoulders and your knees.
Public displays of affection are not tolerated in the UAE – Not just kissing, but even hugging in public would be considered unlawful.
During the holy month of Ramadan – Be sure not to eat, drink, chew gum or smoke in daylight and in public. If this is uncomfortable, best visit the UAE after the holy month is over.
Be careful if you drink and drive – Driving with even a tiny percentage of alcohol in your blood system warrants jail time.
Do not bring any of the following into the country – Drugs, firearms, erotic materials and pornographic material. Do not be caught with any of these items on your person or you could be jailed.
Important: Note that lawbreakers are not entitled to legal representation or consular assistance. They are fined or jailed, depending on the seriousness of the offence, and no one is allowed to influence or interfere with the law.
Travel Insurance for the UAE
Keep in mind that, in Dubai, health care is private and extremely expensive. Therefore, Remember to have a valid travel insurance before going there.
I always recommend World Nomads, as it is the only company that provides unlimited medical coverage, the perfect thing for a place like Dubai. 
Click here to get your free quote from World Nomads
How much does traveling to Dubai and UAE cost?
UAE is one of the top luxury destinations in the world, which means that staying one week in Dubai could become your most expensive holidays ever. However, if you know where to eat, go and stay, you can also travel on a budget.
For further details, including tips and cost breakdown, please check my post: How to travel in Dubai on a budget 
Dubai itinerary – Where to stay in Dubai for a week
If you plan to stay 7 days in Dubai but you also plan to explore the rest of the country, I strongly recommend you spend your whole stay in Dubai. Why?
Because in both Abu Dhabi and Sharjah there's not really budget accommodation plus, at night and evenings, the best things only happen in Dubai.
Backpacker Hostel – Backpacker 16 – This one is cheaper than the previous hostel but the location is not as epic. However, the position is not as bad, as it's located in Tecom, a neighborhood which is pretty well connected to the metro and just 15 minutes driving from Marina.
Click here to see the latest prices on Booking.com 
Budget Hotel – Avari Hotel Apartment – This pretty affordable hotel is perfect for families or small groups who are traveling on a budget, as they have apartment rooms where can fit up to 4 people. It's located in Al-Barsha, next to the Mall of the Emirates and very well-connected to the metro.
Click here to see the latest prices on Booking.com
Mid-range Hotel – Jannah Marina Bay Suites – Located in the most Western-friendly neighborhood in Dubai, Jumeirah Beach Residence, this hotel is the perfect place to just relax and enjoy your easy holidays in Dubai. It has one of the highest punctuations and endless positive reviews.
Click here to see the latest prices on Booking.com
Dubai travel itinerary – How to travel between cities
How to travel from Dubai to Abu Dhabi
Bus – There's a bus every twenty minutes from 6 A.M. to 11 P.M from the Al Ghubaiba Bus Station in Dubai that takes you to Abu Dhabi. The buses are great, complete with airconditioning and the cost from Dubai to Abu Dhabi is a mere 25AED. 
Taxi – A trip from the Dubai airport to Abu Dhabi will cost you 300AED ($80), one-way.
Etihad Coach Service – There's also the free Etihad coach service from Dubai to Abu Dhabi, for those who travel with Etihad in Economy. Tip: Make your free coach reservation 24 hours before your trip via Etihad's website.
How to travel from Dubai to Sharjah
Public transportation – You can take the metro from Dubai to Rashidya Station in Sharjah within no time. You can also catch a bus to Sharjah from Deira bus station, which is only 15 minutes from the Dubai airport by taxi. If you're in Bur Dubai, grab a bus from Bur Dubai Al Ghubaiba station to Sharjah.
Taxi – A taxi from Dubai to Sharjah will cost you 150AED ($40). 
Important: Note that, whereas it's pretty easy to travel from city to city by public transportation, in both Abu Dhabi and Sharjah, it's not very convenient to move around if you don't have your own car. Therefore, you should consider renting one if you don't want to depend on taxis. 
Car Rental
Car rental is also a feasible option as the gas is very cheap. The Emirates have free parking practically everywhere including shopping centers and hotels. Remember that Dubai has five electronic tolls; your credit card will be charged automatically. Tip: If you want to avoid the tolls, take the toll-free parallel highways in Dubai.
If you have are from any country within the European Union, USA, Canada, Australia, Japan, South Korea, among some others, you can rent a car with your current driving license. For the rest of the nationalities, you will need a valid international driving license.
I lived in Dubai for 3 years and, when went on any road trip, I always rented a car through Budget Rental, which offers the lowest rates in the UAE.
Dubai itinerary: 7 days in the UAE
The following UAE itinerary includes 4 days in Dubai, 2 days in Abu Dhabi and 1 day in Sharjah.
Day 1, 2, 3, 4 – What to do in Dubai for 4 days
Dubai is expensive and a non-backpacking-friendly city. Most of the attractions are expensive to visit, and there are usually additional fees involved, apart from the entry ticket. However, if you know where to look, you can find a lot of things to do and see for free – things that are part of Dubai's true character. These are all the places to visit in Dubai in 4 days. 
Explore Bastiqaya's quaint old streets – If you are looking for some history and some character, the Bastikaya Quarter is what you're looking for. Get a feel for old Dubai, with the old wind towers and the winding streets filled with old mud-houses in the Bastiqaya Quarter. The streets are narrow, the eateries are small and there are small quaint old gift shops and original Dubai buildings that are not glitzy and glamorous. Check out the Dubai museum, the quay and the textile Souk while you're there. Experience old Dubai and get a feel of life away from hustle bustle of the Sheikh Zayed Road. The Old Dubai can't be missed in your Dubai trip itinerary. 
Cross the Dubai Creek in an Abra – Pay 1 AED and enjoy a fabulous ride in the abra, the traditional water taxi to cross the atmospheric Dubai Creek from Bur Dubai to Deira on the opposite side. The quaint old wooden boat has a fishtail carved out of wood. I
Bargain over the spice cart at Deira – At Deira, be sure to bargain with the spice vendors for the best saffron, cinnamon, cardamom, sumac and turmeric while taking in the sights and smells of the bustling market. Walk away if a price doesn't suit you and invariably, they'll call you back and strike a deal. Tip: You could shave off about 30-40% of the asking price by walking away.
Feel the knap of silk carpets at Bur Dubai – Bargain with the carpet and pashmina sellers at Bur Dubai as you sip on the complimentary cup of thick, sweet Arabic coffee. The traditional souks offer a flavor and character that's missing in huge malls. You can interact with people here at a more human level. Bargaining is not only allowed but encouraged. Hit the stores at the Gold Souk and Perfume Souk, and you're guaranteed to find a souvenir that you'll treasure from your holiday to Dubai.
Watch a camel race: Be a part of the heart-pumping action that is so integral to the Emirati's life at the Al Marmoom Racetrack deep in the desert sands. It's an experience like no other; about 60 camels rush out from the gates, long legs flying in every which direction, running as fast as they can down the track while the jockeys steer and hold on for dear life. They are followed by their owners in 4X4s, yelling at their camels and jockeys to do better. The excitement is contagious and soon you'll be screaming at your favorite camel (yes, you actually read that), just as you would at a horse race. Do take a pair of binoculars along so you can see the camels' frenzied eyes, frothing mouths and skanky legs pumping away furiously, just to get to the end of the race. The camel race will be, definitely, one of the highlights of your Dubai 4 days itinerary. 
Explore the desert on your own – Take off in a rented SUV and enjoy a lovely sunset drive into the desert all by yourself. Dune bashing is just driving up and down dunes really fast in a 4X4. As for sandboarding, if you like skiing, you can try the same on the shifting dune sands. If you like, you can sign up for a thrilling desert safari that includes various desert adventures. 
The luxurious Dubai – Sure, besides all the cultural stuff, you can't miss the most popular Dubai landmarks such as the Burj Khalifa, the tallest building on Earth; the Burj-Al Arab, the fanciest hotel in the world; the Palm Jumeirah; walking around Jumeirah Beach Residence; the skyscrapers of Dubai Marina; shopping at Dubai Mall, the largest mall in the world; and the ski resort at Mall of the Emirates.
Day 5, 6 – Abu Dhabi
Abu Dhabi is not as expensive as Dubai, nor is it as yet a tourist hotspot to rival Dubai's fame. Still, several of the usual money traps are present in this city as well. To experience this city on a moderate budget, leave all the glittering shopping complexes and look towards the emirate's true character.
Stroll along the Corniche – The Corniche is an 8-kilometer stretch of manicured waterfront. It's the best place to see and to be seen. There are cycle and pedestrian pathways, kids' play areas, cafés and restaurants, and a lifeguarded beach park to enjoy, for free. In the evening, when the cool breezes blow, there's no better place in all of Abu Dhabi than the Corniche for a refreshing constitutional and views to beat anything you've ever seen.
Admire the Sheikh Zayed Grand Mosque – This is one of the largest mosques, with the largest carpet and the largest chandelier in the world. It is sheer poetry in Macedonian marble inlaid with semi-precious gems. The mosque can accommodate an astonishing 40,000 worshippers. It has 82 domes plus 1,000 marble columns and 24-carat gold gilded chandeliers everywhere. One of the world's biggest ever chandeliers dominates the main prayer hall; it is 10 meters in diameter and 15 meters in height and weighs twelve tons. If that weren't enough, the Sheikh Zayed Mosque has the world's largest hand-knotted carpet made by Iranian carpet weavers.
The mosque is surrounded by reflective pools that amplify its beauty. What glitters gold and white in the sun is transformed at night by a unique lighting system which reflects the phases of the moon. The best time to see the mosque is during sunset, at 5:30 P.M. The mosque has a 'Sunset Hour' sightseeing set up at that time, to enable visitors to see the best of the mosque. Tip: Modest clothing is expected when you enter the mosque, including an abaya for women (provided at the entrance) and covered head, shoulders, and knees for the men. The mosque is open from 9 A.M. to 10 P.M. every day and is open daily to visitors except on Friday morning.
Ferrari World – Ferrari World has more than 20 thrilling rides and attractions to thrill your kids with the Ferrari story. Formula Rossa is the world's fastest rollercoaster. Next to the amusement park, there's also the F1 racing track where you can race with F1 champions. That apart, Ferrari World has a Ferrari Museum where you can see famous Ferraris that were driven by racing giants over several decades.
Yas Marina Circuit – There's also the state-of-the-art Yas Marina Circuit which hosts the annual F1™ Etihad Airways Abu Dhabi Grand Prix each year. At this event, you can see the most breathtakingly-huge yachts moored at Yas Island.  The Yas Viceroy Abu Dhabi is an iconic, breathtaking five-star hotel built right at the heart of the F1 race track, built half over land and half over water.
Yas Waterworld – Spanning an area of 15 football pitches, Yas Waterworld presents 43 thrilling rides, slides and attractions. Five of these are not seen anywhere else. There's the 238-meter long, world's first and largest six-person tornado waterslide that powered by hydro-magnetic power. Bubble's Barrel offers three meter high waves and the world's largest surfable sheet wave. There are several more rides and thrills in Yas Waterworld that we'd like you to check out in person rather than read about them!
Visit Qasr Al Hosn – Uncover Abu Dhabi's history at Qasr Al Hosn, an 18th-century cora, and sea stone watchtower built by Abu Dhabi's ruling Bani Yas tribe. The role of the Qasr Al Hosn fort was to protect the tribe settlement and also to command coastal trade routes. Tip: Pay close attention to the traditional 'Barjeel' ventilation system also called a wind tower. This is what was used to keep buildings cool in the days before AC.
Check Out Mina Dhow Harbor and fish market –Watch the deft fishermen at work at the Mina Dhow Harbor, where fish is caught and processed the old way when Abu Dhabi was still a fishing village. The fish market is a feast of texture, color, and design. Feast your eyes on the poetic arrangements of orange-spotted trevally, prawns, blue-shelled crabs, red snappers, and pink Sultan Ibrahim among others that are laid out on ice bars. You can buy your fish here for cheap from the blue-clad fishermen, get the fish gutted by red-clad cleaners, get them shaken about with spices and give them to the cooks at one of the few restaurants to cook. Fresh fish doesn't get fresher than it does at the Mina Harbor Fish Market.
Day 7 – Sharjah
Sharjah is a laid-back city that's still coming to terms with being a tourist destination. The city has several museums where you can learn more about Sharjah. There are also several souks and markets that sell everything from spices, gold to handmade slippers and carpets. Explore Sharjah with the intent of getting to know the city, its history, and its people and you'll find the experience very satisfying.
Explore the Blue Souk: The Souk al-Markazi or Central Market is also known as the Blue Souk. This market is a very impressive landmark, built to look like a traditional bazaar. The 80,000 square meter large market houses over 600 shops, selling everything from gold jewelry to household items. Check out the souk's beautiful reflection in the incredible Khalid Lagoon, backed by the sun's golden rays at sunset. It's an incredible sight and you'll find many visitors hanging about for sunset just to catch this remarkable reflection.
Visit the Arabian Wildlife Centre: This is the only wildlife center in Arabia which exhibits all the animals that exist only in the Arabian Peninsula. The zoo is home to more than 100 species of wildlife kept in safe and natural surroundings. The Arabian Wildlife Center ensures that visitors appreciate the fauna diversity on the peninsula and become aware of almost extinct or extinct species and the need to preserve them. Tour the reptile, fish and insect house which houses many Arabian vipers and adders. The aviary houses several Indian Roller birds, Houbara Bustard and flamingos and songbirds. The nocturnal house displays a variety of nocturnal animals including porcupines, three fox species, hedgehogs, twelve rodent species, mongoose and more in their natural habitats. Yes, and there are baboons, wolves, hyenas, cheetah and the rare, hypnotic Arabian leopard. The Arabian Wildlife Center is open from 09:00 – 17:30 P.M, on all days except Thursdays when it's open between 11:00 – 17:30 P.M and on Fridays when it's open from 14:00 – 17:30 P.M. Tuesdays are off.
Check out the Sharjah Natural History Museum and Desert Park – Here's a chance for visitors to learn about the Arabian Desert's flora and fauna in a relaxed manner. After a visit to the Natural History Museum, you'll learn how several creatures and plants have adapted themselves to the hot climate of Arabia and the UAE. There's an in-house farm allows children to get close to domesticated animals and learn how to take care of them. Check out the richly-embellished diorama that shows you the rich tapestry that is the Arabian Desert, with its diverse flora and fauna. The museum is open daily from 9 AM to 5:30 PM and on Fridays from 2 PM to 5:30 PM, and on Thursdays from 11 AM to 5:30 PM. The Museum is closed on Mondays.
Check out the Qanat Al Qasba – Al Qasba is Sharjah's premier tourist, cultural, business and entertainment zone. The kilometer-long manmade canal with its multiple pedestrian bridges is a famous spot for boating, all the way into the adjoining Khalid and Al Khan lagoons. The 60-meter high Ferris wheel offers incredible panoramic views. The 250-seat theatre Masrah Al Qasba hosts a plethora of events including musicals, films, and poetry performances.
Bonus: Extending your Dubai itinerary for 3 more days
Liwa Oasis is located in the southern-eastern part of the country, 250km from Abu Dhabi and 350km from Dubai, very close to the Saudi Arabian border. The oasis is situated on the north-eastern edge of the Empty Quarter (Rub-al-Jali), a vast desert spread across the UAE, Saudi Arabia, Oman and Yemen, which is the largest continuous sea of dunes in the world. It extends over an area of 650,000km² and measures 1,000km in length by 500km in width.
This oasis is home to such a natural beauty and, definitely, one of my favorite places in the Middle East. Unfortunately, due to its remoteness and distance, you need a couple of days to enjoy Liwa.
For more information, read: A guide to the Liwa Oasis and the Moreeb dune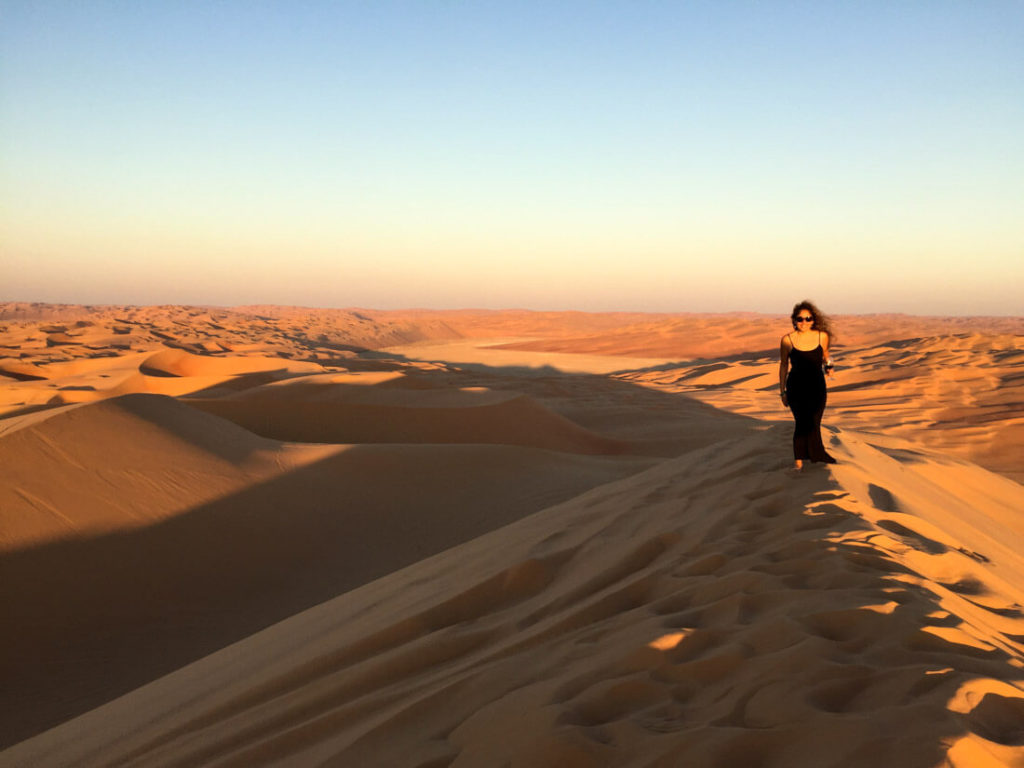 Conclusion
There's much to see and enjoy in the UAE, things that have cultural significance to the Emirates. Though it is definitely fun to check out monuments such as the Burj Khalifa and the Burj Al Arab, the true essence of a destination lies in the day to day lives its people lead. The UAE has a richly woven tapestry of culture, handed down over several millennia. When you visit the United Arab Emirates, be sure to look up the places that we've in this Dubai itinerary. You'll enjoy your visit so much more if you were to take in the culture and not just the fabulous record-breaking sights.
Author:
As a Mass Comm postgraduate, Neha naturally has an artistic take on everything about life. This is quite evident in her writings as well. An avid trekker, explorer and a true foodie; Neha finds happiness in small endeavors of life and loves to pen them down as a cherished memory. A firm believer that "we have just one life to live and so much to do", Neha lives every moment to the fullest. She is the author of
Dubai Wikia
. You can follow her on
Facebook
.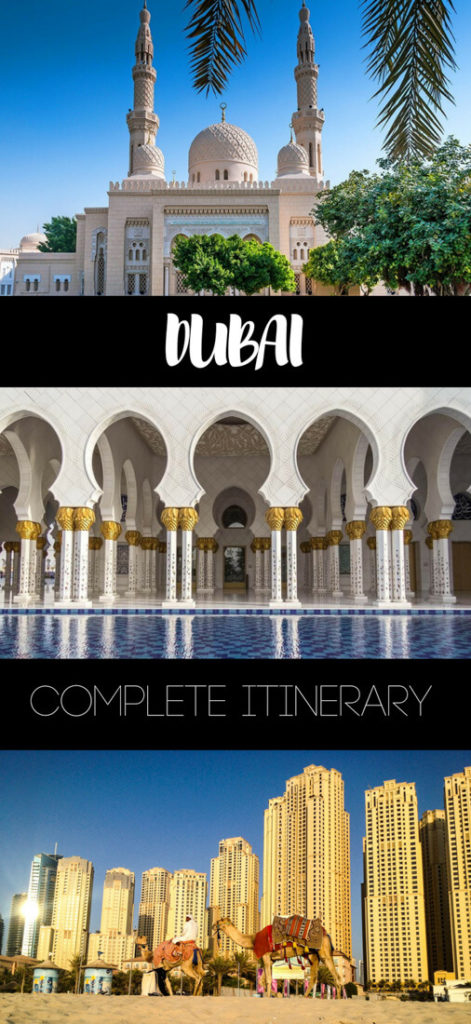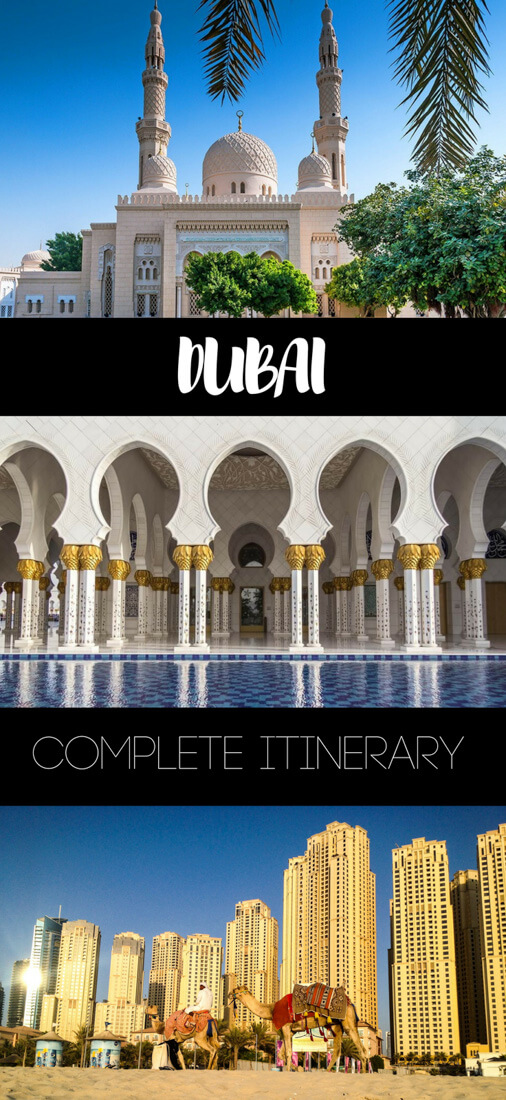 WANT TO TRAVEL OFF THE BEATEN TRACK?
 JOIN MY NEWSLETTER
and get one TripScout City Guide, of your choice, for FREE!