Dubai itinerary: 1 to 7 days in the UAE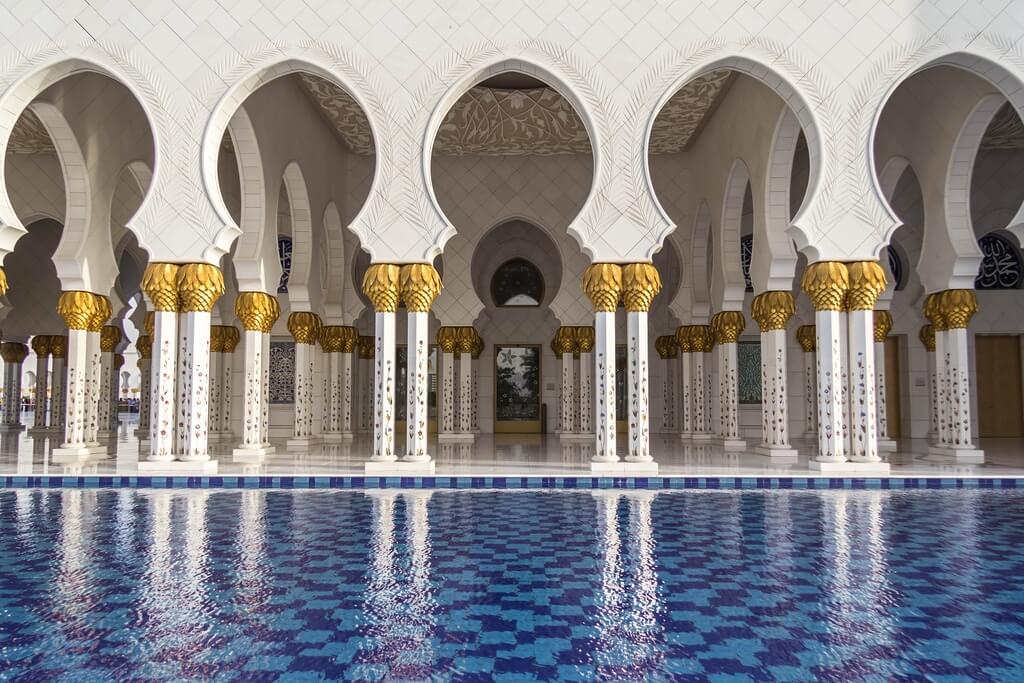 Skip all content and get ExpressVPN
Get unrestricted access with the fastest VPN for Dubai country.
Dubai might be known as the glitzy-glamorous Rich-Boy-and-Rich-Girl's shopping capital, but there's so much more to this character-filled city.
From hidden alleys to traditional souks, the magnificent desert and plenty of activities that involve experiencing the traditional Emirati culture, you will see that even 7 days in Dubai might not be enough to explore this unique Middle Eastern destination.
The following comprehensive guide gives you plenty of tips for traveling to Dubai, as well as a complete 7-day Dubai itinerary, including 2-day trips to Abu Dhabi and Al Ain.
Please note that this guide not only tells you the touristic places but it also shows you how to explore Dubai off the beaten track.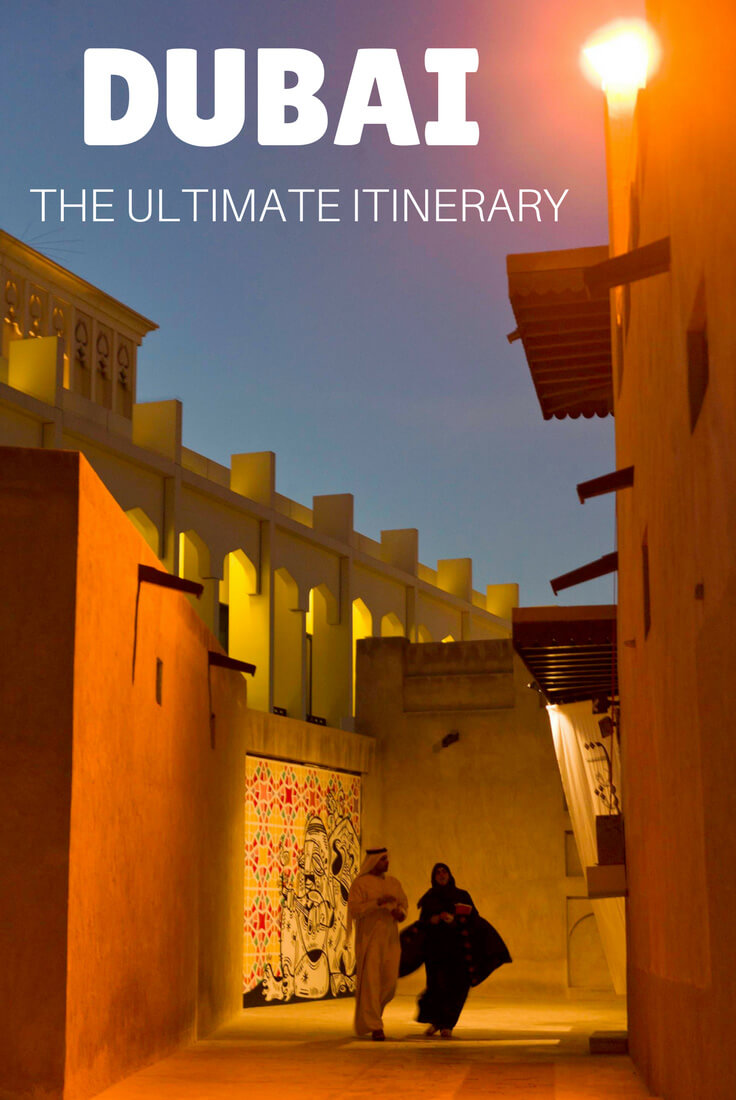 A few quick tips before kicking off your week in Dubai
Best time to visit Dubai
Seriously, you must avoid summer, from June to September. In July and August, temperatures average 45ºC and it is extremely humid. In September, temperatures drop slightly but humidity still persists, so you can't really hang out in outdoors, even at night. Try to come from mid-October to mid-May.
By the way, remember that the United Arab Emirates is a Muslim country which follows very strict Muslim Sharia laws. As a result, Western tourists need to be a bit careful and not behave as they would do in their home countries.
You don't really need to be afraid but just apply common sense.
Know when to dress modestly
Dubai is a society with two sets of morals. On the one hand, in the places where the expats hang out, the beaches are filled with girls wearing fine bikinis and, in the glamorous clubs, you are likely to see girls dancing in dresses which are quite close to a bikini.
These areas are very tolerant regarding the way you dress but, in more conservative areas of the city, basically, in those places where the locals hang out, you should always cover both your shoulders and your knees but the good news is that you never need to cover your head.
For more info, read what to wear in Dubai.
Public displays of affection are not tolerated in the UAE
Not just kissing, but even hugging in public would be considered unlawful, including in Western areas. Once, I was kicked out from a bar because, since there was no place to sit, my girlfriend was sitting on my legs.
To be fair, the security guy told her to stand up three times but we completely ignored him, basically, because we found their norm to be absolutely ridiculous.
During the holy month of Ramadan
I don't recommend coming to UAE during Ramadan but, if you happen to be there, – just make sure not to eat, drink, chew gum or smoke in daylight and in public, otherwise, you will get a fine.
Moreover, during Ramadan, many bars close, there is barely any event going on and, basically, life stops pretty much. Seriously, if you can avoid it, don't come here during Ramadan.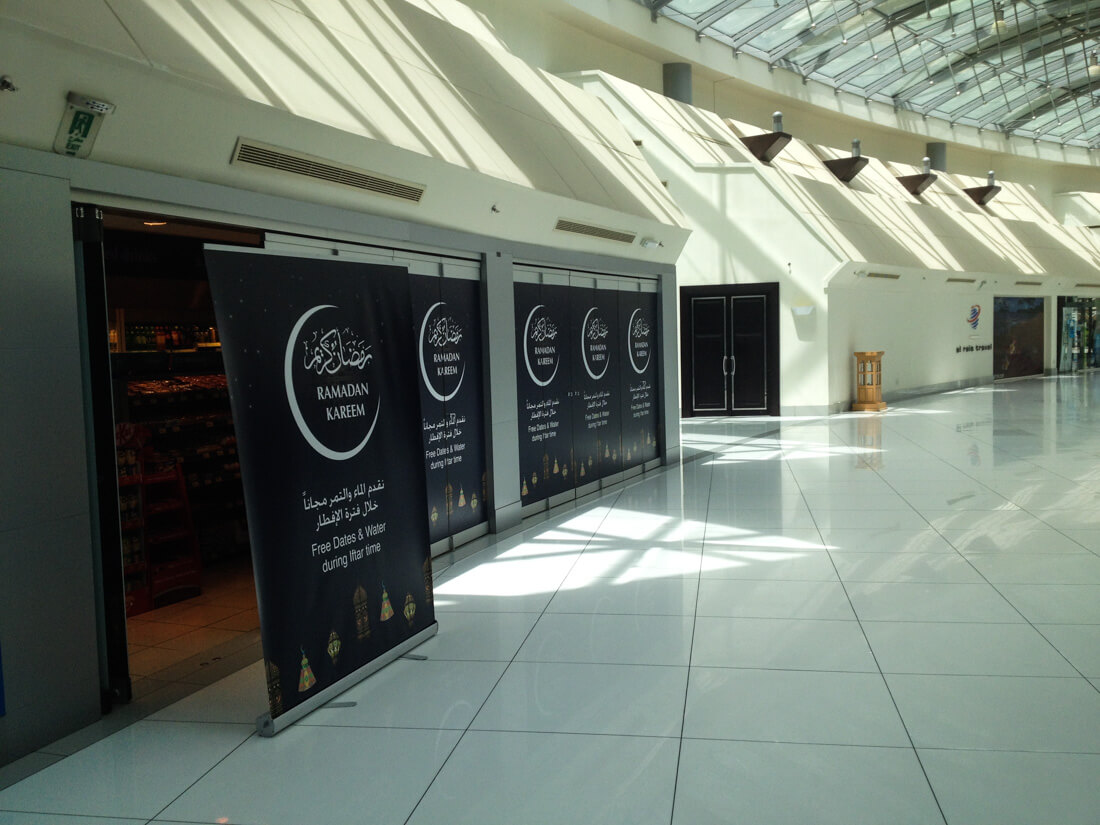 Remember that, when driving, alcohol tolerance is 0
Driving with even a tiny percentage of alcohol in your blood warrants jail time. In three years of living and driving there, I never saw any alcohol control test but, if you had an accident and they found alcohol in your veins, you would, literally, be completely f&"?%ed.
And the same goes for drugs
The UAE also has 0 drug tolerance. Even if they found you had 0.1g of weed at the airport customs, you would be done and likely put away for a long time.
This seems exaggerated but it can actually happen and the truth is that there are quite a few real horror stories from people who happened to have micro-remains from their last joint in their pocket and the dogs were able to smell it.
Alcohol availability
For your information, in Dubai, you can drink alcohol. Typically, only 4 to 5-star hotels can serve alcohol but the point is that people open regular bars and pubs and then they just attach it to a hotel.
As you can imagine, there are fancy hotels absolutely everywhere and each one of them has several bars attached to it, so finding a place where to drink is not a problem at all.
Furthermore, you can also find plenty of liquor stores around town but, unfortunately, you need a special license which only expats can get.
Alternatively, if you can drive, there is a liquor store named Barracuda in Umm Al Quwain, around 90km outside of Dubai, towards Ras Al Khaimah.
Remember that, in Dubai, many websites and internet calling services, like WhatsApp or Skype, are blocked and, if you want to access them, you will need a VPN. Read: How to find the right VPN for Dubai and the UAE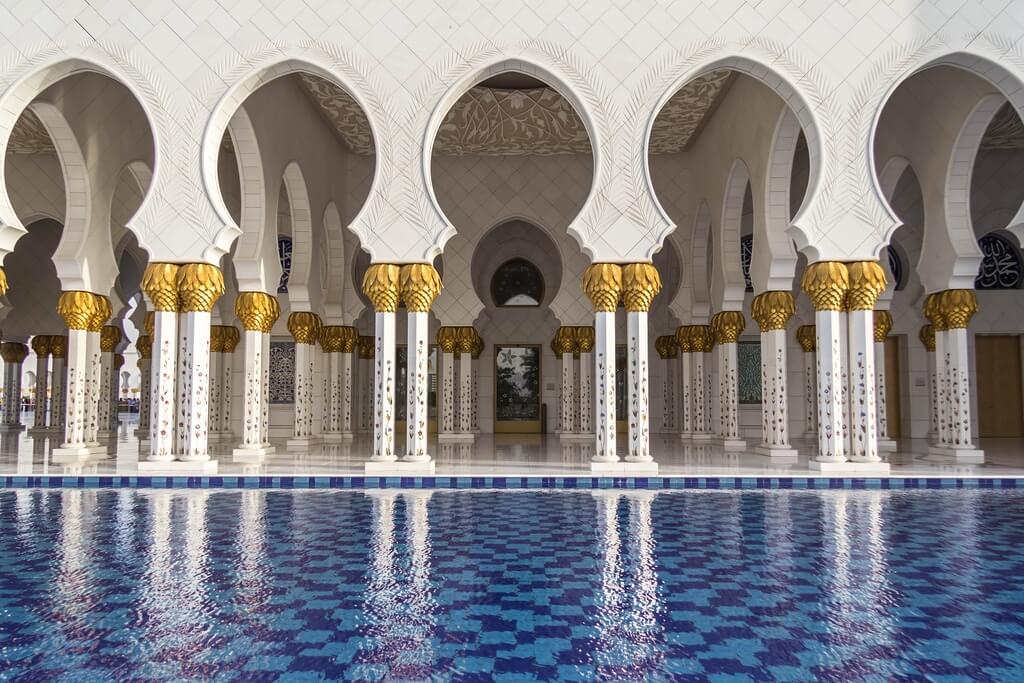 Tours and activities in Dubai
In your Dubai itinerary, there will be plenty of activities such as going on a trip to Musandam – an enclave within UAE that belongs to Oman – a desert safari or even going on a half-day trip to the Sheikh Zayed Mosque in Abu Dhabi, you may want to go on a tour, as it is much cheaper than going by taxi and even than renting a car.
These are just some of their most popular activities:
For more info check:
The top 25 activities, excursions and day trips from Dubai
How to access blocked websites in Dubai
As you may know, in Dubai, the internet is censored, which means that many websites which you may need to use regularly are blocked.
Besides gambling, pornography, and Israeli-related sites, some of these blocked websites are:
Skype
WhatsApp Calls
Google Hangouts
Tinder
In order to access them, you will need something called VPN (Virtual Private Network), and I recommend ExpressVPN the most reliable VPN ever.
If you don't know anything about VPNs, read how to find the right VPN for Dubai
7 Days in Dubai – Transportation: How to move around
Remember to get travel insurance for Dubai
Keep in mind that Dubai's health care is private and extremely expensive, so insurance is a must.
IATI Insurance offers different plans, for all budgets.
Get your 5% exclusive discount if purchasing via this link
How to move around Dubai
By metro – There are 2 metro lines which take you to most touristic sites. The metro has plenty of air-conditioning and it is pretty modern. A single ride costs less than a US dollar but just bear in mind that distances in Dubai are huge, so going from one place to another may take some time. Also, the metro goes to the most common touristic places but, beyond that, you will be very limited.
By taxi – The way to go. If you count the price per kilometer, it is inexpensive but, since distances are long, moving around can be costly. The shortest ride costs around 15AED (4USD). Going from the Marina to Old Dubai may cost around 60-70AED (16-19USD).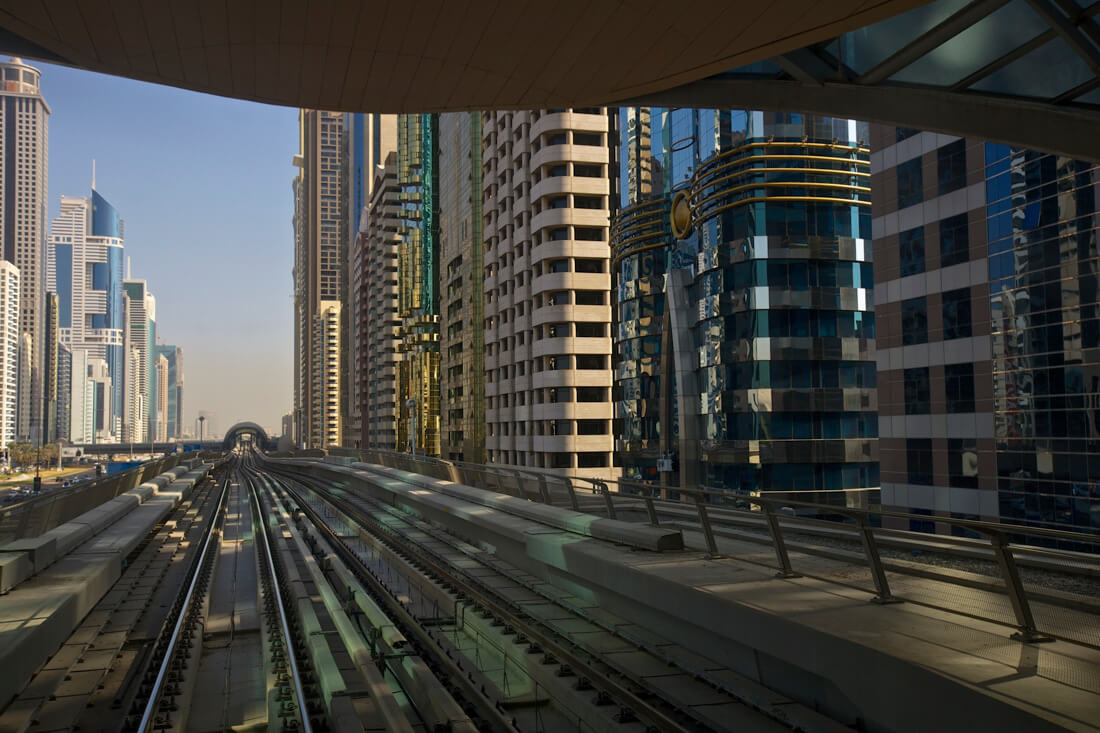 How to travel from Dubai to Abu Dhabi
Bus – There's a bus every twenty minutes from 6am to 11pm, from the Al Ghubaiba Bus Station in Dubai that takes you to Abu Dhabi. The buses are great, complete with air-conditioning and the cost from Dubai to Abu Dhabi is a mere 25AED (7USD).
Taxi – A trip from the Dubai airport to Abu Dhabi will cost you 300AED (81USD), one-way.
Etihad Coach Service – There's also the free Etihad coach service from Dubai to Abu Dhabi, for those who travel with Etihad in Economy. Tip: Make your free coach reservation 24 hours before your trip via Etihad's website.
How to travel from Dubai to Sharjah
Public transportation – You can take the metro from Dubai to Rashidya Station in Sharjah in no time. You can also catch a bus to Sharjah from Deira bus station, which is only 15 minutes from the Dubai airport by taxi. If you're in Bur Dubai, grab a bus from Bur Dubai Al Ghubaiba station to Sharjah.
Taxi – A taxi from Dubai to Sharjah will cost you 150AED ($40).
Note that, whereas it's pretty easy to travel from city to city by public transportation, in both Abu Dhabi and Sharjah, it's not very convenient to move around if you don't have your own car. Therefore, you should consider renting one if you don't want to depend on taxis.
Car Rental
If you are planning to go outside of Dubai, I highly recommend you rent a car because the public transportation system is not convenient at all.
The good news is that gas is very cheap and the car rental price is quite fair and, if you are from any country within the European Union, USA, Canada, Australia, Japan, South Korea, among some others, you can rent a car with your current driving license. For the rest of the nationalities, you will need a valid international driving license.
Where to stay in Dubai for a week
Dubai is a huge city with huge distances, composed of so many neighborhoods, so different from each other.
Choosing the area you want to stay in will depend on what you actually want to visit in Dubai, as well as on your budget, as prices vary enormously by area.
Moreover, if you are visiting the cities of Abu Dhabi and Sharjah, you need to decide whether to visit them on a day trip or spend the night there as well.
I recommend you stay one week in Dubai because it is the only place where there is something going on at night and evenings. After 7pm, Abu Dhabi and Sharjah are pretty boring.
I highly recommend you doing some proper research before choosing which area to stay at. For example, if you decide to stay in the Old City because you are on a budget, you should know that the beach of the Marina is more than 30km away.
A taxi would cost you around 75AED (20USD) and by metro, it would take almost 2 hours, so you should really think twice.
That's why I decided to write a very comprehensive post which will help you with that:
Which area to stay in Dubai: A guide to find the right accommodation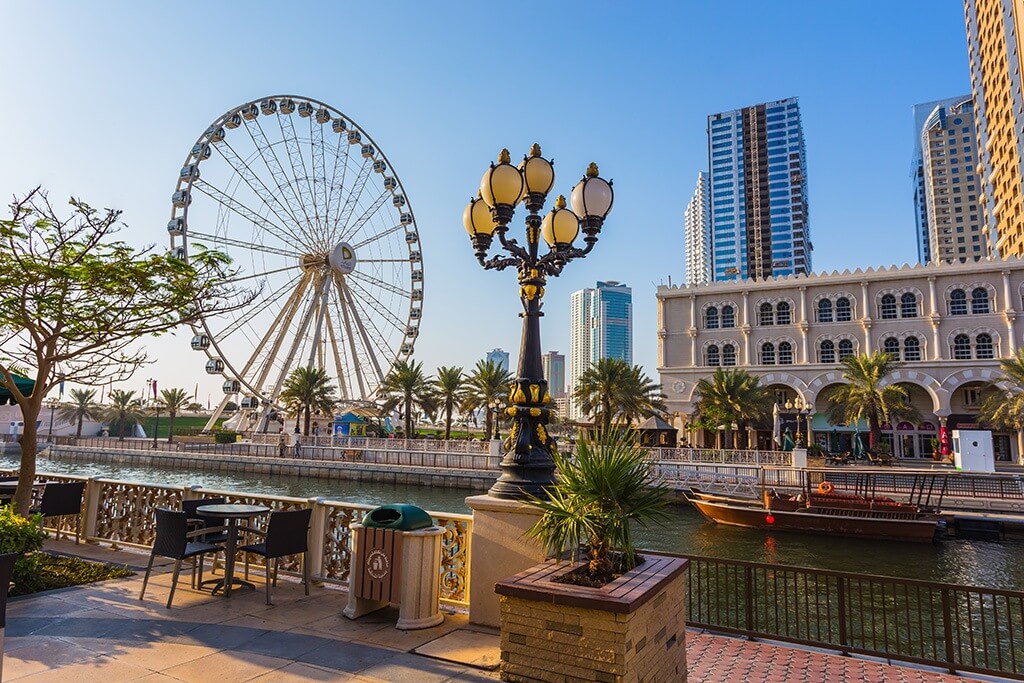 Dubai itinerary: 7 days in the UAE
Don't forget: Best desert safaris in Dubai
My suggested Dubai itinerary involves visiting the most touristic sites on day 1 and 2, Old Dubai on the 3rd day and, if you are here for more than 3 days, visiting off the beaten track places on the 4th.
Dubai itinerary – Places to visit Dubai in 7 days
Day 1 – The glamorous, touristic Dubai
Remember to check:
Best excursions, activities and day trips from Dubai
If you are visiting Dubai for just one day, I recommend you visit the two most famous landmarks:
Dubai Mall and the Burj Khalifa
Dubai is about extravagant and nonsensical buildings and, therefore, the two main attractions in the city are the largest mall in the world and the tallest building on Earth, which is attached to the mall.
I personally don't like the Dubai Mall, basically, because I am not into shopping but I like the Burj Khalifa. By the way, you should know that, despite being the biggest mall, they extended it in 2018 by adding an additional luxury section.
Read: Tips + How to travel to Saudi Arabia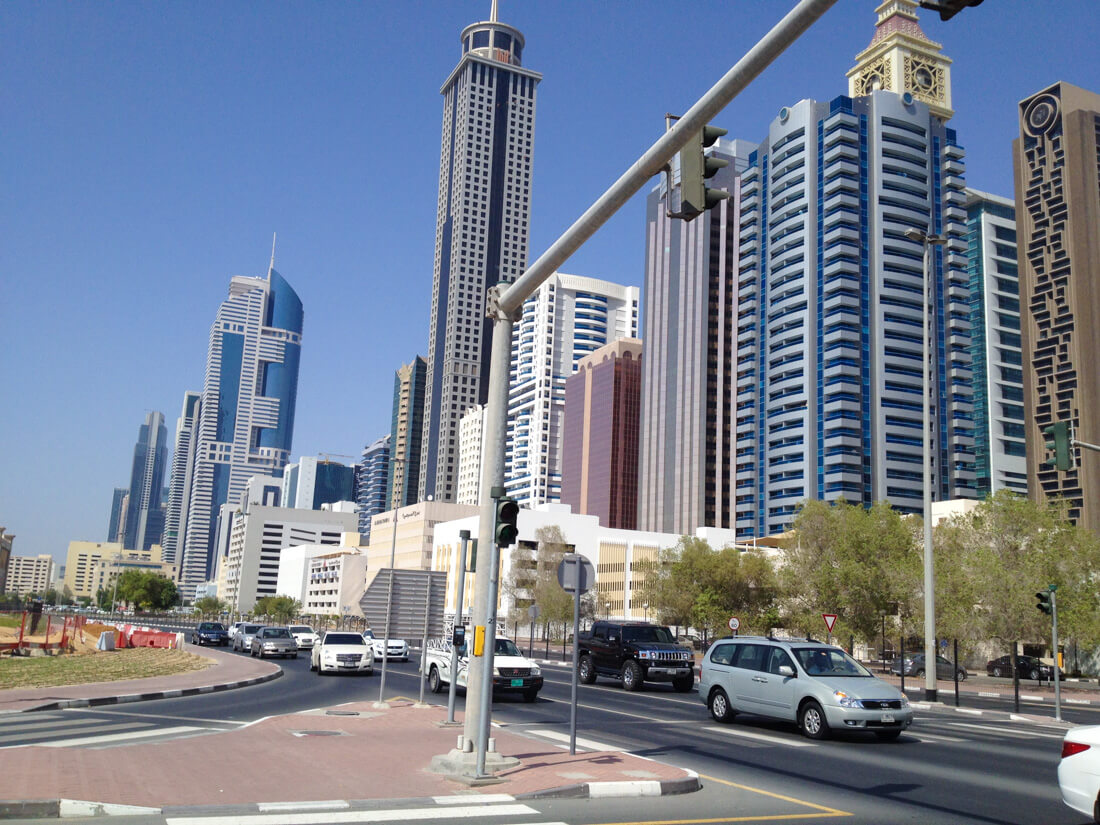 As per the Burj Khalifa, being the tallest building you will ever see, nobody can deny that this 160-storey building is actually impressive.
It won't be the tallest one for very long though, as its two biggest competitors, Saudi Arabia and Qatar, are currently building two brand-new towers which will be taller than the Burj Khalifa itself.
You can actually go to the top, but only to the 125th floor and, for some extra money, to the 148th. If you want to save money, you must book your tickets in advance.
In the evening, don't miss the Dubai Fountain, which is the world's largest musical fountain. It takes place every half an hour, from 6pm to 11pm.
Pro tip – I recommend you have dinner at Mezza House, my favorite Arab Restaurant in Dubai, serving the most delicious Lebanese food. It is right next to Burj Khalifa and it's not particularly expensive.
Remember that you can visit Dubai on a half-day city tour.
Where to stay near Dubai Mall and Burj Khalifa (Downtown)
Remember to check my guide to find the right accommodation in Dubai per area
Downtown is one of the fanciest and most expensive areas to stay at. Most people living here are expats, especially Arab Expats but a lot of Europeans. You should stay here if you want to be close to the best shopping areas and fanciest restaurants.
The most budget choice (Hostel) – The solo traveler – If you are on a tight budget, this brand-new hostel is right next to the Dubai Mall and Burj Khalifa, it has a Carrefour just downstairs, has mind-blowing views and offers budget dorms. If you are a solo traveler, think no further!
Top-rated hotel – Rove Downtown – The best value for money in Downtown. Not expensive but its rooms and facilities are right at the luxury boundaries. For this price, you can't find anything better in Dubai.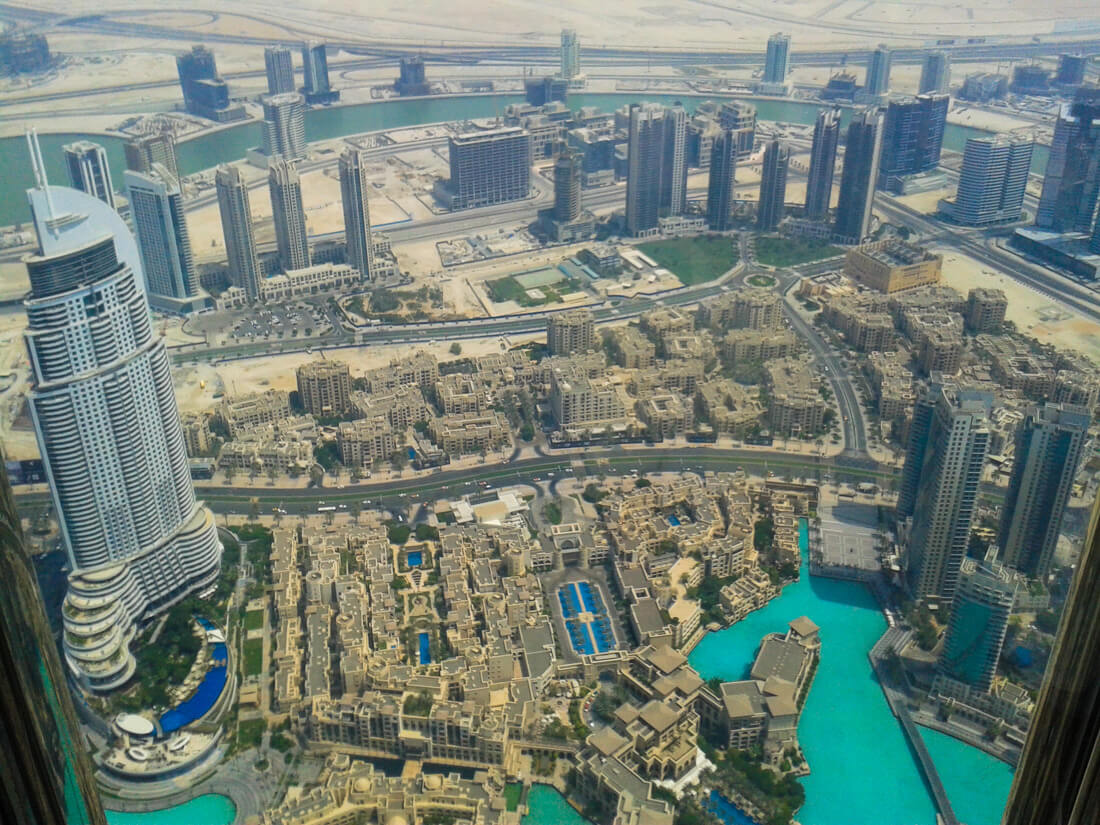 Souq Madinat and Burj Al-Arab
Some people claim that Souq Madinat is a fake bazaar that tries to imitate a traditional Arab souq.
I like to focus on the positive part of travel so, for me, this is just the adaptation of an Arab bazaar to the real concept of Dubai, which is a 21st century, luxurious and modern city.
Souq Madinat is actually pretty, has some cool canals with giant turtles swimming around and, since the place is attached to a couple of hotels, there are plenty of bars and high-quality restaurants serving alcohol.
Pro-tip – Have dinner at Tortuga, the most authentic Mexican restaurant in Dubai. When I say authentic I mean Mexicans come here to eat because they serve traditional dishes and not fake Tex-Mex food like nachos, quesadillas, and burritos. My girlfriend is Mexican and we used to go there all the time.
Moreover, from Souq Madinat, you get amazing views of Burj Al-Arab, the most luxurious hotel in the world. You can't visit it though, unless you book a tour in advance, which often involves eating at one of the restaurants.
Where to stay in Souk Madinat
Remember to check my guide to find the right accommodation in Dubai per area
In Souq Madinat there are only 5-star hotels, so if you are on a budget, stay away from here.
Top-rated hotel – Jumeirah Mina A'Salam – Well, this Arabic-luxury-thematic hotel is absolutely gorgeous and quiet, located right next to the canal and with fantastic views of both the sea and Burj Al-Arab. It is one of the best luxury options in town.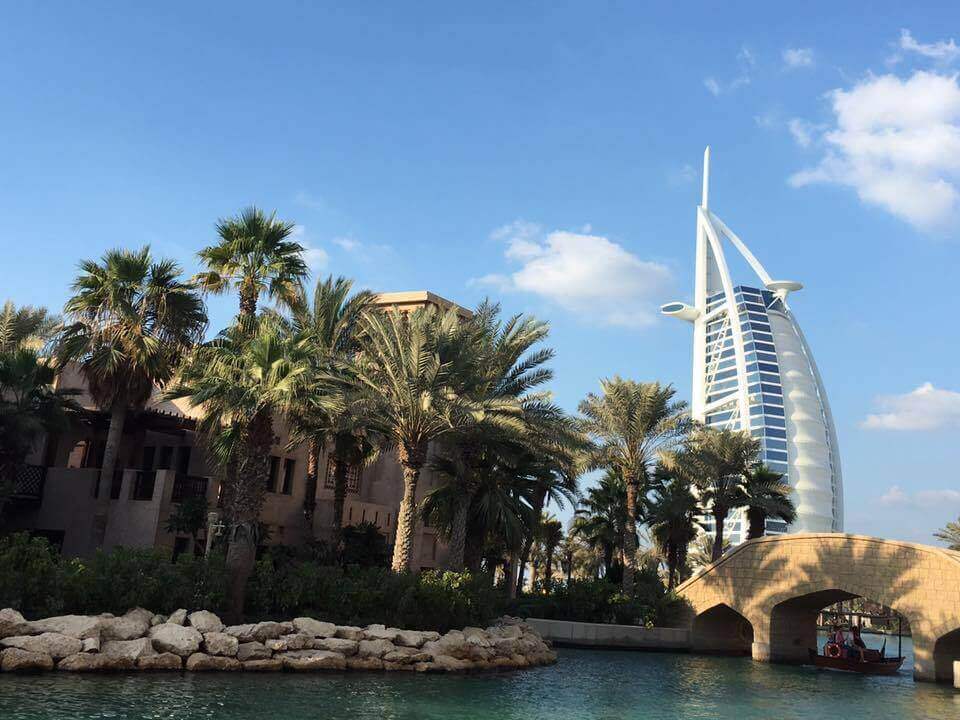 Day 2 – Dubai Marina and JBR
Marina and Jumeirah Beach Residence
The Western expat land, home to a pleasant beach walk that, somehow, tries to replicate Santa Monica's in LA, is a set of skyscrapers, which is more like a resort than an actual neighborhood but the truth is that there are a few hundred people living in them.
With as little as 10 or 15 years of history and a pretty decent beach where you can ride a camel while staring at 60-floor buildings, Marina is the place where people hang out, from tourists to Western expats, locals and 18-year old kids who spend the day driving around the area just to show off their fancy cars.
You can also book a speed boat tour around the Marina.
CLICK HERE TO LEARN MORE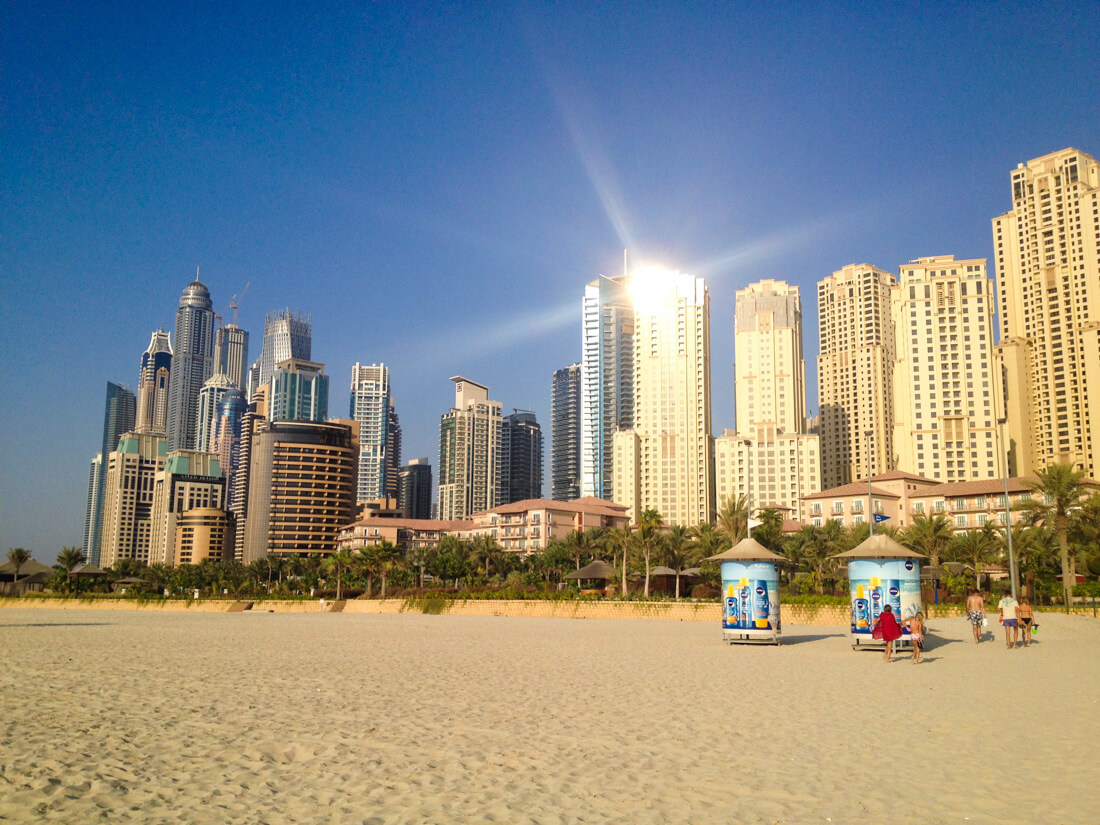 I lived in the Marina for 3 years and, despite sounding like a cheesy and pretentious area, this is the nicest part to live in Dubai, basically because it is the most Western-friendly.
You can easily get there by metro by going to a station which used to be called Marina but now they keep on changing the name constantly. Damac Properties is how they call it now I think.
Pro tip – The beach is nice but it is mostly filled with tourists. Expats go to Kite Beach, located in Jumeirah.

Where to stay close to Marina
Remember to check my guide to find the right accommodation in Dubai per area
The most budget choice (Hostel) – Top of Marina – If you wanna stay in one of the highest floors with great views of the Marina skyline, this hostel is truly amazing. It is actually located in the building I used to live and it has a few swimming pools, a gym and just everything you need. If you are on a budget and want to stay in the greatest place, this is your hostel!
The top-rated option – The Address Dubai Marina –This is my favorite building in the whole Dubai Marina, as it is just simple but impressive at the same time and located right next to the canal. It is one of the top-rated 5-star hotels in the city and has the best bars in the whole Marina.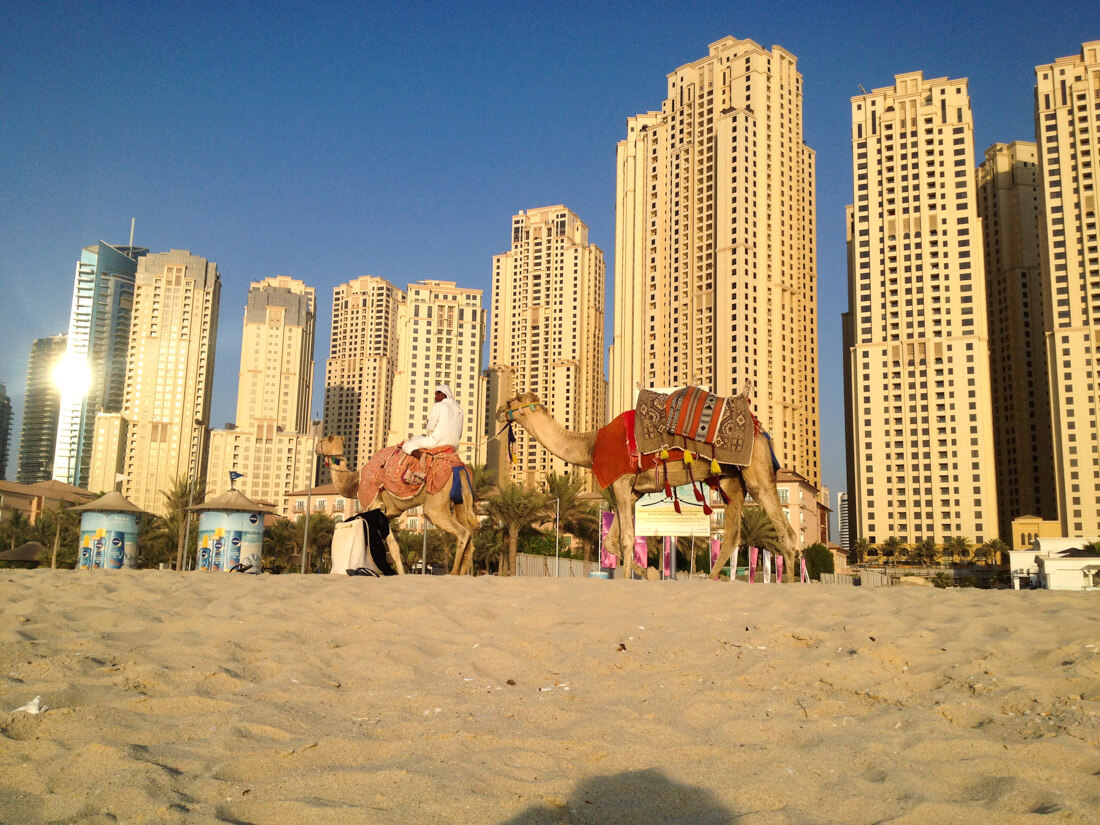 Day 3 – The Palm, Jumeirah, Kite Beach and Jumeirah Mosque
The Palm Jumeirah
After the Marina, if you continue along the coast you find the beginning of The Palm, that famous palm-shaped island which is attached to Dubai mainland and has an Atlantis Hotel replica at its furthest edge.
You can get to the very edge by a monorail that runs 20 meters above the street and, for me, this is the best part of this tiny trip, as you can get a feeling of the island's shape. Otherwise, when you are walking over it, it is like being in a normal street plus the island itself is boring.
You can also book a speed boat tour around The Palm.
CLICK HERE TO LEARN MORE
Where to stay in The Palm
Remember to check my guide to find the right accommodation in Dubai per area
Unless you want to stay in Atlantis, which is the famous hotel, I don't see a reason why you should stay in The Palm. There is nothing to do and it is far away from everything. In three years, I came here just three times and only because I had some company events and meetings.
The best – Atlantis – What can I say which you don't know yet? The Atlantis is one of the most famous landmarks in the city and a replica of the hotel you find in the Bahamas. It also has a waterpark and loads of bars and restaurants.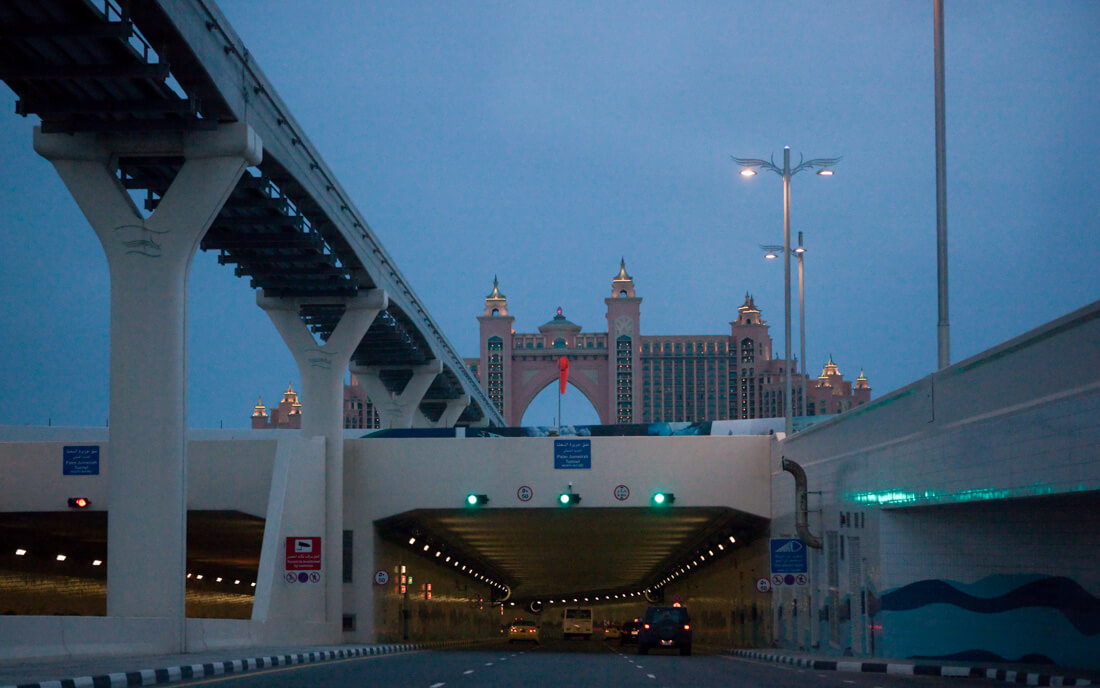 Jumeirah, Kite Beach and Jumeirah Mosque
Following the road along the coast, 18km after The Palm (I already told you that distances in Dubai are huge), you find Jumeirah, a set of streets filled with expensive villas where the local Emiratis live.
I like this area because it is one of the very few actual walkable parts of Dubai and also because you find the Jumeirah Mosque, a small but beautiful mosque which non-Muslim people can visit and the only cultural site to visit in the new part of the city.
There is no metro line to come here but the bus leaves from the main street in Marina.
Pro tip – Go to Bu Qtair Fish restaurant, a pretty budget seafood restaurant that serves fresh fish cooked in the traditional Gulf way.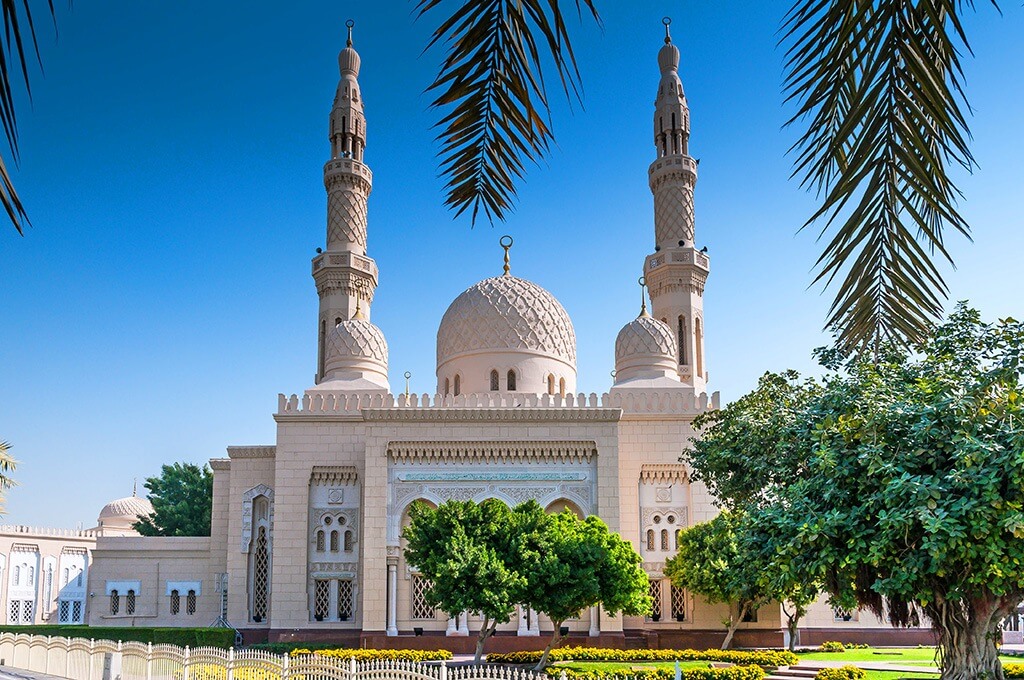 Day 4 – Old Dubai
Old Dubai is my favorite part of the UAE as it is the only place with a real soul. You can easily there by metro. The place is huge though and it has several metro stations.
Bastiqaya and Bur Dubai
Inhabited by Indians since many hundreds years ago, when the local Arabs were still Bedouins living in the desert, this used to be one of the greatest centers of the pearl trade and industry, one of the region's main economic pillars.
Today, Bastiqaya and Bur Dubai are still mostly inhabited by Indians who are able to provide a deeper cultural feeling than soulless Dubai. Here you will find authentic (and cheap) Indian eateries filled with tens of Indians, real bazaars and traditional architecture.
Bastiqaya is the place to get lost among its narrow alleys while savoring some real authentic cuisine in the many restaurants where, according to Indians, they serve the best Indian food in the world, because it tastes like back home but it is much more hygienic.
This is, by far, my most favorite place and the reason why I finally liked Dubai.
If you are interested in Old Dubai, you can book a Street Food tour around the maze streets of Bastiqaya.
CLICK HERE TO LEARN MORE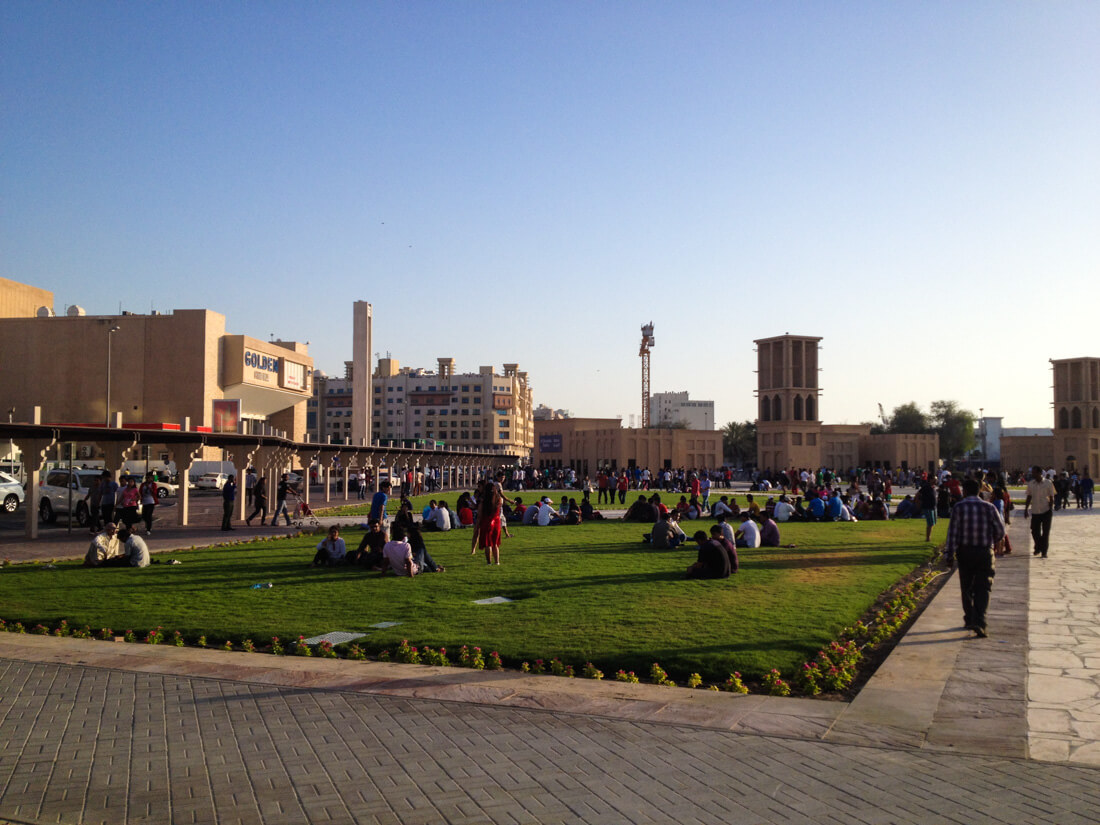 Don't forget to check out the Dubai Museum, which is built inside a fortress from the 18th century, the Creek, the Textile Souk and a real Hindu Temple that holds real Hindu ceremonies.
Pro tip – If you need to buy any electronic, Bur Dubai has the cheapest stores in town, much cheaper than anywhere in Europe.
Where to stay in Bur Dubai
Remember to check my guide to find the right accommodation in Dubai per area
In Bur Dubai you find some of the cheapest accommodation in town:
The most budget – Gold Plaza Guest House – This is not a nice hotel but it is really cheap. If you look for the cheapest option, this is your place.
The top-rated – Raffles Dubai – A top luxury hotel but much cheaper than other similar options from Marina or Downtown. If you look for affordable luxury, this is your place.
Cross the Dubai Creek in an Abra, from Bur Dubai to Deira
Pay 1 AED and enjoy a fabulous ride in the abra, the traditional water taxi to cross the atmospheric Dubai Creek from Bur Dubai to Deira on the opposite side. The quaint old wooden boat has a fishtail carved out of wood.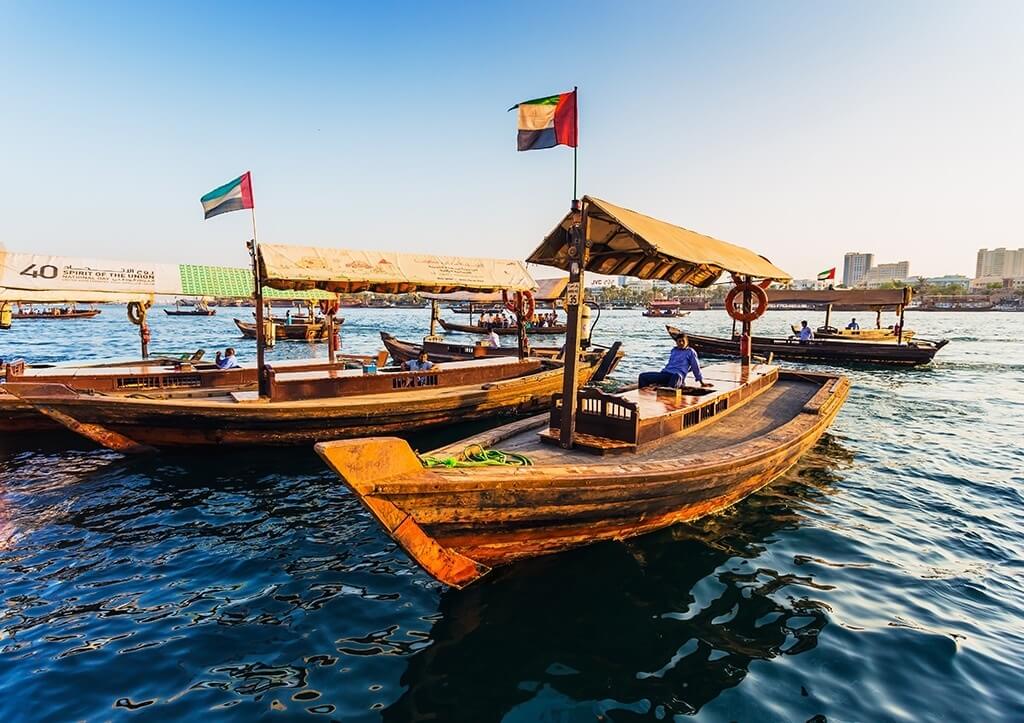 Deira and the spice market souq
From saffron, cinnamon, cardamom, sumac and turmeric, Deira has the most traditional and photogenic souq, selling all sorts of spices, to the extent that any Indian can actually cook any curry they can come up with.
Deira and the gold souq
If you are into jewelry and gold, this souq sells some of the cheapest gold in the world and its biggest attraction is one ring which is claimed to be the biggest ring on Earth, which doesn't make any sense because it is so big that your entire body would fit into it, so it is a completely useless ring.
Where to stay in Deira
Remember to check my guide to find the right accommodation in Dubai per area
Deira also offers plenty of budget accommodation and the biggest advantage is that it is very close to the airport.
Budget – Mark Inn Hotel Deira – Simple but clean, cheap and excellent Middle Eastern service. For people on a budget, this is a really good option.
Top-rated – Rove City Center – This hotel has the largest number of really positive reviews, located in the new and fancy part of Deira. Excellent service and super modern facilities.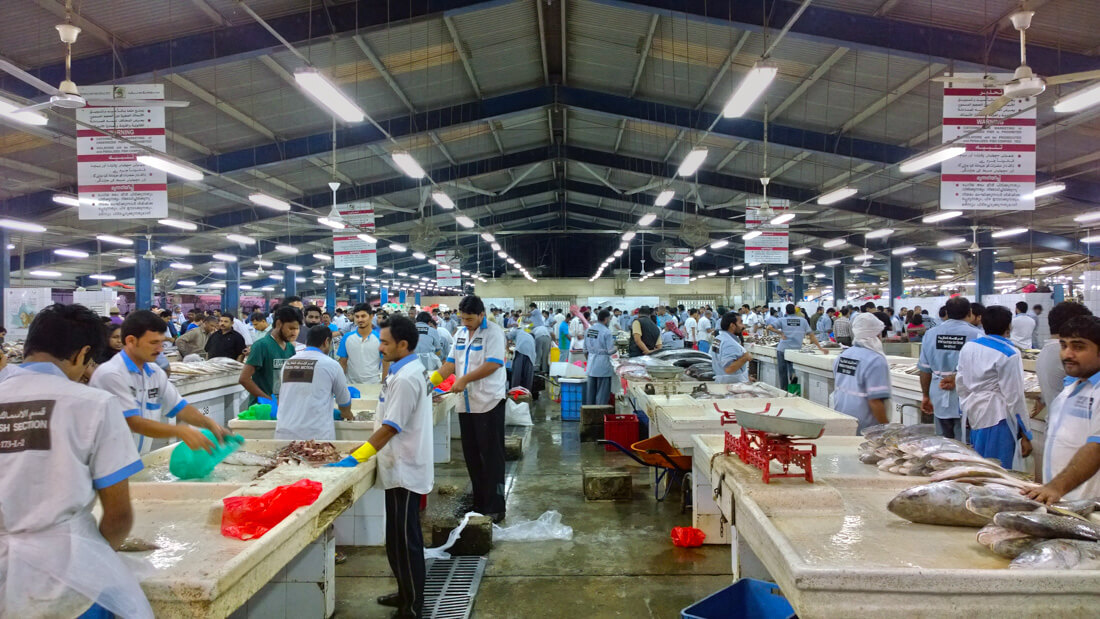 Day 5 – Get off the beaten track
These are my top off the beaten track activities to do in Dubai.
You can't do everything in one day but you can choose 1 or 2 or replace some of the previous fancy stuff with any of these places:
Camel Racing
Be part of the heart-pumping action that is so integral to the Emiratis' life at the Al Marmoom Racetrack deep in the desert sands.
It's an experience like no other; about 60 camels rush out from the gates, long legs flying in every which direction, running as fast as they can down the track while the jockeys steer and hold on for dear life.
They are followed by their owners in 4X4s, yelling at their camels and jockeys to do better. The excitement is contagious and soon you'll be screaming at your favorite camel (yes, you actually read that), just as you would at a horse race.
The camel race is one of the most traditional activities in the Arab Gulf and will be one of the highlights of your Dubai itinerary.
The races take place on Friday and Saturday, from October to April.
For more information, check this website.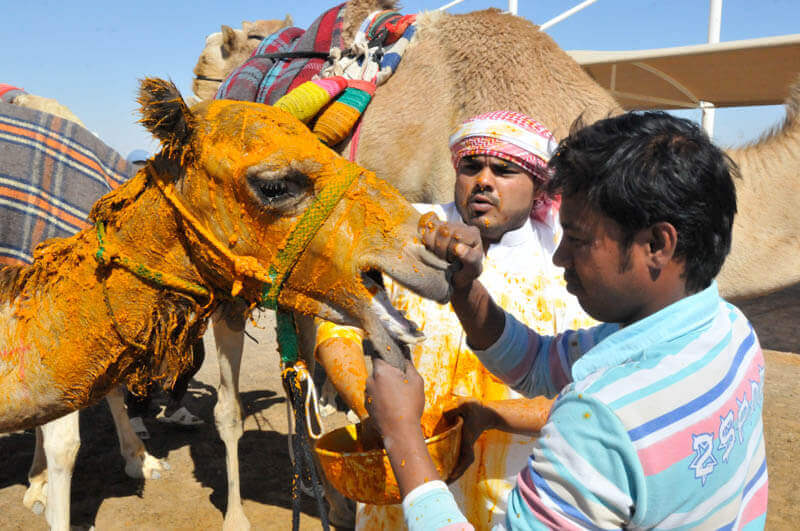 Horse racing in Meydan
The national sport in the UAE is horse racing and, in fact, they have some of the best and most expensive horses in the world.
If you want to experience something very traditional but modern at the same time, you can't miss the weekly horse racing at Meydan racing stadium, which takes place every Thursday at 7pm, from November to March.
The races are impressive, so is the atmosphere, as all types of people attend: from wealthy locals to expats and laborers. The general entry ticket is free but, of course, you can also get a premium seat, which gives you access to the bar and restaurant.
For further information, visit the official website.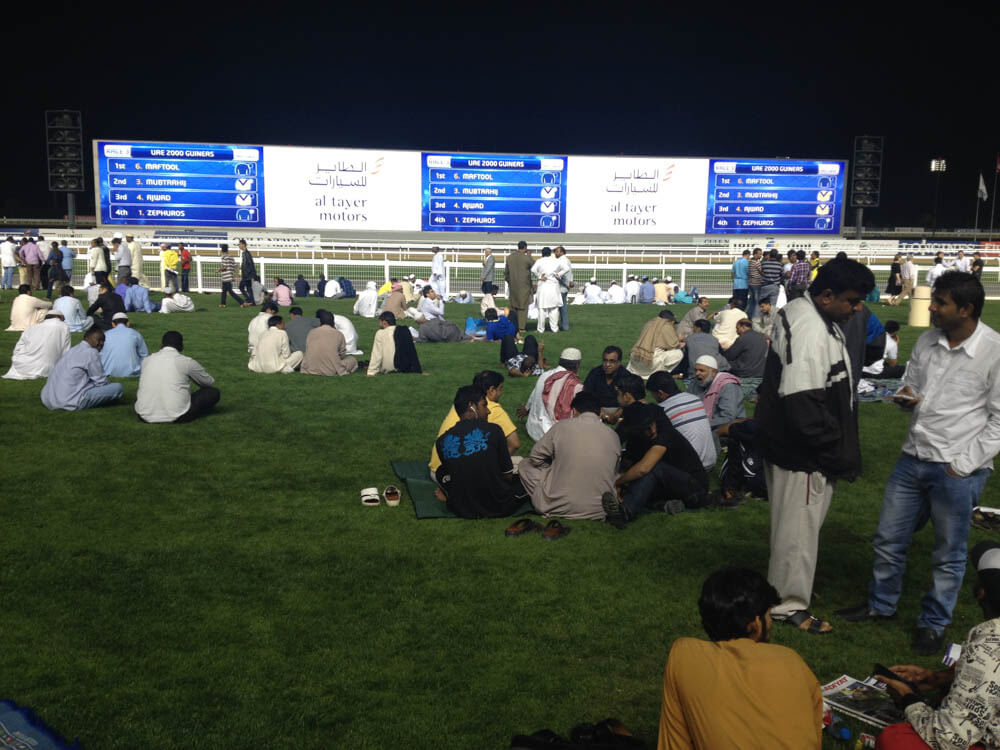 Sheikh Mohammed Center for Cultural Understanding
The Sheikh Mohammed Center for Cultural Understanding is one governmental entity which tries to promote and create awareness of the Emirati culture, a culture which most foreigners have very little exposure to.
You can visit the center and book different tours but I recommend the lunch tour, which involves spending 1.5 hours with local Emiratis over a traditional Emirati lunch, who will explain you the customs in the UAE to you.
Since you will be having lunch with these men, the interaction will be higher and much closer than just visiting the center on a guided tour.
Heritage exclusive & eco-friendly Desert Safari
If you want a real desert, exclusive and off the beaten track adventure, go to the Heritage Safari, where you will drive, very slowly and quietly, over a track from where you can actually see oryx and real desert wildlife.
The cars are real, refurbished Land Rovers from the 50s and, unlike the regular desert safari, which is very close to the city and there is much noise from people and other cars, here you will find complete silence and the real feeling of what a desert is like.
You will have to book it in advance
If you want to go on a regular safari, check:
10 top desert safaris in Dubai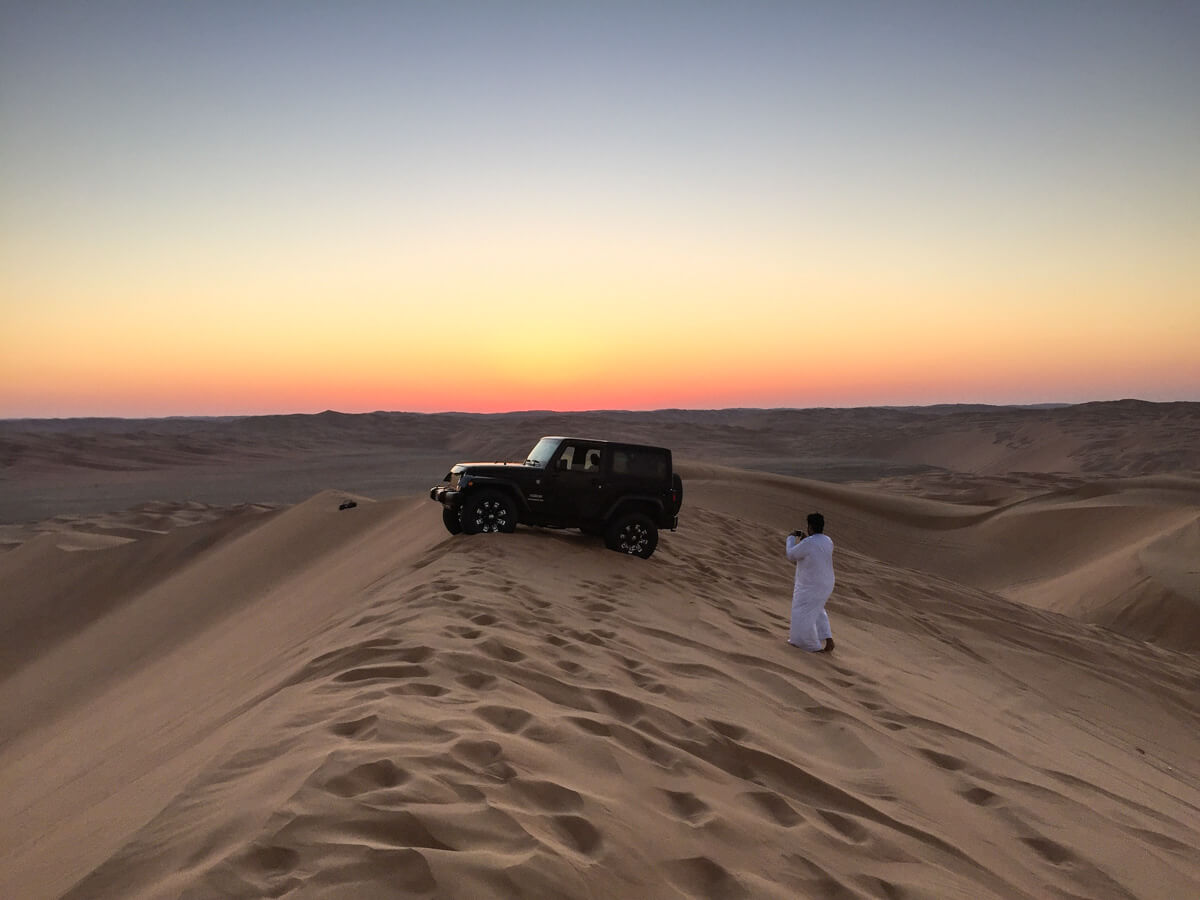 Day 6 – Day trip to Al Ain
After getting tired of Dubai, it is time to get outside of the city and, if you still want to experience some traditional culture, I strongly recommend you go to the Camel Market of Al Ain, which is a bustling, chaotic animal market, where you can bargain over the price of a camel and where you will find, literally, hundreds and hundreds of camels and a really authentic atmosphere.
Today, the sellers are not Emirati but Pakistani and Indian, even though most likely, the actual owners are locals.
However, the bazaar is still really genuine and, if you wander and wait for long enough, you will see wealthy Emiratis coming with their pickups to bargain for camels and other animals.
Every time I had friends visiting, I never hesitated to take them there, which means that I have been here so many times!
The market is, obviously, free and you will be one of the very few tourists. Al Ain is 1 hour and 30 minutes from Dubai and you can only come here by car.
Moreover, besides the market, Al Ain has also plenty of historical sites like Jahili Fort, a desert fort from the 19th century built in a beautiful oasis.
If you are self-driving, also go to Jebel Hafeet, a mountain whose road was voted among the greatest roads to drive in the world.
For more information, read: Things to do in Al Ain
You can book a full-day tour to Al Ain, which includes a visit to the camel market.
CLICK HERE TO LEARN MORE
Where to stay in Al Ain
As you can see, there are quite a few things to do in Al Ain, so if you want to stay here overnight, I recommend these hotels. Good news is that all the hotels are much cheaper than in Dubai.
Budget – Ayla – This is the most decent, budget option in town, with plenty of good reviews actually.
Top-rated – Ayla Grand Hotel – One of the busiest and most popular options in town, this 5-star hotel is very close to the city center and it is a luxury option with unbeatable prices.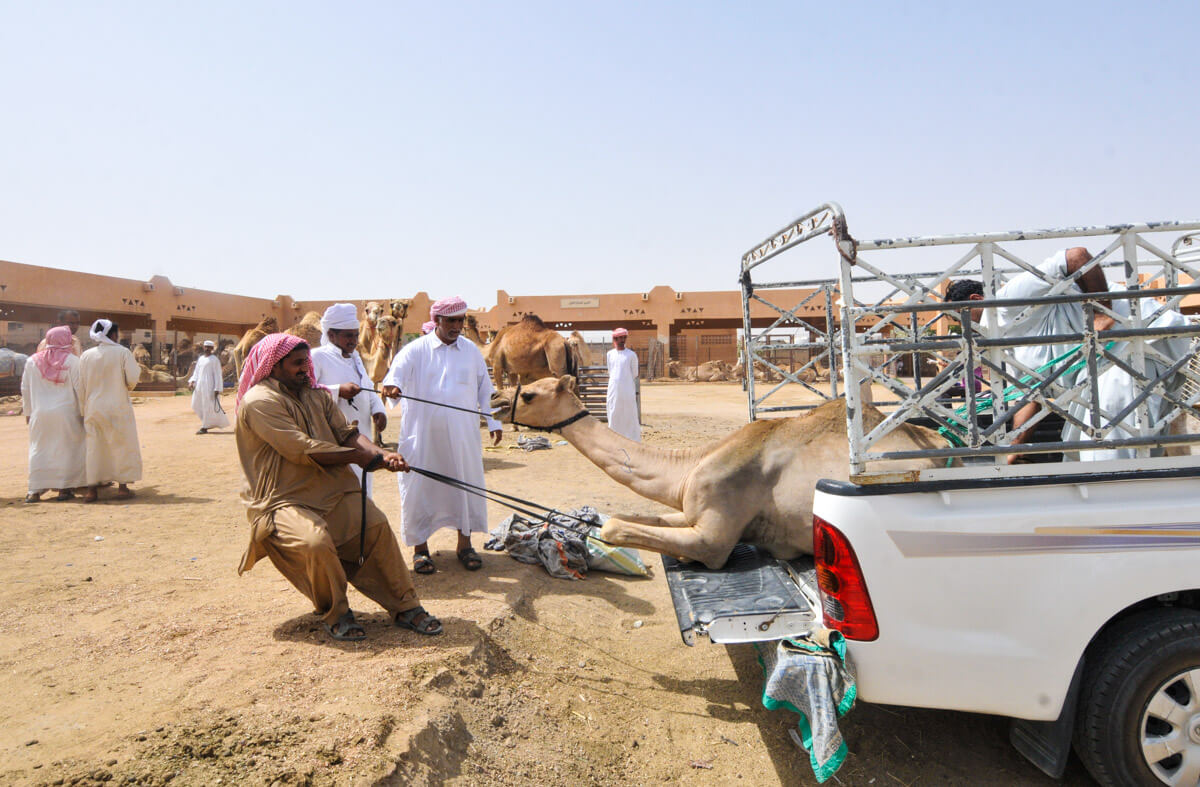 Day 7 – Day trip to Abu Dhabi
Go to Sheikh Zayed Mosque (a must)
This is one of the largest mosques, with the largest carpet and the largest chandelier in the world.
The mosque can accommodate an astonishing 40,000 worshippers. It has 82 domes plus 1,000 marble columns and 24-carat gold gilded chandeliers everywhere.
One of the world's biggest-ever chandeliers dominates the main prayer hall; it is 10 meters in diameter and 15 meters in height and weighs twelve tons.
If that weren't enough, the Sheikh Zayed Mosque has the world's largest hand-knotted carpet, made by Iranian carpet weavers.
The mosque is surrounded by reflective pools that amplify its beauty. What glitters gold and white in the sun is transformed at night by a unique lightning system which reflects the phases of the moon. The best time to see the mosque is during sunset, at 5:30 P.M. The mosque has a 'Sunset Hour' sightseeing set up at that time, to enable visitors to see the best of the mosque.
For more information, read this Abu Dhabi City guide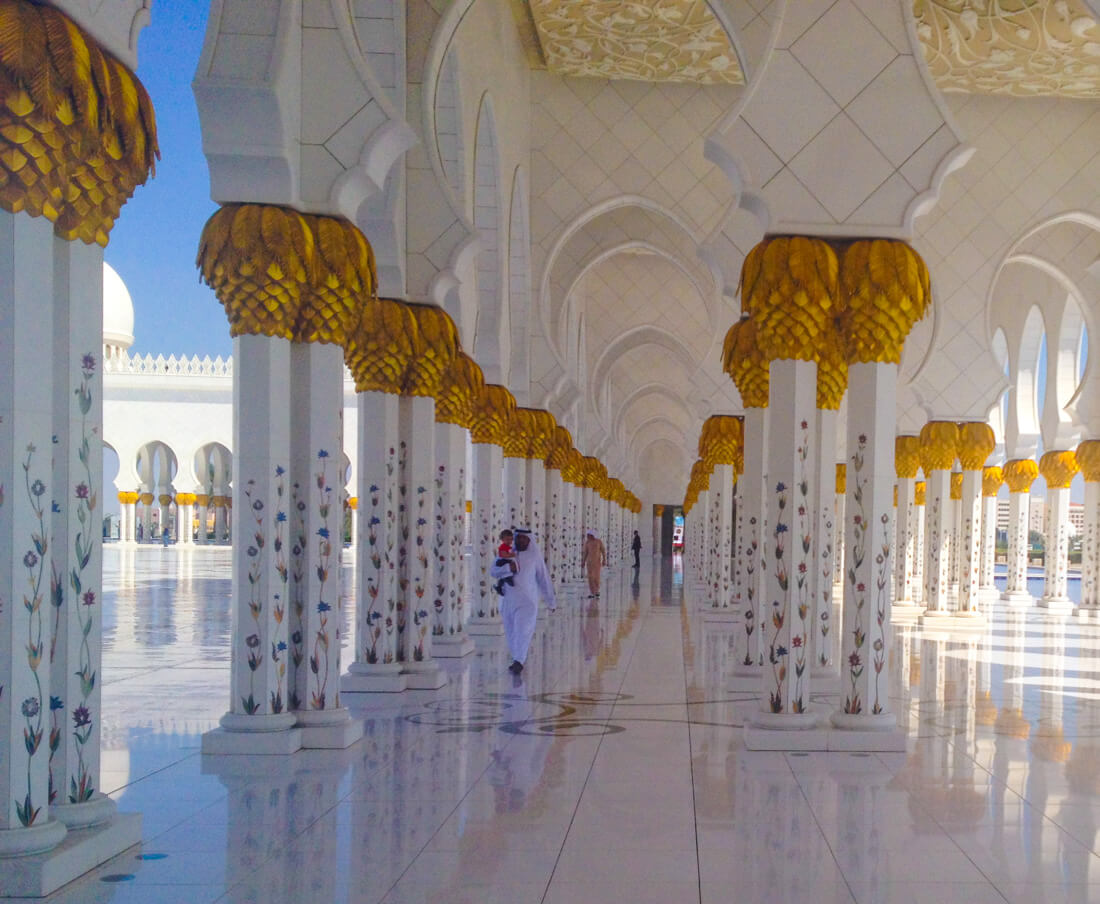 Pro Tip – Modest clothing is expected when you enter the mosque, including an abaya for women (provided at the entrance) and covered head, shoulders, and knees for the men. The mosque is open from 9 A.M. to 10 P.M. every day and is open daily to visitors except on Friday morning.
How to get there – Well, there is no direct public transportation. You would first need to to take a bus from the outskirts of Dubai to the center of Abu Dhabi and then look for a taxi, which I don't recommend.
Going directly by taxi from would cost, roughly, around 300AED (one way), so the best way is to rent a car or, even cheaper, to go on a tour.
If you aren't self-driving, I recommend you book the tour with GetYourGuide, as they have pretty good deals for visiting the mosque which you can combine with visiting other places within Abu Dhabi.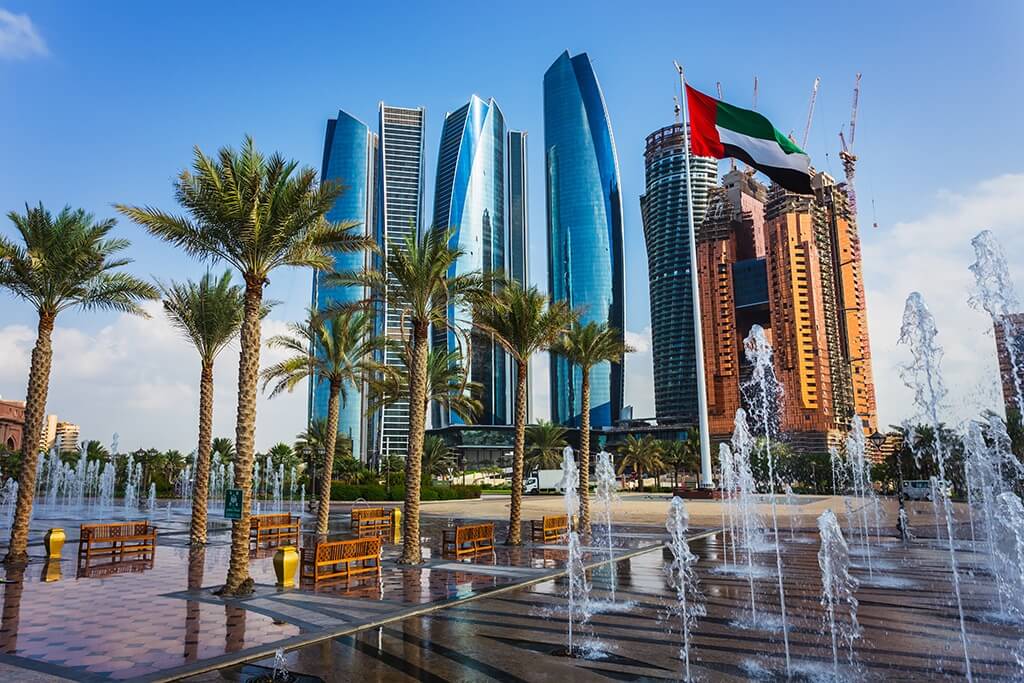 Bonus! Extending your UAE itinerary
Liwa Oasis (2 additional days, minimum)
Attention.
Liwa Oasis is my most favorite place in the whole United Arab Emirates and, actually, one of my top places to visit in the Middle East.
Unfortunately, due to its remoteness and distance, you need a couple of days to enjoy Liwa.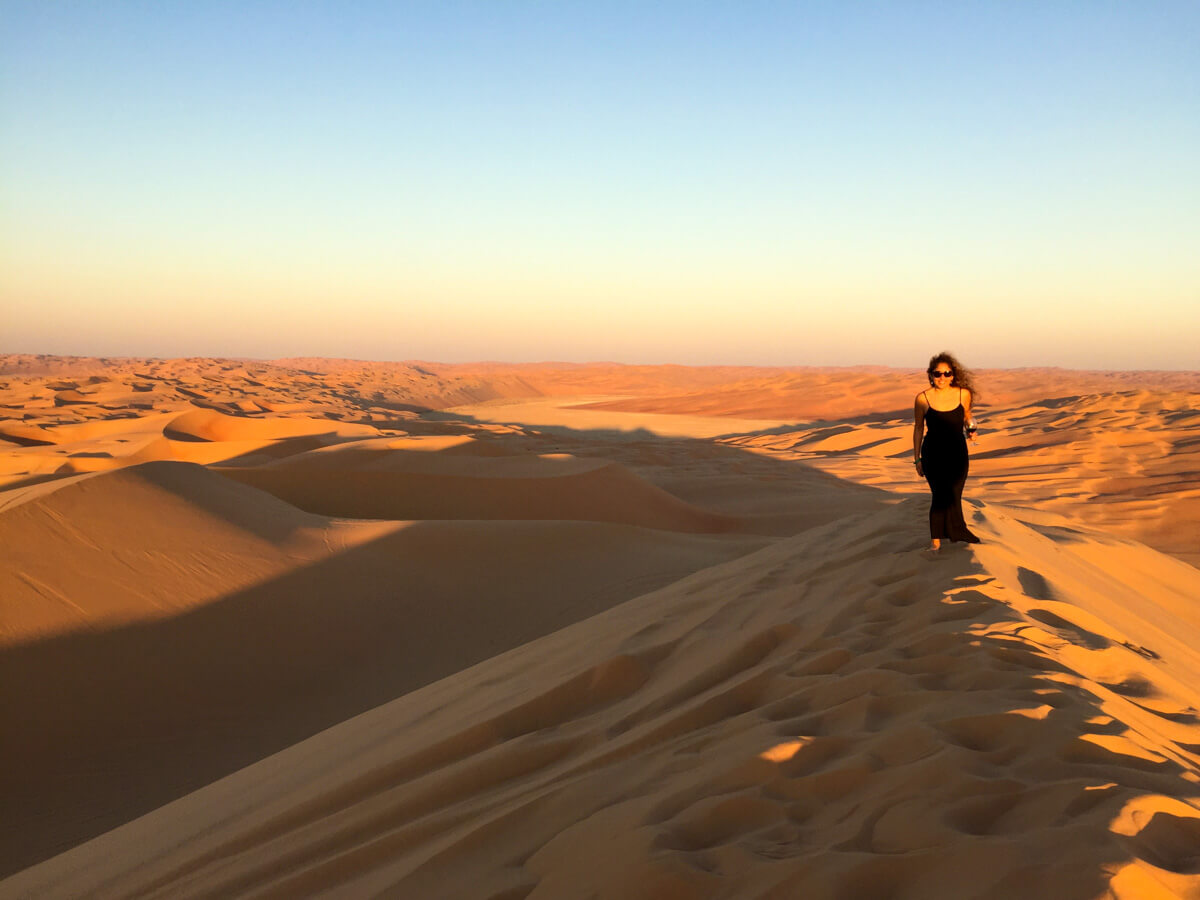 Liwa Oasis is located in the southern-eastern part of the country, 250km from Abu Dhabi and 350km from Dubai, very close to the Saudi Arabian border.
The oasis is situated on the north-eastern edge of the Empty Quarter (Rub-al-Jali), a vast desert spread across the UAE, Saudi Arabia, Oman, and Yemen, which is the largest continuous sea of dunes in the world. It extends over an area of 650,000km² and measures 1,000km in length by 500km in width.
For more information, read my guide to the Liwa Oasis
Where to stay in Liwa
Budget – Liwa Hotel – The hotel is all right, nothing fancy but the location is quite unbeatable, right in the middle of the sea dunes, from where you get stunning views of the Empty Quarter.
Top-rated – Anantara Qasr Al Sarab Desert Resort – This resort is the most awesome desert hotel in the country. With some of the most stunning views ever, this 5-star hotel is real Emirati luxury combined with tradition. Even if you are not staying here, it is worth checking out.
More information for visiting Dubai
📢 In my Travel Resources Page you can find the list of all the sites and services I use to book hotels, tours, travel insurance and more.
Access blocked sites – Remember that, if you want to use Skype, Whatsapp Call or Tinder you will need a VPN. For that, I recommend ExpressVPN, the best and fastest VPN in the market.
All guides and articles for traveling in UAE destination
Check more city guides