Places to visit in Saudi Arabia – 15-day itinerary
In Saudi Arabia, the internet is censored, which means that some websites and internet services are blocked. If you want to access them you will need a VPN and for that, I recommend ExpressVPN, the fastest and works best for Saudi.
CLICK HERE TO LEARN MORE ABOUT ExpressVPN
Allowing Westerners to get in is going to be a game-changer for the country because it means that Saudi will be open, more and more tourists will have the chance to discover its beauties and, therefore, the country will evolve positively and more progressive rules will be implemented.
For all the visa-related information, read how to travel to Saudi Arabia.
All right, the first thing you need to know is that there are many awesome things to do in Saudi Arabia and it actually has a massive touristic potential that goes way beyond desert, camels, and Bedouins.
I mean, just look at its dimensions – it's massively huge, really – with an area 4 times bigger than Spain, so the country is home to large geographical contrasts, ranging from high, green mountains to sand dunes and coral reefs.
After spending 2 weeks traveling around, I have compiled all the places to visit in Saudi Arabia in a 2-week itinerary.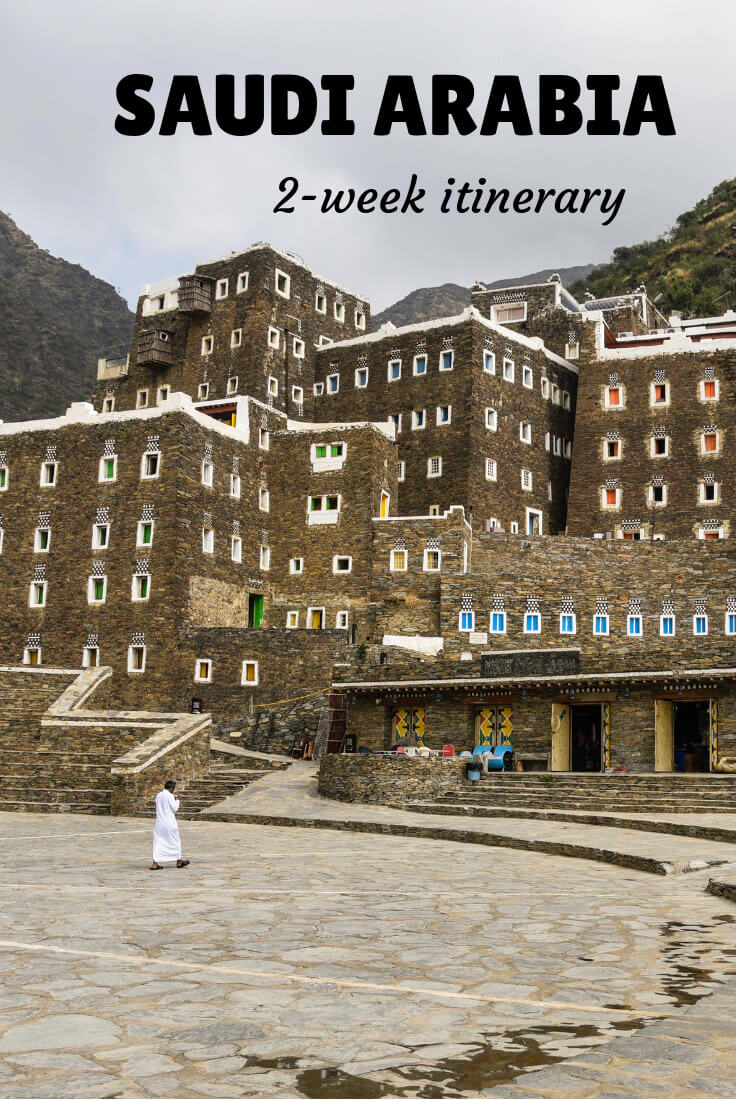 In this Saudi Arabia travel itinerary you will find:
eSIM for browsing, calling and planning your itinerary in Saudi Arabia
With Holafly, you can now get an electronic SIM card for Saudi Arabia from home with just 2 clicks.
5% discount with the following code:
AGAINSTTHECOMPASS
How to organize your Saudi Arabia itinerary
Most likely, your Saudi itinerary will start in Riyadh or Jeddah, from where you will start planning your journey.
Read: How to find the right accommodation in Riyadh
The problem with Saudi Arabia, however, is that the distances are too big, plus the 2 main cities are located in the middle, which means that, if you want to visit both the south and the north, you will have to do some really crazy detours.
Just for you to have an idea, imagine you want to visit Riyadh, Jeddah, Al-Ula and Jizan, which are the 4 greatest places to visit in Saudi Arabia in my opinion:
Riyadh to Jeddah: 954km
Jeddah to Jizan: 714km
Jizan to Al-Ula: 1,382km
Al-Ula to Jeddah: 676km
That's 3,726km in less than 10 days, only for moving from one city to another.
Remember to get travel insurance for Saudi Arabia
Saudi Arabia's health care is extremely expensive, so insurance is a must.
IATI Insurance offers different plans, for all budgets.
Get your 5% exclusive discount if purchasing via this link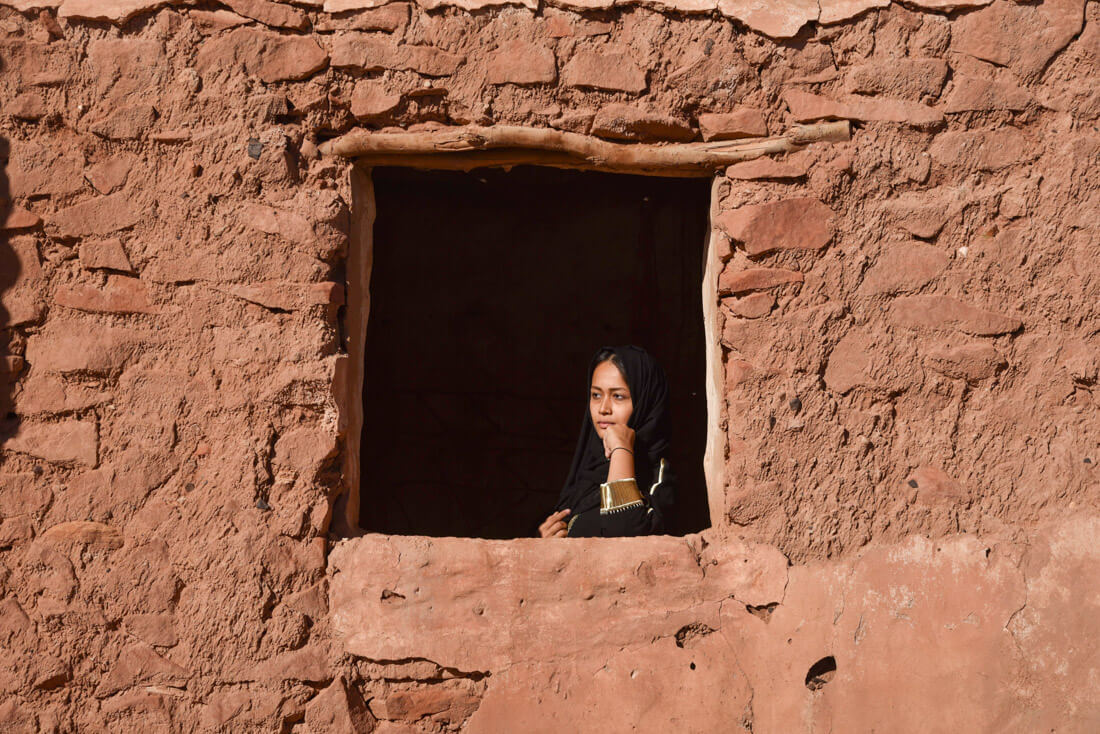 Then, how to plan what to do in Saudi Arabia?
Moving around by car
If you are willing to drive long distances, you can rent a car, no problem, but just be aware that, in Saudi, most rental car companies (not to say all), offer limited daily mileage, around 250-300km, so if you drive all around the country, the final quote can be a bit expensive.
Moving around by plane
Probably the most feasible option. I personally took 2 flights, from Riyadh to Al-Jawf and from Jizan to Jeddah and it saved me a lot of time. There is a very budget airline called flyadeal and, if you book in advance, you should get good rates.
In any case, there is not a single place to visit in Saudi Arabia made for walking or moving around by public transportation, so even if you fly in, you will have to rent a car at the destination itself.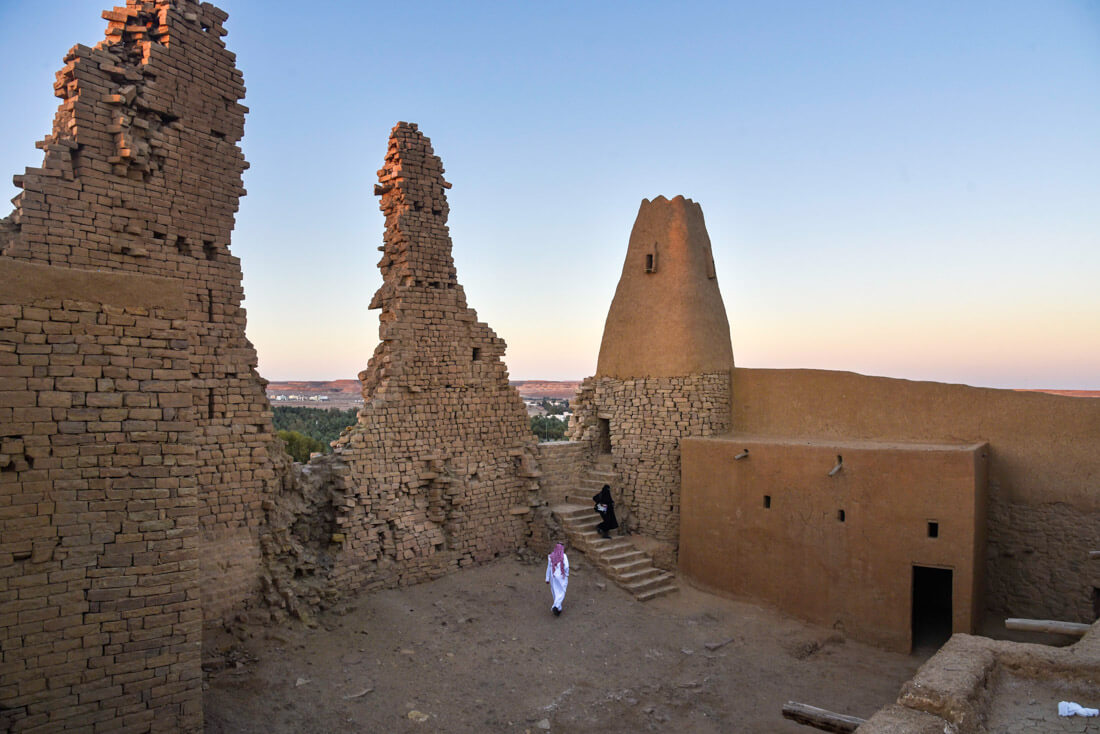 How to sign up for a tour in Saudi Arabia
Saudi Arabia is an expensive destination to travel solo, so why not join a group expedition of like-minded travelers?
Against the Compass always has scheduled tours groups to Saudi and scheduled ones are:
In this epic 8-day expedition, we will visit places like: Jeddah, Yanbu, Medina, Al-Ula, Wadi Disah, Tabouk and more!
Why join our Saudi EXPEDITION?
Because we will do plenty of activities which otherwise would be impossible to do on your own, like:
Sailing to an island in the Red Sea
Meeting actual Saudi Bedouins
Driving across the desert around Tabouk
Visiting Holy City of Medina
Driving around the archaeological site of Al-Ula with a vintage Jeep car
How to access blocked sites in Saudi
Something you should know is that, in Saudi, the internet is censored.
This means that some websites might be blocked and inaccessible for regular internet users.
Moreover, because of this censorship and, since there is no freedom of speech, the Government reserves the right to monitor your internet activity.
Therefore, if you want to access blocked sites and navigate anonymously, you will need something called a VPN (Virtual Private Network) and for that, I use – and strongly recommend – ExpressVPN, the VPN that works best for Iran.
If you have no clue about VPNs, read my tutorial: What is it and how to find the right VPN for Saudi Arabia
Get this epic travel guide to Saudi Arabia!
My friends Sian & Bob have recently published a full guidebook to Saudi Arabia, containing loads of actionable advice and a great overview of each one of their regions. A great introduction to the country, this must be the only available travel guide to Saudi Arabia!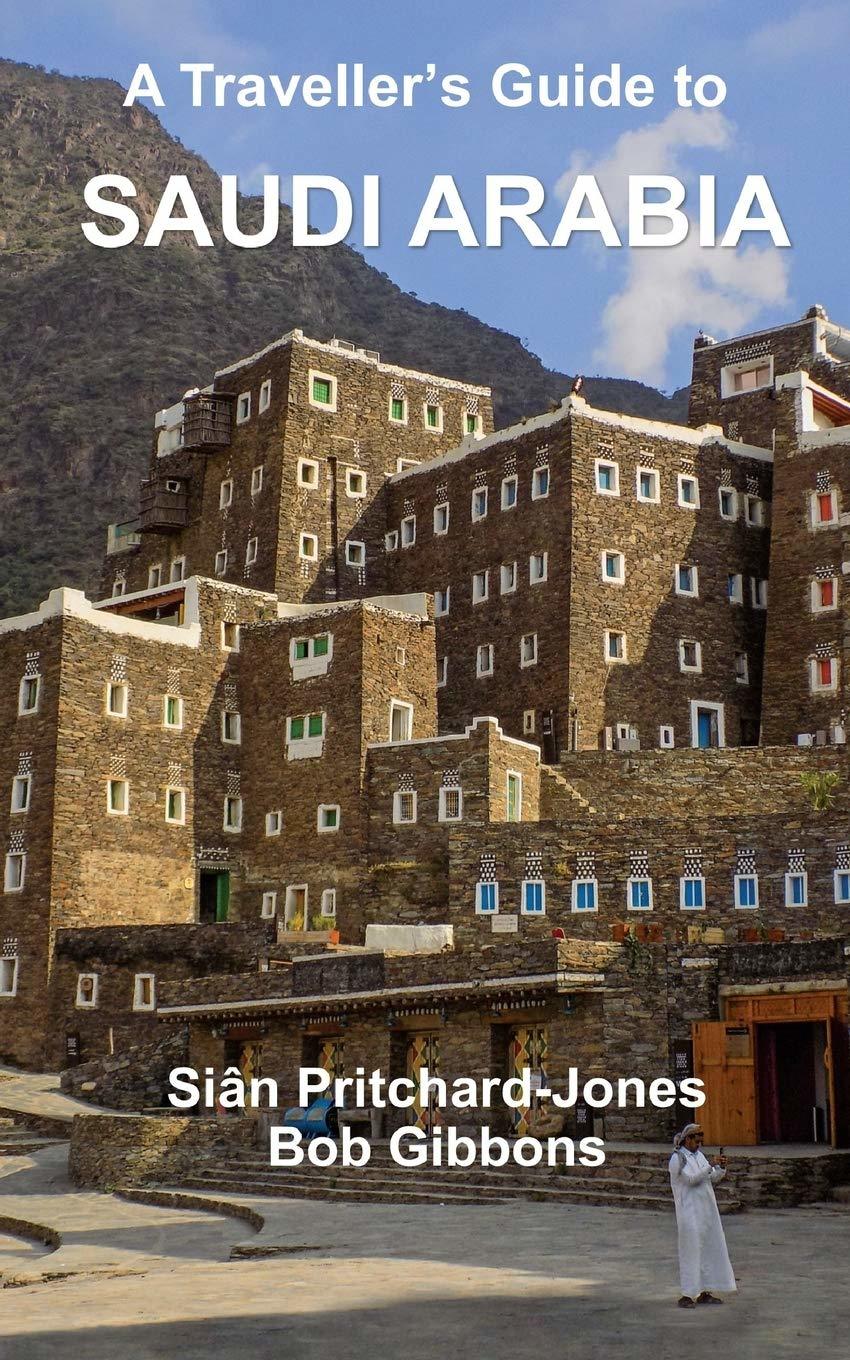 Places to visit in Saudi Arabia – 10-12 Days itinerary
This Saudi itinerary covers the following things to do:
Riyadh – The capital, which is surprisingly interesting.
Jeddah – The second largest city has the most beautiful Old Town in the Gulf.
Abha – Spectacular mountains and colorful heritage villages.
Jizan – Mountain villages and Yemeni-like culture.
Al-Ula – A replica of Petra and Wadi Rum but without tourists.
Visiting Mecca and Medina – Why aren't included in the Saudi Arabia itinerary?
Good question. The Saudi tourist visa specifies that you can go anywhere in the country except Mecca and Medina, the two holiest places on Earth for Muslims.
"I understand, but I know that some Westerners have sneaked in successfully"
Yes, but let me tell you something: those holy places receive thousands and thousands of visitors every day, so they can't check everybody who gets in, especially if you dress like them. However, entering without their permission is not only illegal but also extremely disrespectful, let me tell you why:
According to their interpretation of the Quran, whoever goes to Mecca or Medina needs to have their soul and body cleansed, and that involves following some rituals and protocols before getting in, similar to going to a regular mosque but even more extreme. Christians entering Mecca won't follow any of those rituals and, according to Saudis, that could lead to something bad. Yes, it is a superstitious thing but you are in their country and in their holy place, so if you want to be a responsible tourist, you shouldn't go there. You can, however, visit both cities but there is a line several meters before the holy place which you are not allowed to cross.
Map of the things to do in Saudi Arabia
Riyadh – The country's capital (3-4 days)
As the capital, Riyadh has the largest number of flight connections from Europe, Asia and many places around the world, so it makes sense for it to be your first place to visit in Saudi Arabia.
The first thing you need to know about Riyadh is that it has nothing to do with the fancy, oil-rich, Dubai-style and Maserati-filled capital you may think of, but it is actually a crowded city, full of dust, and not very clean precisely.
Nevertheless, Riyadh is rich in culture and history, more than any other capital in the Arab Peninsula, so I actually liked it a lot, plus it has some wonderful natural beauties, as well as ruined cities, just outside of the city.
Read: How to find the right accommodation in Riyadh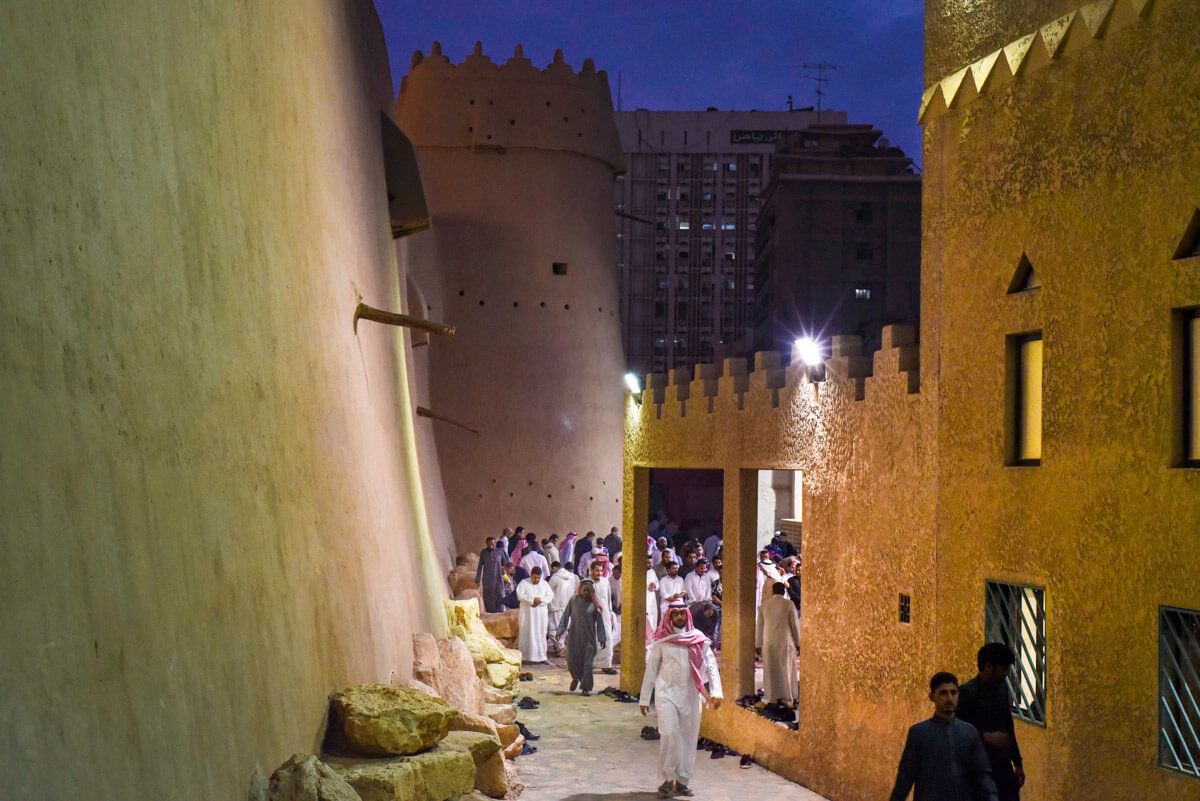 Things to do in Riyadh
In the Old City – Don't forget to check Masmak Fort, the place that held the famous Riyadh Battle; the National Museum; Deera Square, where public executions take place; and Imam Turki bin Abdullah Mosque, one of the largest mosques in Saudi.
Outside of Riyadh – Visit the Red Sand Dunes, the Edge of the World, the Camel Trail and Ad Diriyah.
In the modern part – At sunset, you must climb the Skybridge tower.
For more information, I have written a full mega-guide:
How to visit Riyadh in 3 days – A complete guide
Where to stay in Riyadh
These are just a few options. For a proper district breakdown, check:
Best areas to stay in Riyadh
Budget Hotel – OYO 150 Al Hamra Palace Al Aswaq – Simple but clean and comfortable. In Saudi, aparthotels are very common and the cheapest accommodation.
Mid-Range – Mada Suites – For travelers with a higher budget, this aparthotel is a really good value for money choice.
Affordable Luxury – Crowne Plaza – This 5-star hotel is cheaper than many other luxury options in the city.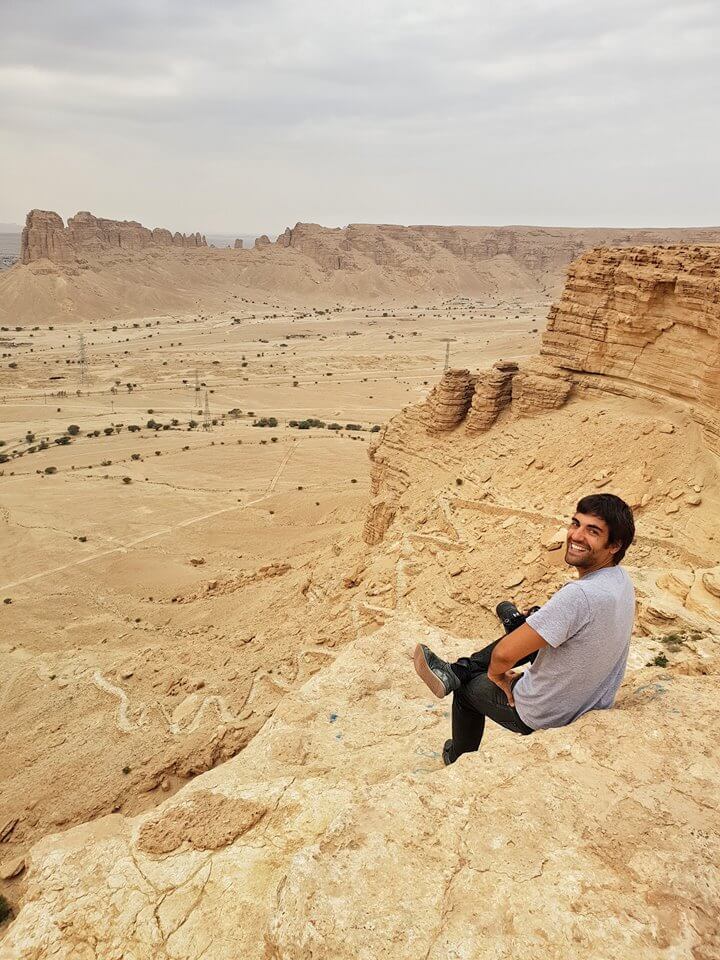 Jeddah – The most progressive city (3 days)
Established in the 7th century AD as the gateway for Muslims going to Mecca who arrived by sea from mostly Africa, Jeddah is the second largest city in the country and, in relative terms, the most progressive place to visit in Saudi Arabia.
Here is where you find the most liberal young hipsters in Saudi, who mainly hang out in the modern cafés, which are growing day-by-day, and organize the many underground, clandestine parties Saudi is famous for.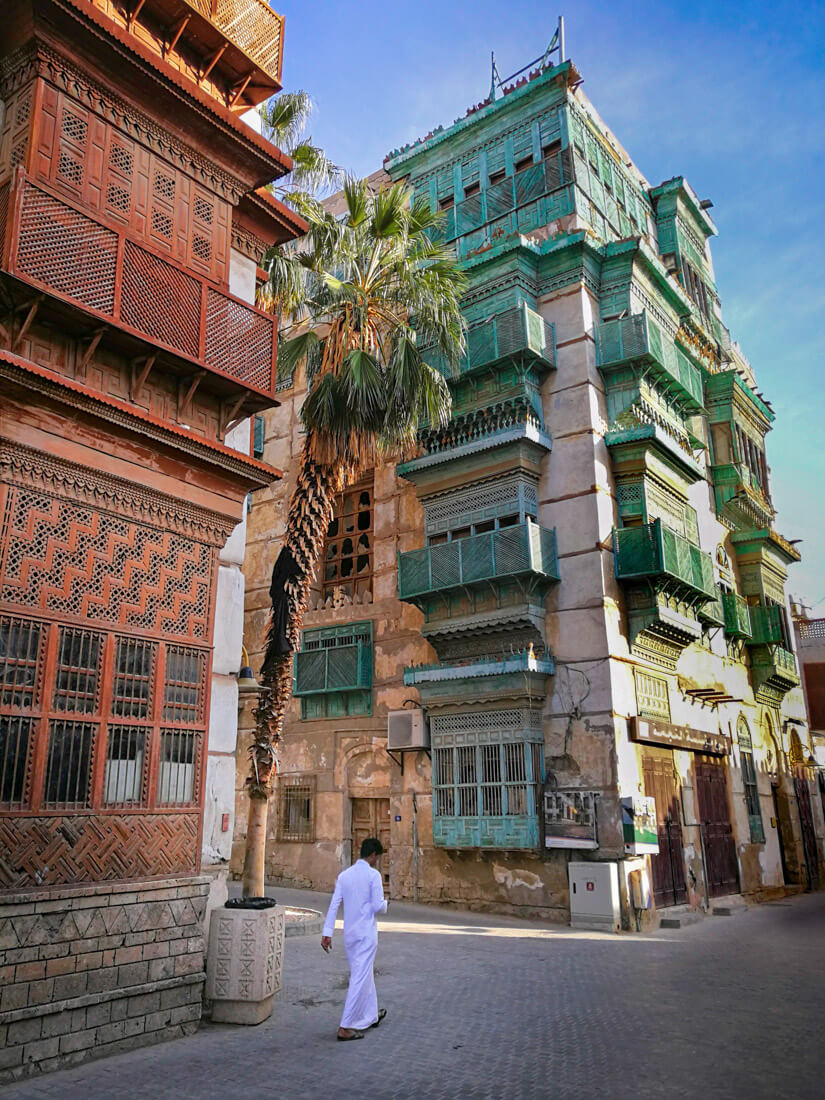 Things to do in Jeddah
Al Balad – Besides being the preferred place for expats to live, Jeddah is also home to Al Balad, a UNESCO World Heritage site and the most beautiful Old City from all the Gulf Monarchies, composed of buildings with colorful windows and narrow streets with a great local life that turns into a bustling and vibrant area right before sunset.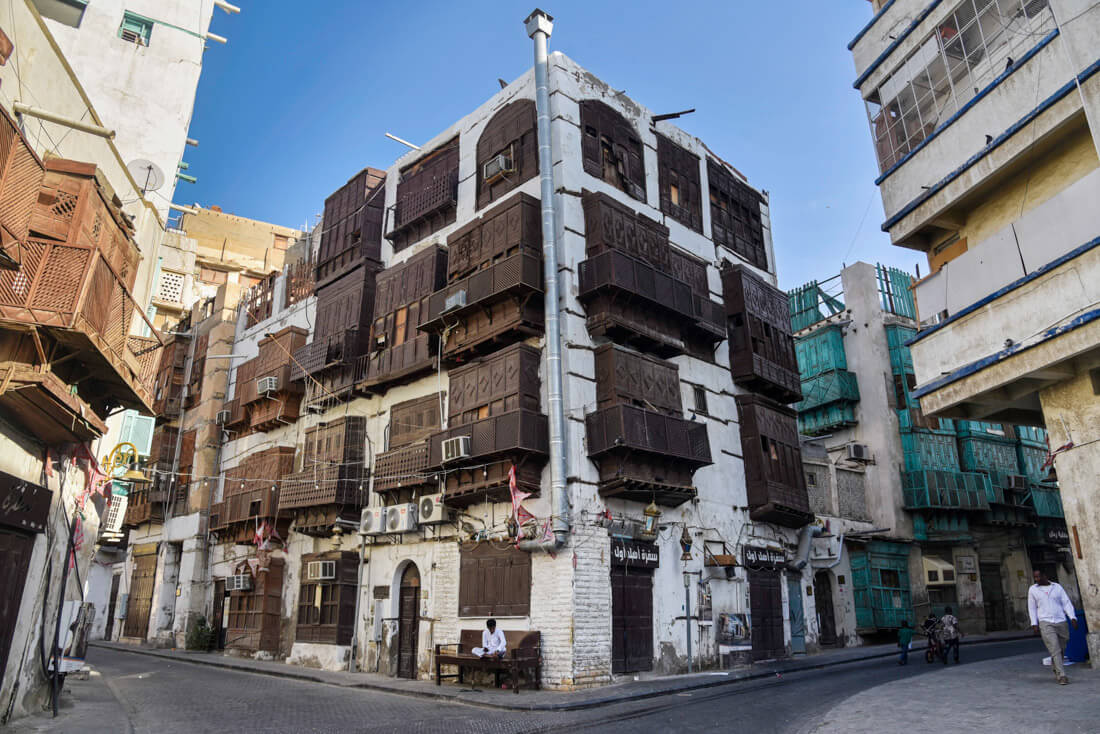 The Red Sea – Moreover, since Jeddah is settled on the shores of the pretty untouched Red Sea, Jeddah has a great coastline with great beaches, Silversands for example, is a mixed gender beach where women can wear bikinis.
Al Wahba Crater – If you have time, I also recommend going on a day trip to Al Wahba Crater, a crater around Taif area, which is believed to be caused by a meteorite.
The Floating Mosque – Last, don't forget to check out the Floating Mosque (north corniche), a beautiful mosque on the sea which gets pretty busy after the main Friday prayer.
Where to stay in Jeddah
Budget – OYO 125 Al Hamra Palace – It is the same one I recommend in Riyadh, basically, because they are the best decent budget option in town.
Mid-range – Shada Executive Hotel – This beautiful hotel has a great design concept, it is in a relatively good location and is one of the best-rated hotels in town.
Affordable luxury – The Hotel Galleria By Elaf – One of the best, cheapest and best-rated 5-star hotels in Jeddah.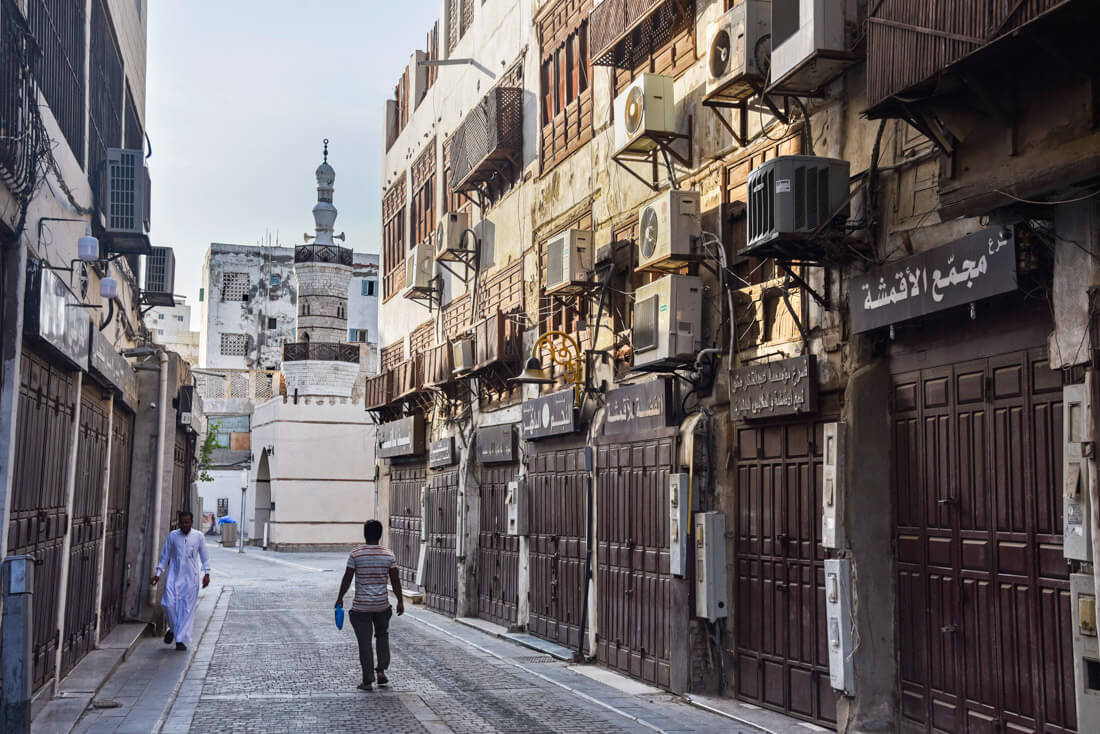 Abha – Epic ancient buildings and monkeys (2 days)
My Couchsurfing host had canceled my request upon my arrival in Abha, so I headed to the center of town in order to figure out where I could stay.
I was walking around with my backpack, without many expectations to be honest, until I found a great traditional market, the first one I had visited in which the different stalls were not Indian or Pakistani-run, but 100% local Saudi, both men and women, who were selling from dates to all sorts of fruits and homemade meals.
There were also many honey-stalls, some of them selling literally tens of types and there I learned that Abha is worldwide famous for its honey and, in fact, it is considered the best one in Asia.
If you want to read more content about this region, read: where in the Middle East is safe?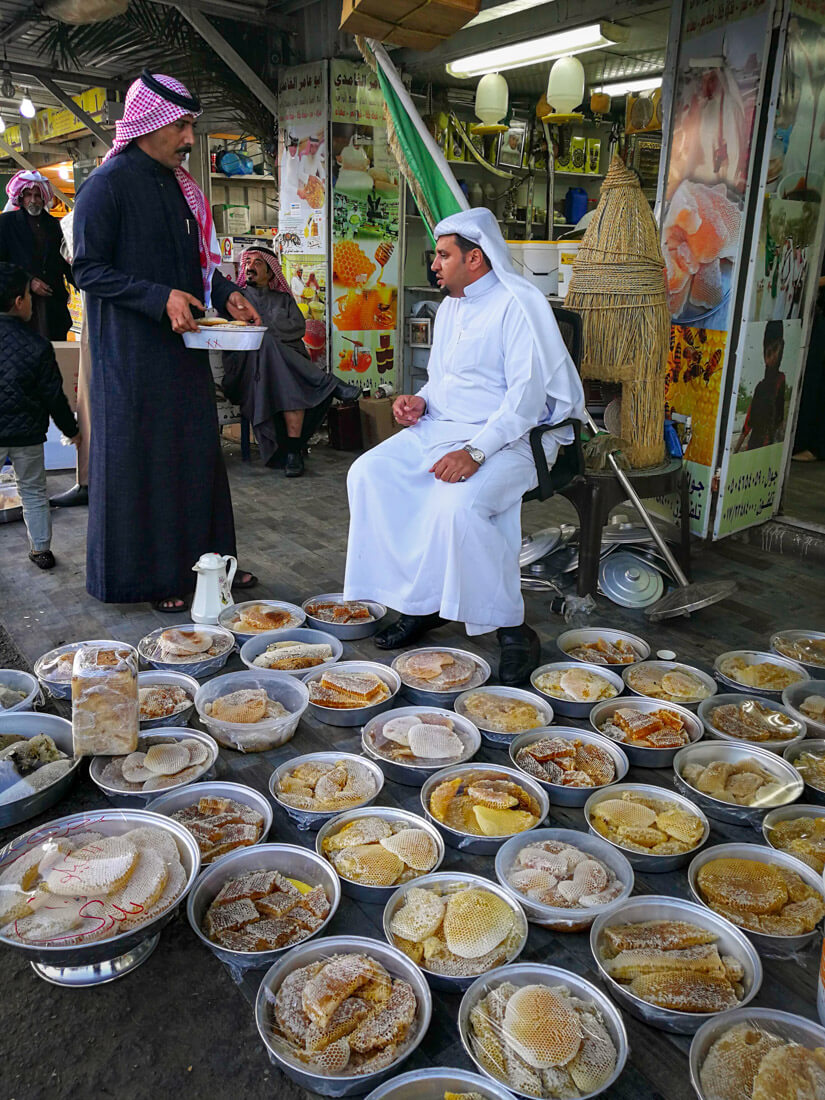 You will have a great time in that market but the main reason you should visit Abha is that it is located in a secondary dimension from the rest of Saudi Arabia and that is in a mountainous area filled with lush green hills, wild monkeys (yes, there are loads of monkeys) and some striking local architecture.
Moreover, Abha is a real off the beaten track region, so making random Saudi friends is fairly easy and I actually met a great group who showed me around their mountains and villages.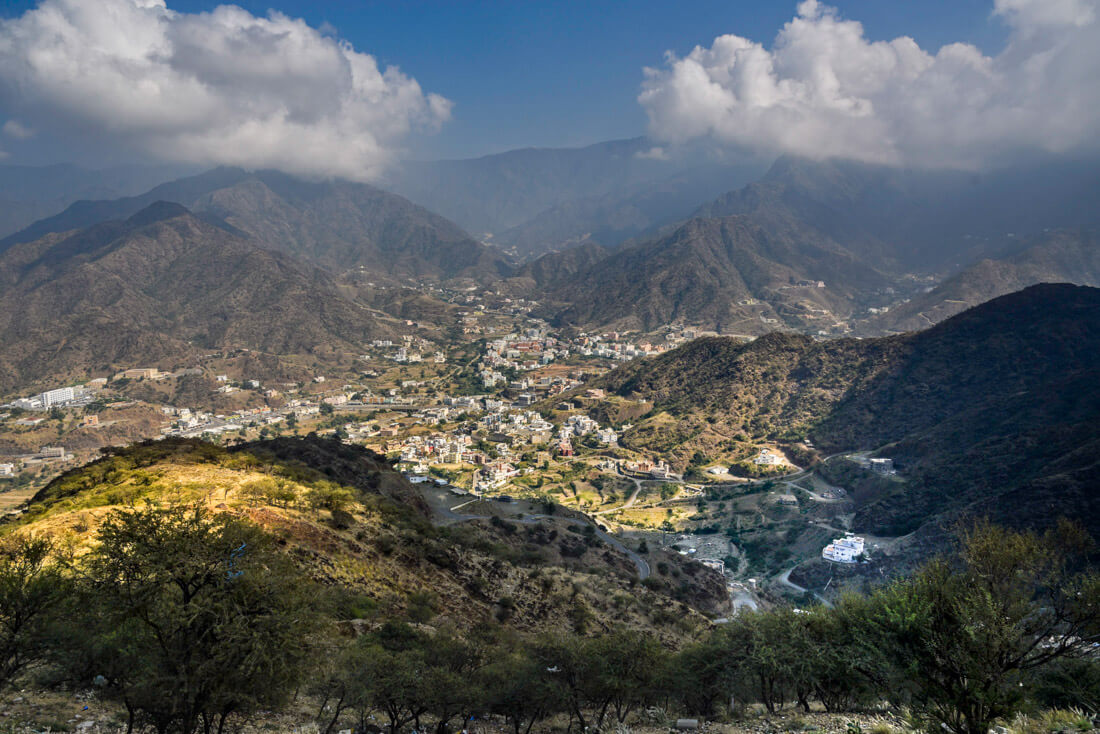 But perhaps, Rijal Almaa Heritage Village is the place Abha is most famous for and one of the best places to visit in Saudi Arabia.
Many centuries ago, Rijal Almaa was the main stopover for people coming from Yemen to Mecca and Medina, so the village turned into an important trading center.
The main peculiarity about Rijal Almaa is that it was never totally under total Ottoman rule, so they managed to keep their traditional architecture which, as you may see from the photos, is similar, if not the same, to the architecture you find in Yemen.
The colorful Heritage Village is still under restoration and it will take a while to be finished because it is mainly been restored from the villagers' pockets.
Today, Rijal Almaa is in the tentative list for becoming a UNESCO World Heritage site.
It contains a museum, as well as many viewpoints from where you can take great pictures.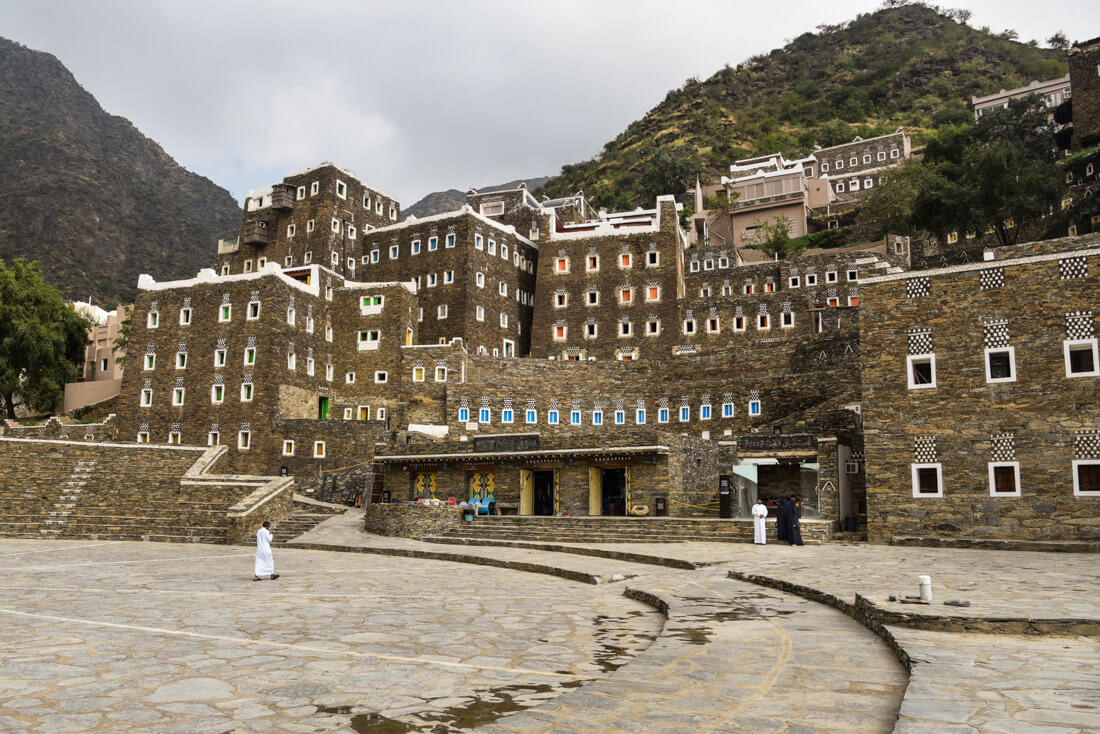 Where to stay in Abha and Rijal Almaa
Be aware that accommodation here is more expensive than in the big cities.
Budget – Shatha Abha Furnished Units – The cheapest option in Abha.
Mid-range – The View – Relatively fancy, super spacious rooms with great views of Abha's lake.
Affordable Luxury – Blue Inn Boutique – There are not many 5-star hotels in Abha, but I recommend this one because it is quite affordable for what you get.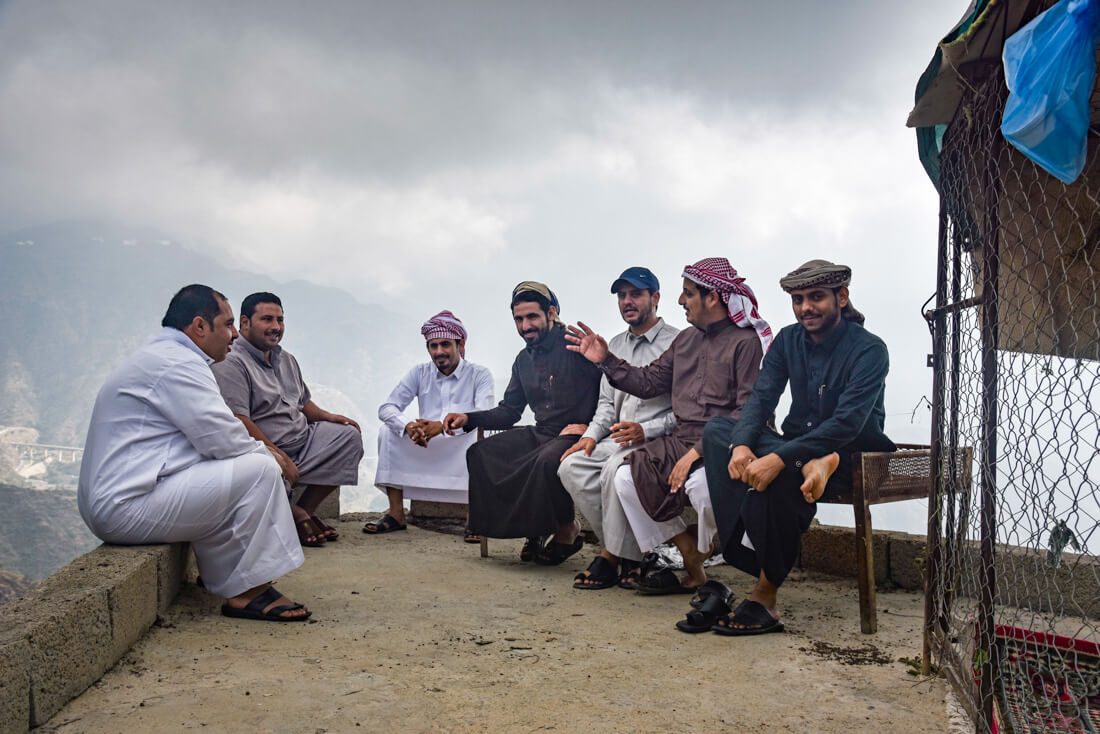 Jizan – Welcome to Yemen (2 days)
Jizan, WOW.
If Abha is a secondary dimension, then Jizan is in a different universe because the mountains here are not only more dramatic but the Yemeni-like culture is totally different from any other place to visit in Saudi Arabia.
They eat Yemeni food and, in the villages, you will find many people dressing in the traditional Yemeni way, which often involves wearing a janbiya, the Yemeni dagger, and a hat made of flowers.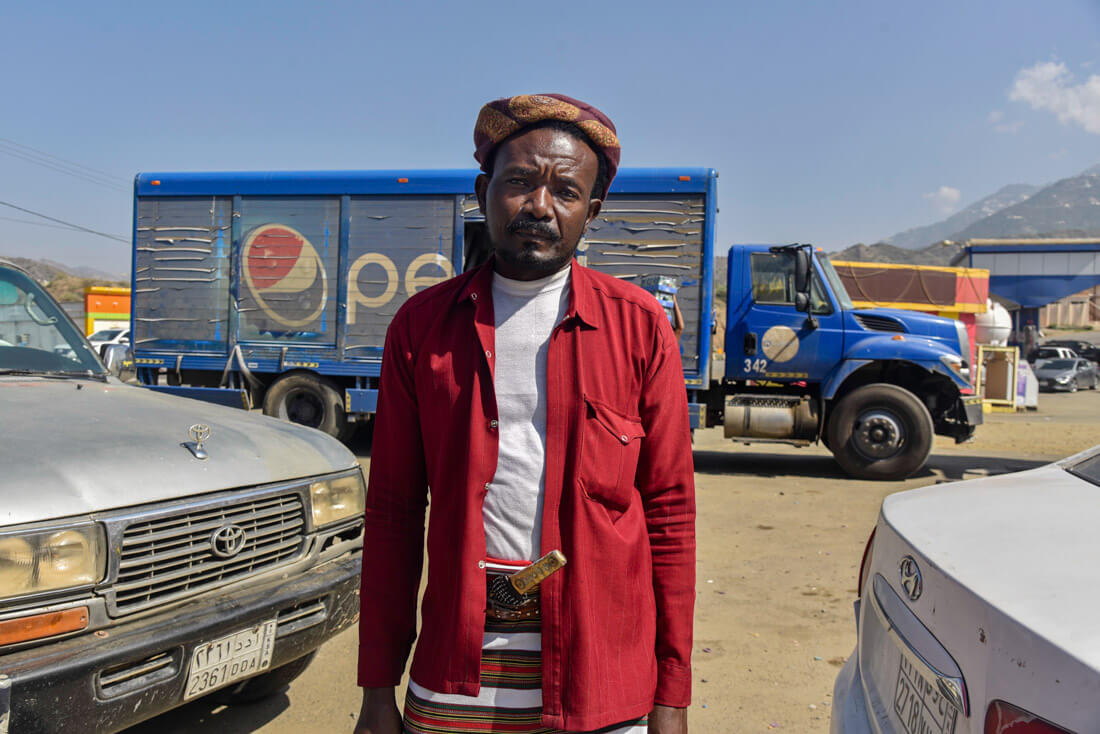 These Yemeni-like people are really friendly and you can ask them for a picture, no problem at all. In fact, they will like it because it's not every day that a random foreigner asks for a photo.
Jizan is also very close to two Against the Compass destinations (just across the sea): Somalia and Eritrea
While Abha is very much off the beaten track, it attracts a lot of domestic tourism, but barely Saudis visits Jizan, which means that you will be a particularly exotic element here.
Jizan is a province, with Jizan City as its capital. The city is not very exciting, other than having a really average-looking corniche, quite boring in my opinion, but it is a great base to explore the region.
The places you should not miss are Fayfa and Absiyah, two mountain villages which are around 100km east of Jizan, where you will find the famous hills with those terrace fields (Southeast Asia style) Jizan is famous for.
Read: Syria travel guide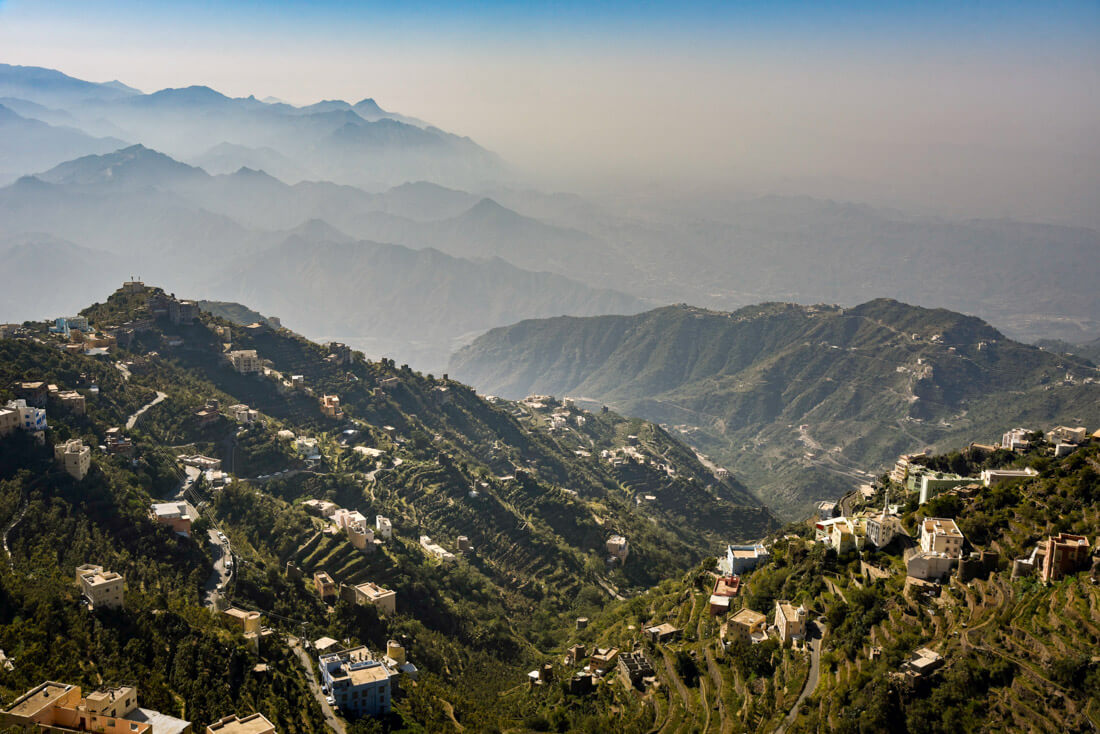 There are many different villages to explore and I recommend to drive around randomly. By the way, the local market where you will meet those Yemeni-like people bargaining for a dagger takes place every day in a different village, so do find out where will it be held on the day of your visit.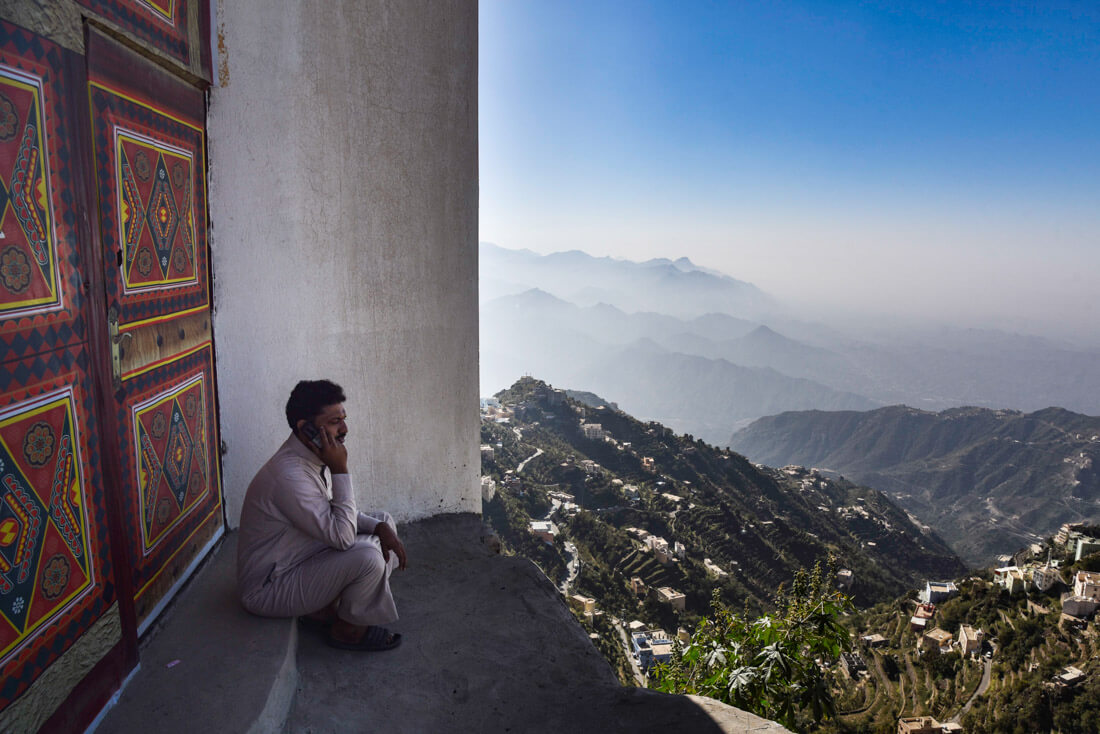 Where to stay in Jizan
Budget – El Eairy – The most budget option. Seriously, despite the bad rate on booking (Saudis are very demanding), it is not that bad for one or two nights. I stayed here and it was fine.
Mid-range – Nozol Ghayda – For people on a mid-range budget, this is a good value for money option.
Affordable luxury – Novotel Jizan – There are only two 5-star hotels in Jizan and this is the best-rated. I came here to have some nice coffee in the morning and it was great.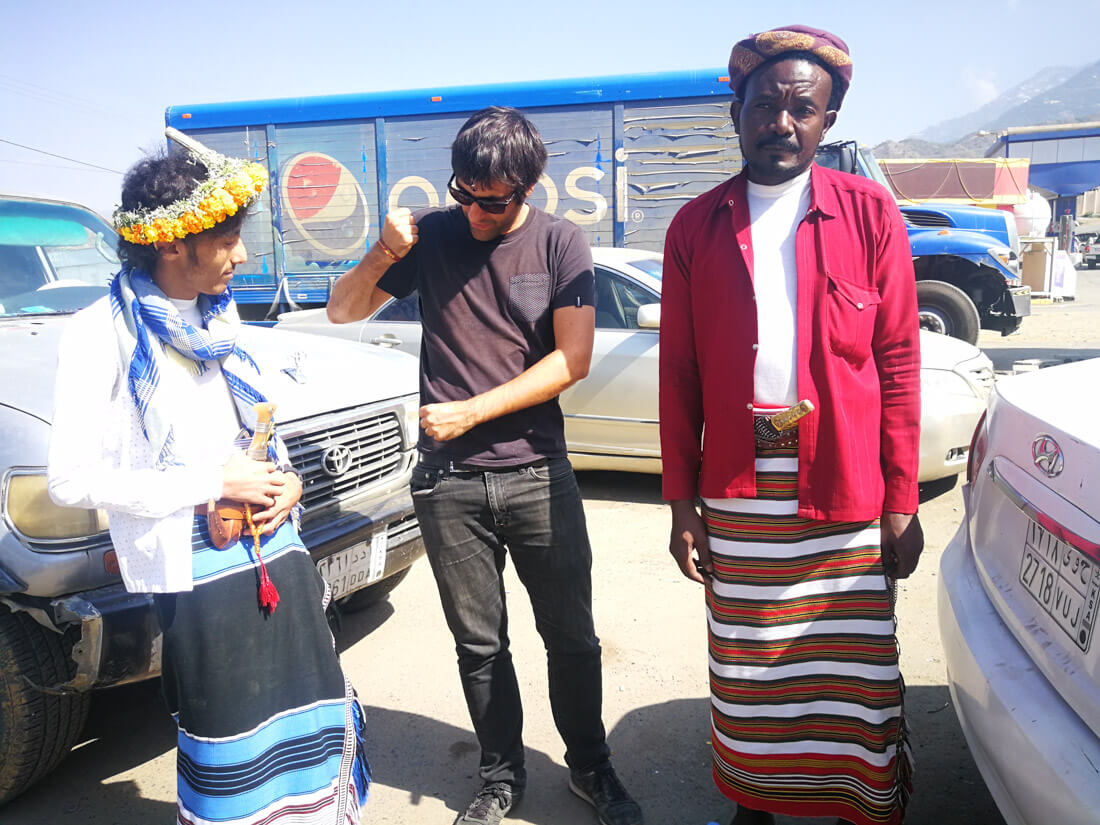 Al-Ula – Like Petra and Wadi Rum but without tourists (2-3 days)
I will be honest here.
This is the only place from this Saudi Arabia itinerary that I didn't go to.
And the reason is that Madinah Saleh, the most jaw-dropping thing to do in Saudi Arabia, was closed during my visit, as the place had suffered from vandalism and they had restricted the entrance until they figure out what to do with the place.
Nowadays, however, Madinah Saleh is fully open to visitors!
In any case, what is Madinah Saleh?
Madinah Saleh, or Hegra, was an ancient city founded by local tribes 5000 years ago, but it was not until the 2nd century BC that the Nabateans, the same guys that built Petra, made it a great city, in a fear of the Romans conquering Petra, so it could serve as the new capital.
Still, the Romans conquered both cities, Hegra and Petra, but the more than 100 tombs carved from the giant desert rocks still remain and it is particularly more stunning than Petra because it is located in the middle of literally nowhere.
For more information, I recommend you read this guide to Madinah Saleh from Blue Abaya.
Besides Madinah Saleh, there are other things to do around Al-Ula
The desert around Al-Ula – Is a replica of Wadi Rum but with no Bedouins trying to sell you expensive desert tours.
Al Deerah Heritage Village (Old Town) – Another great highlight, Al Deerah is a 2,000-year-old mud-based ghost town.
Where to stay in Al-Ula
Mid-range – Sahary Al Ola Camp – A beautiful desert-themed hotel located in the middle of the beautiful desert.
Remember to get travel insurance for Saudi Arabia
Saudi Arabia's health care is extremely expensive, so insurance is a must.
IATI Insurance offers different plans, for all budgets.
Get your 5% exclusive discount if purchasing via this link
Since I had some spare days left, I decided to also visit Al Jawf and Hofuf, located in the far north and far east respectively.
To be honest, they are not the greatest touristic places but I enjoyed my time because I went there with a great group of people and also, I had to go because I was working on a project for a local company, so they wanted to show me around and take some photos.
Is it worth it to go? Well, I will show you the photos, give you some explanation and then you decide.
Hofuf – Great temples and mosques – (1 day)
Hofuf is 327km from Riyadh, so if you leave early in the morning, you could visit it on a day trip, that's what I did.
It is located in the eastern part of Saudi, in Al Ahsa region, relatively close to Dammam, an unattractive industrial city with no particular touristic interest.
In Hofuf, however, there are a few sites worth checking out.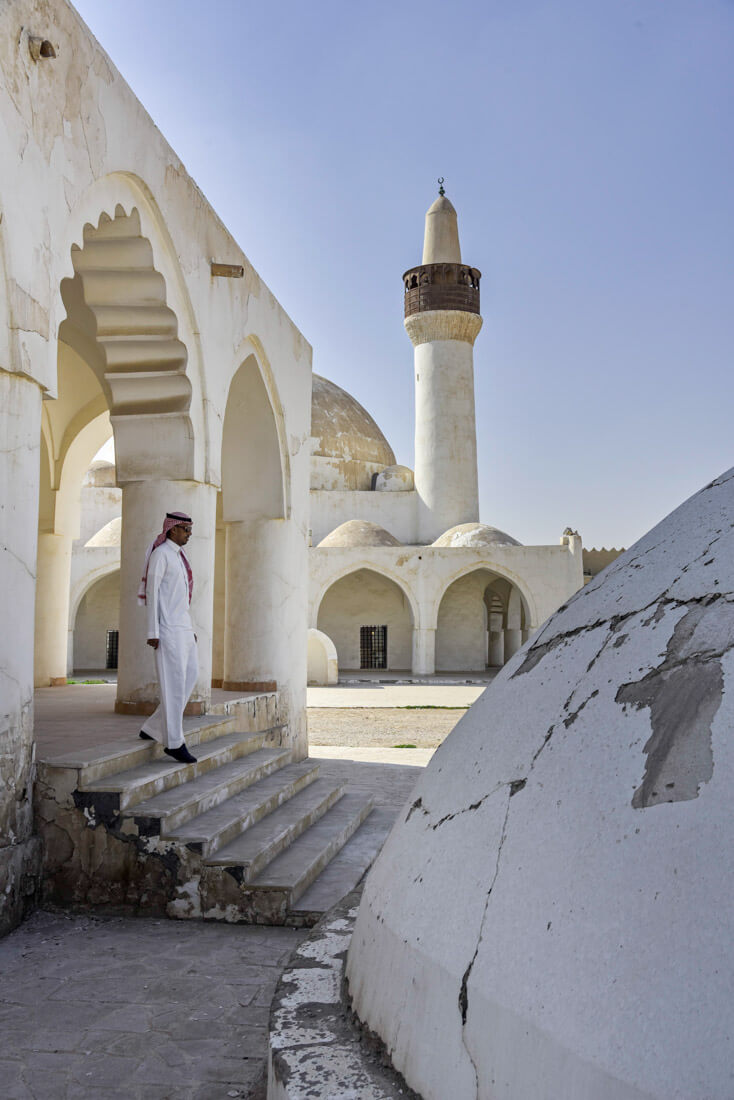 Things to do in Hofuf
Ibrahim Palace – Beautifully restored, this 500-year old Ottoman building used to serve as both an Islamic building and a military fortress, and elements fulfilling these functions can be seen all around.
Jabal Qarah – In the middle of Hofuf, there is a small rocky hill named Qarah made of utterly strange rock formations.
Most of the site has been restored, very badly, and it seriously looks like shit because they have added loads of artificial elements, losing the total sense of a natural place and, unfortunately, as I expected, the locals freaking love it.
Only because of that refurbishment, I would tell you to skip it but if you get off the main trail, climb the walls, you will see that half of it hasn't been restored yet, so it is a great place to watch the sunset and take some cool shots.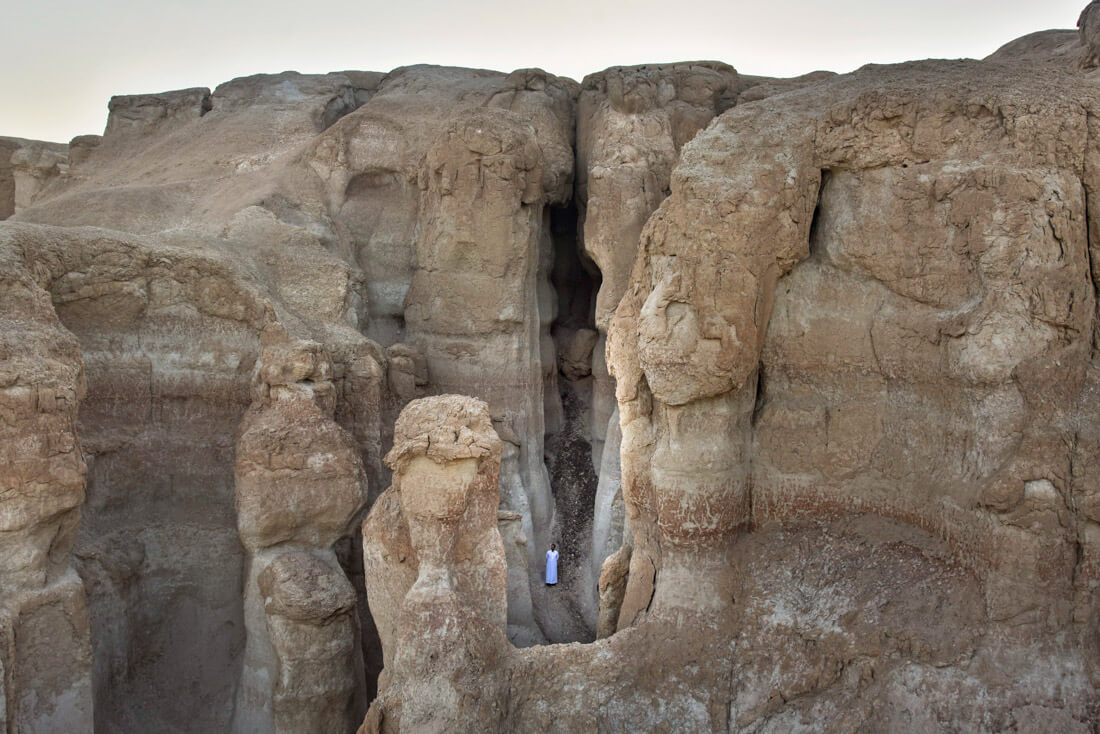 Jawatha Mosque – Apparently, this was the second mosque that Prophet Muhammed ever prayed at on a Friday and what I like about it is that it is very humble.
The souq – The souq of Hofuf is composed of narrow lanes with traditional wooden facades and many of the shops are run by local Saudis, so it was pretty cool to visit.
Where to stay in Hofuf
Budget – Al Masem Hotel – The classical budget aparthotel in Saudi.
Mid-range (traditional hotel) – Al Koot Heritage Hotel – We visited this hotel because it is one of the very few hotels in Saudi Arabia which is decorated in the most traditional way and tries to sell a cultural experience. The food here was also great.
Top-end – Al Ahsa InterContinental – The best-rated 5-star hotel in Hofuf.
Al Jawf – The most northern region (1 or 2 days)
Well, if you check the map, you will see that Al-Jawf is crazy far, more than anywhere else, and it is in fact 1,147km away from Riyadh.
I personally came here by plane from Riyadh but, like I said, I went there to work on a project, so they paid all my expenses. Still, if you happen to be in Tabuk, a northern city that has the greatest desert landscapes in the country, Al-Jawf is pretty close.
So, is it worth it to go or not?
I had loads of fun because there I was received by two young Saudi ladies who wore the niqab and spent the whole day with them. I went for coffee with one of them in a café (just the two of us), they invited me to their house, fed me and, of course, showed me around their province.
It was a great cultural experience, one that very hardly any male can tell.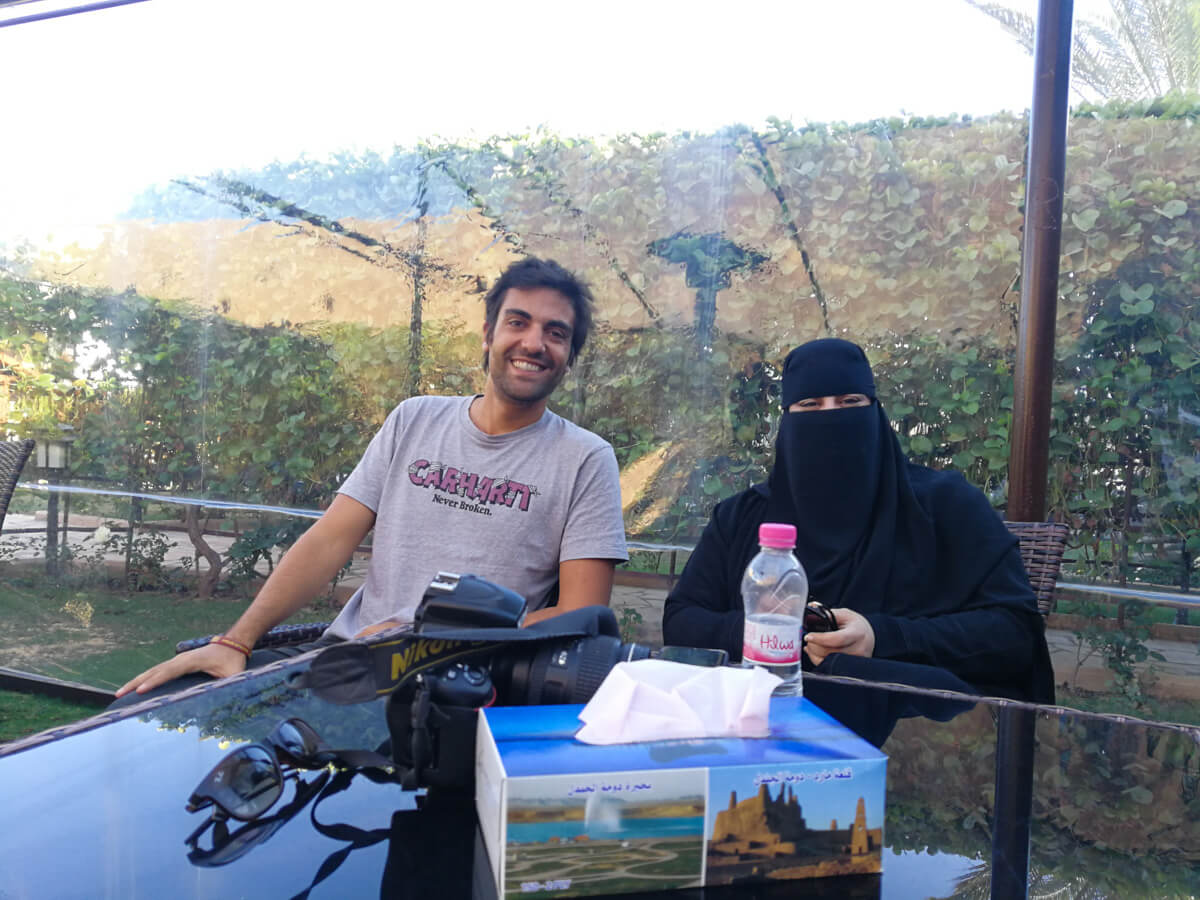 Anyways, other than my interactions with the local women, Al Jawf is rich in archaeological sites, as well as a local culture which sometimes seems to have closer relation with Jordan than Saudi itself, especially when it comes to food, as I just ate Arab Levantine dishes such as makluba and dolma and you will be surprised to know that the region is very rich in olive oil.
Actually those ladies gifted me with 1 litre of local olive oil.
Many Saudis also claim that Al Jawf is home to the most hospitable people in the country but I would not know what to say about that, as I was treated like a royal guest everywhere I went.
Things to do in Al-Jawf
Rajajil columns – Some very weird 6,000-year old stone columns built by pagans. They believe that each rock represents a man.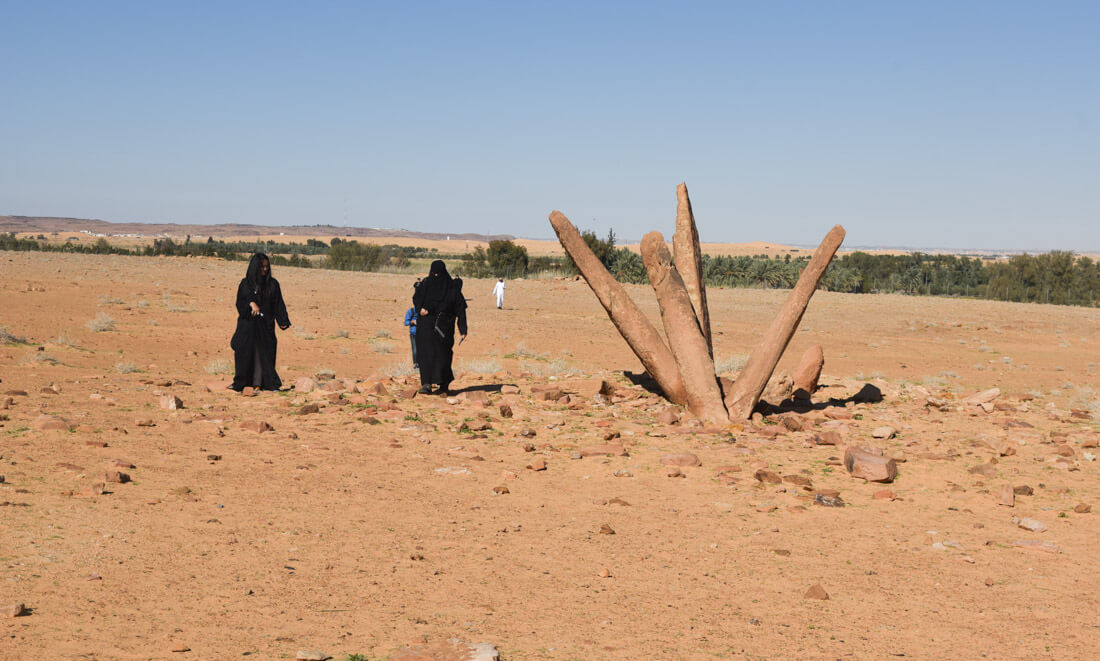 Za'abal Castle – More a fort than a castle, located on the top of a hill from where you get stunning views of the valley.
Marid Castle – An Assyrian 1,800-year old castle with traces of Romans and Nabateans. This is the top place to visit in Al-Jawf region.
Where to stay in Al-Jawf region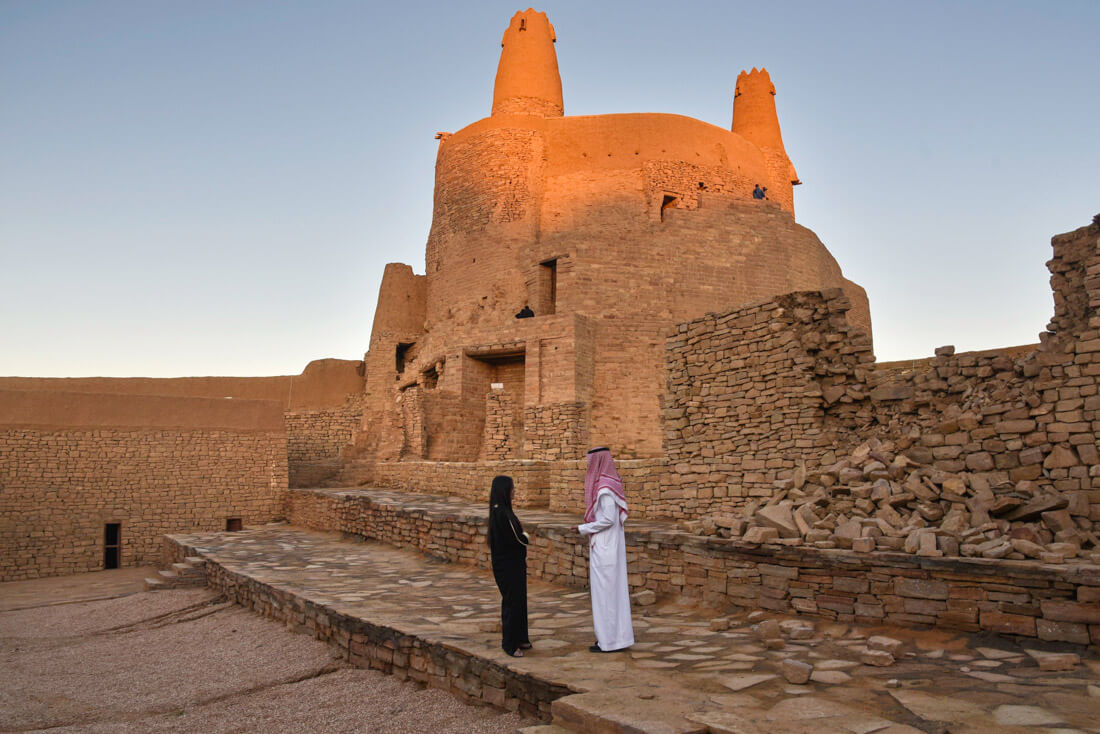 More information to complement your Saudi itinerary
📢 In my Travel Resources Page you can find the list of all the sites and services I use to book hotels, tours, travel insurance and more.
All guides and articles for traveling in Saudi Arabia destination
Travel Itineraries to other countries in the Middle East
You will also be interested in: Where in the Middle East is safe? and The most beautiful places in the Middle East.