Oman, a peaceful, quiet country, home to the most striking landscapes in the Arabian Peninsula is, at the same time, the most traditional, authentic and welcoming country in the Middle East.
Home to a great coastline with vertiginous cliffs, 3,000m mountains, loads of offbeat sites, and overwhelming hospitality, Oman is the ultimate destination for adventurous travelers.
For all the practical information, including all my tips and cultural facts, read my Travel Guide to Oman
need to know for traveling in Oman
Quick facts
Capital: Muscat
Population: 4.4 million (125th)
Language: Arabic
Area: 309,500km² (70th largest country)
Visa
Most nationalities can get an Oman tourist visa on arrival:
14-day visa: for free, no cost
30-day visa: 21 rials
Multiple-entry visa (1 year): 50 rials
You can also get it online at a discounted price (around 1 rial).
Getting in
Both Muscat and Salalah have an international airport, Muscat being directly connected with Europe.
Border crossings include:
Travel Insurance
Hey, Oman is an adventure destination, a country where you may be camping in the wild, go trekking and do epic road trips, plus their health care system is private.
For this reason, I recommend IATI Insurance.
5% discount if booking here:
Best time to visit
Winter, from November till March because the rest of the year can be really, really hot. October and April could be bearable all right, depending on the year.
How to access blocked sites
Remember that in Oman, the internet is censored, which means that some websites are blocked.
---
Can you do Oman on a budget?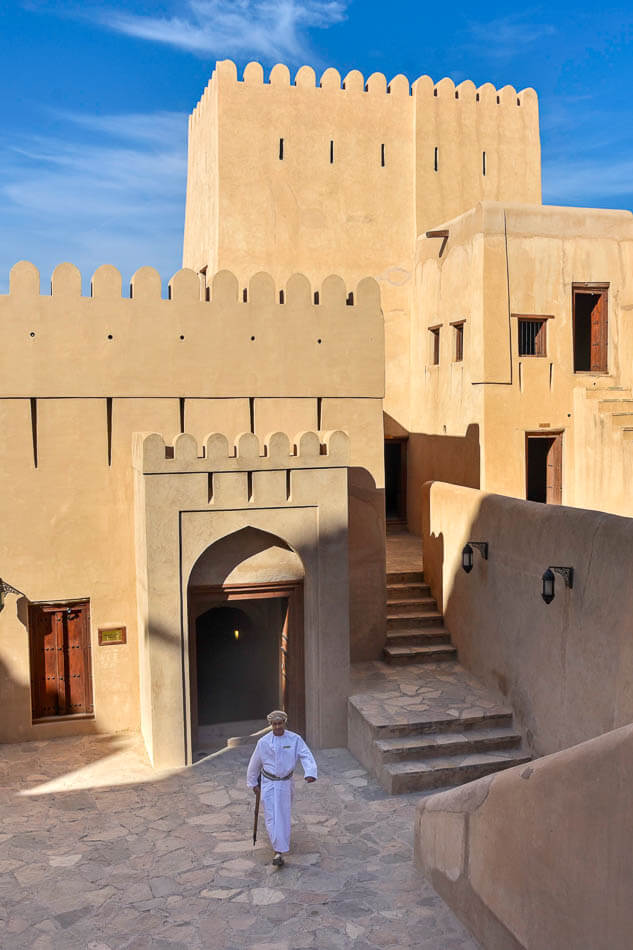 Oman is not very backpacking-friendly.
The cost of living is high, there's no public transportation and hotels are expensive.
However, backpackers should know that in Oman, you can camp anywhere and that Omanis are super helpful and kind, making hitchhiking and Couchsurfing very pleasant.
Check how to travel in Oman on a budget.
---
Top experiences in Oman
Experience the khareef season in Salalah
In summer, in Salalah the a monsoon season is called khareef and it fills the region with lush green meadows.
Driving the coastal road from Salalah to the Yemeni border
The most spectacular coast in Yemen.
Experiencing the Omani traditional life
Unlike its neighbors Dubai and Qatar, Oman is a country that managed to keep all its traditions.
The historical heritage, from ruined cities to epic forts and abandoned villages
Oman has a large range of historical sites, and I recommend the ruined city of Manah and the several forts spread across Rustaq, Bahla, and Nizwa.
Check our Tips & How to travel to Oman in 2023.
tips for Oman
Accommodation
There are no hostels or guesthouses and budget hotels start at 25€ for a single room. However, the offer of mid-range and luxury hotels is enormous.
Activities
From Muscat, there are endless activities, day trips and excursions that you can easily book with just one click.
Transportation
You should know that public transportation in Oman sucks, so if you want to travel independently and don't want to hitchhike, renting a car to move around is essential.
---
ALL MY ARTICLES ON OMAN