From visiting ancient and jaw-dropping Christian sites to meeting tribes with animistic beliefs, from roaming around the thickest jungle to crossing the most inhospitable desert; Ethiopia might be the most diverse country in all Africa.
Don't forget to read this Ethiopia travel guide.
need to know for traveling in Ethiopia
Quick facts
Capital: Addis Ababa
Population: 113.6 million (13th)
Language: Afar
Area: 1,104,300km² (26th largest country)
Access blocked sites
Because of the current situation with Tigray, social media and certain websites can be blocked.
For Ethiopia, you must get a VPN
Travel insurance
Ethiopia is an adventurous destination. Do get proper insurance specialized in adventure travel, like IATI Insurance
5% discount if booking here:
Best time to visit
Avoid mid-June to mid-September, as it's the rainy season, plus it gets really hot in the north.
Best is to come from October to January.
Money
The official currency is Ethiopian Birr
1 USD = 53 ETB
In Addis Ababa, you can exchange $1 in the black market for up to 100 birr. Never use ATMs because you'll get the official rate.
Budget: starting at $35 a day for budget backpackers, $80 a day if you take domestic flights and 1 or 2 tours.
---
Is Ethiopia safe now?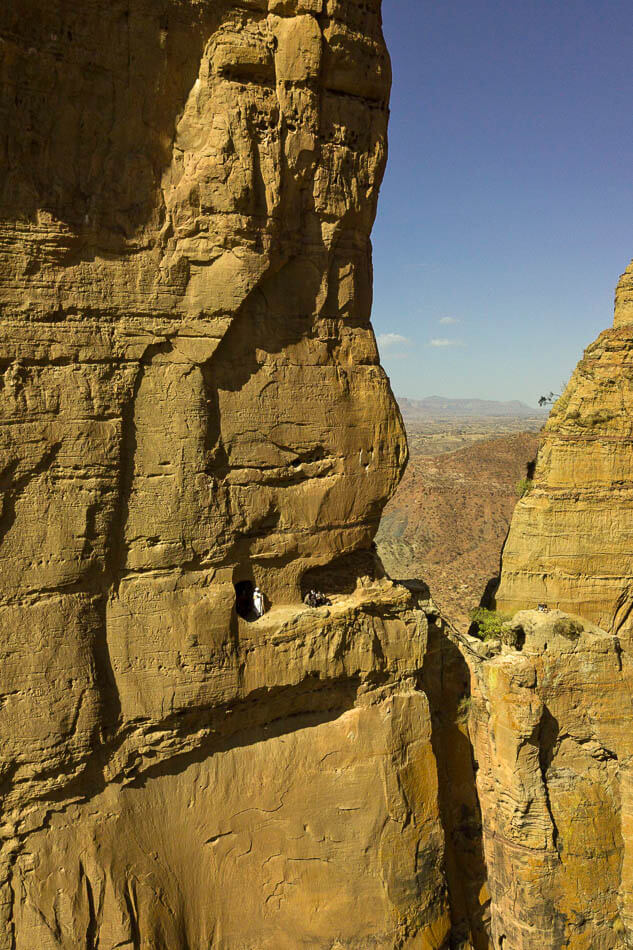 The Tigray war was a conflict between the Ethiopian Federal Government and the Tigray People's Liberation Front, which lasted from November 2020 to November 2022, causing thousands of casualties and displaced people.
The war isolated completely the whole region of Tigray in the north, home to highlights like Axum, Mekele (Danakil getaway), and hundreds of rock-hewn churches.
Today, the war is over and the Tigray region is accessible once again.
---
Top experiences in Ethiopia
Trekking among tens of thousands of baboons
The Simien Mountains is a range composed of 4000-meter peaks, inhabited by thousands of baboons.
Visiting the hottest (inhabited) place on Earth
Danakil is a vast depression popularly known for being one of the most inhospitable places on Earth.
Exploring ancient churches built over cliffs
Ethiopian churches have been carved out from rocks in the most unbelievable and vertiginous locations.
Feeding wild hyenas with your mouth
In Harar, there is a man who has dedicated every day of his life to feeding wild hyenas, and you can also participate in the ceremony.
tips for Ethiopia
Accommodation
Pretty much all Ethiopia is well-sorted for accommodation, from budget guest houses to fancier hotels, and you can always book them online.
Getting in
Addis Ababa is the main airport hub in all of Africa, with hundreds of connections.
You can also enter from Sudan, Kenya, Somaliland, and Djibouti, but not from South Sudan or Federal Somalia.
Transportation
Ethiopia is a vast country, so taking domestic flights with Ethiopian Airlines is recommended.
Alternatively, budget backpackers may also travel by bus, but the journeys tend to be slow.
---
ALL MY ARTICLES ON ETHIOPIA