Burmese food can be delicious but at the same time, it can be very challenging, especially to your stomach. You must bear in mind that the country is not properly adapted to tourism yet.
Around Yangon and popular spots like Bagan or Inle Lake, you can easily find touristy restaurants, but other than that your options are going to be simplified into local restaurants whose hygiene is not their strength precisely. Sometimes you may be unlucky.
Personally, I became so sick in the stomach that I spent three days just eating bananas and apples. Yes, I risked too much. But I love to taste everything! However, if you choose correctly, experiencing Myanmar food may be highly rewarding.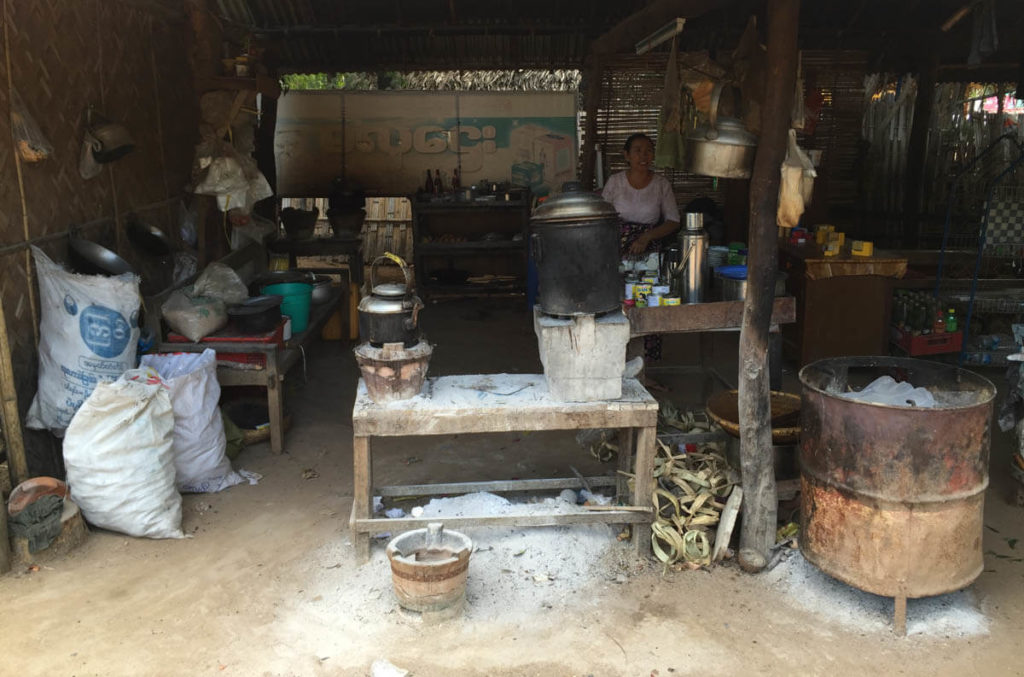 Defining Burmese food: Curries and rice
Defining Myanmar cuisine can be laborious. The country has influences from China, India and Thailand. It varies from each region and it even depends on the different ethnicity. However, the most traditional dish and the one that you will find all across the country is rice with different kinds of curry. It is in these plates where you get to know the great cultural diversity.
They are so varied that you will never get to taste the same curry in a different place. You may find vegetarian curries elaborated with countless spices which make you remind of Indian flavors. Other curries were fresh and made out of steamed vegetables which clearly had a Chinese influence.
You were even able to find pork curries! They were always different but in the end they had one common denominator:
1 – Myanmar people eat curry and rice for breakfast, lunch and dinner
2 – Surprisingly, they are not spicy at all
3 – Warning! All curries are always covered with a thick and very greasy oil layer. Why? In this country, they suffer from a lot from hygiene and infection problems. The oil helps to preserve the food, as it does not allow the bacteria to get in it. On the one hand, the chances of getting a stomach infection is lower. On the other hand, it is not very healthy plus you might get sick of the greasy taste.
In most of the occasions, curries are the only Burmese food option. In order not to get any stomach issue you really need to be careful about where and what to order.
Moreover, if you have a weak stomach and you don't want to end up your trip getting stuffed with bananas, try to avoid eating meat & fish curries in non-hygienic places. It is a very obvious advice, but it is important to keep it in mind when trying Myanmar cuisine.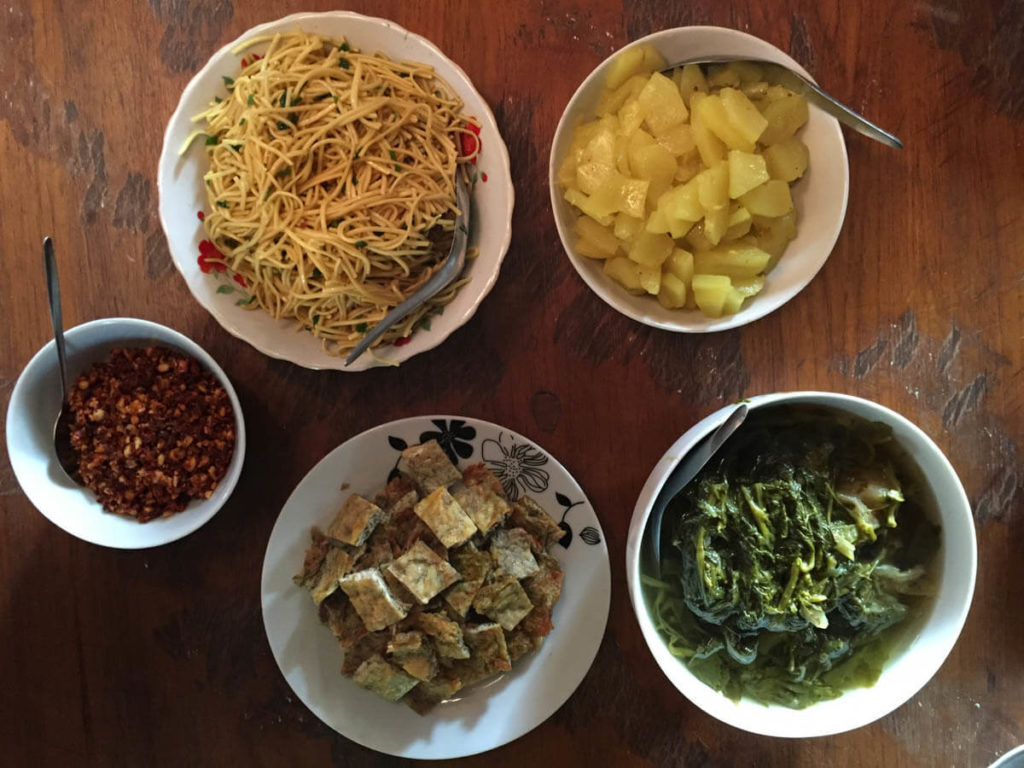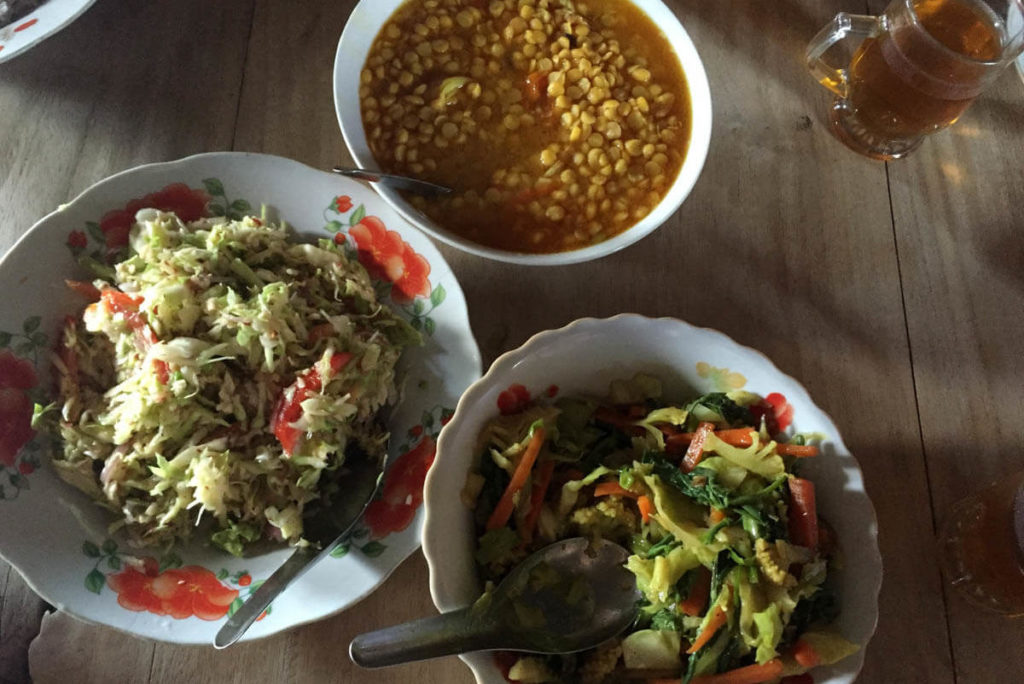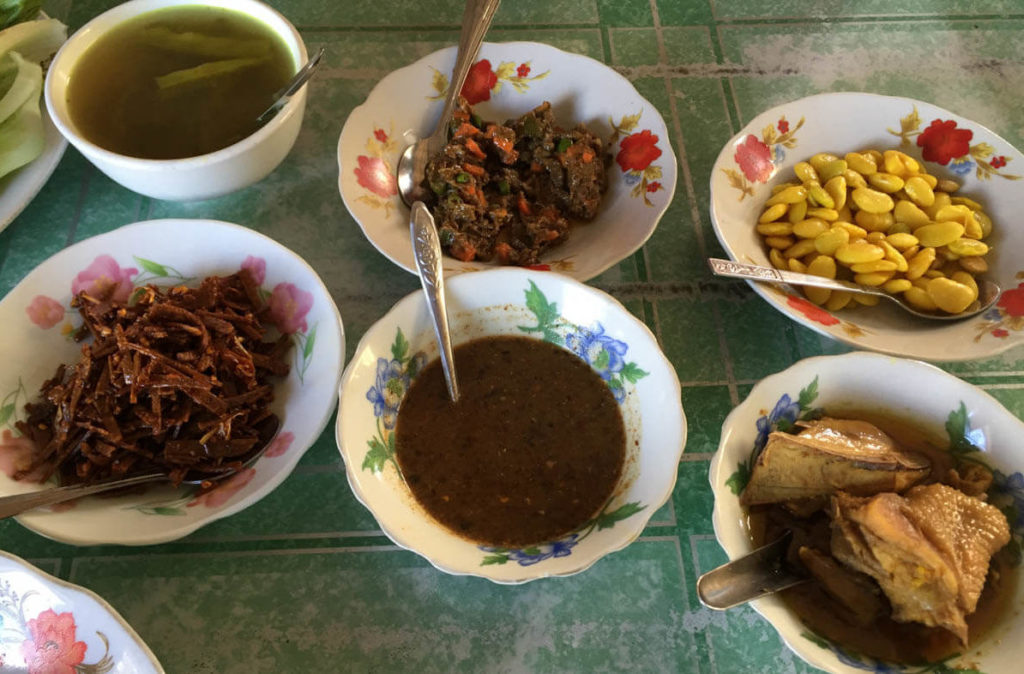 Best Burmese food alternative: Shan noodles
In the northern part of the country, bordering China and Thailand the #1 dish are the classical noodles. But they are not the typical noodles which we are used to eat in Chinese and Thai restaurants, but they prepare them in the Myanmar style. Mmmmmmm… Delightful! The famous Shan noodles!
Originally, they are traditional noodles from Shan State but you can easily find them pretty much everywhere. They were super tasty, with a gummy texture. They contain meat. Sometimes pork, sometimes chicken. You season them with onion and coriander.
The broth was slightly sour but without losing the meat taste. They are the stomach-friendly option that never failed to you.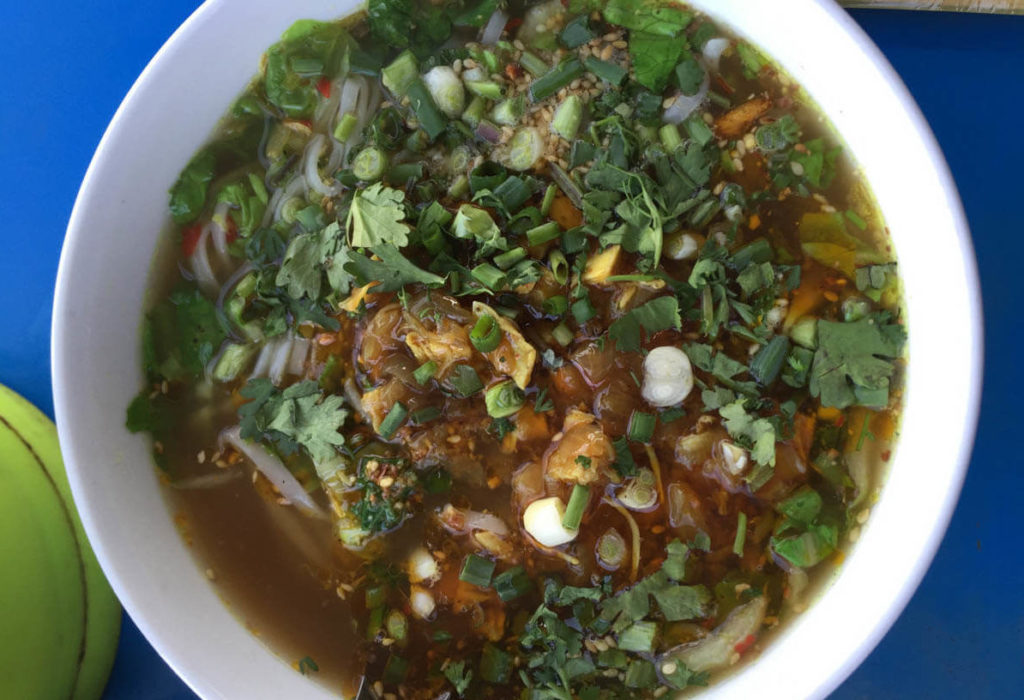 Local food in Loikaw (Kayah State)
Myanmar is incredibly diverse and since each region has its own ethnicity, influence and language, each region also has its own regional food. In Loikaw (Kayah State) they have a local traditional meal which consists of a rice paste that is obtained after heavily kneading it for a considerable amount of time.
They mix it with fine chopped tuna, raw vegetables and a big quantity of chili. It has a similar texture to a risotto. It was the best meal I ever had in Myanmar.
Where to find it is a bit more ambiguous. Some Burmese invited me to their place and I was very lucky because on that day they were celebrating some special occasion. I am not sure if you can find it in restaurants. You will have to look for it around the city of Loikaw 🙂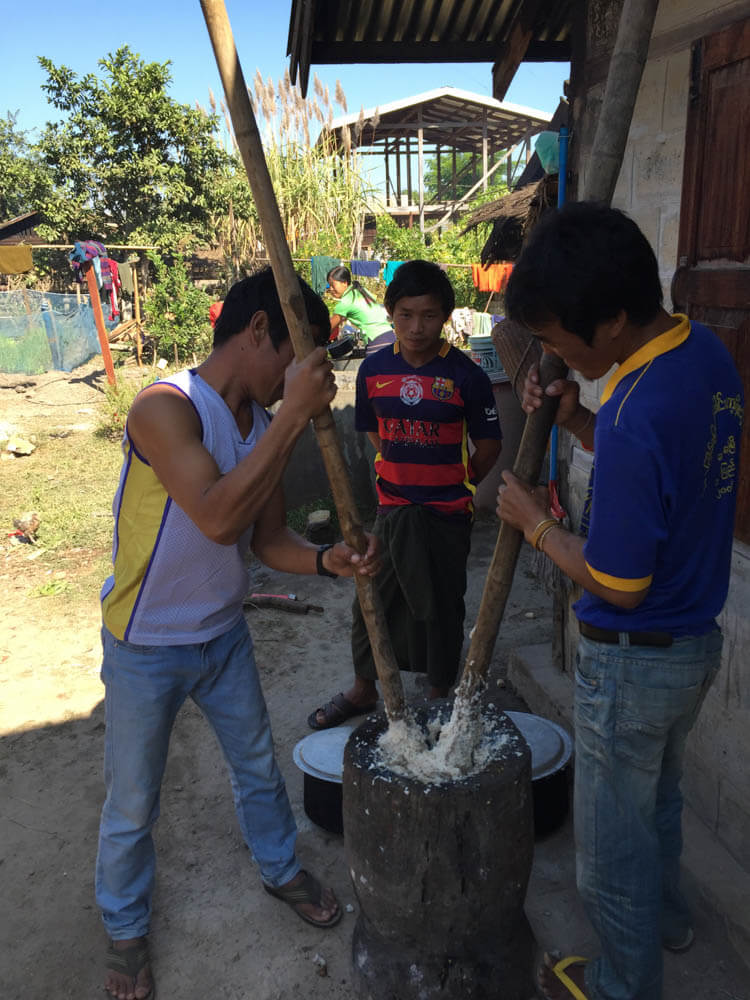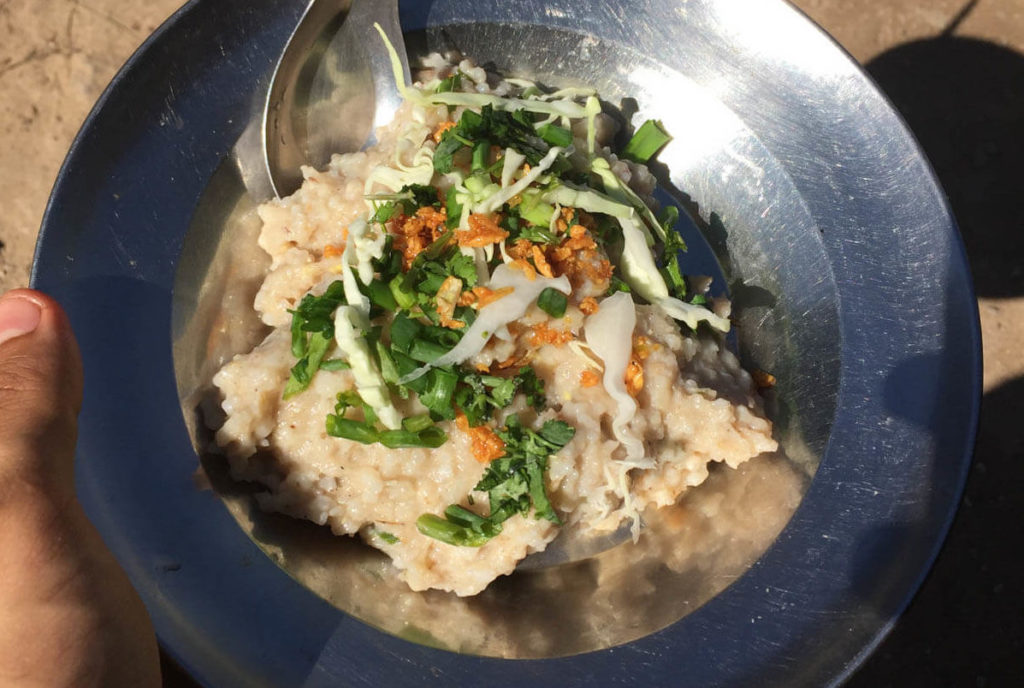 A taste of China
Some other Northern wonders were the big quantity of snacks with a big Chinese influence. From street food to cafes and restaurants they were plenty available.
My favorite without any doubt was the rice paste with pork minced meat steamed in banana leaves. They were just perfect, cheap and delicious. It was also pretty easy to find more popular Chinese snacks like the steamed buns filled with vegetables or meat.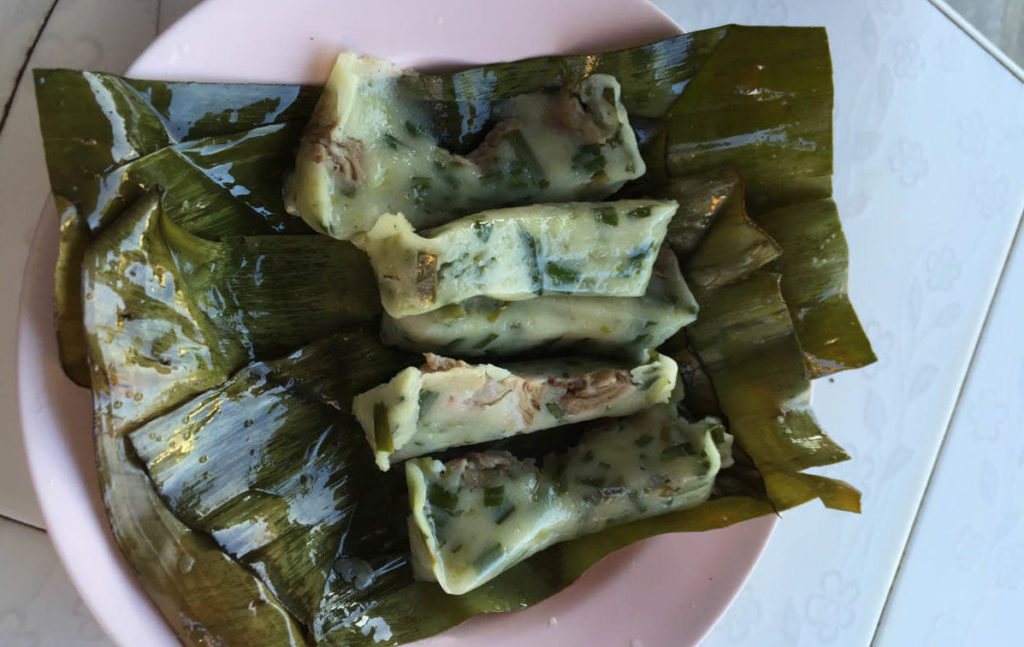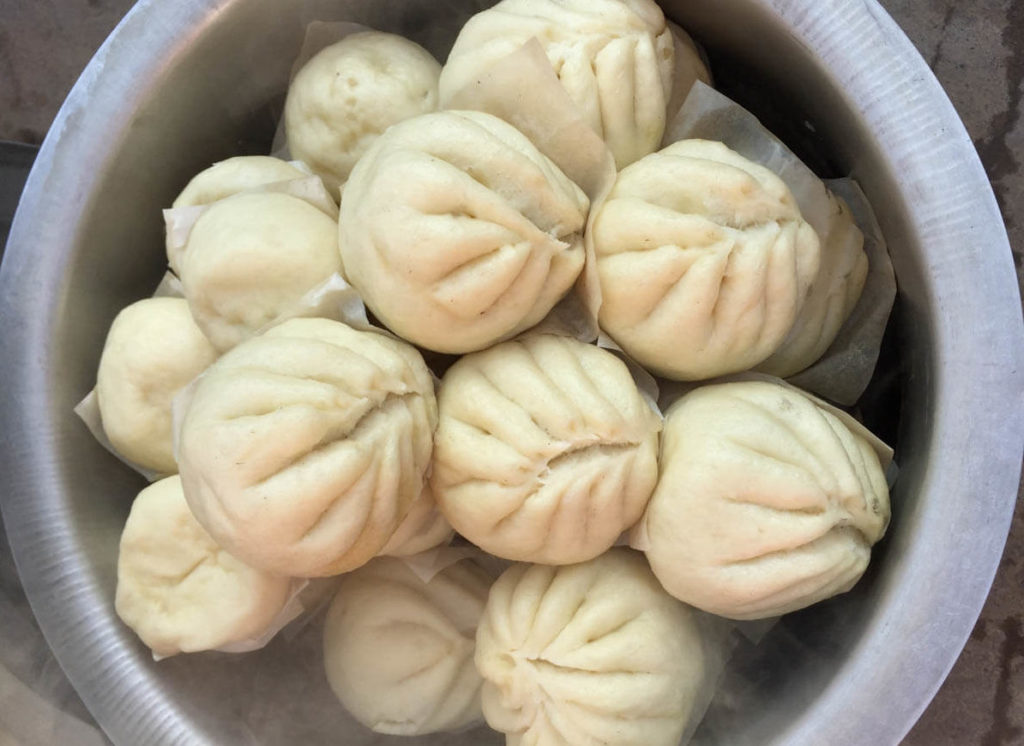 Spanish churros, oh yes!
Depending on the day, your stomach was not ready for an oily curry at 7am in the morning. On that day, your best option is going to be the classical Spanish "churros"!
Along with a cup of coffee and some fruit, they can be tasty. However, you better don't check out the oil they are using to fry them.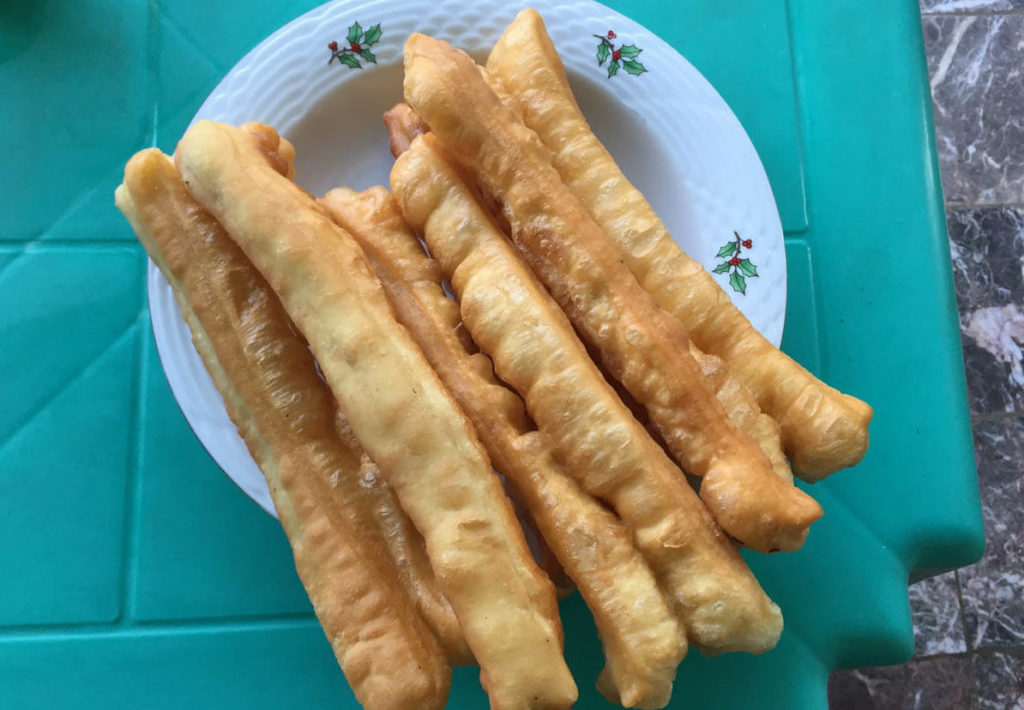 Rangoon food, watch out!
Finally, in Yangon, you can't ever miss out its street food.
There was an endless list of options. Burmese food with Indian influence was the most common, but also Chinese. You had to be very careful here.
Personally, I would avoid shrimp skewers. I ate one and after that, I was not a person anymore for 3 days…
Furthermore, on some occasions in Yangon, you can find random local restaurants with a very extensive English menu. On these menus, you could always read classics like "Medical Egg" and "Liver and stomach salad". You have to be very brave to order any of these dishes.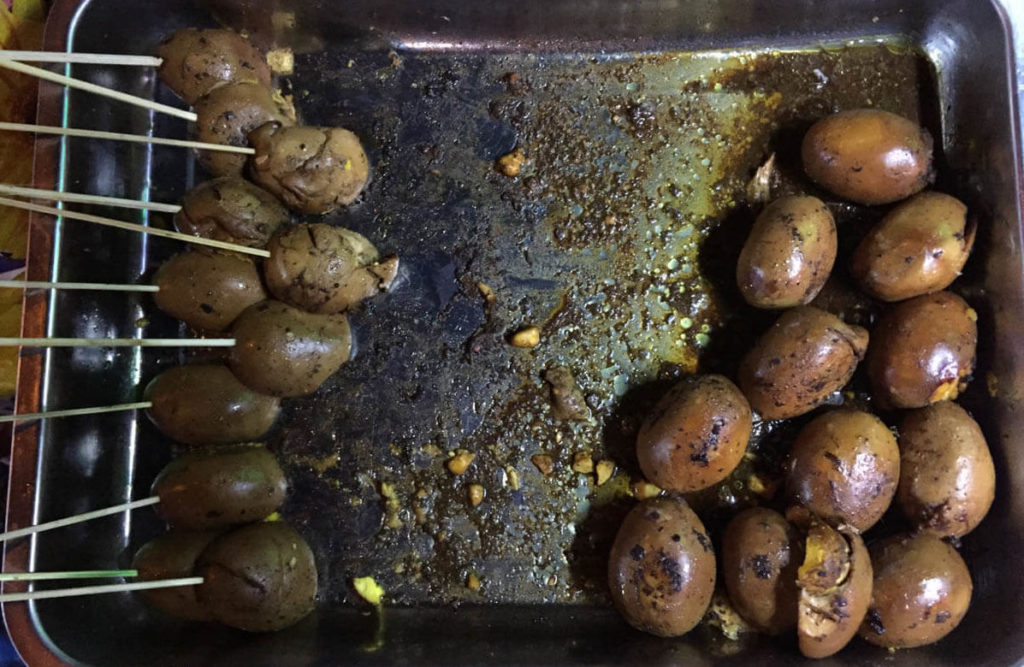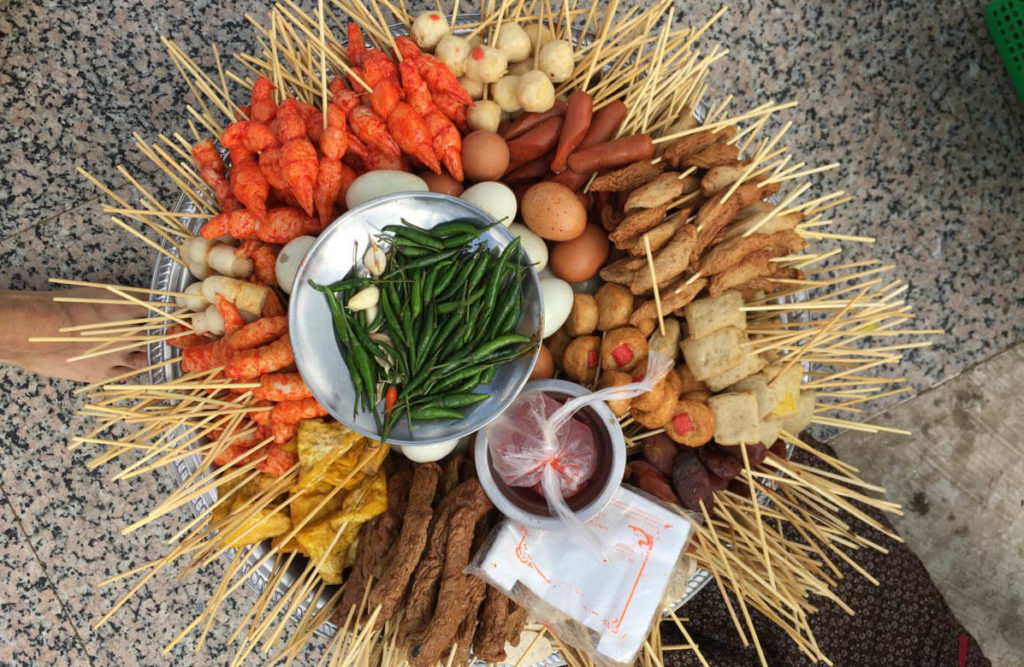 Conclusion
In conclusion, Burmese food is always a surprise and may be really rewarding. Like in most of the Asian countries you need to be very careful, but put special attention in Myanmar as there are not tourist options available.