Despite being such an off-beat country, not so many years ago, tourism used to be a priority here, a country home to four outstanding World Heritage Sites – Djenné, Timbuktu, the Tomb of Aksia, and the cliffs of Bandiagara.
Nowadays, however, Mali is going through an unfortunate situation that has isolated these astonishing sites from the outside world, wonders which have not only been visited by 21st-century tourists, but have also been traveled through over the centuries by countless traders carrying gold, leather, and ivory along the trans-Saharan route.
Tourists are a rare thing to see in Mali these days but, regardless of all the issues, many jaw-dropping places are still out there, waiting to be explored by the most intrepid travelers.
For all the practical information, don't forget to check my Mali travel guide
need to know for traveling in Mali
Quick facts
Capital: Bamako
Population: 20.2 million (59th)
Languages: The official language is French, which is widely spoken in Bamako, but only highly educated people can speak it in smaller towns. The most common language is Bambara, but many other African languages are spoken as well.
Area: 1,240,192km² (23rd largest country)
Visa
A visa is required, which you can get at the embassy, but each embassy has its own rules, prices, and requirements.
Feasible embassies are in Madrid, Paris, London, Berlin, New York City, Nouakchott, and Rabat, among others.
Safety
Security can be an issue in Mali, especially in the northern areas, which includes places like Timbuktu, Gao, and Dogon Country.
Central Mali can be safe, depending on where you go to.
South Mali, which comprises anything south of Bamako, is safe to travel.
Read our safety guide
Travel Insurance
For Mali, I recommend IATI Insurance:
5% discount if booking here:
Best time to visit
After the rainy season, from October to February/March.
Tours for Mali
Against the Compass has several scheduled expeditions to Mali every year.
Oct 27th to Nov 3rd (2023)
---
The best place in the world is in Djenné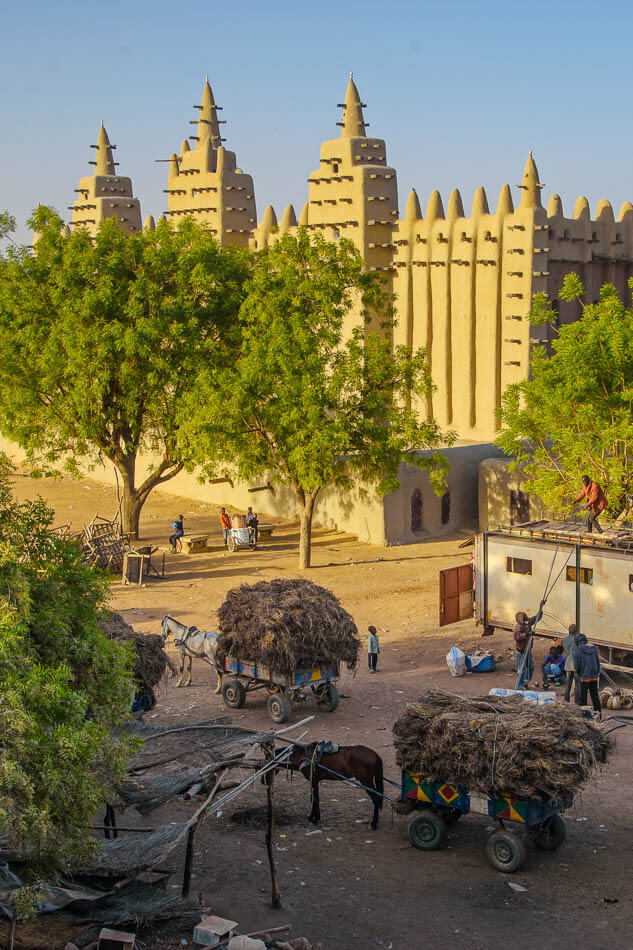 I have been backpacking for years, visiting mind-blowing destinations, to the extent that it's difficult for me to get impressed by the things I see.
However, there was one place that nearly made me cry when I saw it for the first time in 2021, and that place was the Great Mosque of Djenné, the largest mud structure in the world, located in a raw village that had not seen visitors for more than 10 years.
---
Top experiences in Mali
Visiting the Grand Mosque of Djenné
Few places in the world have moved and thrilled me as much as the Grand Mosque of Djenné.
Observing the local life along the Niger River
From ladies doing their laundry to workers collecting the sand needed to build their mud buildings, the Niger River is a year-round cultural festival.
Checking out the most colorful markets
Mali was the first West African country I ever explored, so when I first visited the markets I had a blast.
Exploring the Siby area on a motorbike
Siby is a small town 50km south of Bamako, popular for its strange rock formations, unspoiled villages, and mango plantations.
For more things to do, check my Mali itinerary
tips for Mali
Accommodation
As the capital, Bamako is well-sorted for hotels but they are pricey.
Ségou has some relatively good hotels starting at $20-$25.
Outside those two cities, you can find basic accommodation.
Getting in
Bamako has an international airport, the most common connections being via Rabat, Paris, and Istanbul.
You can safely cross from Senegal, Guinea, and Ivory Coast.
From Burkina Faso, the border that leads you into Sikasso should be fine.
Nigeria and Algeria are closed. Mauritania may be open.
Transportation
Public transportation – Most safe places can be reached by bus. For Djenné, however, I recommend hiring a local guide.
Own vehicle – You have to travel with your own vehicle in the southern part of the country. I actually drove all the way to Siby by motorbike, and it was just fine.
---
ALL MY ARTICLES ON MALI