Unspoiled desert landscapes, remote Sahara towns, and the most epic train journey in the world.
Nestled between the Maghreb and sub-Saharan Africa, Mauritania is a destination filled with unimaginable surprises waiting to be explored by the most adventurous travelers.
For all the practical information, don't forget to check my Mauritania travel guide
need to know for traveling in Mauritania
Quick facts
Capital: Nouakchott
Population: 4.4 million (135th)
Language: Hassaniya, a variety of Maghrebi Arabic but French is widely spoken as well
Area: 1,030,000km² (28th largest country)
Visa
All nationalities can get a visa on arrival, which costs either 55€ or $60.
It's valid for 1 month.
Safety
The security situation has improved dramatically in Mauritania and most of the country is extremely safe today, the only dangerous areas being too far in the desert to even reach them.
Read our safety analysis of Mauritania
Travel Insurance
For Mauritania, get IATI Insurance.
5% discount if booking here:
Best time to visit
Winter, from November to March. The rest of the year is just too hot to travel.
Tours for Mauritania
Against the Compass has several scheduled expeditions to Mauritania every year.
Jan 16th to 23rd (2024)
---
The Iron Ore Train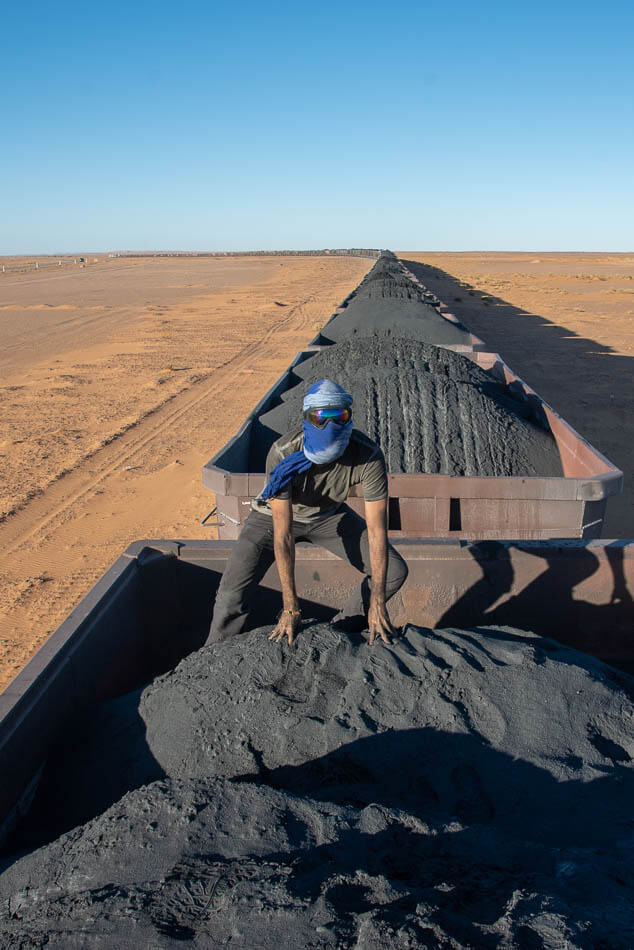 Every day of the year a train 2.5 kilometers in length leaves the mining town of Zouérat, traveling more than 700km across the empty Sahara to Nouadibou, loaded with tonnes of iron ore.
As a traveler, you can get on top of one of the wagons and travel along the 18-hour journey.
It's one of the most epic experiences ever.
---
Top experiences in Mauritania
Visiting the rawest Sahara villages
Mauritania is a particularly raw country and visiting several villages deep in the Sahara feels like traveling back in time
Seeing the largest concentrations of camels ever
I think the camel market that takes place in the city of Nouakchott has the largest concentration of camels I have ever witnessed.
Exploring the vastest Sahara
Mauritania is a far-flung land home to jaw-dropping desert scenarios that only a small bunch of travelers have had the chance to discover.
Check our 2-week Mauritania itinerary
tips for Mauritania
Accommodation
In Nouakchott you can find hotels suitable for any wallet.
Outside of the capital Nouakchott, most accommodation options consist of basic campsites and auberges.
In my Mauritania itinerary, you can see all hotels and auberges where I stayed.
Getting in
Nouakchott has the largest international airport, connecting mainly with Paris and Istanbul. Nouadibou has some daily flights too.
Traveling overland from Western Sahara (Morocco) and Senegal is doable.
The Mali border is more difficult.
How to move around
Public transportation – I traveled exclusively by public buses and local cars and it's easy, but you need a lot of time and patience.
Hire vehicle – The best way to explore the country but previous experience in driving a 4WD through the sand is required.
---
ALL MY ARTICLES ON MAURITANIA