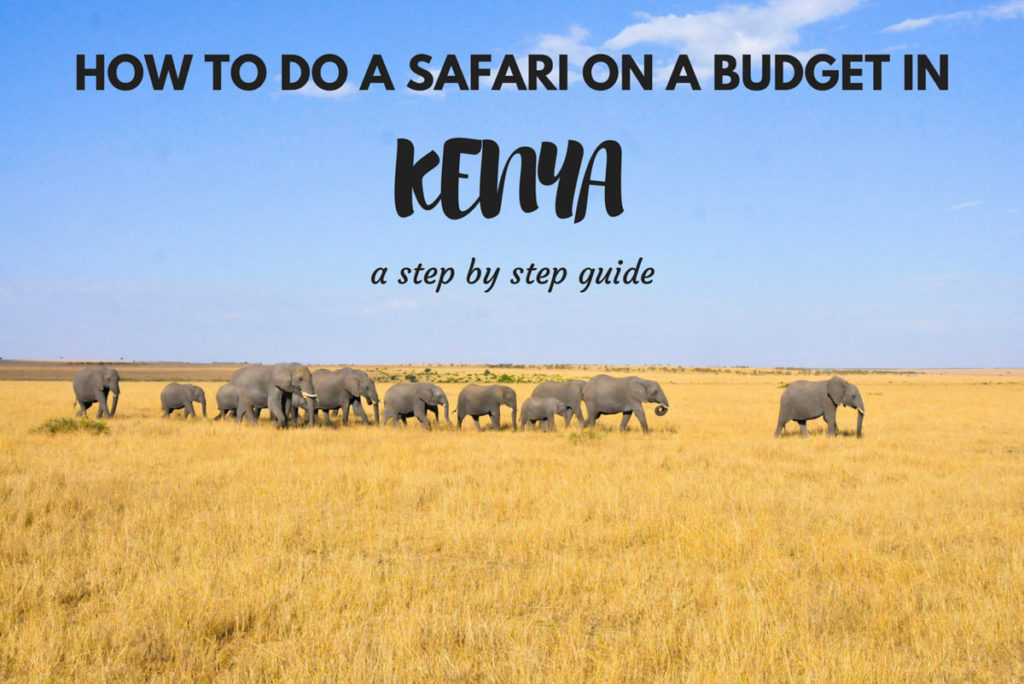 Going on a safari is tremendously expensive. The bare minimum is $400 for the most basic one. In this step by step guide, I am going to show you how to do a safari in Kenya on a budget, for only $200.The following guide is updated as of November 2017. If you have any further information, kindly, let me know and I will update it accordingly
There are many different types of travelers, but if there is one single thing that we all have in common, it is that we all freaking love going on an African safari. Or don't we? Of all the African countries, Kenya is perhaps the best country to do it in. Why? Because Kenya is home to the Maasai Mara, which is the National Park with the highest concentration of mammals in the world.
However, many travelers (especially the budget ones) get very disappointed when they realize how expensive it can be. If you try to book in advance from your home country, you'll see that prices start at $800 for just a 3-day safari in the Maasai Mara. Not many budget travelers, and especially backpackers, can afford such a large amount, right?
Moreover, if you want to get a better deal, one of the most common ways is to book it once you are in Nairobi. Normally, backpacker hostels offer the best rates, but the final price will never go lower than $120-$130 per day. The minimum number of days to book is 3 days; therefore, you'll end up paying at least around $380 for the Maasai Mara safari. What is included in this package?
Transportation (from and to Nairobi)

3 meals a day (drinks not included)

Accommodation in a basic tent (often shared) outside of the National Park

Maasai Mara National Park entrance fee

One full game drive on the second day + a morning game drive on the third day (van shared with 7 other people)

Yes, you understood it correctly. This package is a complete rip-off. You book a 3-day safari, but you only do 1.3 days of game driving. Why? Because the first day is wasted on driving to the park and setting up the camp. On the second day, you do a full game drive, but on the third day, there's only time for a quick morning safari, as you need to drive back to Nairobi. And the worst thing of all is that they don't tell you this before.
In conclusion, forget about booking any package. I am going to show you how to do a safari in Kenya cheaply and pay only $170. How?
The key is getting there on your own by public transportation.
Don't worry, it's easier than it sounds.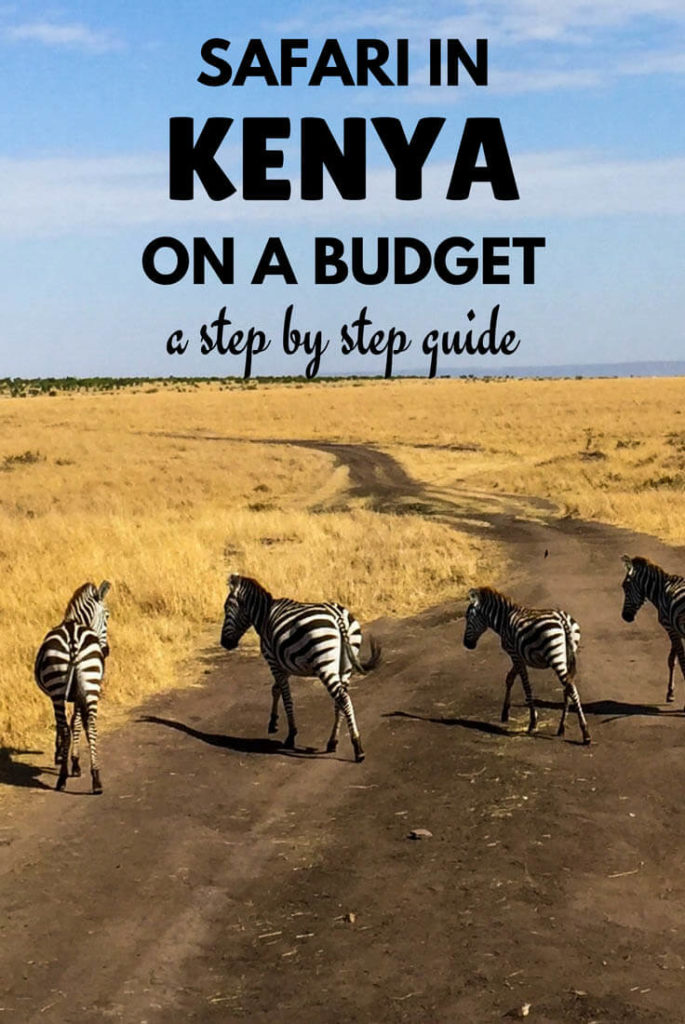 Safari in Kenya on a budget: A step by step guide
Step 1: Choose your budget camping safari and book it
First of all, you need to choose the campsite where you would like to stay. Maasai Mara is huge and there are dozens of different campsites and also many different gates to enter by. I recommend entering by Sekenani gate, as it's the easiest one to get by public transport. 
The budget safari campsites are located outside the National Park. After doing intensive research and talking to many locals, I came to the conclusion that these are the budget camping safaris in Kenya which offer the best rates. 
Mara Explorers – Ideal for backpackers. This campsite is located just 3 kilometers from the Sekenani gate and it's one of the cheapest campsites in the Maasai Mara. They offer pretty comfy tents and have Western toilets with hot water. Additionally, they have Wi-Fi and you can even pay by credit card. We stayed here and, at night, we could hear hyenas. A great place. Book it on Hostelworld.com now.
Mara Springs Safari Camp – This campsite would be a better option as it's slightly cheaper and you can also get a real bed, instead of a tent. It's very close to the Mara Explorers but it's a little bit harder to find. This one has no Wi-Fi, unlike Mara Explorers but they a few baboons roaming around. Book it on Booking.con now.
Note 1: If you want to get the cheapest tent/room, you should, definitely, book in advance.
Note 2: If you have your own camping equipment, you can also pitch your tent, which will be significantly cheaper. I don't know about Mara Springs Safari Camp but, in Mara Explorers, we paid 1,500KED ($15) per person.
Step 2: How to do a cheap safari in Kenya – Email them to book a game drive
After you booked your room or tent, you may also want to book a game drive.
However, you should only do this if you really want to find people to share the car with. Otherwise, you would't need to book it.
If you really want to find other people, just email the campsite, saying that you will arrive on X day and you would like to share the car with other travelers. However, bear in mind that they may find people or they may not.
Typically, all cars can fit up to 6 people.
Alternatively, you could also try to find other travelers the same day you arrive at the campsite because, to be very honest, I don't think they put a lot of effort in trying to find travel mates for you.
The price per car per day, including a guide and a driver, is $150 a day (15,000KES), which can be split between up to 6 people.
Note: To be honest, I was with my partner and we didn't join any group but we booked a 4×4 for just ourselves. Going by yourself is way more enjoyable, as you are the one who decides and tells the driver where you want to go. We saved so much money on just reaching the camp by ourselves, so we decided not to join any other group. It's your choice!
Step 3: Take a matatu (local transportation) to the town of Narok
As I said, if you really want to do the Masai Mara safari on a budget, you should go there by local transportation. For this, you will have to go to Narok. 
Narok is a town located 150 kilometers from Nairobi and 87 kilometers from the Sekenani gate. Its population is 40,000 people, mostly Maasai. Why do you need to go to Narok? Because this is the place where you'll catch direct transport to the Sekenani gate. 
How to get to Narok?
There are several matatus connecting Nairobi with Narok all day long. The journey is a pleasant 3-hour drive through the Rift Valley. It costs 300KES ($3) for the regular matatus and 450KES ($4.50) for the more comfortable ones. It's a small price difference ($1.50), but the difference in comfort is big. I took a VIP matatu.
Where is the bus station?
It's located in the CBD area. I recommend going there as early as possible; the sooner you leave, the sooner you'll reach the camp. These are the coordinates and location: -1.283412, 36.830169
Step 4: Look for the bus station and book a shared taxi to Sekenani
In Narok, the matatu will drop you at a gas station. Ask the locals where the bus station is. They will offer to take you by taxi, but just ignore them, as the station is less than 500 meters away.
Around Sekenani gate, there are a lot of villages where local people live. That's why you can go there by public transport.
Once you are at the station, look for the shared taxis to Sekenani gate and say that you want to be dropped off at the Mara Explorers or Mara Springs Safari Camp campsites. Do not accept anyone offering to take you for more than 500KES (5$) per person. This is the real price and you shouldn't pay more than that. The taxi will leave only when completely full and they will always try to fit in 6 passengers (excluding the driver), 4 in the front and 2 in the back.
It may take time to fill the taxi completely. I waited for a little bit longer than an hour. 
Step 5: Make your Masai Mara budget safari even cheaper – Buy supplies at the supermarket
If you really want to do a real affordable safari in Kenya, you need to stock up on food supplies at the supermarket in Narok. At Mara Explorers (and at any other camp) any meal costs 1,000KES ($10) and there are no real supermarkets in the villages around Sekenani.
Right next to the bus station, there's a big supermarket called Naivas. They sell all types of groceries, plus good ready-to-eat meals. I bought one meal for the night and tuna cans, cheese and bread for the following days. Since I spent two nights at the camp, I had to pay for only one dinner.
One note: At least, at Mara Explorers, coffee and tea are included!
Step 6: The journey to Sekenani gate
Once the taxi is full, you are ready to go. The whole trip takes between 2 and 3 hours along an unpaved, bumpy road, but the experience is really worth it, as you will be sharing the taxi with authentic Maasai people. Most of the tourists only interact with them when they buy souvenirs, but you'll be sitting next to them for almost 3 hours. A lot of Maasai people speak some English, so you might be able to talk to them.
One note: Remember to ask the driver for his phone number for the journey back to Narok. The staff of Mara Explorers or Mara Springs Safari can call them for you and they won't charge you anything extra. Normally, the shared taxis go back to Narok at 8am.
Step 7: Arriving at Mara Explorers: Look for travelers to join you
As soon as you arrive at the camp and set up your tent, go to the reception and finalize the arrangements for the safari the next day. If you booked it in advance, ask if they have found any other tourists to share the car with. If you didn't book it, try to find other travelers around the camp. Normally, there should be someone to join with.
Step 8: Go on safari and enjoy!
On the next day, you'll be departing for the park at around 6:30 am. Be prepared for a 12hr drive! By the way, the entrance fee is $80. No one can skip.
Final Kenya safari cost
Matatu to Narok and back to Nairobi: 450KES x 2 = 900KES ($9)
Groceries: 600KES ($6)
Shared taxi to Sekenani gate and back to Narok: 500KES x 2 = 1,000KES ($10)
Accommodation: It depends on the season but, in December, Mara Springs Safari costs around $30 a night per person: 3,000KES x 2 nights = 6,000KES ($60)
One dinner: 1,000KES ($10)
Maasai Mara entrance fee: 8,000KES ($80)
Game drive: assuming you are 6 people: 2,500KES ($25) 
TOTAL COST = $200
Final conclusion
You see? I just showed you how to do a cheap an affordable and cheap safari in Kenya, for no more than $200. However, bear in mind that this would be an average price as there are many factors to take into account. Costs would be slightly higher if you went in a private jeep but they would decrease if you brought your own camping equipment. But anyways, it will always be immensely cheaper than if you book it in Nairobi.
Furthermore, if you wanted to do an extra day on safari, add another $105 on top of the $200 ($80 for the entrance fee + $25 for the 4×4). That is a total of $275, which is still way cheaper than the Nairobi package.
You might also want to read: Things to consider when planning an African safari
WANT TO TRAVEL OFF THE BEATEN TRACK?
 JOIN MY NEWSLETTER
and get one TripScout City Guide, of your choice, for FREE!