Ladakh is a remote place belonging to a northern Indian state, which for some reason doesn't receive as many tourists as the rest of the country.
I was wondering: Why is that i wonder? This region is a bit remote and of difficult access. Normally, people don't know about it or haven't even heard of it. Why? Maybe it's because Hindu culture can't be enjoyed here, which is one of the mains reasons for going to India.
So what can you do and find in there? Ladakh is basically a Himalayan region where authentic Tibetan people live in. It's often called the little Tibet, and for the Indians themselves, this is the best spot where to spend their vacations in India. Why? In India chaos rules, it's overpopulated and there's traffic everywhere.
Ladakh is a different place which differs from all these stereotypes. Here you find peace and silence, which combined with the stunning Himalayan landscape and the Tibetan culture visible in every corner, sometimes you may even forget that you are actually in India.
That being said,  the following Travel guide to Ladakh aims to provide you with detailed travel tips such as prices, accommodation, and transportation, as well as an overview of the main things to do and see, so you know what to expect upon your arrival in Ladakh.
If you are seeking more in-depth and detailed information, I recommend you to find inspiration on any of the following posts:
Markha Valley Trek, the ultimate budget guide
Tibetan culture in Ladakh: Buddhism and gompas
A guide to Tibetan food in Ladakh
Khardung La: Driving over the highest road the world on a scooter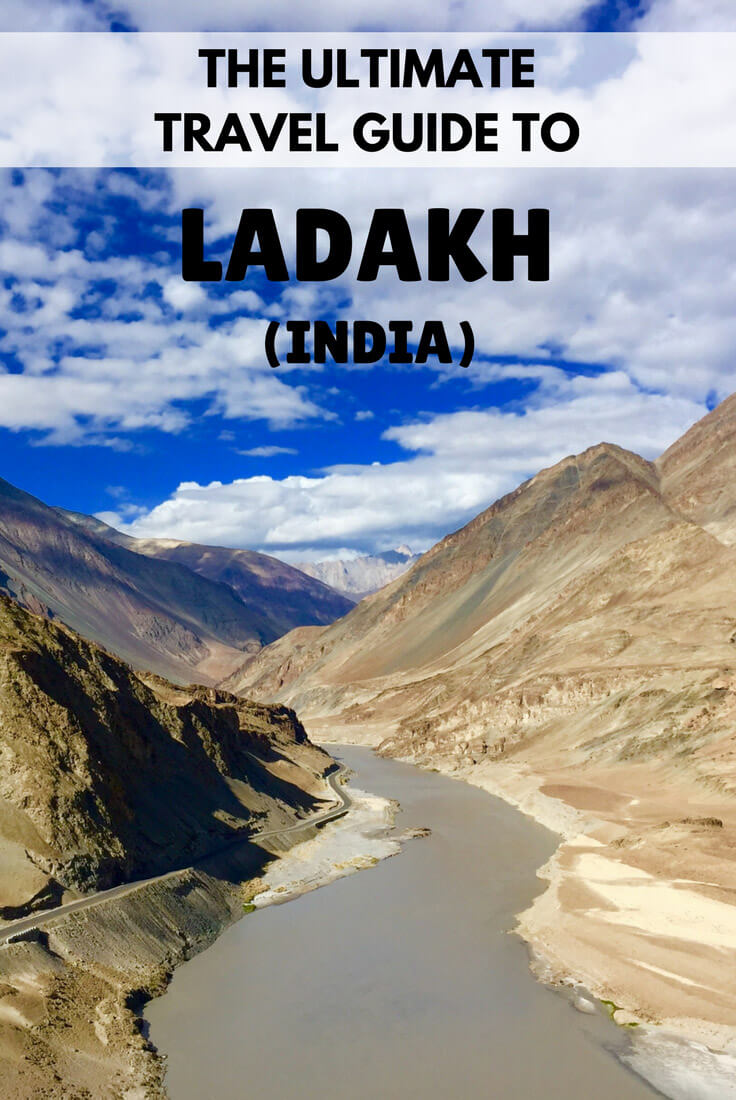 The ultimate travel guide to Ladakh
Ladakh is a region that belongs to the Indian state Jammu and Kashmir, which extends from the Kunlun mountain range to the Great Himlayas.
The whole area of Ladakh is located at a very high altitude. Its capital, Leh, is at 3,500 meters above sea level, and has a large number of peaks reaching over 6,000 meters
Here you find:
Top things to do in Ladakh
The people
Travel Insurance for Ladakh
Language
Religion
Food
Alcohol
How much does it cost
Trekking
Transportation
Altitude sickness
Safety
Visa
When to go
Get in
Money
Internet
Top things to do in Ladakh
Ladakh might be a small region within India, but it's actually double the size of Switzerland. Nevertheless, the unpopulated mountains occupy most part of it. In my opinion, the top things to do and see in Ladakh are:
Leh
If you arrive by plane, the capital is going to be your first destination. Leh is a fantastic place to explore. Leh palace, the most iconic building of the city, is definitely worth a visit. You can also watch the sunset from Shanti stupa, visit Tibetan refugee markets or simply wander around its narrow alleys and streets.
In Leh, you will get a first glimpse of what Tibetan culture is like.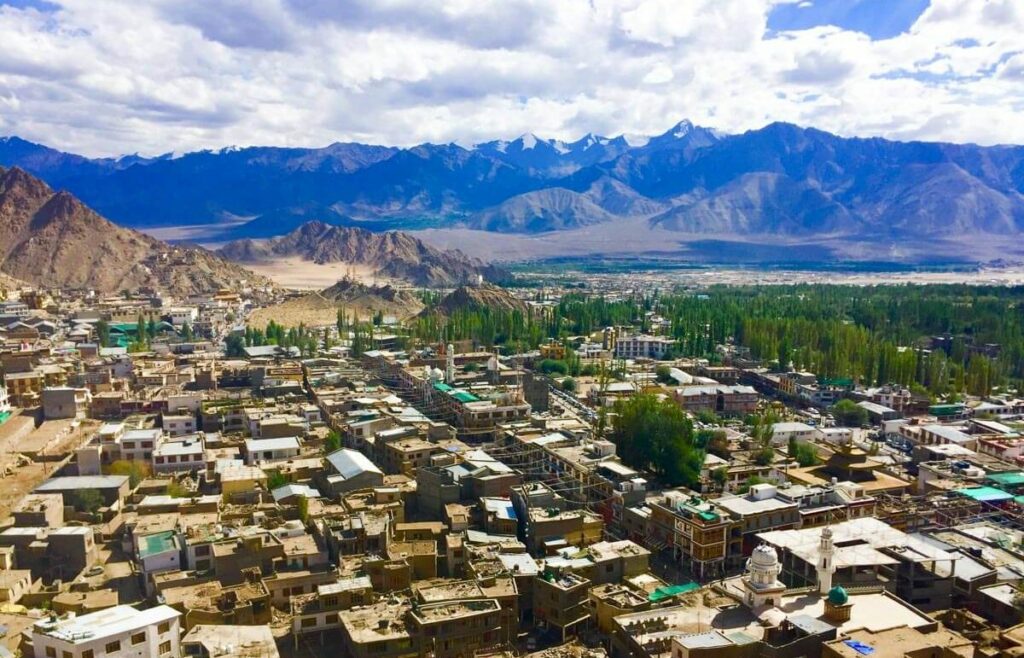 Nubra Valley
A vast sea of sand dunes in the Himalaya itself. Can you believe it? Nubra Valley is a desert similar to those of Arabia but located at 4,000 meters above sea level and surrounded by the Himalayan range. Here you also find two-humped hairy camels.
Tibetans claim that the origin of this desert comes from Tethys, a sea from the depths from which the Himalayas are supposed to have risen.
Khardung La 
This is nothing less than the highest motorable road in the world. It connects Leh with Nubra Valley and its highest point passes over 5,600 meters.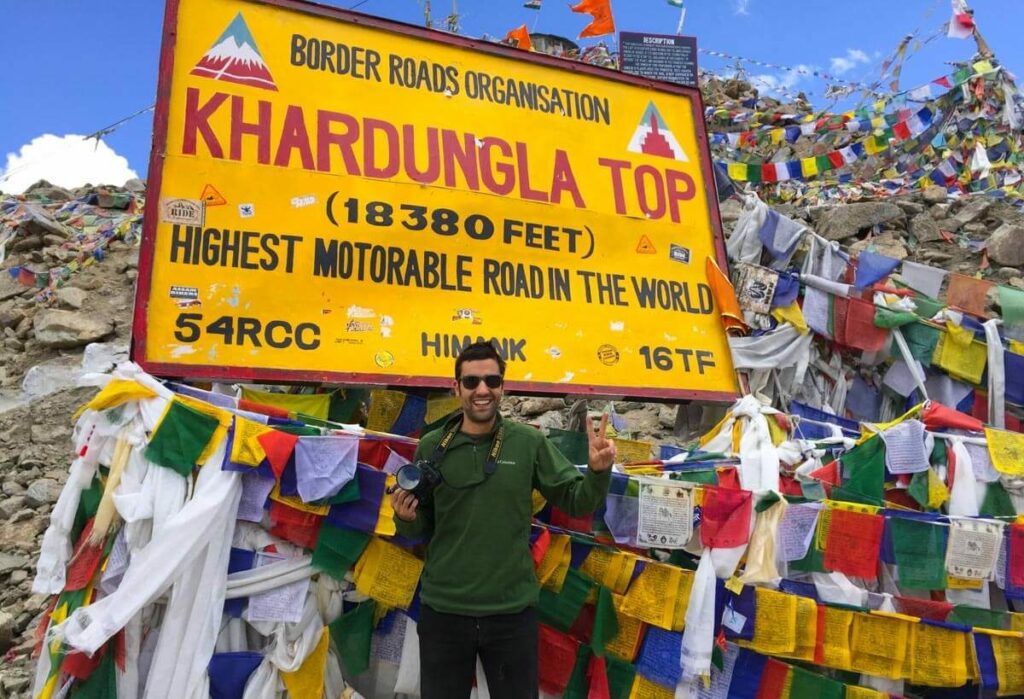 Pangong Tso Lake
A lake located at 4,350m above sea level which extends across India and China. People go to this lake to see the stunning landscape and for hiking.
Chemrey gompa
In my opinion, the most beautiful gompa out there in Ladakh, having been built and perfectly shaped on the top of a steep hill. Looking at it is merely impressive.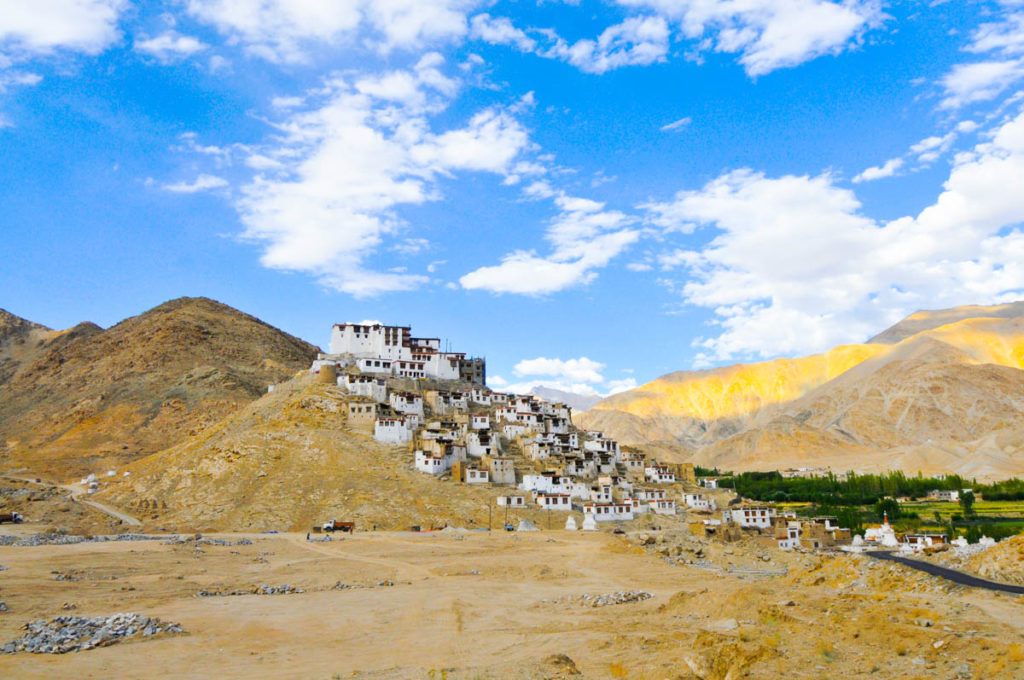 Tso Moriri Lake
The highest lake in Ladakh (4,522m) and one of the most beautiful ones owing to its surroundings, green pastures and white peaks
Thiksey gompa
Though the most touristic gompa, this fortification is almost like a small town. It has shops, restaurants, a hotel and a huge monk community living there.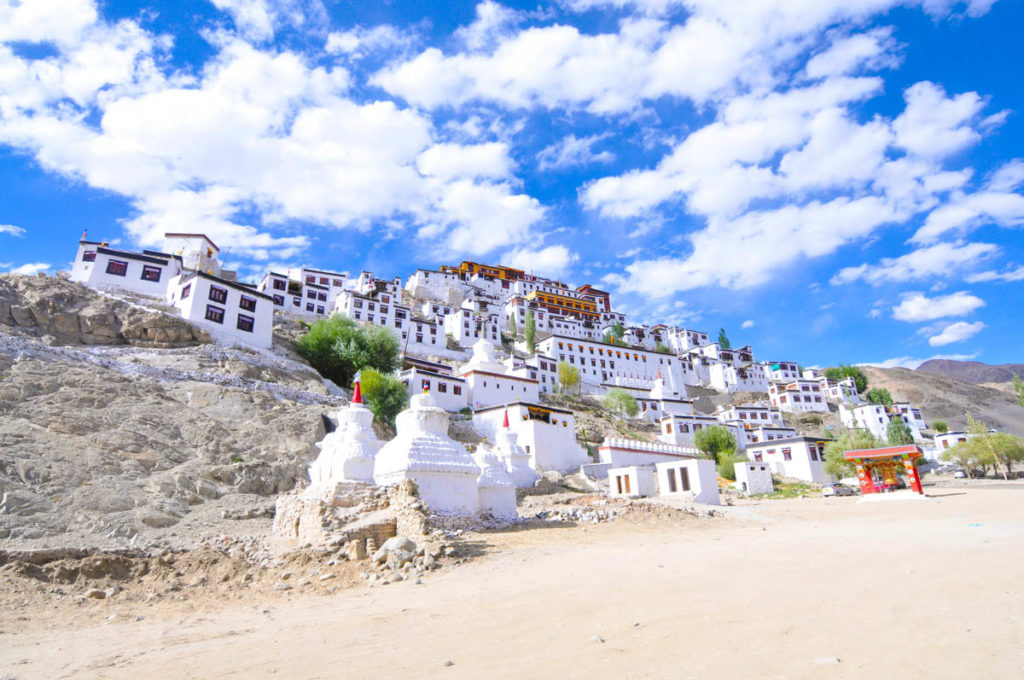 Learning Tibetan culture
Ladakh is the place in the world where Tibetan culture is more accessible. Whereas foreigners have always had restrictions when going to Tibet, in Ladakh you can talk freely, walk around and go wherever you want. If you want to know more about it, I suggest you read this post about Tibetan culture in Ladakh.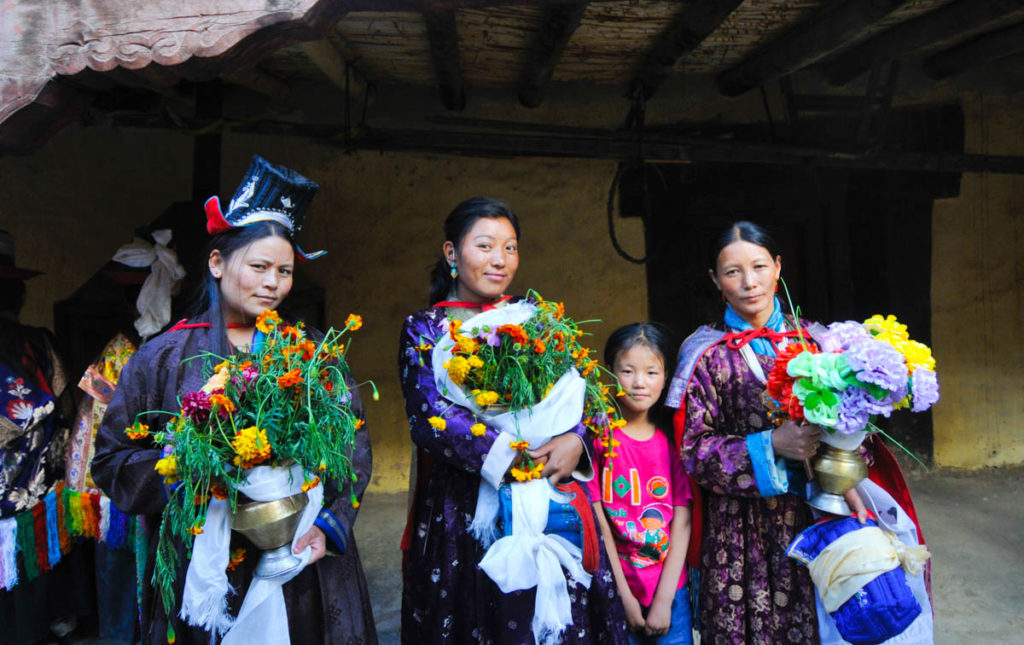 Hemis gompa
If you travel to Ladakh during July, Hemis monastery is a must to visit since it's where the Hemis Festival takes place, a popular festival famous for its masked parade. It's one of the most sacred rituals in Ladakh.
Trekking 
Hiking around the unique Himalayan range of Ladakh is one of the biggest highlights of the trip. There are an endless number of treks adapted for any kind of traveler. For more information, check on the Trekking section of this guide.
Keep reading: Kashmir Travel Guide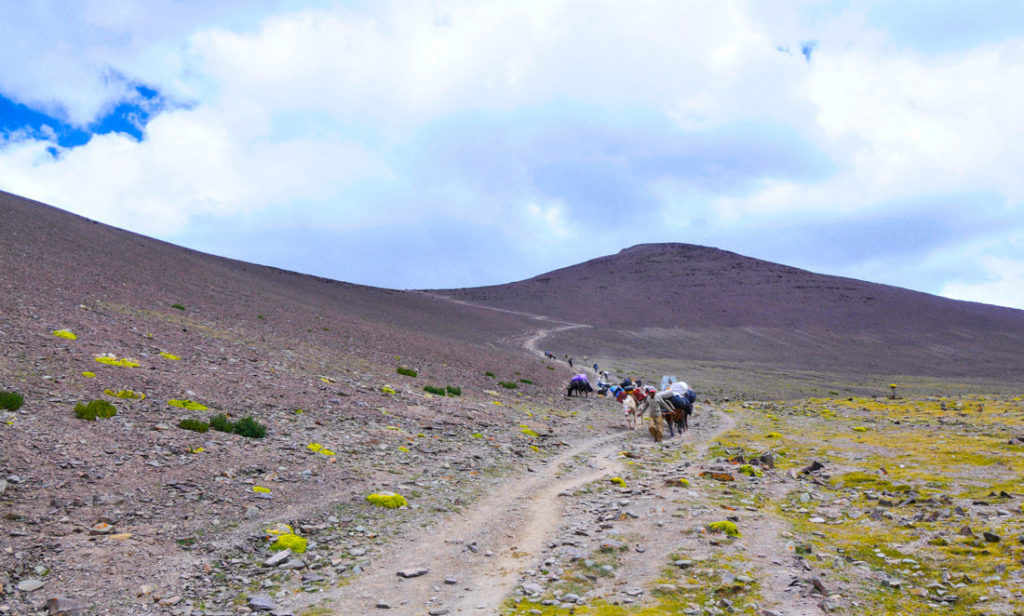 Getting off the beaten track
Ladakh region is already off the path, but during high season (July & August), some spots may get busy. Places like Leh, popular gompas, Khardung La pass and Nubra Valley are probably among the most crowded ones.
If you want to avoid the crowds, Pangong Tso Lake and Tso Moriri Lake are the perfect options. Trekking is also a good way to get off the beaten track, even in popular treks like Markha Valley. 
Last, if you are renting a vehicle, driving the empty roads of Ladakh is an awesome experience and there are endless unexplored villages where you can randomly stop and look around. I suggest you drive to Chemrey and explore the surrounding area.
By the way, if you decide to visit popular gompas like Thiksey or Hemis, it's better to go in the afternoon or early evening to avoid the crowds.
The people: the Ladakhis
Ladakhis are both ethnically and linguistically close to Tibetans. During the 8th century, a royal Tibetan annexed the region to himself and as a consequence, a huge number of Tibetans came and established roots there.
In addition, in the past decades, after the invasion of China, thousands of Tibetans have been seeking refuge in Ladakh. Ladakhis are kind people always willing to help or establish a conversation.
Ladakhis neither look like Indians nor feel like Indians. I turned out that i was in Ladakh during Indian Independence Day. In India, this day is quite a big deal, but in Ladakh, it was just a normal day like any other one. Yes, there were a few flags hanged from a few balconies, but that's it. They told me they don't feel Indian. Nevertheless, don't get confused and think that they don't get along with the rest of the country. In fact, they are really happy with the Indian government because it gives them a significant level of autonomy and freedom.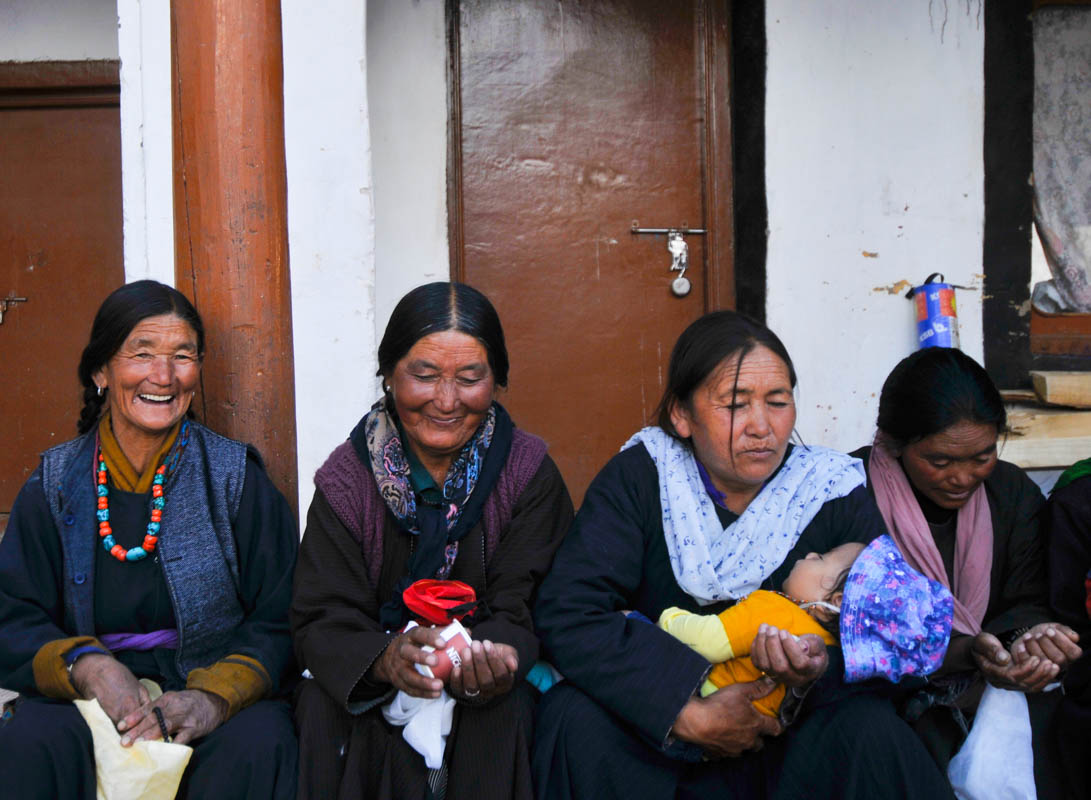 Travel Insurance for Ladakh
Like any trekking destination, traveling with proper travel insurance is a must.
In the mountains, you can get injured very easily and, if you got seriously injured, you may have to be rescued.
Therefore, I always recommend World Nomads, as it is the only company that provides with unlimited medical coverage plus it covers a big bunch of adventure activities. For example, the basic plan already covers for trekking up to 6,000 meters.
Get your free quote here
Language
Ladakhi is the most common language used across the region and it's merely a Tibetan dialect. Additionally, Hindi and Urdu are widely used among educated people.
Some useful Tibetan words are:
Hello: Jullay
How are you?: Khamzang ina-le?
Thank you: Jullay – Same as "Hello". Literal translation would be "Greetings"
You're welcome: O'-Jullay
I am sorry: Gongspa salazad
Excuse me: Gongspa salazad – Getting attention
English in Ladakh
I think Ladakh is one of the places in Asia where English is more widely spoken. In cities and larger towns, almost everybody speaks a fairly comprehensible English. But the surprising thing came on the day when, while driving with my scooter, I randomly stopped to take a picture of an old peasant lady who was collecting wheat. I approached her and kindly asked her if I could take a picture. Then she told me in  English: "Can I see it?". I was shocked. We started to talk and she even gave me her address so I could send her the picture.
OK, her English was not great, but if you guys have ever traveled around Asia you will understand what am I talking about. It was the first time ever I could establish a conversation with a random peasant in Asia.
Religion
Since most of the population is Tibetan, Tibetan Buddhism is the predominant religion in Ladakh and it plays a key role Ladakhi everyday life. According to a monk I met, families turn at least one of their sons in to Buddhism. Strong Buddhist faith can be felt across all Ladakh, in every village and in every monastery, and that is definitely one of the highlights when traveling to Ladakh.
Nevertheless, a large Muslim population also lives in this region, especially in the area bordering Kashmir Valley.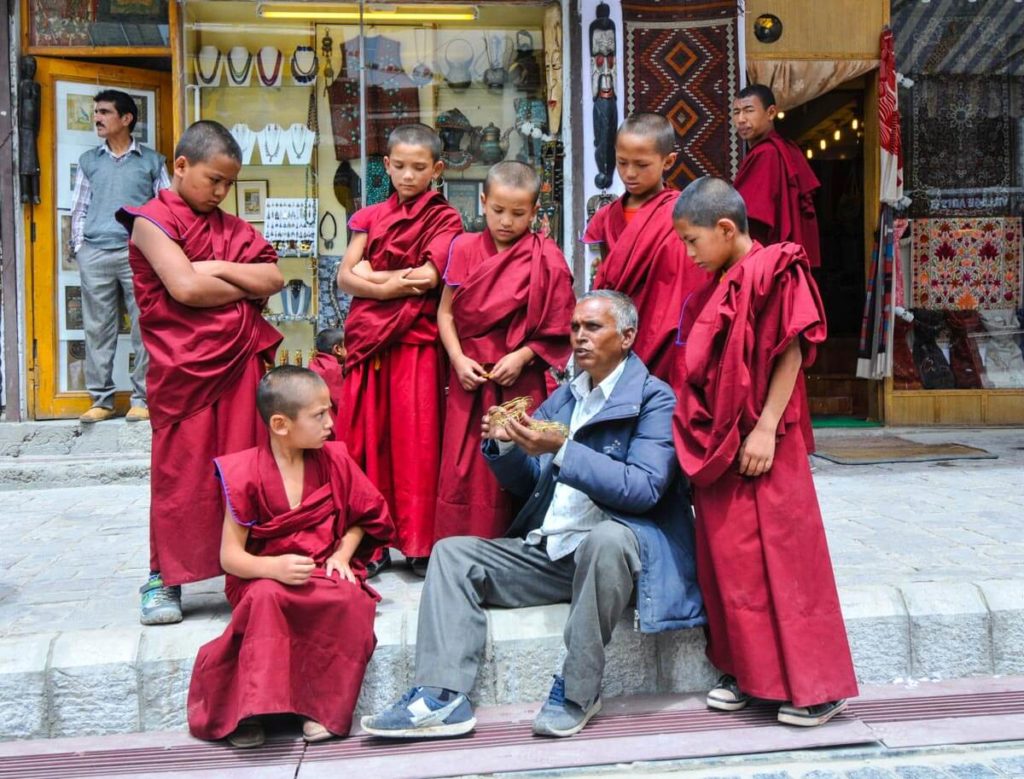 Tibetan Food
Food in Ladakh is sort of unique and that's why I thought it should deserve an extensive separate post. Click here to read about what Tibetan cuisine is like in Ladakh.
Alcohol in Ladakh
Sadly, alcohol in Ladakh is sort of a sensitive topic and it's not widely available. Apparently, there's been some issues with alcohol and nowadays it's quite regulated. You can find it, but only in a few places.
Bars and restaurants have to pay huge fees and mostly can't afford them. Nevertheless, please don't start crying yet. There are loads of restaurants who serve it illegally (or unofficially, like they like to call it). They bring it inside paper bags and instead of a glass you get a coffee cup.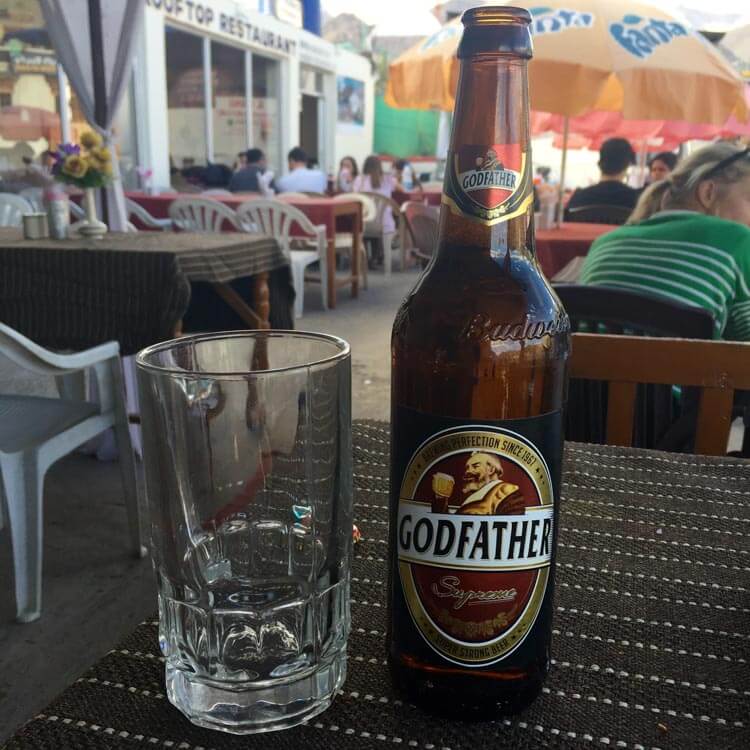 Typically they just serve beer and two brands are available: King Fisher, a 5.5% beer brewed in Bangalore which I personally don't like it because it doesn't have much gas and God Father, which is the Kashmir state local beer. The label claims to have 8% alcohol but it's not true. It's a very light beer but then I realized that the label actually says: maximum 8%. Strange, right?
Note: Remember that Ladakh is a high altitude region and therefore you get drunk way quicker. It can be fun, I know. But if you are having a headache or you are not sure about your acclimatization, you had better stay away from it.
How much will cost you traveling to Ladakh?
While Ladakh is a cheap destination, according to Indians it's the most expensive place within India. Let me tell you what's the cost of the most typical things:
Accommodation
I have never in my life seen as many guesthouses as in Leh. There's a guest house on absolutely every street and corner. That's the way locals make a living. Please note that these prices refer to high season (summer).
Budget option: You can find very basic rooms for as cheap as 500-800 rupees per night. Normally, these guest houses won't have internet, and other than a thin mattress and a toilet you won't get anything else. Nevertheless, most of them have a beautiful garden where you can read, relax or have breakfast. A lot of budget guest houses may be found in Karza road, just 5 minutes away from the city center. I don't think so you need to book in advance. I found one very quickly during the busiest season in August.
More comfortable option: If you are looking for a slightly better option with a comfortable mattress and wifi, you can find rooms for 1,600 rupees. I stayed one night in Shaolin guest house. Mattresses were superb and they had quite a nice common area with pillows. The staff is a lovely and kind Tibetan family. They speak perfect English. They have a garden as well. It's a bit far from the busy city center, which means that there's complete silence.
Food
In restaurants where locals eat, meals typically cost between 60 and 100 rupees. In more touristy (and hygienic) restaurants, meals start at 180 rupees, depending on what you order. Water costs 30 rupees per liter and coffee 50 rupees.
Alcohol
For a half liter beer, you will pay an average price of 170 rupees.
Transportation
Private taxis within Leh: Short taxi rides cost around 200 rupees.
Private taxis to other places in Ladakh: Prices vary depending on where you go. Round trip to Nubra Valley costs 6,800 rupees. Khardung La costs 2,600 rupees and Pnagon Lake, 9,500 rupees. Prices are standard and set by the Ladakh government. They shouldn't charge you more. Please note that all agencies have shared taxi service and they help you out finding other people to share the car with.
Shared local taxis: Using the local transportation is the cheapest way to move around. For example, going from Leh to Thiksey (20km) costs as cheap as 100 rupees. For more information, check on the How to move around section of this guide.
Scooter rental:  Price per day for renting a scooter is 800 rupees. By the way, gas costs 70 rupees per liter.
Motorbike rental: Big bikes cost 1,300 rupees per day. If you are planning to rent it for a long term, I met a guy who managed to pay only 800 a day for a full month rental.
Entrance fees
Entrance fees to gompas cost either 0 or 50 rupees. The only expensive fee I ever paid was when I went to Leh Palace (300 rupees).
Do you need to tip?
You are not forced to tip, but people involved in tourism might expect a tip from you. According to locals, both guide and porters may expect a $1-$2 tip per day. But again, tipping is not mandatory.
Minimum average price per day
Accommodation: Budget single room: 700 rupees
Food: Local breakfast + Lunch in a local restaurant + Dinner in a touristy restaurant: 60 + 80 + 220 = 360 rupees
Beer: 2 beers: 340 rupees
Transportation: Scooter rental + 2 liters of gas: 800 + 140 = 940 rupees
Miscellaneous: Water + snacks + personal care products = 300 rupees
Total price = 700 + 360 + 340 + 940 + 300 = 2,640 rupees = 40$ a day
Trekking in Ladakh
Hiking the deserted and remote mountains of Ladakh is one of the best trekking experiences you will ever have, and this is not only my opinion but experienced trekkers who said that the Himalayan range of Ladakh is the wildest, most stunning and dramatic you can ever encounter.
Which trek should I choose?
This is a very good question. First, you need to ask yourself: How many days do I want to be trekking? Do I want to sleep in homestays or in a tent? Do I want to go independently or with a guide? Do I want to see people and experience Tibetan culture or just landscape?
There are a lot of different treks which can be adapted to any kind of need. Once you are in Leh, you should go to each and every agency and ask for all options and details. Nevertheless, here's a quick overview of some of the most popular hikes in Ladakh:
Markha Valley (4 to 9 days): This is the most flexible and adaptable one. It has both culture and amazing landscape. Some sections are pretty challenging. The highest point is 5,200 meters. You can complete the trek in just 4-5 days depending on from where you start. Markha Valley may be one of the most popular treks in Ladakh but still, it is way more authentic than most of the treks offered in Nepal.
Nubra Valley trek (2 to 6 days): One of the least frequented treks. There are no home-stays and you need to bring your own camping equipment.
Rumtse to Tsomoriri Trek (8 Days Trek): Local guides claim that this is their favorite trek. It's characterized by arid plain mountains, nomads and amazing high altitude lakes, the most famous being  Tsokar & Tso Moriri.
Spituk to Matho (3-4 days): One of the shortest treks and just perfect for those seeking something moderate. This trek goes through Hemis National Park, a place where snow leopards have been spotted.
Lamayuru to Darcha Trek (18 days): This is one of the longest treks, yet one of the richest in terms of culture. It passes by a big number of Tibetan villages and monasteries, the most famous being Phuktal, a gompa located literally in a waterfall.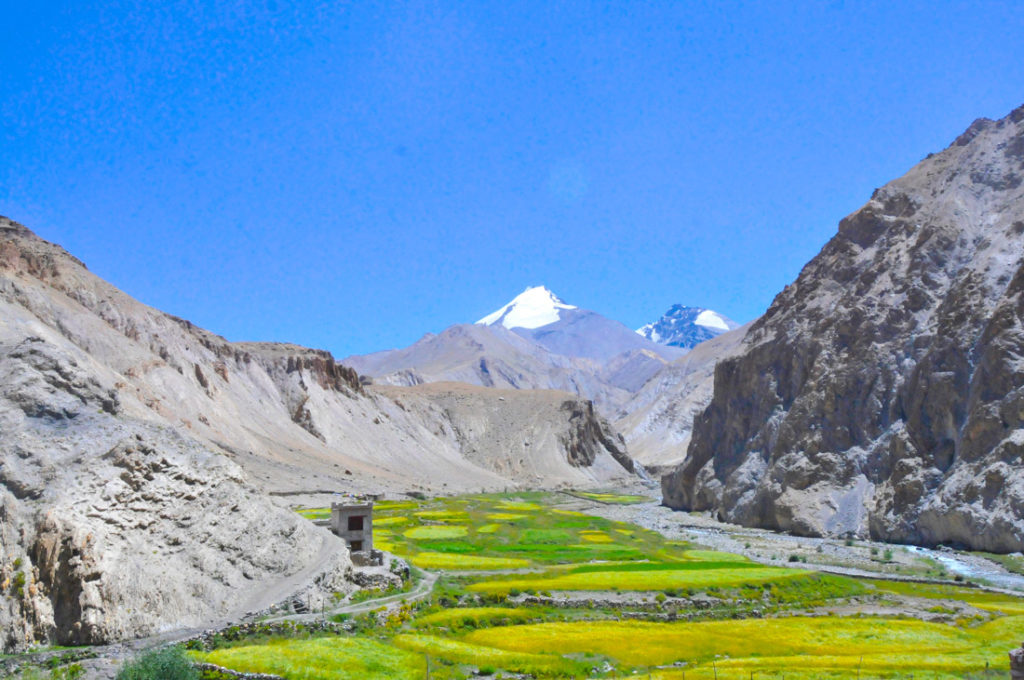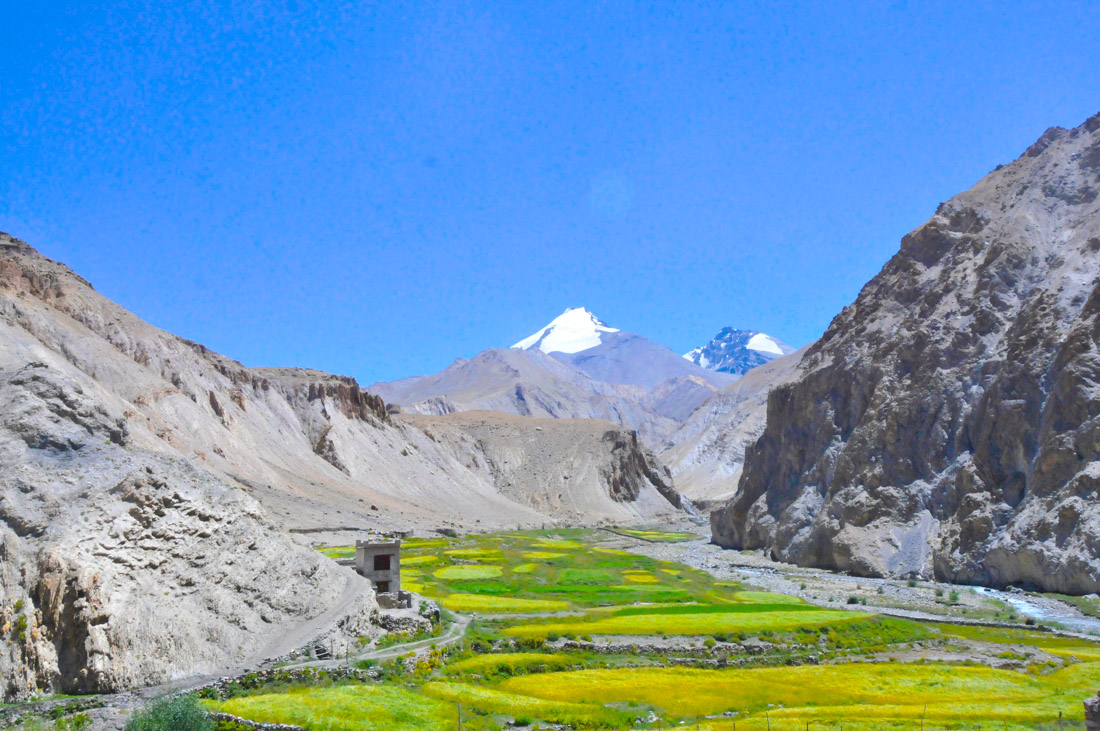 Do you need a guide or agency?
First of all, I just want to tell you that there's no need for booking a trekking tour in advance from your home country. Booking a tour in Leh is significantly cheaper and there are literally dozens of trekking agencies looking desperately for trekking groups. Don't worry, you won't miss your trek.
Second of all, you might be wondering… Do I actually need a guide? Or can I do it on my own? That mainly depends on your level of expertise. Me for example, I am not a beginner but I am also not an expert. If I had to go on a 10 days trek on my own, having to bring my own camping equipment and cooking my own food, I would probably starve to death. I don't know about coordinates or how to use a compass. On the other hand, if a trek has plenty of homestays and a clear route to follow (like Markha Valley for example), then I would feel comfortable to do it on my own.
My suggestion? Trekking agencies are very helpful and they don't hesitate in providing you with all the information you need. You can ask them whether it's feasible or not to do it on your own. They will give you the itinerary and all details and then you just make your own judgment.
How to choose the right agency in 4 easy steps
Step 1: Go to 10 trekking agencies and ask for all trekking options and details
Step 2: Once you have decided which trekking are you going to do, ask for prices and choose the 3 cheapest agencies
Step 3: Ask these 3 agencies if the guide who will you trek with is actually a local from Ladakh. When summer comes, some Indians from other regions come to Ladakh to work as guides. Dismiss agencies without a Ladakhi guide. An actual local guide will be a richer experience.
Step 4: Say that you would like to meet the guide in person. Choose the agency with the guide you get best along with.
If you want to know more in depth about prices, accommodation, itinerary, etc., I have written a very detailed guide containing all you need to know to complete the Markha Valley trek.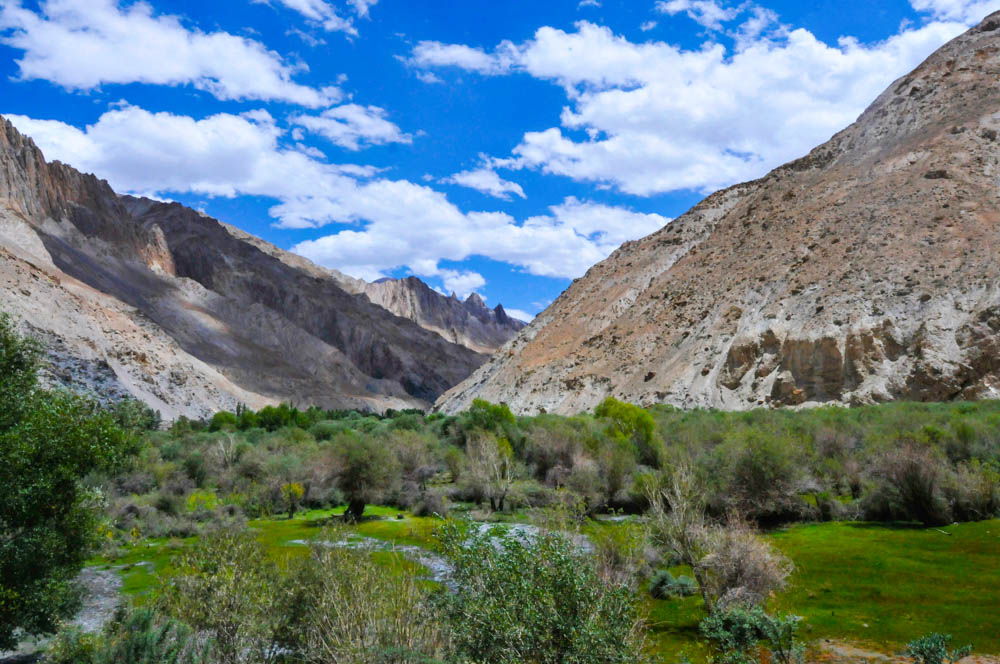 How to move around: Transportation
Public transportation as such doesn't exist in Ladakh. Main ways to move around are:
Private taxi
Within Leh, taxi is the only way to move around. Please note that Leh is built on a hill and distances are not short. If you got into Leh by plane, first you need to acclimatize to the high altitude before starting to ascend Leh streets. If your guest house is close to the city center then that's fine. But if not, on the first day, I strongly recommend you take a cab every time you go back to your guest house. Trust me, I know it by experience. On my first day, I started walking up and down and got a strong headache by the end of the day. For more information, check out High altitude sickness section
For traveling outside of Leh, any guest house or trekking agency can arrange a taxi for you. Prices are standard, therefore there's no place for negotiation. Moreover, all trekking agencies offer shared taxi service with other tourists. They just find them for you. The downside of it is that finding someone else might take a while. I suggest you ask as many agencies as possible until you find a full taxi.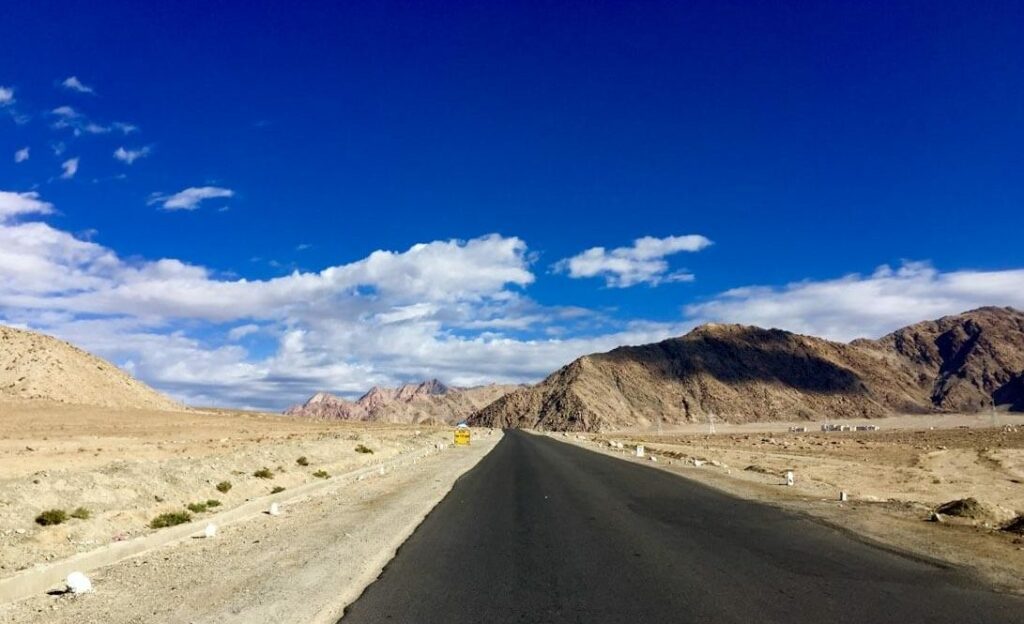 Local shared taxi
Local transportation in Ladakh consists of small vans where people go all squeezed up inside. It's the cheapest way to move around and can be found pretty much everywhere. In Leh, there's one station right at the city entrance. They are quite effective if you are planning to go to other villages or gompas. The bad side of it, is that they usually don't go to remote touristic places like Nubra Valley or Khardung La.
Renting a vehicle
All sorts of vehicles are available for rental at many agencies in Leh. I traveled around the region by scooter, but if you really want to enjoy the roads of Ladakh and want to drive further, you should definitely get one of the big bikes that can be found everywhere.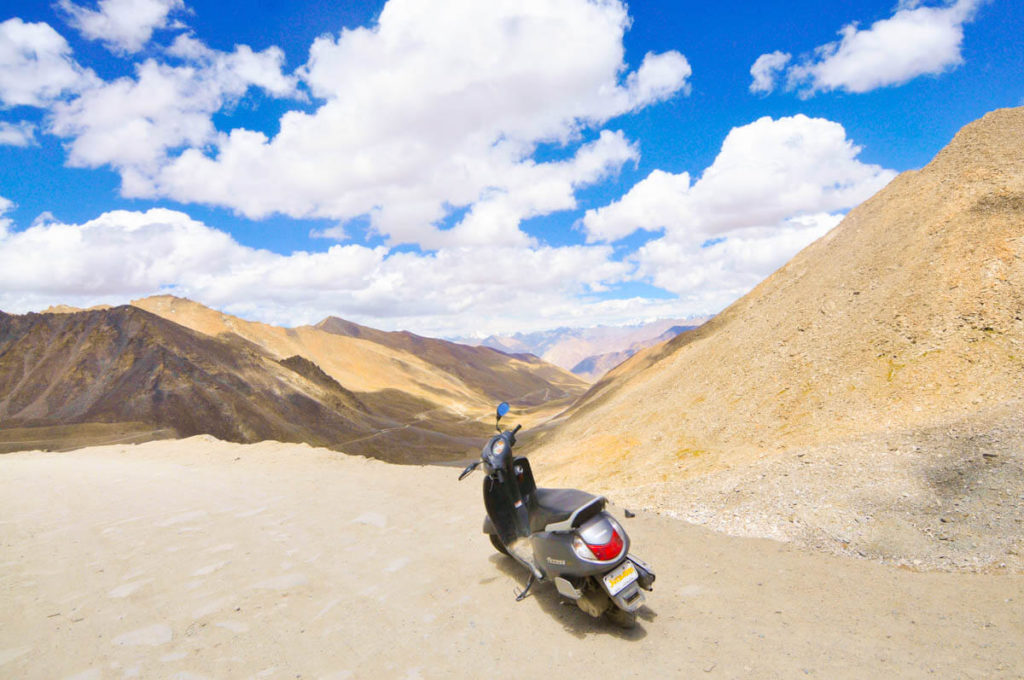 High altitude sickness
Getting sick due to high altitude is such a common issue among most travelers that come to Ladakh, especially those who come by plane. Leh is already located at 3,500m above sea level. If you come by plane, the altitude change is too drastic and your body doesn't have time to acclimatize. Almost everybody I met, suffered a headache at least during the first couple of days. The first day you arrive in Leh, just rest and don't make any efforts or you'll get sick.
While trekking, high altitude sickness may be an important issue. Here's a detailed article on medical advice.
Is it safe to travel to Ladakh?
Yes, Ladakh is a safe place to travel to. Kashmir state has been a turbulent region since India acquired its independence in 1947. Why? Because it has been heavily disputed with Pakistan and there have been multiple insurgencies and protests that involved numerous deaths.
However, Ladakh has always stayed away from all this. There has never been any signs of terrorism or violent protests. Tension has fundamentally taken place in the Kashmir Valley, located in the western part of the state, bordering Pakistan.
How do you get a visa?
A regular Indian visa is required to travel to Ladakh. You can get a 30 days tourist visa by filling the application form in this link.
For most nationalities, visa fee is $45. After payment, it takes less than a day to receive the visa.
When to go: the weather
Summer (June to mid-September): Summer is high season in Ladakh. During the day the sun is very harsh and it gets pretty hot. At night, temperatures drop and the weather is pleasant. Snow has completely melted except on the highest peaks. This is the best season for trekking.
Spring (April to May) and autumn (mid-September to November): Snow starts melting and days become pleasant. Nights are still cold, though. Restaurants start opening (or start closing in autumn) and some mountains are already feasible to hike. The best of it is that you won't see many tourists around.
Winter (November to March: Ladakh is completely covered by snow and temperatures are always below 0. Roads to Ladakh are closed, which means the only way to get in is by plane. Restaurants and guest houses are practically all closed. There are a few trekkings which go over a frozen lake, but other than that, hiking during this season is not advisable, as weather is highly unpredictable.
How to get in
By air
The are daily flights from both Delhi or Mumbai to Leh. Landing in Leh is one of the most memorable landings I've ever experienced, as you basically fly over the Himalayan range, and then you approach through the Indo Valley.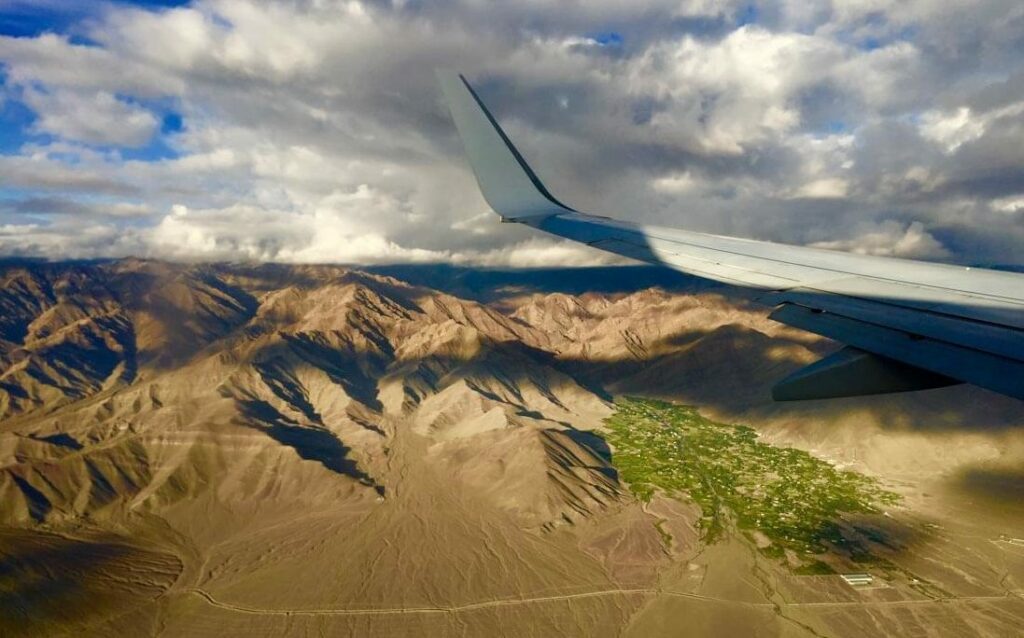 By land
Getting into Ladakh by land is only possible between June and mid-October. During the rest of the year, roads remain closed. There are two main places  to come from:
Srinagar: Located 434km from Leh, this journey is a trip in itself because it goes through three high mountains passes: Zozi La (3528m), Namki La (3815m) and Fotu La (4108m). Everybody says that this is an unforgettable experience, as you get to see some of the most dreamy views ever. However, the trip may take up to 24 hours, but normally the bus stops halfway between both destinations so to spend the night.
Manali: This is the second route, and instead of coming from the west, you come in from the south. Manali is located 479km from Leh. This road goes through Tang La pass, which is above 5,300 meters.
Money
Ladakh belongs to India and therefore Indian rupees are the official currency used.
1 US Dollar = 66 Indian Rupees
Cash, credit cards and ATM
In case you are wondering, in Leh at least I counted 5 different ATMs but I wouldn't rely on them too much. Bring extra cash just in case. You can pay with credit card only in expensive hotels. By the way, outside of Leh doesn't even dream to find a connection.
Currency exchanging
In Leh, there are plenty of exchange offices and are open until 10pm at least. Exchange rates are good, around 62-63. Outside of Leh it is unlikely to be able to exchange.
Internet
Internet signal is really bad in Ladakh. Even in expensive cafes or hotels in Leh, signal is unstable. You won't be able to connect every day.