Belarus, one of the least visited countries in Europe, is a country full of surprises, bizarre places, and the country with the largest and most amazing Soviet Heritage.
Belarus is actually off the beaten track Europe.
need to know for traveling in Belarus
Quick facts
Capital: Minsk
Population: 9.5 million (93rd)
Languages: Belarussian, Russian
Area: 207,595km² (84th largest country)
Visa
Despite the Russian-Ukraine war, Belarus is open and a free 30-day visa is available on arrival, as long as you fly in & out from Minsk International Airport and present both valid travel insurance and proof of funds.
If you plan on overlanding, you'll have to get your visa at the embassy.
Get a VPN
Because of the war, many sites and online services might be temporarily blocked in Belarus, so do use a VPN while you are there.
You will also have a safer connection.
Travel Insurance
Proper travel insurance is a necessary requirement for getting your visa on arrival in Belarus; I recommend IATI Insurance.
5% discount if booking here:
Best time to visit
If you are just planning to visit cities, Belarus is a year-round destination, as long as you wear warm clothes in winter.
If you want to visit the countryside or the northern forests and lakes, it is better to come outside of the winter months.
Money
The official currency is Belarusian Ruble
1 USD = 2.50 BYR
Despite the Ukraine war, your debit card will still work in Belarus, unlike in Russia.
Budget: starting at $30 a day for budget backpackers; $50 if you stay in a budget private room.
---
Soviet stuff in Belarus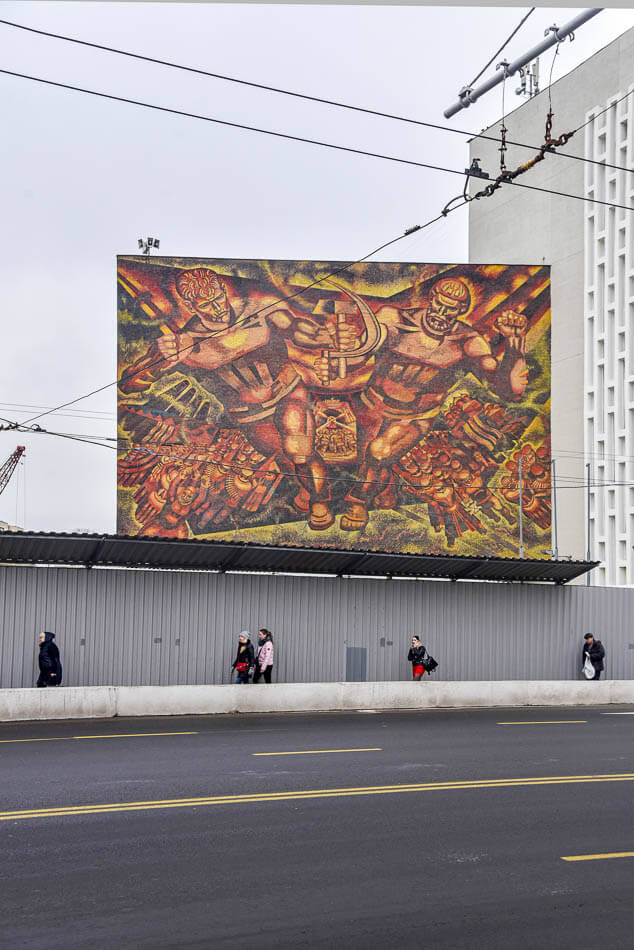 Something you need to know about Belarus is that this is the most Soviet place that remains on Earth, more than Russia itself and more than any other former USSR country.
Actually, most of the places to visit in the country are closely related to Communism, Lenin, and the USSR in general, especially in Minsk.
---
Top experiences in Belarus
Soviet Minsk
The most Soviet city in the world is filled with Stalinist buildings and loads of Communist-related stuff. Read my Minsk guide.
Stalin Line
What used to be the border between USSR and Europe has now become an epic open-air museum.
Castles
Belarus is also home to dreamy castles, which are UNESCO World Heritage sites.
Khatyn
An old rural village once destroyed by the Nazis, today turned into a sobering, massive memorial.
Check our 1-week Belarus itinerary
tips for Belarus
Accommodation
In big cities such as Minsk or Brest, you will find many types of accommodation, including hostels, guest houses, and hotels.
Unfortunately, booking.com and Hostelworld aren't working anymore but you may find your hotels at local site Ostrovok.
Getting in
Minsk has an international airport. Because of the sanctions, European airlines stopped flying there, but you can still fly in from Istanbul or Dubai.
You may use any of the land borders but it's not very convenient because you'll need to pre-arrange your visa at the embassy.
Transportation
The classic Soviet train is the most convenient way to travel around the country. You can check timings on this link.
Alternatively, you can also move around by marshrutka, which is slightly more expensive but they are particularly comfortable compared to other Soviet countries, plus they have Wi-Fi.
---
ALL MY ARTICLES ON BELARUS