Dates (6 days, 5 nights)
July 26th to 31st
August 25th to 30st (in Spanish)
September 25th to 30th
October 26th to 31st
November 23rd to 28th
December 23rd to 28th
Why join our SMALL GROUP trips to Syria
Basically, our SMALL GROUP trips to Syria are 6-day tours composed of 3 to 5 people.
The main difference versus our regular Syria EXPEDITIONS is that here, you won't be traveling with a tour leader, but only a local Syrian guide.
These trips are ideal for independent travelers and those who can't afford to go on a solo trip. To be very honest, you will still be on a tour but since the group is significantly smaller, plus you won't be traveling with the tour leader, you will have more freedom and time for yourself, and a better chance to interact with the locals.
Needless to say that your local Syrian guide is a certified guide by Against the Compass.
Not convinced? Check out our upcoming SYRIA EXPEDITIONS

Upcoming tour dates in 2022
These are our upcoming group trips:
June 25th to 30th
July 26th to 31st
August 25th to 30th (in Spanish)
September 25th to 30th
October 26th to 31st
November 23rd to 28th
December 23rd to 28th
Group size
All groups will be composed of a minimum of 3 people and a maximum of 5.
And, who can join?
Anyone who wishes to travel with a group of open-minded travelers.
We don't discriminate by age or nationality but we are just looking for people who are willing to learn and be respectful of the culture.
6-day Tour Itinerary
Note that we always keep the itinerary flexible, and it may be subject to change, depending on the political and COVID-19 situation.
Day 1 – Arrival in Damasus (from Beirut)
Day 2 – Maaloula & Mar Musa (overnight in Aleppo)
Day 3 – Full day in Aleppo
Day 4 – Hama & Krak de Chevaliers (overnight in al Mishtaya)
Day 5 – Homs & Damascus
Day 6 – New Damascus and departure
Day 1 – Beirut and Damascus
The tour will start at 8am in Beirut, the capital of Lebanon, from where we will drive towards the Syrian border and Damascus.
The whole journey takes around 3-4 hours, with border crossing included.
Once in Damascus, we will check in our hotel, followed by a traditional lunch and a stroll around the old city.
Nightlife in Damascus is particularly vibrant, especially in the Christian district during the weekend, an area filled with bars and restaurants, where we can all go for dinner and a few drinks.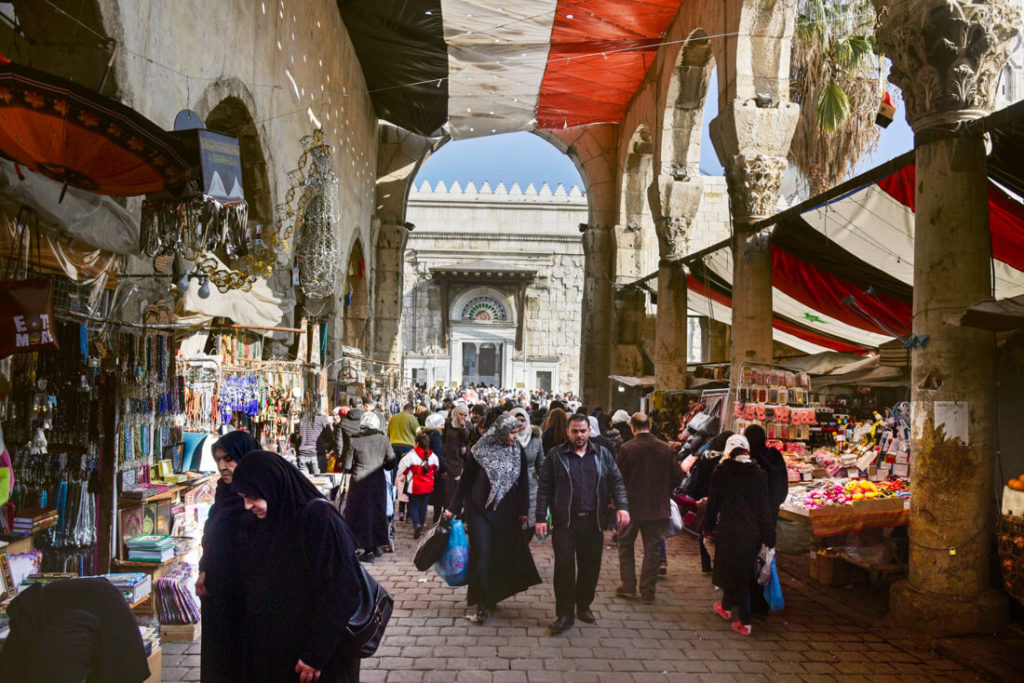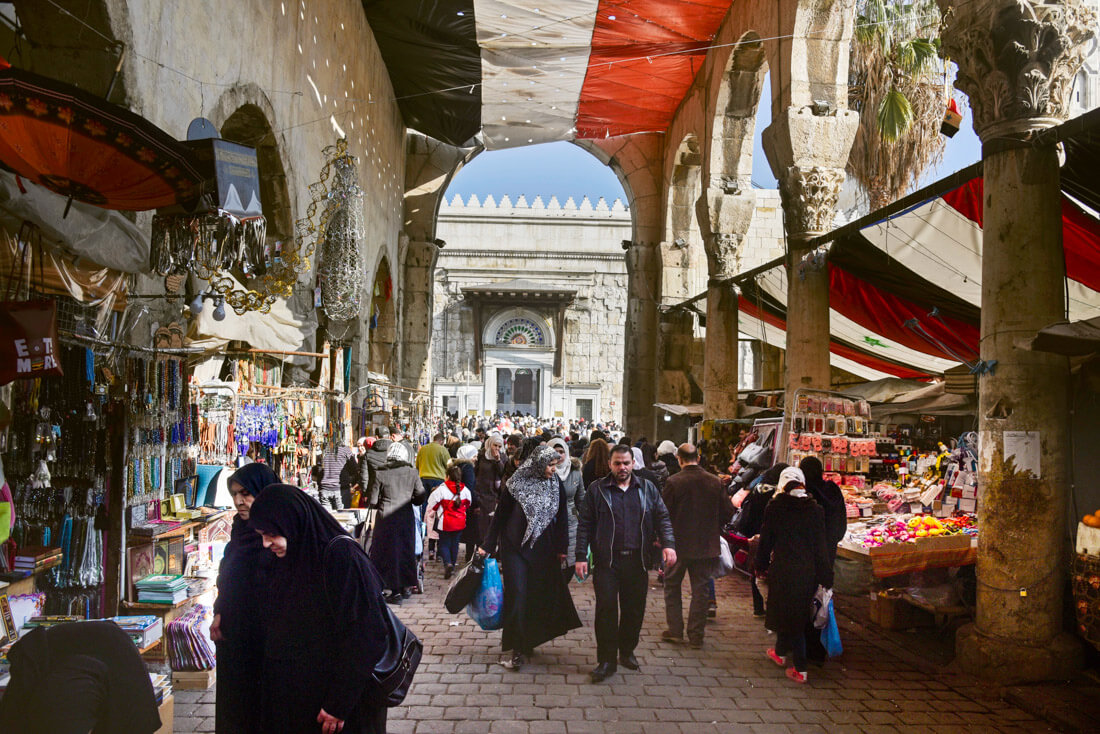 Day 2 – Maaloula and Mar Musa (overnight in Aleppo)
On day 2, we will drive towards Aleppo, not without first stopping in Maaloula, one of the most important Christian towns in the Middle East, and one of the very few places in the world where people still speak Aramaic, the language of Jesus.
Once occupied by al-Nusra, Maaloula was largely destroyed due to the recent war, but its most important churches and monasteries have been rebuilt, and we will visit two of them, where we might get the chance to meet nuns who were kidnapped and held as hostages for three months.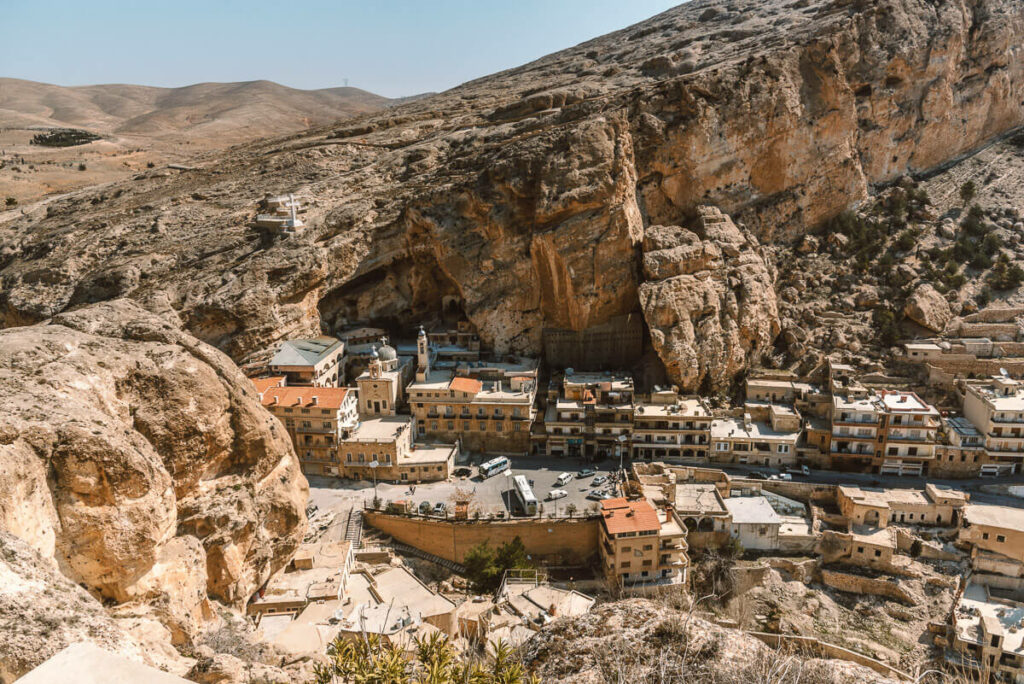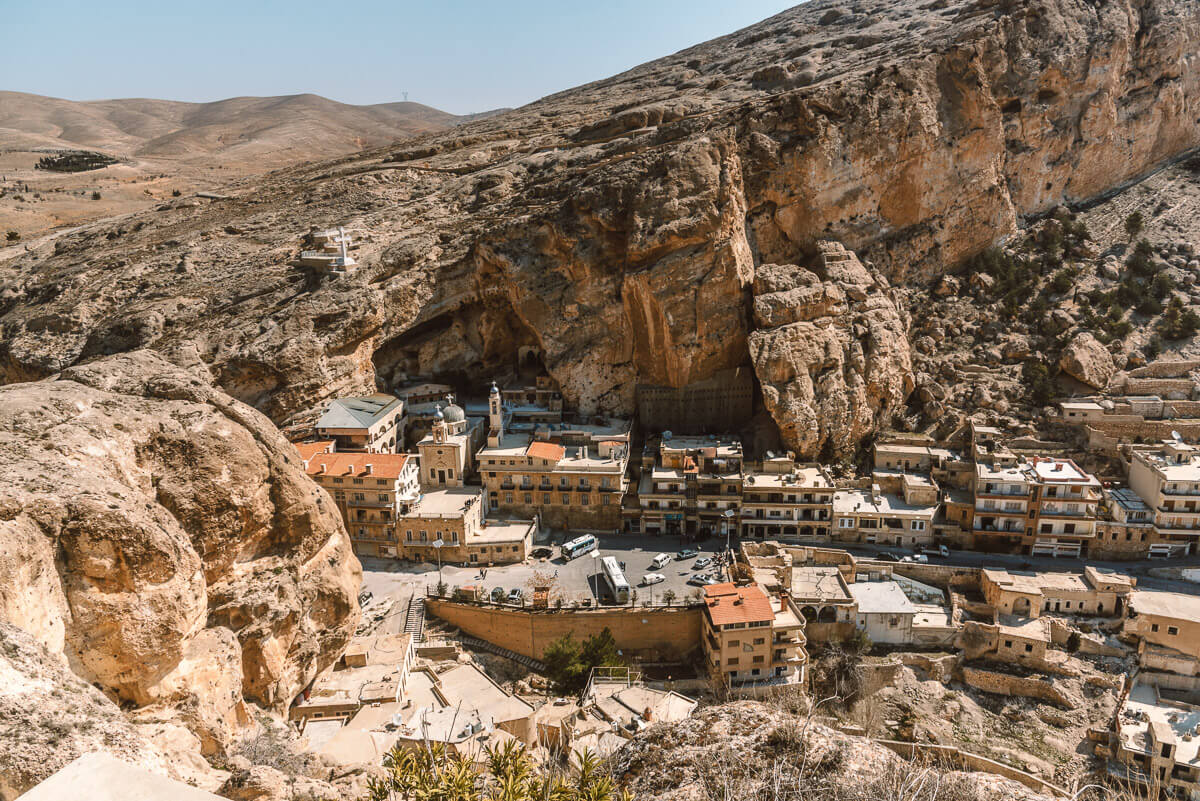 After Maaloula, we will also stop in Mar Musa on our way to Aleppo, a mindblowing, skyscraper-shaped, 6th-century monastery raised in the middle of rocky mountains.
We should arrive in Aleppo in the evening. Free time for dinner and drinks.
Overnight in Aleppo.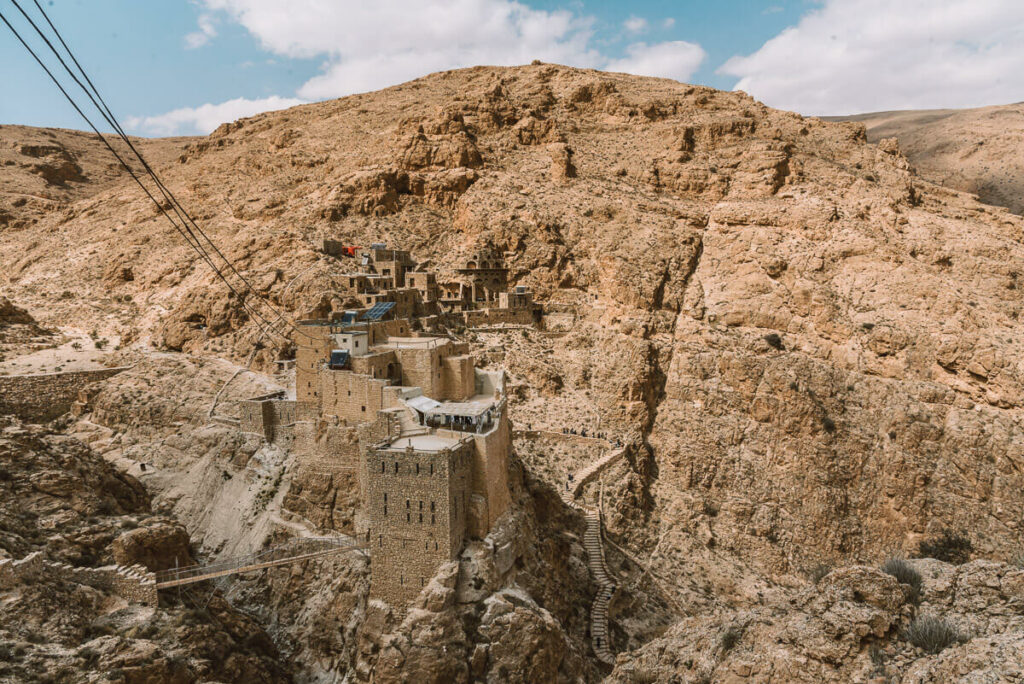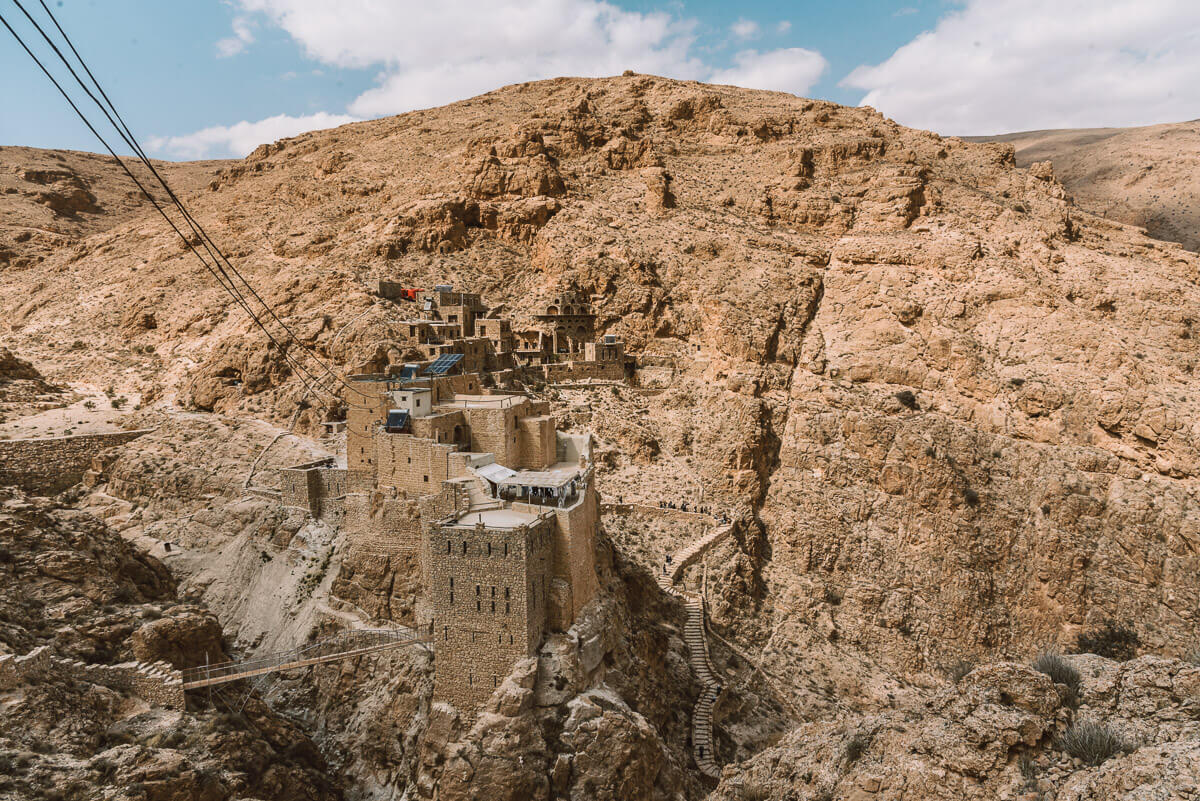 Day 3 – Full day in Aleppo
Once the most populated city in Syria, and one of the most prominent cities in the Middle East, Aleppo was one of the most affected cities by the Syrian war.
Life, however, is coming back to Aleppo, visible in the ongoing reconstruction and all the people who are slowly returning to their beautiful home city.
During our visit, we will visit the Citadel of Aleppo – the last Syrian Army stronghold – as well as the historical souk and vibrant Christian district, which remained pretty untouched from the war, and is today filled with absolutely delicious restaurants serving Lebanese wine.
Overnight in Aleppo.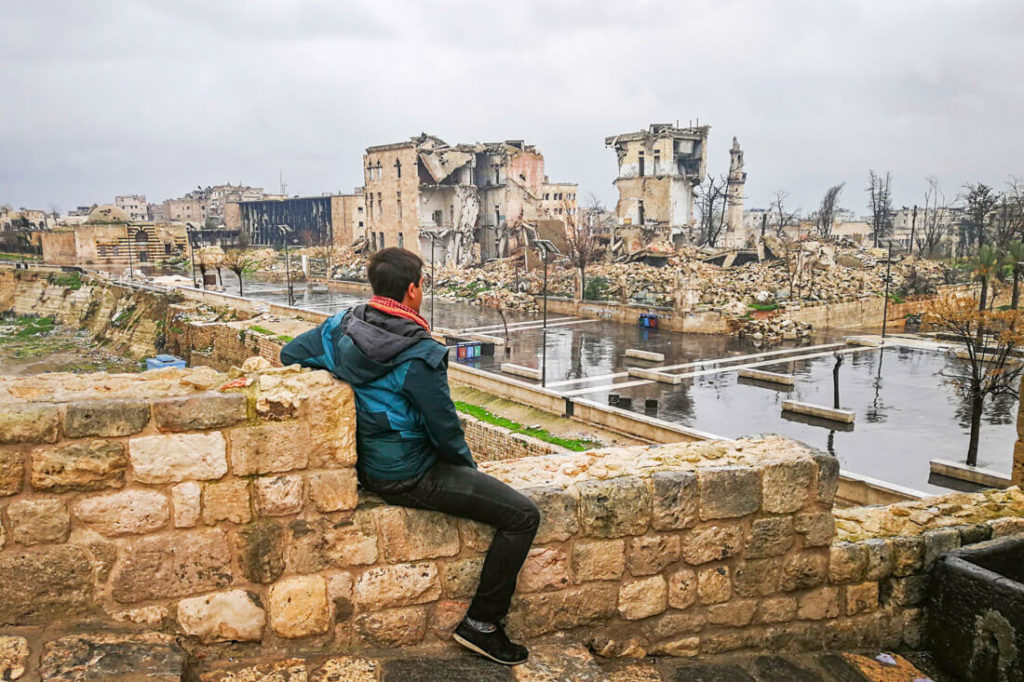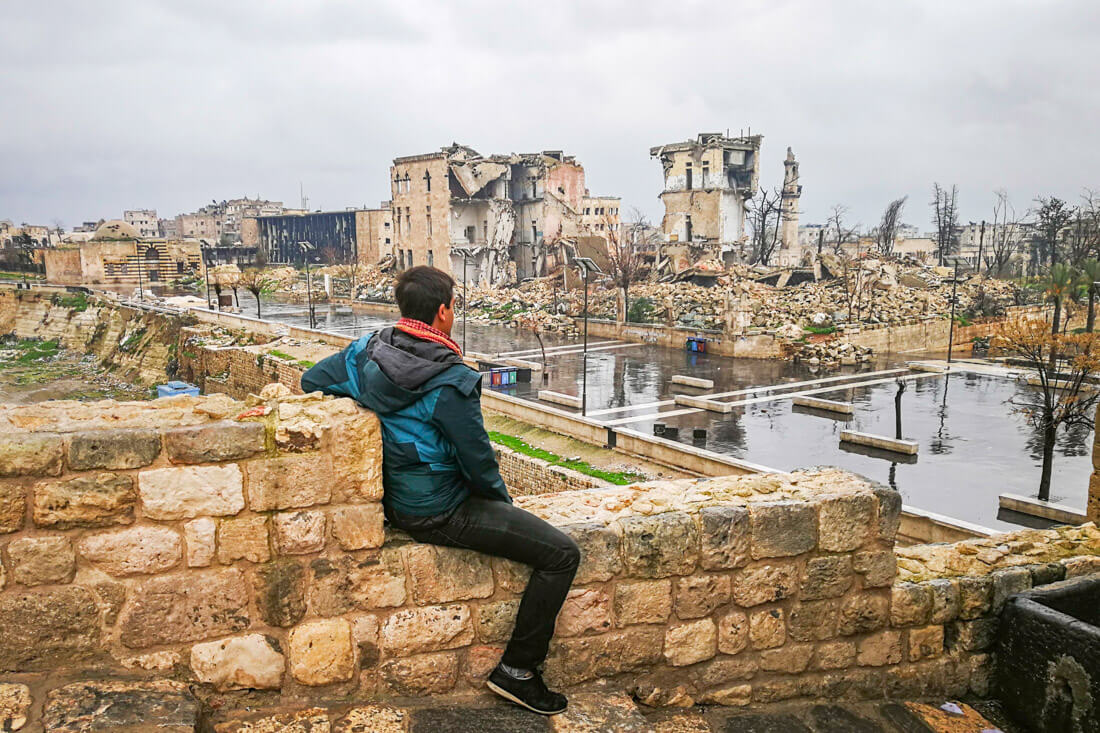 Day 4 – Hama & Krak des Chevaliers
Aleppo to Krak de Chevaliers is a 4-hour ride, so we will break the journey in Hama, a pretty photogenic town, famous for its water wheels, abounding all over the city.
After a 1-hour visit, we will continue our way to Krak des Chevaliers, once quoted by Lawrence of Arabia as the most wholly admirable castle in the world, absolutely gorgeous and surrounded by lush green hills.
We will have lunch in a restaurant with stunning castle views. After lunch, we will visit the Medieval fortress and then we will head to Al Mishtaya, a lovely Christian town with a pretty nice evening atmosphere.
Overnight in Al Mishtaya.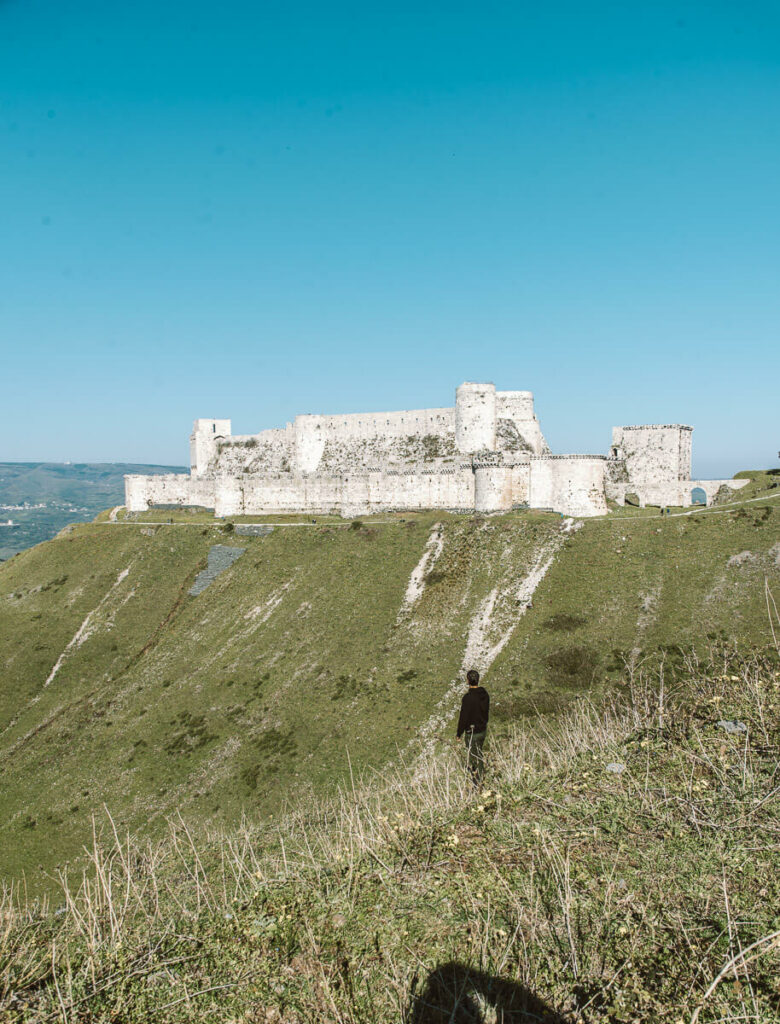 Day 5 – Homs & Damascus
In the morning, we will go to Homs, the city which was, by far, the most affected city by the Syrian war, today mostly composed of destroyed buildings and rubble. We will wander around, visiting the recently restored souk, and then we will go to Damascus because there are so many things to visit in Damascus that we weren't able to visit on Day 1.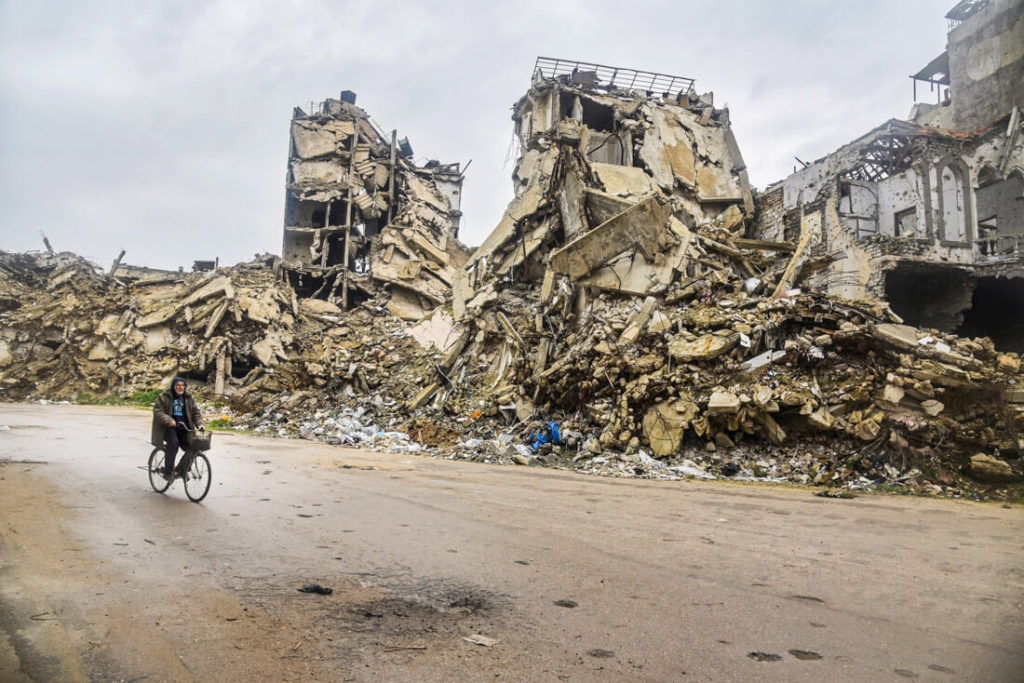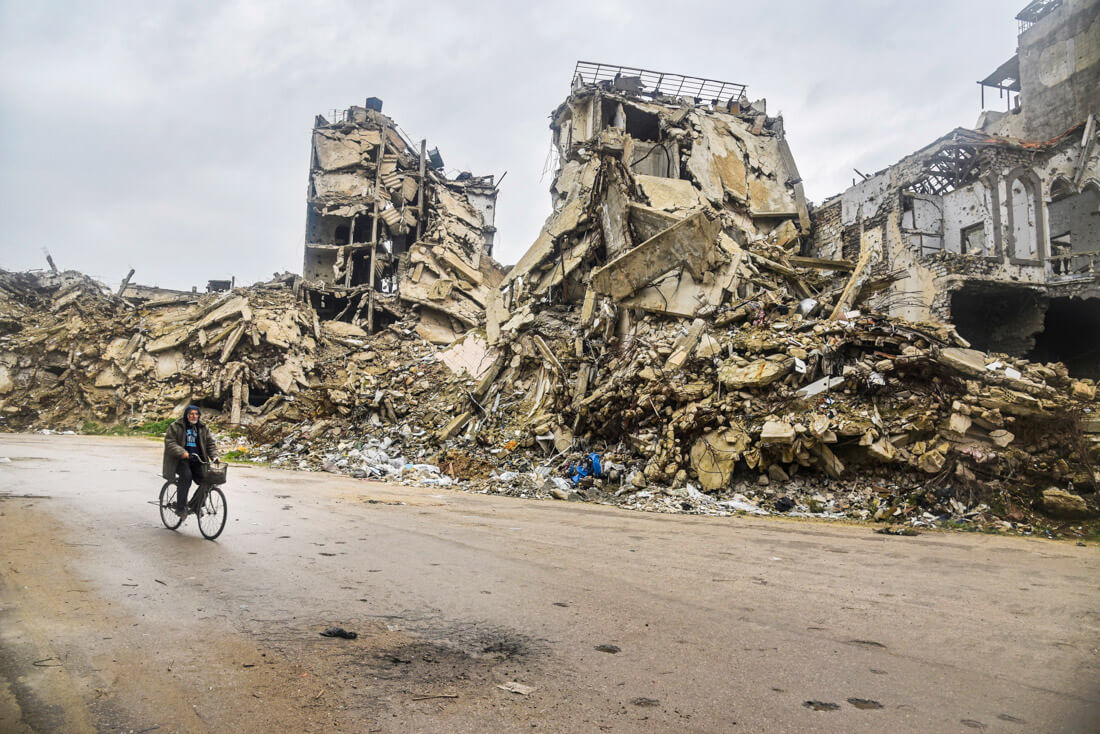 With more than 5000 years of history, Damascus might easily be the oldest capital in the world, a city absolutely packed with historical sites, as well as lively souks and bazaars.
We will spend the afternoon exploring the city's most well-kept secrets, as well as landmarks such as the Umayyad Mosque (where Yahya is buried, John the Baptist for Christians) and Sayyidah Ruqayya Mosque, one of the most important shrines for Shia people.
As always, we will be visiting the city at our own pace, with plenty of time for photography and local interactions.
Overnight in Damascus.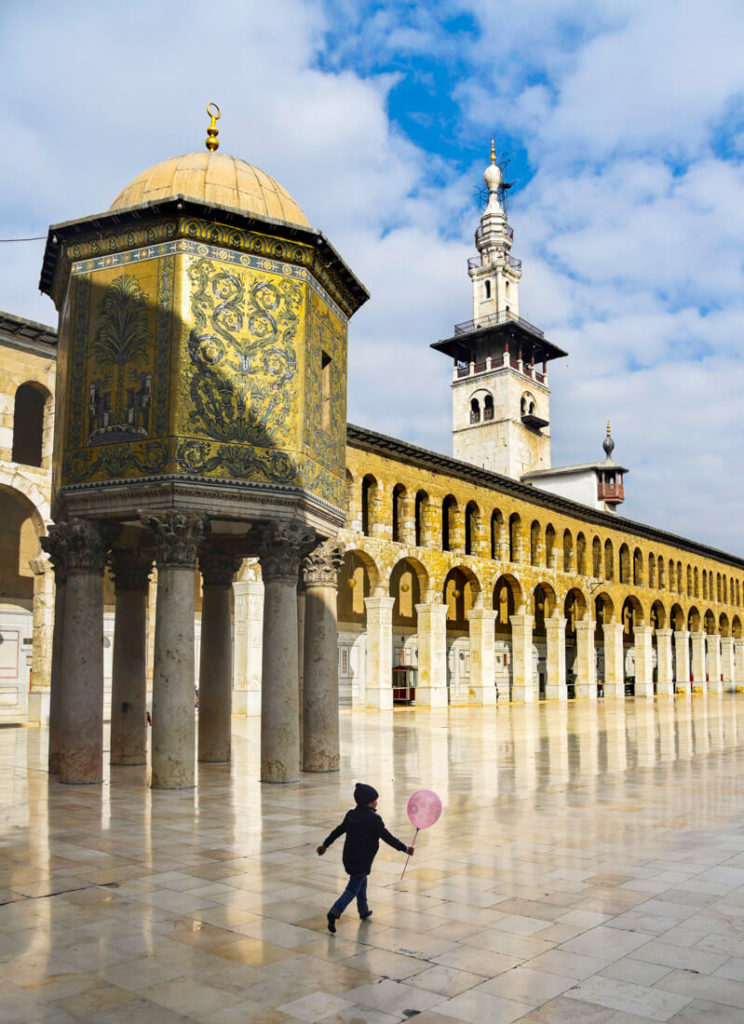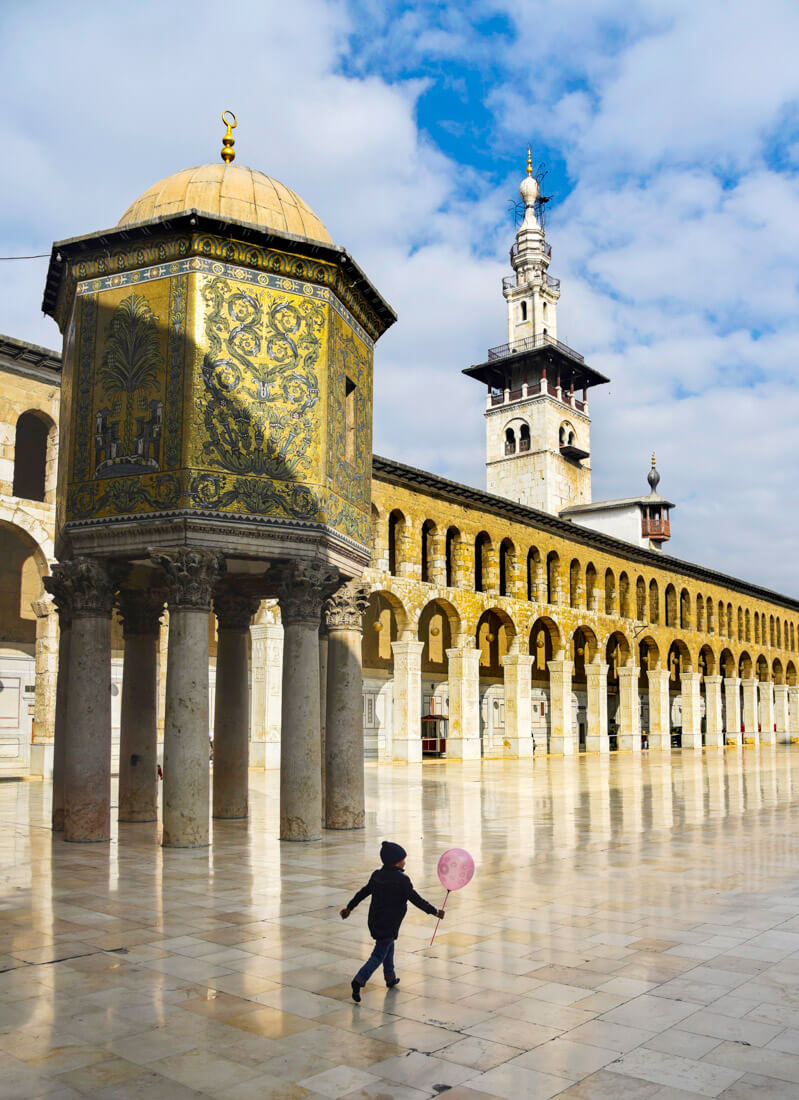 Day 6 – New Damascus and departure
After breakfast, we will visit the remaining touristic places in Damascus, including the new part of town, as well as do any necessary shopping.
Transfer to Beirut and end of the tour.

Tour cost
The total tour cost is $1690 (US dollars) per person, with a minimum of 3 people, 5 max.
What's included in the price?
Transfer to and from Beirut
Accommodation (twin shared, or triple if we aren't perfect pairs), in the hotels mentioned below.
Security clearance (needed for the visa)
Private transportation and driver around Syria
Breakfast
English-speaking knowleadgable local guide
Entrance fees to the places listed in the itinerary
What's NOT included?
International flights
Single supplement (having your own private room) costs an additional 270€
Lunch & dinner
Visa fee (72USD for EU passport; 90USD for Canadian passport; 140USD for British passport
Payments
1 – In order to secure your spot on the tour, we first require a 30% deposit.
2 – Then, 31 days before the beginning of the trip, we require another 30% deposit.
3 – The remaining 40% should be paid upon arrival in Damascus, in cash, US Dollars.
How to send a payment:
Option 1 – Via standard bank transfer to EU bank in €. The 2 deposits should be sent in € and we will use the exchange rate from that particular date.
Option 2 – Paypal. However, we do charge an additional 3% to cover (part) of Paypal fees
Cancellation Policy
Are the 2 deposits refundable?
No, the 2 deposits (30% + 30%) are non-refundable. This means that:
If you need to cancel more than 31 days before departure, you would lose your first 30% deposit.
If you need to cancel less than 31 days before departure, you would also lose your second 30% deposit.
The remaining 40% balance can't be lost because you pay it upon arrival in cash.
Do you have any further questions about the tour?
or just shoot me an email at joan@againstthecompass.com