This is a sponsored post, which means this article has been written in partnership with TripScout. However, this is a real honest review and I would never recommend a product or service which I don't like or trust.
There was some time when I used to be obsessed with having the Lonely Planet of each and every country and city I visited, even if I went there just for a few days. They looked pretty cool on the shelf and were a nice souvenir, besides being kind of useful, of course.
However, over time, I realized that, if I visited a city for 2 or 3 days, it didn't make a lot of sense to buy a Lonely Planet (or any other brand) city guide. They are pretty expensive (around $20-$25) and, especially recently, they are mainly focusing on mass tourism sites, don't give any off the beaten track recommendations and many of them are just getting very outdated.
This is where TripScout appears, a mobile app that will allow you to have local and authentic self-guided off the beaten track city tours.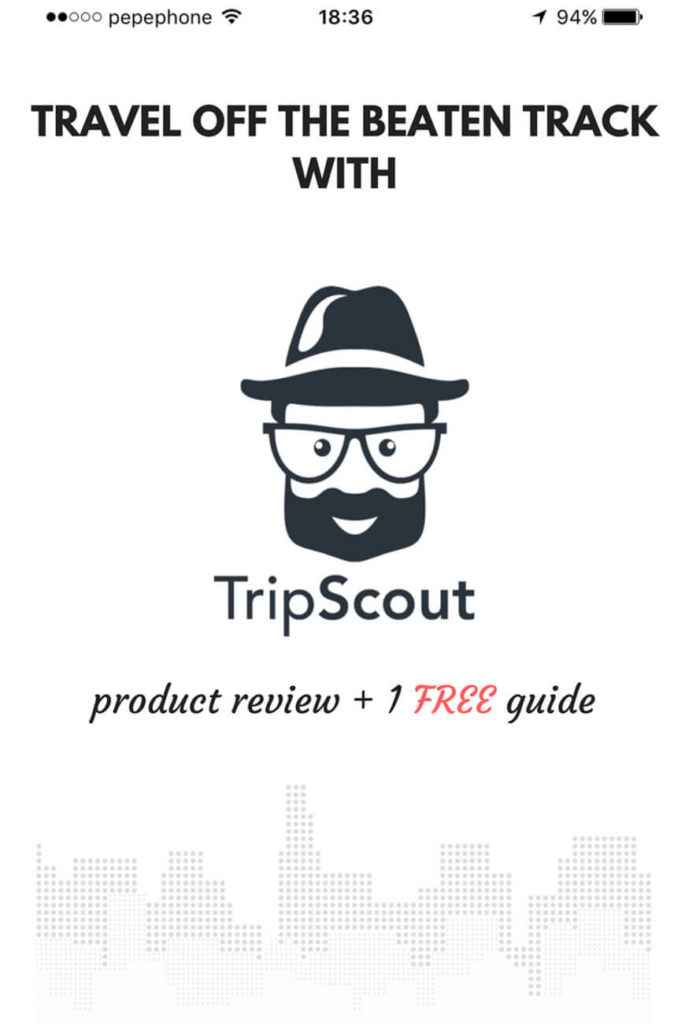 Travel off the beaten track with TripScout
Here you'll find:
TripScout functionality
Dubai City Guide review
Cairo City Guide review
How much does it cost?
Available destinations
Overall Trip Scout Review: The good & things to improve
Should you try it or not?
TripScout Mobile App offers a set of city guides composed of local sites, providing both text and audio guides on an offline map with GPS. From hidden gems to excellent local restaurant choices, cool bars and cafés where locals hang out, as well as the most popular touristic sites, of course; TripScout gives you a great overview that will help you discover a city both off and on the beaten track.
How does TripScout work?
Basically, you buy city guides individually and download them to your phone.
Each guide consists of an offline map of the city, where you can see all the different touristic sites, bars and restaurants. The offline map also has a navigation system, so you can easily get directions to each place.
When you tap on each site, all the information about the place will pop up, from its history and prices to the exact address, website and a direct link to Foursquare, so you can read reviews of the place, extremely useful when it comes to bars and restaurants.
Some city guides, especially American and European, also come with an audio guide which you can listen to while walking on the street.
The app is available for both iPhone and Android.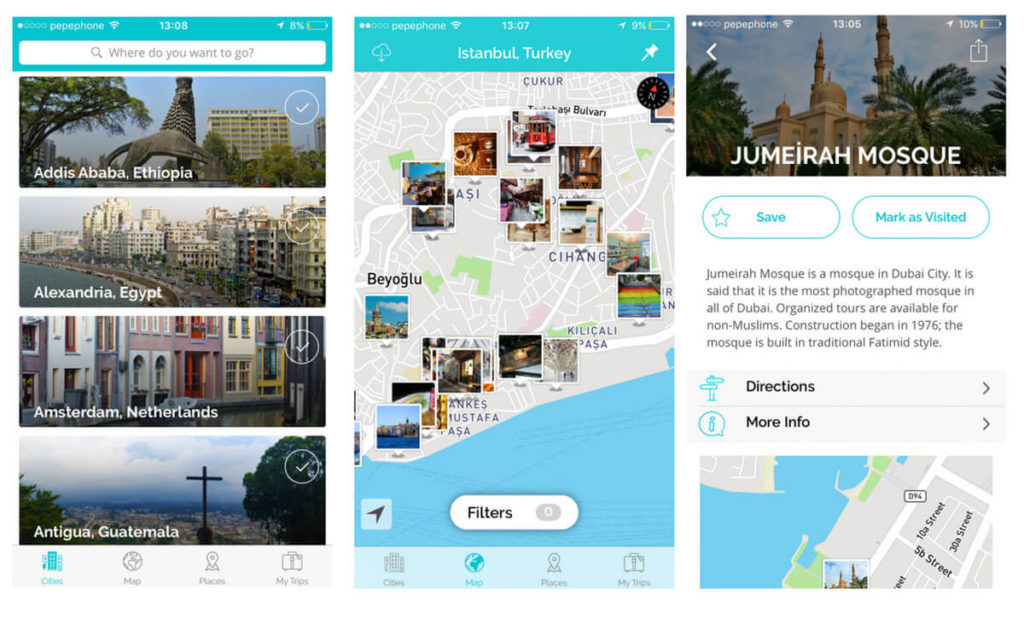 Dubai City Guide Review
In order to assess how useful and complete this app is, I downloaded the Dubai city guide, as I lived there for quite some time and I know it pretty well.
The good
Mention of some hidden, off the beaten track places – After 3 years living in Dubai, I still met people who didn't know about the Deira Fish Market or the Camel Market, as non-luxury places are not on most Dubai inhabitants' bucket list. TripScout mentions them, as well as Kite Beach and the spice market, places which not many tourists who come for a quick visit know about.
Mention of Bu Qtair – A local restaurant which is only known by the most intrepid expats. They offer the freshest fish in town at the lowest price. The building is like a small shack with not a single fancy element, unlike 99% of the restaurants in Dubai. It's so cheap that may you also find Pakistani and Indian workers there.
Alternative nightlife choices – They mention excellent bars that are far from away from the Dubai stereotype that everything is fancy and to show off. For example, Stereo Arcade is one of the only bars in town where they play rock music. It's relatively new and I used to hang out there pretty often.
What I was missing
No overall information about Dubai – Information about its history and cultural facts is missing. Instead, you just get a short city introduction.
No specific information on Dubai metro or bus – They just have a "directions" option which links you to Google Maps.
Missing a few awesome off the beaten track sites – For example, both Camel and Horse racing stadiums are some of the only places in the city where you can enjoy the real local life. They also don't mention that you can cross the Dubai Creek on a traditional local boat for only 20¢.
More Arab choices – There are many awesome restaurants which are always filled with expats but they don't mention many Arab options where locals go and I believe that many people traveling to Dubai are looking for this kind of food.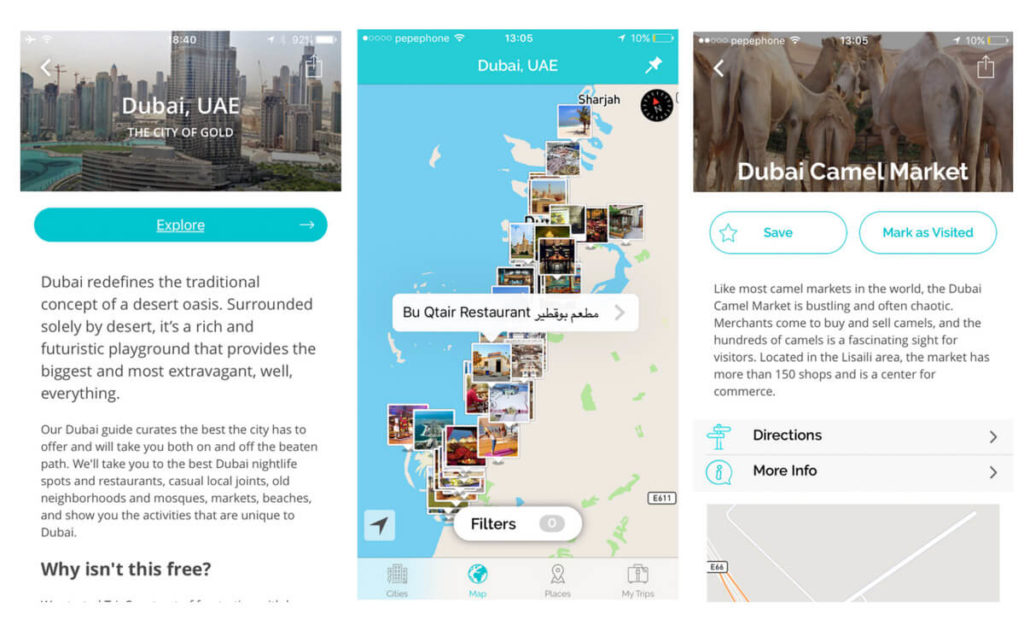 Cairo City Guide review
I have been to Cairo twice as a tourist, so I will assess the city guide based on how much better (or worse) my experience would have been with TripScout.
The good
So many off the beaten track places – Besides visiting the pyramids, a few Coptic churches, bazaars and hanging out in the expat area of Zimalik, to be very honest, I didn't see much more in Cairo. However, according to TripScout, there are many more things to see, from visiting small farms on the outskirts of the city to a bookshop selling all kinds of old photos and books about Egypt. All the things mentioned in the guide can keep you busy for several days.
Restaurants and bars – When I visited Cairo, I didn't eat at any good restaurants. I was staying with local friends and you know what do Egyptians say: the best Egyptian food is eaten at home. However, TripScout mentions a few good places which serve local food, as well as plenty of restaurants for expats and wealthy locals. There's also a wide range of places where to drink and have fun at night. From a social point of view, with TripScout, I would, definitely, have had more fun.
Things to improve
From a first visitor perspective, I can't find anything to improve – Unlike Dubai, I don't really know Cairo, besides the most popular places. Since this guide talks about many places which I didn't even know existed, it's difficult to say what could be added or improved.
Missing many details – Honestly, many of the sites have very little explanation, including the Pyramids of Giza, where they just give a few lines. This may force you to buy or read an additional source, which would be pretty inconvenient.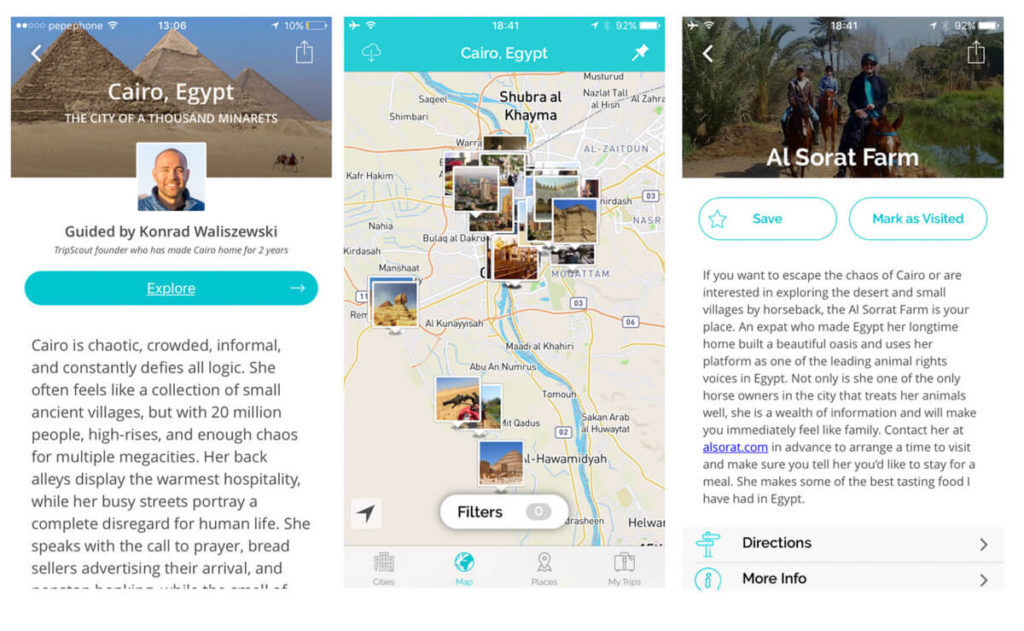 How much does it cost?
It depends on the city but they all range from $1.99 to $9.99, depending on how big the city is, I believe. A New York guide with loads of tips and options should be more expensive than Addis Ababa, for example.
What are all the available cities?
Currently, TripScout has a range of 60 guides, which will go up to 70 in December, when they release 10 more. In spring, they plan to have a total of 100 guides.
Africa: Addis Ababa, Cape Town, Tunis.
Asia: Bangkok, Beijing, Hanoi, Ho Chi Minh, Luang Prabang, Seoul, Singapore, Tokyo.
Europe: Amsterdam, Athens, Barcelona, Berlin, Brussels, Bucharest, Budapest, Cologne, Copenhagen, Krakow, London, Madrid, Munich, Oslo, Paris, Prague, Rome, Reykjavik, Stockholm, Venice, Vienna.
Latin America: Antigua, Bogota, Buenos Aires, Cartagena, Granada, Havana, Mexico City, Panama City, Rio de Janeiro.
Middle East: Alexandria, Cairo, Dubai, Dublin, Istanbul.
North America and Australia: Wahington DC, Austin, Boston, Charleston, Charlotte, Chicago, Denver, Los Angeles, Miami, Montreal, Nashville, New Orleans, New York City, Philadelphia, Phoenix, Portland, San Francisco, Seattle, Sidney, Toronto, Yuma.
Coming soon: Bali, Dallas (USA), Florence (Italy), Hong Kong, San Diego (USA), Santorini (Greece), Shangai, Vancouver (Canada).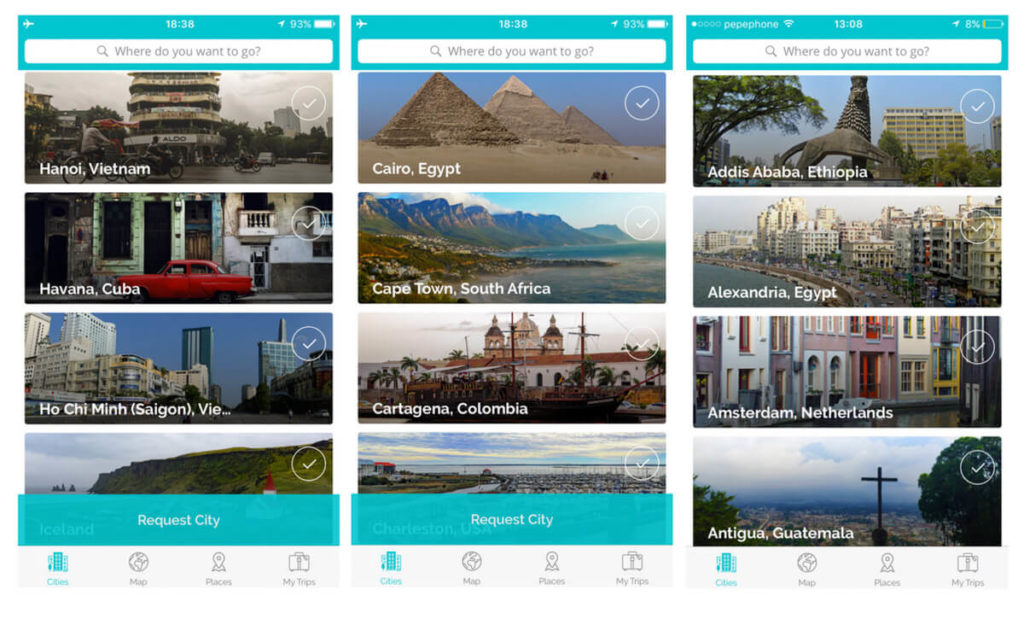 Overall TripScout Mobile App Analysis
The good
Perfect for short visits. Great for those visiting a city for no more than a few days.
Good user experience. Thanks to its offline maps, the app is very intuitive and easy to use.
A wide range of cities. Especially from Europe and the USA. A total of 60 and, in spring, they are planning to extend it to 100.
They really mention hidden gems – Which means that they do achieve the real purpose, which is having authentic self-guided off the beaten track city tours.
Excellent bar and restaurant choices. It seems that they've done some good research and don't really recommend restaurants which will be stuffed with tourists.
Regular updates. When you buy a new guide, you will get all the new updates for life. This is a great advantage versus any book guide and I think they happen pretty often. When I downloaded my Dubai guide, after two days, I received an update notification, referring to the famous Deira Fish Market, which had been closed just a couple of days back.
Prices are very competitive. Starting at $1.99 to $9.99, TripScout guides are cheaper than any book guide.
Things to improve
Not enough for longer visits – If you want to stay in a city for longer than a few days, perhaps, you should get a more informative book guide that gives further explanations.
In some destinations, there could be more off the beaten track choices – At least for Dubai, there are a few non-touristic sites which I was missing on the map, and the same goes for Barcelona. I believe that some guides, like Cairo, are pretty complete but others need deeper research.
No public transportation tips – For budget travelers, it would be quite useful if they added how to get to each place by public transportation. At least, they could mention the nearest bus, tram or metro line to the touristic site.
Lack of generic city information. They just give an extremely short introduction which I think it's not enough. I think that many people would love to read about the history, as well as some demographic and sociologic facts about the country.  It's easy to find this information in any book or online and it doesn't need to be updated constantly.
Missing more photos. Traveling is very visual and, in order to get a better feeling of the place, all the explanations should contain more high-quality pictures.
More choices outside of Europe and North America. They have very few Middle Eastern and African cities and, people like me and you (if you are following my blog) would like city guides to more alternative destinations. As per Asian cities, they just focus on the most visited cities in the whole continent. Let's wait until March, when they release 30 more city guides.
Should you try TripScout or not?
After reading this detailed review, you might be considering buying it, right?
So, should you give it a try?
I think this guide is very useful for anyone doing a short city trip and, given its very low price, you don't have much to lose!
However, if you are still not sure, I have some awesome news for you.
Since I like this product very much and I really want you to try it, I decided to give you one FREE Guide!!
How? It's very simple, just subscribe to my newsletter and follow the instructions!
Note that this promo is only valid for the month of December!
WANT TO TRAVEL OFF THE BEATEN TRACK?
 JOIN MY NEWSLETTER
and get one TripScout City Guide, of your choice, for FREE!