It's that time of the year; we are all waiting with excitement and, while it fills our hearts with joy and happiness, on the other hand, an awful feeling overcomes us which leads to the following question:
And what can I buy him/her?
The fact is that finding the perfect gift for the right person is not easy at all and, in the end, we tend to buy the typical sweater or scarf, which is such a generic gift that the only thing we get to convey to this person is:
Sorry, I didn't know what to give you…
Honestly, I have no idea what you could give your partner but, what I know for sure, is that most people like to be given useful items which can used for a certain period of time.
Therefore, if by one of those coincidences of life, this beloved person of yours is passionate about travel and goes backpacking around the world, here you have the 30 best gifts for backpackers.

30 Gift for backpackers – 2017/18
It's important to know how much are you willing to spend on a gift.
That's why I have classified them according to their cost:
Budget gifts for backpackers (From $1 to $29)
Medium-range gifts for backpackers (From $30 to $79)
High-end presents for backpackers (From $80)
By the way, bear in mind that, since I am a backpacker myself, the following list of unique gifts for backpackers is composed of items which I already have or would like someone to give me. I am telling you this because I would never recommend something which I don't like or want.
Budget – Best gifts for backpackers (From $1 to $29)
Incredibly simple but extremely useful. If you are traveling with your partner or a friend, you'll need this item to listen to music or watch a movie at the same time.
Whether you go to the beach or the mountain, a waterproof smartphone case is essential to keep your phone protected from the sun, water or any other element.

Another classic item, especially for those traveling to Europe or Latin America, where pickpocketing is a big deal.

If you travel in winter, you'll need these gloves if you want to use a smartphone when you are outside. Vbiger touch-screen gloves are made of neoprene and incredibly warm.

Who likes to carry a stinking, wet towel? Quick-drying towels are a great invention for travelers. I recommend RELEFREE quick-drying towels, as they are also anti-bacterial.

A very old-fashioned gift, especially for those travelers who are just starting to see the world and want to have everything written in a diary or notebook. If you want to buy this gift, try to buy one which is elegant and original, like this hand-made leather travel journal.
No, it's not a joke. I always take a couple of hand sanitizer bottles with me when I go on a trip. The countries I travel to tend to lack general hygiene standards and this product is difficult to find. I use it every day before having a meal.
If the person who you love is traveling somewhere soon and you have a low budget, why not giving them a travel guide to their destination? Lonely Planet has the most famous guides but, in my opinion, they have become slightly commercial and focus on mass tourism. They are still a good source of information but, a year ago, I discovered Bradt Guides, which provide very deep, local insights into each destination, as well as many off the beaten track tips. They are, definitely, way better than Lonely Planet but they only focus on less visited countries such as Iraq, Sudan, Madagascar, and Iran.

A smartphone tripod is quite handy, especially if you are in a place where you can't find anyone to take a picture of you and your partner. This tripod comes with remote control Bluetooth and it can also be used with small cameras.

If you are traveling in tropical countries, why not consider buying a hammock instead of a tent? They are ultra-light and packable. Believe it or not, there are an endless number of models and brands but I recommend NatureFun Nylon Hammock, which is very resistant, light-weight and quick-drying. In my opinion, this is oje of the best gifts for backpackers within the economic range.

Whether you camp or go to the beach, some portable speakers never come amiss, especially if they are Bluetooth speakers Oontz, which are water-resistant and at a very good price.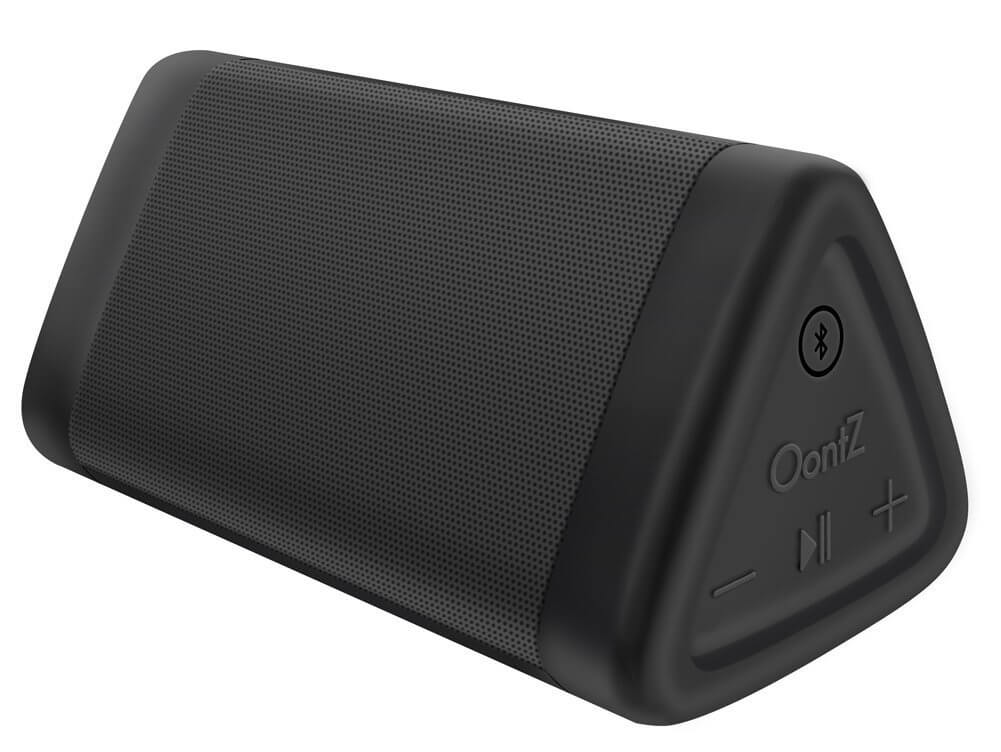 Medium-range – Best presents for backpackers (From $30 to $79)
Another essential gift for backpackers, as you don't use it only when you go trekking but also, when you travel in Asian countries, where power cuts occur constantly. If you decide to buy a torch, try to buy a good one, not very large. I recommend Active Pride Head Torch USB rechargeable as it has red lights, which are perfect for reading and not bothering anyone when using it in hostel dorms.

On the train, bus or simply when watching a movie in a dorm, a good pair of headphones is essential and Headphones Sennheiser CX 3.00 have good sound quality at a very low price. 
This is going to be one of my investments for my next trip; some travelers I met during my trip in Pakistan had one. Outside of the Western countries, it tends to be difficult to find some good coffee, so you always end up having instant coffee for breakfast. With the Homgeek coffee maker, you can have an espresso in the middle of nowhere by just pressing your hands. It works with ground coffee. A unique gift for backpackers.

If your friend is one of those travelers who goes to the mountains, off the beaten track countries or just travels to places where they get around on very long bus trips, a solar power bank for their smartphone is freaking useful and, if you can charge it with solar energy, even better. The Power Solar Bank AKEEM has 3USB ports and 22,000MAH of capacity, which means that you can charge your phone several times. This is one of the best presents for backpackers you can give.

From opening a wine bottle to a milk bric, a Leatherman is an indispensable tool. There are many kinds and models but I recommend the Wingman 14 Piece set, which is the simplest one but, to be honest, for traveling you don't really need much more. You can also find the 17-and 42-piece-set.

You can't believe how much a thermal t-shirt has helped me as, besides protecting from the cold, it has the advantage of being very lightweight, so you don't need to bring a heavy sweater which takes half of your backpack. They are very compact and I recommend the thermal t-shirt from Icebreaker as, thanks to its anti-bacterial fabric, you can wear it for days without stinking. A great invention for backpackers.
High-end – Gift ideas for backpackers (From $80)
A Kindle is becoming an indispensable item for any kind of traveler, as it allows you to bring as many books as you want without having to carry them in your backpack. There are many Kindle models but, honestly, I think that the simplest and cheapest one is more than enough, which is the classic black Kindle with Wi-Fi. If you wish, for $20 extra, you can get the same model with screen-light.

A gift for people who travel and love trekking. Steripen is a water purifier which replaces chlorine pills, with the advantage that Steripen doesn't leave that disgusting taste and it lasts for many years which means that, in the end, it's cheaper than the pills.
Depending on which country you travel in, we all worry about our documents, money, camera, etc. being stolen. Pacsafe is a brand of backpacks composed of certain anti-robbery accessories, which make it impossible for anyone to open your backpack when you are in the metro or in any public space. There is a wide range of Pacsafe articles but I recommend Pacsafe Vibe Backpack, which is the perfect size for using in the city when you go sightseeing.

Another extremely useful gift for those travelers who love trekking and camping. There are two kind of camping gas: multi-fuel and the one which uses a separate gas bottle. The multi-fuel has the advantage that the bottle can be re-filled with any kind of gas, from gasoline to white gas and diesel. The one which works with a gas bottle can't be re-filled and, in some places, you may not be able to find an extra bottle. The Multi-Fuel Camping gas MSR is more expensive but it's cheaper in the long term. This one is among the best gift ideas for backpackers.
If the person you love is a photography enthusiast and travels with a DSLR, a backpack to protects their camera is vital. Lowepro is, perhaps, the most well-known brand for this kind of backpack and the Lowepro Fastpack BP 250 AW II would be my preferred choice, as it has space for my Nikon D-750 and my spare lens Nikon 24-120mm. In addition, it also has space for my Mac Book Pro 13", plus a bottle of water and a sweater. It's the most complete camera backpack I've seen for amateur travel photographers. 

An awesome purchase I made in 2017. Kelty Cosmic is the most economical high-end sleeping bag, which means that its price-quality ratio is pretty good. Although it is relatively lightweight, I managed to sleep warm enough at temperatures around 0ºC. Here you have the model for women.

Another camera device very loved by travelers, especially those who love adventure. Like all the electronics, there are all sort of Go Pros but, in my opinion, unless you want it for professional reasons, the Go Pro Hero+ is more than enough, as it is one of the cheapest ones in the market but offers an exceptional quality of video. Besides, it has Wi-Fi and Bluetooth to connect to your mobile.
One of the best purchases I have ever done. The Freelite 2 is an extremely lightweight backpacking tent (less than 1kg) but, at the same time is incredibly resistant and suitable for high altitude mountains. During my trip in Kyrgyzstan and Tajikistan, I camped in the middle of the snow, above 4,000 meters and it always resisted the wind and water. Like any good product, it's expensive but it's definitely worth it.
Do you want to make someone extremely happy? Buy this person a drone. In the last few years, drones are becoming a big fashion, as they allow you to take photos from an aerial perspective without being on a plane or an air-balloon. I don't have a drone but I really want one. After doing some research, I came to the conclusion that Yuneec Breeze 4k is one of the best when it comes to price-quality, as it is easy to control, has a relatively good camera and it's very lightweight, ideal for carrying in your backpack. The only downside is that its battery has a very short life but, at this price, you won't find anything better.
Hey, a nice gift, huh? We all have that reckless friend who travels without insurance, don't we? World Nomads is the best travel insurance out there!

This was a backpacking gift guide containing a list composed of backpacking gifts for him and for her. If you would like to add any other gift, please add it in the comments section.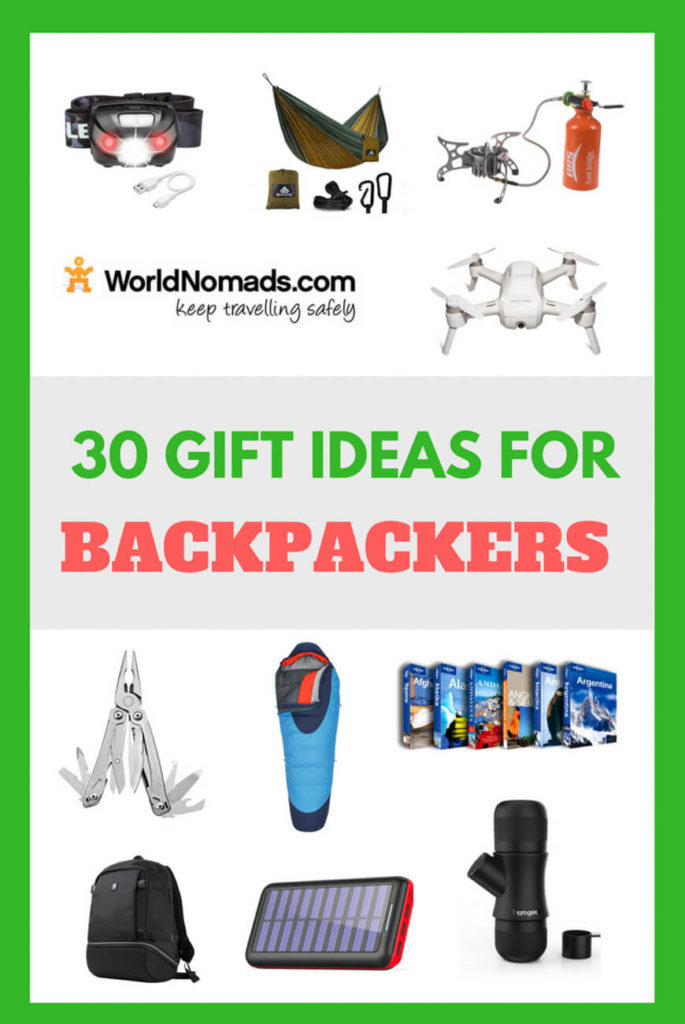 WANT TO TRAVEL OFF THE BEATEN TRACK?
 JOIN MY NEWSLETTER
and get one TripScout City Guide, of your choice, for FREE!