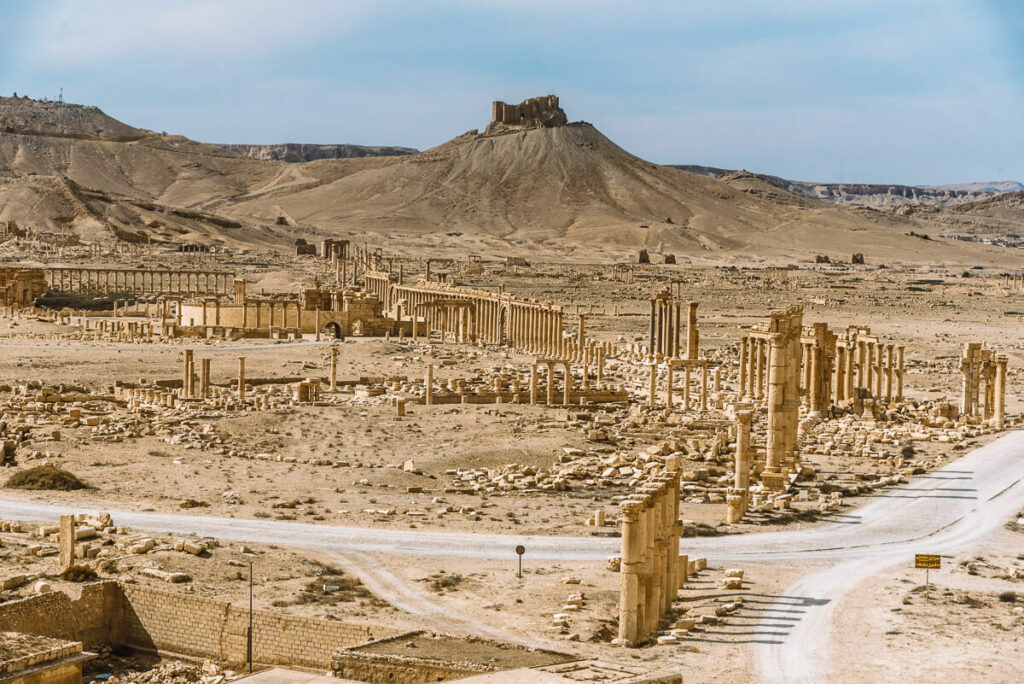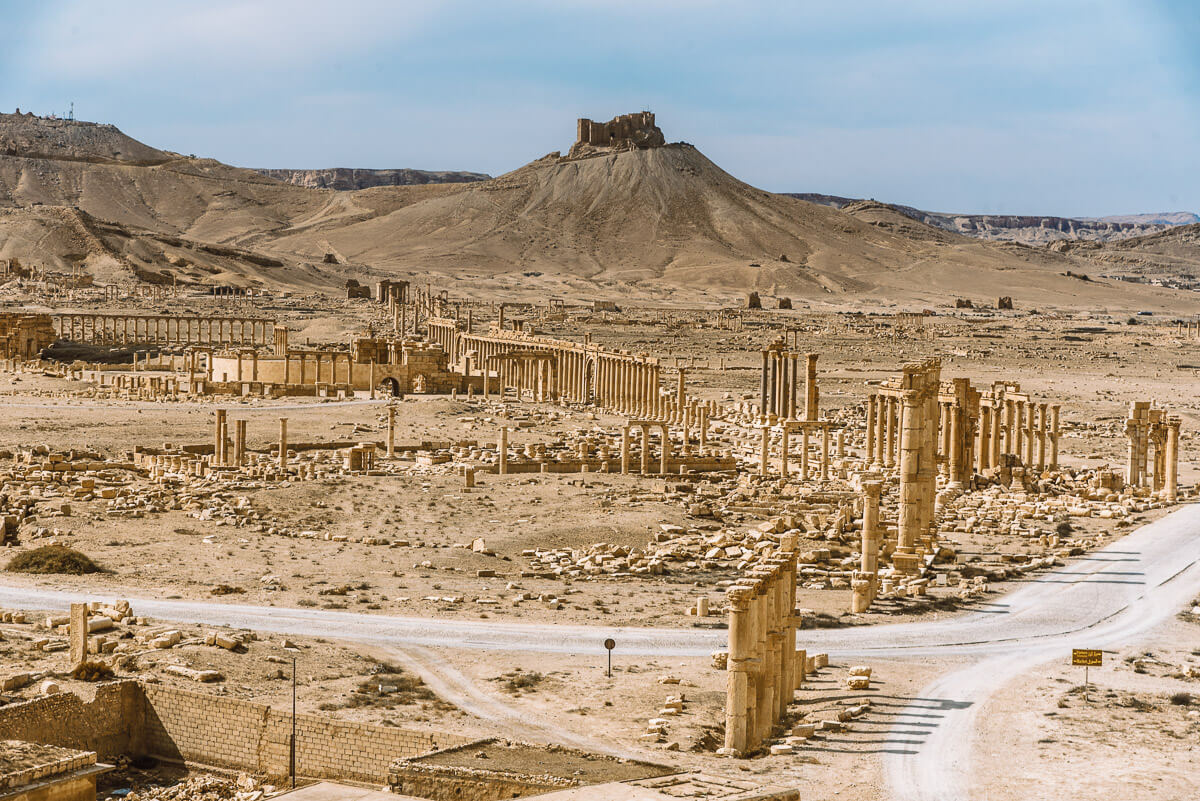 8 days
November 13th to 20th (2022)
Price: 1590€
FAQs
Itinerary
What's included/what's not
Why joining Against the Compass EXPEDITIONS
From exploring the narrow alleys of the old city of Damascus and Aleppo to discovering ancient Medieval castles, remote monasteries, and Roman sites, Syria is one of the richest countries in terms of history.
In this EXPEDITION, we always explore Syria's most precious sites, but the trip will also be heavily focused on Syria's most human side. This means that we will interact and get to know kind-hearted Syrians, while witnessing their struggle and desire for going back to normality.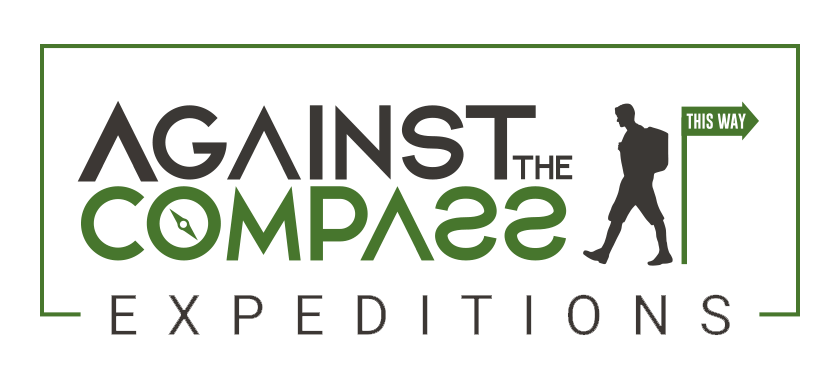 FAQs
Is Syria safe?
As of today, the areas which are controlled by the Government are safe and part of our itinerary.
We'd never take a group of travelers to a risky area. However, know that our team in Syria is continually monitoring the latest security updates.
How can I get a visa?
We will take care of that by providing you with a Letter of Invitation.
With that, you'll be able to purchase your visa at the border.
Where does the trip start from?
The trip starts and end in Beirut, and transfer to and from Damascus is included in the price.
Can US citizens join this trip?
Unfortunately, as of today, we can't get a visa for American passport holders.
Dates and tour leader
The tour will run from November 13th to 20th and will be lead by Leti Lagarda.
This will be the 5th expedition she leads in Syria, so there's no better person than her.
Remember that you can also join our Iraqi Kurdistan EXPEDITION
When? November 22nd to 28th – Apply Now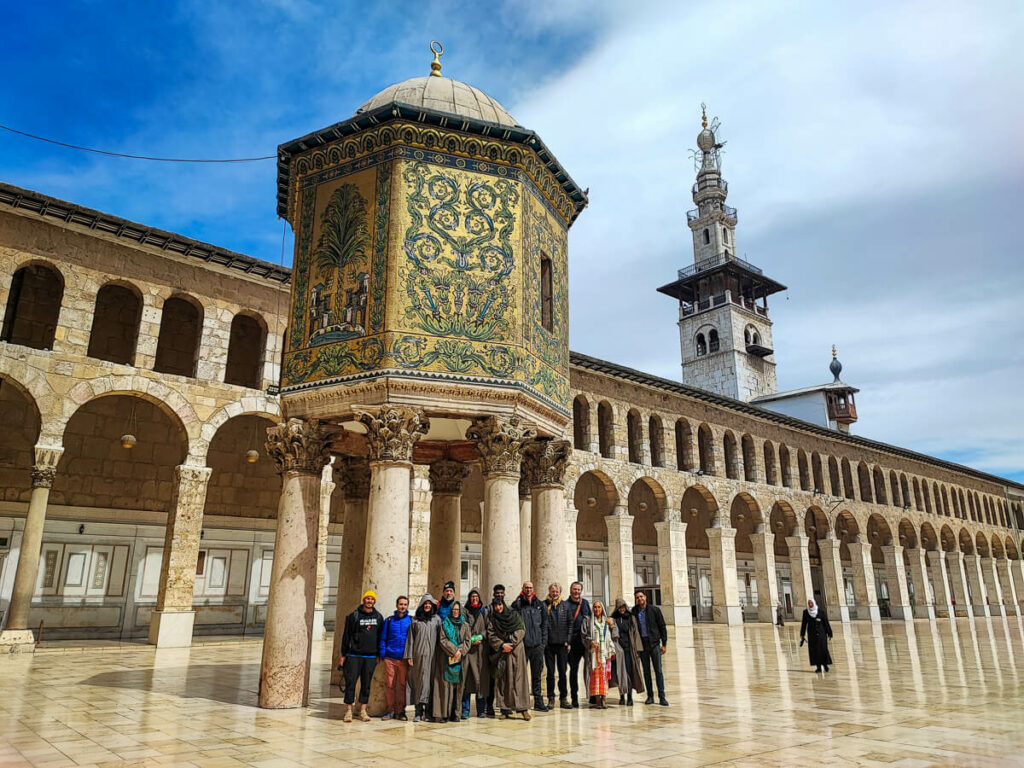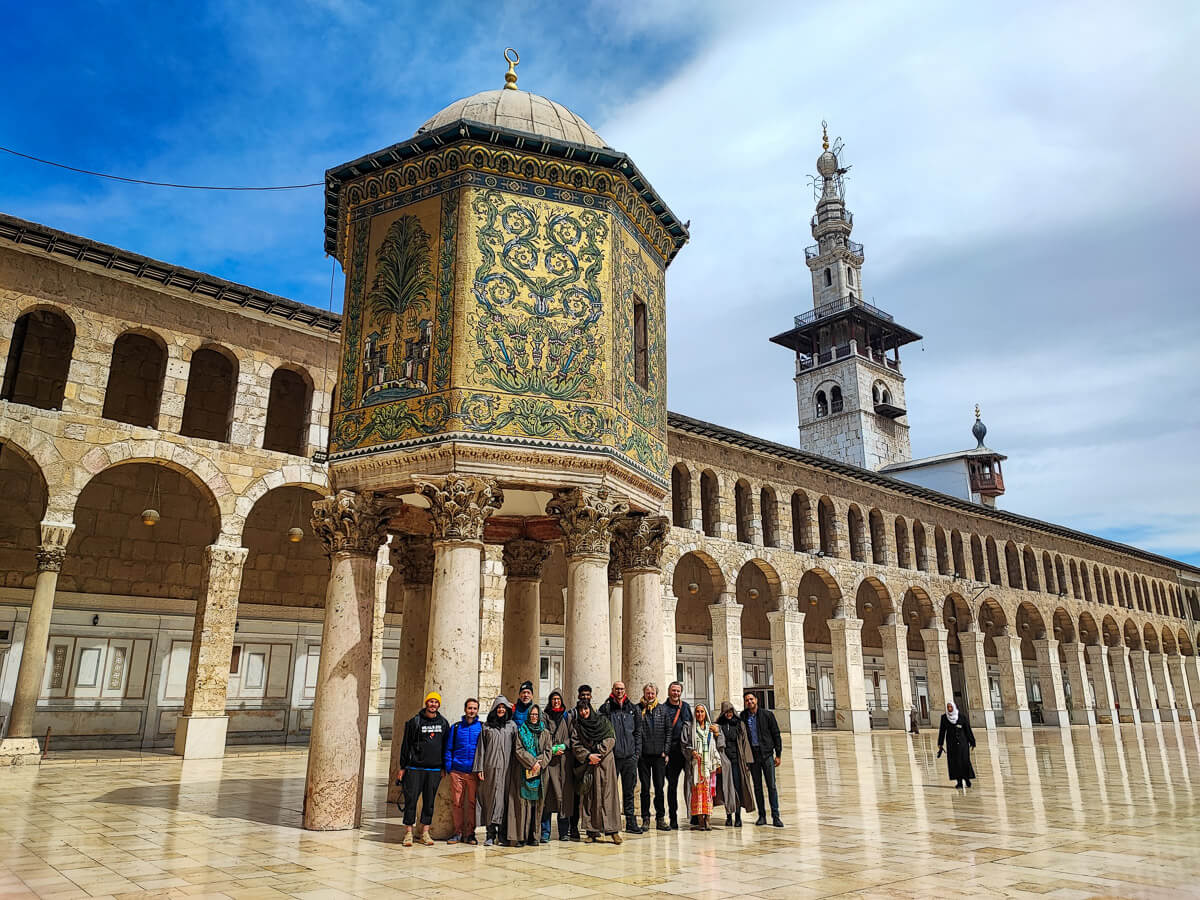 Group size
We will limit the group to a maximum of 10-13 people
And, who can join?
Anyone, from 18 to 99+ years old, who wishes to travel with a group of open-minded travelers.
We don't discriminate by age or nationality but we are just looking for people who are willing to have fun.
8-day Tour Itinerary
Note that we always keep the itinerary flexible, and it may be subject to change, depending on the political and COVID-19 situation.
Day 1 – Arrival in Damascus (from Beirut)
Day 2 – Damascus Old City
Day 3 – Maaloula & Mar Musa (overnight in Aleppo)
Day 4 – Full day in Aleppo
Day 5 – Hama & Krak de Chevaliers (overnight in al Mishtaya)
Day 6 – Palmyra & Homs (overnight in Damascus)
Day 7 – Day trip to Bosra
Day 8 – New Damascus and departure
Day 1 – Beirut and Damascus
The tour will start at 8am in Beirut, the capital of Lebanon, from where we will drive towards the Syrian border and Damascus.
The whole journey takes around 3-4 hours, with border crossing included.
Once in Damascus, we will check in our hotel, followed by a traditional lunch and a stroll around the old city.
Nightlife in Damascus is particularly vibrant, especially in the Christian district during the weekend, an area filled with bars and restaurants, where we can all go for dinner and a few drinks.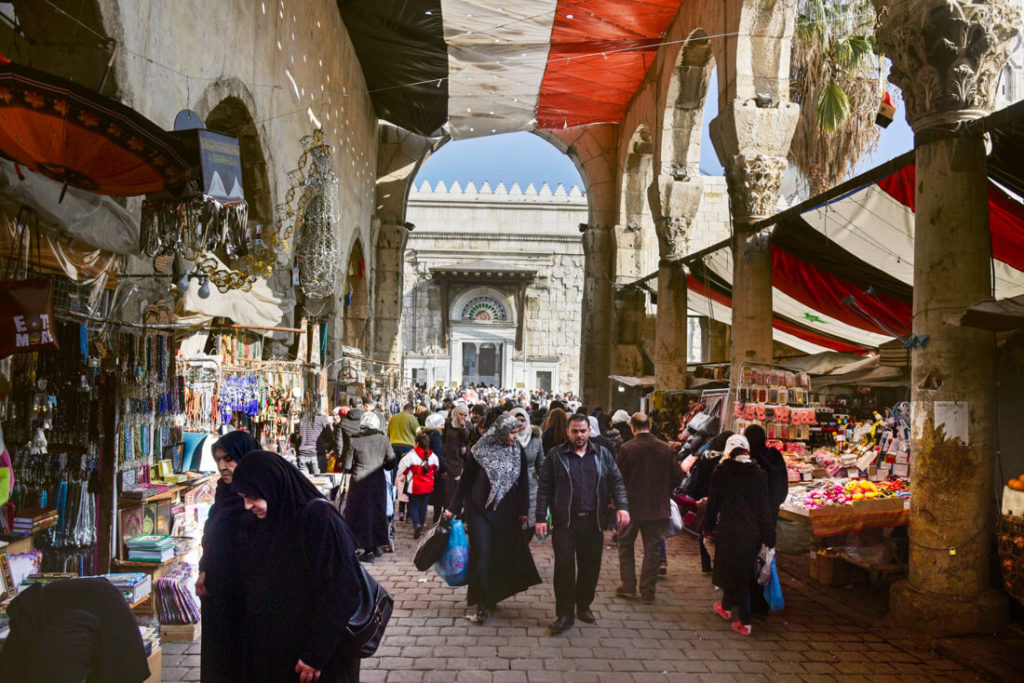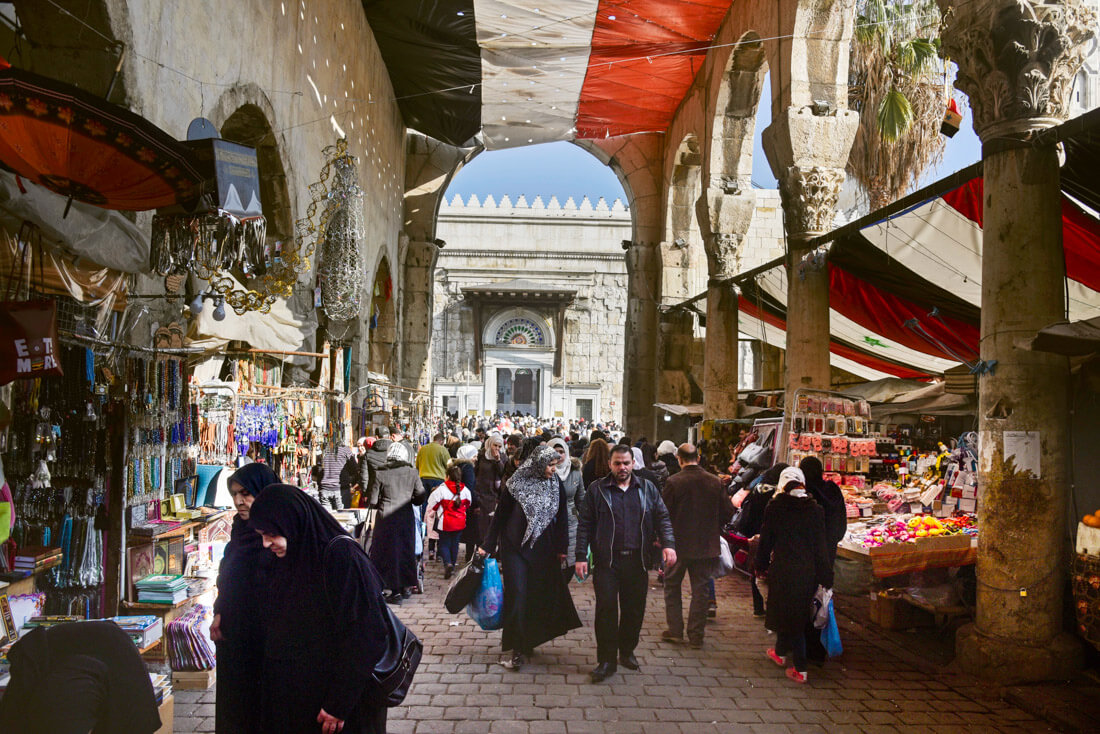 Day 2 – Full day in Damascus
With more than 5000 years of history, Damascus might easily be the oldest capital in the world, a city absolutely packed with historical sites, as well as lively souks and bazaars.
We will spend the entire day exploring the city's most well-kept secrets, as well as landmarks such as the Umayyad Mosque (where Yahya is buried, John the Baptist for Christians) and Sayyidah Ruqayya Mosque, one of the most important shrines for Shia people.
As always, we will be visiting the city at our own pace, with plenty of time for photography and local interactions.
Overnight in Damascus.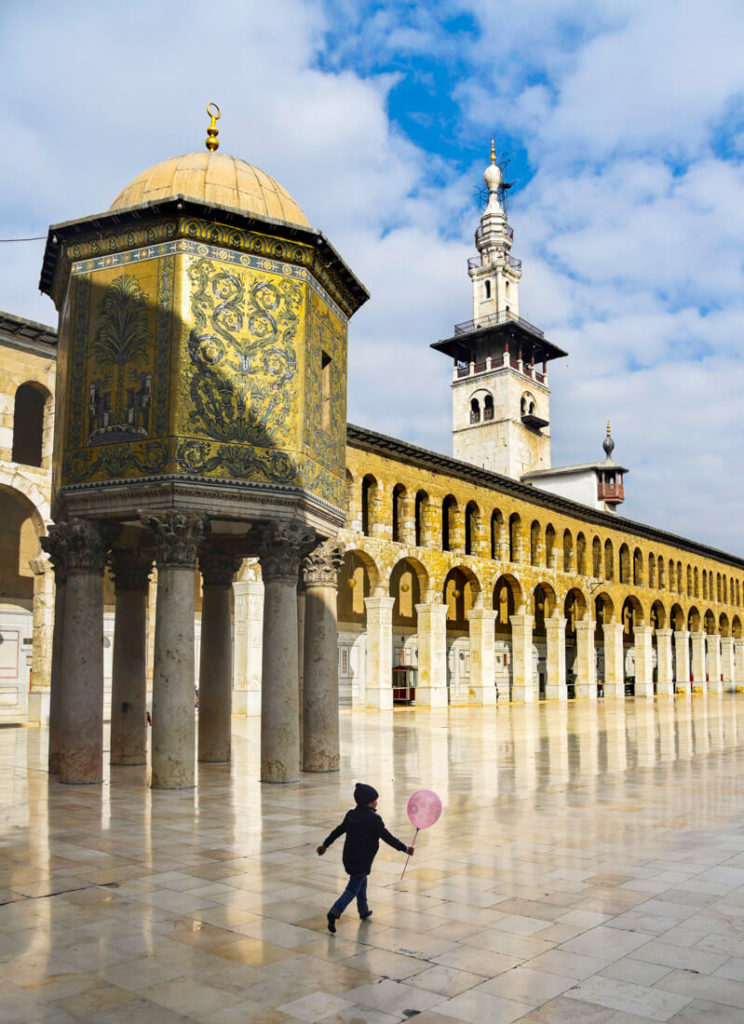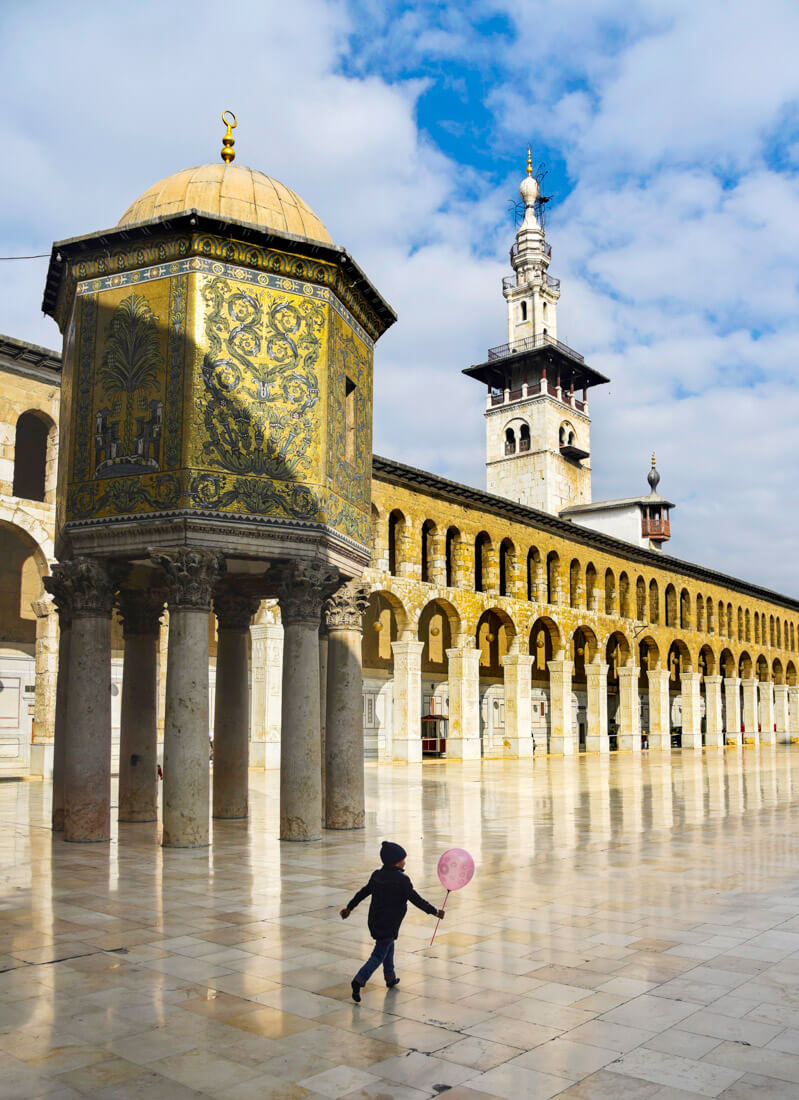 Day 3 – Maaloula and Mar Musa (overnight in Aleppo)
On day 3, we will drive towards Aleppo, not without first stopping in Maaloula, one of the most important Christian towns in the Middle East, and one of the very few places in the world where people still speak Aramaic, the language of Jesus.
Once occupied by al-Nusra, Maaloula was largely destroyed due to the recent war, but its most important churches and monasteries have been rebuilt, and we will visit two of them, where we might get the chance to meet nuns who were kidnapped and held as hostages for three months.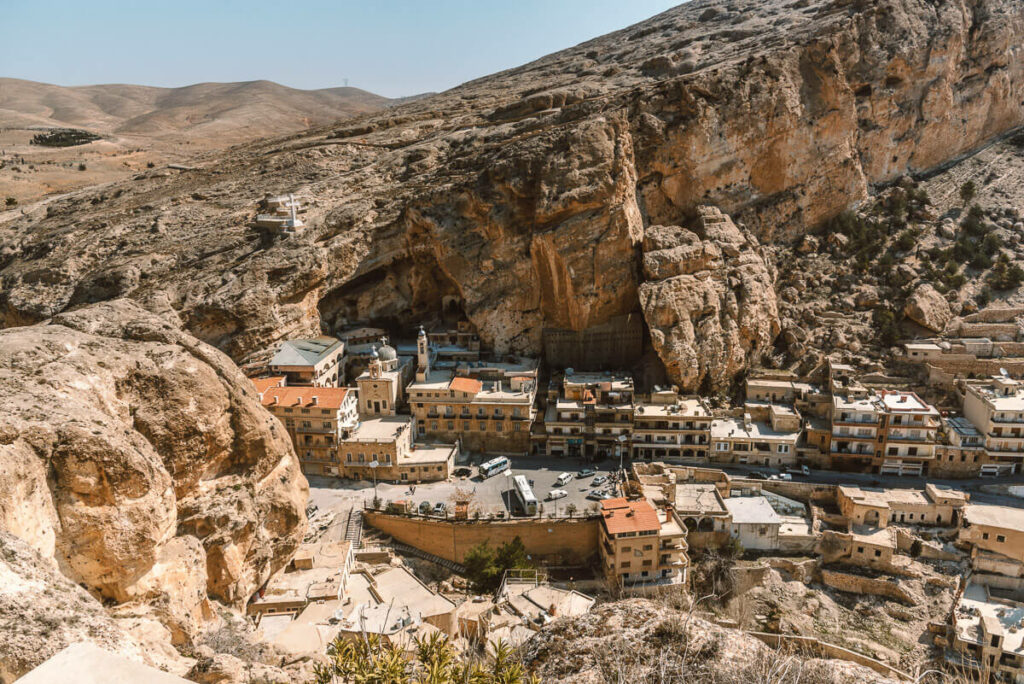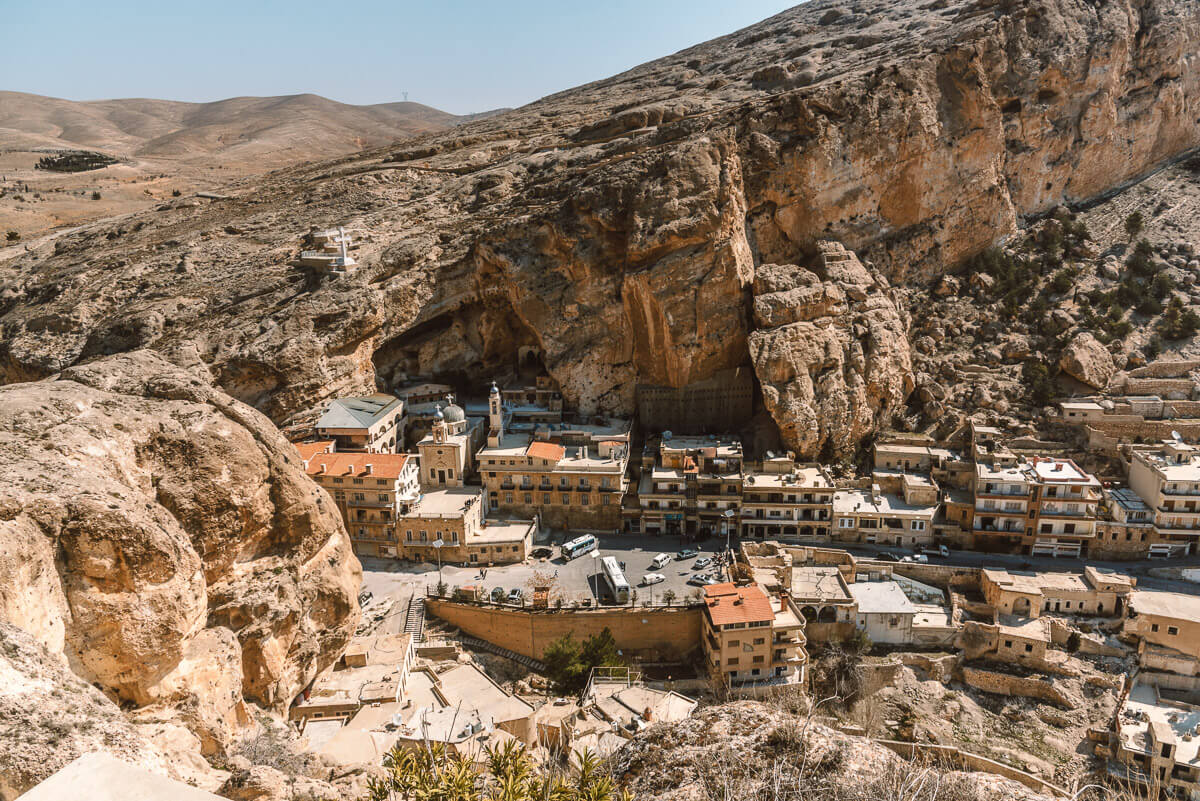 After Maaloula, we will also stop in Mar Musa, a mindblowing, skyscraper-shaped, 6th-century monastery raised in the middle of rocky mountains.
We should arrive in Aleppo in the evening. Free time for dinner and drinks.
Overnight in Aleppo.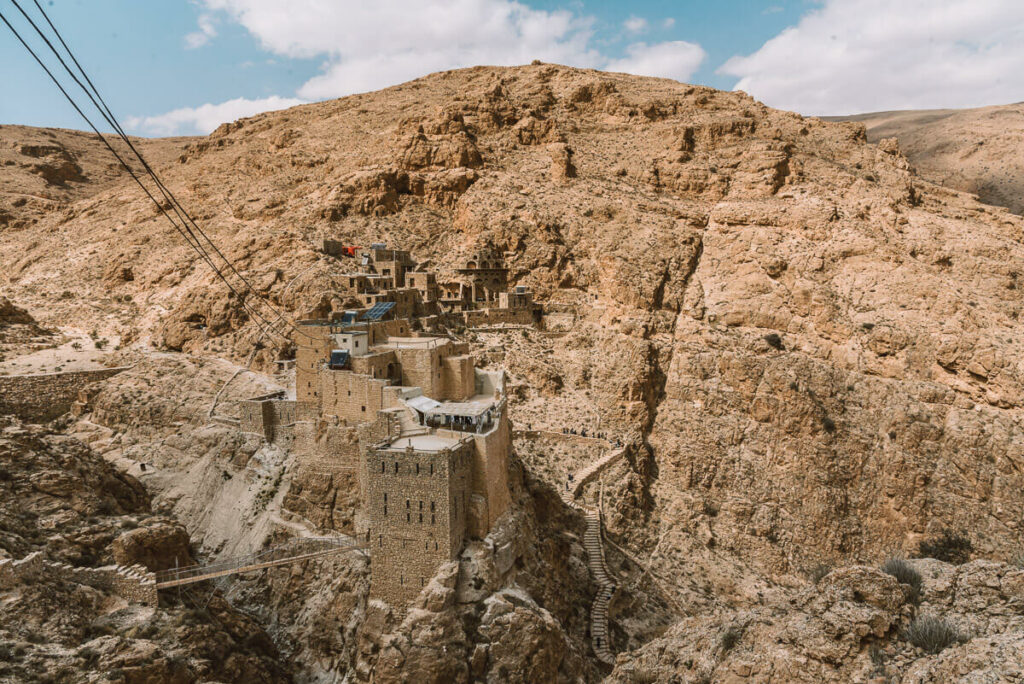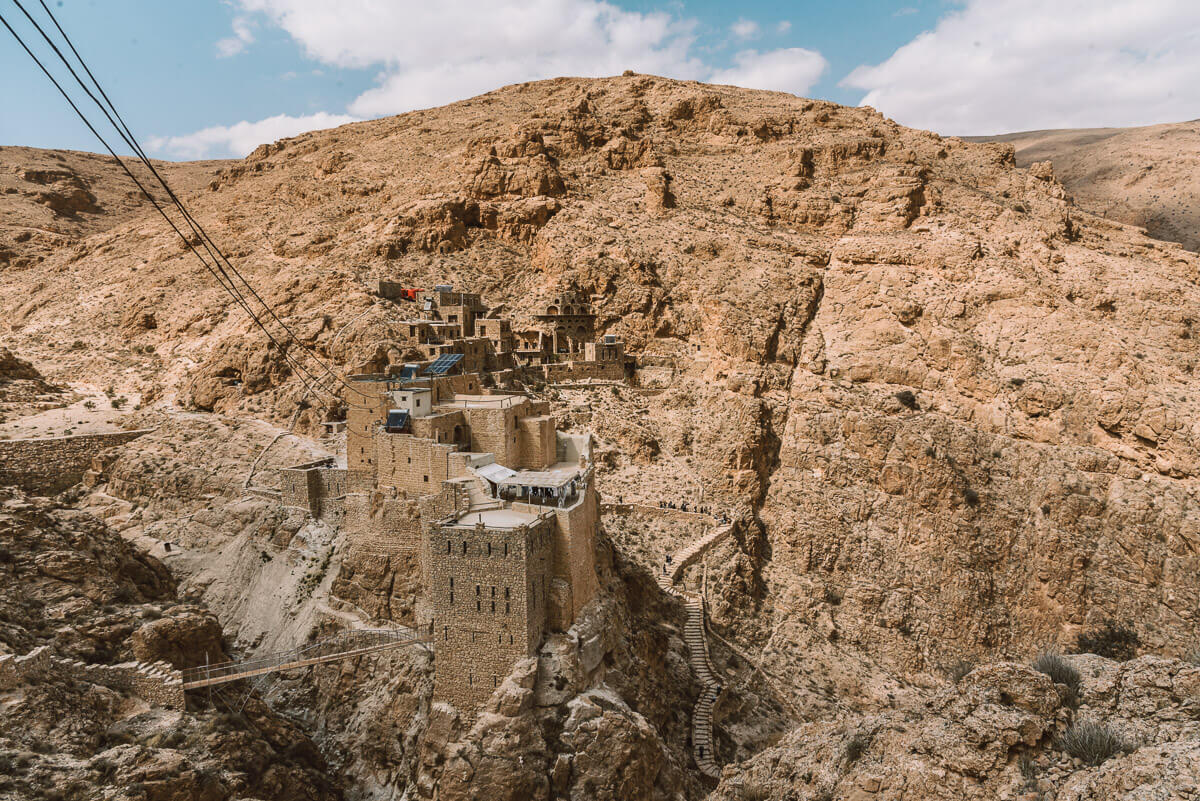 Day 4 – Full day in Aleppo
Once the most populated city in Syria, and one of the most prominent cities in the Middle East, Aleppo was one of the most affected cities by the Syrian war.
Life, however, is coming back to Aleppo, visible in the ongoing reconstruction and all the people who are slowly returning to their beautiful home city.
During our visit, we will visit the Citadel of Aleppo – the last Syrian Army stronghold – as well as the historical souk and vibrant Christian district, which remained pretty untouched from the war, and is today filled with absolutely delicious restaurants serving Lebanese wine.
Overnight in Aleppo.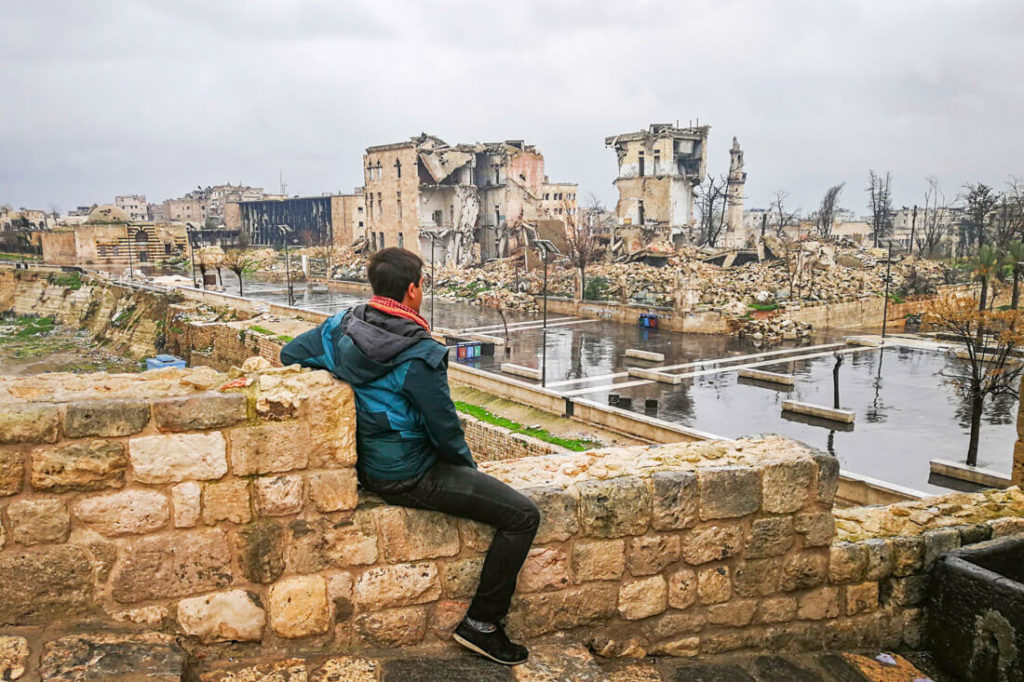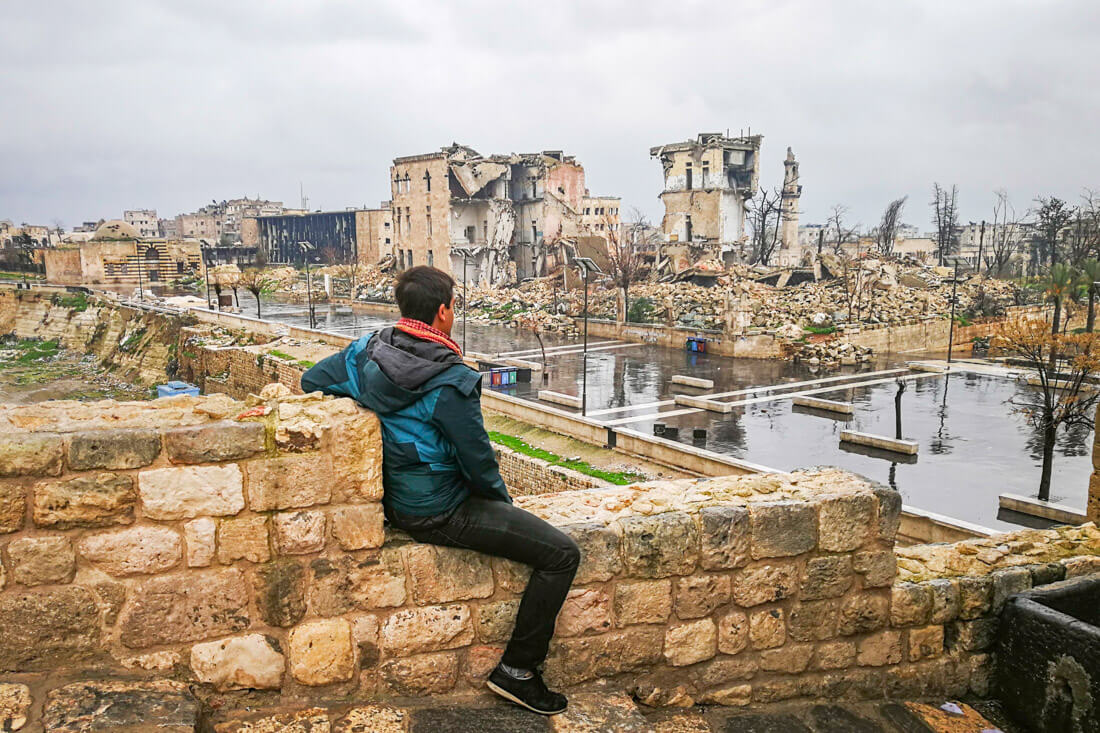 Day 5 – Hama & Krak des Chevaliers
Aleppo to Krak de Chevaliers is a 4-hour ride, so we will break the journey in Hama, a pretty photogenic town, famous for its water wheels, abounding all over the city.
After a 1-hour visit, we will continue our way to Krak des Chevaliers, once quoted by Lawrence of Arabia as the most wholly admirable castle in the world, absolutely gorgeous and surrounded by lush green hills.
We will have lunch in a restaurant with stunning castle views. After lunch, we will visit the Medieval fortress and then we will head to Al Mishtaya, a lovely Christian town with a pretty nice evening atmosphere.
Overnight in Al Mishtaya.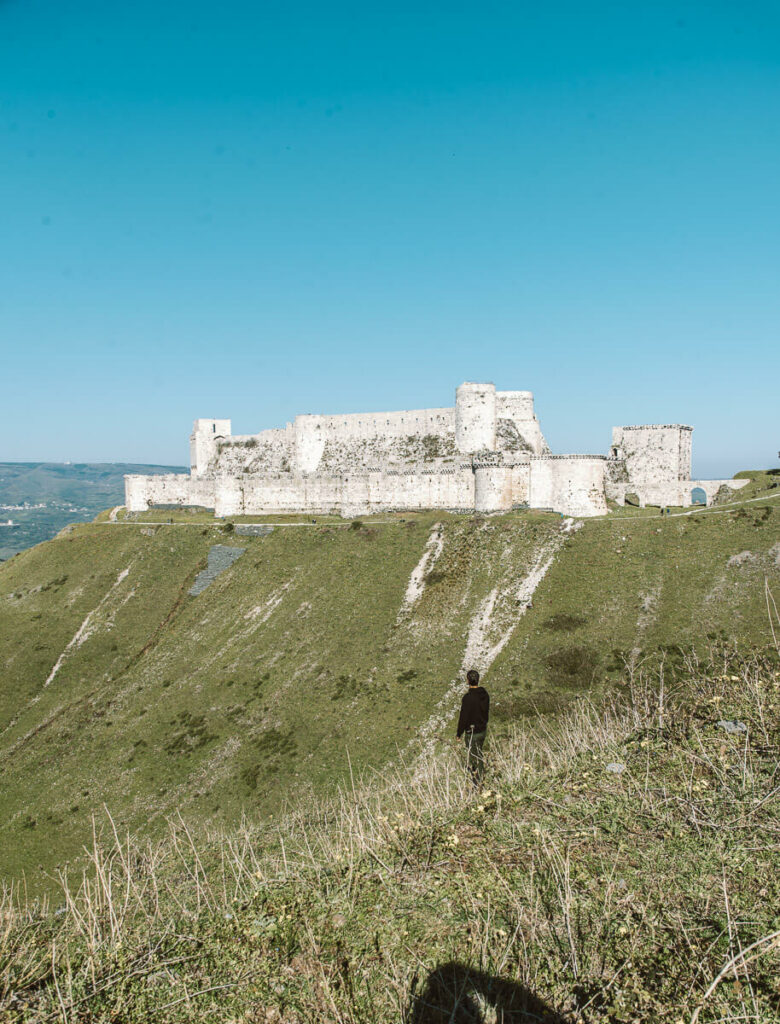 Day 6 – Palmyra & Homs
Once one of the most relevant Roman cities, Palmyra is rich in both ancient and contemporary history, since the archaeological site was taken by ISIS on two separate occasions during the war. ISIS blew up the most important temple but the site is huge and most of its structures are still standing.
For visiting Palmyra, we do need to arrange a special permit and we will be escorted by someone from the Syrian Army.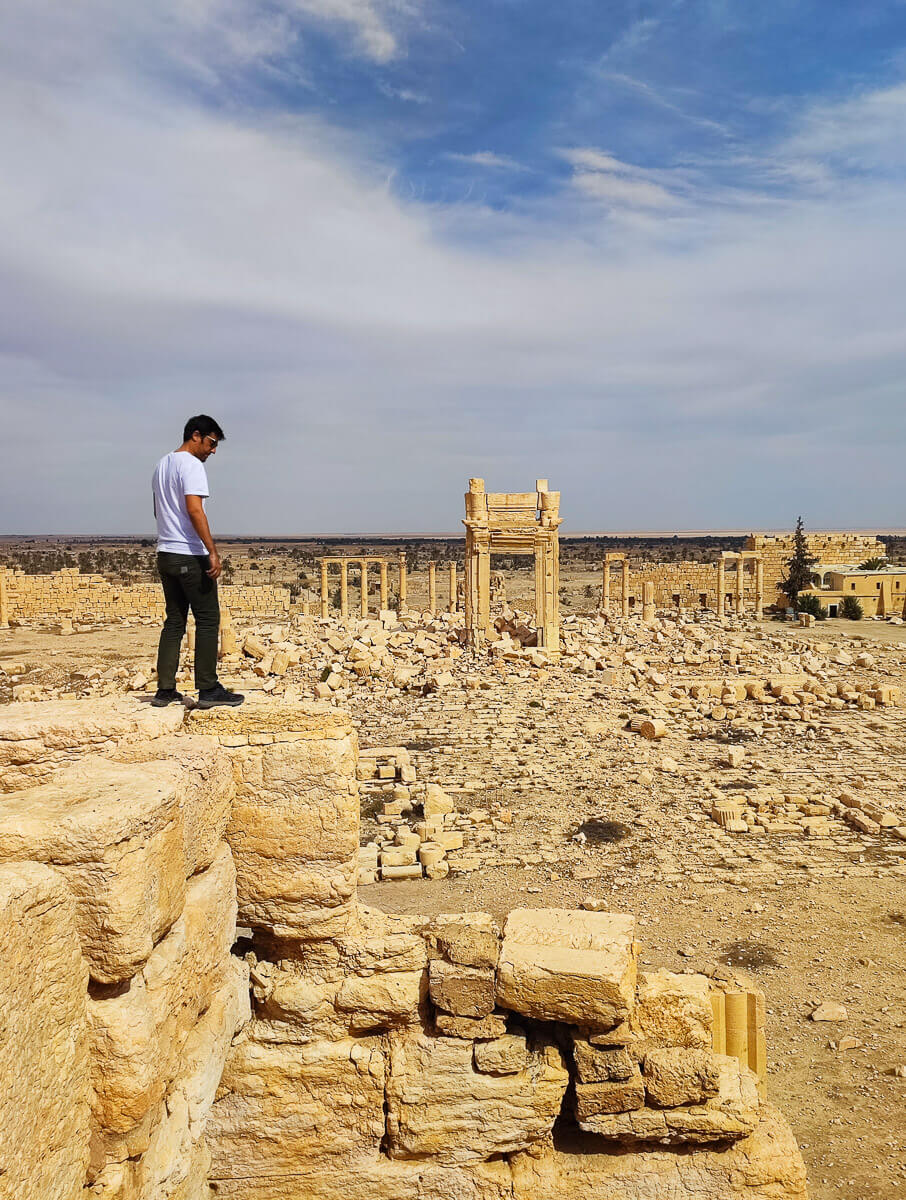 After having a picnic lunch inside the ruins, we will head back to Damascus and, on the way, we will stop in Homs.
Homs was, by far, the most affected city by the Syrian war, today mostly composed of destroyed buildings and rubble. Honestly, there's not much left to see in Homs nowadays but we will do a quick visit.
Overnight in Damascus.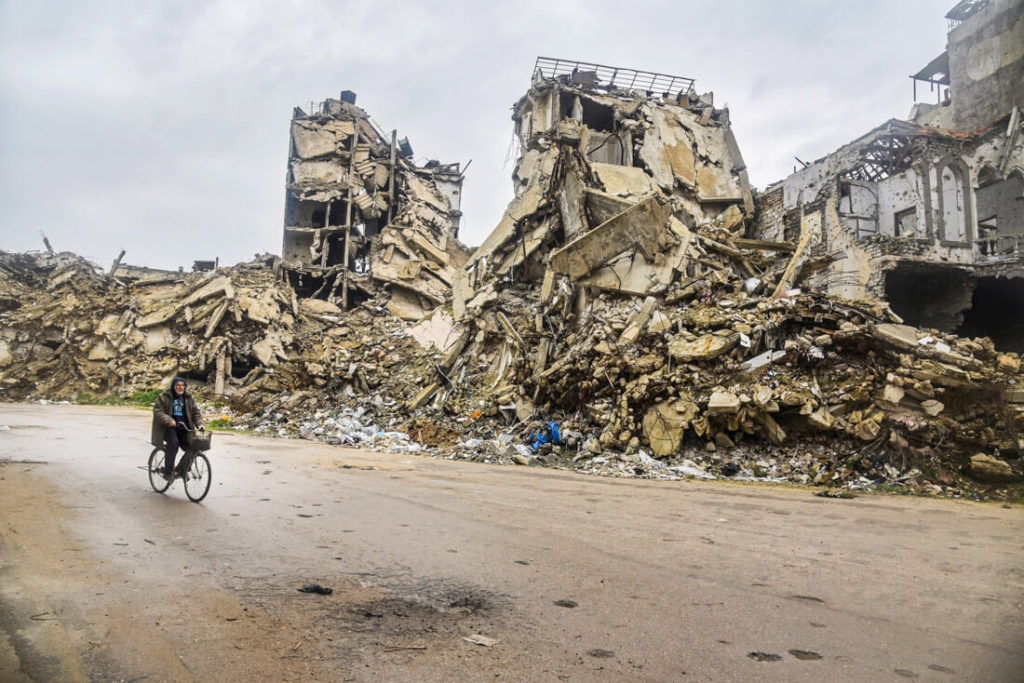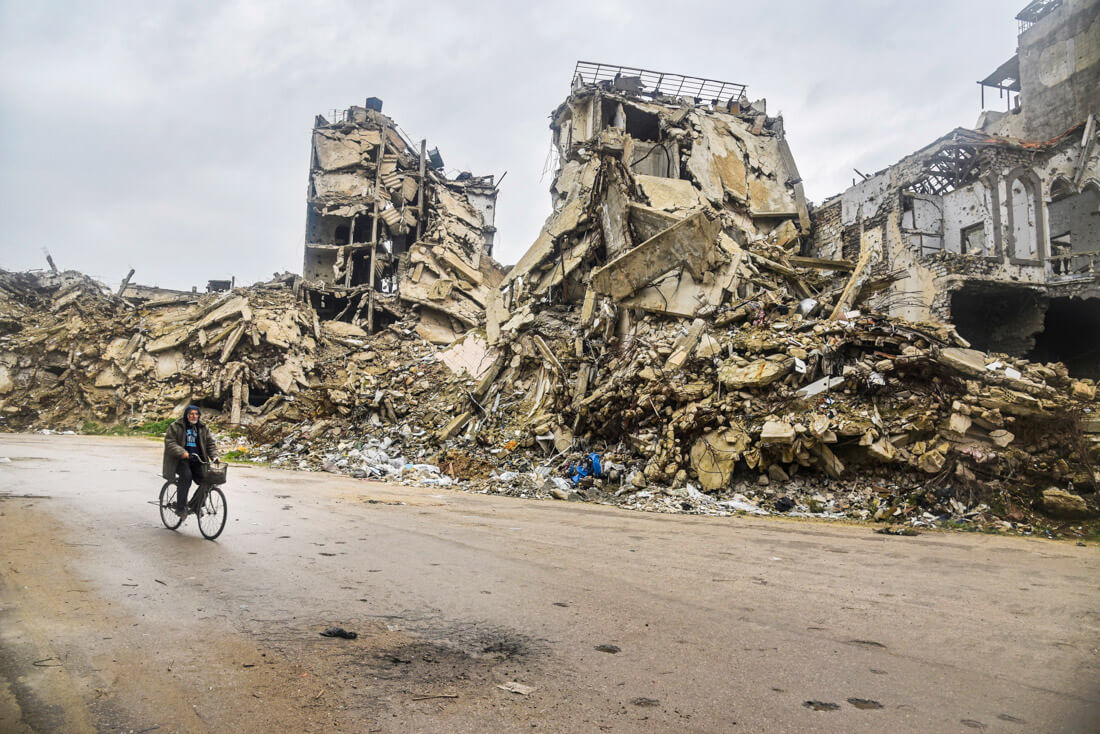 Day 7 – Bosra
On our 7th day, we will visit the southern part of Syria on a day trip to Busra, an ancient city home to one of the most admirable Roman amphitheaters in the whole world, as well as other important monuments.
In Bosra, the local Syrians are culturally different, similar to Bedouins.
We will have lunch in a traditional Bedouin tent, with locals from Bosra.
After lunch back to Damascus. Overnight in Damascus.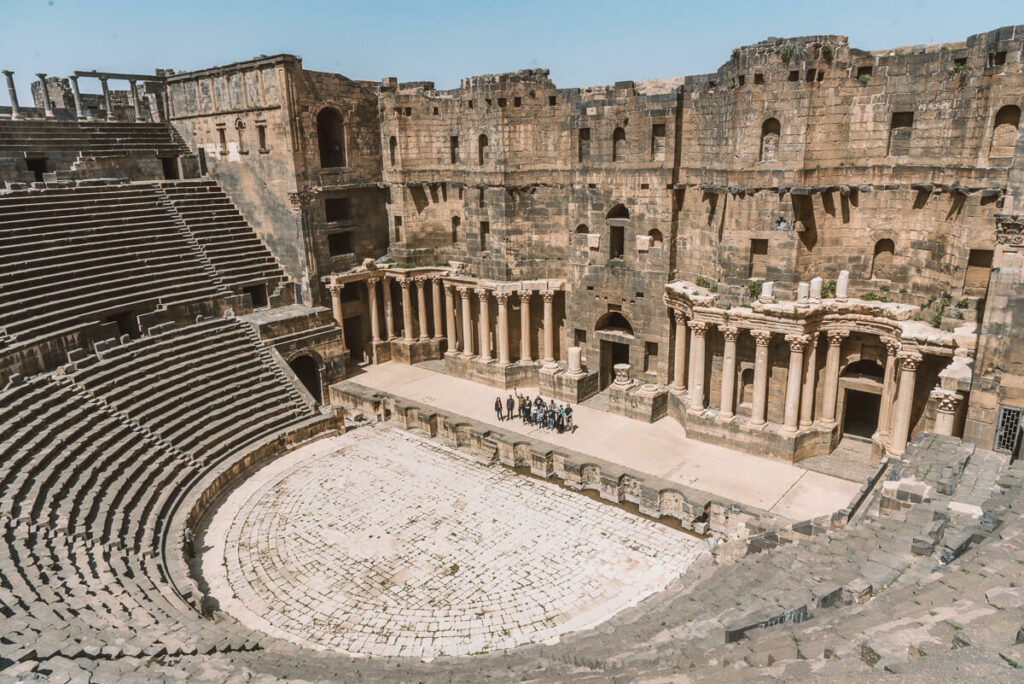 Day 8 – Damascus and Beirut transfer
After breakfast, we will visit the remaining touristic places in Damascus, including the new part of town, as well as do any necessary shopping.
Transfer to Beirut and end of the tour.
Tour cost
The total tour cost is 1590€ per person.
What's included in the price?
Transfer to and from Beirut
Accommodation (twin shared, or triple if we aren't perfect pairs), in the hotels mentioned below.
Security clearance (needed for the visa)
Private transportation and driver around Syria
Breakfast and lunch
Special permit for Palmyra
English-speaking knowledgeable local guide + assistant
Tour leader
Departure fee at the border
Entrance fees to the places listed in the itinerary
Hotels we stay:
Damascus: Al Mamlouka Hotel (5-star boutique hotel in the old city)
Aleppo: Aleppo Palace (a classic hotel in Aleppo and one of the best option in the city)
Al Mishtaya: Rosa Vila Hotel (comfortable hotel and the best option in the area)
What's NOT included?
International flights
Single supplement (having your own private room) costs an additional 300€
Dinner
Visa fee (70USD for EU passport; 90USD for Canadian passport; 140USD for British passport
Payments
In order to secure your spot on the tour, we require a NON-refundable 500€ deposit.
How to send a payment:
Via a standard bank transfer to EU bank in €
If you can't easily make transfers to EU banks, we also offer:
Credit card payment via a secure form powered by Stripe. However, we do charge an additional 3% to cover Stripe fees
Paypal. However, we do charge an additional 5% to cover Paypal fees
The remaining amount shall be sent no later than 31 days before the beginning of the trip.
Cancellation Policy
Is the 500€ deposit really NON-refundable?
Well, we will make our best to try to find you a replacement.
If we find it, we will refund you with the whole deposit minus 150€, to compensate for the cost and effort of applying for your visa + looking for another person.
If we can't get a replacement, you won't get your deposit back.
What about the remaining balance?
31 days or more prior to departure: full refund
15-29 days prior to departure: 50% refund
Less than 15 days: no refund
Do you have any further questions about the tour?
or just shoot me an email at joan@againstthecompass.com