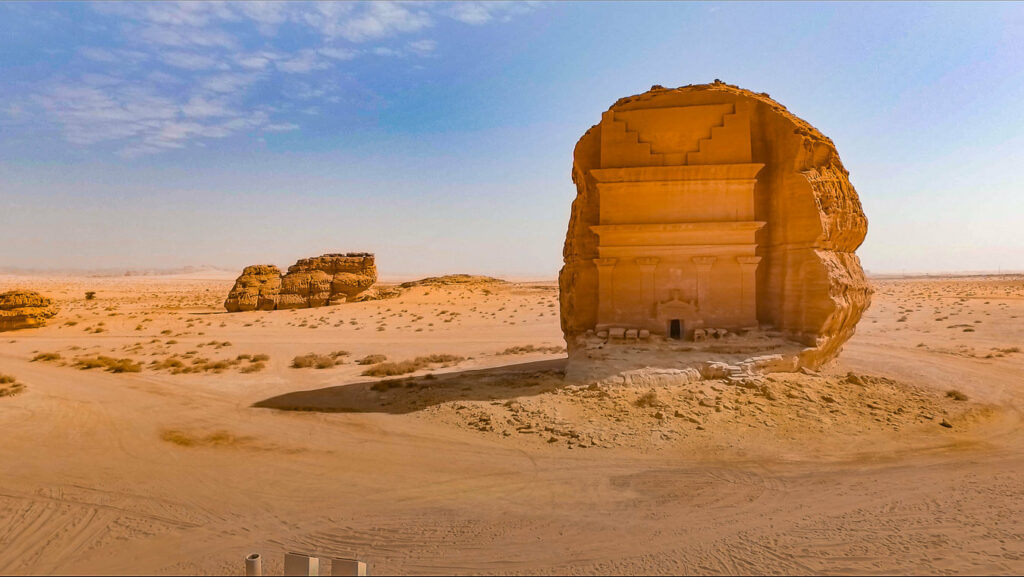 Against the Compass EXPEDITIONS, exploring off the beaten track destinations across the Middle East.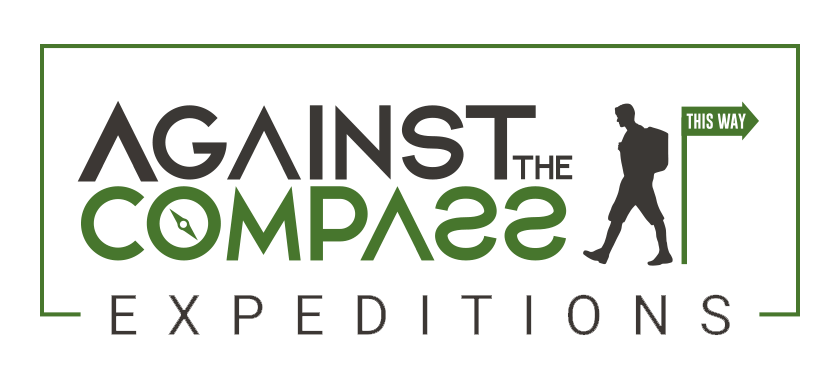 Against the Compass EXPEDITION 2022 to Saudi Arabia
Why visiting Saudi Arabia with Against the Compass
Saudi Arabia is the most underrated country I have ever been to, a destination with unrivaled beauty, mesmerizing history and home to large geographical contrasts. Some of the most mind-blowing deserts can be found in Saudi Arabia, but also 3000-meter mountains with regular snowfall, epic valleys, plus its Red Sea coastline features absolutely dreamy beaches and coral reefs.
The Saudi people are pretty amazing too, extremely kind, hospitable and definitely, one of the highlights of visiting Saudi Arabia.
In this EXPEDITION, we will explore the millennial historical city of Madinah Saleh, swim around otherwordly islands, hike in wonderful valleys, and travel back in time in the historical city of Jeddah. However, what is truly unique about this expedition, is that it will focus on the local culture, meaning that we are going to experience loads of human encounters, especially Saudis living in the rural areas.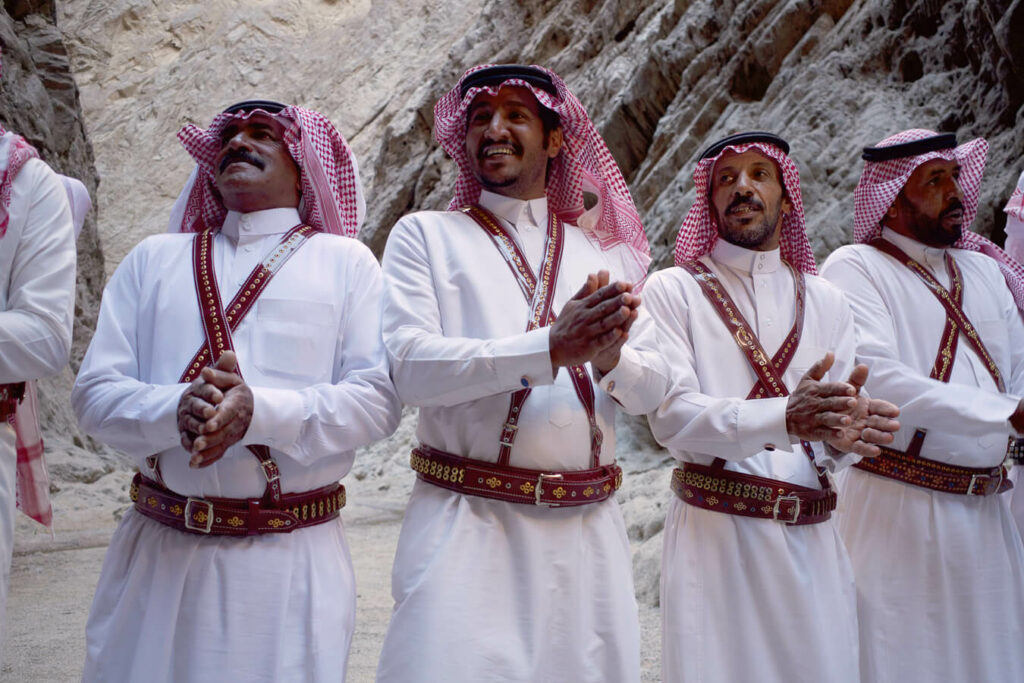 Tour dates
January 22 to January 29th (8 days, 7 nights).
Group size
Saudi Arabia is a particularly expensive country so, in order to minimize costs – without losing tour quality – we are going to be a group of 12 people.
And, who can join?
Anyone, from 18 to 99+ years old, who wishes to travel with a group of open-minded travelers.
We don't discriminate by age or nationality, but we are just looking for people who are willing to have fun.

8-day Tour Itinerary
Note that this itinerary is flexible and may be subjected to change, depending on the COVID-19 situation.
Day 1 – Arrival and Jeddah Historical City
On the first day, we will take things very easy. We will be meeting you at the airport throughout the day, checking in the hotel and, around 4pm, we will head all together to Al Balad, the historical city of Jeddah and a UNESCO World Heritage site.
Al Balad was established 1,300 years ago as the gateway for Muslims on their way to Mecca, mostly arriving by sea from Africa. It's a lively area composed of buildings with colorful windows and narrow streets with a great local life that turns into a bustling and vibrant area right before sunset.
At the end of the visit, we will have our first dinner together in one of the local restaurants.
Overnight in Jeddah.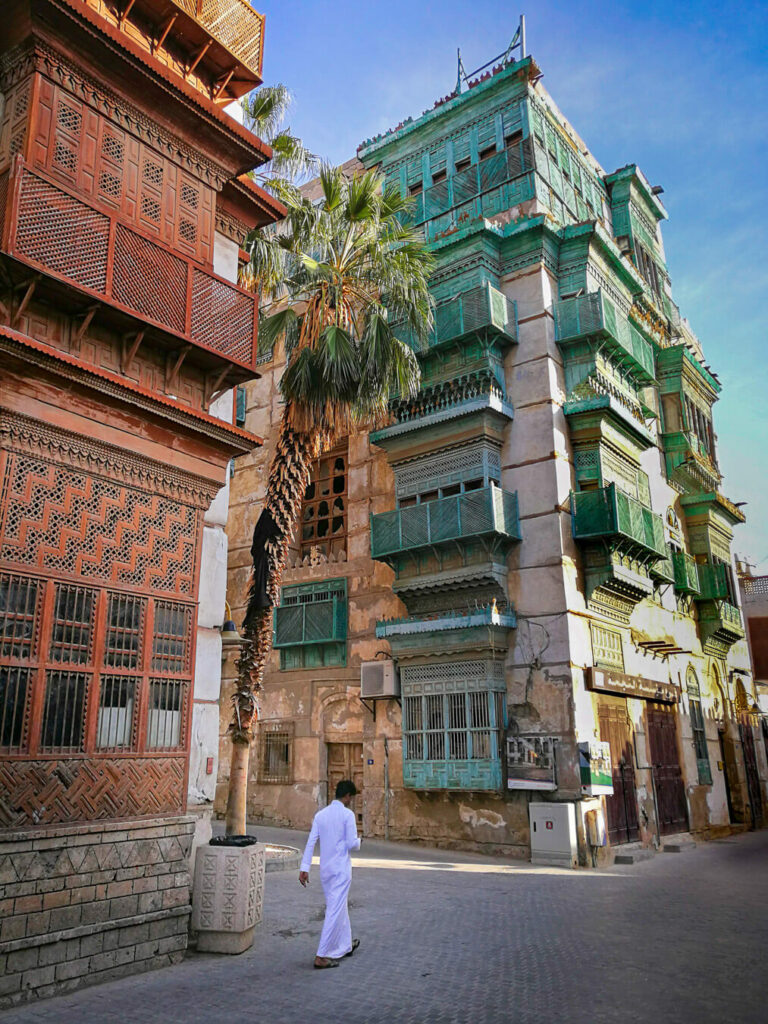 Day 2 – Jeddah and Yanbu
After an early breakfast, Once we are finished visiting Angawi House, we will do a little tour around Jeddah, visiting the world's tallest flagpole, the world's tallest fountain, the floating mosque and Jeddah waterfront.
We will also visit Angawi House, a traditional Saudi house designed and built by Sami Angawi, one of the most famous Saudi architects, who got inspired by the colorful windows from Al Balad.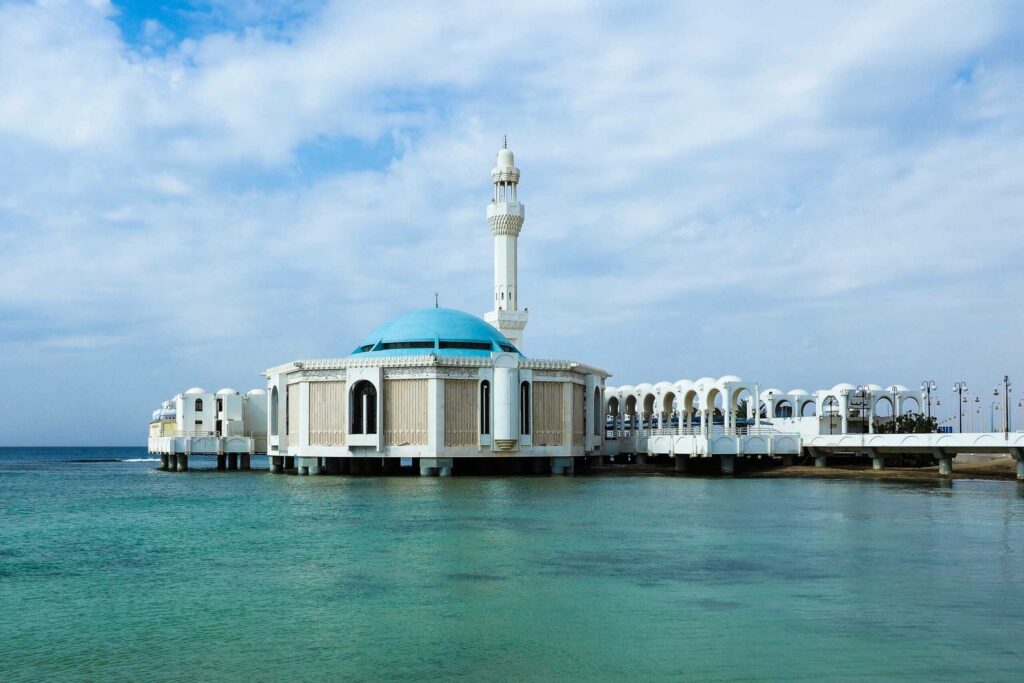 After lunch, we will head back to the hotel to pack our bags and drive to Yanbu, a 3.5-hour ride. Yanbu is a 2500-year old town, which used to be an important stopover for traders sailing from Yemen to Egypt. Today, Yanbu is an important trading point with one of the largest petrochemical complexes in the country.
It also has a pretty well-preserved old town. We will visit it and then have dinner in one of the local restaurants.
Overnight in Yanbu.

Day 3 – Umluj
This is going to be a pretty exciting day. Early morning, we will go on a day trip to Umluj, a small town home to coral reefs and dreamy islands with white-sand beaches. Umluj is often referred to as the Maldives of Saudi Arabia.
We will actually spend most of our day on a boat, doing some island hopping, swimming and snorkeling. The lunch will be on the boat.
By the way, girls can wear a bikini, if they want to, no problem
After the boat tour, if we have time, we will visit a mango farm owned by local Saudis, getting an idea of what rural life in the kingdom is like.
Dinner and overnight in Yanbu.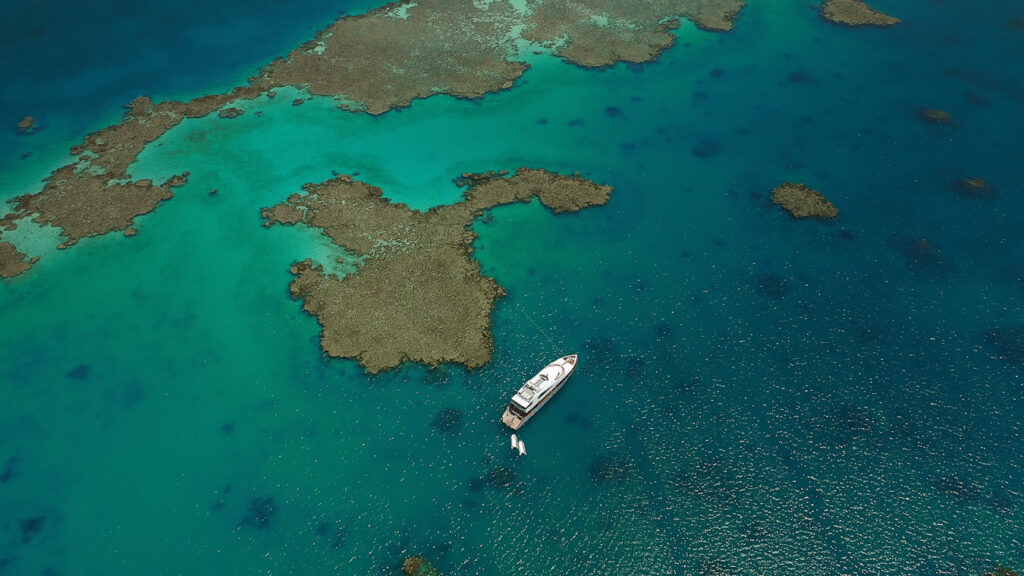 Day 4 – Al Ula
The fourth day is going to be an even more exciting day than the previous one because we will drive towards Al Ula, home to Madinah Saleh, the most iconic historical site in the Kingdom of Saudi Arabia.
Madinah Saleh, or Hegra, was an ancient city founded by local tribes 5000 years ago, but it was not until the 2nd century BC that the Nabateans, the same guys that built Petra in Jordan, made it a great city, in a fear of the Romans conquering Petra, so it could serve as the new capital.
Still, the Romans conquered both cities, Hegra and Petra, but the more than 100 jaw-dropping tombs carved from the giant desert rocks still remain, and I find it particularly more stunning than Petra because it is located in the middle of nowhere.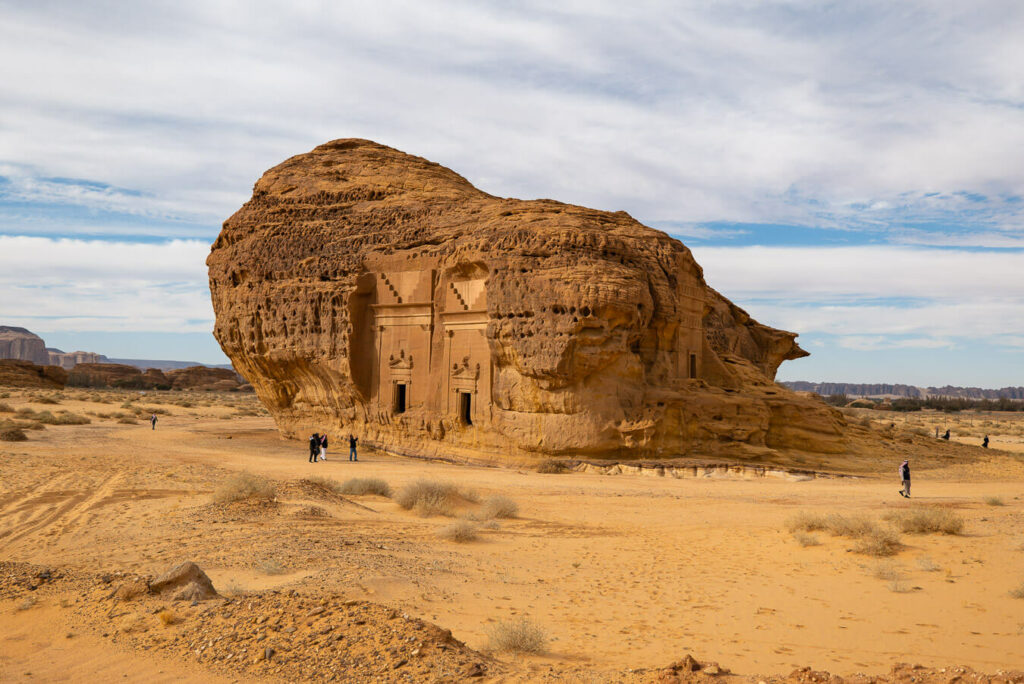 With our 4×4, we will drive all around the area, visiting all the highlights.
Then, we will also check Hejaz Railway, a railway station built by the Ottomans in the 19th century, serving as a link between Damascus (Syria) and the holy city of Makkah
On the way back to the historical village of Al-Ula, we will pass by the Elephant Rock, one of the most impressive geologic marvels in the area, a massive Elephant-shaped monolithic red sandstone.
Dinner and overnight at a campsite in Al Ula.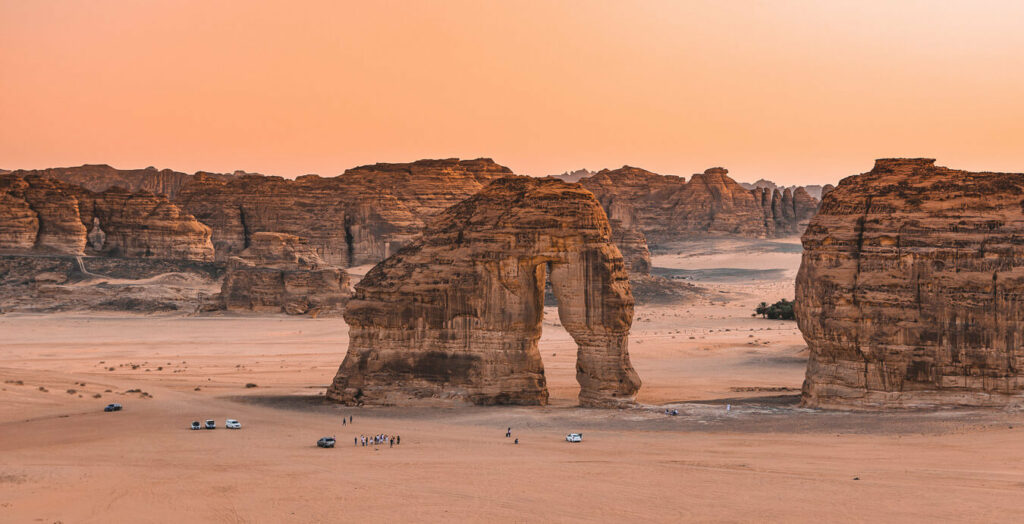 Day 5 – Al Ula
Al Ula is massive and, after visiting the wonders of Madinah Saleh, we will dedicate the 5th day to Dedan, another archeological which is even older than Madinah Saleh, and a place where excavations have revealed the existence of large fortified cities, former kingdoms that developed their own culture including a specific language and alphabet that resulted in a mix of Arabian traditions and strong influences from the surrounding empires.
We will visit the impressive necropolis, whose highlight is the Tomb of the Lions, an outstanding example of the Mesopotamian influence.
The evening will be spent at either a local farm with a local family or a Bedouin seating area, depending on what is more convenient.
Overnight in Al Ula.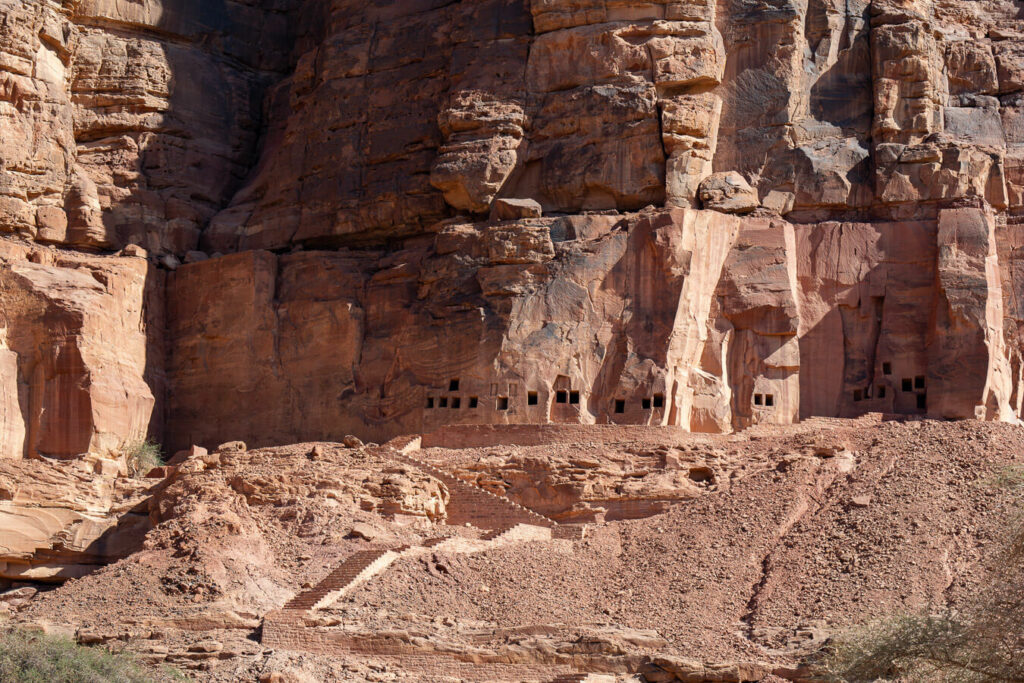 Day 6 – Tabuk
Note: This will be an extremely flexible day. We will try to visit Jebel Al Lawz, one of the few places in Saudi Arabia with regular snowfall, especially during the month of January, when we will be there. Besides swimming among coral reefs, hiking over the snow is something you definitely didn't expect about Saudi. If there is no snow, we will head towards the Gulf of Aqaba instead, to visit Maqna city and Tayyeb Valley.
On our 6th day, we will drive north towards Tabuk, near the border with Jordan.
After checking into our hotel, we will head to Jebel Al Lawz, one of the highest mountains in Saudi (2580 meters).
Besides being one of the few places with regular snowfall, Jebel Al Lawz has important historical meaning as well, since this is supposed to be the place where Prophet Moses brought the people that fled Egypt, and where he lived for 10 years.
Besides hiking around and checking ancient rock art, we will also meet local farmers and Saudis living among those mountains.
Dinner and overnight in Tabuk.

Day 7 – Tabuk
We are going to continue visiting natural wonders by heading to Wadi Al Dissa, not without stopping first in NEOM Edge, a jaw-dropping viewpoint.
Wadi Al Dissa is a 15-kilometer long canyon with spectacular 500-meters cliffs, and our team of guides will prepare us a traditional lunch in the best possible location with the best view.
Thanks to a water stream that runs through the western part of the canyon towards the city of Dissah, the wadi is quite fertile, with plenty of palm trees that give an oasis fell.
Dinner and overnight in Tabuk.

Day 8 – Flight back to Jeddah
On the 8th day, we will all fly back to Jeddah, therefore saving a 1000km journey by road.

Tour cost
The total tour cost is 1895€ per person, with a domestic flight included, and with a group of 12 people.
Note that this Against the Compass EXPEDITION is considerably more expensive than others because Saudi is a particularly pricey country when it comes to car rental, accommodation, and local guides fees. It also includes a domestic flight.
What's included in the price?
Domestic flight from Tabouk to Jeddah
Airport Pick up/Drop off
Accommodation. 5 nights in a mid-range hotel, and 2 nights in a campsite, in Al-Ula.
All meals, except for 2 dinners in Yanbu
Activities as mentioned
Local guides
Driver and private transportation
What's not included
Visa fees (80USD + 48USD for the insurance)
International flights
Single supplement (270€)
Dinner x 2 in Yanbu. For logistical reasons, we could not arrange a local dinner in Yanbu. However, Yanbu has several seafood restaurants to choose from. Those who want can have dinner there, but at their own cost.

Payments
In order to secure your spot on the tour, we require a non-refundable 500€ deposit.
The deposit can be made by Standard Bank Transfer in € or Paypal.
The rest must be paid 2 months before the start of the trip, November 22nd, also by bank transfer.

Need to know about Coronavirus
As of today, travelers traveling to Saudi Arabia are required:
PCR 72 hours
Proof of vaccination
Medical insurance (Included in your visa application)

Cancellation policy
Our cancellation policy is as follows:
If the trip needs to be canceled due to COVID-19, we will give you a full refund (including deposit) minus 100€ to cover payments we already did to vendors.
Otherwise, our regular cancelation policy is the following:
Keep in mind that the 500€ deposit is non-refundable
60 days or more prior to departure: full refund
59-30 days before departure: 75% refund
29-15 days before departure: 25% refund
Less than 15 days: no refund
Do you have any further questions about the tour?