Against the Compass EXPEDITIONS
Against the Compass EXPEDITIONS, exploring off the beaten track destinations across Central Asia, the Middle East and the Caucasus region.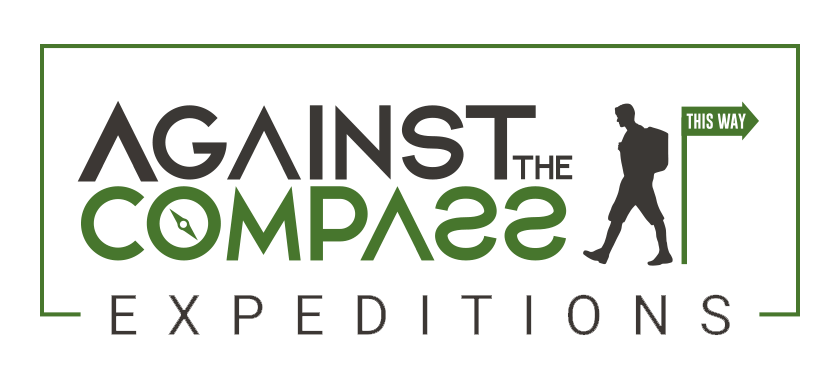 EXPEDITION to off the beaten track Georgia
The unrecognized state of Abkhazia, Soviet Heritage, and Racha

Why visiting Georgia with Against the Compass
Georgia is the most exciting destination in continental Europe, and one of my most favorite countries ever.
On the one hand, it's a tourist-friendly destination, meaning that it's easy to reach, has proper tourist infrastructure, endless historical and cultural sites, some of the finest mountains in the continent, and a strong wine culture which we will all enjoy.
And, on the other hand, from breakaway territories to an unbelievable offer of Soviet Heritage, Georgia can also be the perfect destination for intrepid travelers, urban explorers and offbeat lovers.
This EXCLUSIVE off the beaten track EXPEDITION to Georgia will focus on:
Unrecognized Country of Abkhazia: Abkhazia is a territory that self-declared independence from Georgia but, since nobody in the international community recognized it as such, it became something popularly known as a ghost country. They control their own borders and require a separate visa. A Soviet-themed park with plenty of abandoned buildings but also breathtaking Caucasian landscapes and the most beautiful (and warmest) coastline in the country.
Soviet Heritage: From a massive abandoned Soviet resort to the quirkiest buildings, a mining town and Soviet modernist art, Georgia is home to some of the largest and most interesting Soviet Heritage in the former USSR.
Racha:  In Georgia, there are 5 main mountain regions, the least visited being Racha, located in the heart of the High Caucasus and filled with absolutely jaw-dropping alpine landscapes.
This is an exclusive off the beaten path itinerary to Georgia, the only of its kind so, if you want to explore the country in the most unique and authentic way, like very few travelers have done before, look no further.
Tour dates
TBC
Group size
In order to guarantee the quality of the tour, we will limit it to a maximum of 10 people.
And, who can join?
Anyone, from 18 to 99+ years old, who wishes to travel with a group of open-minded travelers.
Tour Itinerary
A day-by-day summary of the places we will visit in Georgia.
Remember that this is an exclusive off the beaten track itinerary only offered by Against the Compass!
Day 1 – Tbilisi off the beaten track
We will all meet in the lobby of the hotel, where our guide will pick us up and give an introductory briefing about Georgia and the tour itinerary.
Then, we will spend the day visiting the most offbeat sites of Tbilisi, which include traditional bazaars, Soviet modernist gems, hidden bakeries, brutalist concrete buildings and more.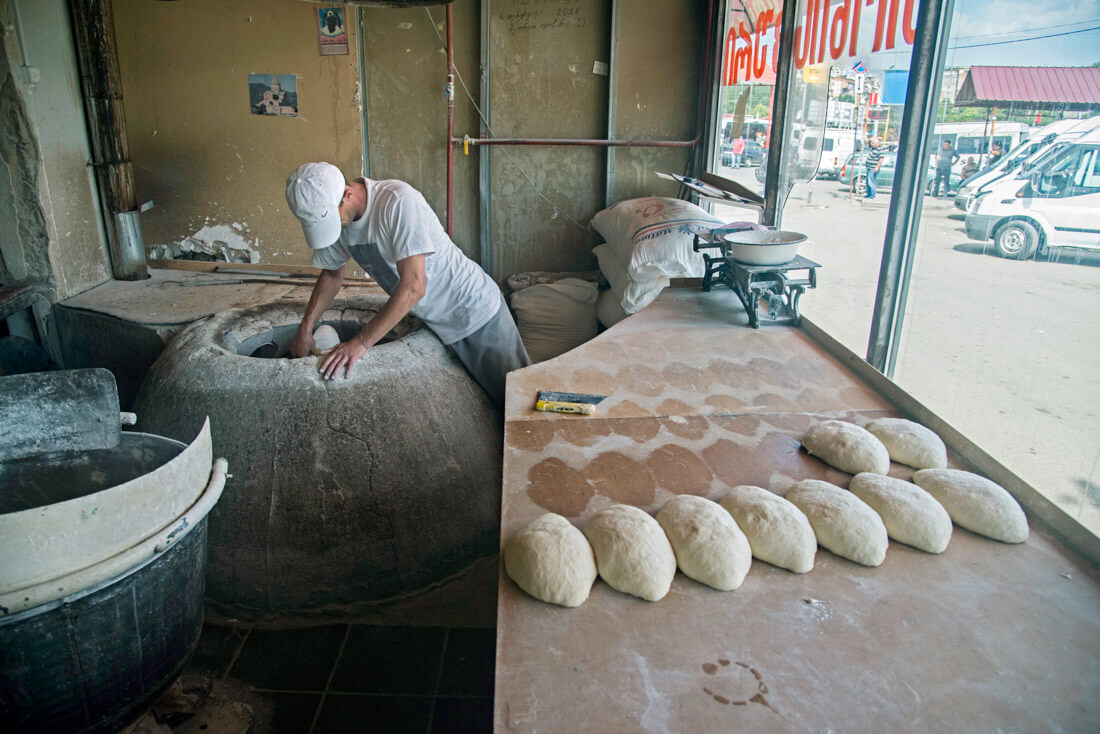 Highlights: Dezerter Bazaar, Bank of Georgia, Wedding Palace, Georgia Expo, Triple Soviet Block, Abandoned trains of Gostiridze, Cable Car to Turtle Lake, Chronicles of Georgia.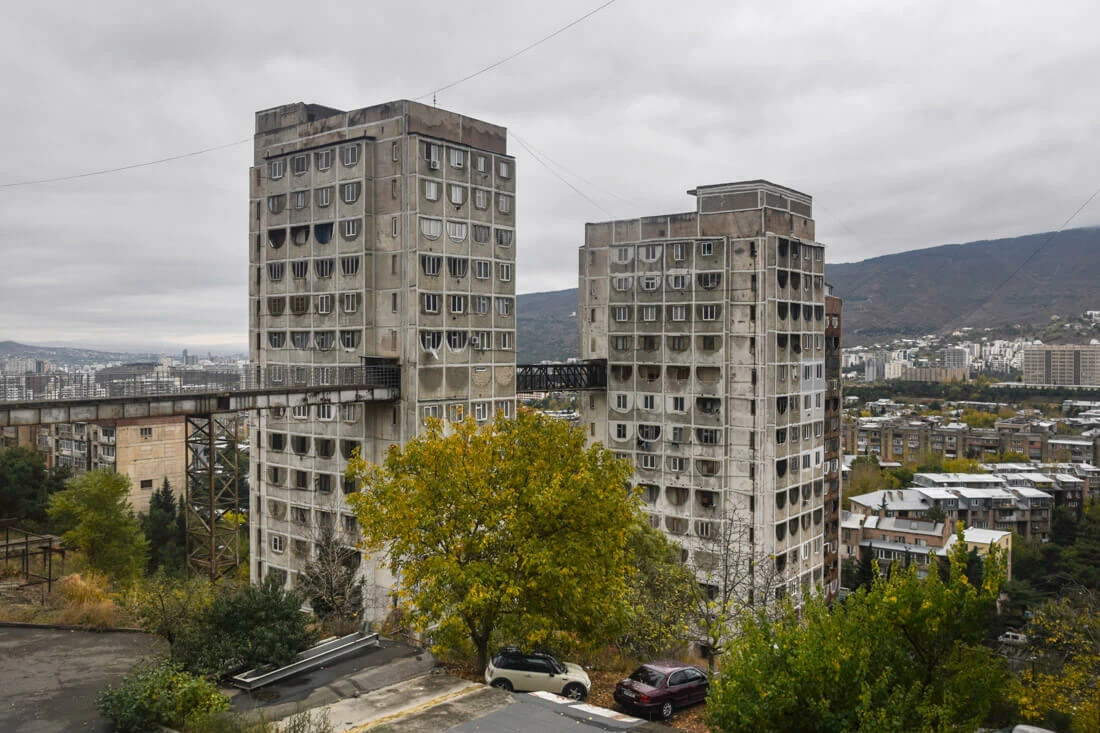 In this tour, we will skip Tbilisi Old Town because you are not booking an Against the Compass Tour to visit the most visited and touristic part of Tbilisi. However, in the evening/night, we will hang out there, and I can take you to my favorite bars and restaurants. Moreover, since the tour starts early in the morning, we recommend you arrive in Tbilisi/Georgia on the day before, so you will still have time to explore it on your own.

Day 2 – Chiatura and Shovi (Racha)
On our second day, we will visit Chiatura, once one of the most important mining centers across the USSR, today featuring still functional cable cars from the Soviet era and plenty of other Soviet relics.
On our way to Chiatura, we will pass by the actual border with South Ossetia (a breakaway territory from Georgia and the second unrecognized country in Abkhazia) and a set of refugee camps inhabited by Georgians who had to flee from South Ossetia when it self-declared independence in 2008.
Then, after a short stop at the Katskhi Pillar – a 40-meter limestone monolith with an inhabited monastery on top – we will head for Shovi, a very remote and small Caucasian mountain village located near the Russian border, in Racha region, and from where we will explore some epic High Caucasian landscapes.
Once in Shovi, we can either relax, or go for a short trek, it's up to you!
Overnight in Shovi.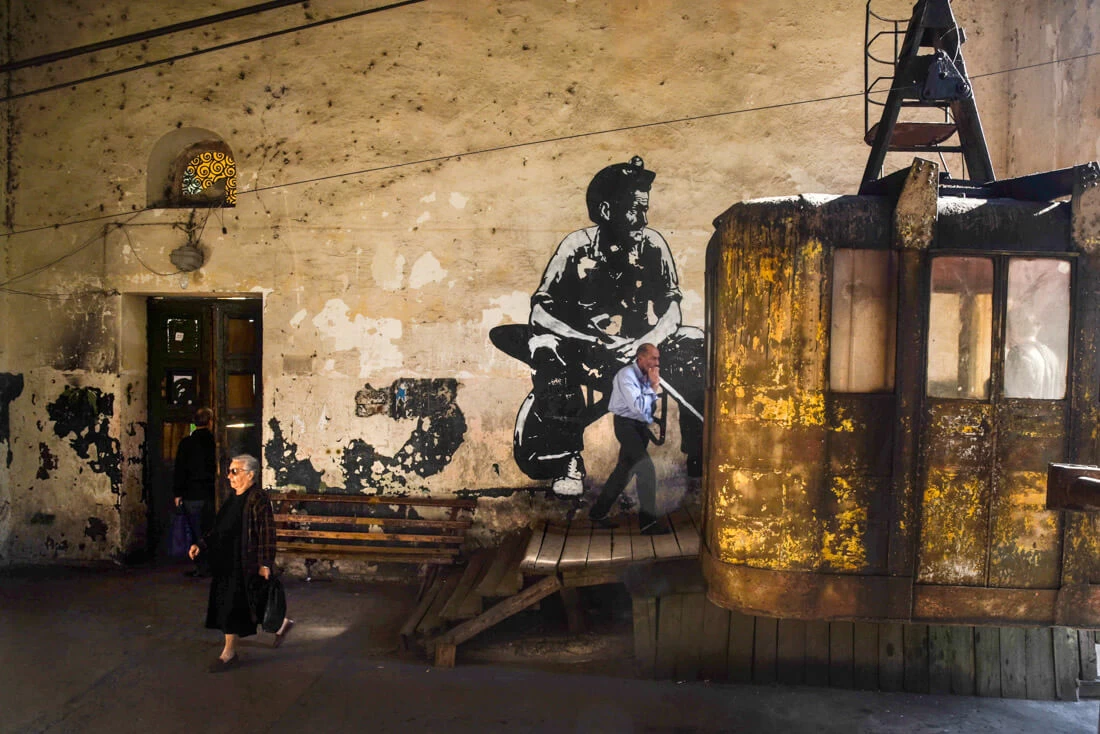 Day 3 – Racha and Kutaisi
For centuries, the High Caucasus region of Georgia had remained isolated and quite inaccessible from the rest of the world, even during the time Georgia belonged to the USSR, so the local culture has always remained pretty untouched, and still today, it's very traditional.
From visiting traditional houses to meeting actual Caucasian shepherds, having a traditional lunch and, basically, just observing the local, daily life, we will spend the morning doing a cultural tour around the area.
There will be plenty of photo opportunities, so remember to bring your camera!
After lunch, we will go to Kutaisi, one of the main cities in Georgia, where we will do a city tour, focusing on the most Soviet sites of course.
Dinner and overnight in Kutaisi.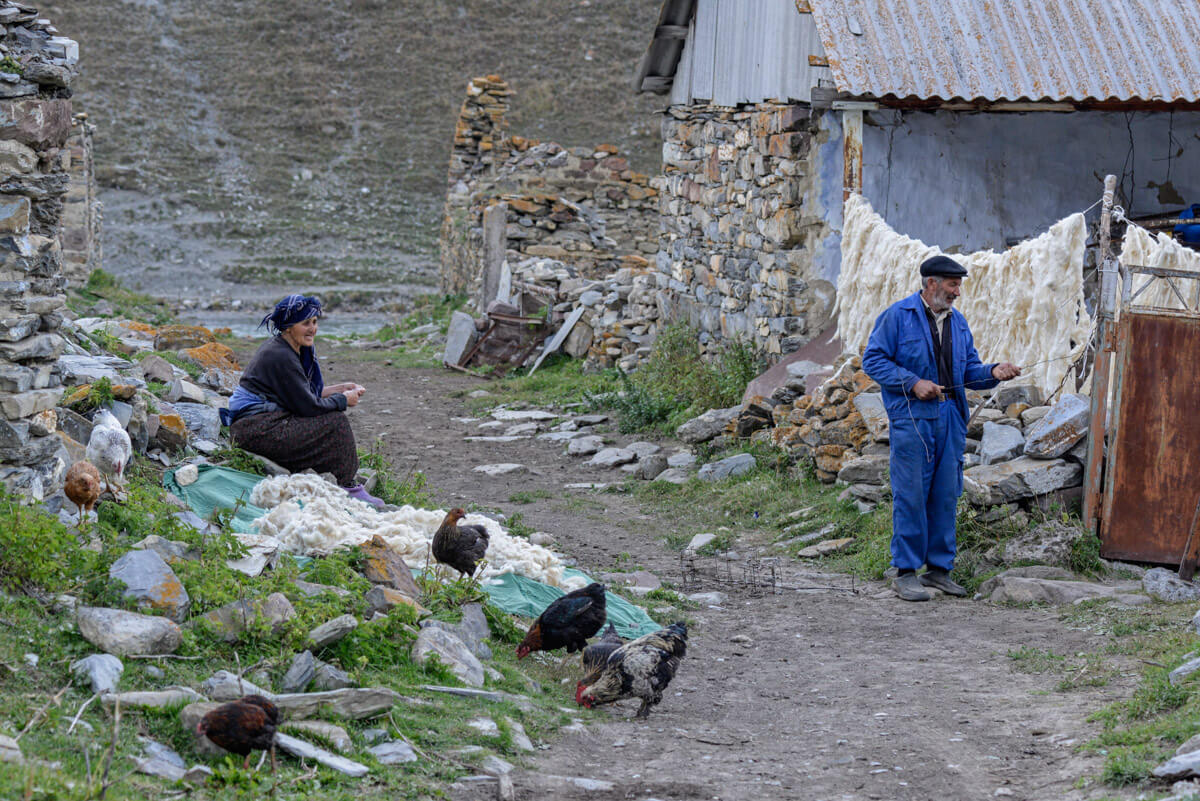 Day 4 – Tskaltubo and Zugdidi
In the morning, we will pay a visit to Tskaltubo, a massive resort town completely abandoned, composed of around 22 hotels with twisted staircases and majestic entrances, a real ghostly village, an urban jungle where you can roam around freely, and what used to be an internationally famous resort which had daily direct trains from Moscow.
Then, we will continue our way to Zugdidi, the border town with Abkhazia.
In Zugdidi, we will walk around town and check out some pretty cool Soviet mosaics.
Dinner and overnight in Zugdidi.
Day 5 – Entering Abkhazia: Tkvarcheli & Sukhumi
We will cross the Abkhazian border early in the morning and, after going through all checkpoints and border formalities (don't worry, we will take care of it) we will drive to Tkvarcheli, a former industrial Soviet town.
Then, we will head to Sukhumi, the capital of Abkhazia, where we will explore Stalinist Palaces, Soviet-era promenades, war-torn buildings and more.
Moreover, Sukhumi is a proper city with many bars and restaurants, so we can finish our day over a few beers along the promenade.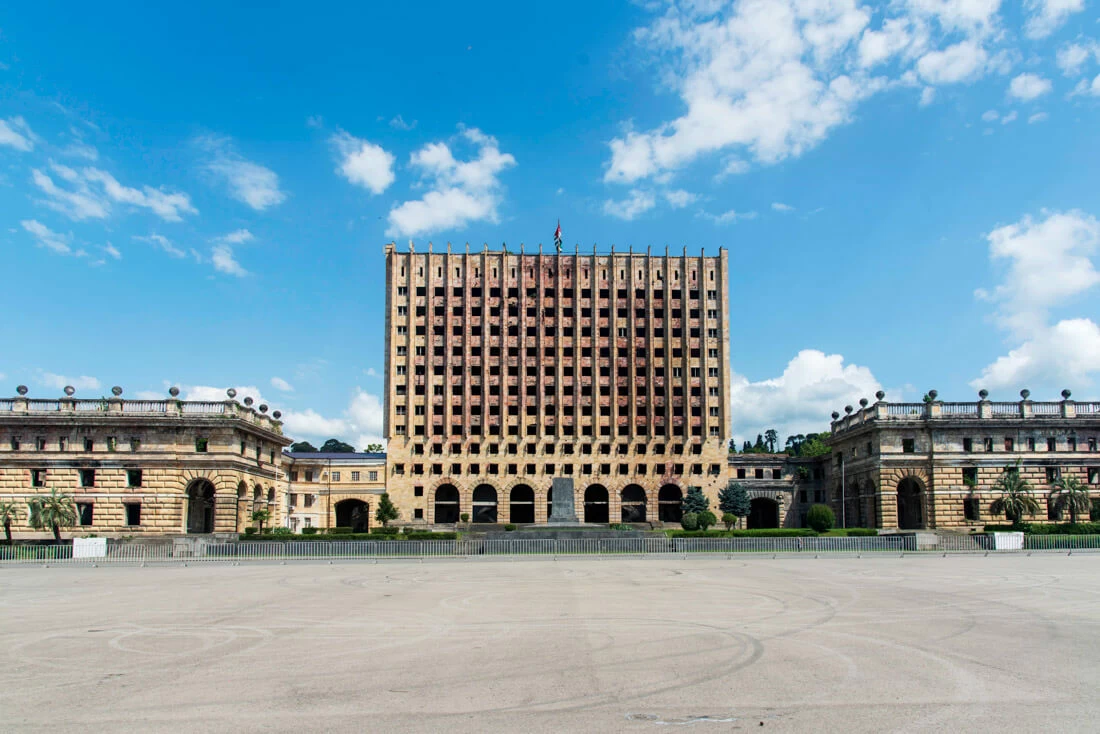 Day 6 – Abkhazia: New Aphon and Ritsa Lake
Abkhazia used to be one of the primest tourist destinations in former USSR for the Soviet elite, including Stalin himself, and the reason is that Abkhazia's coastline is particularly warm compared to other places in the Black Sea, plus the scenery is stunning.
In the morning, we will head north to the Abkhazian mountains and base ourselves in a beautiful alpine lake named Ritsa.
In Ritsa, we can either relax by the shore of the lake over a few beers and shashliks (local meat skewers) or go trekking around the lake. It's up to you.
At the lake, it's also possible to visit Stalin's old dacha (summer house).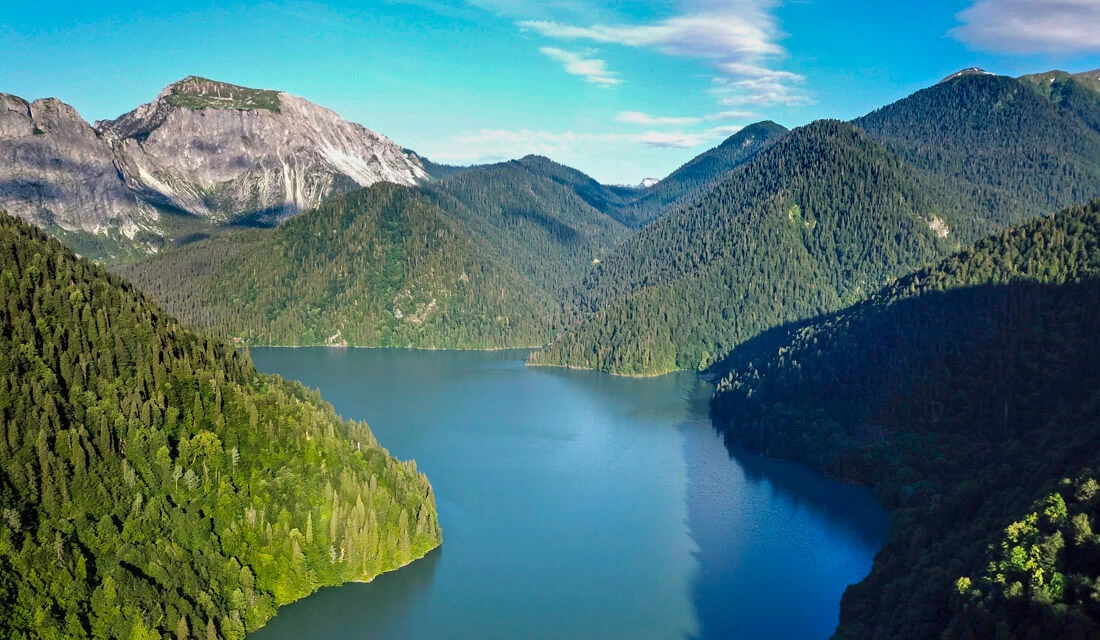 After lunch, we can all go to New Aphon, home to one of the most beautiful monasteries I have seen in Georgia, and a fortress from where you get stunning views of the area.
In my opinion, New Aphon also has the best beaches in Abkhazia, with turquoise-blue waters.
Dinner and overnight in New Aphon.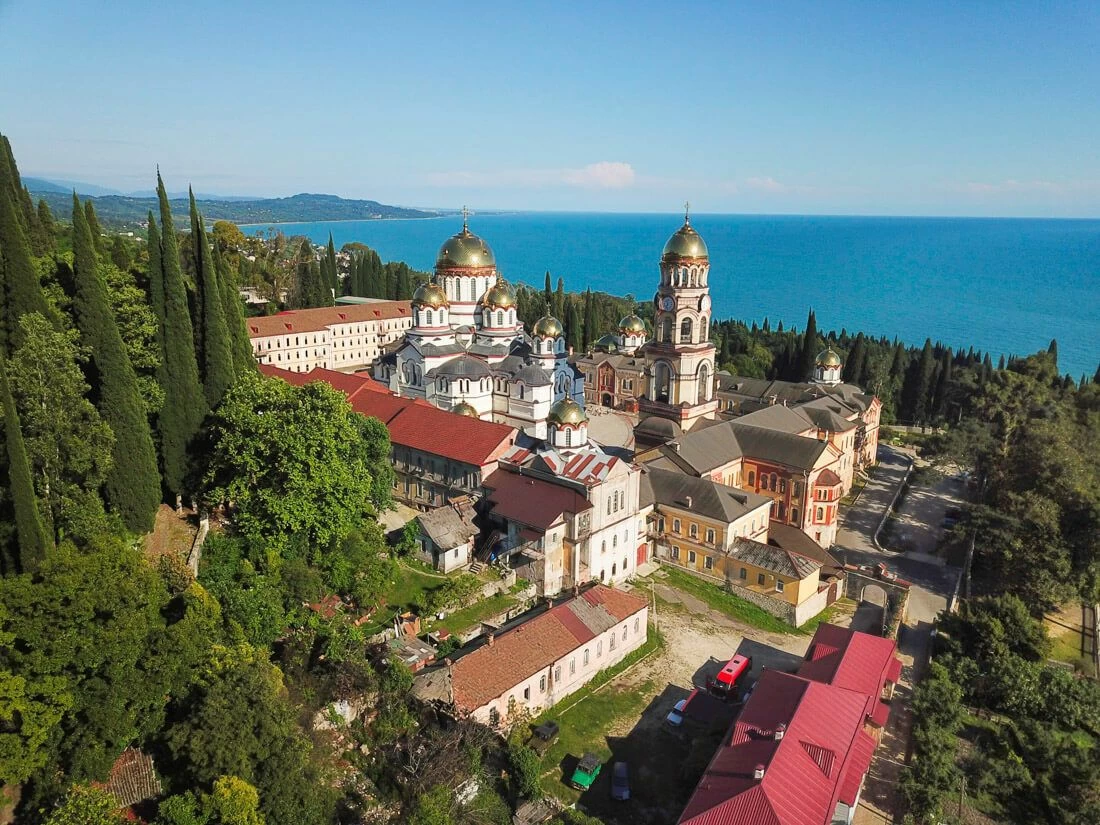 Day 7 – Back home and transfer

After enjoying a local Abkhazian breakfast all together, we will cross the border into Georgia and go back to Zugdidi.
The expedition ends in Zugdidi.
From Zugdidi, we can include a group transfer to Tbilisi airport/city for 50€ per person.
Tour cost

TBC
What's included in the price?
Double/twin room accommodation in 3-star hotels, with breakfast included
Private transportation around Georgia
Entrance fees
English-speaking, knowledgeable guide
24/7 in situ and remote assistance
My personal ebook guide to Georgia
What's NOT included?
Lunch & dinner: In our experience, travelers always have different needs when it comes to eating (budget, type of food, timings, quantity, etc) so we prefer giving you the chance to order whatever you like during your free time. You will always have free time during lunch & dinner. Meals in Shovi (Racha), however are included.
International flights
Drinks
Single supplement: You can have your own room at an additional of 20€/night. Otherwise, we offer double/twin rooms, which you will be sharing with another like-minded traveler, if coming by yourself, of course.
Medical Insurance: Not included but we can take care of it if you like, (we won't charge any extra fees).
Payments
Payments can be made by Standard Bank Transfer (Wire Transfer) or Credit Card or Paypal. Further details will be sent by email.
In order to secure a spot on the tour, we require a 20% deposit. The remaining 80% should be sent up to 4 weeks before the tour starting date.
Need to know about Coronavirus
COVID-19 Cancellation policy
As of December 2020, Georgia is requiring a mandatory quarantine. However, according to our local contacts, we expect the country to be fully open by May.

If this mandatory quarantine still persists by the time the trip takes place, the tour will be postponed. If, for whatever reason, you can't join us on the postponed dates, you will get a full refund.
On the other hand, in the hypothetical and unlikely case that, Georgia finally opens for tourism but then, all of a sudden, it closes again a few weeks before our trip,  we will refund you with 90% of the tour cost, as we will need to cover basic costs related to vendor payments we already made. Nonetheless, we insist on that this is a remote possibility.
COVID-19 safety measures
We guarantee:
Sanitation of all environments where we have full control (minivan, hotel rooms etc)
Safety distance in minivan
Free masks