Lebanon is potentially considered a dangerous country to travel to.
And I say: "Poor Lebanese people, they don't deserve such thing".
Lebanon is one of the safest countries to travel in the Middle East. The only reason why it's not considered that, is because of the media, the public opinion and the governments. With one of the lowest crime rates in the world, today Lebanon can brag about having the lowest number of Islamic extremists in the region.
What are you going to find in this article?
Why is it safe to travel to Lebanon?
1 – Contrary to what people say, in Lebanon there is no war
For some reason, people in the West tend to relate Lebanon with war. And I wonder: "Why?". Whereas it's true that the country suffered 25 years of Civil War, this ended in 1991. It was more than 25 years ago! Furthermore, the Lebanese-Israeli war took place in 2006, but it lasted for one month only. For the past 10 years, the country has been able to enjoy peace!
2 – In Lebanon, there's no place for extremism. Did you know that more than 40% of the population are Christians?
Lebanon is one of the most culturally diverse countries in the world, and today, several different religious groups coexist pacifically. Did you know that more than 40% of the population are Christians? No? Did you know that Sunni Muslims (the branch of Islam that ISIS draws its followers) only represent 25% of the population?
In this country, there's no place for extremism. Have you ever heard of any Lebanese who has radicalized and joined ISIS? Normally, they come from Syria, Saudi Arabia, Jordan and even Turkey. Lebanon is so culturally cluttered, that the chances of a person to radicalize is low.
3 – The most liberal country in the Middle East
On the other hand, although religion plays an important role in most of the families, from a religious point of view, Lebanon is the most liberal country in the entire Middle East. It counts with the largest number of atheists (especially among young people), beer is available everywhere and drinking alcohol in the street is allowed (an quite common). Surprised?
4 – It shares border with Syria. OK, so what?
Lebanon shares border with Syria. Yes, so what? They are two different countries. The border between them is highly guarded and controlled. The chances of the Syrian conflict moving into Lebanon are non-existent.
5 – The investment in military security is huge
We can't forget that Lebanon is located in a highly turbulent region. The military presence aims at preventing any sort of potential conflict. Soldiers and check-points are found in absolutely every corner of the country. The Lebanese people love the army. They are accepted in the society because it makes them feel safer.
6 – Crime rate and kidnappings are non-existent
Like in most of the Arab countries, the crime rate is practically zero. No robberies, no violence. In Lebanon, you can walk around without a worry anywhere at any time, even women.
NON-GO zones in Lebanon
I just told you the reasons why Lebanon is a safe country to travel to. Does it mean that you could wander freely across the whole country? No, absolutely not.
Whereas it's true that 95% of the country is safe, the remaining 5% could not be. Why? Because the few radicals who live in the country are found in those areas. These areas are not only dangerous for the simple fact that you may meet some extremists, but, since the area is so close to Syria, it also suffers from a spillover coming from the Syrian conflict. What are these non-go zones? Basically, the north-eastern portion highlighted in red. Don't even get close to this area. The rest of the country is safe.
Visiting the sensitive areas of Hezbollah
There are a bunch of areas which, even though they are not classified as dangerous, they are considered sensitive. Why? Because they are controlled by Hezbollah. What does "sensitive area" mean? Hezbollah areas have always been the target of terrorist groups such as the Islamic State. In fact, the last suicide bombings occurred in Lebanon (don't worry, there is one attack per year) happened in Hezbollah areas. They are partially restricted and any sort of journalism is not allowed.
To understand it better I recommend you to read: The day I was accused of being an Islamic State spy
Which Hezbollah areas are sensitive?
Shia Muslim neighborhoods of Beirut, for example, Bourj el-Barajneh
Some refugee camps, for example, Ain al-Hilweh in Saida
Hezbollah territories located in the south of Lebanon, close to the border with Israel
Thinks to keep in mind when visiting a Hezbollah area
Don't even think of taking pictures or let anyone see you with a camera
Some locals may be hostile and you might be kicked out for no reason. If you have the chance to go with a Lebanese, then do it
Foreigners will always be treated as suspicious. You'll pass by several check-points where you'll be checked and interrogated over and over
In these areas there are no tourists. Many of the residents can't even understand why would someone come to their area for tourism purposes. Repeatedly, you'll be asked by the locals: "What are you doing here"?. Simply, answer: "Nothing, I am just a tourist and I am walking all around the city".
Today, Hezbollah areas are relatively safe. I say relatively because there's one suicide bombing per year, approximately. To be safer, stay away from crowds.
Before heading to any of those areas, check the current situation with a local Lebanese. The areas close to the Israeli border require a especial permit. To get it, go to any police station in either Saida or Beirut. You get it instantly. Keep in mind that this permit gives you access to the area, but it doesn't allow you to take any pictures or do anything silly.
Important to mention: These areas have no appeal for tourists. The only reason why you would want to go there is because you have a tremendous curiosity and need to know what the hell is going on in there. I visited everything. In the border with Israel I was detained by the authorities. In the Shia neighborhood of Bourj el-Barajneh, some locals kicked me out, pacifically, but for no reason. However, I didn't experience any issue when I visited the Palestinian refugee camp of Shatila. If you are as freaky and curious as I am, the experience is definitely worth it.
If you want to know more about Bourj el-Barajneh, check out this interesting article from my fellow travel blogger Offbeat Travelling
The isolated case of Tripoli
The U.S. Emabassy describes Tripoli as a dangerous city to travel to. Tripoli is a city located in the north of Lebanon and is he second most important one. Why do governments consider it dangerous? Since the Civil War times, there have been one-off clashes between Sunni and Alawi  Muslims who reside in the neighborhoods of Bab al-Tabbaneh and Jabal Mohsen, respectively. Throughout the years, these clashes have killed several people.
This is a one-off conflict happening in a specific area, far away from the city centre. It's a fight between two small districts and doesn't go beyond. The rest of the city is totally cool and safe. I spent four days in Tripoli, and to be honest, it was one of the highlights of my trip. I also have to admit that, since I'm an extremely curious human being, I also went to Jabal Mohsen. And what can I say? Life there was merely normal. Again, clashes and bombings happen once a year, not more. For more information, check out this article from Wikipedia.
Conclusion
Is it safe to travel to Lebanon? The answer is yes, but you need to keep in mind that this country has gone through several conflicts and is located in the heart of the most turbulent region in the world. Travel safe and cautious. If you have any question, write me at [email protected]. I'll be happy to help. Cheers.
——————————————————————————————————————————
I also recommend reading: Is it safe to travel to Iraq?
——————————————————————————————————————————
PIN IT!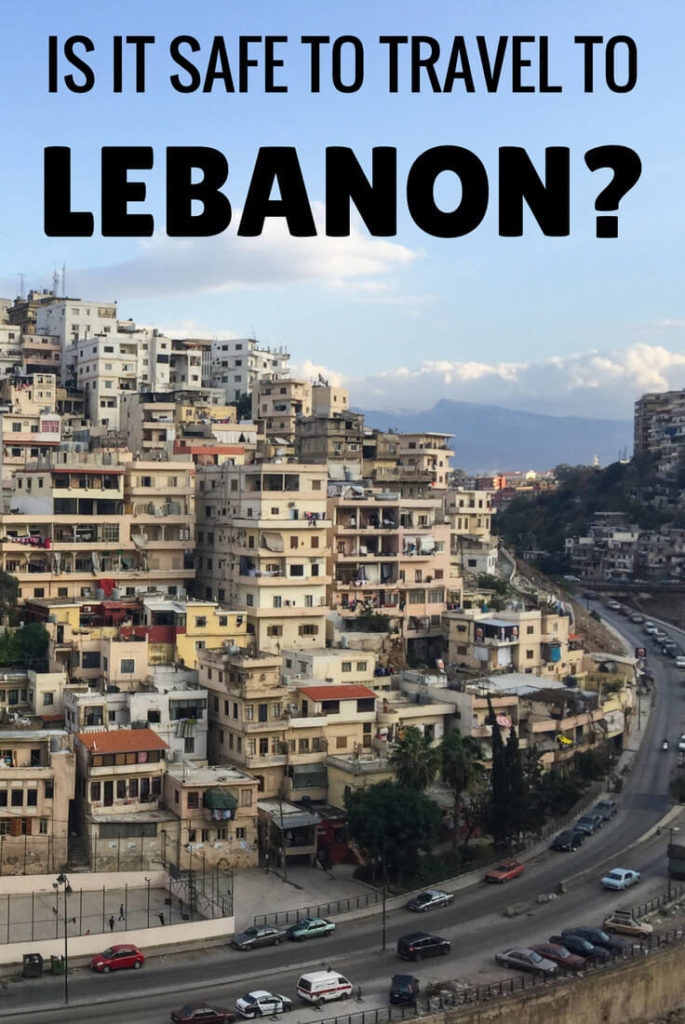 WANT TO TRAVEL OFF THE BEATEN TRACK?
 JOIN MY NEWSLETTER
and receive all my latest travel tips and inspiration about most the unknown destinations!